Morocco travel guide
We've visited Morocco many times over the past 10 years. One road trip alone lasted 6 months so we're in a great position to prepare this Morocco travel guide for you. We discovered this diverse country at a slow pace. And it more than lives up to the hype! Morocco's imperial cities are a heady blend of souks, incredible architecture and diverse history. The driving challenges for the adventurous off-road fanatics are unforgettable. The hospitality of the Moroccan people is second to none. And the Sahara Desert is, well, let's just say we love it! Use our Morocco travel guide to help plan your next epic overland adventure.

We've created this Morocco travel guide to help fellow travellers prepare for their own unforgettable road trip. We've included key information here with links to articles to help you plan your route through Morocco. They'll help you discover some unmissable spots, provide important practical information to know before you set off and plenty of photos to inspire your next epic road trip in Morocco.
Destinations
Where is Morocco?
Morocco is a north African country only a short 15 km ferry crossing from mainland Spain. The map below highlights where the main cities and attractions of Morocco are. Hover over each icon for a brief description. Click on the icon to be inspired by posts from the area. Most of the main attractions are north of Morocco. Some of the more exciting drives are in the south.
Travel tips
How to get to Morocco
Most travellers will fly into Casablanca, Marrakech or Agadir. It is possible to hire a car in Morocco too. If you've had any first hand experience of car hire in Morocco, please let us know in the comments below. This will help fellow travellers who may not want to drive their own vehicle from their home country. Most road trippers tend to drive their own vehicles into the north of Morocco from Europe. There are regular ferries from Spain and Italy and border control is straightforward.
---
---
Driving in Morocco
Contrary to what many people think, you do not need a specialised vehicle. Most of the roads are in good condition and there's even a toll road to efficiently take you to Marrakech from the north. It's true some minor roads aren't quite upto European standards, but they're not bad. Take care at the edge of the roads, particularly further south from Agadir and you'll be fine. Whilst we drive a 4×4 vehicle, this is not essential for a road trip in Morocco. Thousands of European motorhomes and cars visit Morocco every year. Sure these vehicles can't go off road but in Morocco you don't need to. You can even get to the Sahara Desert on a black top road.
Car hire
While we drive our own vehicle, we appreciate that many people will want to fly into Morocco and hire a car. We've never hired a car in Morocco. But we know enough to say you should really book with a reputable firm because you need assurance the car is well maintained and your insurance is valid. Get your quote from a reputable car hire firm in the form displayed.
---
---
Do I need to book or plan anything?
Well yes and no. If you're travel in the high season, you should book your hotel accommodation in advance so to avoid disappointment. Campsites tend to have availability most of the time. Apart from the over crowded camp in Agadir, a place best avoided anyway! Wild camping is legal too and due to the immense landscape, there's a wealth of opportunities outside of the cities.
Booking accommodation
When it comes to booking accommodation, we just wing it. But then it's a little easier when you're travelling in your own vehicle and able to camp just about anywhere. If you're road trip in Morocco is a fly-drive, we advise you book your accommodation for your arrival date and the day before departure, at least. It'll take the stress out of the start and end of your holiday. You can book accommodation pretty easily en route after this. In fact, we suggest you don't book in advance to avoid having a fixed itinerary.
Half the fun of road trips is having the flexibility to do as you you like, when you like. You lose some freedom with a pre-booked reservation. It's essential to take time to plan your route before your road trip. You'll get more out of your time in Morocco and make sure you don't miss some key sights. Take a look at some of our posts for inspiration for your next epic driving adventure in Morocco.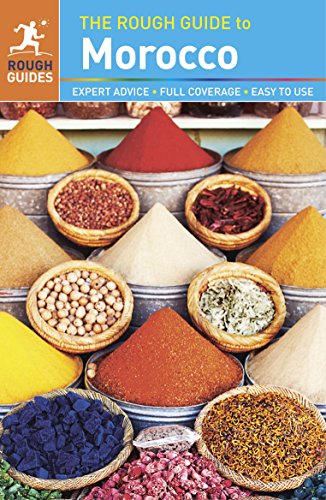 Guide book & road maps
If you're preparing for a road trip in Morocco, it'll be useful if you're carrying a paper road map. It won't take up much room in your luggage and we find them useful for planning our routes. It's much easier to get an idea of distance and what you'll be passing on the way than your GPS. You can buy your Morocco road maps here, today. We also suggest bringing a guide book with you. We've always used a Lonely Planet one but the Bradt guides are good too. We should update ours because it's about 10 years old now, dog eared and just a tad out of date! Take a look here and check out what guide books are on offer.
Don't forget to pack…
---
How long do I need for a road trip in Morocco?
The marvellous thing about Morocco is no matter how little or much time you have, there is always plenty of things to do and see. With only a few days on a fly-drive holiday, you could see the sights of Marrakech and drive over the High Atlas Mountains. With a fortnight, you could circumnavigate most of the country at a push. To experience Morocco at its best, our advice is to take your time and immerse yourself in whatever locations you chose to visit. You might know by now we're big advocates of slow travel. Take time to enjoy your surroundings. Morocco isn't going anywhere so if you can't fit everything in on one trip, you can always return again.


---
---

What is there to do and see in Morocco?
It may come as no surprise there is a diverse range of attractions and activities in Morocco. Are you a lover of the great outdoors? Why not take a hike in the High Atlas Mountains or enjoy the surf in Taghazout? Foodies will find the authentic tagine and couscous dishes scrumptious. And if you're brave enough, why not try a bit of bbq'd sheep's head and lungs? If you're a history buff, you'll love Volubilis, Morocco's incredible Roman ruins.
Morocco is home to more ancient medina's than you could wish for. Do you enjoy authentic cultural experiences? Take your time on your road trip around Morocco and they will come to you. We've had wonderful experiences we've stumbled upon. Such as the time we spent a night with a Berber family and enjoyed afternoon tea with a fisherman in his self built shack on the beach. These were memorable moments indeed.
And finally, a travel guide to Morocco would be incomplete without a mention of the sand because it's probably the most accessible part of the Sahara Desert today. It should be a must see on everyone's travel bucket list. Unforgettable! All this and more, set amongst incredible and diverse scenery along every mile of the route.
---
---
If you're on a time constraint then you won't be able to see and do everything. Take time to plan in advance and allow yourself to enjoy what you love most. This Morocco travel guide should get your road trip plans off to a good start!
Do you want to show your support or say thanks for our free guides? Give us a like on Facebook  or sign up for our free newsletter!
---
Like it? Pin it!
---
Disclosure: Some of the links in this post are affiliate links. This means if you click on the link and make a purchase, we will receive an affiliate commission. But don't worry, it doesn't cost you any extra.