The best way to access cash overseas
Spending money abroad is easy, too easy! You've saved for months for your trip and once you're in holiday mode, it's easy to forget any money worries and concentrate on having a great time. But if you spend the wrong way, those months of saving and cut backs could at least in part be wasted. We don't save our holiday money to enable us to pay to access our cash abroad. We simply want to pay for what we buy, and nothing more. And while I'm on my soap box, I'm sick of being told about the best overseas credit card deals. I don't want to hear it unless it's free. So how do you avoid the money sharks? Here's the best way to access cash overseas and how we make sure we don't pay to pay for spending abroad.

Avoid using a credit card
Most credit cards come with hefty charges for overseas transactions. Whether it's poor exchange rates, transaction charges or daily interest on cash withdrawals or worse still, all of the above! The costs can be extortionate and a really unpleasant surprise when your monthly payment demand arrives. There's loads of advice out there on the best overseas credit cards but the best advice we can give is to give them a wide berth.
The advantage of using a credit card overseas is that you're protected by the Consumer Credit Act. This effectively means that if any purchase of a value between £100 – £30,000 is faulty, you can recover the cost from the card provider or the retailer. Banks may consider complaints about a debit card purchase, but there are no guarantees. If you want this protection for a given purchase, then check the charges and assess if that protection is good value.
Always use a debit card – a specialist one
Debit cards can be just as bad, if not worse than credit cards. You're not guaranteed the protection of the Consumer Credit Act and the charges can be just as high. Morally, this feels worse given you're accessing cash that is already deposited in your account and not cash you'd don't necessarily have.
We always use a debit card. For everything. We use it at ATMs and for transactions like booking ferry crossings, shopping and paying accommodation bills. We're often asked how we can stomach the fees and the answer is simple. We don't. We have a specialist debit card that incurs zero charges. For anything. Zilch! We have to deposit a certain amount of money into the account each month, but it's small and less than our monthly spend. Also, we could just as easily transfer the cash back out of the account and still avoid the monthly fee. In 2 years, we've not once paid a banking fee. We don't feel privileged – we simply don't feel ripped off.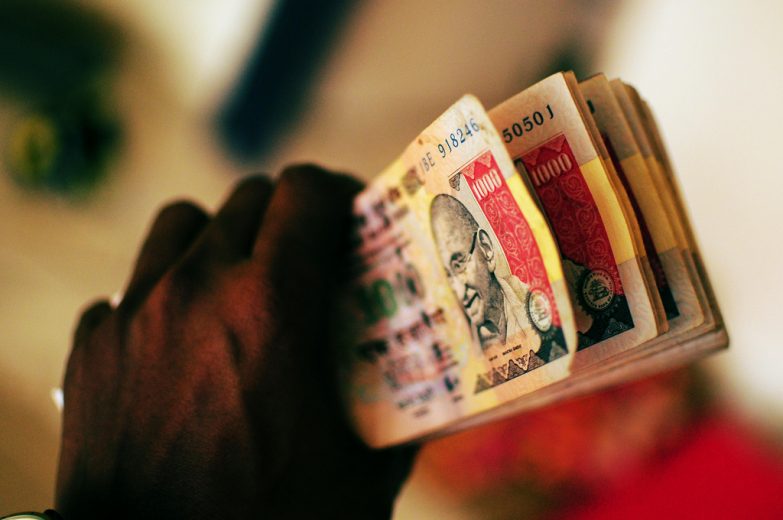 Never exchange currency. Anywhere. Ever. (Well almost never)
Ok, so there are lots of bureau de change services available including your bank, the airport and even the local supermarket. Even if you use a service that has zero commission and a decent exchange rate, how much are you going to change? Are you then going to carry all of that cash overseas with you? Ever heard of putting all your eggs in one basket (or all your pennies in one pocket)?
I appreciate exchange rates fluctuate but with the right debit card giving you instant access to your cash abroad with no charges, hidden or otherwise, there's simply no need. Some countries like Morocco and India have a closed currency, which means you can't get money until you arrive and you're not permitted to take the currency out of the country either. In the event that you're visiting one of these countries, you can only access the local currency in country. Do you want to rely on the hotel's bureau de change for a decent rate and no fees?
The only exception to this rule is at a remote border crossing. Here you may need to pay for insurance for your vehicle in the local currency and there will be no ATM at the border. If the country's currency is not closed, plan ahead and change a small amount of cash before you arrive at the border.  If it's a closed currency, you'll have little choice but to use a money changer here. Either way, expect a dreadful exchange rate and only change the money you need to pay for your insurance with maybe a little bit extra to see you through to the nearest ATM.
Always pay in local currency
Often when we use our debit card for transactions, the cashier will ask if we want to pay in GBP or the local currency. The answer is always in the local currency. Even our specialist debit card carries a charge if we paid in GBP as the local banks are doing the currency conversion and giving a dreadful exchange rate for the privilege.

Check if your cash is covered on your travel insurance policy
We avoid carrying too much cash wherever possible. There are times though when we know we need to carry a hefty sum. Filling a 600 litre fuel tank, even if the pump price is 50p per litre, is still a lot of money. And the fuel station on the edge of the Sahara Desert isn't going to have a card payment machine. When you find yourself in this situation, you may need to take your cash out from the ATM over a day or 2 so as to not exceed your daily withdrawal limit. Even with all the care in the world, there is still a risk that you'll lose your cash. Is it covered by your Travel Insurance? Most policies cover no more than £250 although some offer cover up to £500. Check your policy before you leave.
So there you have it, the best way to access cash overseas doesn't involve paying to pay! There's really no need to look for great deals on credit cards or low commission forex. Simply get yourself a specialist debit card with no overseas transaction fees. Follow these simple tips to avoid the sharks who want your savings and have an extra margaritas instead.
Do you want to show your support or say thanks for our free guides? Give us a like on Facebook!
---
Like it? Pin it!
---
---
Disclosure: Some of the links in this post are affiliate links. This means if you click on the link and make a purchase, we will receive an affiliate commission. But don't worry, it doesn't cost you any extra.