Portable solar panels for RV living and van life can provide a complete energy solution or extend the existing solar system for extra juice.
Charging your batteries from solar panels is super helpful when boondocking, even if you spend most of your time on campgrounds.
There are many portable solar panels on the market, and choosing the right panel for your needs can be challenging.
Here are the best portable solar panels for RV living and van life to keep you comfortably, off-grid for longer.
When you click on links to various merchants on this site and make a purchase, this can result in this site earning a commission. As an Amazon Associate we earn from qualifying purchases. For more info, please check our disclosure page.
At a Glance: 11 Best Portable Solar Panels for RV Living & Van Life
1. Renogy Eclipse Monocrystalline Solar Suitcase
Renogy is one of the most popular and well-known brands for solar products in the RV market.
The Renogy Eclipse range of folding solar suitcases has many of the benefits of a rigid solar panel.
They're made from the same monocrystalline cells, with robust aluminium frames, corner protection, adjustable kickstand and tempered glass.
The Eclipse range of foldable portable solar panels for RVs come in 60w, 100w and 200w versions.
They are available in complete kits with cables and a PWM charge controller, so they're ready to plug into a battery straight out of the box.
Alternatively, you can buy them as individual panels to expand an existing system or pair them with an MPPT charge controller of your choice.
The 100w Renogy panel weighs less than 20 lbs and folded and stored in its rigid case, measures about 21 inches square and only 3 inches thick.
Renogy portable solar panels provide a no-fuss solution to bolster existing solar panel systems from a reputable manufacturer.
2. Zamp Solar Legacy Series Portable Solar Panel Kit
Zamp Solar is a US company, and all its panels are handcrafted in Bend, Oregon.
The great thing about Zamp Solar is that wherever possible, they use locally sourced materials. It makes them a great option for providing your clean energy.
Many newer RVs in the US include Zamp Solar ready ports, making these panels the best option for easy RV use.
Their 140 watt portable solar panel kits include a charge controller, nylon carrying case and a 15 foot cable.
The long length of the cable means you can park your RV camper in the shade to help keep it cool and position the panel in full sun as close to the ideal conditions as possible.
The solar panel system is the best quality available and the company's 25 year warranty guarantees it. But all that quality comes at a price. These aren't budget-friendly!
At 32.4 x 21.5 x 3.1 inches and weighing in at 32.75 lbs, the 140w panel is also the largest and heaviest panel on our list. It is a 140 watt panel, though, giving a greater power output than the others.
3. Jackery SolarSaga Portable Solar Panel
Founded in California in 2012, Jackery launched the world's first lithium portable power station, the Jackery Explorer. As the perfect pairing, the SolarSaga series was released back in 2018.
The SolarSaga flexible solar panels have a shiny, golf ball-like texture, making them easy to clean.
With 2 USB ports, you can attach small electronic devices directly to charge without a separate battery.
If you want to charge a battery too, they are designed to work with the Jackery solar generators and power stations.
Then panel's rubber handles contain a magnetic shutting mechanism, so there's no need for a separate carry case.
The velcro adjustable kickstand allows you to angle the panel to make the most of the direct sunlight all day long.
The two downsides about these portable solar panels are
They're not waterproof and
They have a hard fitted 8mm cord instead of an Anderson fitting, making them difficult to extend.
The 100w panel is 24 x 21 x 1.4 inches and weigh a little over 10 lbs, making it one of the lightest portable solar panels available on the market today.
4. Goal Zero Boulder Briefcase
Goal Zero have been producing innovative portable solar solutions since 2008. They're perhaps best known for their portable Goal Zero Yeti power stations.
Yet portable solar panels are in their product range too.
The Boulder Briefcases have a built-in kickstand, anodised aluminium frame, tempered glass and robust plastic protective corners, so it's completely weatherproof.
The panels don't come with a manual. Instead, everything you need to know is printed on the delivery box.
The carrying case is made from canvas, but there's nothing in the way of padding. It could leave them vulnerable to damage, so make sure you secure them well when you're on the move.
The bag's zipper only extends beyond the corners of the panels, making it a bit fiddly when packing up.
The standard Goal Zero cable is only 6 feet long, so you may need to buy a separate extension cable to reach your battery bank.
The kickstand is robust, but it's not adjustable, so the angle is permanently at around 45°.
The 100w panel is 26.75 x 21.75 x 3.75 inches and weighs just under 26 lbs, so it's ideal for car camping.
5. Goal Zero Nomad Solar Chargers
Not only is Goal Zero a go-to brand for portable power solutions for RVers, but their compact Nomad range is ideal for hikers and campers too.
The smallest sizes in the range – Nomad 10, Nomad 20 and Nomad 50 – are technically solar chargers rather than solar panels.
Ideal for low energy consumption, the Nomad 10 and 20 can easily be secured to a backpack.
The units are water-resistant, though not completely waterproof. If you do get caught out in the rain, protect the area around the junction box as this is most at risk of water damage.
You can use the small Nomad solar chargers to either charge devices directly from the USB port or connect them to a compatible solar generator or battery pack.
6. Goal Zero Nomad Portable Solar Panels
The Nomad range includes larger versions of the solar chargers up to 200w. If you intend to charge a power station like the Goal Zero Yeti 400, aim for at least the 100w version.
The Goal Zero Nomad 100 solar panel measures 20.5 x 15.5 x 2 inches when folded. At 10lb 3oz, it's one of the lightest portable solar panels available on the market today.
7. EcoFlow 110w Solar Panel
With a background in developing lightweight batteries for drones, the EcoFlow founding members started the company in 2017. Their product range includes the River portable power bank and Delta power stations.
If you're looking for a portable solar solution, the EcoFlow 110w solar panel is a worthy contender. The waterproof design makes this solar panel ideal for all weather conditions.
The robust, easy to use carrying case acts as the integrated kickstand. The kickstand is probably its only negative point because it struggles to keep the entire length of the panel square.
An MC4-to-XT60 cable is included in the box so that this solar panel can charge the EcoFlow Delta and River Series portable power stations. It's also compatible with most other power stations.
Another plus about the EcoFlow 110w portable solar panel is its compact and lightweight design. At 16.5 x 20.2 x 0.8 inches when folded and under 9 lbs, the EcoFlow 110w is easy to store and carry.
8. Acopower Foldable Rigid Solar Suitcase For RVs
Based in Los Angeles, ACOPower focuses on providing off-grid and portable power solutions to campers, RV and even boat owners.
The foldable rigid solar suitcases are available in 60w, 100 and 120w models. Because you can buy the kits or just the individual panels, you can choose how you want to configure your solar setup.
Conveniently, the kits include an adaptor, so you can either attach it to your battery bank with alligator clips or plug it directly into a solar generator.
The carrying case is well padded, providing good protection from knocks when driving on bumpy tracks. The zipper runs right to the bottom of each side of the panel, making setup and packing quick and easy.
Its spring-loaded handle is sturdy enough to handle a security chain to help prevent it from theft.
9. Acopower Foldable Light Solar Panel
Acopower also produces a range of lightweight solar panels, more flexible than rigid suitcase models.
They offer output wattages from 70w to 120w and come either as complete kits or as individual panels.
The 120w model is a trifold suitcase. Consisting of 3 x 40w panels wired in parallel, its folded dimensions are 22 x 17.3 x 0.8 inches, so ultra-thin compared to the rigid suitcase models. And it weighs less than 9 lbs, making its compact size easily portable.
Because it's so lightweight, it has little grommets so you can secure it to the ground in high winds. The kit includes an adaptor, so you can either attach it to your battery bank with alligator clips or plug it directly into a solar generator.
The foldable design, compact size and ultra-lightweight, makes this one of the most accessible and easily stored portable solar panels on the list.
The solar panel comes with an 18-months workmanship warranty and a 25-year 85% output warranty.
10. Eco-Worthy Foldable Solar Panel Charger Kit
Eco-Worthy has been manufacturing solar panels and renewable energy products for 20 years. They aim to provide the RV market with budget-friendly solar solutions. It makes them an ideal choice for those look for quality products at an affordable price.
The Eco-Worthy 120w foldable solar panel includes everything you need to hook it up to either a power station or your battery bank.
The DC adapter is suitable for most solar power generators, including Jackery and Goal Zero Yeti.
The PWM charge controller includes 2 USB ports so that you can charge small devices like cell phones or tablets directly. The LCD screen makes it easy to monitor performance. It also protects the battery from overcharging and short circuits.
The Eco-Worthy kit uses monocrystalline technology, delivering 120 watts of power. The kit doesn't store energy itself, so you must pair it with either a campervan battery or a portable power station.
Compact dimensions of 21.5 x 14.6 x 2.5 inches and weighing only 9 lbs, this kit is one of the best portable solar panels for RVs.
11. Dokio Portable Foldable Solar Panel Kit
Dokio solar panels are made by the Chinese company Jinhua Dokio Technology.
They are budget-friendly, and the 100w portable solar panel is the lightest on our list for its power output.
While it may not offer the same high quality as the Zamp Solar or Renogy products, it doesn't demand the same price tag.
The folded dimensions of the panel are only 21 x 20 x 1 inch, and it weighs 6 lbs.
The user manual is in English. The package includes a PWM charge controller, 5 DC adaptors and alligator clips so that you can use it with most power stations or a deep cycle battery.
It doesn't have a built-in kickstand, so you'll need to get creative when propping it up to make the most of the free energy from the sun.
This solar panel isn't designed for long term use. If you're looking for a portable solar panel for emergency or occasional use that's lightweight and budget-friendly, the Dokio is worth a look.
Just don't expect it to last a lifetime.
One of the best things about living in a campervan is the freedom to get off-grid.
But one of the most significant challenges to staying off-grid is having enough electricity to power all the appliances and gadgets to make you comfortable.
That's where a perfectly designed solar system steps in. With enough solar panels, a well-sized battery bank and sunshine, you can live off-grid for as long as you like with a renewable energy source.
The only limit to how many solar panels you can install is the usable space on your van's roof. Even large RV's lose usable space to roof vents, aerials, AC units and wifi satellite dishes.
For those who prefer to avoid roof panels altogether or need extra power from time to time and have no more space on the roof, portable solar panels provide a solution.
You can set up a portable solar panel, so it's integrated into your overall setup or use it to power a solar generator.
Because they're portable, they can be prone to theft if you leave them unattended.
But on camp, you can leave them in the direct sun while you shelter the van in the shade, ideal in hot conditions.
Alone, portable solar panels aren't really a viable option for living in a van full time, but they can undoubtedly bolster your solar energy harvesting capability and perfect for car camping.
The Pros and Cons of Portable Solar Panels
Unfortunately, solar panels aren't a magical source of unlimited electricity. How efficient the system is, depends on many factors, including the weather.
When your lifestyle depends on power, you can never have enough solar. A portable solar kit provides more juice and reduces how often you need to run your RV generator.
Before buying a portable solar panel kit, it's worth noting their advantages and disadvantages.
Advantages of Portable Solar Panels
Portable
The clue's in the name – portable solar panels are mobile.
When traditional camper solar panels are fixed on the roof, where you park is critical. Shade falling on the roof affects their efficiency, and as the sun dips lower in the sky, less energy is produced.
You could compensate for it by moving your camper, though it's not always practical or desirable. Adjustable mounts will help to a point too.
A portable panel makes adjustments easy. You can quickly move the lightweight panel to the best position with enough cable, out of any shade and pointing directly at the sun.
Because the panel sits on the ground, tilting it to the best position doesn't involve clambering on to the roof. You can adjust it throughout the day to maximise how many amps it provides every hour.
Your camper can stay cool in the shade while your batteries continue to charge.
Versatility
Portable solar panels aren't just for campervans and RVs. Depending on the model, they're great for car camping and hiking too.
And just because a portable solar panel is mobile doesn't mean it has to be. You can use some in a fixed position too.
So a portable solar panel can be used to charge your RV battery bank or portable solar generator, attached to a backpack on multi-day hikes, taken on a boat to charge small devices and more.
Of course, choosing a suitable model for all intended situations is crucial too.
Easy Installation
If you don't need a complete campervan solar system, a portable solar setup provides a simple and easy installation.
Most portable kits are designed to plug and play, so you can simply plug in one or two components, and you're ready to go.
This is a significant advantage when your electrical demand is low. You can avoid relatively complicated electrical installations, fitting solar panels to the roof and drilling holes in your van.
If you're new to van life, the ease of setup makes portable solar panels a brilliant, low-cost introduction to campervan electrical systems.
Disadvantages of Portable Solar Panels
Storage Space
The most obvious downside of portable solar panels is they take storage space inside your camper.
Fixed panels are permanently fitted to the roof and otherwise unused space. A portable panel needs a home in your van where it won't get damaged when not in use.
If you don't live in your van full-time, it's probably not a big issue. Equally, if you have a large RV with plenty of storage space.
But in smaller campervans, some of the larger suitcase-style portable solar panels may not be convenient.
Need to be Stationary
Portable solar panels might be mobile, but the camper needs to be stationary.
In practice, you'll probably set up the portable panel when you arrive at camp.
If you've been driving all day, though, without a way to secure the panel to the outside of the van, you can't harvest the sun's energy as you travel.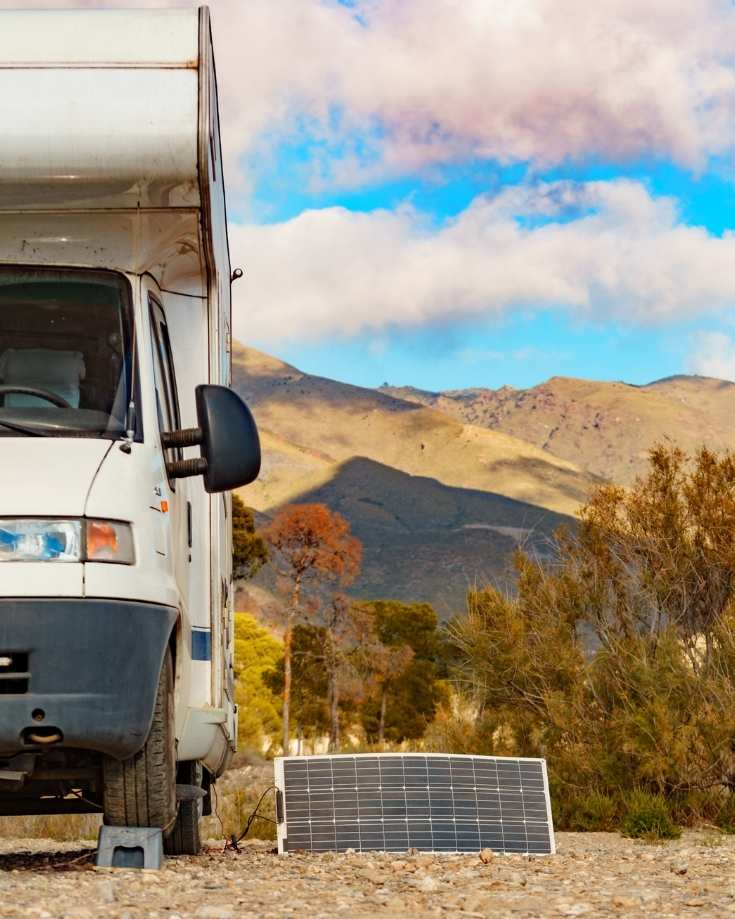 Setup for Every Use
A fixed solar system doesn't need any setup after its initial installation. Aside from occasional maintenance, they do the job round the clock – well, when the sun is above the horizon, at least.
Portable solar panels need to be set up each time you use them. It makes ease of use a key factor to consider when choosing the right solar panel for your lifestyle.
If they're a pain to set up, they'll be more trouble than they're worth.
Security & Protection
By their very nature, portable solar panels are easy to pick up and walk away with – a possible temptation for would-be thieves.
You can use security measures like a bike chain to secure them. Still, a determined thief could cut through that, especially if you leave the panel unattended.
Portable panels are lightweight and susceptible to being blown over in strong winds too.
How Do Portable Solar Panels Work?
Portable solar panels work in the same way as roof-mounted panels.
A solar panel is made up of a bunch of photovoltaic cells. Each cell converts sunlight into electricity, which is collected and stored in a battery bank.
However, the battery bank will only take the energy if the voltage is within a set range.
Because sunlight is variable, solar panels produce electricity with inconsistent voltage. It needs to be regulated, converting variable voltage into something the battery will accept.
A charge controller does the job of regulating solar energy.
A permanent campervan solar system uses separate components: solar panels, solar charge controller and battery.
With portable solar panels, depending on the model, some or all of these components are combined.
Types of Portable Solar Panels
It's worth clarifying the different types of portable solar panels because manufacturers don't all clearly differentiate.
Foldable Solar Suitcases are similar to those typically installed on your van's roof. They can weigh in at over 30 lbs, so they're not intended to be carried around.
Where foldable solar suitcases are perfect is to provide extra solar energy in addition to your fixed panels or to avoid drilling holes into your van's roof.
These are the best portable solar panels for RVs and campervans when electric consumption isn't light.
Flexible Portable Solar Panels tend to have smaller wattages and are ultra-lightweight. They're designed more for camping and outdoor activities when you might carry them with you.
They're ideal if your energy consumption is also small. Models often include an integrated solar charge controller.
Some are self-contained units, so you don't need a separate battery bank. Otherwise, a solar generator provides battery storage.
These flexible, portable panels work well with solar generators instead of RV batteries.
Portable Solar Chargers aren't really designed to charge large battery banks. Instead, they're ideal for charging a portable power source like a power bank.
The compact design of power banks with solar chargers makes this solution one of the best ways to provide power on the go.
What Size Portable Solar Panel Do You Need?
This is probably the most important question to ask yourself before you buy a portable solar panel. What size solar panel do you need?
We have detailed posts on how a campervan solar system works and how to size it to help you completely understand this subject.
In summary, though, how much wattage you need depends on how much energy you will use and how many peak sun hours you are likely to get.
To charge a couple of small devices when you're able to put your solar panels in the sun for an hour or so a day, you might get away with a tiny 20w solar panel.
But if you want to use a portable panel as part of a larger system, it's best to size your entire system first. Then you can buy a portable solar panel to make up any shortfall from the fixed panels.
For a quick calculation, use our solar calculator. If you need something more heavyweight and need to design your entire solar and campervan electrical system, we recommend our interactive Campervan Electrical Design & Wiring Diagram.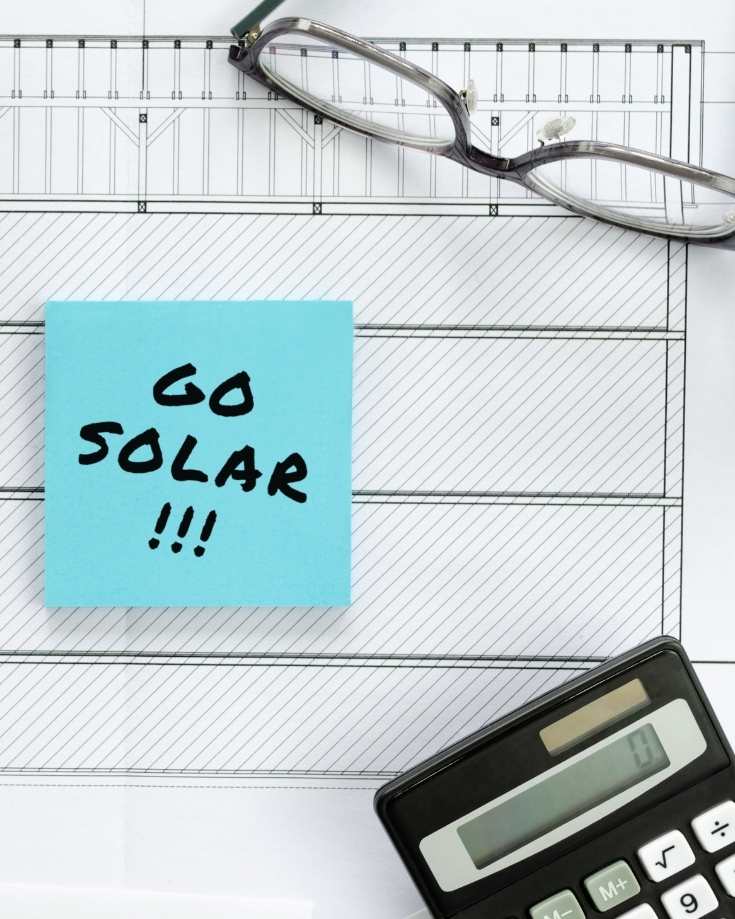 Things to Look For When Choosing Portable Solar Panels
Not all portable solar panels are made equal, and they're not all appropriate for every situation. Here are a few different features and essential factors to look out for when comparing portable solar panels for camping, RV living and van life.
Types of Solar Panel Technology
There are three types of solar panels:
Monocrystalline
Polycrystalline and
Thin-film aka amorphous.
Because solar panels are rated based on standard test conditions, they are effectively benchmarked against each other. So one 100 watt solar panel is the same as another 100 watt solar panel, given the same conditions.
So how does the technology make any difference?
Monocrystalline solar panels are the most efficient of the three. They are more durable and less sensitive to high temperatures than the other polycrystalline or thin-film panels.
They also tend to be the most expensive. You can recognise a monocrystalline solar panel by its dark, virtually black cells.
Polycrystalline solar panels are blue. They're not as efficient as monocrystalline solar cells, but they are still quite common. Polycrystalline panels don't cost as much either, but they tend to have a shorter lifespan too.
Thin-film is a type of solar cell where the photovoltaic material is printed on to the panel. The panel doesn't need to be a rigid surface. Instead, it can be fabric or plastic, so flexibility is its main advantage.
That said, they have a shorter lifespan and the lowest efficiency rating. They need to be physically larger to produce the same energy as a polycrystalline or a monocrystalline panel.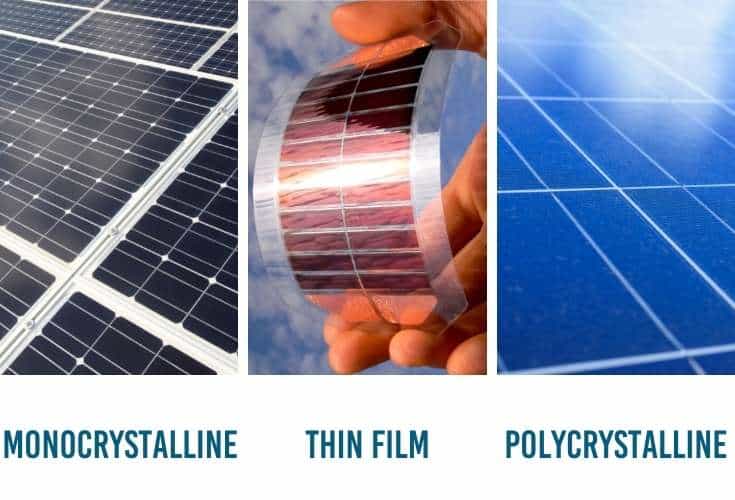 Wattage
When you size your solar system, you calculate how many watts of solar panels you need.
Solar panels are measured in watts, and portable panels are available from 5w up to 200w.
The higher the wattage, the more energy the panel can potentially produce.
Bear in mind, you can combine solar panels. If you want to start small and scale up your system in the future, you can add panels later.
Or, if the physical dimensions of the panels don't suit your available storage space, you can buy a couple of smaller panels.
Solar Charge Controller
Every solar system needs a solar charge controller to regulate the energy harvested. Some portable solar panels include an in-built solar charge controller and may not even refer to it in the specifications.
Some include a charge controller in the box. You'll need to connect the panels to the charge controller and the battery.
Other portable solar panels don't include a solar charge controller or provide an option to exclude it.
The type of solar charge controller makes a big difference in how much energy you can expect to convert and store in the battery.
For example, a 100w panel paired with an MPPT solar charge controller could provide 30% more power than paired with a PWM controller.
For portable panels with in-built controllers, you probably have low energy demands, so it may not be much of a concern for you.
But suppose you're using the portable panels to bolster an existing system or intend to rely on it for all your energy. In that case, we recommend taking some time to understand the different types of charge controllers – MPPT or PWM.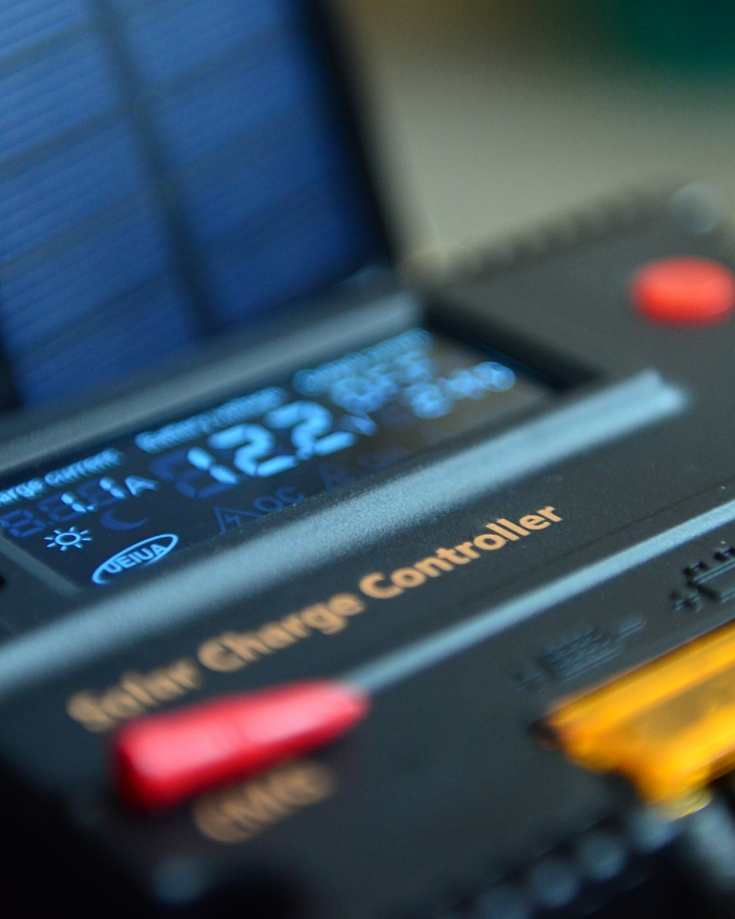 Size, Weight & Portability
You would be excused for thinking portable solar panels are all portable. And to a point, they are. But it really depends on your definition of portable.
If you're a hiker or backpacker and looking for a portable solar panel to attach to your backpack, you probably wouldn't consider a 25 lbs solar panel to be portable. Especially when you realise that it also needs a battery bank or solar generator to be of any use.
But if you're car camping or living in an RV or van, 25 lbs may be more than acceptable.
Physical dimensions are critical because RV living and van life tend to involve limited storage space. Make sure you identify where you can store the panels when they're not in use and that they'll fit.
Efficiency
Many portable solar panel specifications refer to their high-efficiency ratings. Of course, the higher the number, the better it seems. But be cautious here.
The efficiency of the panels usually refers to the solar technology used. Monocrystalline panels are more efficient than polycrystalline panels.
But a panel's wattage is based on its performance in standard test conditions. A 100w panel is the same as any other 100w panel regarding how much energy it can produce.
So the efficiency rating affects the physical dimensions of the panel's surface rather than how much energy you can expect it to produce.
Because portable solar panels are enclosed in some sort of frame or portable case, the overall dimensions of the product can be greater than the solar panel's surface.
Unless you're looking at self-contained panels, our advice is to ignore the efficiency rating and instead consider the wattage, solar charge controller and physical dimensions.
These features will help you decide if:
you have the space to store the portable panel,
it has a high enough wattage to meet your needs, and
you can most efficiently convert the energy into usage DC power stored in the battery.
Reliability
There is no point in spending your hard-earned cash on cheap, unreliable products. It's just a waste of money and a potential frustration when your kit kets you down when you need it most.
Look for manufacturers with a good reputation but also look at the feature of their products.
Believe it or not, some portable solar panels aren't waterproof, so if they got caught out in a sudden rainstorm, they could be irreparably damaged.
Battery Banks
We mentioned earlier that every solar system comprises a solar panel, charge controller and battery.
Some portable solar panels are self-contained units so that you can plug your small USB devices straight into the in-built connectors.
But for greater energy demands, you need a separate battery bank. Some portable solar panels are designed to work with solar generators, aka portable power stations. Others can be connected to your campervan deep cycle batteries.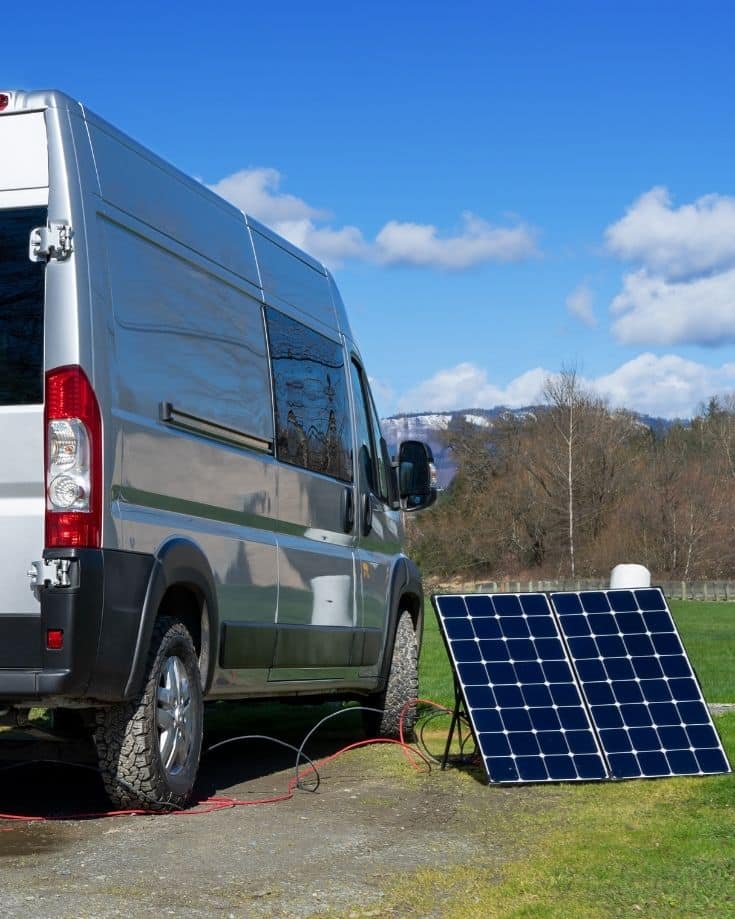 How to Secure Solar Panels from Theft
There's no guaranteed way to prevent your portable solar system from being stolen. Most thieves are opportunistic, looking for an easy target.
Making it more difficult for the would-be thief with at least a visual deterrent could be enough to prevent them from being stolen.
Try not to leave the portable panels unattended when you go off exploring for the day. If you have no choice, use a locking device to secure the panels to your vehicle.
A simple bike lock is the cheapest option. A robust stainless steel cable and padlock would need bolt cutters to remove. And an alarmed cable lock would possibly be enough to scare a would-be thief away.
Like it? Pin it!