Upgrade your off-grid lifestyle with the 2000W Renogy Inverter Charger! This powerful device offers superior efficiency and compatibility, so you can count on reliable performance for your RV energy needs. Check out our complete review of the best inverter charger on the market.
---
Are you an RV enthusiast looking to upgrade your off-grid lifestyle? Look no further than the 2000W Renogy Inverter Charger!
The 2000W Renogy Inverter Charger is perfect for those who want to live on the road without having to give up comfort and convenience.
Its advanced technology, reliable design, and easy setup process are why it's become so popular among campers and van lifers.
In our review, we'll go over why this product makes for an excellent choice if you're looking to take your RV experience up a notch.
Read on to find out more about this incredible inverter charger and how it compares to its alternatives.
When you click on links to various merchants on this site and make a purchase, this can result in this site earning a commission. As Amazon Associates, we earn from qualifying purchases. For more info, please check our disclosure page.
At A Glance: Renogy Inverter Charger 2000W Review
The 2000w Renogy Inverter Charger is a versatile unit designed to work with various battery types. Specifically, it's compatible with 12V:
Gel,
AGM,
SLA,
FLD,
CAL,
Lithium
and custom batteries through the USER type.
That's a lot of flexibility when choosing the type of battery you want to use with it.
The Renogy 2000w inverter charger is perfect for both traditional lead-acid and modern lithium-ion batteries.
It lets you customize your charging parameters to optimize your performance and get the most out of your battery.
With 2000W continuous power and 6000W surge power, it can provide enough energy to power most electrical appliances, from small devices like laptops and phones to larger items like refrigerators or small air conditioners.
The continuous power rating refers to the amount of power the inverter can provide on an ongoing basis. In contrast, the surge power rating refers to the temporary power boost needed when starting certain appliances.
The higher surge power rating, means the Renogy 2000w inverter charger can provide outstanding power even to appliances with motors or compressors that need a large initial burst of energy.
In addition to its impressive power output, the Renogy 2000w inverter charger offers multiple protection features, including over-voltage, under-voltage, short-circuit, and overload protection.
This helps ensure that your electrical devices are protected from damage while powered by the unit.
All in all, this powerful inverter charger is an ideal choice for anyone looking for reliable and robust electricity management.
What We Like
Price
We love the 2000w inverter size
Confident that the batteries will be safely and quickly charged
What We Don't Like
Size & weight
No cables included
Does not work as a plug-and-play with the Renogy One.
Disclaimer: Renogy sent us a 2000w Inverter Charger for this review. However, the content of this post is not sponsored by Renogy, and all opinions are our own.
Where To Buy A 2000W Renogy Inverter Charger
2000W Renogy Inverter Charger Specification
There are three main functions of the Renogy 2000W Inverter Charger:
Inverter – converting the battery's DC power to AC,
Converter (aka charger) – charging the 12v DC battery from an AC power supply like shore power or a generator, and
Transfer Switch – that automatically switches between AC and DC power.
When you buy an inverter charger, the specification of each of those functions must be high enough to meet your needs.
Here is a summary of Renogy's 2000w Inverter Charger:
Inverter Specification
System Voltage: 12VDC
Rated Output Power: 2000W
1-second Surge Power: 6000W
3-second Surge Power: 3000W
10-second Surge Power: 2400W
Nominal output Voltage RMS: 120/230VAC
Output Wave Form: Pure Sine Wave
No Load Power Consumption: <20w
Charger Specification
Nominal Input Voltage: 120 VAC / 230 VAC
Input Voltage Range: 90-138 VAC / 155-275 VAC
Input Frequency Range 40Hz – 70Hz
Optimal Efficiency >85%
Output Current: 5-65A / 5-75A
Transfer Switch Specifications
Transfer Time: ~ 10ms Transfer
Relay Rating: 30A
General
Operating Temperature: 0 ~ 40°C / 0 ~ 104°F
Weight: 51.1 lbs / 23.2 Kg
Dimensions: 510 x 285 x 193mm / 20.1 x 11.2 x 7.6 in
Compatible Battery: GEL, AGM, SLA, FLD, CAL, LI, USER Defined
Warranty: 2-year material and "workmanship" warranty and 1-year material warranty for accessories
2000W Renogy Inverter Charger's Key Features
Utility or Battery Priority Options
One of the best features of this inverter charger is the option to switch between battery and utility priory.
By default, it's set to Utility Priority, but what does that mean exactly?
When you plug your inverter charger into shore power, it will use the electricity from that source to power your devices and appliances.
If your batteries need charging, no problem – the inverter charger will take care of it as well, using AC when needed.
So even while you're connected to shore power, your batteries will still get charged up and ready for action.
Here's the cool part: The inverter charger will automatically switch over to using the inverter if there's a power outage.
This means you can keep using your devices and appliances thanks to the reliable backup power provided by your battery bank.
The automatic transfer happens in around 10ms, so you shouldn't need to reset your appliances.
If you prefer to run all your AC devices through your inverter, you can set the device to battery priority.
This setting is awesome because it lets you draw on your connected battery bank as the main power source. Even when an AC supply is available!
When the battery priority is enabled, your inverter charger will use your battery bank as the primary power source. The shore power charges the battery.
This feature is great because it provides an uninterrupted power supply, even during a shore power outage.
Auto Generator Start Function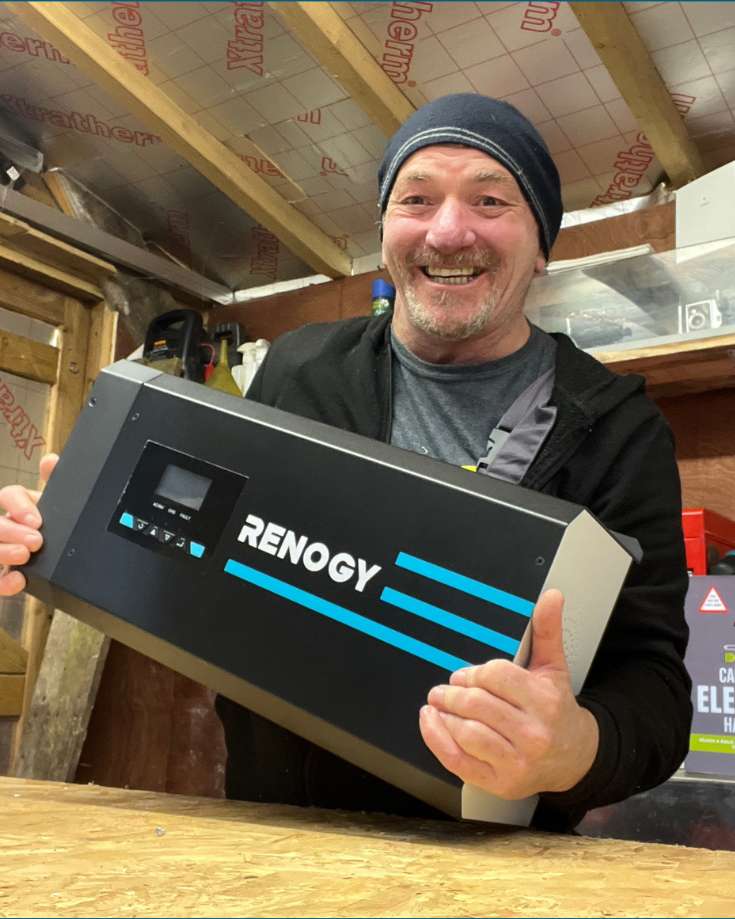 Renogy inverter chargers have a feature that automatically starts and stops a generator for charging
Here's how it works:
When the battery voltage drops to a user-programmed value, the Auto Generator feature kicks in.
The generator starts charging up your battery bank.
Once your batteries are fully charged, and their voltage rises to the user-programmed value, things return to normal.
At this point, your inverter charger unit transfers back to Inverting Mode and stops charging your batteries with AC power from the generator.
Remember that for this feature to work, you'll need an auto-start controller installed on your generator.
While your generator is connected, the unit will operate in Charging Mode. That means the AC power from the generator is used both for charging up your batteries and powering any connected AC loads.
Overall, having an automatic start/stop feature for your generator is a handy way to keep your battery bank charged up without constantly monitoring its voltage levels.
That makes it a perfect choice for boondocking and dry camping.
Wired Remote Control Switch
The wired remote control switch is an included accessory.
It provides a convenient way to control the inverter charger from a distance without physically accessing the device.
Its function is limited to switching the inverter charger on and off, so any configuration setup needs to be done at the main component.
Even so, the feature is especially useful when you've installed the inverter charger in a hard-to-reach position.
The remote control switch can make managing your RV power system more convenient.
LCD Display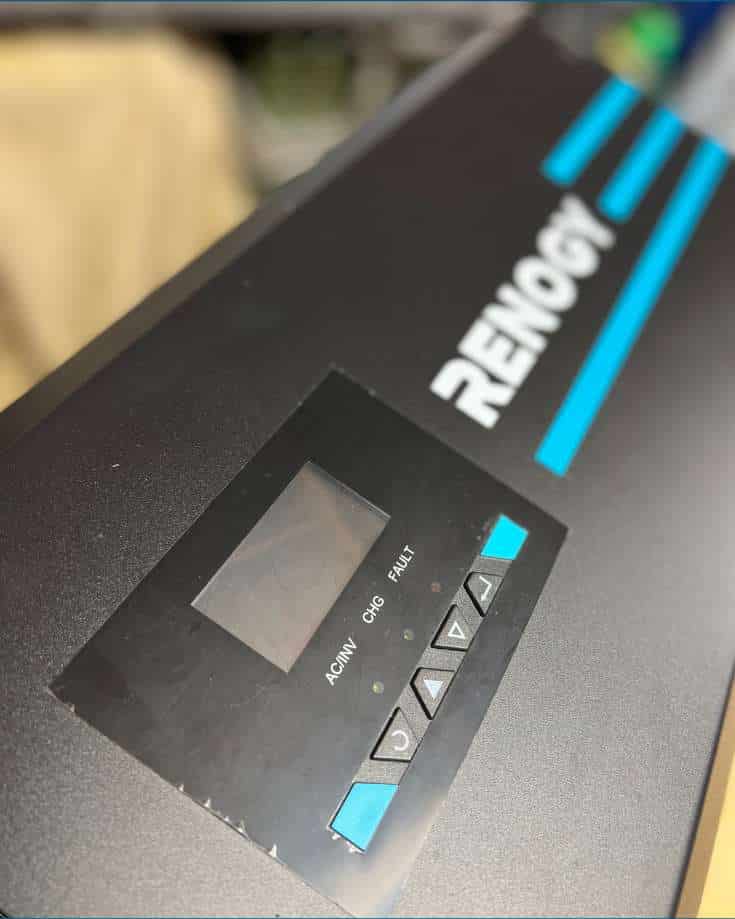 Although the Renogy inverter charger isn't Bluetooth enabled, it does have an LCD screen that can display everything you need to know while it's operating.
Information includes:
AC input voltage & frequency
Battery voltage
Charger current
Output voltage & frequency
Load %
Load in volts & watts
Discharging current
Battery level in %
Battery charging status
Battery Priority or Utility Priority Status
There are also some programmable features you can set up from the LCD.
However, if your setup doesn't include a power management system configured appropriately, the LCD screen is the only place to get this information.
It's hardly convenient if you've positioned the inverter charger out of the way. Which you probably have!
Cooling Fan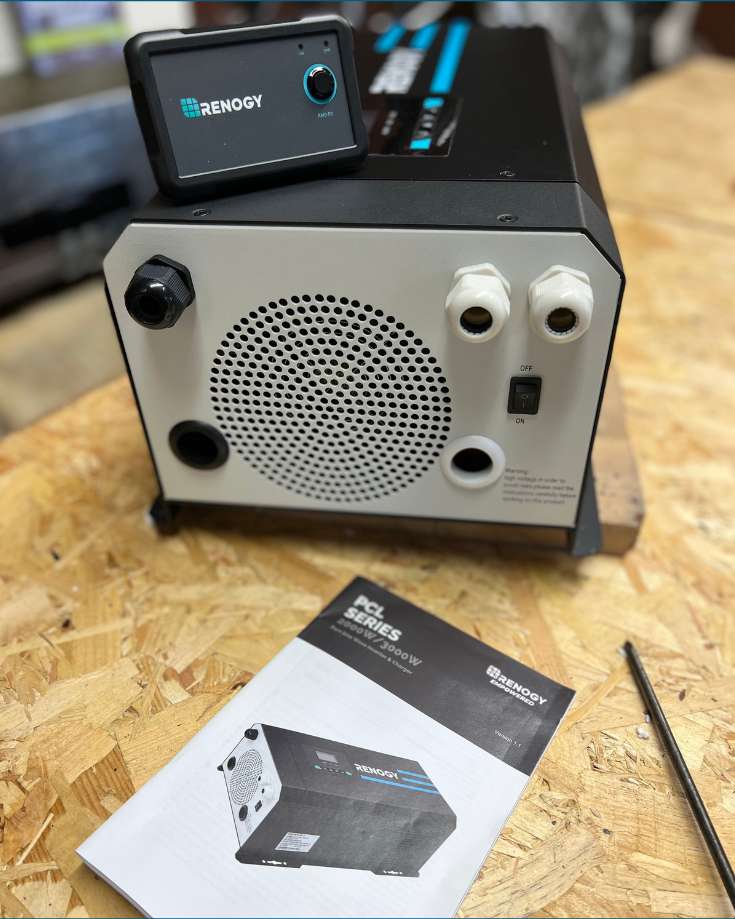 The Renogy Inverter Charger has a built-in cooling fan that automatically kicks in when specific parameters are met.
These parameters include:
The ambient temperature is over 50°C,
The Inverter load is over 35%, and
The charging current exceeds 10A.
So why is this a good feature? Well, first of all, it helps regulate the temperature of the device and prevent overheating.
Overheating can cause damage to the inverter charger or even be a safety hazard.
A cooling fan that switches on when needed helps make sure your device is running at the right temperature and won't overheat and break down.
Battery Temperature Sensor
Renogy inverter chargers have a 9.9 ft / 3-meter battery temperature sensor.
This little gadget is designed to help prolong the life of your battery by allowing the inverter charger to adjust its charging voltage based on the battery's temperature.
Basically, it will constantly monitor the temperature of your battery and adjust its charging voltage accordingly to prevent overheating or undercharging.
Now, one important thing to remember is that this sensor should be installed on all battery banks except for lithium.
Lithium batteries include an integrated BMS that manages its charging.
Have you switched to lithium batteries yet? If not, the sensor will make sure charging is safe and efficient in any condition while you're on the go.
Various Protections For Ultra Safety
Renogy's inverter chargers are designed with safety in mind and have various features that guarantee a safe and reliable experience.
They have many features designed with safety in mind so that you can feel confident while on the road.
Some industry-leading technology they use includes:
overload protection,
overcharge protection,
over-discharge protection,
short-circuit warnings, and
over-temperature protection.
All these measures work together to ensure your RV house batteries stay charged and maintained safely throughout your journey.
Affordability
The Renogy 2000w inverter charger is designed to provide a convenient all-in-one solution for managing your power needs.
The Renogy 2000w inverter charger is an affordable option compared to other similar units on the market.
So, it's a great cost-effective way to manage their power needs without breaking the bank.
Future Development Port
A port on the back of the inverter charger is labeled as a future development port.
We're hoping Renogy will eventually use it to connect directly to the Renogy One monitoring system.
That will transform it into a plug-and-play installation in line with Victron devices.
It would eliminate the need for more complex installation and setup of voltage sensors.
It may also mean all the information currently displayed on the LCD screen could be viewed from the Renogy One.
Is Renogy's 2000W Inverter Charger Too Big Or Too Small For Your RV?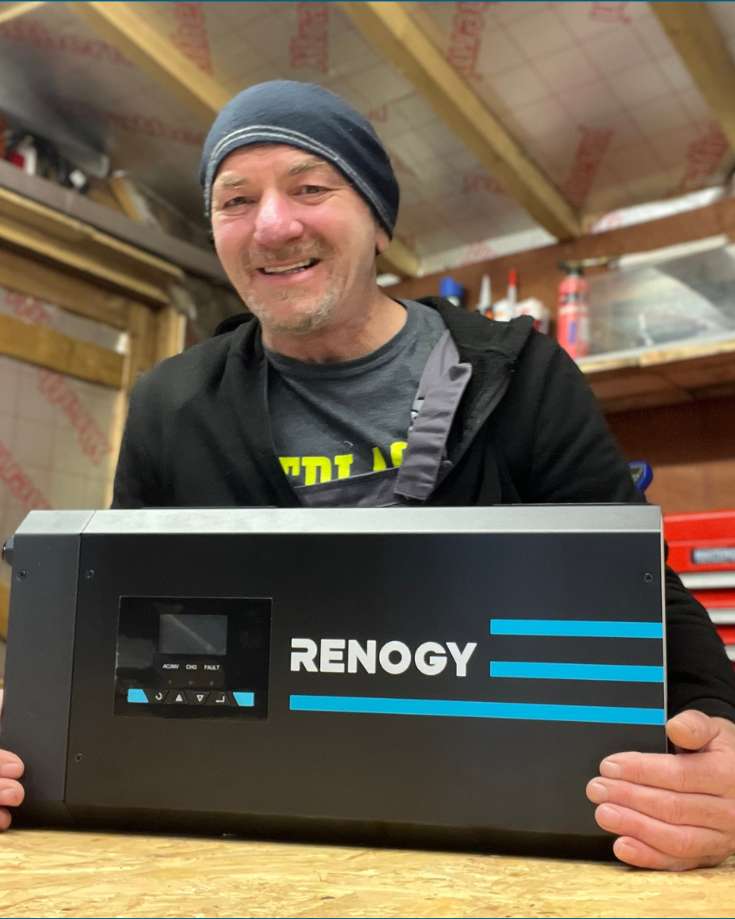 When determining what size inverter charger you need for your RV, there are a few key factors to consider.
First, you'll want to consider your RV's size and how much AC power you typically use. This will give you an idea of the wattage requirements for your inverter charger.
Wondering how much power you need? Simply add up the wattage ratings of all the appliances and electronics you plan to use at the same time.
Renogy's 2000w inverter charger can deliver 2000w of continuous power. So, if your demand is less than that, the 2000w model is ideal.
You'll also need to consider the charging capacity of the inverter charger and the battery absorption rate.
This is measured in amps and determines how quickly your batteries can be charged.
Take Renogy's 200ah lithium battery as an example. It has an absorption rate of 100a. The Renogy inverter charger has a maximum charge rate of 65a.
So, the inverter charger could fully charge the lithium battery in about 90 minutes.
How Does It Rate Against The Competition?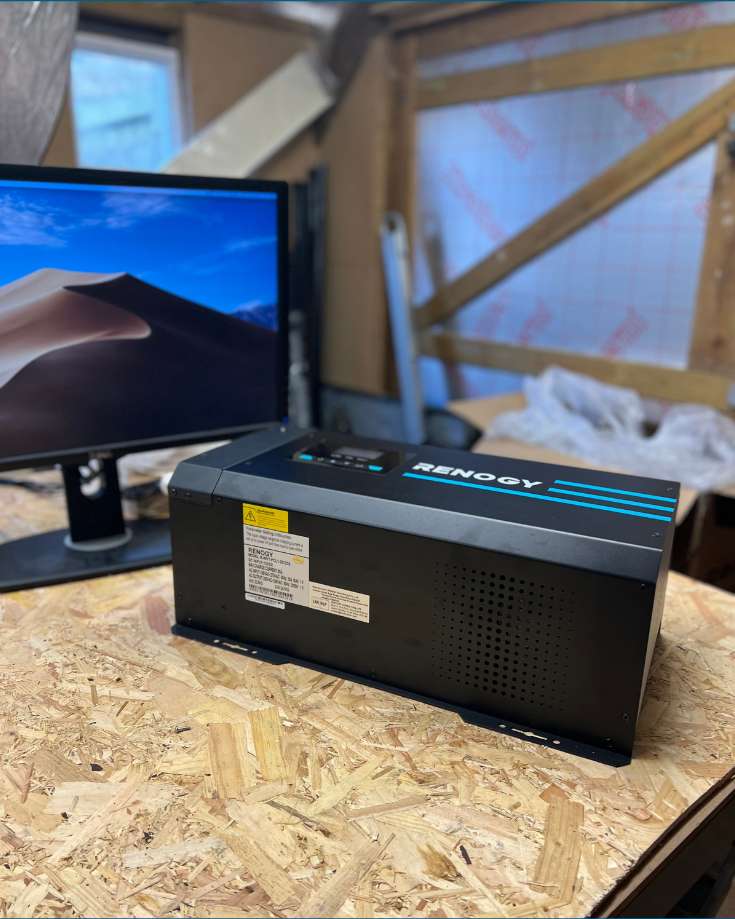 Renogy isn't the only inverter charger brand available. There are a lot of choices to consider.
So how does Renogy's 2000w inverter charger compare to the competition?
Alternatives include:
Renogy 3000w Inverter Charger
Victron Multiplus
Separate Inverter, Charger, and Transfer Switch
Renogy 2000w Inverter Charger vs. Renogy 3000w Inverter Charger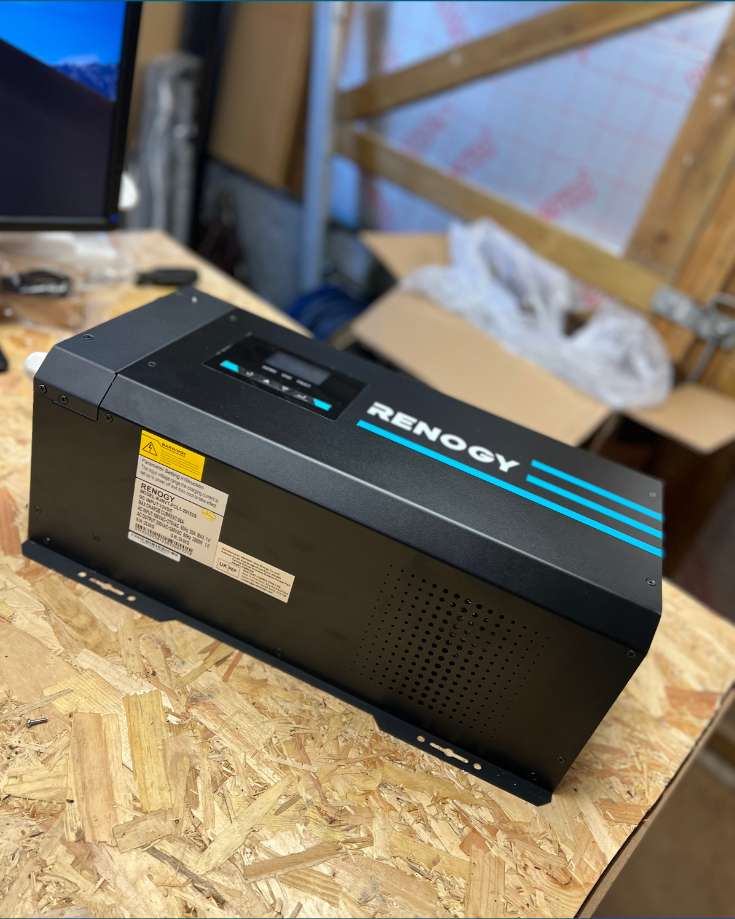 The two Renogy charger inverters are from the same series, so, unsurprisingly, they're similar.
Features and functions are identical, but there are a few other differences.
The Renogy 3000w Inverter Charger can deliver up to 3000 watts of continuous power output, while the Renogy 2000w Inverter Charger maxes out at 2000 watts. The surge power rating is also higher.
If you have larger devices or appliances requiring more power or starting power, you may want to go with the 3000w model.
Another difference between these two models is their weight. The Renogy 3000w Inverter Charger is about 10lb heavier than its counterpart.
It's worth considering if your vehicle's weight is a concern.
In terms of charging capability, both models are pretty similar. They both have:
built-in battery chargers that can handle lead-acid and lithium-ion batteries, and
multiple charging stages for optimal battery health and performance.
The 3000w model can charge up upto 75A per hour compared to 65A for the 2000w model. You can charge your battery bank a little faster with the 3000w inverter charger.
All inverters use energy to run them. The loss of energy is the cost of converting DC power to AC. The lower the energy consumption, the better.
The 3000w inverter charger uses 30w when idle compared to the 2000w model's 20w. Over 24 hours, that's a difference of 20ah.
That may sound slight, but it's worth considering if you spend much time off-grid.
Finally, there's the price. The Renogy 3000w Inverter Charger is slightly more expensive than the 2000w model.
However, it's not a huge difference if you need the additional power output and don't mind paying a bit extra.
When deciding between these two models, it really comes down to your specific needs and preferences.
Need more power output? The Renogy 3000w model packs a punch.
But if you're after something lighter and cheaper that delivers less power, the 2000w inverter charger could be the right fit.
Renogy 2000w Inverter Charger Vs. Victron Multiplus Inverter Charger
In summary, the Victron Multiplus Victron Multiplus Compact 12/2000/80-30 VE.Bus Inverter Charger is designed for industrial applications, so some of its functions are far superior to Renogy's. However, for most RV campers, most of that extra oomph is overkill.
Here are a few features where the Victron differs from the Renogy model:
Transfer Switch
Victron has a 50a transfer switch compared to Renogy's 30a. However, this is overkill for most RVers because the maximum power you can get from a campground pedestal is 30A.
Even if you have a 50A RV connection, that is made up of two phases, each of 30A.
The larger size transfer switch is only beneficial if you're running a generator that kicks out much higher power than you expect to get from a campground pedestal.
The Victron has a slower transfer switch than the Renogy – 20ms vs.10ms – so you may need to reset appliances.
Efficiency
The Victron is designed with energy efficiency in mind, so it has an idle power consumption of just 9 watts.
This means that when the inverter charger is not actively charging or powering any devices, it consumes only a minimal amount of electricity.
On the other hand, Renogy's inverter charger has an idle power consumption of around 20 watts.
While this is still relatively low compared to some other models on the market, it does mean that they consume more electricity than the Victron when not in use.
Surge Rating
The Victron inverter charger has a surge rating of 4000 watts. This means it can handle short-term power surges of up to 4000 watts without damage.
Surge ratings are important because many electrical devices, such as refrigerators or air conditioners, require more power to start up than they do to run continuously.
If an inverter charger cannot handle these surges, it may shut down or be damaged.
On the other hand, the Renogy inverter charger has a surge rating of 6000 watts, which is higher than the Victron's.
This means that it can handle larger power surges without being damaged.
Charging Rate
The charge rate of an inverter charger is a measure of how quickly it can recharge batteries.
The Victron and Renogy inverter chargers have different charge rates, with the Victron having a higher rate than the Renogy.
The Victron inverter charger has an 80A charge rate, which means it can deliver up to 80 amps of current to recharge batteries.
This allows it to charge batteries faster than the Renogy, which has a 65A charge rate.
It's worth noting what that means in terms of charging time. Whereas the Renogy takes about 90 minutes to charge the Renogy's 200ah lithium battery from flat, the Victron could charge it in about 65 minutes.
Although that is faster, in reality, most of us hook up to shore power overnight, so both sizes are suitable.
Weight & Size
The Victron's dimensions are smaller than Renogy's. In fact, the overall volume is about 40% smaller than the Renogy. That's a significant space saver.
Coupled with the smaller size, Victron's Multiplus weighs in at 25lb, half the weight of the Renogy.
That's a significant advantage when you consider the size of some smaller RVs.
Price & Warranty
The Victron inverter charger is priced much higher than the Renogy but has a longer warranty period.
The Victron inverter charger typically costs roughly twice as much as the Renogy, which can be a significant investment for some.
However, this higher price reflects the device's industrial build quality and advanced features.
In addition, the Victron also comes with a longer warranty period than the Renogy. While the Renogy typically offers a one-year warranty, the Victron includes a five-year warranty.
This means you can enjoy added peace of mind knowing that your device is protected against defects or other issues that may arise during normal use.
Plug & Play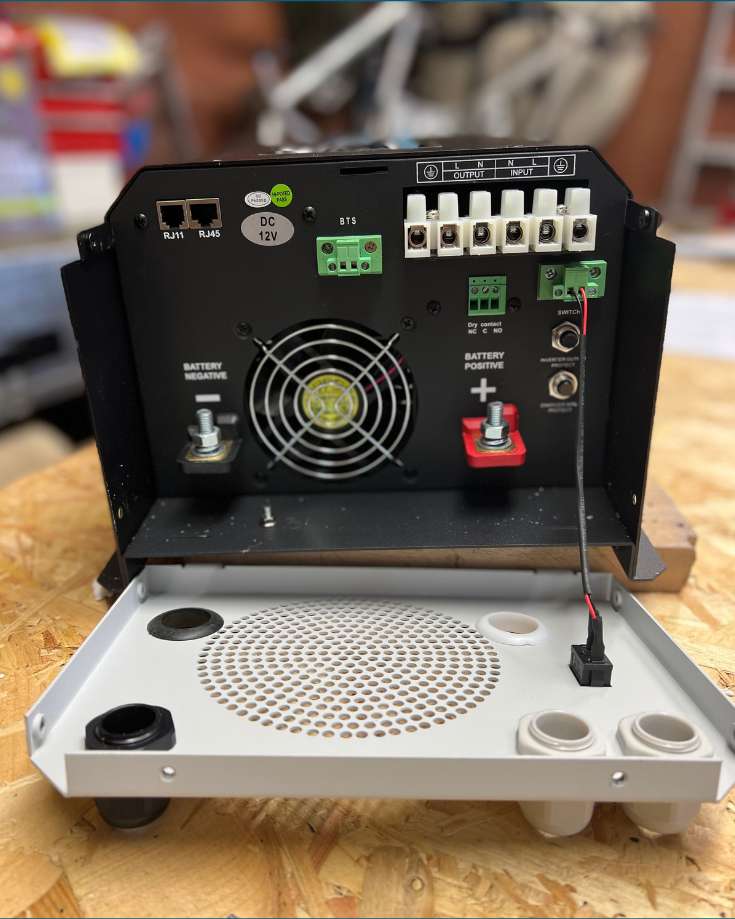 The Victron designed their inverter charger to be compatible with the Victron Cerbo power management system, which makes it a plug-and-play device.
You can easily integrate the inverter charger without fitting additional voltage sensors or other complex setup tasks.
Victron designed them to work together seamlessly, allowing you to monitor and control your power usage from a single interface.
This integration eliminates the need for extra hardware or wiring, saving time and money during installation.
In contrast, you'll need voltage sensors with the Renogy model to integrate with the Renogy One. It's not overly complicated, but requires additional setup time and effort compared to the Victron's plug-and-play design.
Power Control
The Victron inverter charger comes with a feature called PowerControl. It allows you to set parameters for how much power they can draw from different sources, such as generators, shoreside power, or grid power.
This feature is handy if you have high-power devices or appliances that could cause an overload if not appropriately managed.
For example, suppose you're staying at a campground and using a generator to power your RV. In that case, you may need to limit the amount of power you draw to avoid tripping the generator or exceeding the campground's electrical capacity.
With PowerControl, you can set specific limits on how much power you draw, ensuring that you stay within safe limits and don't disrupt other campers or upset the campground owners.
In Summary
The Victron inverter charger differs from the Renogy model in a few ways.
Firstly, it is about twice the price of the Renogy model, which may be a consideration for budget-conscious people.
However, the Victron does come with a better warranty and is also significantly smaller, making it easier to install and integrate into an existing power system.
One of the most significant advantages of the Victron is its plug-and-play design, which eliminates the need for additional voltage sensors or complex setup steps.
This can save time and hassle during installation, especially if you're unfamiliar with electrical systems.
However, only you can decide if these advantages are worth the higher cost.
For some, the ease of use and smaller size of the Victron may be worth paying extra.
Or you may prefer a more affordable option and accept the additional setup steps.
Ultimately, both models have their strengths and weaknesses, so it's important to carefully consider your needs before deciding.
You should consider factors like budget, power requirements, ease of use, and warranty coverage when choosing between these options.
Renogy Inverter Charger Vs. Separate Inverter, Charger, and Transfer Switch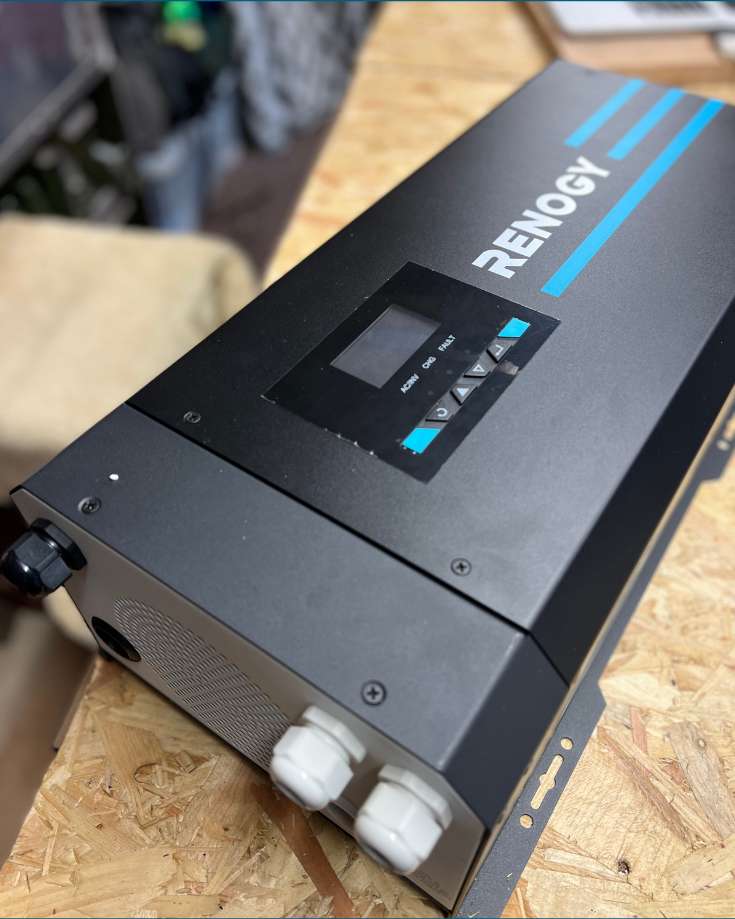 The Renogy inverter charger is a convenient all-in-one solution for managing your power needs.
However, there are some situations where separate components like an inverter, charger, and transfer switch may be a more viable alternative.
Here are a few reasons why:
Customization. When you install separate components, you have more control over each unit's specific features and capabilities. This can be particularly useful if your power requirements aren't fully met by an all-in-one solution.
Scalability. It may be easier to expand a power system with separate components rather than replacing an entire all-in-one unit. This can save time and money down the line.
Cost. Purchasing separate components may be cheaper than investing in an all-in-one solution.
For several years, we happily survived with a small 300w Pure Sine Wave inverter and a 20A charger.
For simplicity, you can keep your main AC socket supply separate from the inverter AC output.
If you wish to supply your AC sockets from either the AC pedestal or the inverter, you would need to fit a transfer switch between the two AC power supplies.
Of course, there are also some downsides to installing separate components – namely, that it can be more complex and time-consuming to set up compared to an all-in-one unit.
However, installing separate components may be a viable alternative for those prioritizing customization, scalability, or cost-effectiveness.
There is no one-size-fits-all solution when choosing between an inverter charger and separate components.
Depending on your power needs and budget, either option can provide a viable alternative. However, if customization or scalability are important factors, installing separate components may be the better choice.
Ultimately, both options have pros and cons, so take some time to consider what's best for you before making a final decision.
If you still have questions about which route might be right for you, leave us a comment below – we would love to hear from you!
RV Camper Electrical Bundle
Save 25% off the regular price by purchasing the Campervan Electrics Handbook (ebook version) and Interactive RV Wiring Diagram together.
You'll have everything you need to understand, design, install and troubleshoot your entire RV camper's electrical system.
The Full Renogy Inverter Charger Range
Resources
In Conclusion
Looking for an inverter charger for RV batteries or off-grid living?
The 2000w Renogy Inverter Charger provides a powerful, pure sine wave inverter and robust charging capabilities.
It's customizable to your specific needs, and great value compared to similar products on the market. Plus, efficient and safe battery charging – all at an affordable price!
Have you got a question about charging RV batteries and using AC power off-grid? Please share it in the comments section below!
Graham Bogie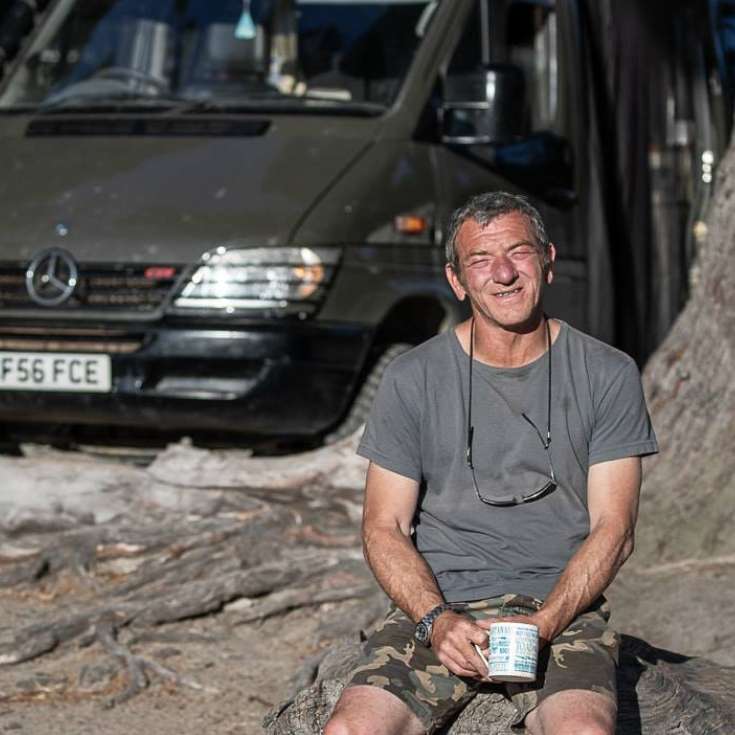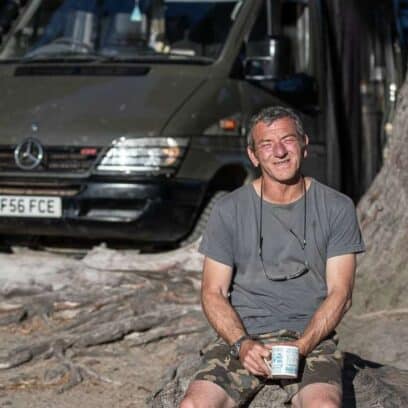 Graham is a seasoned marine electrical engineer with two decades of experience designing customized electrical systems for plant machinery and converting campers and overland vehicles. His expertise has led him to author the reputable Campervan Electrics Handbook and become the chief designer of the RV Wiring Design Tool. As a knowledgeable figure in the field, his YouTube channel, blog, Facebook group, and newsletter, offering electrical advice and product reviews, reach more than a million users each year.