If you ever find yourself near the Piney Woods of Texas, it has some of the best camping spots in the whole state with lots of trees, rivers, lakes, and gorgeous scenery. The Piney Woods region is located in East Texas and is well-known for its thick pine forests, hence the name.
There is also a lot of history in this region from the Caddo Native Americans to the early pioneers – much of this area looks the same as it did centuries ago. If you're a history buff, camping in the Piney Woods region is a real treat.
Some of these camping spots have modern amenities and others give you the chance to truly unplug. Our favorite camping spot in the Piney Woods region is Caddo Lake State Park as it has some of the best water features for fishing, kayaking, and boating. It has the only naturally formed lake in the entire state of Texas, which is worth checking out.
There are plenty of other camping gems in this part of Texas though. I've rounded up the best Piney Woods Campgrounds to camp at along with things to do and see at each one. You'll be happy no matter where you choose to camp in the Piney Woods.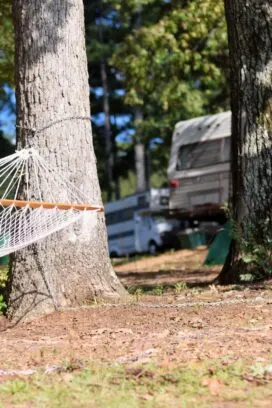 1. Caddo Lake State Park
If you enjoy canoeing and kayaking, you have to check out Caddo State Park. Aptly named, it has the largest natural lake in the south (26,000 acres!), and the only natural lake in Texas. Bayous and swamps make up this area and offer a once-in-a-lifetime opportunity to view different plants and flowers.
Take your time meandering through the waterways as cypress trees and dripping Spanish moss hang overhead. The lake features the world's largest cypress forest. I kept saying over and over again how mystical and tranquil the lake is – it is truly a picturesque experience to see this swampy bayou.
You can either rent a kayak or canoe or go on a guided boat tour. We recommend doing both if you can. With each experience, you'll be able to see more of the lake and bayou and learn even more history of the area. A potential Bigfoot sighting could also be in the cards for you – many have seen him prowling along the shores of the lake.
If fishing is your thing, the state park features a boat ramp and fishing pier. Relax and unwind as you fish in the pristine lake with more than 70 different species of fish. For the avid hikers, explore the park along the Caddo Forest Trail, which features lots of wildlife and historical landmarks.
For your stay, you can choose from 46 campsites, ranging from water only to full hook-up sites. We recommend grabbing a site along Mill Pond for a more scenic view. Our site was roomy with plenty of space between ours and the next. The RV sites have a tent pad, picnic table, and fire ring. The park also offers screened shelters as well as historic cabins to rent.
Things I liked
Lots of water activities, like kayaking, fishing, and boating
Opportunity to see various wildlife, flora, and fauna
Wooded campsites with water views
Things I didn't like
Alligators live in the lake, so make sure you are up on alligator safety
Very primitive camping, so not best for those wanting more amenities
2. Mission Tejas State Park
If you have an interest in Texas history, Mission Tejas State Park is the perfect place to park your RV and learn about the place where the Caddo tribe and Spaniards reigned. You can do a guided tour and hike regarding the Mission and El Camino Real. Yes, you can hike along the same path as those who traveled along "The King's Highway" many years ago in Colonial Times.
Be sure to also check out a historical log home built by pioneers in the early 1800s as well as the "bathtubs," cool, clear springs surrounded by stone. You can also see and appreciate the hard work of the Civilian Conservation Corps.
I was stunned by the beauty of this park. The trees are so lush and this is my favorite spot to "get away from it all". The hiking is the best around, especially the Steep Ravine Trail. A narrow, twisty trail that winds through a gorgeous forest? Yes, please. We walked almost every trail in about a day and a half, so this park is great for a quick weekend getaway.
For fishing, there is a small pond near the picnic area or along San Pedro Creek, just a short hike from the mission. Stop in at the park headquarters for fishing gear as well as interactive activities for kiddos and lots of information about the surrounding region.
The camping area is small and peaceful with a limited number of sites – 15 sites with electricity and water and two sites with water only. A quick tip: bring plenty of blocks for leveling as the sites are older and there are a lot of elevation changes throughout the park.
Things I liked
Lots of historical sites to see and appreciate
Well-marked and maintained hiking trails
Informative visitor's center with everything you need
Things I didn't like
Very small campground with a limited number of sites to choose from
Primitive camping with only the basics
3. Tyler State Park
This state park has great camping around a cool, spring-fed 64-acre lake as well as multiple camping loops. You can choose from 107 campsites – some full hook-up, water-electric, and just water. Even though this park is more popular than the others featured on this list, the sites still have a secluded feeling with 100-foot large lush trees surrounding them. Cabins and screened shelters are also available to rent.
Be sure to make your reservations well in advance as this park books up quickly. If you are lucky enough to snag a full hook-up site in the lakeview area, you could be right on the water. (Site 211 has a great view of the lake!) If you have a canoe or kayak to bring along, you can tie it up on the shore a few feet from your RV door.
Speaking of boating, the lake at Tyler State Park is the main attraction. You can rent a canoe, paddleboat, kayak, and more. There are also three fishing piers and boat ramp, perfect for fishing the stocked lake for crappie, perch, catfish, or bass.
If you're an avid hiker, the Whispering Pines Nature Trail is a ¾ mile round trip and provides a beautiful woodland walk in a peaceful setting. It's perfect for all skill levels and features a cascading waterfall. The Civilian Conservation Corps made this trail over 70 years ago, so there is a bit of history to it as well. We also loved doing the two-mile loop around the lake, which would be easy enough to do with kids.
Things I liked
The spring-fed lake features lots of activities
Lots of campsites and some with a lakeview
Peaceful and secluded, even with a crowd
Things I didn't like
Books up quickly, so you must plan in advance
No support for technology like Wi-Fi
4. Martin Dies Jr. State Park
Deep in the Pineywoods of Texas is Martin Dies Jr. State Park, which features 1,300 acres of lush forest and winding waterways. The Angelina and Neches rivers meet at the park, creating a wildly diverse ecosystem of wildlife and vegetation. You can fish along these rivers, as well as on the B.A. Steinhagen Reservoir, where you'll find catfish, bluegill, largemouth and spotted bass, and crappie.
In addition to fishing, there are plenty of opportunities for kayaking and canoeing around the water. There are nearly 14 miles of marked trails through the backwater sloughs along Spring Creek. We loved spending time kayaking in the water and checking out all of the cypress trees here.
There are also six wooded trails for hikers and bikers that take you through The Big Thicket, which features countless birds, mammals, and plants. You may even spot an armadillo as well as white-tailed deer, foxes, and bobcats. Check out the two-mile Slough Trail, which weaves along the beautiful lake and provides lots of scenic picnic spots.
If you like remote camping along a lake, this is the place for you. The state park has two RV campgrounds with 200 sites to choose from with electrical hookups, and some with water and sewer hookups for your rig. Many sites also have a view of the reservoir, which makes camping at Martin Dies Jr. even more scenic with some of the best sunsets around. Sites are within walking distance of several clean bathroom and shower facilities. There are also screened shelters and cabins for rent.
Things I liked
Sites have a view of the reservoir
Lots to do between fishing, boating, and hiking
Very friendly staff
Things I didn't like
Tight roads that can be difficult to navigate in your RV
Some road noise from the nearby highway
5. Hanks Creek
Located along the Sam Rayburn Reservoir, Hanks Creek features 114,000 surface acres for fishing and water skiing. This makes it the largest man-made lake in Texas. Guests can enjoy fishing for a myriad of species, including largemouth bass, crappie, catfish, and sunfish. The lake is also popular for water sports, such as water skiing, jet skiing, and swimming.
The park is surrounded by the Angelina National Forest, and birding is one of the major pastimes here. The Red-cockaded Woodpecker is an endangered species that can be found throughout the forest. The bird has been protected in this forest by pecking homes in the large pine trees. While doing some hikes in the area, we saw plenty of wildlife, both in and out of the water. Overall, this is an incredibly peaceful place and makes you feel like you are really out in nature.
The campground has 47 sites with 30 and 50 amp electrical hookups as well as water. There are also screened shelters with adjacent RV sites with water and 50 amp hookups. Some notable amenities include a volleyball court, basketball court, boat ramp, playgrounds, dump station, and restroom facilities. We love how the sites were well-spaced with plenty of room, and most with views of the water.
Things I liked
Great place for seeing wildlife
Sites are all paved and level
Many sites on the water
Things I didn't like
No cell or internet service
Depending on the time of year, bugs could be an issue
Campervan and RV Rentals Near Piney Woods, Texas
Renting an RV is a great way to get all the benefits of an RV vacation without having to own one. It's a perfect way to give RV living a trial run before making an investment and testing out the different models available to see what suits your family best.
At Outdoorsy, you can rent RVs and campers from other RVers. Click here to see what RV rentals are available in near Piney Woods, Texas, and use MOWGLI50 discount code for $50 off your first rental.
If you already own an RV and don't live in it full-time, you can make it available for rental too, so keep maintenance down and get a welcome boost to you income at the same time.
How to Choose the Right Campsite
While our top pick is Caddo Lake State Park, there are lots of other camping spots to discover in the Piney Woods of Texas. When deciding on where you'd like to park your rig, there are several factors to consider. Here are some of the areas that we like to focus on when reviewing parks.
Price
The Piney Woods are full of super affordable state parks. Most of these parks only offer the basics like electricity, water, and sewer. You will most likely not find WiFi service, restaurants on-site, and planned activities for the kids. The price of these parks reflects that, so you won't break the bank when camping in this region of Texas. Even so, take into account your budget and choose the campground that best fits your needs financially.
Amenities
What do you and your RV need for your camping trip? Take a look at the amenities offered at the site, including hookups like water, electricity, and sewer. You also want to make sure there are a dump stations and clean restroom and shower facilities if needed. If you're traveling with a furry friend, make sure the park is pet-friendly and bonus if they have pet amenities, like a dog park.
Activities
The Piney Woods is truly a haven for outdoor enthusiasts. Are you into fishing? Do you like hiking? Do you just want to spend the day kayaking around the East Texas waterways? Figure out what activities are most important to you and your family, and make sure the park offers those things. Most of the parks in this region do offer extensive hiking trails, historical landmarks, and lakes and rivers to enjoy.
Types of Camping
Again, most of the camping located in the Piney Woods is going to be primitive areas and state parks. You will most likely not find luxury resorts for glamping with all of the bells and whistles. Make sure this is the type of camping that you like doing. Also, don't expect to have clear cell service and internet connection. Many areas of the Piney Woods can get pretty remote, so be prepared to truly unplug and rough it.
Wrap Up
The Piney Woods of Texas offers so many different camping areas, and this list is just a small sampling of all of the adventures that await you in East Texas. In addition to all of the state parks and national forests, there are tons of small privately-owned parks and resorts. The Piney Woods has it all – rolling hills, pine forests, magnificent lakes, and that Southern hospitality that feels like home.