Cornwall's rugged coastline is wild and full of hidden coves. Perhaps then it's no surprise that smugglers used the area to bring tea, brandy, tobacco and even pepper ashore. The coves of Cornwall were ideal hiding places and many had tunnels and passageways dug out to hurry the movement of contraband.
The smugglers are no longer around, or at least we didn't see any, yet the coves remain. A significant part of the Cornish coastline are the networks of caves and tunnels.
Some have retained much of their original character and many local fishermen still use traditional fishing methods. Others offer sweeping, sandy beaches with plenty of opportunities to explore rock pools and caves. Yet more are unspoilt and not signposted and so real hidden gems!
We visited many on our recent road trip and so here's our list of 7 of the coolest coves in Cornwall. Enjoy!
Portloe Cove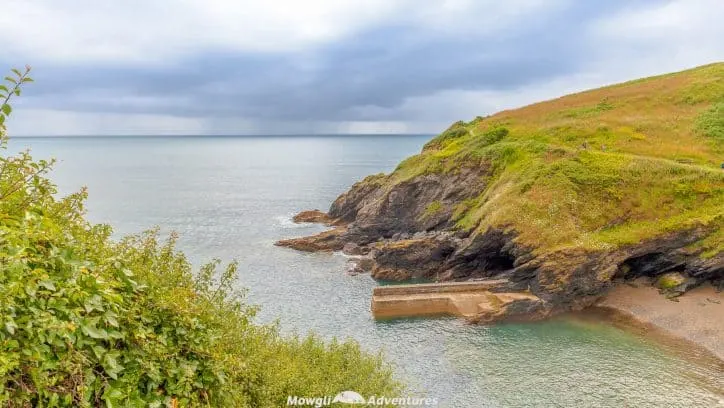 Portloe Cove is unspoilt and on the edge of one of the prettiest villages in Cornwall. The village of Portloe has escaped mass development because it's built into such a steep sided cliff.
With so few cars or tourists, it's quiet here with and the drive from Tregony to get here is one of the most scenic drives in Cornwall.
St Mawes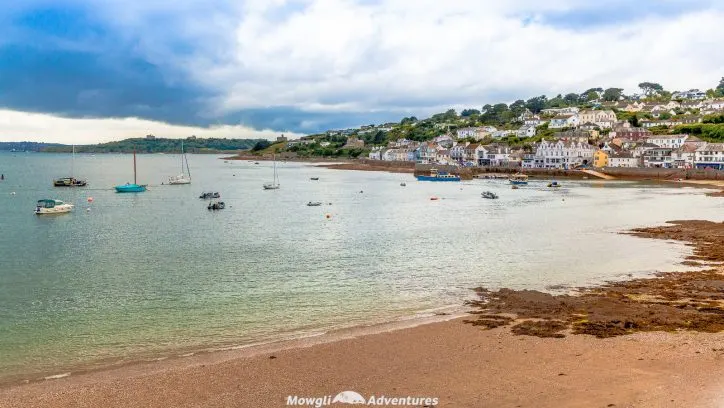 St Mawes is a quaint village and its long stretch of sand beach overlooks the River Fal, towards Falmouth. It's less of a cove really but such a lovely place when it's quiet, I couldn't help but add it to the list.
During the summer, it seems quite popular with the older generation. Needless to say, we didn't stay long! St Mawes was the base for Robert Long, a seventeenth century smuggler who met an untimely end.
The revenue authorities executed Long and hung his body in chains on the road out of the town. Us Brits have always been so charming!
Essential reading: Take a look at our Cornish road trip itinerary for some inspiration.
Cadgwith Cove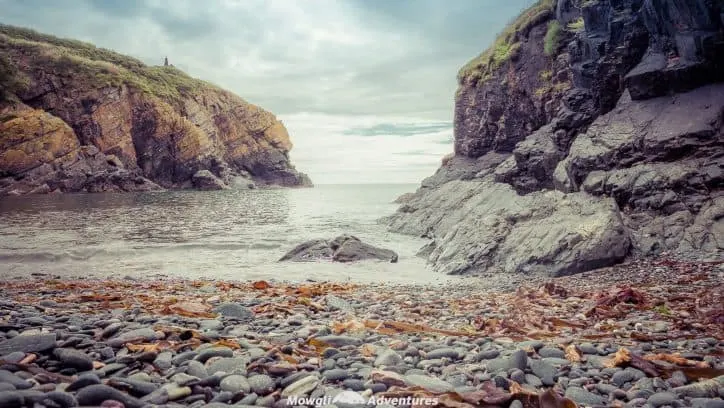 Well this is a little gem of a cove. While the village is beautiful, this cove is the last thing you expect to see and a real treat. You will stop in your tracks as you catch your first glimpse behind the fishing harbour.
Cadgwith is a typical English village with thatched cottages. There is a maze of narrow lanes descending down steep slopes. As they pass the fisherman's huts, you approach the pebble cove below.
Cadgwith Cove is growing in popularity so try to visit before it becomes overrun with cafés and ice-cream sellers.
Kynance Cove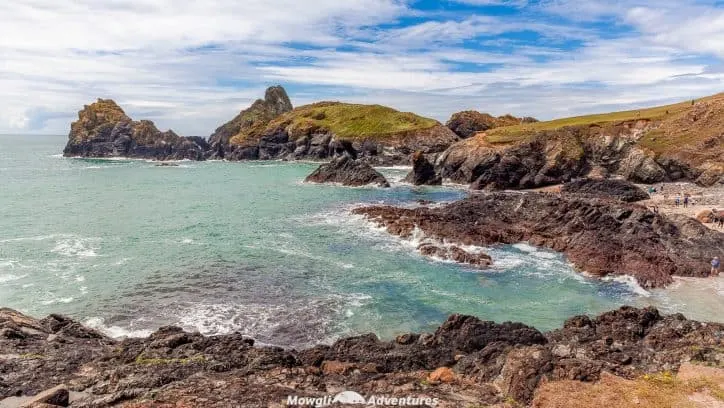 Another cool cove is located just a mile from Lizard's Point, the most southerly point of mainland UK. Kynance Cove is special because it's quite a jaunt to reach from above the cliffs.
There's a steep descent down a well trodden path and of course, you'll need to clamber back up again to! At low tide you can explore the towering rocks and caves with names such as The Parlour and The Drawing Room.
From Kynance Cove there is a fantastic 2 mile scenic walk around the coast to Lizard Point.
Top tip: you should visit Lizard's Point and Kynance Cove on the same day and use the coastal path between them. If you drive between the 2 sites, expect to pay a hefty parking charge in both locations. You know who you are! Robbing gits.
Discover more: Cornwall's most scenic road trip routes
Portcurno Cove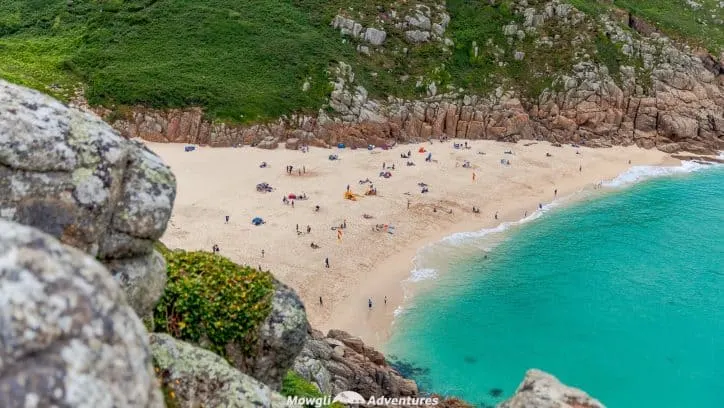 Porthcurno was once the centre of world telecoms because it connected Britain with America by massive cables buried under the sand.
The Porthcurno Telegraph Museum is next to the cove and to please the historian in you, it's worth a short visit. The most scenic access to the cove is by a steep flight of steps from the Minack Theatre.
From here, it's amazing at just how turquoise waters surrounding the towering cliffs are.
Sennen Cove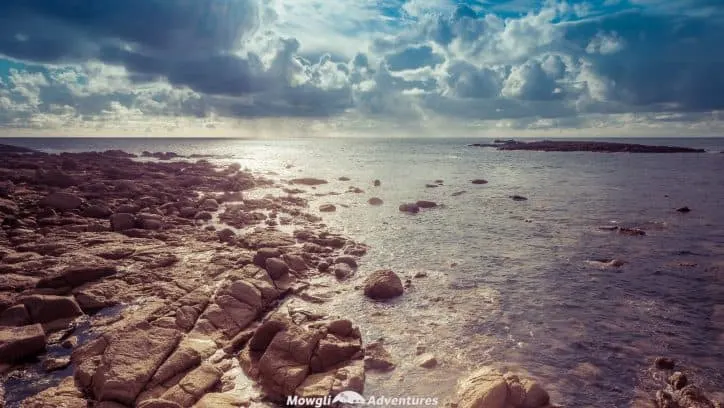 Sennen Cove is just around the corner from Land's End. It's popular because it boasts a fantastic stretch of sandy beach. Just beyond the breakwater, the cove is rocky and great for checking out the rock pools for carbs and critters.
Sennen Cove should be pretty high up on your must see places in Cornwall, if beaches are your thing.
It's quite busy with families in the summer months and yet it's a fantastic spot to photograph the power of the ocean during the winter!
When you get there, just check out the photograph hanging on the wall of the fish & chip shop. It's amazing!
Take a peek: Charles de Gaulle in the bath!
Trevaunance Cove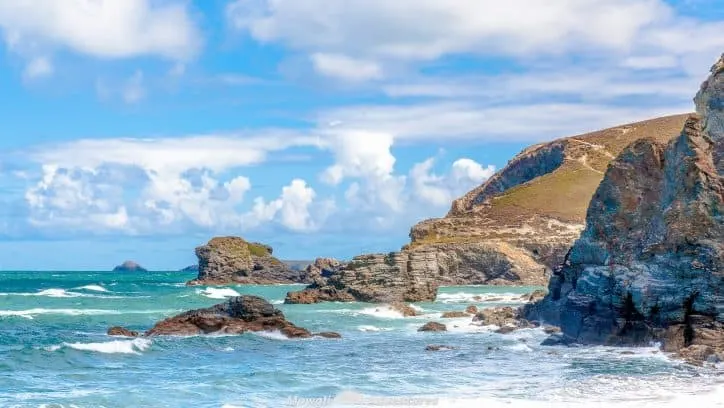 And so finally on to the north coast. Trevaunance Cove is the main beach at St Agnes and a best kept secret. Never mind the overcrowded beaches of Perranporth & Newquay because this cove is perfect for learning to surf.
It's sheltered but wide and not too rocky away from the cliffs.
There's a labyrinth of caves to explore too and at low tide you can walk to the next beach at Trevellas Porth. Trevaunance is the top of our list of the coolest coves in Cornwall.
Useful Information
Top tip: this is only a list of some of the coolest coves in Cornwall, therefore there are many more to find.
Take a few detours near the coastline as you road trip through the county, so you can find a few more hidden gems.
We couldn't help but notice that while the managed areas are magnets for tourists, the presence of so many people takes away from the charm.
But when you get off the beaten path, you'll find many coastal spots unspoilt, unmanaged and they won't have any parking charges either!
You'll have the place all to yourself! Let us know if you find any of the coolest coves in Cornwall we've not mentioned here. There are bound to be hundreds of them!
Car hire for a Cornish road trip
Hiring a car in the UK is easy so long as you have the correct documents. If you hold a UK licence, you must get a code from the DVLA upto 21 days before your hire period starts. You can get the code here.
Licences issued overseas must be clearly identifiable as a driving licence and be written in English, otherwise an International Driving Licence is needed. A Passport, ID showing home address and proof of entry into the UK are also needed.
Whilst we drive our own vehicle and indeed live here, we appreciate that many people will fly into the UK and hire a car.
We're not loyal to one rental firm, and will simply go with the one that offers the best value – and that means using a comparison website.
For us, Autop Europe is by far the best, and our first choice, every time. They even do camper van rentals!
Click here for a no obligation car rental quote
Accommodation in Cornwall
There are a few fancy hotels in Cornwall but if we're not camping, we prefer to stay in a good old fashioned guesthouse or B&B. There's thousands of them in Cornwall and we suggest you check out their reviews on TripAdvisor before you book.
When it comes to booking accommodation during the high season, you need to book in advance. Even the campsites are busy.
One of the reasons for going on a road trip is having the flexibility to do as you like, when you like.
You lose some freedom with a pre-booked reservation but if you must travel during a busy period, you have fewer options in Cornwall. It's likely you'll always find somewhere to stay but your choices fall dramatically.
Like it? Pin it!