Spend any amount of time in Germany and it'll be clear the nation has a long-standing love affair with the automobile.
In fact, it goes further than this with German engineering being world renowned. With highly efficient transport systems including fantastic speed limit free Autobahns, travel around Germany couldn't be easier.
For the car loving enthusiast, Germany is home to some pretty cool car museums and let's not forget the Nürburgring for the speed fanatics amongst us!
Ok, so driving a Unimog doesn't quite add up to being a speed fanatic; we can but dream of fast axles!
If you're planning a road trip in Germany, why not build your itinerary around visiting the best of its car museums?
A Car Lover's Guide to Car Museums of Germany
Porsche Museum
This iconic sports car brand hosts a clinically clean museum filled with Porsches dating back to the early 20th century. Gleaming & highly polished, you can't touch or drool on the exhibits but you'll surely admire and maybe even dream of owning a 356 or a 911.
Not surprisingly, there are many cars on show; some with unusual paint jobs, prototype and concepts vehicles, iconic racers and a few too many special editions presented to Prof Porsche over the years.
There's plenty of information of the company's history and technical progress.
If you're interested in the manufacturing side of things, there's a tour where you can witness the current models being built and rolling off the production line.
From outside, you can even see the vehicles rolling along the production line across a covered bridge high above the main road!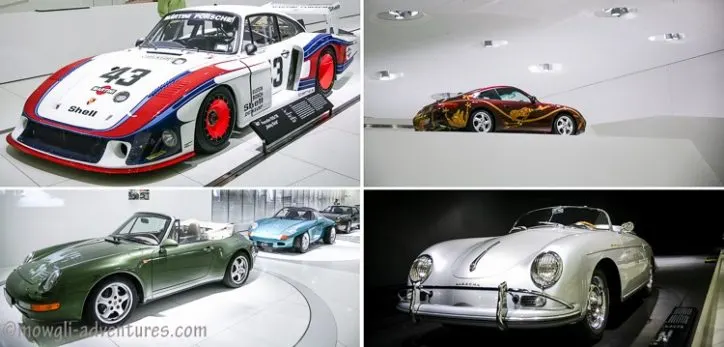 Useful Information
Address: Porscheplatz 1, Stuttgart-Zuffenhausen
Website: www.porsche.com
Opening Times: 9 a.m-6 p.m, Tuesday to Sunday. Closed Monday.
Admission: €8 adult and €4 child/concession. The factory tour is free but you need to email in advance for a reservation. Email: [email protected]
Mercedes Unimog Museum
How could we not visit the home of Mowgli? This is quite a small exhibit hall with an impressive display of lovingly restored examples of early Unimogs and plant tools.
There's loads of historical information about Mogs and some displays show cutaways of newer models. There are also changing displays of new Unimogs, quite often one of the more famous expedition trucks on loan.
The gift shop is treasure trove of Unimog branded items; caps, scarfs, clothing, toys and they even sell Unimog wine, which was a hit with Angela! Outside is a test track and you can book a ride to go around in a Double Cab U500.
Last time we were there, we could hear laughing and lots of screams from 4 elderly women as the Unimog they were being driven in reversed over steep hills on the off-road track!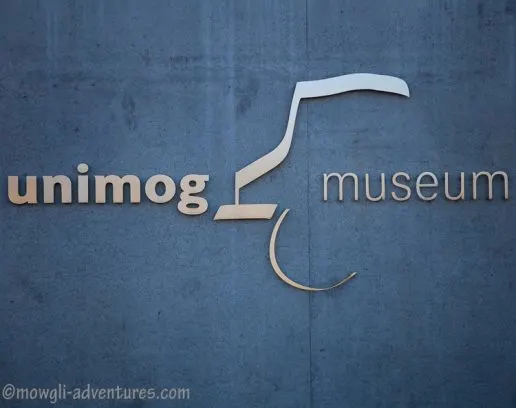 Useful Information
Address: Unimog Museum, An der B462, 76571 Gaggenau N48° 49′ 4.44″ E8° 17′ 43.08″
Website: www.unimog-museum.com
Opening Times: 10 a.m-5 p.m, Tuesday to Sunday. Closed Monday.
Admission: €4.9 adult and €3.9 child/concession. If you have a Upper Rhine Museum Pass, entry is free.
Mercedes Museum
This car museum is huge and the building design is impressive, let alone the displays! Spread over 9 floors and with over 150 vehicles on display, you'll need plenty of time for your visit.
Your journey starts back in the year 1886 and carries you through the years.
As you enter this museum your feel like you are entering a show room laboratory filled with car eye candy!
There's many examples of Mercedes on display from the very first production to the latest developments, all in concourse condition. Again factory visits are available and there's a fantastic café on site.
Of course being Mercedes, expect Mercedes prices for a meal. The museum is designed to leave you wanting a Merc and with that in mind there's even a showroom at the main entrance.
When we were there (pre-Mowgli days), there were at least 3 choices of G wagons ready to drive away. Time to keep your hands firmly clenched in your pockets.
Useful Information
Address: Mercedesstraße 100, 70372 Stuttgart, Germany
Website: www.mercedes-benz.com
Opening Times: 9 a.m-6 p.m, Tuesday to Sunday. Closed Monday.
Admission: €8 adult and kids go free!
BMW
Not such a large place, you'll see cars, motorbikes, F1 cars and the infamous bubble cars with the expected information covering their manufacturing history.
The first exhibit is a collection of seemingly floating balls that continually change shape from air foil to car outlines to other shapes. This is quite hypnotic and you could stand and watch if for ages.
Within the collection there are several unique productions on show. BMW also have a private collection of priceless vehicles nearby but I wasn't able to arrange a visit and even we could have got in, there are no cameras allowed in there.
There are also exquisite cafés and restaurants who will be delighted to cater for functions. You can even pick up your brand new BMW, Rolls Royce or Mini straight off the production line here.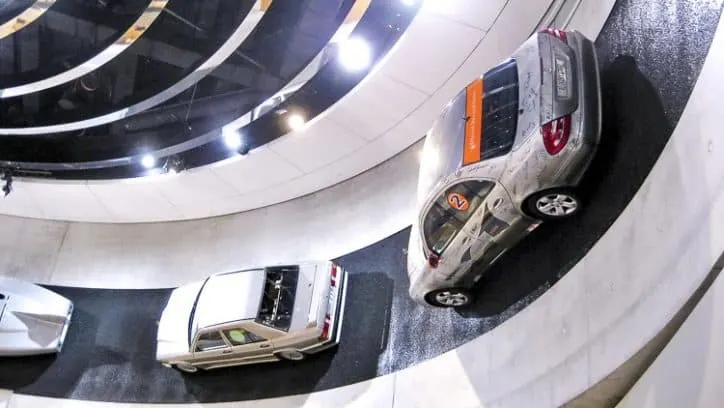 Useful Information
Address: Am Olympiapark 2, 80809 München, Germany
Website: www.bmw-welt.com
Opening Times: 10 a.m-6 p.m, Tuesday to Sunday. Closed Monday.
Admission: €10 adult and €7 for children
VW & Audi
We've not visited either of these yet and are on our must do list for our next visit to Germany. The VW Museum is based in Wolfsburg and the Audi Museum is in Ingolstadt.
We'll update this post once we've visited but in the meantime, if you've visited either of these, let us know what you thought.
Like it? Pin it!