We're incredibly privileged to be able to travel without time constraints and to visit places that are not on the average tourist route.
We've met with kindness and generosity at every turn, often from those who have little material wealth but big welcoming hearts.
A small act of kindness is repaid many times over.
After one such act, deep in the Middle Atlas Mountains, we were invited to spend a night with a Berber family and to share their daily meal, enjoying the comforts of their home.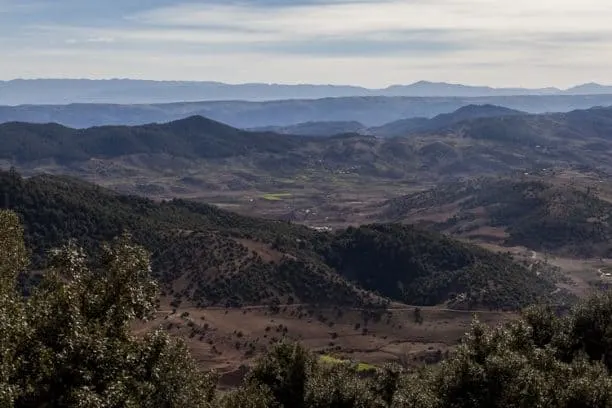 Leaving Azrou, we'd travelled southwest along cross country tracks in the heart of the Middle Atlas Mountains towards a little known extinct volcano. Its crater is now a lake known as Aguelmane Sidi Ali.
We pulled up near the stunning lakeside; there were some Berber tents and a makeshift tea shop nearby.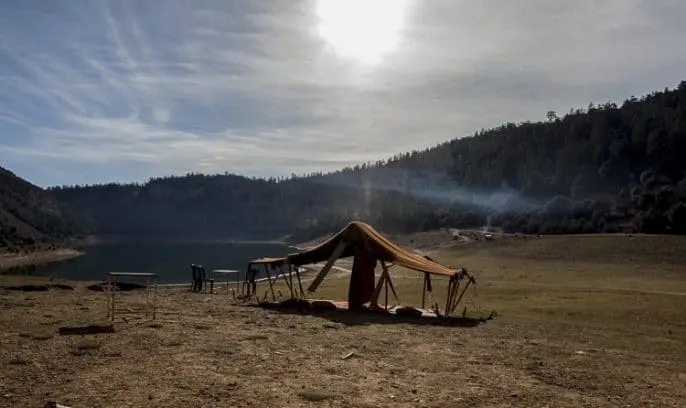 The only visitors here are Moroccans and it's well and truly off the beaten track.
We'd not even put the kettle on and a young Berber girl, Mouna and her brother Hamza arrived, pushing a bicycle with a very flat tyre. They asked if we could fix it for them.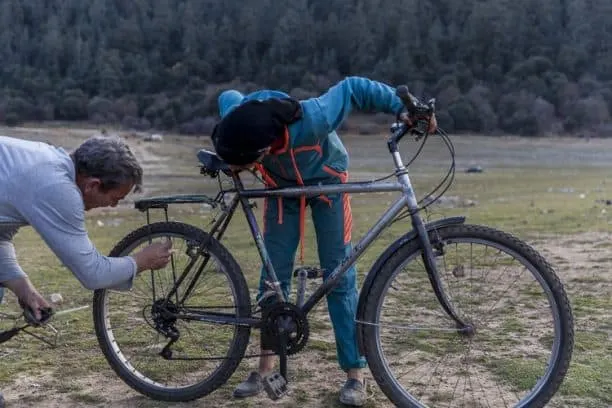 We had a bicycle pump and tried to inflate it but it clearly had a puncture. We set about taking the tyre off and trying to find the leak, all while chatting in our finest Frarabish.
Bicycle punctures are my nightmare. I've never been able to fix them. Just ask my mum. She always got the job of fixing mine!
Anyway after several attempts at finding the leak, walking down to the lake to see the tell-tale stream of bubbles, losing the hole on the way back and repeating this several times, we eventually set about applying the glue to fix the patch.
Mouna's father, Ma'hjoub arrived with a pot of Moroccan tea.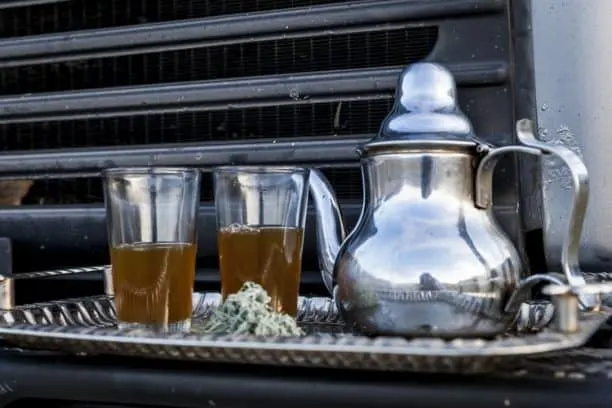 Just as I thought the puncture repair was almost sorted, I discovered that although I had a patch, our glue was empty.
I used some silastic, explaining to Ma'hjoub this was the best I had and, inshallah, it might work. He understood. I think. Eventually we fixed the tyre, put the wheel back on and all was good.
Mouna's mother, Saaed, arrived carrying a 10 litre water bottle, several oversized bags and her youngest daughter, also called Saaed, on her back.
The family were so delighted that Mouna would be able to cycle to school again, they insisted we join them for dinner in their home.
We readily accepted such a kind offer and brought with us some fresh bread and bars of chocolate.
Just as we were leaving, another man approached us asking for help. He had driven to the area from Casablanca to give his brand new 4×4 Porsche a run for its money.
Clearly it had failed his test and he was stuck in the mud near the lake. I went off in Mowgli to pull him out, while Angela joined Saaed to trek up the volcano crater to the family home.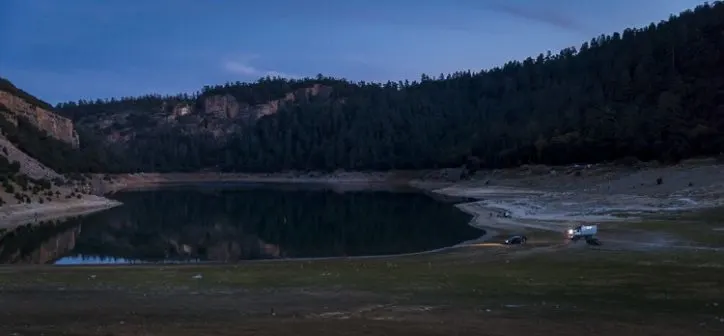 Mouna came to collect me and we walked up the steep rocky incline of the crater to a homemade wooden shack, with plastic sheeting for a roof. There were several small outbuildings; one for cooking, one housing a donkey, a cow and a few chickens and the main house. This was one large room and served as the family living/bedroom.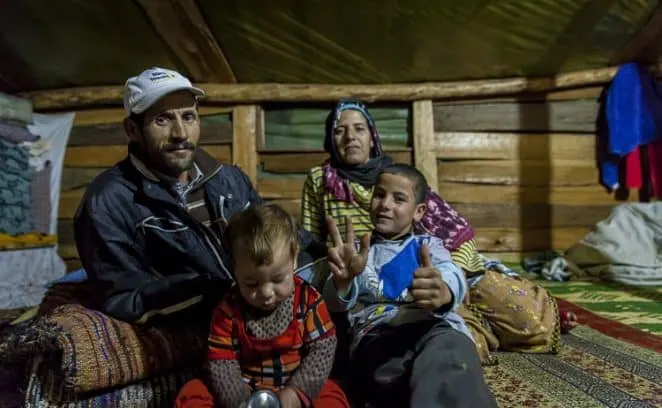 In the centre of the room was a roaring fire; the bare dirt ground was covered with lots of rugs with cushions scattered around to provide comfortable seating.
Their mattresses were neatly laid around one side of the room and it was warm and cosy.
The children were watching Nat Geo on the solar battery powered TV in the corner, occasionally playing around with each other or giving each other a snidely poke.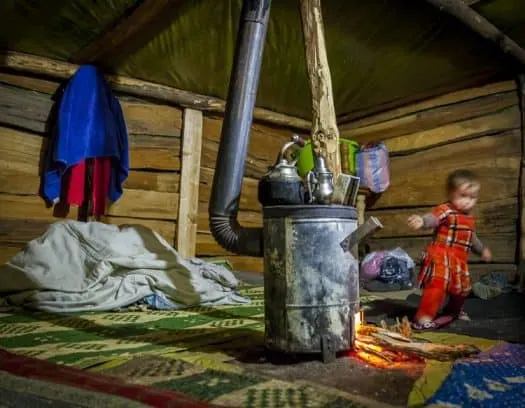 In one corner of the room was a loom with a half worked rug. Mouna demonstrated how her mother makes the rugs before joining her mother to help prepare the evening meal.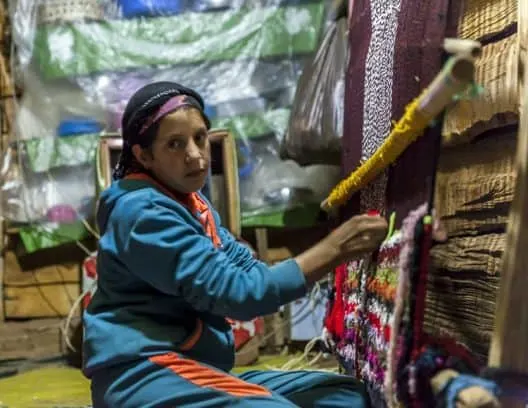 After a time of playing with the Hamza and Saaed, Mouna and her mother arrived with a basin of water and a cloth for us to wash our hands. Then the single plate of food arrived with a basket of bread.
The tagine was made up of a small amount of chicken with lots of vegetables. It was delicious and as we all ate from the plate, Ma'hjoub was keen to see us eat the lions share.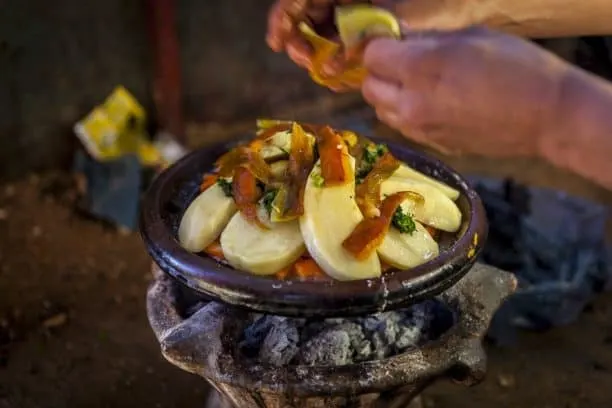 We naturally tried to suggest giving it to the children. The hospitality is overwhelming. A family with so little treating Angela and I in this way was so very humbling.
It's an enormous difference between our 2 cultures. We hope we managed to steer a fine line of appearing to eat plenty and also making sure the children had plenty too.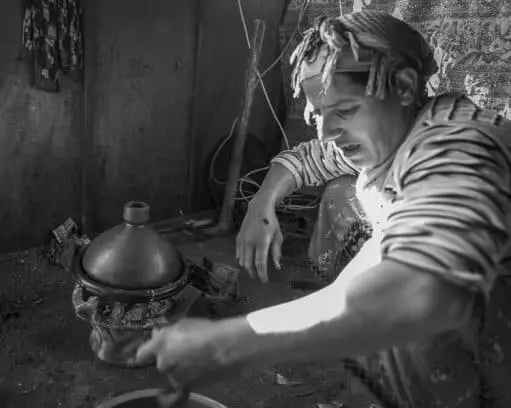 After dinner, tea was served and the entire family sat and watched a game show.
The parents spoke very little French so we had a challenging conversation in a few words, a bit of sign language, drawing pictures and using a French Arabic dictionary.
Needless to say, although it wasn't the slickest of conversations, we managed to get by.
I was asked if I would ride one of the donkeys to Khenifra, about 30km away with Ma'hjoub the next morning to pick up supplies for the family. Me? Ride a donkey for 60 kms?
Not sure my backside could take the pain! Much to Angela's disappointment, I declined the offer of the donkey ride, but did offer to bring him into town in Mowgli.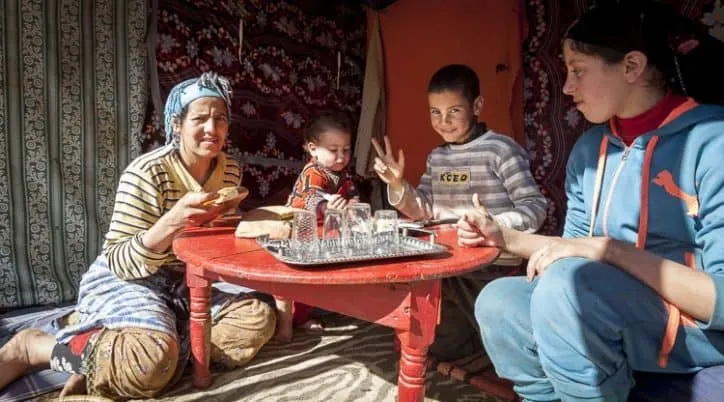 After a peaceful night, I drove Ma'hjoub to Khenifra and Angela stayed with Saaed and the children. Angela was given omelettes for breakfast and a master chef cooking course on tagine.
She also helped out by getting water from the well. Here, everybody travels to collect their water, be it by foot or donkey.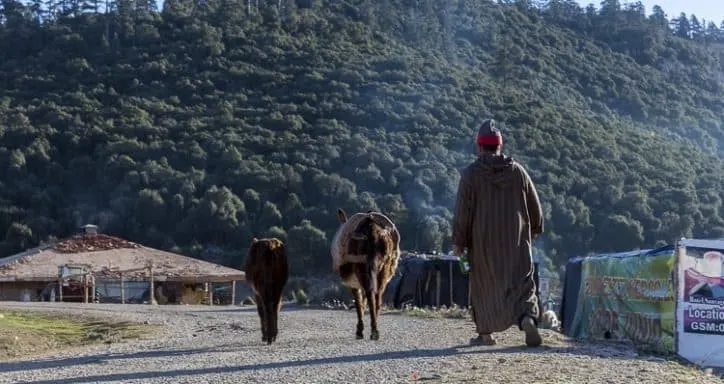 The bike tyre remained inflated overnight so our silastic repair worked. At least for the time being. A night with a Berber family was an experience we're hugely grateful for.
If only the world were filled with just a few of the gestures we experience every day, it would be a happier, more peaceful place for it.