Cangas de Onis is a small town located on the boundary of the Picos de Europa National Park.
The town is set in a deep valley between the rivers of Sella and Guena and not surprisingly it benefits from a more than a picturesque location. It's a little on the touristy side, although while we visited, most of those tourists were in fact Spanish.
You'll pay a little extra for food, drink and accommodation than in the lesser known villages of the Picos de Europa National Park but there is free camping available.
If you fancy your hand at a few adventure activities, there are plenty of stores willing to arrange one for you. Choose from buggy riding to tours up to Covadonga lakes, kayaking and rock climbing.
The people are friendly and the atmosphere is relaxed. In mid-October the weather is glorious, albeit a little uncertain.
The speciality food here is cheese. And they do like to brag! Every 2nd shop is an olde worlde place selling cheese and those that don't, seem to celebrate the cow.
We couldn't find any fresh milk though and had to stick to the delights of the finest Asturias UHT variety.
We ate in the town and although a couple of the tapas bars we chose were most enjoyable one in particular was little more than a jumped up greasy spoon.
We even managed to order something that was an all-day breakfast, disguised on the menu as Asturiana – Serrano, huevos, cebolla y patatas panadera. If only our Spanish were a little better!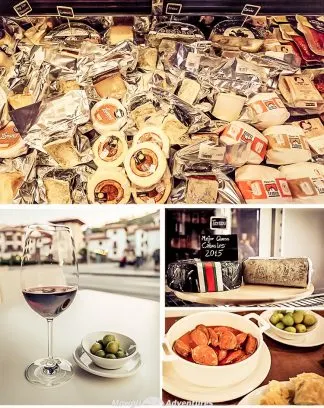 There are a few historic buildings of note. There is the "Roman Bridge", built in the 13th century – you work that one out! Still, it is very pretty even if it did remind me of Mostar in Bosnia.
There's a tiny church, Santa Cruz, which was rebuilt in 737. Now that's old!
The large church in the town centre is also very easy on the eye – don't we sound like architectural geeks?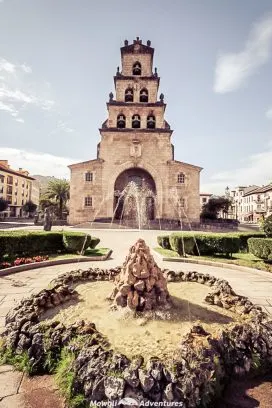 All in all, the town is a very nice stopover. I wouldn't be rushing to spend much time here as you can see it all in an afternoon easily but it is a good base for the Picos de Europa and the surrounding villages, many of which have far more character.
Watch this space for our trip review of Picos de Europa. Now they are definitely worth a visit!