Welcome to Mowgli Adventures!
We're Angela and Graham and on the wrong side of 40.
We hope we will inspire you to explore the world, step off the tour bus and go take a road trip to really experience the wonders and beauty of this rock we live on.
Between us, we've travelled on 7 continents and almost 80 countries.
We love to see the sights and think nothing of loading our vehicle or packing our suitcases to head off for a fly-drive road trip adventure.
We've been fortunate to have seen many places. Our most inspiring and special memories are of the people we've met on our travels.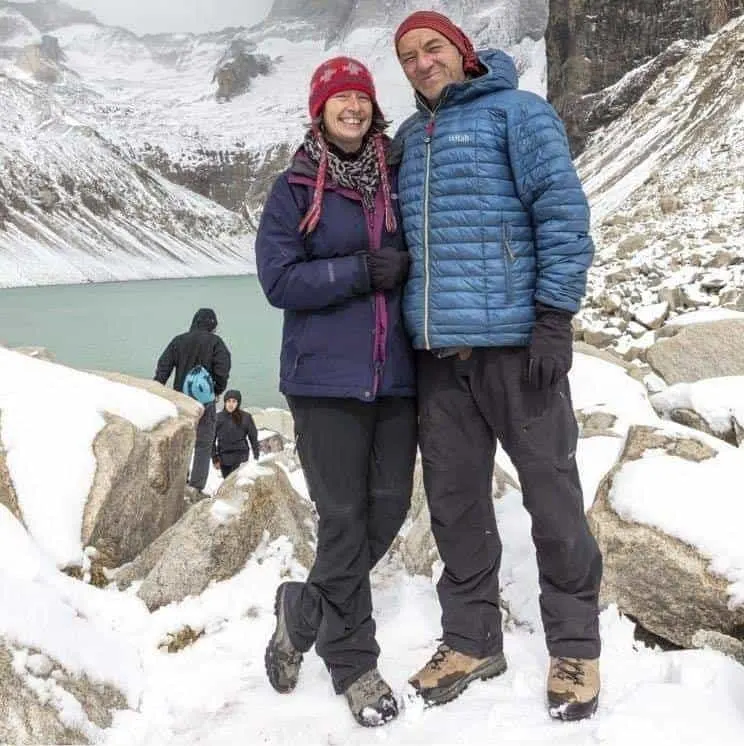 Whether it's having mint tea with a fisherman on a beach in Morocco, sharing a meal with monks in a monastery in the foothills of the Himalayas or having a chat with a busker in Barcelona who then dedicates a song to you.
Simple things. It is these moments that you will remember forever.
How It All Started
We had jobs to keep, a mortgage to pay, children to put through school and provide security for our family.
At some point our work life took over.
We were both working away Monday to Friday in different locations and weekends were a rush to prepare ourselves for the next week of work.
Our lives revolved around our annual holidays. We did a lot of road trips, camping in remote regions and exploring places not mentioned in the guide books.
Holidays included some great road trip adventures in Africa, Asia, Europe and even the Arctic. But our desire to travel wasn't being fulfilled – work was always calling and we only had a few weeks leave each year.
We began to realise we were missing the point. Something wasn't right.

The Big Decision
In 2009, whilst waiting on the Marseilles quayside for a delayed ferry to take us on our Tunisian road trip, we wrote a checklist of what we both wanted out of life. Top of our list was travel. We wanted to explore the world. To see the sights yes, but to really experience our destinations. We wanted to meet the people of different cultures and to have a more authentic travelling experience.
We knew what we wanted and we spent several years kicking around ideas on how we could achieve it. Nothing seemed financially viable.
Eventually we recognised that despite all our ideas, we were being held back by our lifestyle. Nice home, cars, and so on. To live the life we wanted we would have to make a drastic change.
So in 2013, we finally threw caution to the wind. We down-sized our lives, left our jobs and bought Mowgli, our Mercedes Unimog Camper.
A 12 month road trip through Europe and West Africa gave us a taste of the road and an amazing time; there were some crazy adventures, bucket loads of stories and priceless experiences.

Read more about Mowgli, the 3rd member of our road tripping team…
---
And So What Now?
And so Mowgli-Adventures.com was born. It started out as just a way to share those road trip stories with our friends and family.
Now we want to broaden our audience, to inspire you to explore the world, step off the tour bus and go take a road trip.

We returned to the UK and swapped out Mowgli the Unimog for Baloo the Sprinter van.
Baloo was an ex British army minibus when we bought her and after 2500 hours of work, we finished her conversion to our new home. Click here to meet Baloo, our Sprinter campervan and home.
2 weeks after we finished the final conversion job, Angela, me and Baloo boarded a cargo ship and set sail to South America. We've since been living our dream. Literally.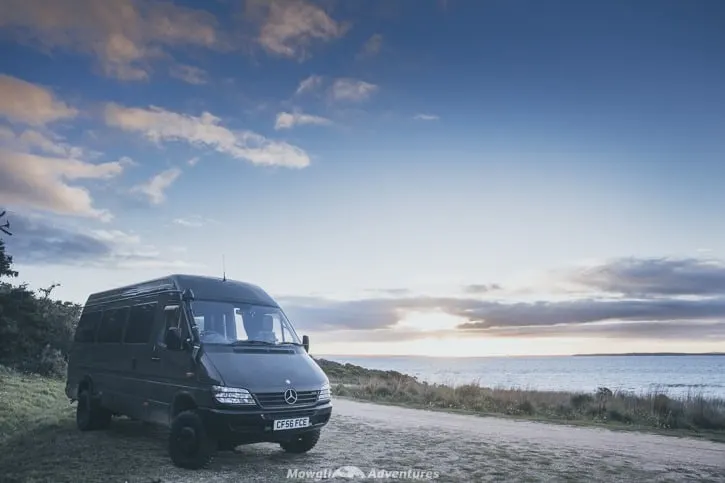 Life Is An Adventure. The Only Limit Is You.
---