Golden shrubs cover the red, mountainous landscape. Rainbow coloured nutrients marble the slopes hemmed in by snow capped peaks. The leading line of a ribbon like road twists and turns through the panorama, before disappearing around a distant bend.
Abra del Acay is a high Andean mountain pass in the Salta Province, Argentina. Climbing to almost 5000 metres above sea level, it's as remote a stretch of Ruta 40 as one can find.
Even the exact altitude of the pass is debatable. The sign clearly states 4895m above seal level. The official figure is 4985m and our GPS told us 5050m. Whatever it is, it's high up here.
It's the highest road in Argentina, some claim in all of South America.
Joining the Puna high plateau to the Calchaquí Valley, driving Abra del Acay isn't for the faint hearted. Gale force winds, landslides, snow and ice often leave the road impassable.
Of course, there's a way to avoid this challenging drive – take Ruta 51 from Salta to the Cafayate but where's the fun in that?
For us and anyone else willing to brave the trail, Abra del Acay rewards with one of the most dramatic drives in all of Argentina.
Here's everything you need to know before taking this thrilling ride.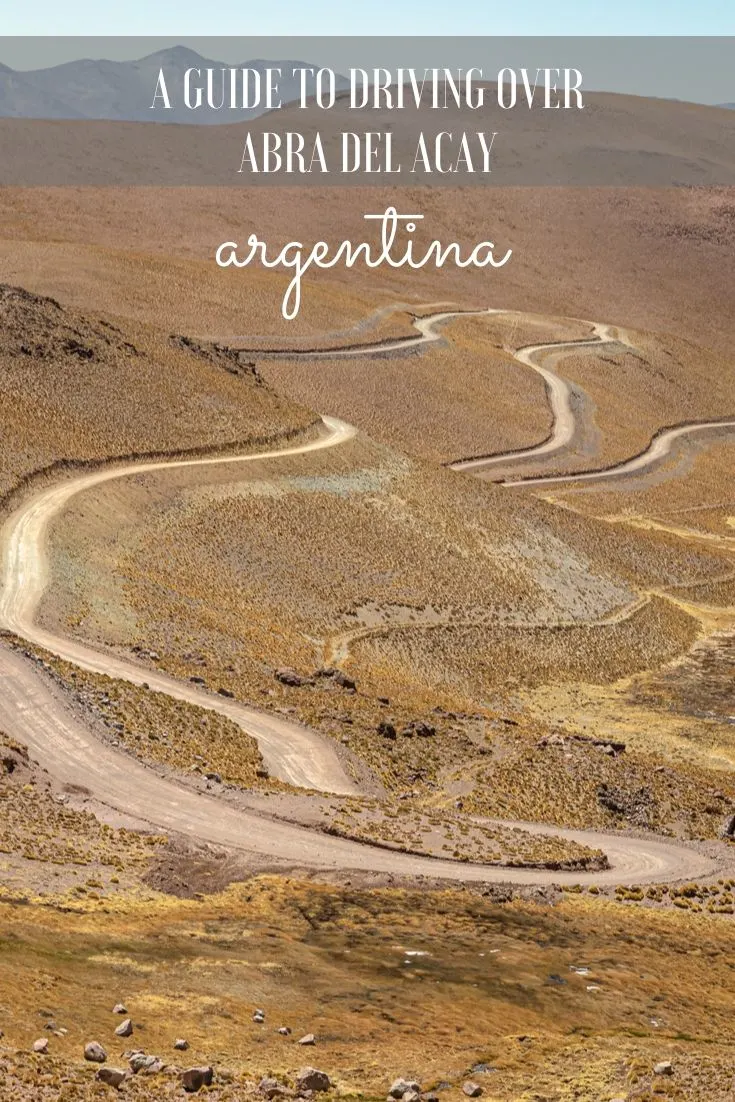 Everything you need to know before crossing Argentina's highest mountain pass
Whilst it may be on a national highway, Abra del Acay pass is pretty remote and you won't see much traffic, if any.
This high Andes route climbs to sickness inducing altitudes so you really need to be prepared.
Here's our guide on what to expect and how to be prepared to drive this spectacular scenic pass.
Map of Abra del Acay route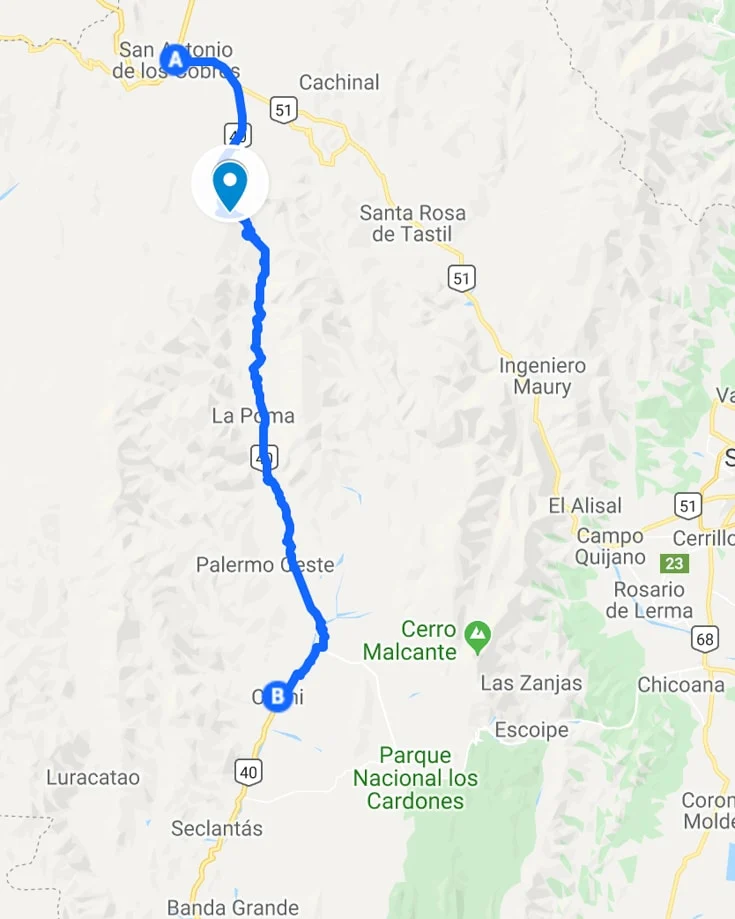 The Abra del Acay route runs from San Antonio de los Cobres to La Poma, though many travellers (including us) carry on to Cachi.
The route is 92 kilometres from San Antonio de los Cobres to La Poma and a further 58 kilometres to Cachi.
The wind can be worse than in Patagonia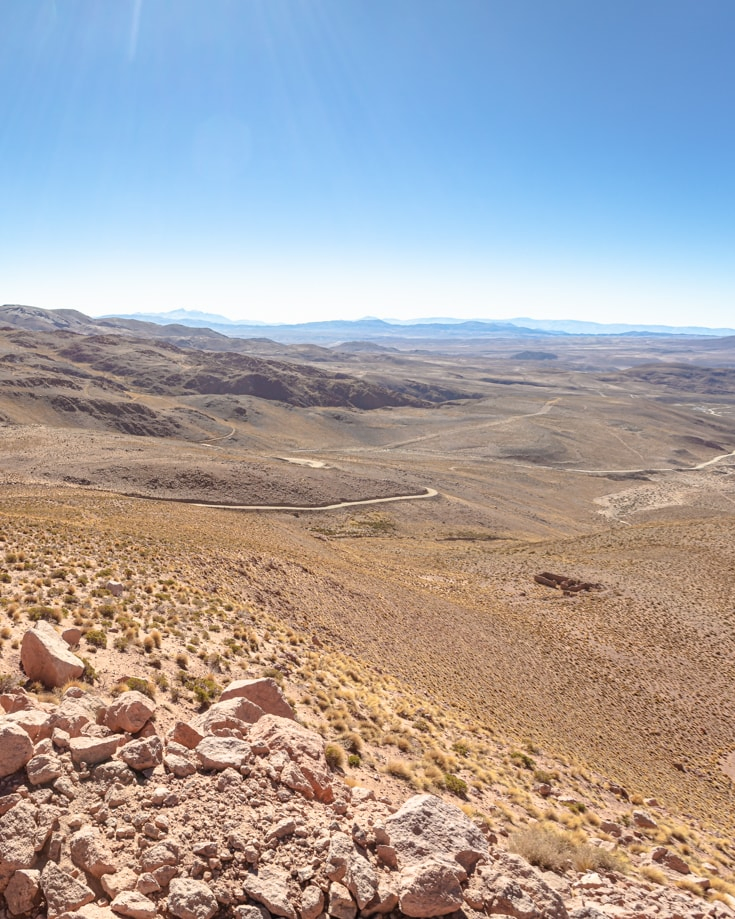 If you've not yet visited Patagonia, the legendary winds down there get up to a fair old pace. Driving into a head wind is tough, let alone walking around.
But up here in the high altitude of the Andes Mountains, the wind can blow to gale force. Take care when opening car doors because big winds can easily damage hinges.
If conditions on the pass are windy, take care walking around on some of the narrow stretches of the pass. The drops are quite steep!
Some adventurous travellers choose to cycle over Abra del Acay and if you're one of them, take special care to protect yourself from the winds. Speak to locals about the forecast before you set off.
The weather plays a big part in crossing the pass so take care.
The best time to cross Abra del Acay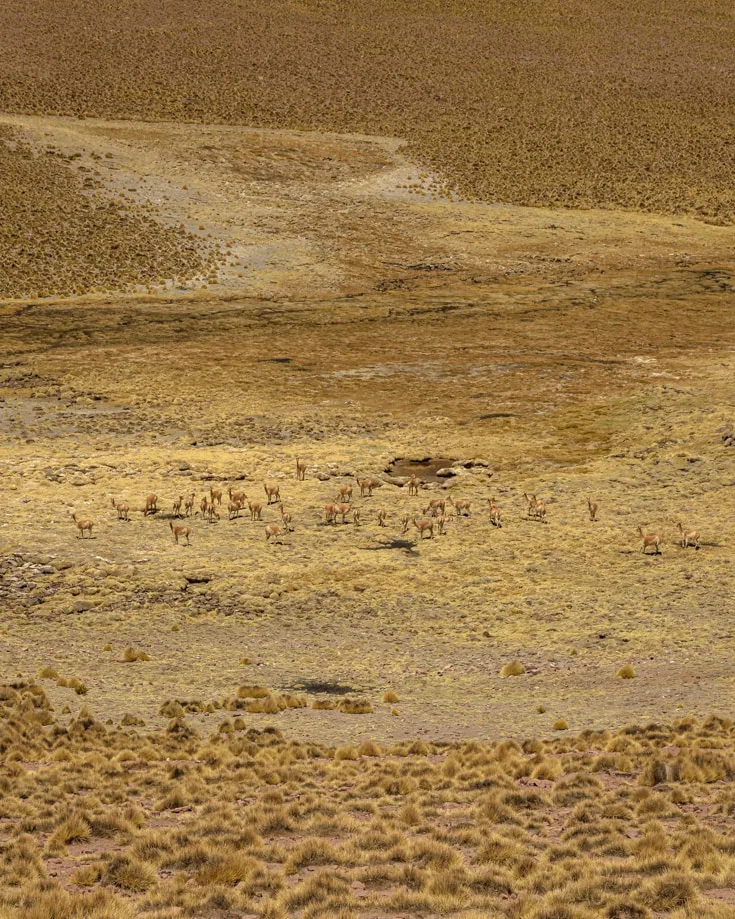 The high Andes can experience heavy rain and hail storms in the height of summer. At these altitudes, the rain often falls as snow but soon melts. This results in higher river levels and sometimes landslides making for difficult or sometimes dangerous passage.
In the depths of winter, snow and ice often result in the closure of the pass altogether. And the temperatures plummet to -15°c.
Avoiding these extremes gives the best chance of crossing Abra del Acay. Conditions are best in spring (September to November) and autumn (April to June) and the winds probably won't be too bad either.
Traffic on the mountain pass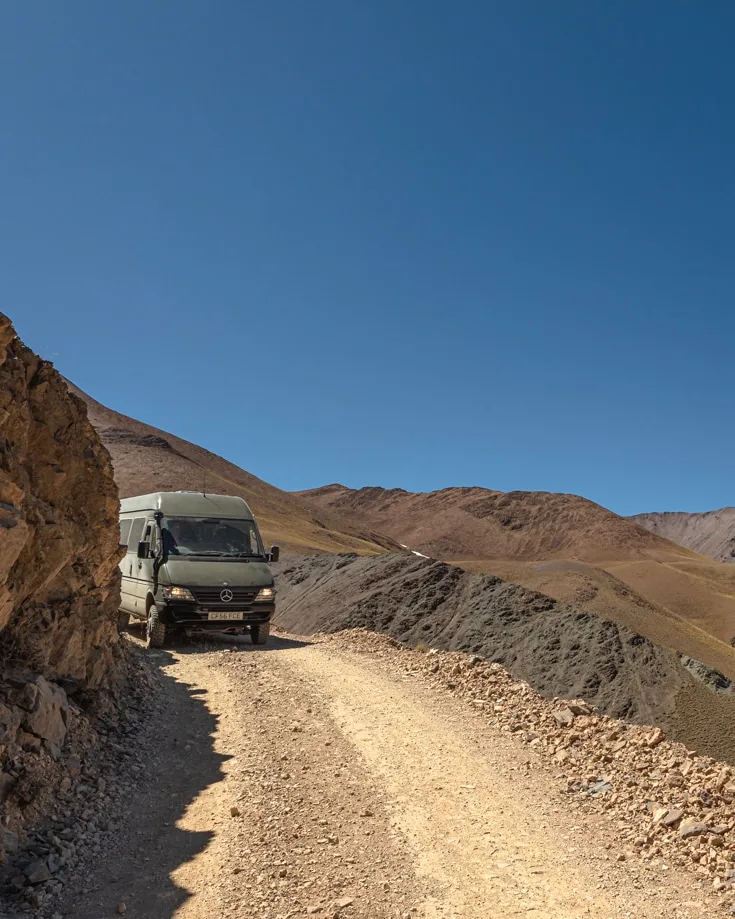 There's virtually no traffic on Abra del Acay. If you meet any other vehicle on the track, they're probably doing the same as you and exploring the beauty of this remote region. Or on a mule.
It's not beyond the realms of possibility to meet oncoming traffic though so keep an eye out, and watch for passing places, especially on the southern side.
Road conditions on Abra del Acay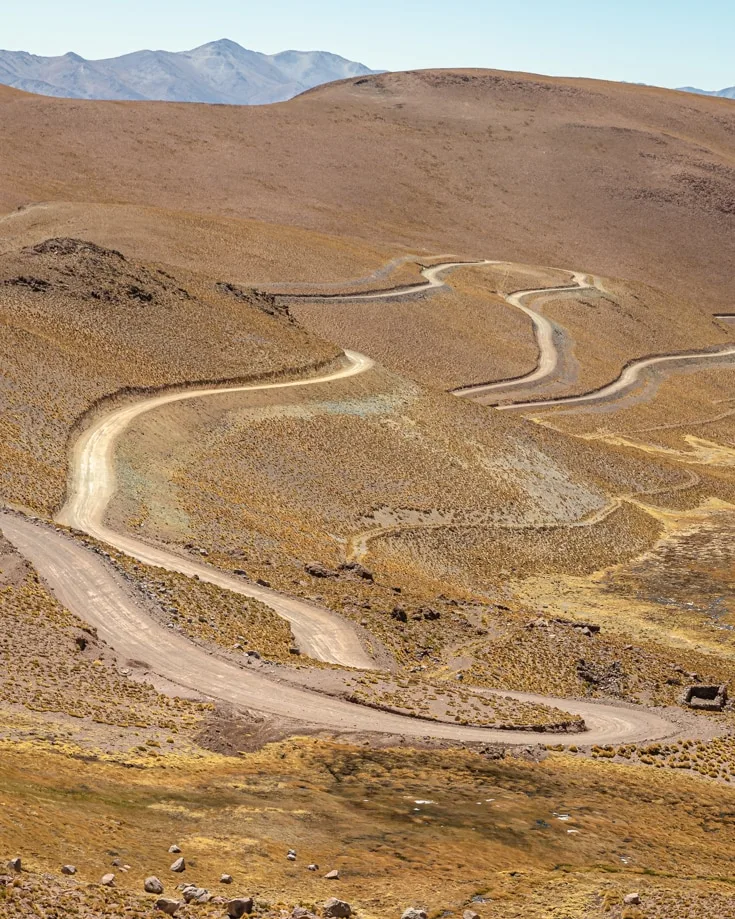 Driving from north to south, a good, sealed tarmac road covers the first 14 kilometres out of San Antonio de los Cobres.
The road then splits into 2. To the left, the sealed Ruta 51 is a direct route to Salta city. To the right, Ruta 40 leads up and over Abra del Acay.
Here the road conditions change. The road becomes an unsealed gravel track but in reasonably good nick.
It's about 30 kilometres to the summit and a climb of about 1.5 kilometres. The track is wide enough for two, should you meet any oncoming traffic.
On the south side of Abra del Acay, the descent is more gradual, dropping almost 2 kilometres in altitude over 48 kilometres to La Poma.
The road on this side has more hairpin bends and is much narrower so keep a watchful eye out for passing places. You may need to use them if there's oncoming traffic.
The route can kick up a lot of dust so impairing visibility if there's traffic near you. And the gravel is pretty loose in parts so often slippery.
Some stretches of the route, especially on the southern side of the summit are quite narrow – but they feel worse than they actually are.
So long as the route is dry and you don't veer off the main track, it's an easy drive.
There are a couple of river crossings on the south side of the summit – another reason to check with the locals on the road conditions before you set off.
When we drove over the pass in September, they were little more than wide streams. But with any recent rainfall or snow melt, these could much deeper and faster flowing.
Do you need a 4×4 to drive the pass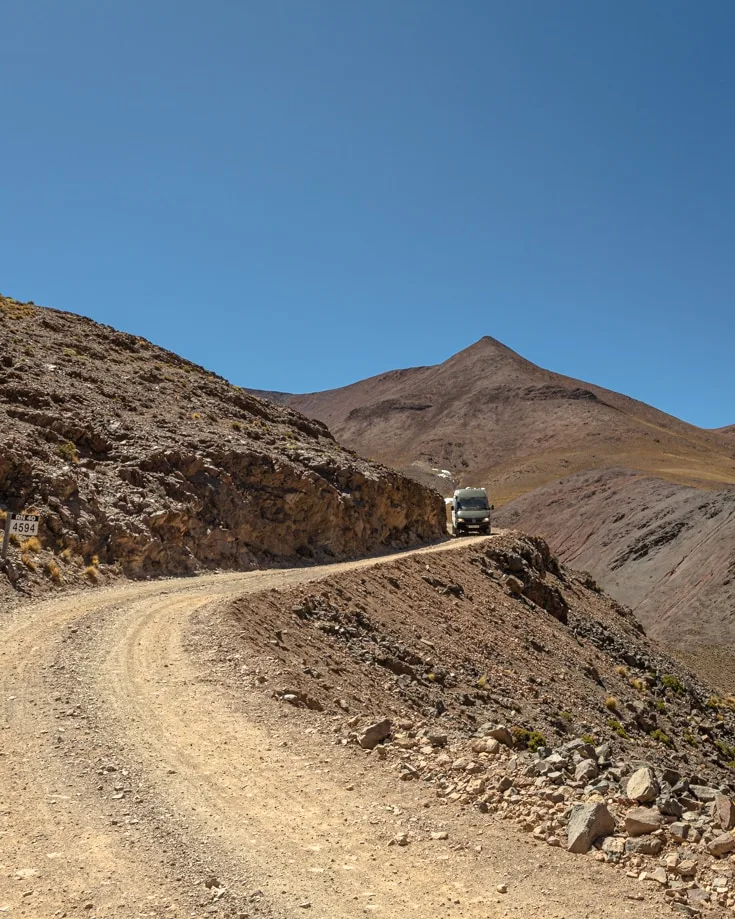 The short answer is no. The locals drive the pass in their 2 wheel drive cars. If the conditions are good, as they were in September, there's no need for an all-terrain vehicle.
However, it's important to check the conditions before you set off.
A swollen river could prevent your progress without high ground clearance or 4 wheel drive. If there's snow and ice on the track, you'll want the extra security it can give you.
Road closures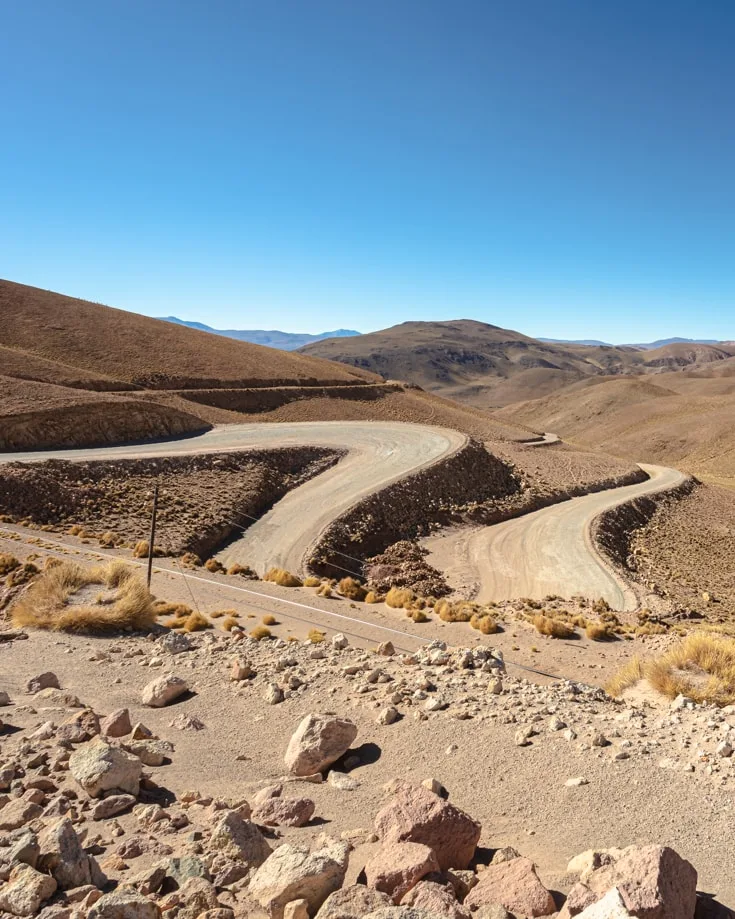 The mountain pass experiences all kinds of weather, often extreme.
As early in the winter as March, snow can fall at this kind of altitude. A dusting of snow on the already spectacular landscape turns this into something even more breathtaking.
However, conditions can change fast at this altitude. The authorities can and do close the road when they deem passage unsafe.
Make sure you'e aware of the weather forecast and keep an eye out for signs of changing conditions.
Altitude sickness is a real and serious risk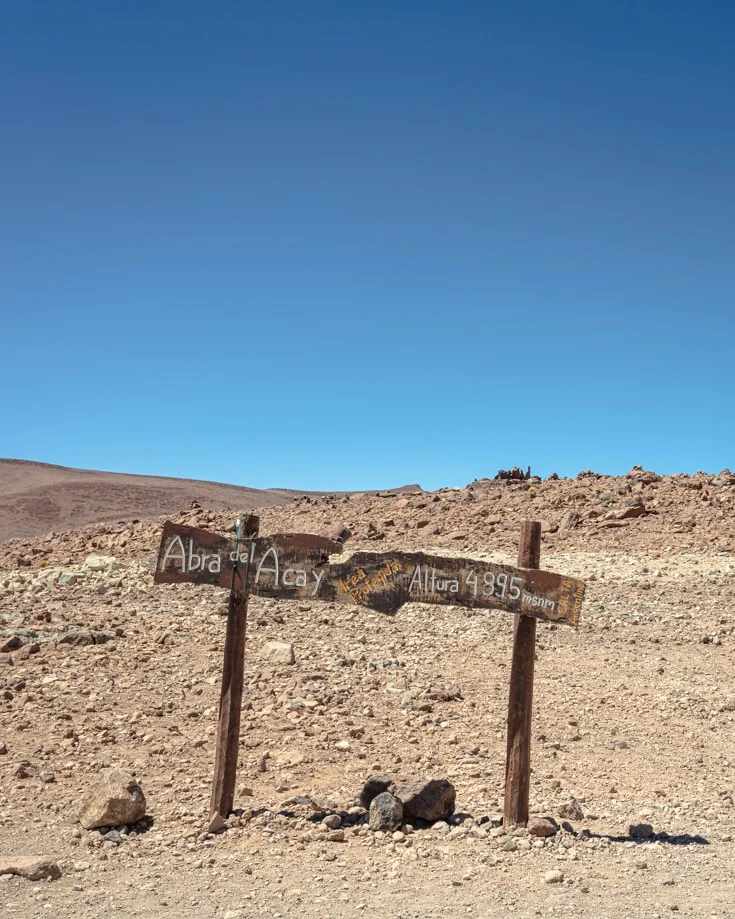 Altitude sickness is how our bodies respond to the lack of oxygen and lower atmospheric pressure. While some people are more susceptible to it than others, there's no way of knowing which you are before hand.
The key to avoiding altitude sickness is acclimatisation. Once at 3000 metres above sea level, gaining more height fast can quickly result in the onset of headaches, dizziness and shortness of breathe – not ideal if you're the driver.
If you drive to the pass from Salta, which is below 2000 metres altitude, your chances of experiencing the negative affects of altitude increase.
If possible, take time to acclimatise in San Antonio de los Cobres before you cross by spending a night here.
In theory, once acclimatised to 3000 metres, driving up to 5000 metres and back down to 3000 metres in a day shouldn't result in problems. Spending the night high up on the pass could.
Be acutely aware of the symptoms of altitude sickness. Once you're on the pass, if you feel any of these symptoms, move to lower altitude as soon as possible.
Full disclosure | We're not doctors or medically trained so don'y rely on what we say in this respect. We are not offering medical advice so not intended to be a substitute for professional medical advice. Always seek the advice of your physician or other qualified health provider with any questions you may have regarding medical conditions.
Don't feed the wildlife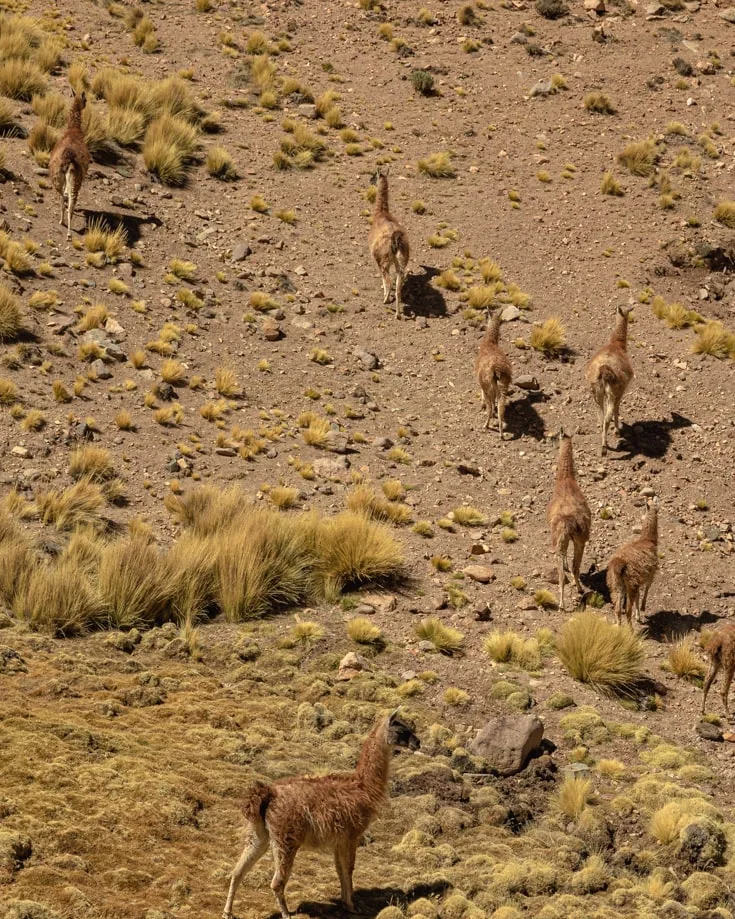 The mountains and plains along the entire route are full of wildlife. You'll see condors soaring way above you, at giddy heights.
Guanaco and Vicuña – both species related to the camel and kind of slender looking llama – hangout in herds of a dozen or more. They blend in to the golden grasses up here, so well camouflaged.
These animals aren't domesticated and are pretty skittish. You can usually spot them by their movement as they run away as you approach.
Then there's the grey foxes. One grey fox greets most people who arrive at the highest point on the pass, although he must have been away the day we were there.
The animal is on the verge of being habituated and regularly approaches humans expecting to be fed. This is a direct result of people giving it tit bits.
Not only is this practice downright ridiculous – foxes aren't designed to be eating left over crisp sandwiches and apples – it also puts the feeder in harms way. The fox has been known to become aggressive.
If the fox is around when you arrive, keep your distance. Should he get too close, retreat to the safety of your vehicle until he leaves.
If everyone follows this advice, he'll no longer associate humans as a food source and return to hunting rodents and other yummy fox diet friendly prey.
Top tips for driving over Abra del Acay
You can hire a car in nearby Salta at a good rate. Click here to check rates and availability.
If you've hired a car to drive Abra del Acay, make sure windscreen and paint chips are covered by the insurance – the loose gravel has a way of dinking metal and glass.
Make sure you have a full tank of fuel when you set off. There are fuel stations in San Antonio de los Cobres and one in Cachi, 150 kilometres away.
Carry food and water with you, even if you expect to complete the mountain pass in a couple of hours. Keeping hydrated can help avoid altitude sickness and if you have a breakdown, you may have a long while to wait for a passing motorist.
There's no phone signal on the pass so if you're in any doubt, let the police know your intentions in either La Poma or San Antonio de los Cobres. They'll probably ask you to check in the with police station at the other end of the pass so they know you're safe. And if they don't hear from you, they raise the alarm. Hopefully.
If you camp anywhere along Abra del Acay, make sure you're not parking or pitching you tent in a dry river bed. Even if it's not raining where you are, rain on the peaks could result in flash floods. A situation best avoided for a good night's sleep.
Make sure to check out our guide to driving in Argentina for lots more tips and advice.
If you loved this scenic drive, take a look at these 3 fabulous drives too:
Where to stay near Abra del Acay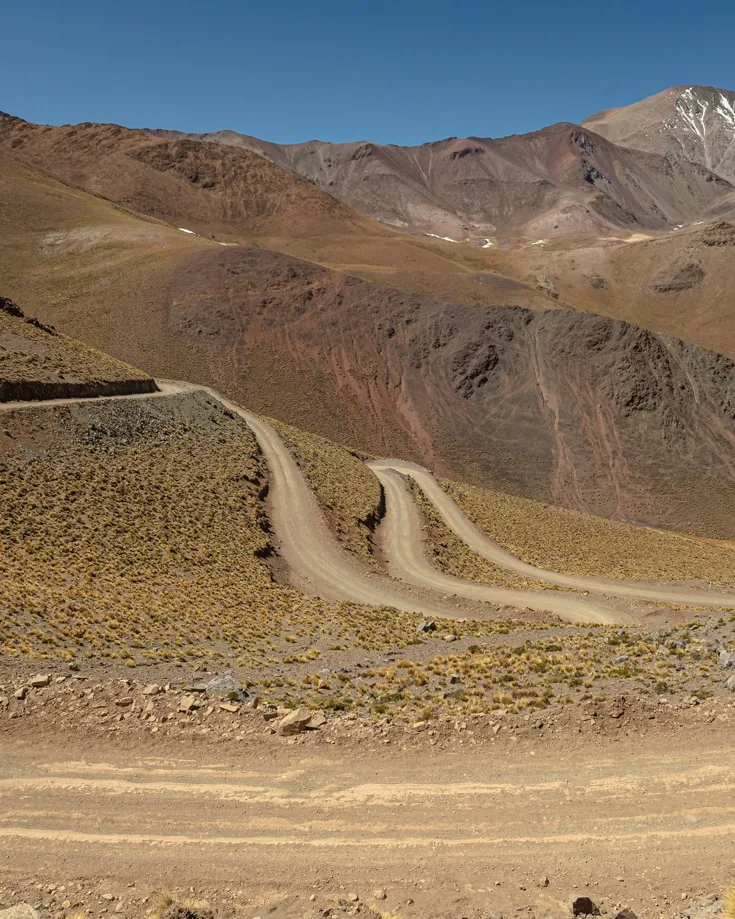 The immediate area along this stretch of Ruta 40 offers limited, often basic accommodation options.
Camping
Camping provides the greatest flexibility. There's a fabulous municipal campsite in Cachi with some of the best facilities we've seen in Argentina.
It's a perfect spot to rest after the pass, or to acclimatise on your way north. Prices are ARG $95 per person. Check the latest reviews on iOverlander.
If you have your own campervan, there's a few free overnight parking spots along the pass. Take your pick!
Of course, boondocking and wild camping should be done responsibly.
Try to avoid spending the night at the highest altitude parts of the trail to help avoid altitude sickness.
If you don't have your own camper, consider packing a few car camping essentials and you'll be perfectly prepared for a night out in the Andean wilderness.
Hotels and lodgings
San Antonio de los Cobres | If you're arriving from Salta or from Chile's Atacama Desert via Paso de Sico, then San Antonio de los Cobres is a perfect resting spot.
Options are few in this small town but Hotel de Las Nubes has bright modern rooms, in complete contrast to the surrounding scenery. For comfort and most mod cons, it's the best place in town. For more information and to check availability and prices, click here.
If you'd prefer more budget accommodation, make sure to check out Hostelworld for their latest rates and availability.
Like it? Pin it!