Have you heard of inflatable RV skirting & wondering what all the hype is about? Then, we've got you covered!
---
Every once in a while, a new product hits the market that unbelievably no one has ever thought of producing before.
And in the world of RV living, AirSkirts' inflatable RV skirt range is taking the market by storm – and rightly so.
No more:
drilling holes into your pride and joy to attach a bit of flimsy vinyl RV skirt.
tacky white styrofoam boards taped in place (multiple times each season) and thrown in the trash at the end of the cold weather.
packing messy straw bales around your home on wheels that insulate well but also end up bug and rodent-infested in quick time.
Instead, inflatable RV skirting is:
robust,
effective,
long-lasting, and
easy-to-use.
You'll be left wondering how you ever survived without.
And they set up in less than 20 minutes, so perfect if you're on the road a lot.
If they're so good, surely they must cost a small fortune, right?
Wrong! AirSkirts are competitively priced and come with a guaranteed fit policy and a five year warranty – that's longer than new RV warranties!
And there's more!
AirSkirts will deliver your new inflatable skirts in less than 5 weeks, if not sooner. That makes them the only show in town if you need your skirts fast.
In this post, we provide you with everything you need to know about inflatable skirts, including:
how to set them up (and down),
how to store them, and
how they outperform alternatives across the board.
Price Check Airskirts & Use Coupon Code MowgliAdventures to Save $100
When you click on links to various merchants on this site and make a purchase, this can result in this site earning a commission. As Amazon Associates, we earn from qualifying purchases. For more info, please check our disclosure page.
At A Glance: Why Inflatable RV Skirting Is The Best Skirting Solution
Insulated skirting with an R-value
No destructive installation – no holes, snaps, or velcro required!
Set up and break down in less than 20 minutes
Easy storage, including storage bag
Modular system so you can use it on your next RV
Best RV skirting in high winds & snow
Guaranteed fit – even for dual axles
Five year warranty
Rapid lead-time – deliver this season.
What Are AirSkirts?
AirSkirts RV skirting is a system of inflatable tubes placed beneath your RV's perimeter to protect and insulate its undercarriage.
The skirting includes an electric air pump that inflates the tubes, creating a seal beneath your camper. It's so secure that the tubes hold themselves in place.
The inflatable tubes come in multiple lengths so that you can configure them for a perfect fit for your RV.
They also come in different diameters – 22-inch or 34-inch – so you don't need to worry about ground clearance.
Gaps between double and triple axle wheels are sealed with AirSkirts specialized tire wedges.
Steps extending below the RV's body inevitably have gaps, and AirSkirts stair pillows fill them perfectly. You don't need these extras if your RV has new style steps that fold inside the door.
If you have any small unsealed gaps, AirSkirts buffer pillows complete the system.
They're most commonly placed above the sewer drain but can be used anywhere you feel you need a tighter fit.
Because they're inflatable, the tubes conform around pipes and hookup connections. The robust seal holds the RV skirting in place for as long as you use it.
Also, each AirSkirts kit includes an 800w AC-operated electric air pump for fast inflation and deflation.
They're made from ultra-durable, heavy-duty PVC and unlikely to suffer punctures, even on rocky ground. But just in case, all kits include easy-to-apply patches.
Why AirSkirts Are Better Than Other RV Skirting Solutions
This section explains how AirSkirts provide a more effective, all-round solution in winter and summer.
Improved Insulation
During the cold winter months, one of the most significant ways to keep heat loss – and therefore heating costs – down is to insulate your RV as well as possible.
In the hot summer months, one of the easiest ways to help keep your RV cool – and therefore AC costs down – is to insulate your RV as well as possible.
RV skirting acts as another layer of insulation, but its effectiveness depends on the type used.
Vinyl skirts act as a physical barrier, providing a basic level of insulation. In addition, they reduce drafts and slow the dissipation of heat from the warmer air beneath the RV.
But they're more like a windbreak, and their low insulation properties mean they're not super-efficient.
AirSkirts provide a far better all-round insulating solution.
Because they're pumped up and held in place beneath the RV, they provide a superior seal, resulting in fewer drafts and less heat loss than traditional skirting.
The tubes are filled with air – an excellent natural insulator – so they are far more effective at retaining heat in the air beneath the RV than most other solutions.
In fact, hay bales are the only RV skirting solution to offer a better R-rating than AirSkirts. Still, they're far from suitable for most RVers – just think about rodent nests, critters, and the mess.
AirSkirts are 75% better at retaining heat than traditional alternatives.
That's a double-win for AirSkirts compared to traditional RV skirting.
Better Protection For RV Plumbing
If you're storing your RV in winter, your winterizing routine should include preparing the plumbing system for cold conditions.
But even with a completely drained plumbing system, cold temperatures can still take their toll.
Have you ever picked up a frozen water hose only for it to crack in your hands with no force applied?
That's because plastic, especially the type used in RV pipes, can become brittle in extreme cold.
Beginning your Spring break with leaking pipes, or worse, a cracked holding tank, isn't the best start to the season.
Living in your camper in the winter provides no guarantee your plumbing system won't freeze, either.
Even with regular use, insulated or heated pipes, and tanks, keeping the plumbing system as warm as possible is the best option.
RV skirting can help avoid the damage caused by freezing temperatures.
In addition, because AirSkirts give better insulation than other solutions, they also provide better protection for your camper's plumbing system.
Reduced Energy Usage And Costs In Summer & Winter
The less heat your RV loses in winter, the less energy you need to maintain a comfortable temperature. The cooler you can keep your RV interior in summer, the less energy you need to run your AC.
If you're living off-grid, you'll save money on running your generator and reduce demand on your RV batteries.
If you're on a meter, you'll not run up such a hefty bill so will save money on your energy costs.
Using less energy can only be good, even when hooked up to the grid.
Prevent Bugs And Rodents Moving In
Bugs love the space beneath an RV. And rodents seem to think it's the best place in the world to build a nest.
But as much as we're nature lovers, we don't want the gnawing, burrowing damage the critters can inflict on our RV.
So the best way to protect the underside from unwanted squatters is to keep them out.
Airskirts outperform their competition because they:
provide a better all-round seal than traditional skirting,
aren't made from perfect nesting materials like hay bales, and
aren't so easy to nibble through.
Hassle-Free, Fast Setup
If you intend to leave your RV in one location for the winter, how long it takes to install your skirting may not be much of a concern.
You only have to do it once, so if it takes a few hours to install vinyl skirts, it's only a once (or twice) a year drama.
DIY skirting options aren't designed to be reusable and mobile anyway, so installation hassle is short-lived.
But if you'd prefer to get the job done fast, AirSkirts have you covered. Or, if you're on the road, changing locations every few days, the last thing you want is to spend hours installing and uninstalling your skirts.
AirSkirts to the rescue! Setup takes less than 20 minutes (and the same again to pack up). No dramas there, short-lived or otherwise.
Terrific Performance In High Winds
If you've used traditional RV skirts before, you'll be well used to the occasional flapping they make in high winds.
But, maybe you've also experienced the inevitable rips as strong gusts tear them from their fastenings.
AirSkirts just don't suffer from the same problems.
Because they're wedged securely in position, they're not affected by high winds. So, you can stay tucked up indoors instead of braving the elements to fix your skirts back in place.
Even heavy snowfall is no challenge for the robust tubes. Instead of weighing down the vinyl, tugging on the fastenings to stretching or even breaking point, snow only improves the insulation factor of AirSkirts – who would have thought?
Lifetime Investment
So many accessories we buy for our campers are just that – for our campers. When we upgrade to a newer model and sell the RV, most accessories go with it.
And RV skirting is one big-ticket item that usually stays with the RV. It doesn't even add anything to the resale value, though it may help sell it quicker.
But with AirSkirts, you can keep them for your next RV. If your new RV is a bigger model, simply buy another tube or two and configure them accordingly.
If your new model has dual axles, you can buy the tire covers or wedges to maintain the integrity of the all-round sealing.
Competitive Pricing
There are no two ways about it unless you opt for a DIY solution, most RV skirting costs at least a couple of thousands of dollars. And AirSkirts come in a similar price bracket.
Like for like, AirSkirts cost a little less, if not the same as traditional RV skirts. But the difference with AirSkirts is their value for money.
It's a no-brainer to spend your hard-earned dollar on an effective and efficient solution to keeping your plumbing from freezing and helping to keep your home cozy than an ineffective windbreaker with a similar price tag.
Inflatable Skirting Kits from Airskirts
AirSkirts caters to a diverse range of rigs with their versatile and customizable inflatable skirting kits.
Their offerings span from the space-saving Tiny RV Skirt Kit, designed for Bambi Airstreams and vans, to the Medium RV Skirt Kit High, perfect for elevated travel trailers and fifth wheels, and even the Extra Large RV Skirt Kit, suitable for motorhomes up to 45 feet long.
They have kits to accommodate regular clearance RVs and high clearance models too.
To pinpoint the ideal kit for your specific needs, simply supply key information such as the kind of RV you own and its overall length.
Additionally, note your ground clearance to choose between a standard or high kit.
AirSkirts' unwavering commitment to customer satisfaction guarantees a flawless fit for your RV.
Each order undergoes thorough scrutiny by an AirSkirts engineer before dispatch, and if required, tube configurations can be adjusted at no extra charge.
Plus, every kit includes includes an electric air pump, carry & storage bag and a welcome kit.
Most kits are available as standard or high ground clearance.
High clearance kits are ideal for RVs with ground clearance exceeding 21 inches, such as 5th wheels and certain travel trailers.
Among their ten available kits, here are some of the most popular choices: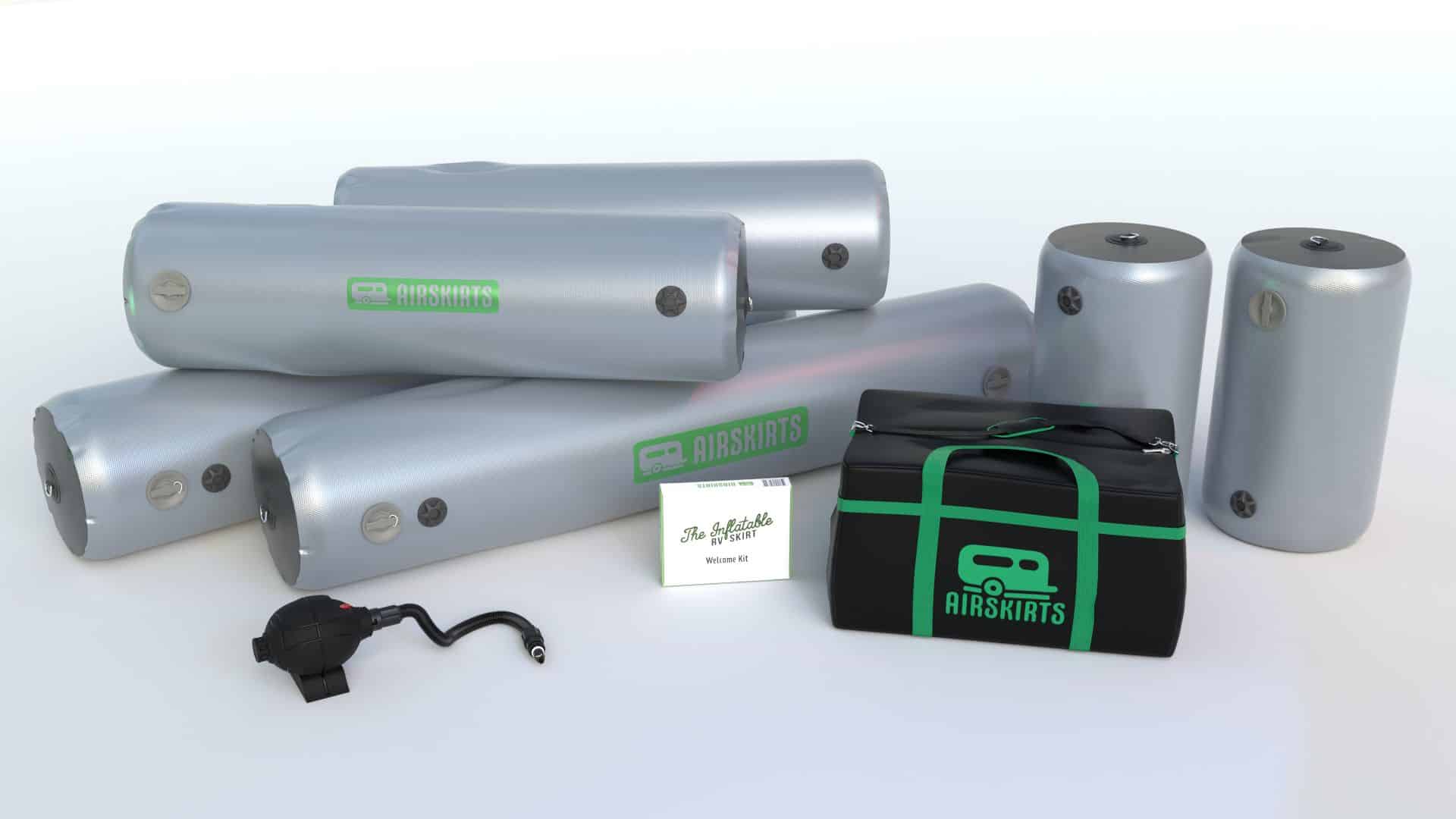 Features
$1899
For RVs under 16 ft
30 lbs
High clearance option available
Use Coupon Code MowgliAdventures to Save $100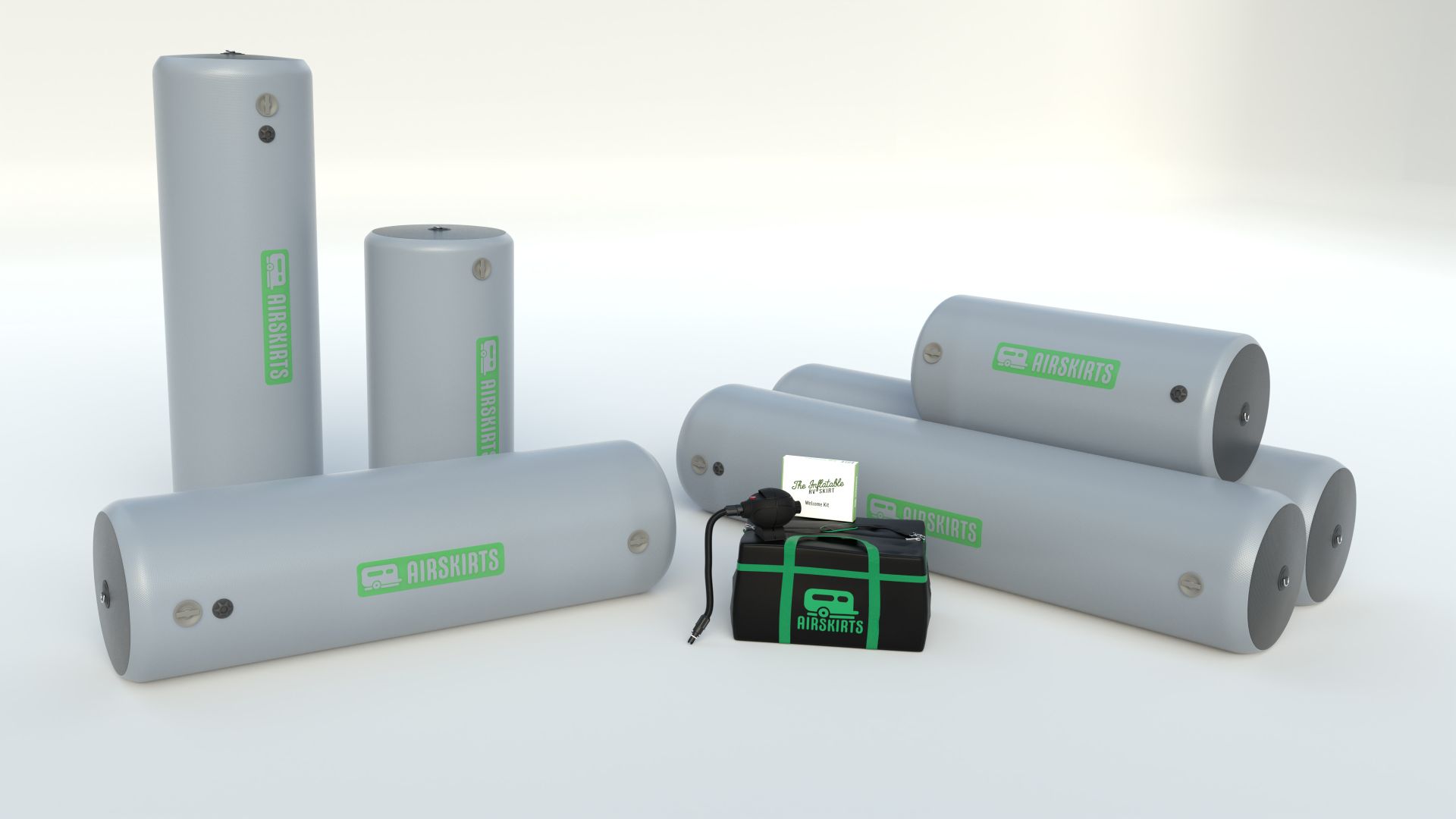 Features
$2199
For RVs between 16-24 ft
76 lbs (the heaviest single item is 14 lbs)
High clearance option available
Use Coupon Code MowgliAdventures to Save $100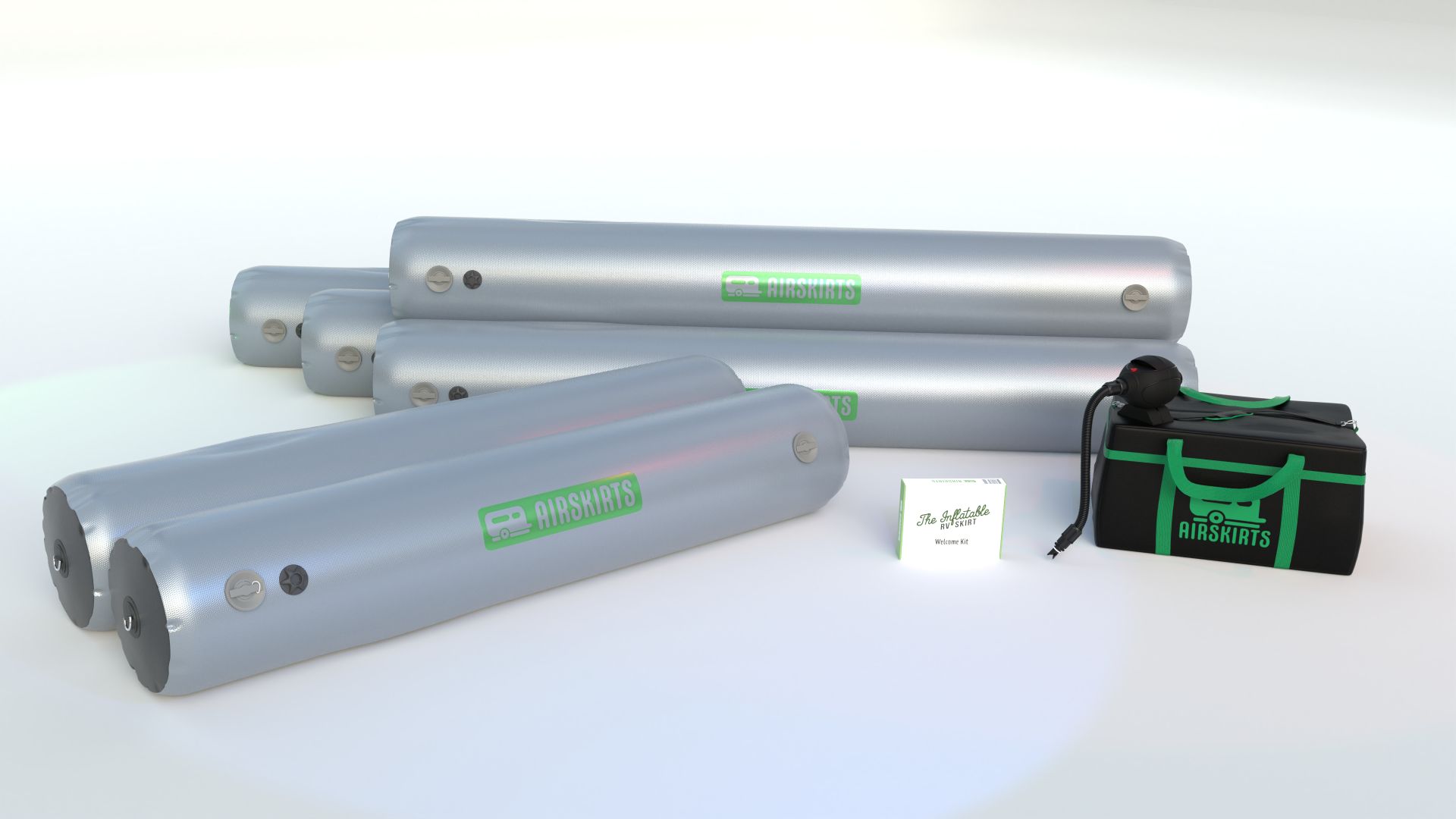 Features
$2299
For RVs between 24-28 ft
58 lbs (the heaviest single item is 9 lbs)
High clearance option available
Use Coupon Code MowgliAdventures to Save $100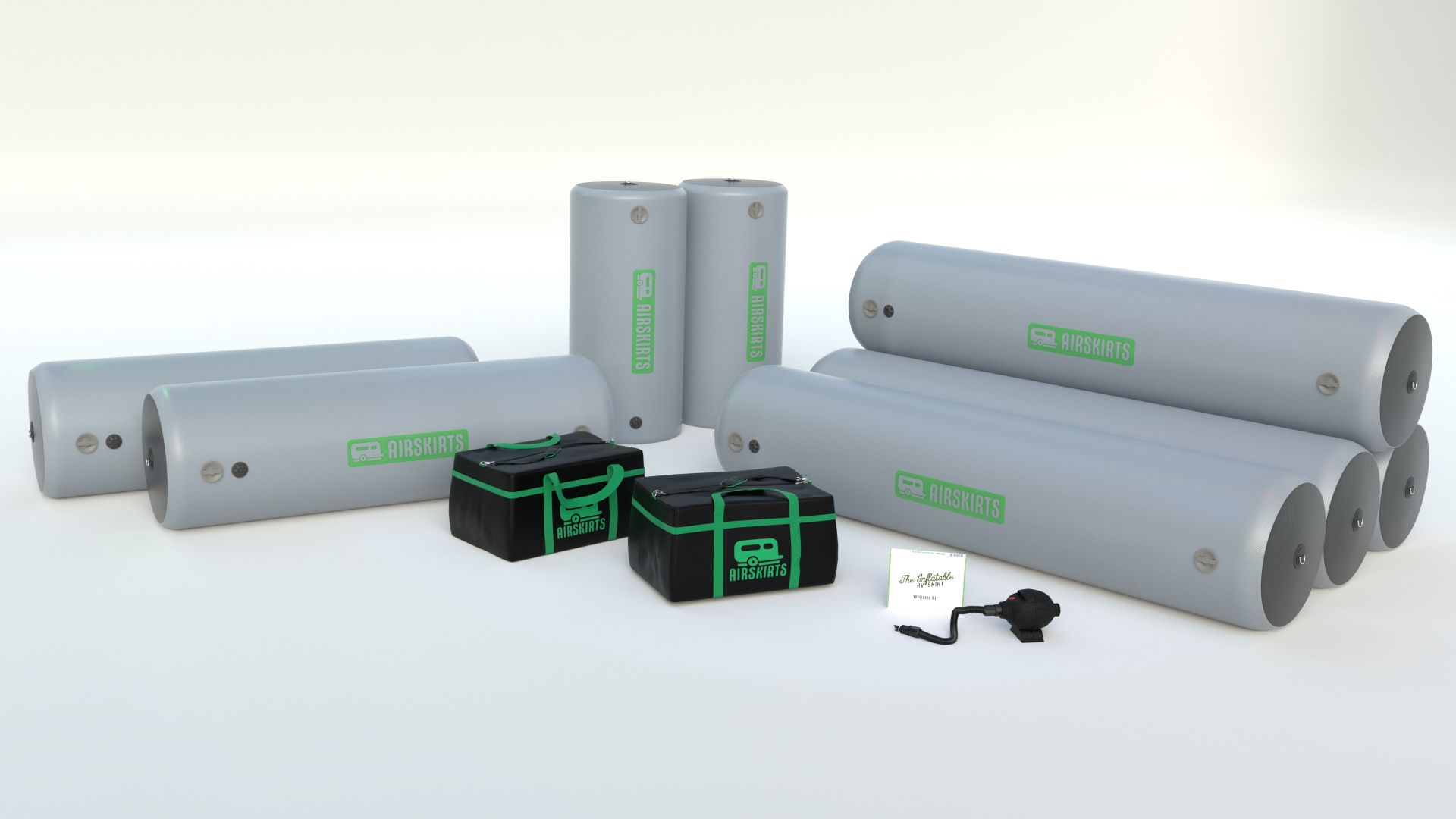 Features
$2899
For RVs between 28-36 ft
108 lbs (the heaviest single item is 14 lbs)
High clearance option available
Use Coupon Code MowgliAdventures to Save $100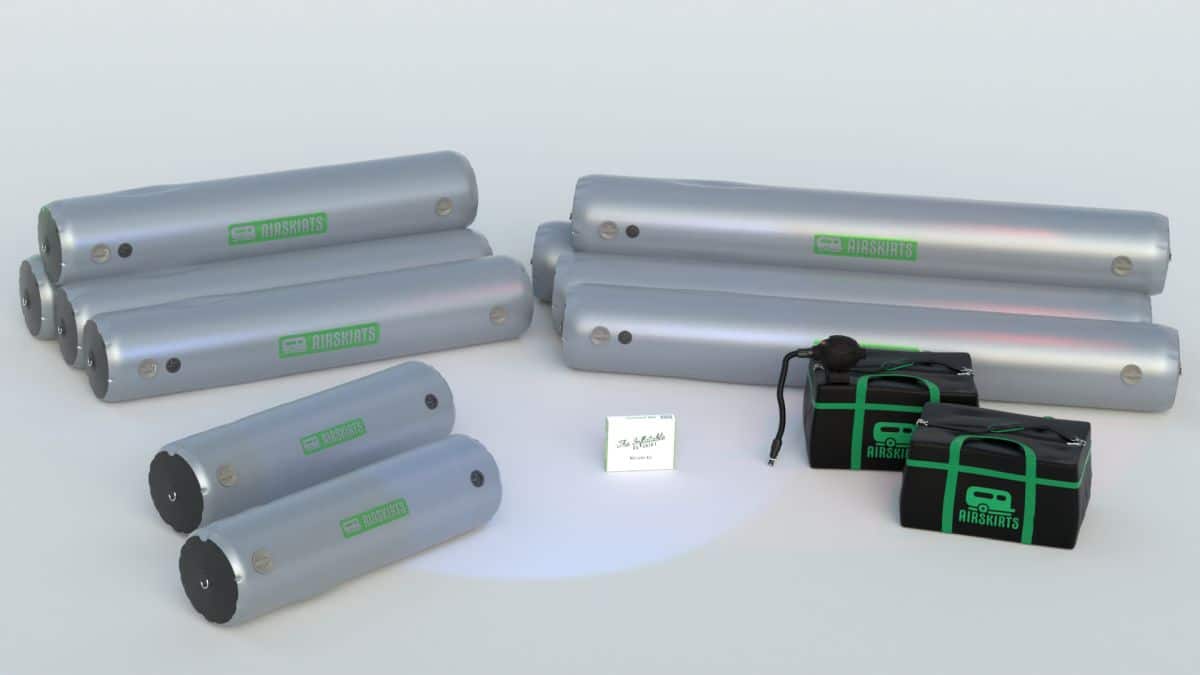 Features
$3199
For RVs between 36-45 ft
130 lbs (the heaviest single item is 14 lbs)
High clearance option available
Use Coupon Code MowgliAdventures to Save $100
How To Use AirSkirts
AirSkirts' inflatable RV skirt kits are designed to work with your camper. It doesn't matter if you have a travel trailer, fifth wheel, motorcoach, or self-built campervan – AirSkirts are compatible.
Here's a quick guide on how to set up, break down and store AirSkirts, so you can see how they're far easier to use than any other RV skirting product on the market.
How To Set Up AirSkirts
This is a super easy job and fast, so it's a perfect choice if you travel between camps regularly.
Place each uninflated tube in position around the perimeter of your camper. Overlapping the tubes is fine.
Connect the cross-connect pipes to join all tubes together.
Attach the electric air pump and inflate the entire system to about 50% full.
Adjust the position of the tubes, so they're below the perimeter and behind any steps or pipe outlets.
Continue to inflate until the entire system is full but still slightly soft to the touch – they will remain in place and allow the air to expand as it gets hotter. It will probably take around 5 minutes to inflate, depending on the size of your system.
Detach the electric air pump and insert the plug.
If using tire wedges, step pillows, or buffer pillows, position and inflate them as necessary.
Literally, that's it.
Click Here To Learn More About AirSkirts and Use Coupon MowgliAdventures To Save $100
How To Break Down AirSkirts
Breaking down AirSkirts is even faster:
Attach the air pump, and kick it into deflating mode. It's super fast and effective at flattening the tubes, ready for folding away for storage.
Detach the cross-connect pipes.
Fold the tubes and put them safely into their storage bag.
If fitted, deflate step pillows, wedges and buffer pillows.
Storing Your Inflatable RV Skirts
All AirSkirts come in a robust storage bag with enough space for all your components, including tire wedges or stair pillows.
Because the construction material is so robust, the entire kit is pretty heavy. The smallest kits weigh around 30 pounds and go up to 130 pounds for the largest ones.
But because the system is modular, there's no need to lift that weight in one go.
The stowed kit needs between 3 and 8 cubic feet of storage, depending on the kit size, and the storage bag is just shy of 3ft x 2ft x 2ft.
A Bit About AirSkirts – The Company
Jim Phelan started the AirSkirts company after solving his own problem – one many of us can empathize with.
He needed to better insulate the underbelly of his Airstream without an unsightly vinyl skirt, drilling hundreds of holes in his trailer, and quickly and easily move camp in winter.
With nothing available on the market, he got creative. After creating a prototype and testing it for himself for a few seasons, Jim finally took the plunge. He went into production with his blow-up modular skirting tubes.
His timing couldn't have been better; AirSkirts launched right at the beginning of 2020 when the RV market was booming, and they're going from strength to strength.
You can read Jim's more eloquent version of his backstory on the AirSkirts blog here.
AirSkirts is a family-run small company that genuinely goes the extra mile.
How many companies do you know that will customize their product for you if it isn't a perfect fit – absolutely free?
FAQs
By now, you probably think that these inflatable skirts sound fantastic but have a few concerns about how they'll work with your specific RV.
Here are a few of the most commonly asked questions Jim Phelan receives… and yes, he has an answer for pretty much everything!
Do AirSkirts Ship to Canada, Alaska, and Hawaii?
The short answer is yes to all of the above!

In addition, their reasonable delivery charge includes any duties, taxes, and customs clearance fees, so you don't need to expect another bill.
How Do AirSkirts Work With RV Sewer Pipes and Hoses?
Most pipes and hoses below your RV are likely located near its perimeter for easy access – right where the inflatable tubes will fit.

AirSkirts conform around the pipes, hoses, and other irregular areas when inflated. If there are any odd gaps, separate buffer pillows fill them, maintaining the integrity of the seal.

Also, because the tubes are modular, you can configure the setup, so the ends of the tubes meet at any awkward areas.

And best of all, AirSkirts engineers are available to discuss any concerns, even after you have placed an order.

AirSkirt will modify your kit if you have problematic areas at NO EXTRA CHARGE! We don't hear those words very often!
How Do AirSkirts Work With An RV Generator Exhaust Pipe?
Great question – the exhaust pipe gets hot, and the AirSkirts are made from vinyl.

Over time, that's not a great combo.

The AirSkirts team recommends wrapping the exhaust in a Teflon muffler insulating tape – it's widely available in automotive stores and online.

In addition, you may need to place an aluminum tube around the exhaust pipe for very hot exhausts to create an additional barrier between the exhaust and the AirSkirts tube.
How Do AirSkirts Work With RV Slides?
AirSkirts don't interfere with the operation or use of your RV's slide outs.

Instead, they're designed to protect and insulate the most vulnerable areas of RVs: below the main body, where most heat escapes and where pipes are most at risk from freezing temperatures.
Can I Use AirSkirts In The Summer?
Yes! Skirting is a fabulous way of keeping an RV cool in hot weather.

They insulate the underbelly, reducing how much cool air is lost through your RVs floor. In turn, that reduces your AC demand and saves energy costs.

Read more: The suprising benefits of using RV skirting in summer
Do You Have More Questions or Want a Free Quote?
If you have a question not answered here, check out the comprehensive list of FAQs on the AirSkirts website.
And if you still have further questions, you can call the AirSkirts team directly on 860-407-6053.
They're a helpful, friendly team, and with their fabulous customer service and an excellent five year warranty – what have you got to lose?
Oh – and make sure to quote MowgliAdventures for your $100 discount at the checkout.
In Conclusion
If you're in the market for new RV skirting, you can't go wrong with AirSkirts. They outperform traditional skirting solutions across the board.
You can reuse your AirSkirts on every RV you'll ever own, and because you don't need to drill holes in your RV or install runners, you won't affect its resale value.
Inflatable RV skirting doesn't cost an arm and a leg, and the team at AirSkirts goes above and beyond on customer service.
AirSkirts are genuinely the best RV Skirting solution available today.
Leave a comment about your experience with RV skirting solutions! We would love to hear from you.
Angela Devaney
Angela Devaney, a former IT project management professional, embarked on an adventurous journey of full-time travel, which included touring West Africa in a converted overland truck and converting an ex-military 4×4 Sprinter van into a camper for a five-year South American expedition. She now utilizes her hands-on experience to create practical RV living and van life advice as a full-time digital media producer, reaching over a million users annually through her YouTube channel, blog, and newsletter. Angela also lends her expertise as the editor-in-chief of the Campervan Electrics Handbook.