Anyone that knows me also knows I quite like a tipple from time to time.
With a week or two in Cantabria, and having fully recovered from my time at sea, I didn't need an excuse to indulge, for research purposes of course!
In my role with Mowgli Adventures as chief alcohol related investigative journalist, I sought out the local specialities and carried out a thorough product review of each.
So here goes your guide on the alcoholic beverages of Cantabria.
Orujo
A pomace brandy, Orujo is distilled from pressed grapes. That is, the solid mass that remains after the grape has been pressed.
Its alcohol content tends to be at least 50% so probably suitable for running Mowgli, in the event we're low on diesel.
If your Orujo has an amber tinge, this indicates that it's been aged in oak barrels.
I'm not sure about the brightly coloured bottles we found on for sale on a village windowsill.
If you fancy trying this local speciality, there's an Orujo fiesta every November in Potes, in Galicia. Line your stomach well is all I'm saying.
Sidra
Now I'm no cider drinker. I had a bad experience many, many years ago which has left me unable to drink Appletiser, let alone fermented apples.
But needs must and I tried this flat, cloudy apple cider which is an alcoholic speciality from the Cantabria region.
It looked like scrumpy and I have to say, I just didn't like it. Now that may well be due solely to my apple related issues but I'm sure if you quite like cider, you'll probably like this too.
This isn't really a glowing report is it?
Photo Credit:
Nacho
Chacoli Wine
Now I am quite partial to a glass of wine, so long as the glass is green and generally the contents are redJ.
Chacoli wine however, is white. I can stretch to that. Far better than anymore cider. Now apparently there is a world- wide shortage of the genuine article, and the real deal is quite expensive.
Whilst you may order Chacoli and your wine waiter will swear it's genuine, in reality it's probably an imitation.
Whatever we were served was, to be blunt, revolting. I will say no more other than if you want the real thing, pay for it.
Vino Tinto
Now we're talking. A stone's throw from the Spanish Rioja region how can you go wrong with a bottle of Bodegas Sierra Cantabria Tempranillo Rioja served slightly chilled from an industrial sized bottle?
Well let me tell you, you can't. The only mistake you could possibly make, is not to indulge in more than one glass.
Very nice! Very nice indeed! In fact, it inspired me to write this article so you might say, it has a lot to answer for.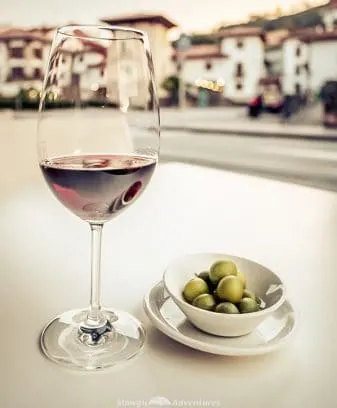 So after all that, hic, best I find a decent water source and sober up.
Like it? Pin it!