If you're wondering what to expect when you travel to Antarctica, you're in the right place.
A trip to Antarctica on an expedition cruise sounds pretty amazing, right? Well it did to us and had no doubt we'd be awed by what we'd see and do. What we didn't know was what life on the ship would be like.
We've travelled by sea for 30 days before, but that was on a cargo ship with no bells and whistles, and low expectations. They weren't exceeded either.
But the Antarctica trip was different. This had cost us a lot of money and was billed as a trip of a lifetime. Many big ticket destinations are! We worried this would fall a little flat. Thankfully, this was far from the case.
A trip to the Antarctica on an expedition cruise is as much about the whole experience as it is about the destinations. The ice, the threat of a rough Drake Passage, incredible encounters with wildlife, Polar Plunges, lectures, science and so much more!
We travelled to the Falkland Islands, South Georgia and the Antarctica over the course of almost 3 weeks. This article helps explain just what life is like on a trip to the Antarctica on an expedition cruise.
When you click on links to various merchants on this site and make a purchase, this can result in this site earning a commission. As Amazon Associates, we earn from qualifying purchases. For more info, please check our disclosure page.
To Antarctica on an expedition cruise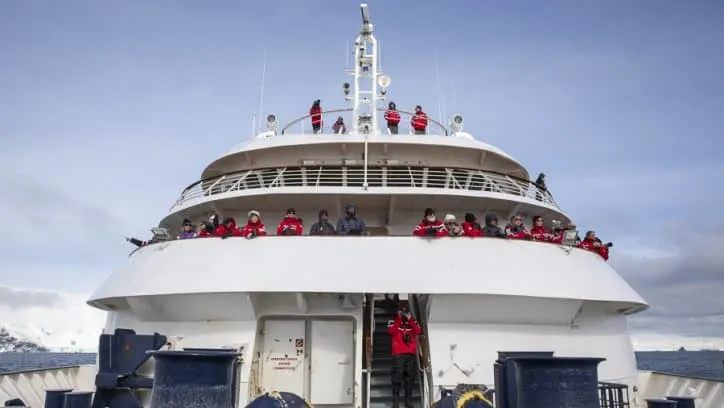 Cruise life
It is 06:00 and there's a slight crackle of the tannoy, before a gentle Canadian voice greets us out of our slumber.
"Good Morning folks, good morning! Sorry for the earlier than expected morning call but there is a pod of Orca just off the port bow.
It's a beautiful morning here in the Antarctic peninsula, the sun is up and I strongly recommend you get outside to enjoy the Orca and the absolutely stunning views".
Just as well I'm already up and enjoying an early morning coffee. Who wants to waste a minute of this trip sleeping? I sling on my all-weather jacket and waterproof boots over my 3 base layers of merino wool.
I pick up my camera, check the batteries are suitably charged, remove the lens cap and head out on deck through my cabin sliding doors. Jeez it's cold! But oh my! It is a beautiful morning.

Sure enough a pod of Orca are just off the port side. The Captain has slowed the ship and is turning slowly around in the iceberg strewn bay, fringed by ice capped mountains.
Within minutes at least half of the 99 passengers have joined me on the outer deck, all in various states of dress.
We silently watch the pod as they dive, spout and porpoise through the ocean. We counted 5 at least and soon enough they turned and swam away.
Our home, the Island Sky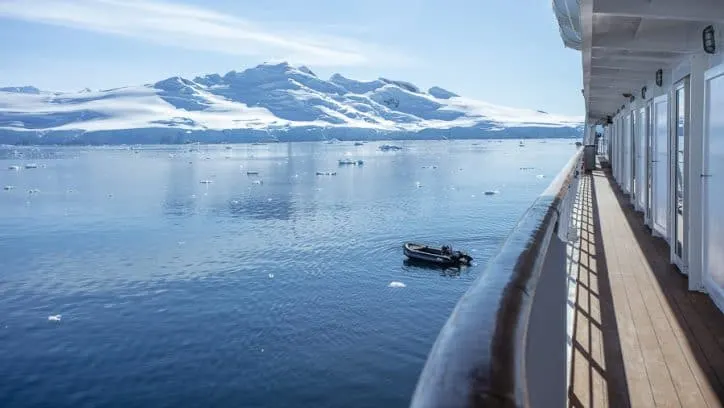 The Island Sky is a 120 berth small luxury passenger ship and our floating home for the next 3 weeks. We're joined by 97 other passengers, all eager and super excited to be going on an Antarctic expedition, including the Falkland Islands and South Georgia.
The Islands Sky comes complete with a lounge, bar, library and restaurant and plenty of upper deck access for outdoor views. She carries a crew of 80 and provides a high standard of hotel services.
At 4200 tonnes, 91 metres long and ice strengthened, the Island Sky is an ideal floating hotel for summer expeditions in the Southern Ocean. For us, she was complete luxury!
Read our booking guide before you book your trip to Antarctica
Daily routine onboard
The daily routine onboard revolves around shore landings and zodiac cruises. Meal times, lectures and recaps are timed to fit in and around the main events.
While breakfast could be served at 7:30am on a sea travelling day, it may be 6:30am when we had an excursion packed day planned. Even so, the daily routine was broadly the same.
The broad daily schedule
A buffet breakfast was served for an hour in the wonderful open seating restaurant.
All passengers went on an early morning excursion involving either a shore landing and/or zodiac cruise. After warming up with a hot chocolate on our return, we'd prepare for lunch.
Incredible buffet lunches would be served, again in the restaurant. Weather permitting, lunch would be served on the outer decks so we could take advantage of the incredible landscapes, complete with heaters and blankets for our comfort.
During lunch, the ship would sail to our afternoon destination, where the next excursion would get underway.
After another hot chocolate to thaw us out, we'd prepare for the daily recap.
On sea days, the ship sailed to our next destination so no zodiac cruises or shore landings were planned. The days were filled with entertaining and informative lectures on marine mammals, ocean going seabirds and photography tutorials.
We got involved in Citizen Science projects and undertook cloud surveys in tune with passing NASA satellites, bird surveys and water sampling.
We listened to incredible history lessons given by none other than Falcon Scott. That's the grandson of Scott of the Antarctica to you and I!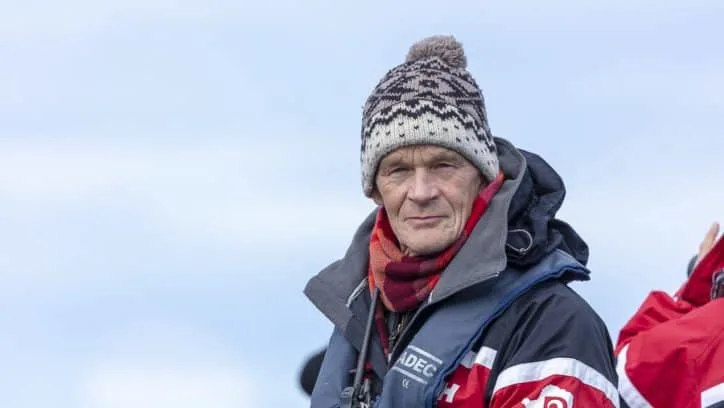 By the time we reached our next destination, we were suitably versed on the historical facts of the region, the wildlife and landscapes we could expect to encounter and some of the challenges to their ongoing existence.
The daily recap, led by the expedition team would reflect on another incredible day and talk through the plan for the following day. All this served with cocktails and canapés.
Dinner was always a fine feast and the wine and conversation flowed as we embarked upon a lame effort to get through all 4 courses.
How you can help make a difference with Citizen Science projects
The food
You've paid all this money for this amazing Antarctic cruise but what about the food? What's the quality like and will you ever be hungry?
We've only done this trip on one ship, the Island Sky so we can only speak of our first hand experience. Suffice to say, we're on a diet now!
If we'd have wanted to, we could've eaten 24 hours a day! Here's an example of the dining schedule onboard:
Self service tea & coffee & biscuits: 24 hrs in Club/Bar – Deck 4
Early bird breakfast: 0700 – Pastries & Fruit in Club/Bar – Deck 4
Breakfast: 0800-0900 in Restaurant – Deck 2
Lunch: 1230-1330 in Restaurant – Deck 2
Light Lunch: 1230-1330 in Club/Bar – Deck 4
Afternoon tea: 1530-1615 in Club/Bar – Deck 4
Dinner: 1900 in Restaurant – Deck 2
That's a lot of opportunities to eat. While we swore we'd never eat afternoon tea when we first joined the ship, there was no chance of passing up on freshly baked scones, clotted cream and jam!
Dietary requirements
Dietary requirements were catered for well. Many items on the menu were gluten free; vegetarians were well looked after and with the entire expedition consuming 900kg of meat, I didn't starve either!
The a la carte evening meals were always fabulous and in the 3 weeks onboard, we never had the same 4 course menu twice. A fine dining experience on a luxury ship, in the Southern Ocean!
Who knew we could travel this way? Much respect to Gordan, the Maitre D and Dennis the Island Sky's executive chef and their teams for a phenomenal job.
During my fully cooked breakfast plus pastries, juice, coffee and another last pastry just because I could, we were briefed over the tannoy by our Expedition leader, Nate.
"Well folks! What a great start to the day. If you've been out on deck, you'll see we've now arrived at Orne Harbour, surrounded by sleeping Humpback Whales.
Zodiacs will be leaving at 08:30 for those who want to climb Spigot Peak. Afterwards, we'll take the scenic route back to the ship to see these Humpback Whales up close. Albatross are the first group ashore."
Dressing for the Antarctica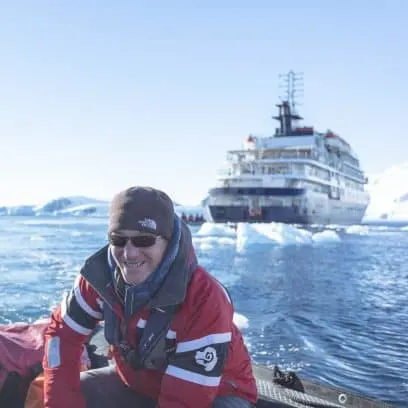 I'm in the Albatross group. The 99 passengers had been assigned into 4 groups to help organise our landings and planned activities. I'd better get a move on.
We were due to board the zodiac boats in less than 20 minutes. I quickly dressed in my multiple layers, just able to bend my knees and elbows.
Once dressed I went through my mental checklist to make sure I had everything I needed.
Hat, gloves, inner gloves, identity card to swipe off the ship, spare camera batteries in inner pocket to keep them warm, 5 layers on the upper body, 4 layers on my legs, 2 pairs of socks, the cabin door key, sunglasses, scarf and camera in the dry bag. Check!
As I walk out the door, I remember my life jacket. I partially undress to find the cabin door key on an inside pocket to retrieve said life jacket.
By the time I reach the lounge I'm already beginning to overheat. I scan out and join the queue of my fellow Albatross group travellers on the outer deck.
Read more: how to pack well for your Antarctic cruise
Biosecurity measures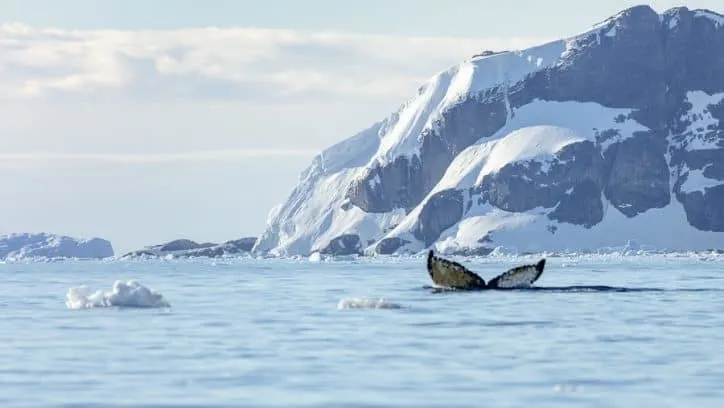 There are no facilities on the Antarctic Peninsula and it'd be really bad form to leave anything other than footprints.
On leaving the Falkland Islands we'd cleansed all our gear, removing anything visible from velcro straps and hoovering bags and boots thoroughly to maintain the biosecurity of South Georgia and the Antarctic environments.
Each time we disembark and embark the Island Sky, we scrub our boots and douse them in a cleaning solution to kill any organic matter we may have inadvertently collected.
Shore Landings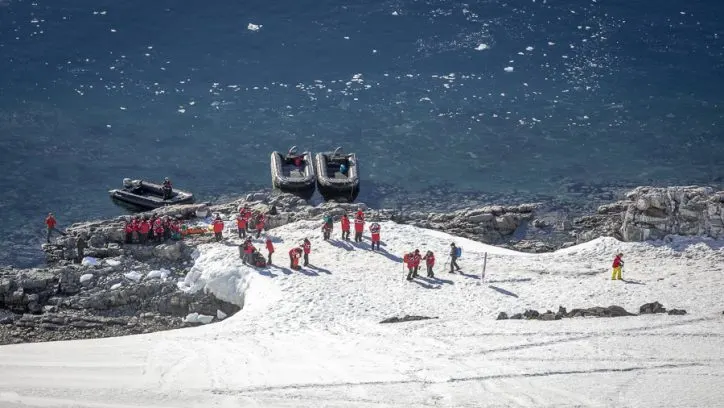 We board the zodiac in groups of 10. As we reach the marina deck, I hand my camera bag to one of the ships crew, a second crewman grabs the back of my life jacket.
Two pairs of reaching hands grabs my outstretched arms to assist me. In one co-ordinated movement in time with the rise and fall of the small zodiac, I step into the boat.
Hannah our zodiac driver, guide and expedition team ornithologist points to where she wants me to sit on the rubber pontoon. My bag is handed to me and the next passenger begins embarkation.
By the end of our 3 week expedition, this is a slick operation and no passengers were lost in the search for adventure.
With all passenger safely onboard, Hannah releases the ropes and pulls away from the ship.
"Bridge, Bridge, Hannah. Boat 5. 10 passengers plus 1 leaving for shore landing."
She reports our departure and the radio squawks with an acknowledgement from the bridge. With this Hannah slowly increases engine speed and we swiftly head out into the Southern Ocean.
Landing
Today is calm so no splashes or bouncing as we progress. The zodiac engine slows as we approach the landing site. I put my backpack on as I need both hands free for climbing ashore.
The engine stops and the shore team pull the zodiac to the boulder strewn coast serving as our jetty. As always the expedition team leader gives the passengers a site briefing.
He tells us where we can go, warns of any hazards present, special considerations for the wildlife or flora at this site and most importantly, when the last zodiac will return to the ship.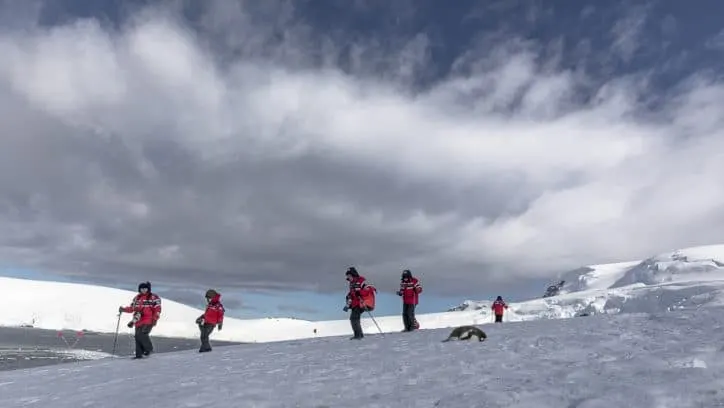 After our briefing we begin disembarkation. I shuffle along the pontoon towards the bow of the boat. When it's my turn, I swing my legs over and with a helping hand from one of the expedition crew, I step into ankle deep water onto slippery rocks.
With a big smile but no other fanfare I take my first steps on the Antarctic Continent. I slosh a few feet ashore onto dry land. My feet are dry and warm thanks to the neoprene sea boots provided by the expedition team.
Once clear of the landing point I take off my life jacket, pick up a couple of walking poles and begin to explore. I keep thinking to myself, how lucky I am to be here.
After all, despite the growing Antarctica tourist industry, still only 50,000 fortunate people get to visit this region each year, many of whom, don't get ashore.
Zodiac cruises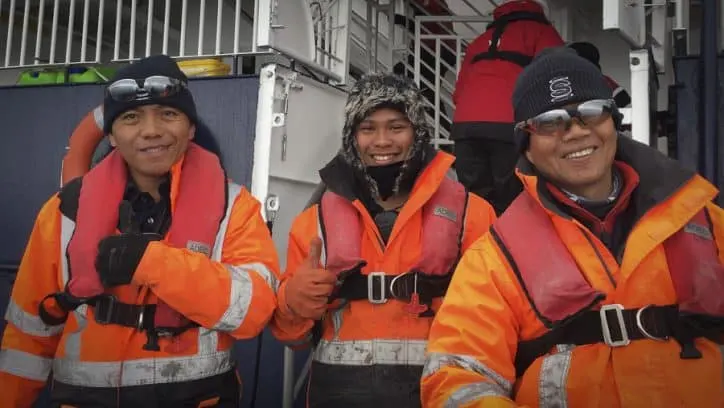 The crew who made sure we didn't fall overboard climbing in and out of the zodiacs
After several hours we decided to return to the ship via an extended zodiac cruise. Life jackets secured, we join the boat by walking into the sea and climbing over the bow. As always, we're assisted by the expedition team.
Because we're cruising, there are only 7 passengers onboard to give us room to view and photograph in comfort.
Slowly we glide around the bay with Adam, our expedition team photography coach, at the helm. Adam has a knack for placing the zodiac in the best position for lighting the subject matter, whether that be an iceberg, whale or glacier.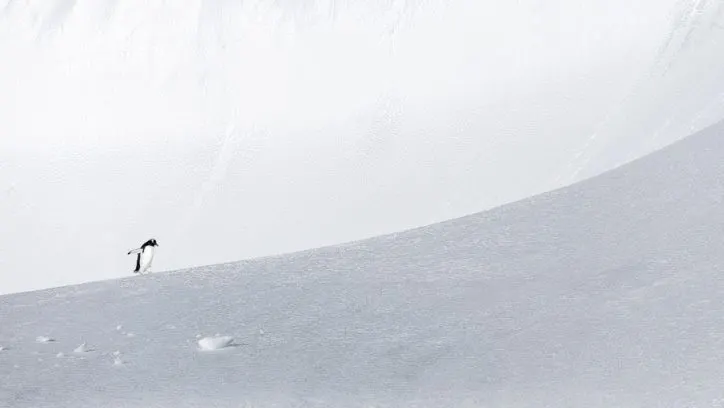 Adam fishes out a single krill to show us. This inch long shrimp like creature is the primary source of food for whales, penguins and seals in the Antarctic.
Commercial fishing boats use huge nets to haul in their catch of krill from these waters.
Caught to make pellets for use in our fishing farms, omega 3 oils and other health supplements, helping to reduce their numbers by 80% since the 1970s. If this trend continues, krill numbers will not be able to support the Antarctic wildlife.
No more whales, seals or penguins. We have been warned.
The wildlife in Antarctica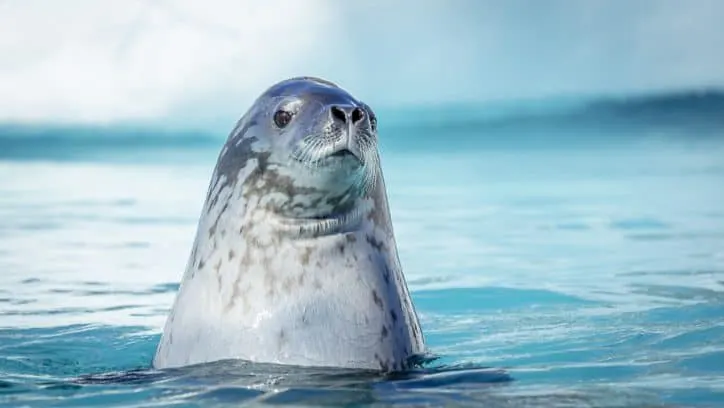 We meandered around 3 sleeping whales and eventually the young one woke, got interested and paid us a very close, heart stopping, once in a lifetime visit.
The humpback whale was so close to us we could have reached out and touched it!
We had so many phenomenal wildlife encounters in the Antarctica and South Georgia. From pods of Orca to enormous Fin Whale encounters, being serenaded by singing Weddell Seals and searched by King Penguins.
An Antarctica cruise is a wildlife expedition that will completely wow you.
Check out some of our favourite wildlife encounters from Antarctica and South Georgia
The incredible landscapes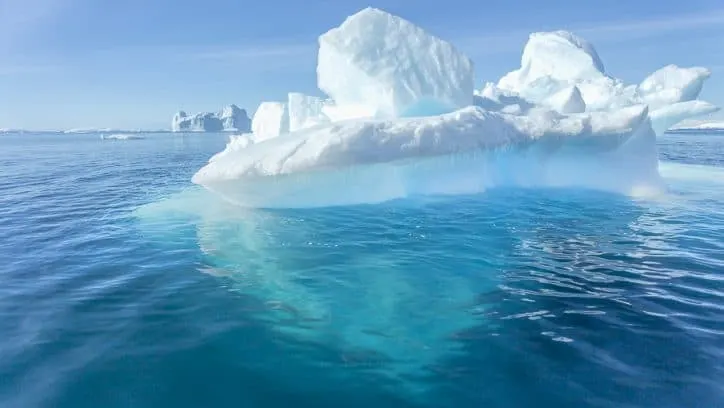 After peeling off a few layers and downloading the morning's photographs, it was time for lunch out on deck.
As we dined on a hearty beef bourguignon – far too heavy for lunch in warmer climes – we set sail towards our next destination, Cierva Cove.
We sailed past huge icebergs, through brash ice and listened to the blow of Humpback and Minke Whales. As lunch came to an end, Nate was back on the tannoy:
"Good afternoon folks, good afternoon. Well what an absolutely fabulous morning", …he summarised our morning highlights…… "This afternoon's excursion will commence at 15:00 starting with Petrel group. The sea kayakers will also be out this afternoon, so gear up folks."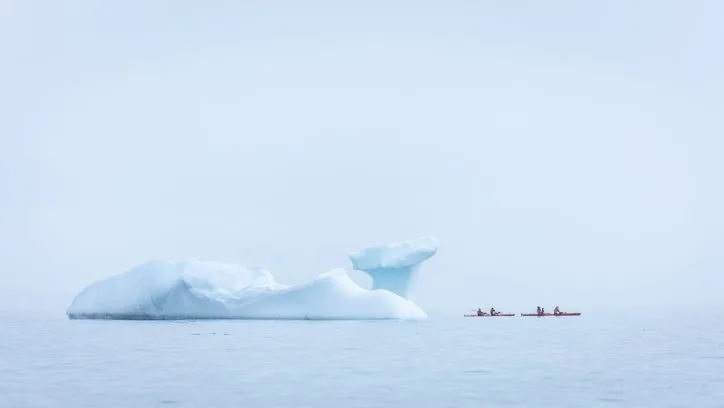 As our Albatross group was first off this morning we will be last this afternoon.
It takes about half an hour for all 99 passengers to disembark on the zodiacs so being last up gives me a little more time before I need to squeeze back into my waterproofs and extra layers.
Using the time wisely – by drinking coffee out on deck – I watched as Commerson's Dolphins playfully swam beneath the zodiacs, alerting the boarding passengers to their presence.
My time to board came quickly and the zodiac cruise proved yet another highlight. Of course more wildlife – blowing Humpback Whales, Gentoo Penguins and beautiful, delicate Antarctic terns gave us a show.
But the real highlight was the one thing I will always associate as defining the Antarctica. Ice.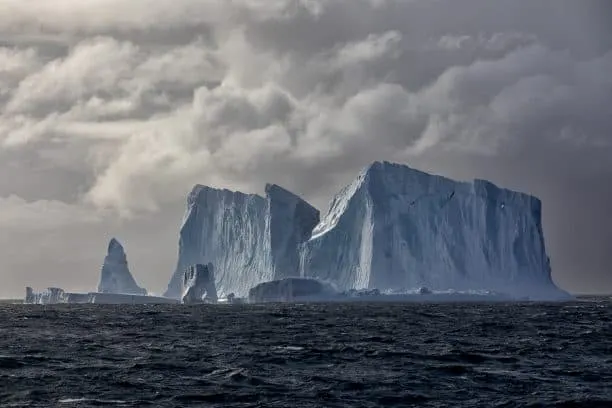 We cruised through brash ice, recently calved from a nearby glacier. Icebergs littered the area, glowing a turquoise blue from within the deep crevices of their walls.
As we approached cautiously, the large underbody was visible below the surface of the calm sea.
The landscape up close
On some icebergs, Leopard Seals lounged. On others, Gentoo penguins appeared to climb. How these animals manage without sunglasses is beyond me.
I was completely mesmerised by the sheer size, shapes and number of icebergs we cruise around.
Curtis, a geologist, was our zodiac driver this afternoon.
Not only did he point out the wildlife and guide us to some excellent photography locations, we also got an impromptu lesson in glacier ice formation, including ice blocks he brought into the boat to explain his teachings.
Read more: 31 Beautiful Pictures of Antarctica
We're 70% Southern Ocean!
Curtis tells us passengers often tell him towards the end of their expeditions that they somehow felt different from the start of the trip.
Curtis explains how the human body is made up of 70% water and all our cells rejuvenate every 14 days. During our expedition onboard the Island Sky, the water we drink comes from the sea.
So at the end of a 3 week Antarctica expedition, we are in effect 70% Southern Ocean!
This 1000+ year old year ice will not be wasted by throwing it back into the ocean. Oh no! This ice sculpture will be in the bar tonight for use in our cocktails. Just to keep us topped up of course.
At one point, Curtis switched off the engine, asking all 7 passengers to put down their camera gear. No talking. Just sit, listen, look and feel, ponder and absorb this marvellous environment for 5 minutes.
These moments are some of my fondest from the entire trip. Just a little peace of heaven.
In awe of this magnificent floating, glittering world, we returned to the ship. Yet tonight was our final night in the Antarctica and we were in no hurry to shed our layers and go indoors.
Instead we headed to the bar, ordered 2 large tin & tonics, complete with Antarctic Ice Shelf ice cubes we'd just collected from the Southern Ocean and stood out on deck.
As we sipped our cocktails, we shed a little tear as we watched our final sunset over the White Continent, hoping to return one day to this pristine land.
The flexibility of the itinerary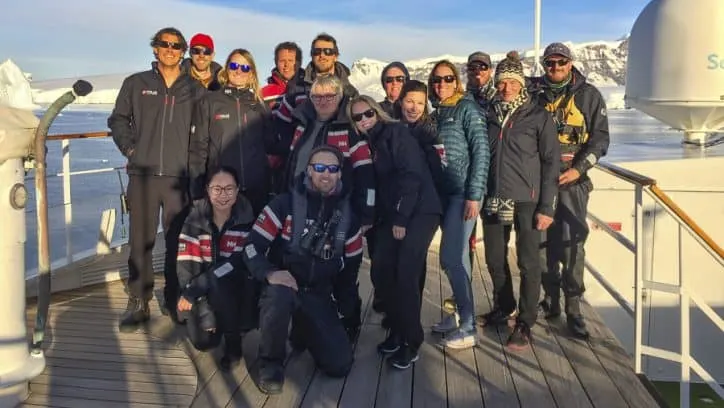 The marvellous expedition team
The reality of exploring such a harsh environment means landings are weather dependant. The daily recap would give an indication of the sea state, weather forecast and likelihood of being able to disembark as per the proposed itinerary.
The expedition team did a fantastic job of ensuring we never missed the chance to explore. If the weather was rough, we'd change our plans and find a secluded, sheltered bay to disembark. If it remained too dangerous to disembark, the ship would cruise the area.
During excursions, we could return to the ship at any time – although we never cut any of our excursions short! When the rules of the landing site allowed, we could wander at our leisure.
In reality, there was always a member of the expedition team nearby to give interesting facts about the behaviour of the wildlife we encountered or something about the geology of the vast glaciers we saw.
Never did we feel like a group of kids on a school outing – which was probably our greatest fear before we set sail.
The trip of a lifetime
This is a summary of our experience of cruise life on an Antarctica expedition. Other travellers, even those on the same expedition, will have different but equally wonderful memories.
No two trips or days are the same. That said, once you've visited the Earth's least explored continent, you'll leave with a deep and common appreciation for this most remarkable place.
If you're serious about booking an Antarctica expedition or just want a bit more insight into our trip, this 30 minute video is the perfect summary.
It brings an emotional tear to our eye when we watch it. Thanks to the expedition team at Polar Latitudes for providing us with the best keepsake we could wish for.
Angela, can we go again please? Our trip to Antarctica on an expedition cruise was the trip of a lifetime. We're already trying to work out how we can return one day!
Keep an eye out on our Antarctica travel page as we still have articles to post about our trip of a lifetime.
Mandatory travel insurance
When we visited Spigot Peak one of our fellow passengers had quite a nasty fall, resulting in an awful gash on his head.
Fortunately, one of the expedition crew is the ship's doctor and mighty fine at needlework. Just as well as Eric needed 22 stitches in his head!
While the ship's doctor will deal with relatively minor ailments and mishaps and help passengers avoid seasickness, the Antarctic is not a place for serious accidents because the local medical facilities aren't too local.
As such, all Antarctic expeditions insist on having excellent medical insurance, in particular evacuation insurance.
It's a fairly expensive pastime being shipped out of the Southern Ocean for a medical emergency! We recommend using True Traveller for European travellers and World Nomads for everyone else. And if you want to pay monthly, use SafetyWing.
Our Exclusive Coupon Code
If you book your Antarctica cruise directly with Polar Latitudes, use our exclusive coupon code for 5% off.

That could save you as much as $2000 per person!

Plus, you can use it on already discounted prices.

Just quote "Mowgli" when booking.
Like it? Pin it!