There's no 2 ways about it: Antarctica travel isn't cheap. Demand is soaring yet less than 50000 people visit the Antarctica each season. Compare that to the 30 million visitors London receives!
Reaching the Antarctica is a mission too, with long flights (or drive in our case) and passage across the roughest seas on the planet.
So while you need deep pockets, cheaper Antarctica travel is possible. Here's how to save money and travel to Antarctica on a budget.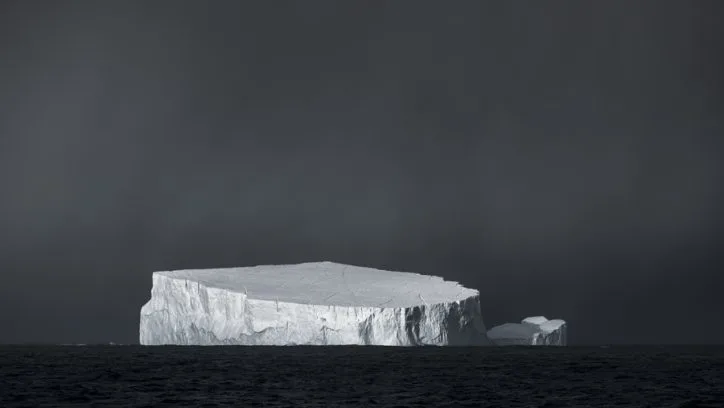 When you click on links to various merchants on this site and make a purchase, this can result in this site earning a commission. As Amazon Associates, we earn from qualifying purchases. For more info, please check our disclosure page.
Travel to Antarctica on the cheap with a last minute deal
So how do you bag a last minute Antarctica deal?
Here we've set out a few simple guidelines to follow to help you bag a deal of a lifetime based on our experience.
Do your homework
Be flexible
Make contact with tour agencies
Know when to book
Be prepared to not book
Have a mechanism to pay the bill immediately
Read more: 11 Reasons To Visit Antarctica At Least One In Your Lifetime
Do your Antarctica homework
If you're lucky enough to even consider travelling to the seventh continent, the chances are, this is a once in a lifetime trip.
As such, you want to choose well so make sure to do your research before you think about booking.
Consider the prices, what's on offer at different times of the Antarctica season, itinerary options, expedition companies and trip duration.
Even the size of the cruise ship and number of passengers it carries will have an impact on the kind of expedition you have.
Consider where you want to go on your Antarctica cruise. Options to visit South Georgia, the Falkland Islands and the Antarctica Peninsula are all on offer.
We've put together a detailed guide on everything you need to know before booking your Antarctica cruise. It'll help you short list the cruises that meet you criteria.
Antarctica tour agencies will try to sell you the cruises they have available.
Any trip to the Antarctica, on any ship and at any time of the season will be incredible so it wouldn't be difficult to succumb to the amazing brochure photos of icebergs, cute penguins and close encounters with whales.
With such huge price tags, make sure you get what you want. And knowing what that is before you go shopping is critical.
When we went to book our last minute Antarctica cruise, we knew exactly where we wanted to visit.
We were offered better deals on alternative itineraries but we knew if we took up those offers, we'd have compromised our must-do list and ended up regretting it.
Having done your homework thoroughly and set out clearly the things that are important to you and even some nice-to-haves, you can quickly short list the offers when they begin to roll in.
Need inspiration? Try these encounters with wildlife in Antarctica
Be flexible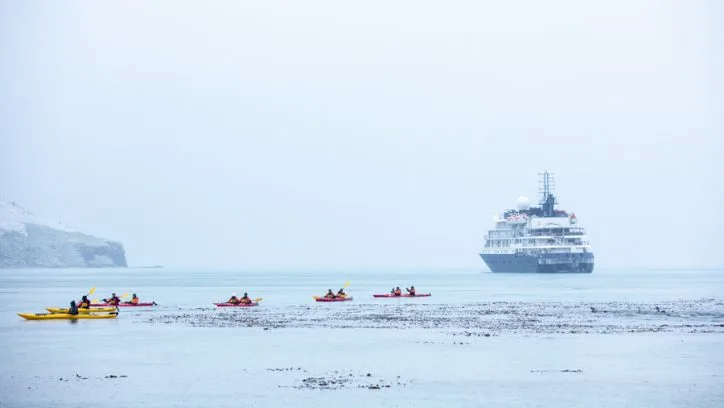 This is pretty key to increasing your chances of bagging a terrific deal, especially a last minute one.
The more flexible you are in relation to your travel dates, cruise duration and even itinerary, the more options you'll have. If you're too rigid, you may be unable to secure a last minute deal to suit you.
We were offered deals that would have saved us a greater proportion of the original book price. We weren't flexible enough to take these though.
If you can travel to Ushuaia or Punta Arenas at short notice (usually a week or so), and you're happy to accept any itinerary at any time of the season, we think you're almost sure to get a deal.
During the high season, boats leave Ushuaia on a daily basis for the white continent, so there's bound to be a cabin spare on at least one of them.
Make contact with the tour agencies
There's plenty of tour agencies selling Antarctica cruises on behalf of the expedition operators but not all offer every cruise and some are prepared to cut prices more than others.
Here's a list of some of the agencies and tour operators we had on our shortish list when we booked our Antarctica trip as an example – there are others so do your homework:
Sign up for the tour agency newsletters and make contact with them as early as possible. If you can't make contact in person, ask them to call you and have a chat.
Make the travel agent aware of exactly what you're looking for.
Tell them you're dealing with other agencies too. It isn't going to do any harm to your deal hunting efforts.
Ask for a list of cruise operators that participate in last minute deals.
Keep in regular contact with the agents. As the season progresses and the dates of the cruises you'd like draws nearer, call them and remind them you're still looking for a last minute deal.
Try not to make a nuisance of yourself but make sure the agents remember you too!
Most tour agencies quote for Antarctica cruises in US dollars.
It helps to compare like for like but make sure you understand in what currency you will pay and if any of the agents have a better exchange rate for the currency you're most interested in.
When we were shopping around, 3 agencies quoted us the same US$ price for a cruise but one of those agencies was British and had a great exchange rate on the dollar.
If we'd wanted this cruise, we'd have saved a further £1000 each by booking with the British agent.
And if you book directly with Polar Latitudes, use our exclusive coupon code for 5% off. It even includes already discounted prices. Just quote "Mowgli" when booking.
Know when to book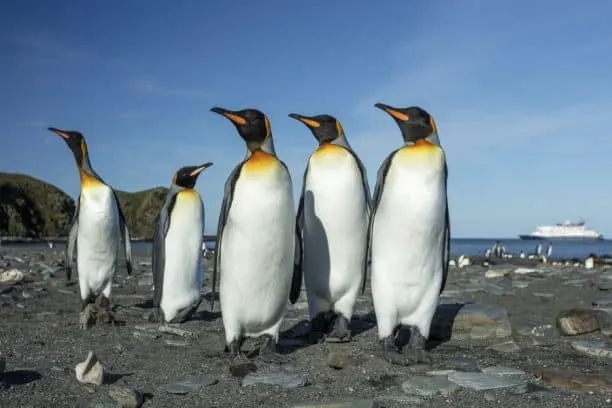 Often, the agencies offer an 'early bird discount' of around 20% for booking soon after the tour operators release the cruise dates and prices.
If you want to be sure of booking a specific trip, this is the best way to save a few pound.
For a much greater discount, you'll need to wait until closer to the departure date.
The tour operators notify the agencies of additional discounts for any cabins not already sold, and in turn they'll notify anyone they think is likely to buy it.
This is where you need to make sure the agent remembers you.
We were in Ushuaia when we booked our trip. 2 agents offered us the cruise we wanted and both came to us with a last minute deal before anyone else.
They knew we had our credit card at the ready!
In our experience, the tour operators release their lowest fares around 14 – 8 days before the departure date. This is where your finest haggling skills need to be polished.
Read more: what to expect on an Antarctica expedition
And haggle….
While the tour operator has released the prices, the tour agencies are obviously still making a profit so probably have a little wriggle room.
Make sure you have at least 2 tour agencies offering you a last minute deal on the same cruise. Call those you're already in touch with and ask them for their best prices.
If there's one agent you'd prefer to book with but they're not offering the best deal, tell them. They might just price match their competition!
Make sure you know how many cabins are available and the last minute deals on each of them. You can try to assess the likelihood of the prices falling a little further before departure.
Of course you run the risk they will sell out or indeed the prices could rise again.
We met a couple who held out a little longer for the same trip as us and ended up paying a higher price.
Equally, we met one man who was paying for his last minute deal the day before departure in Ushuaia at the lowest price for his specific itinerary we'd heard of.
Such are the laws of supply and demand.
Our advice is if the package is everything you want at a price you're happy with, go ahead and book it. Then don't look back!
Be prepared to not book
Antarctica travel on a budget is possible but it could be you're unlucky on your first attempt. If you don't secure a last minute deal be prepared to walk away and not book a cruise that, for you, is 2nd best.
The chances are you will feel some disappointment and you can always try again next year, perhaps with more flexibility.
Get inspired: 31 Beautiful Pictures of Antarctica
Have a mechanism to pay the bill immediately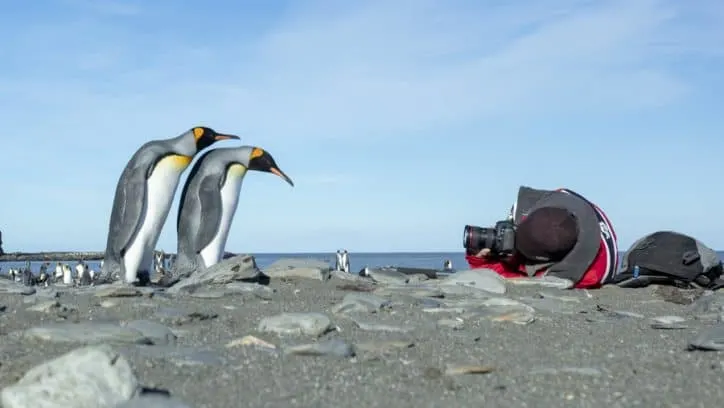 Once you've accepted a last minute deal for your Antarctica cruise, things will move fast.
Some travel agencies will hold the cabin for 24 hours but most will be unable to confirm the booking until you've paid and confirmed your travel insurance details. This means you need to pay fast.
Because the departure date is likely to be days away, you'll need to pay in full immediately. Debit cards and bank transfers take a few days so these aren't accepted for last minute deals.
The only ways to pay for an imminent departure are via credit card or PayPal.
PayPal has some hefty charges so you may want to avoid this.
If paying by credit card, make sure you've already cleared a high enough credit limit with your bank. Or you have enough cumulative credit across multiple credit cards.
It's worth calling your bank to notify them of a large transaction so they don't decline it. And make sure to pay the balances off in full so as not to incur any interest charges!
So now you now how to travel to the Antarctica on a budget. While it doesn't sound plausible, follow these simple steps and you too could save thousands on what will no doubt be an adventure of a lifetime!
Our Exclusive Coupon Code
If you book your Antarctica cruise directly with Polar Latitudes, use our exclusive coupon code for 5% off.

That could save you as much as $2000 per person!

Plus, you can use it on already discounted prices.

Just quote "Mowgli" when booking.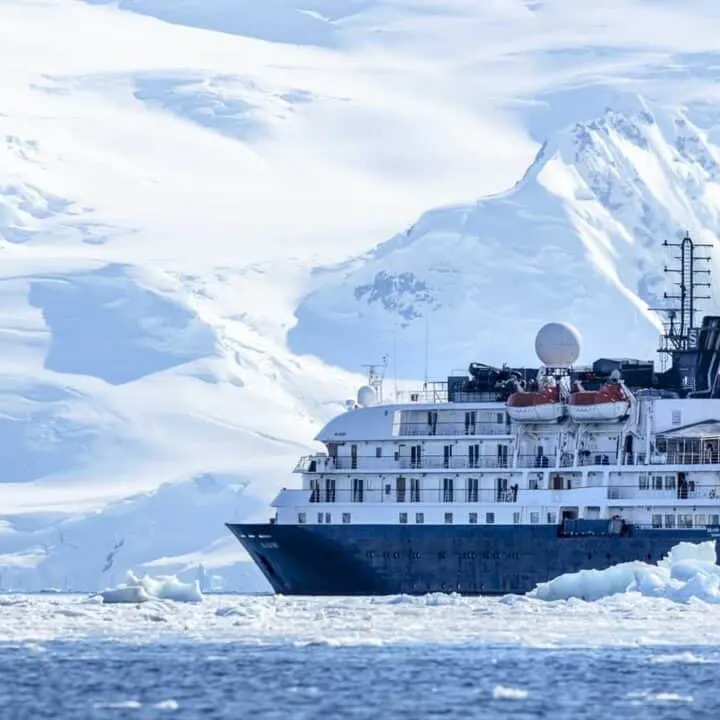 How to travel to Antarctica on a budget
So how do you bag a last minute deal and travel to Antarctica on the cheap?
Here we've set out a few simple guidelines to follow to help you bag a deal of a lifetime based on our experience.
Tools
Your own email address
Your own phone number
Access to cash to pay fast
Instructions
Do your homework - make sure you know what trips are available, what the difference is between different times of the season, the size of the ship...
Be flexible - the more flexible your duration, itinerary and dates, the greater your chances of securing a great last minute deal
Make contact with tour agencies - do this early doors, months if not more before the time you wish to travel
Know when to book - agents offer different discounts throughout the year - understand this to help you book at the right time
Be prepared to not book - if you're not happy with the package or price, be prepared to walk away
Have a mechanism to pay the bill immediately - if you secure a last minute cruise to the Antarctica, you need to pay fast
Haggle - you don't get if you don't ask. And play the agents off against each other for the best price you can get
Bag the deal - yippee! Go pack you bags!
Like it? Pin it!