Leaving Ifrane and the newly constructed golf course that is looking like it will meet PGA standards, we slowly begin to leave the alpine resort behind. By the time we reach Azrou,
we're well and truly back in Morocco. It's time to find the Barbary Apes of Morocco.
After a night in the cherry orchard, we hike through fields and into the cedar forest.
Watchful for any movement, we keep trekking upwards until eventually after about an hour, we find an area that is strewn with rubbish. We figured we must be getting close.
As we set upon a clearing we see what is claimed to be the oldest and largest cedar tree in Africa.
It's 850 years old and admittedly, quite tall. Now we're no tree specialists, but to our eyes, it looks well and truly dead.
To paraphrase Monty Python, it is as dead as a dead parrot.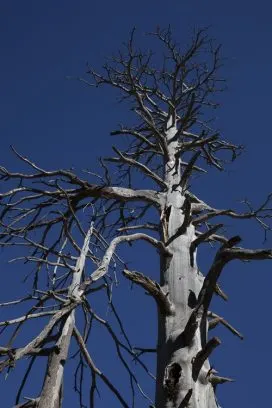 Around this dead cedar tree, Moroccan entrepreneurs are set up in wooden shacks.
Here they offer horse rides, display highly polished minerals for sale, take 20 dib dobs for parking and of course, sell you a bag or two of monkey nuts to feed the monkeys.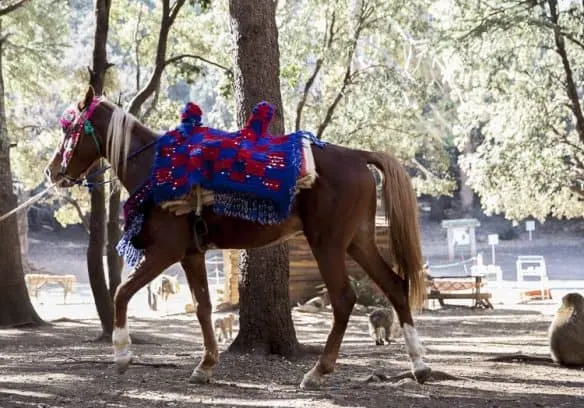 We even had one persistent and rather annoying bloke, asking us to take a picture of his donkey for a few shekels. He didn't seem to realise that his is not the only donkey in Morocco.
Aside from this marginally entertaining area, there were no monkeys in sight.
Well after a long trek, lugging our camera gear, we weren't leaving without a monkey shot. So we improvised!
The local horse riders suggested that for 50 dib dobs each and a 2 hour horse ride further up the hill, they'd provide the opportunity to see the elusive monkeys.
But I wasn't born in the shadow of a camel's hump. Why build monkey nut stalls if the monkeys are a 2 hour horse ride away?
So we sat in the sun, rested and at lunch time the monkeys began to emerge from the dark coolness of the forest.
It's the same every day. They come to this location for the afternoon sun and a bit of lunch.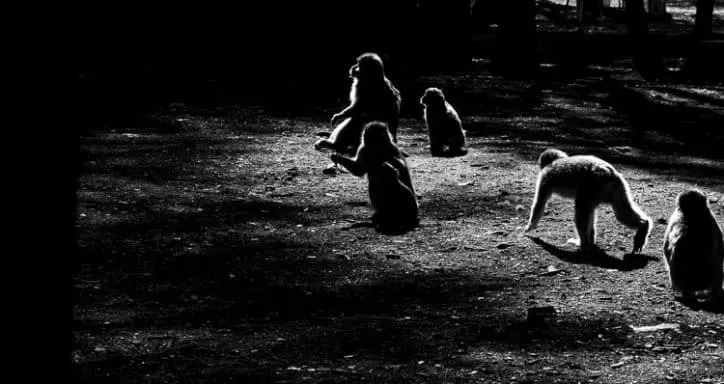 It was quite a large troop of about 50 or so members. The Barbary Apes of Morocco are well used to tourists. Unlike their brothers in Gibraltar, they're not in the slightest bit aggressive.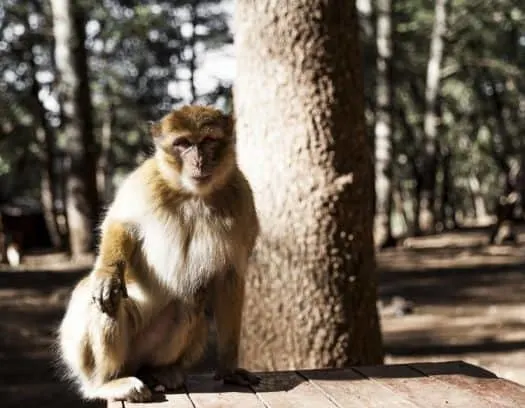 The family behaviours are clear to see. Those of a more dominant rank, sit around sunning themselves with one eye watching over the troop.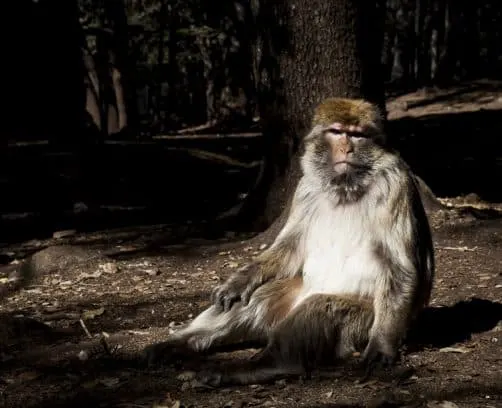 They wait to be groomed by others, keeping order when necessary.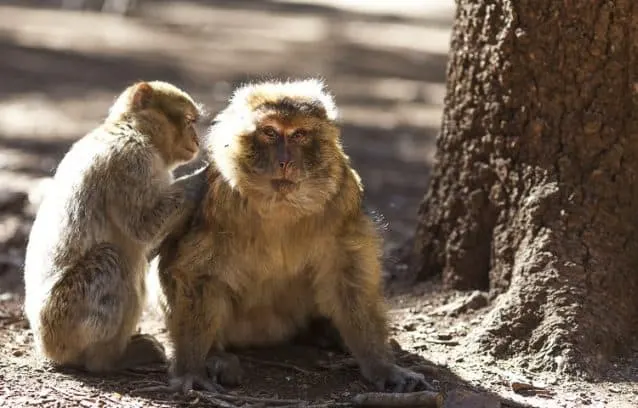 The adolescents attempt to act grown up, sometimes squabbling over who takes care of the youngsters.

If they lose this argument, they'll pester the local pets.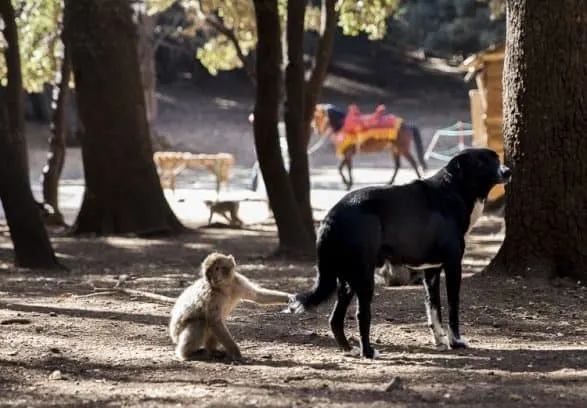 And jump through the trees.
Then of course, there are the babies. You can't help but find this little fellow cute!
The family life of the Barbary apes isn't all peace and harmony though. They have sharp teeth…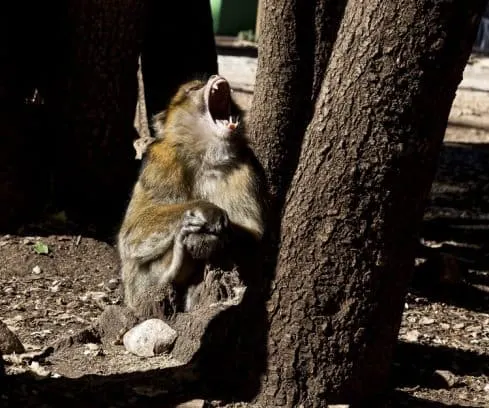 …and some show scars of past battles…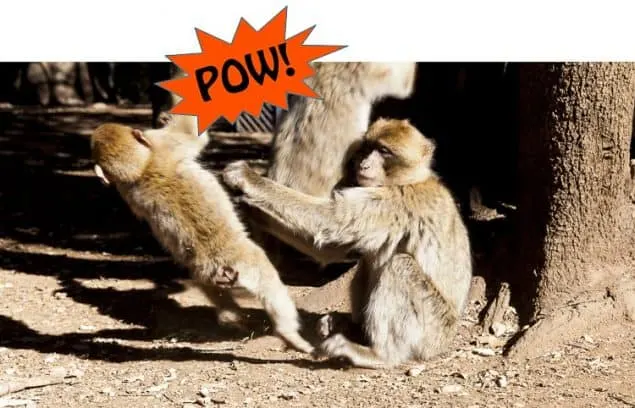 …and the adolescents will flex their muscles when the adults are not keeping watch, bullies that they are!
If you have no food to give, they're indifferent towards you.
If you do feed them, they'll follow you, cling on to your legs and stalk you until they're sure you don't have a morsel left.
Once the monkeys are sure there is no more food forthcoming from the tourists, they'll search the bins and take any findings back into the forest, hence the rubbish all along the mountain track.
Just another day in the life of the Barbary Apes of Morocco.