With one foot in County Cork and the other in County Kerry, Beara Peninsula is the unsung gem of both. Most have heard of the popular Ring of Kerry and the phenomenal landscapes of West Cork so they're a huge draw to tourists.
But if you want to experience the true essence of the Wild Atlantic Way and a flavour of Ireland before mass tourism arrived, don't miss a few days on Beara Peninsula.
A land of isolated and raw beauty, terrific drives and an unspoilt, unhurried atmosphere, Beara Peninsula brings the wild to the Atlantic Way.
Beara Peninsula – finding the wild side
I spent 3 days on Beara Peninsula, Starting from the colourful town of Glengarriff, I headed west along the coast towards the best 3 days of my entire trip.
Healy Pass
A tight hairpin bend negotiated and the rock strewn, desolate landscape opens up to allow the road to snake, twist, turn and in parts, cling to the mountainside ever upwards towards the summit.
Ahead, 2 lycra clad cyclists riding side by side and looking to my untrained eye, somewhat knackered. I slowed the car, keeping a distance so as not to rush them, until they manoeuvred into single file and allowed me to overtake without nudging them into a ditch.
Despite my efforts to greet them, they paid me no interest. Not even a glance. Oh well. I guessed they were out for the exercise and didn't want a lift to the top so continued on my way.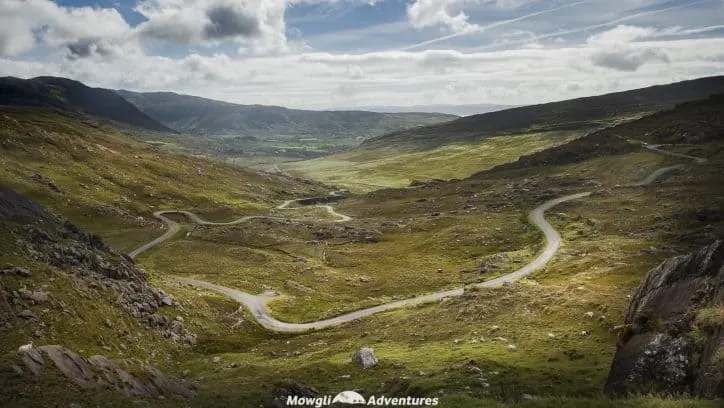 There are no bars, no thatched cottages and no churches here. Nor a tourist information office. No tour buses hogging the single track road and no anxious tour groups jostling for the best panoramic views.
Healy Pass is a 12 km single track road cutting through spectacular scenery from Adrigole in Cork northwards to Lauragh in Kerry crossing the Caha Mountain range.
Once known as Bealach Scairt (or the way of the sheltered caves), Healy Pass was first little more than a bridleway and the first road link between the Cork and Kerry sides of the Beara Peninsula.
Created first to help stave off starvation during the 19th century famine, Healy Pass today is an upgraded, single track road following the original bridleway route. And what a road it is!
With most tourists distracted by the successful marketing efforts of the Ring of Kerry to the north, the road was pretty much deserted.
Instead, 2 hardcore rosy-cheeked cyclists were the only other road users. Oh and a few kamikaze sheep, playing chicken crossing the road to rejoin their huge flock.
Views over Glanmore Lake
I passed waterfalls cascading from their hidden source, hundreds of glacier rocks deposited in their final resting place a few million years ago and glimpsed phenomenal views in the rear view mirror.
Reaching the highest point of the pass, the road widens to afford a little space to park. A break at this spot is essential to soak up the views of the lunar-like landscape below.
Here too is a tiny café com souvenir shop and a huge shrine overlooking the pass. I sat here for sometime and enjoyed a steaming cup of coffee.
Admiring unobstructed views over Healy Pass, I watched 2 cyclists, heads down, gears low and appearing to make little progress towards the summit.
The downward descent towards Lauragh is a world apart from the uphill climb. As I drove over the brow of the summit, the road curved and Glanmore Lake revealed itself far below, dominating the scene.
After stopping again to take in this unexpected landscape, I continued downhill accepting the best of Healy Pass was now behind me.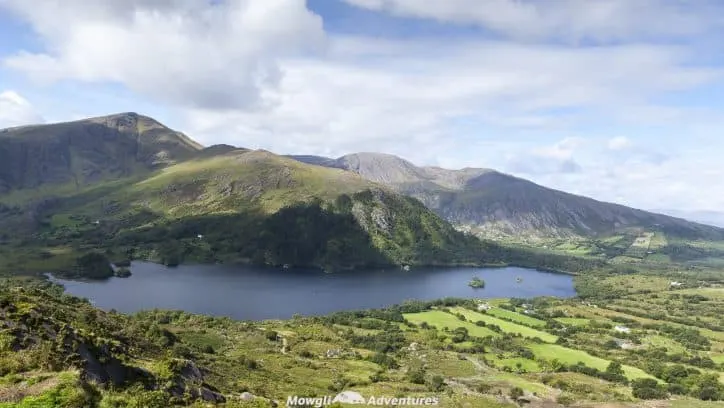 This short road trip up and over the Caha Mountains via Healy Pass on Ireland's Beara Peninsula is one of the best mountain passes Europe has to offer.
It's a road unspoilt by hoards of tourists and large vehicles and evokes the wild remoteness Beara Peninsula offers. Having driven Healy Pass once, there was only one more thing for me to do.
Drive it again, of course! Wishing for an open top, powerful sports car and making do with a dinky 1.2 litre hire car, I turned around and headed back to Adrigole in County Cork for one more pass of Healy Pass…and met a couple of cyclists on the downhill run.
Take a look at these other amazing scenic drives in County Cork
Dursey Island
Day 2 on Beara Peninsula started as every other on my Wild Atlantic Way tour in Ireland – with a fine Irish breakfast enjoyed overlooking a wonderful bay.
Filled to the brim with tea and scrumptious home baked soda bread, I tore myself away from the views and drove a few short miles to the end of the road at Ballaghboy for a day of walking.
Dursey Island cable car
Dursey Island is as far west on Beara Peninsula as is possible to go. Here I was on day 2 of my trip around the Ring of Beara, paying to ride on what at first glance seemed like a makeshift shed, about to traverse the abyss between the mainland and Dursey Island, 80ft above waves crashing against the jagged rocks below.
Alone, I boarded Ireland's only cable car to Dursey Island. With no other way to reach the island, I had no choice if I was to venture across.
As the attendant closed the sliding doors behind me, I realised he wasn't escorting me across! No need.
He only had to press a button and my solo journey high above the Dursey Sound would start. So I sat alone with the gentle swaying doing nothing to settle my nerves.
The wooden shed-like cable car moved forward with a slight jolt and a creak, descending a few feet before climbing high to pass through the rusty pylons.
Desperate to ignore the gaps in the floor between my feet, I focussed on the island ahead, approaching not as fast as I'd have liked. Ok, ok!
I'm a wimp who doesn't like heights and I arrived on Dursey Island safe and sound after only a few minutes.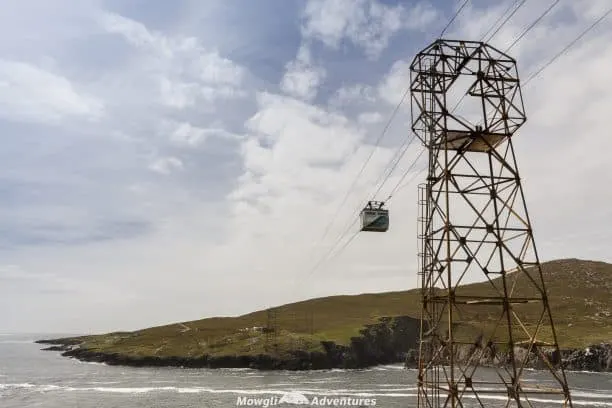 Dursey Island Loop
Despite the thousands of visitors Dursey Island receives each year, I stood at westernmost point of Beara Peninsula in solitude.
No cars, no other people and no warming aroma of turf fuelled fires filling the air. Unlike the mainland, Dursey Island has a population of hardly any.
The sheep appear to have exclusive full-time resident status as most people live on the island only at weekends. Their deserted, grey stone houses blend into the hillsides, bearing their face to the ocean wind and taking all it throws at them.
The walking route around Dursey Island is a 14 km roundtrip and simple enough. Following the heather flanked lane along the southern side of the island, the tranquility of the island is constant.
The traffic free lane waves through a patchwork of stonewalled fields rising up from the craggy coastline. The route has a couple of villages dotted along the way but I only met flocks of sheep, executing their right to wander.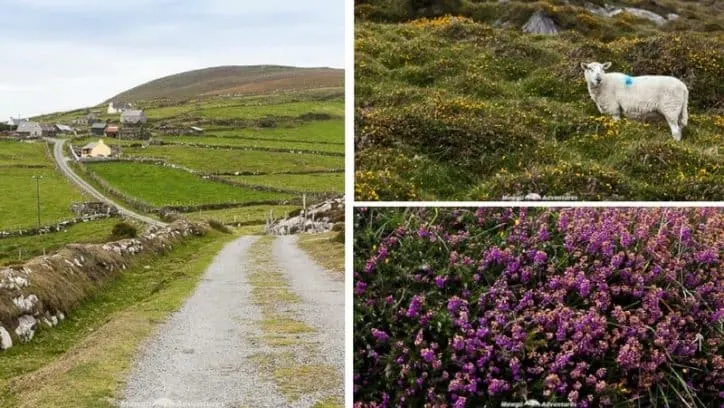 A steep uphill climb rewarded me with fantastic views from the impressive but ruined signal tower. It's well worth the climb. As Dursey Island offers little shelter from the Atlantic winds, I didn't stay too long.
The circular route is well marked and the green path from the high point meanders uphill and down, steep in parts.
After a couple of hours clambering over stiles, walking up and along grassy paths and sharing the bleak landscape with only a few small birds, I made it back onto the road I'd started out on.
Back to reality
As if I'd walked back into the real world, I immediately met a group of 5 walkers, striding towards me with some gusto.
They were soon followed by an older couple, taking things a little easier and the time to stop and chat. They were glad they'd brought a flask of tea when I explained they'd find no café further along the road.
Watching the sun go down at this delightful spot a short walk from my guesthouse was a perfect end to a delightful day.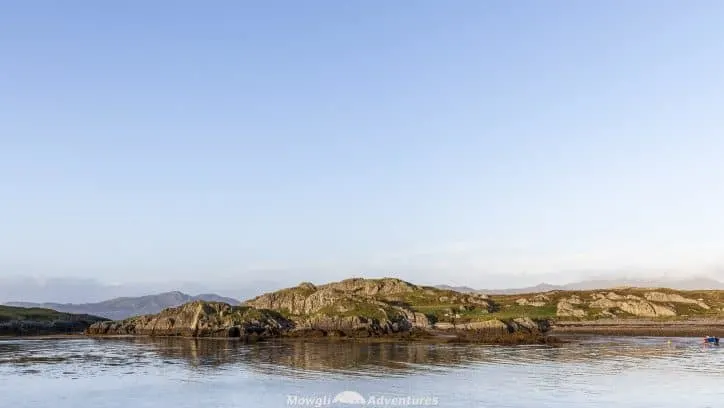 Allihies Copper Mine Road
Heading north on my final day on the Ring of Beara and I was looking forward to exploring the Allihies Copper Mine Road.
I'd read it was traffic free on the whole, used mostly by ramblers and the occasional local car trying to avoid the longer Allihies to Eyeries coastal route.
With the weather taking a turn for the worse, I decided the ramblers path wasn't for me. Best I follow the locals then!
Allihies Copper Mine Museum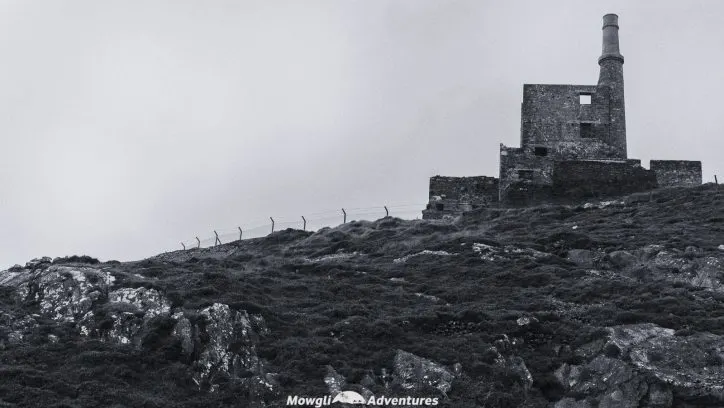 The Allihies Copper Mine Museum is housed in an old Methodist church just down from Allihies village.
I thought a Methodist church was a strange use for a building in the largely Catholic community until I learnt it was used by Cornish miners who worked the mines when it first opened in the early 19th century.
The museum is interesting and informative as you'd expect but by far the highlight for me was the perfect scones, baked fresh and served with jam and a decent cup of tea! Perfect on a dank, drizzly day. Next up, a drive up to the mountain mine.
Part of the Beara Way
I hadn't expected the short cut route to Eyeries to be in perfect condition but it wasn't nearly as bad as I'd expected.
I put the 1.2 litre engine of the hire car through its paces and aside from a couple of second attempts on steep inclines, it was a breeze.
No other traffic, not even sheep today and the views back down to the sandy beach of Ballydonegan were terrific. Such a shame the weather was so bad.
The rain was proper, authentic Irish rain too. You know the really wet stuff that until you stand in it, you barely even notice? It would soak you through without a decent coat.
The weather was somehow appropriate for the visit to the Mountain Mine. The dark stone abandoned building is set high up on the burnt orange ground against a backdrop of an equally dark sky.
Given the hard life of a miner back in the early 19th century, a sunny day wouldn't have come close to doing them justice.
Take a look at our top 10 European Scenic drives
The winding track continues for some time and although it's not suitable for large vehicles, the views are amazing.
The coastal route between Allihies and Eyeries is spectacular at sea level and from up here on the mountain side, it's fantastic too. Do take care though.
This is a route used mainly by walkers and although you may not see them on the road ahead, they are waiting to jump out onto the road when you least expect it!
Finding the wild side of Ireland
The whole of Beara Peninsula is a complete gem. With most visitors to the Wild Atlantic Way preferring to opt for the better known Ring of Kerry and West Cork's Mizen Head, those in the know find the truly wild side of this fantastic route.
If you love the outdoors, tranquility and wild and rugged landscapes, don't miss out Beara Peninsula. There's a view around every corner!
Traveller's guide
Map of my route around the Ring of Beara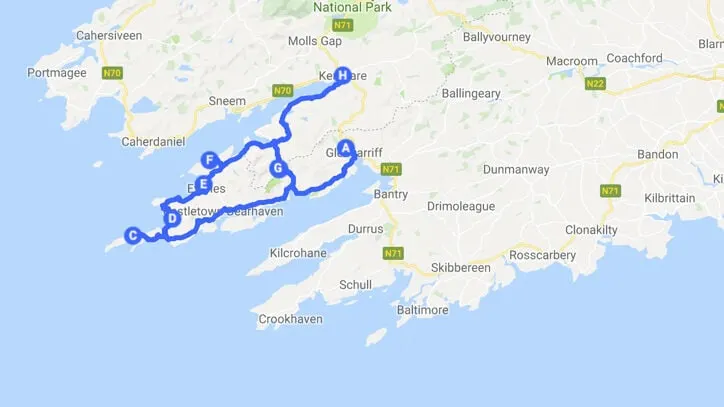 With driving Healy Pass twice and looping around the Allihies – Eyeries route, my route around the Ring of Beara was just over 100 miles and about 4 hours driving time in total.
Preparing for your trip? Here's what you need to pack for a road trip in Ireland
How to get to Healy Pass
From the south, take the R572 at Glengarriff onto Beara Peninsula and towards Adrigole. At Adrigole, turn right onto the R574. This is Healy Pass.
From the north, take the R571 after Kenmare onto Beara Peninsula and towards Lauragh. A little before Lauragh, turn left onto the R574.
Dursey Island Cable Car
The cable car runs 7 days a week, all year round. Operating hours vary depending on the time of year:
March – May: 9:30am to 7:30pm
June and August: 9:30am to 9:30pm
September to October: 9:30am to 7:30pm
November and February: 9:30am to 4:30pm
There's only one attendant and he takes a half hour lunch break every day at around 1pm. Evening crossings depend on demand, so it may close earlier than the published times.
A return adult ticket is €10 and €5 for a child and payment is by cash only. We've heard some travellers have experienced times when the cable car wasn't operating.
Although operated by the county council, it seems there is only one member of staff, so if he has a day off, I guess there's no one to run the show. In keeping with the laid back, unhurried way of life here that makes Beara Peninsula so appealing.
Dursey Island refreshments
Dursey Island has no bars, restaurants or cafés so it's a good idea to bring a picnic and at least some water. Either ask your hosts at your B&B the day before if they could prepare a packed lunch for you or bring supplies from Castletownbere.
A good flask won't go amiss!
Allihies Copper Mine Museum
The museum is open daily between April and October and every weekday the rest of the year.
For the latest opening hours and prices, and for loads more history on Allihies mining past, check out the Allihies Copper Mine Museum website here.
Cornwall in England also has strong connections to mining so if you fancy touring this great English county, take a look at our detailed guide and route here.
Car hire
While we drive our own vehicle, we appreciate that many people will fly into Europe and hire a car. We've done a few of our road trips by hire car in Europe too.
Always use a reputable firm because you need assurance the car is well maintained and your insurance is valid.
We're not loyal to one rental firm, and will simply go with the one that offers the best value – and that means using a comparison website. For us, Auto Europe is by far the best, and our first choice, every time. They even do camper van rentals!
Click here for a no obligation car rental quote
Where to Stay on Beara Peninsula
Camping
There are a couple of campsites on the Ring of Beara and they're both in great locations, depending on how long you plan to spend on the peninsula.
Beara Camping, Coornagillagh, Tuosist, Killarney, Co. Kerry is ideal for visiting Allihies and the Kerry side of Healy Pass.
Hungry Hill Lodge & Campsite, Adrigole, Beara Peninsula, Co. Cork – is perfect for anyone wishing to spend more time on the south / Cork side of the Peninsula.
B&Bs and guesthouses
Ireland is full of independent guesthouses and in my opinion, they're the perfect choice of accommodation. Offering an smiling Irish welcome, fantastic breakfasts and often with views hard to leave, you're spoilt for choice.
We recommend Beach View B&B in Allihies offering cosy accommodation and fantastic breakfasts, with eggs supplied from the chickens in the back garden. Now you can't get fresher than that.
At around £50per room, Beach View is terrific value for money too.
Click here for availability of hotels, guesthouses and B&Bs on Beara Peninsula
Further reading
When you click on links to various merchants on this site and make a purchase, this can result in this site earning a commission. As Amazon Associates, we earn from qualifying purchases. For more info, please check our disclosure page.
Like it? Pin it!