Grab a coffee and enjoy a time out with these beautiful pictures of Antarctica.
---
If you've ever dreamed of traveling to the end of the world, Antarctica is probably at the top of your list.
And with good reason – this frozen continent is one of the most beautiful and pristine places on Earth.
Despite its remote location and harsh conditions, Antarctica is home to an incredible array of wildlife, from penguins and seals to whales and sea birds.
Whether you're looking to experience the thrill of a polar expedition or simply admire the continent from afar, these gorgeous pictures of Antarctica will surely inspire your next adventure.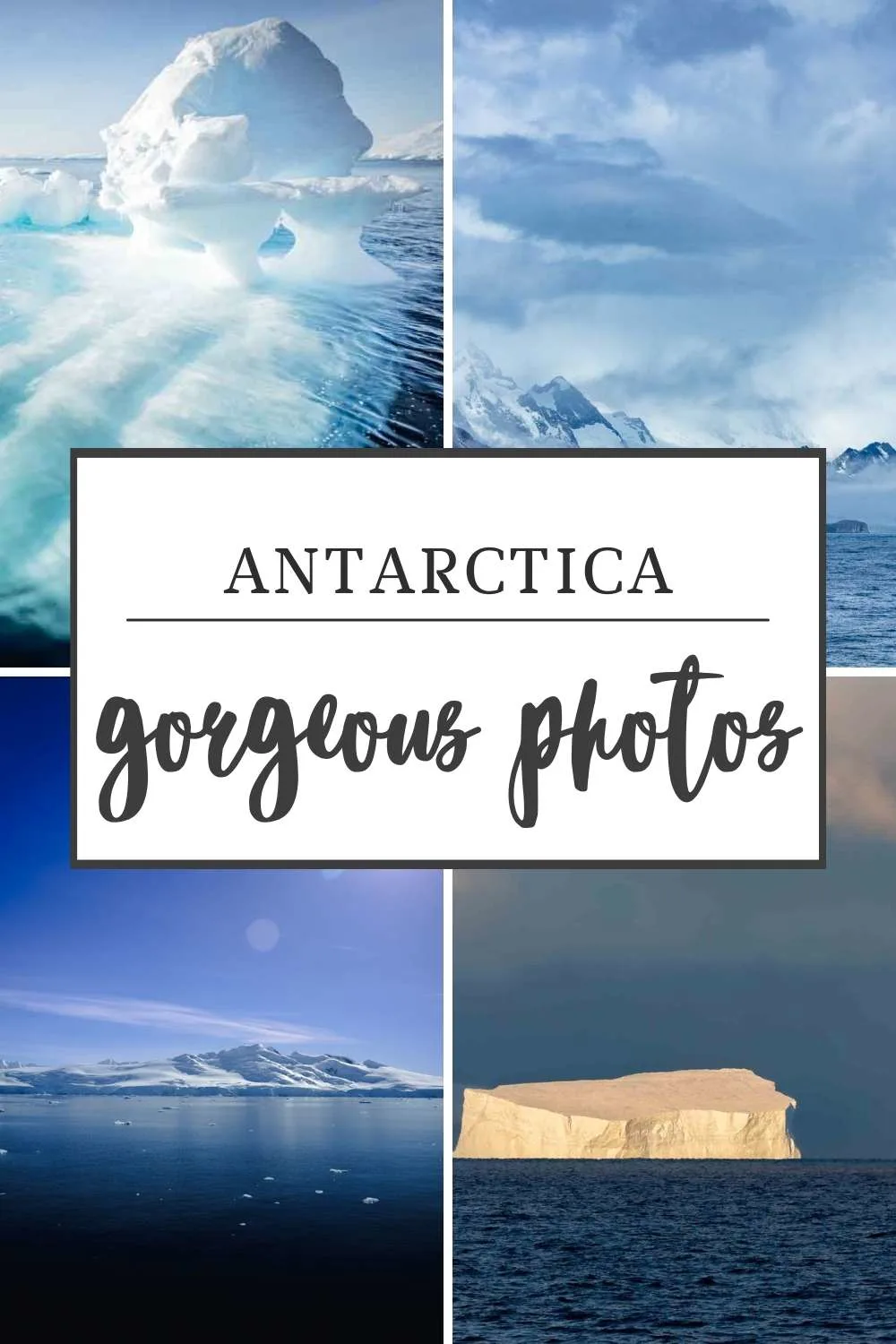 When you click on links to various merchants on this site and make a purchase, this can result in this site earning a commission. As Amazon Associates, we earn from qualifying purchases. For more info, please check our disclosure page.
Beautiful Pictures of Antarctica
1. Lemaire Channel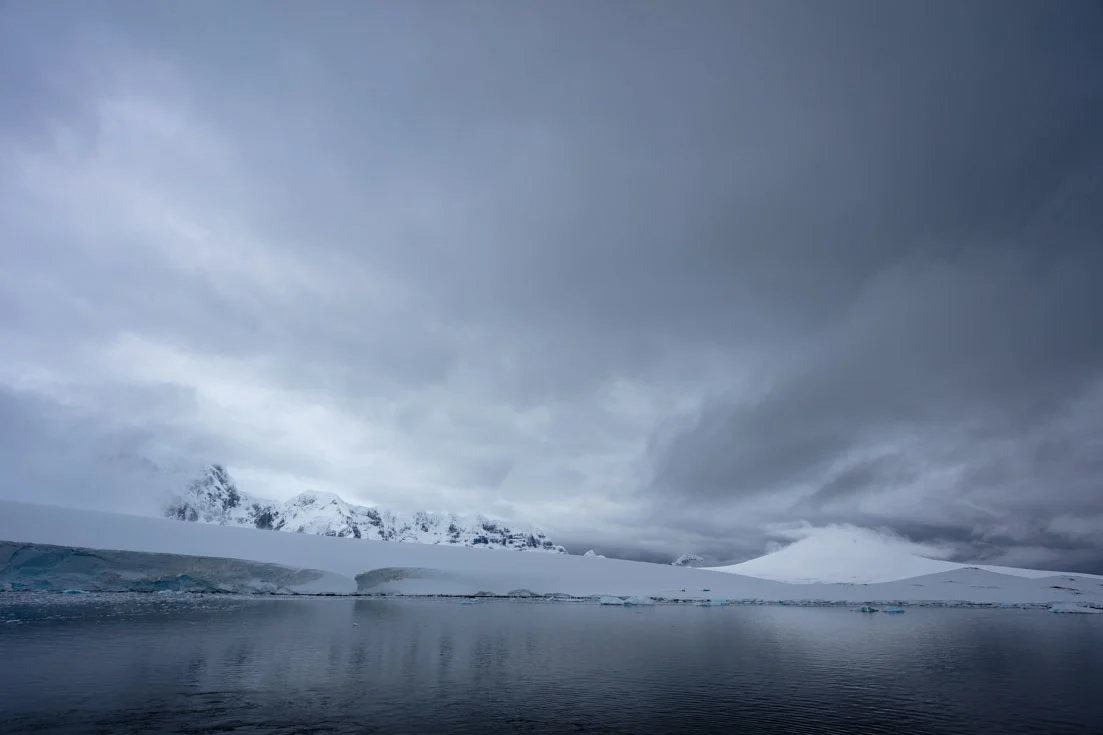 Antarctica's Lemaire Channel is one of Antarctica's most beautiful and popular sites. The narrow strait, only about 1,500 meters wide at its narrowest point, is surrounded by towering mountains and glaciers.
2. Crossing The Drake Passage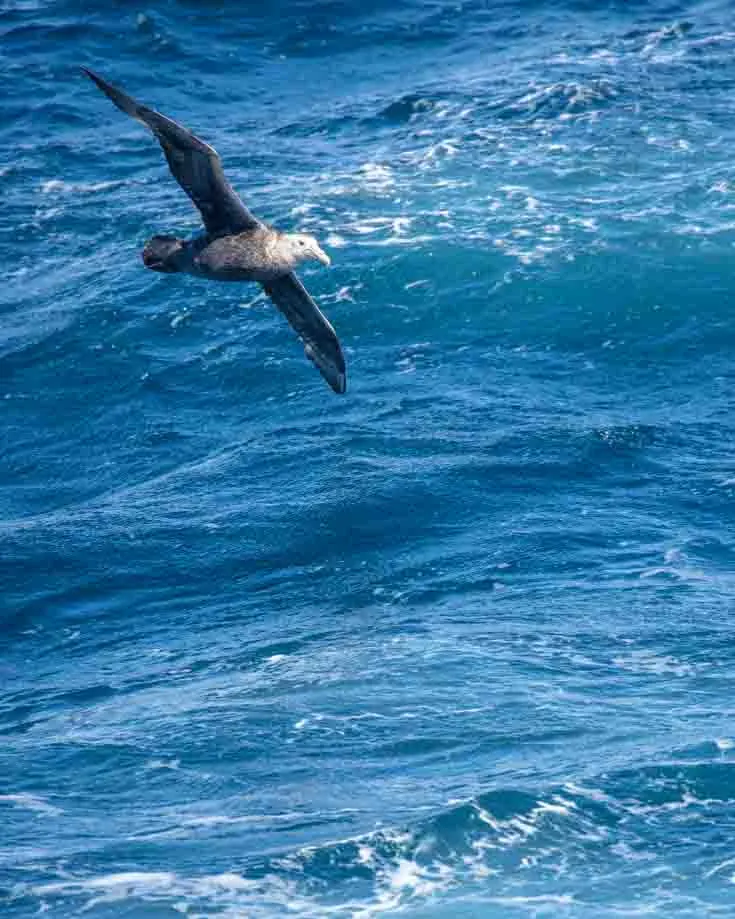 The Drake Passage is the body of water that separates Antarctica from South America. It's also one of the world's roughest stretches of open water, with strong winds and large waves.
Crossing the Drake is an adventure in itself, and many travelers say it's one of the highlights of their trip.
We've visited Antarctica twice and sailed across the Drake Passage four times. For three of the four crossings, the Drake was more of a lake than a shake – aka Drake Lake.
It provides a great opportunity to enjoy the Giant Southern Petrels, Wandering Albatross and other birds of the southern ocean.
Once it caught us out, though! If we hadn't brought our sea legs, we'd have spent most of the 2 days crossing in our cabins, dosed up thanks to the bag of tricks dished out by the expedition doctor!
3. Deception Island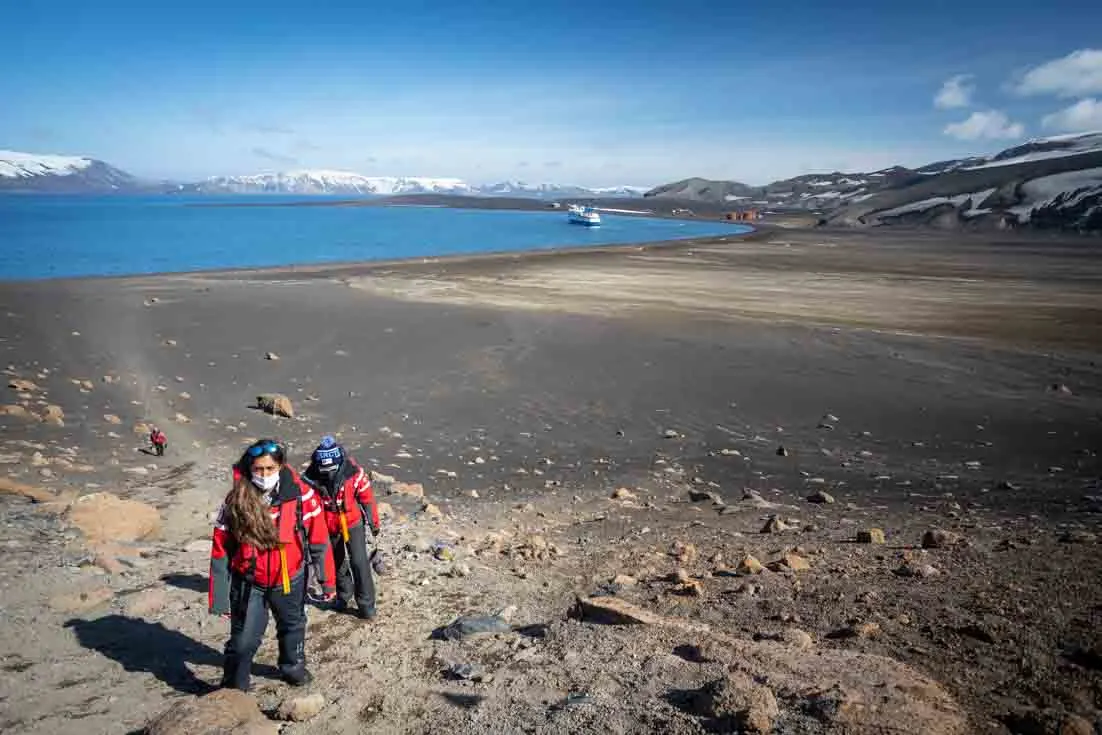 Deception Island is a volcanic island in the South Shetland Islands chain. It's one of the most popular destinations in Antarctica due to its unique black sand beaches and easy accessibility.
The island is also home to several scientific research stations, abandoned outside the summer season.
Deception Island got its name because, from afar, it looks like a regular island. But it's actually the caldera of an active volcano. And the waters around the island are known to be treacherous.
Expedition ships sail through the narrow Neptune's Bellows to enter the caldera. They are only navigated by experienced captains during calm conditions.
4. Feisty Antarctic Fur Seals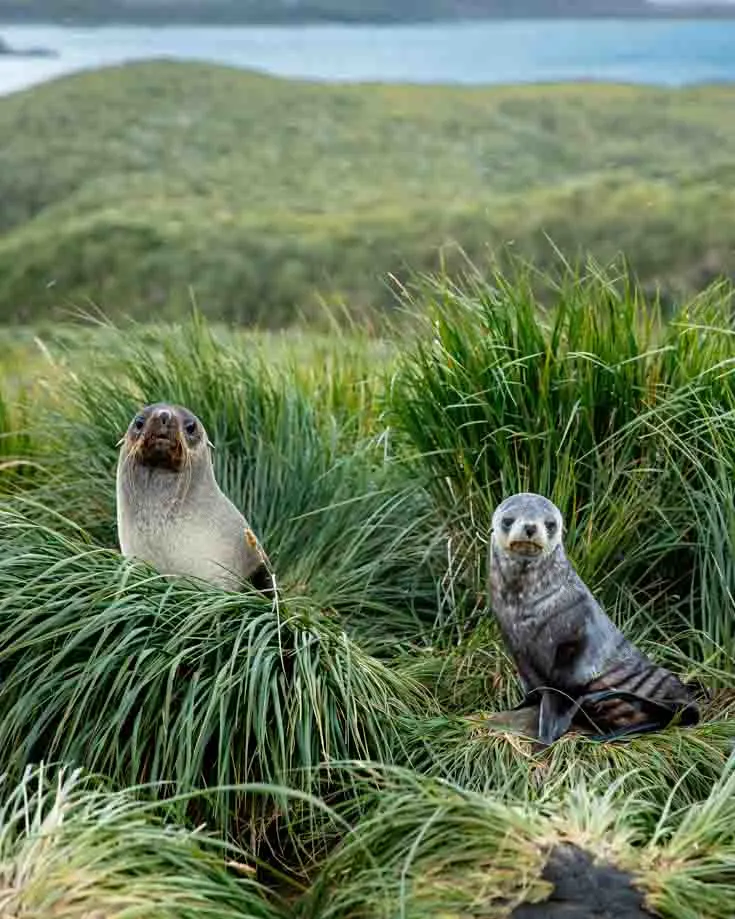 Fur seals are some of the most common animals in Antarctica, especially if you visit South Georgia and the Falklands.
They're also some of the most aggressive and are known to attack humans (and each other) if they feel threatened.
The best way to view fur seals is from a safe distance. Your expedition team will ensure safe paths through any areas with nesting seals and provide clear instructions on keeping safe.
5. Singing Weddell Seals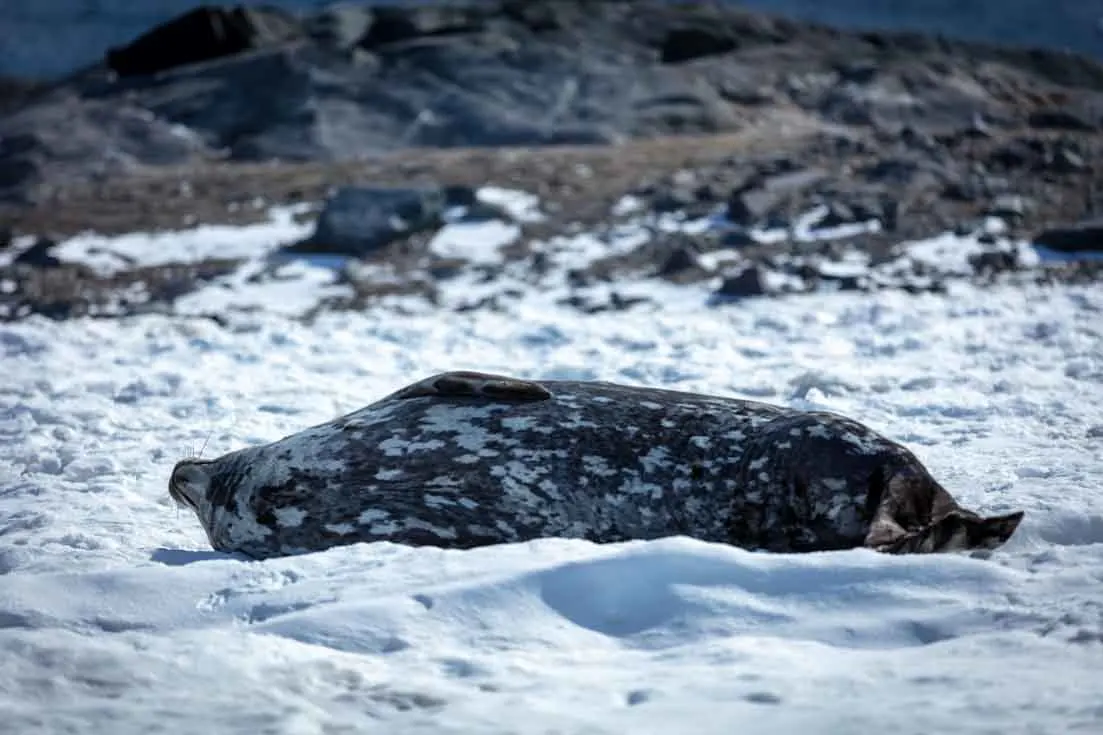 Weddell seals are one of the largest species of seal in Antarctica. They can grow up to 3.5 meters (12 feet) long and weigh 600 kilograms (1300 pounds).
We watched these two Weddell seals "singing" to each other. Hauled out of the water and lounging on the ice, they appeared to be sleeping.
Then they began making the eeriest and haunting sounds, echoing some distance in Neko Harbour.
6. Flabby Southern Elephant Seals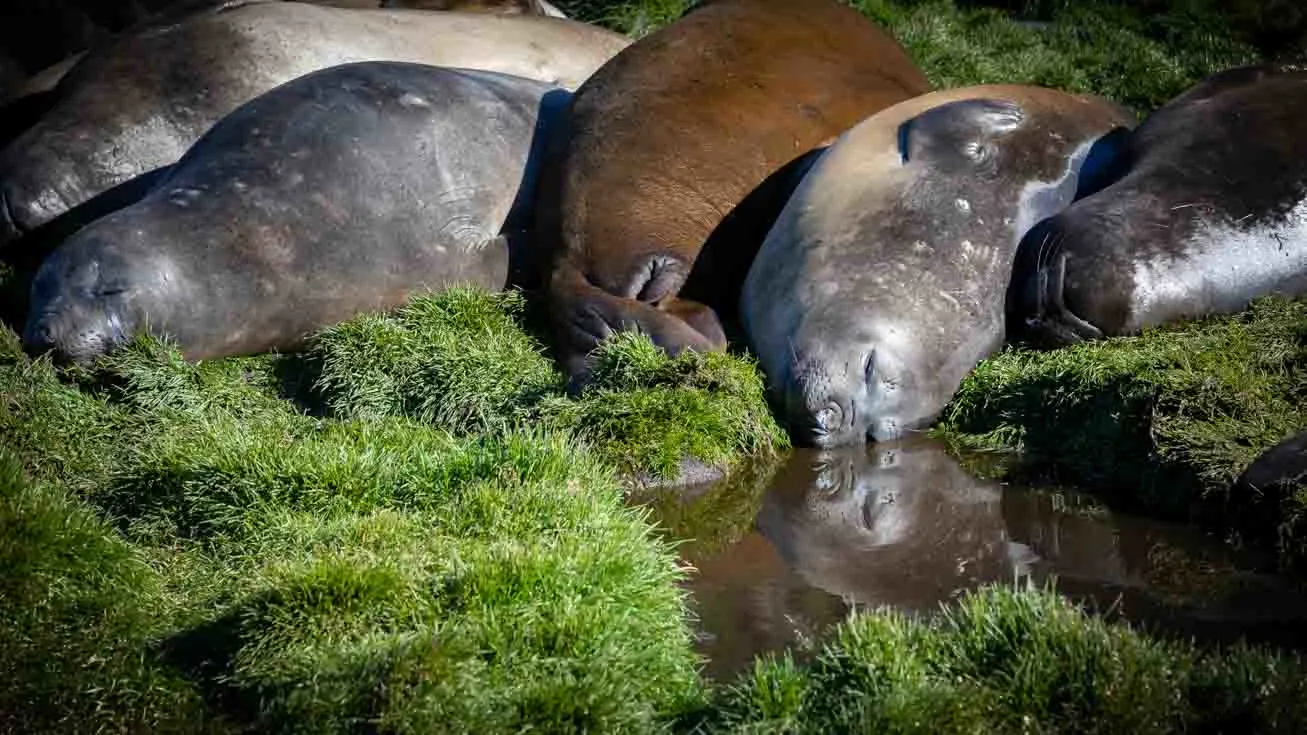 Southern elephant seals are the largest species of seal in the world. Males can weigh up to 4,000 kilograms (8,800 pounds) and grow up to 6 meters (20 feet) long.
Females are much smaller, weighing only about a tenth of what males do.
Elephant seals spend most of their time in the water but haul out onto beaches and ice floes to rest and breed.
They're called elephant seals because of their large size and long snouts resembling an elephant's trunk.
They can hold their breath for over an hour and a half and dive over 2 km! All the elephant seals we saw were in South Georgia.
Gold Harbour is one of the best places to see the big bulls wallowing in the surf and posturing on the beach.
7. Gerlache Strait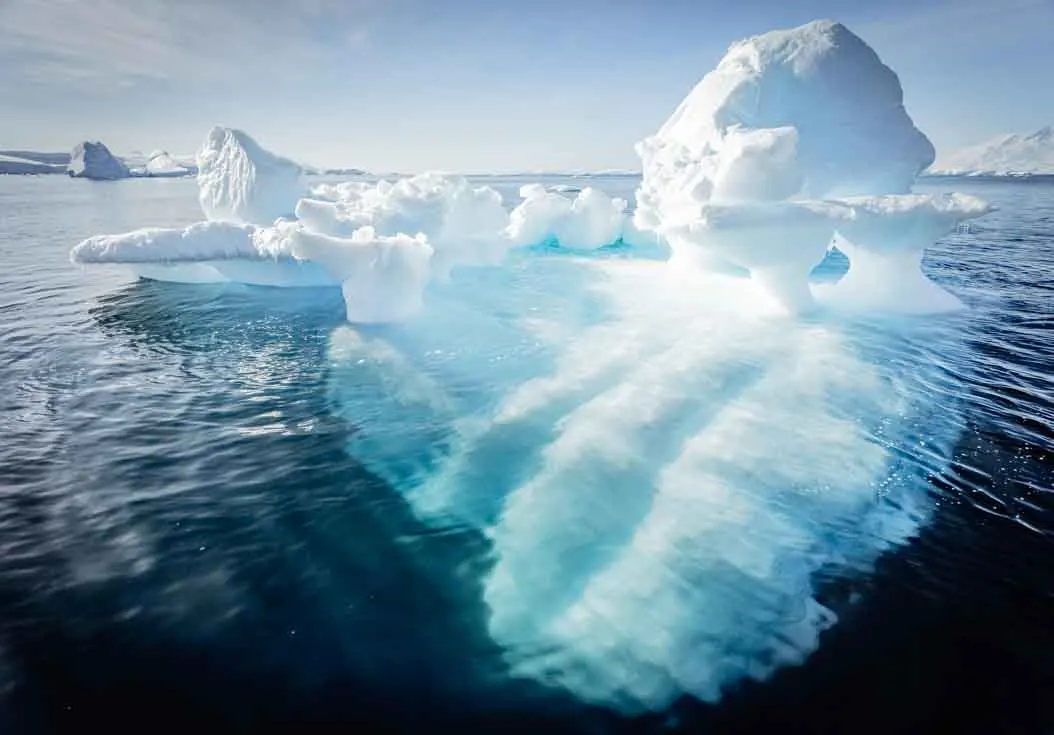 The Gerlache Strait is a stretch of water that runs along the Antarctic Peninsula. It's known for its dramatic scenery, with towering mountains and glaciers.
It's also home to some scientific research stations and the Ukrainian Vernadsky Research Base, the southernmost permanent human settlement in the world.
Most polar cruises that cross the Antarctic Circle try to visit Vernadsky Research Base.
The Gerlache Strait is a popular destination for expedition cruises, as it offers travelers the chance to explore the Antarctic Peninsula and its many harbors and coves.
8. 1/2 Million King Penguins In South Georgia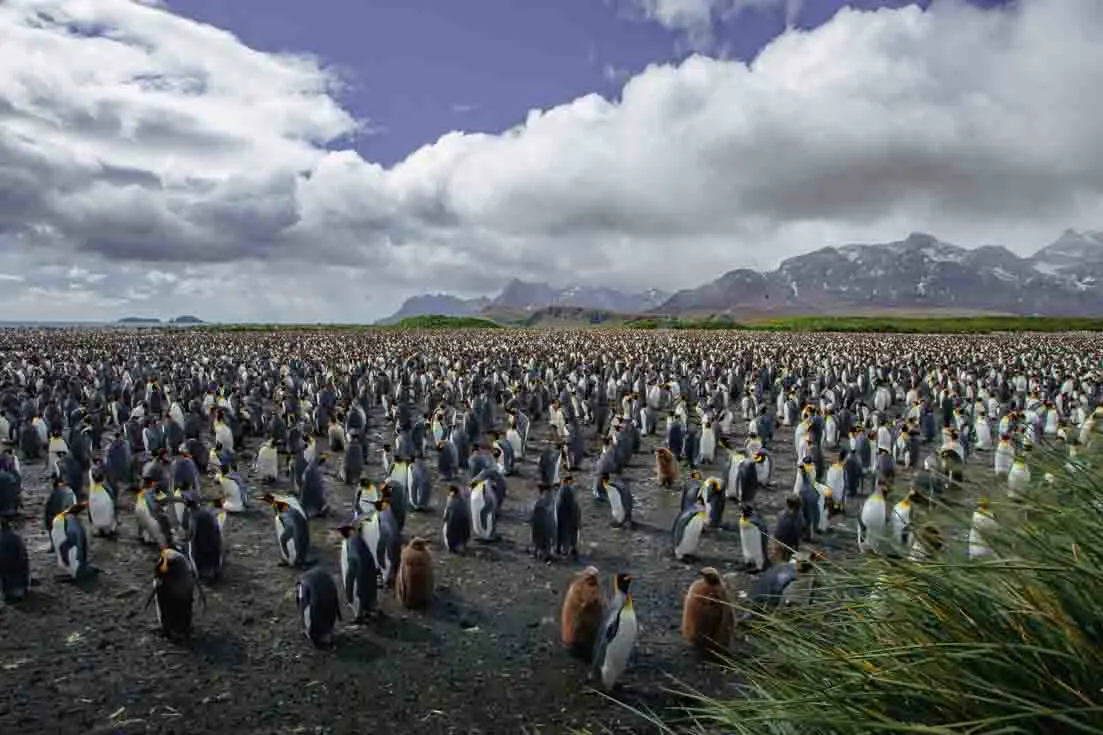 South Georgia is the breeding ground for over half a million king penguins, making it one of the best places in the world to see these fantastic animals.
King penguins are the second largest penguin species, after the emperor penguin. They can grow up to a meter (3 feet) tall and weigh up to 18 kilograms (40 pounds).
King penguins are very social animals, and you'll often see them gathered in large colonies on the beaches of South Georgia.
Gold Harbour is one of the best places to see king penguins, with an enormous breeding colony and bundles of fluffy brown chicks.
It's a fantastic sight to see so many penguins in one place, and the sound of their calls echoing across the island is truly unforgettable.
But watch your bags! They're curious birds and will happily search your belongings.
9. Hiking In Antarctica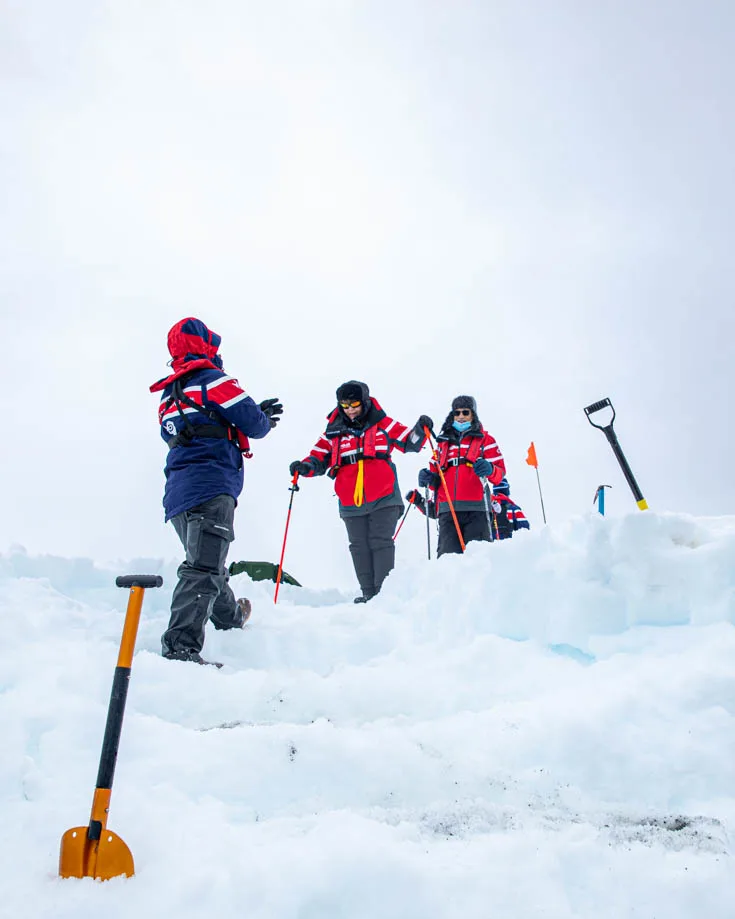 One of the best ways to explore Antarctica is on foot.
On most days, your expedition team will be keen to get you a shore landing and try to offer several different hikes to suit all fitness levels.
The hikes vary from easy walks along coastal paths to more challenging treks up snow-covered hillsides.
10. Icebergs In Antarctica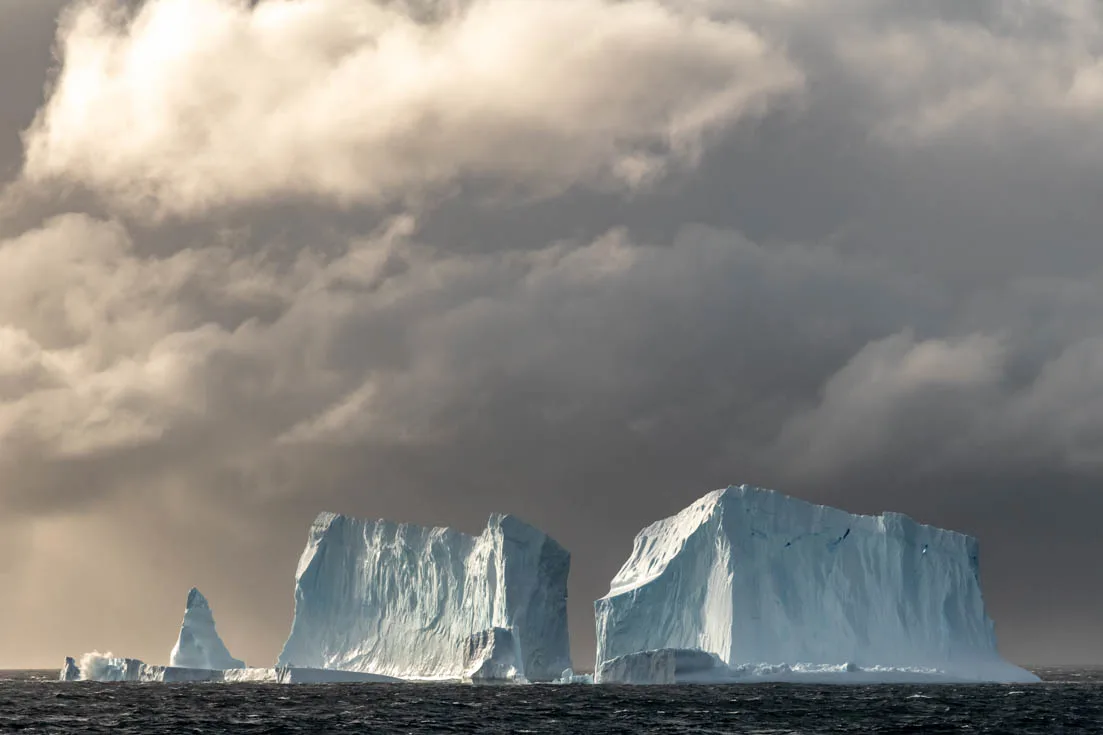 Icebergs are one of the most iconic features of Antarctica. They come in all shapes and sizes, from small growlers floating in the water to huge, tabular icebergs that tower over your ship.
Spotting an iceberg is always a thrill, but there's nothing quite like getting up close and personal with one. Many expedition cruises offer the chance to do just that, with Zodiac excursions to explore the nooks and crannies of these giants while maintaining a safe distance.
11. Colony of Chinstrap Penguins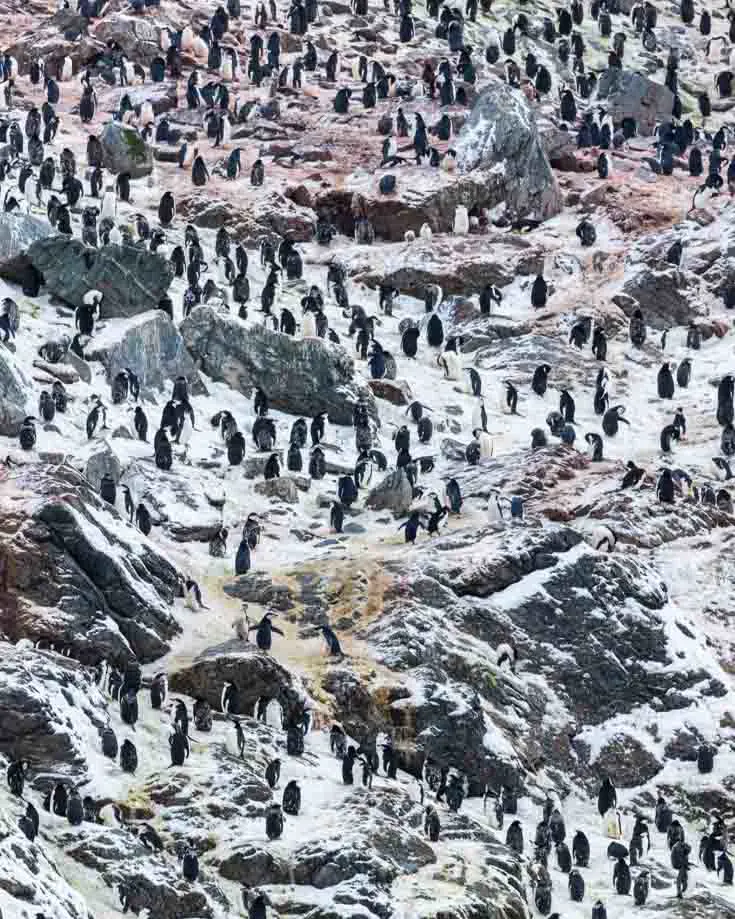 The chinstrap penguin is one of the most common penguin species in Antarctica. They're easily recognizable by the narrow black band that runs under their chin, hence their name.
Most of the chinstrap penguins we saw were hanging out on icebergs.
Chinstrap penguins are relatively small, and due to the warming of Antarctica and extensive krill fish, their numbers are falling.
You can read more about the plight of the Chinstrap penguin on Earth.org.
12. Kayaking Around Icebergs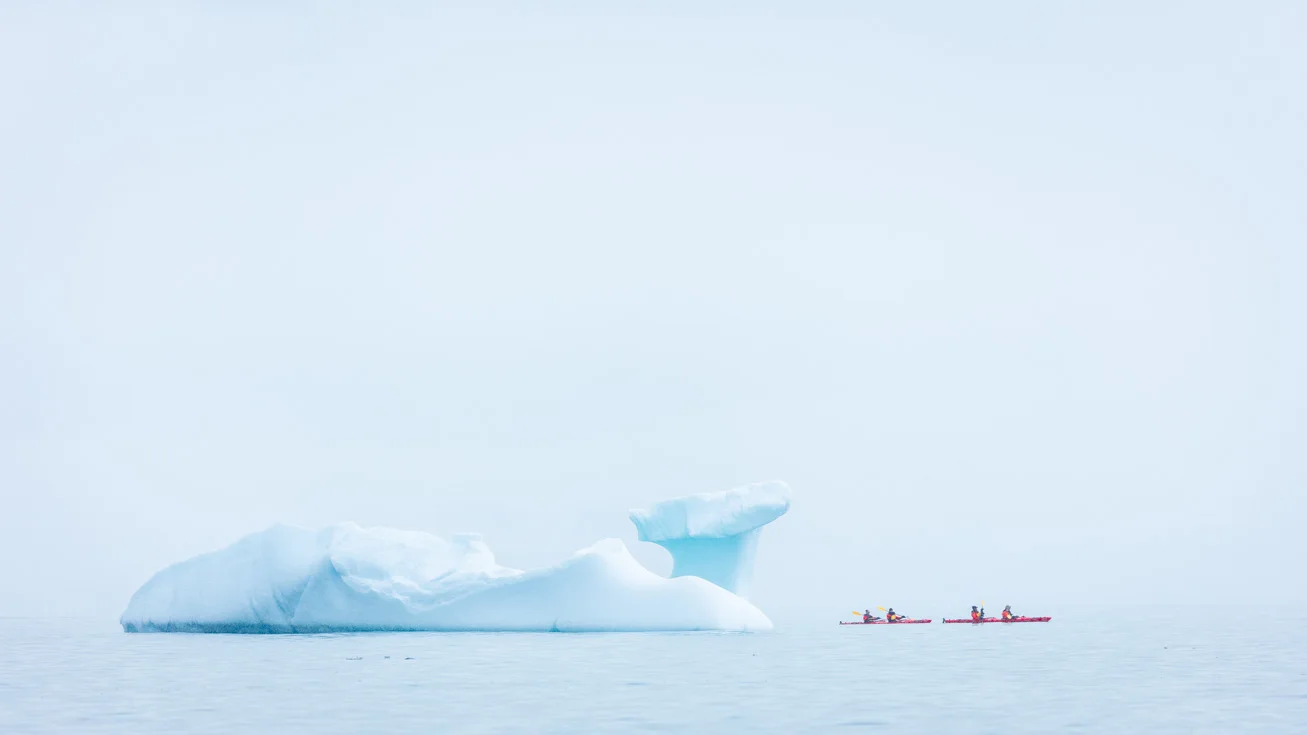 Kayaking is one of the best ways to explore Antarctica. Paddling through calm waters, with huge icebergs towering over you is an unforgettable experience.
Most expedition cruises include kayak excursions as part of the itinerary, led by experienced guides.
Spaces are limited, so it's worth signing up as soon as possible.
Kayaking is a great way to get a unique perspective on the white continent. If you're lucky, you'll have some close encounters with the fantastic wildlife.
13. Lunge Feeding Humpback Whales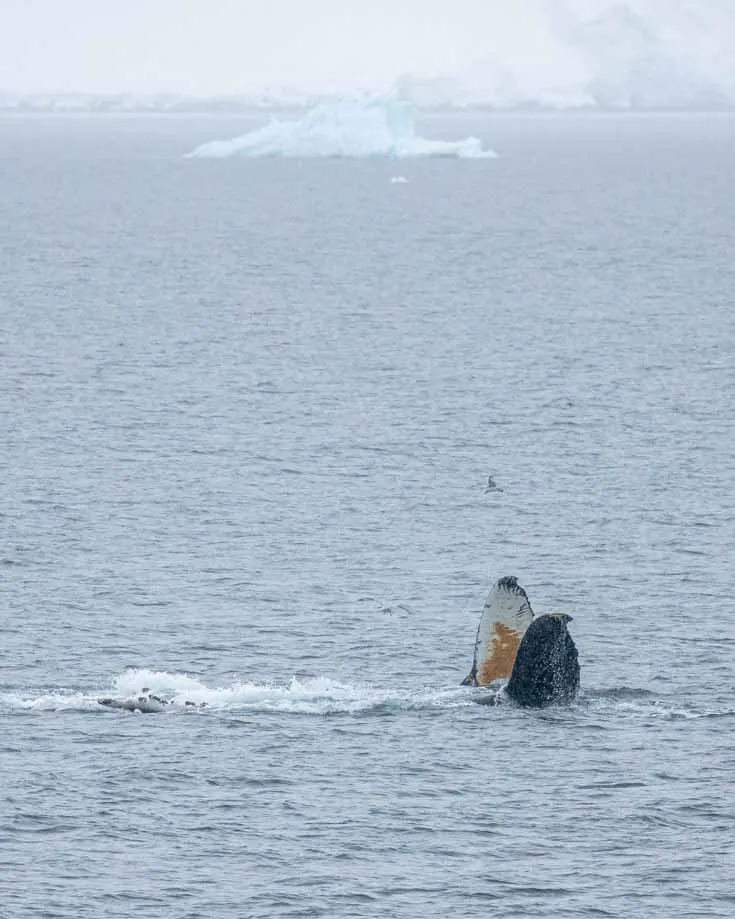 Humpback whales are some of the most acrobatic creatures in the Antarctic waters. You'll often see them breaching (jumping out of the water), but my favorite thing to watch is their feeding technique, known as lunge feeding.
Humpback whales swim below a school of krill or small fish, blow bubbles to trap them, then open their mouth wide and 'lunge' forward, scooping up a massive amount of krill-filled water.
It's an impressive sight.
On Christmas Day, the captain of our expedition ship basically stopped the ship for an hour so we could watch over 20 humpback whales gorging on krill.
We have few words to describe how incredible that experience was.
14. Melting Antarctic Glaciers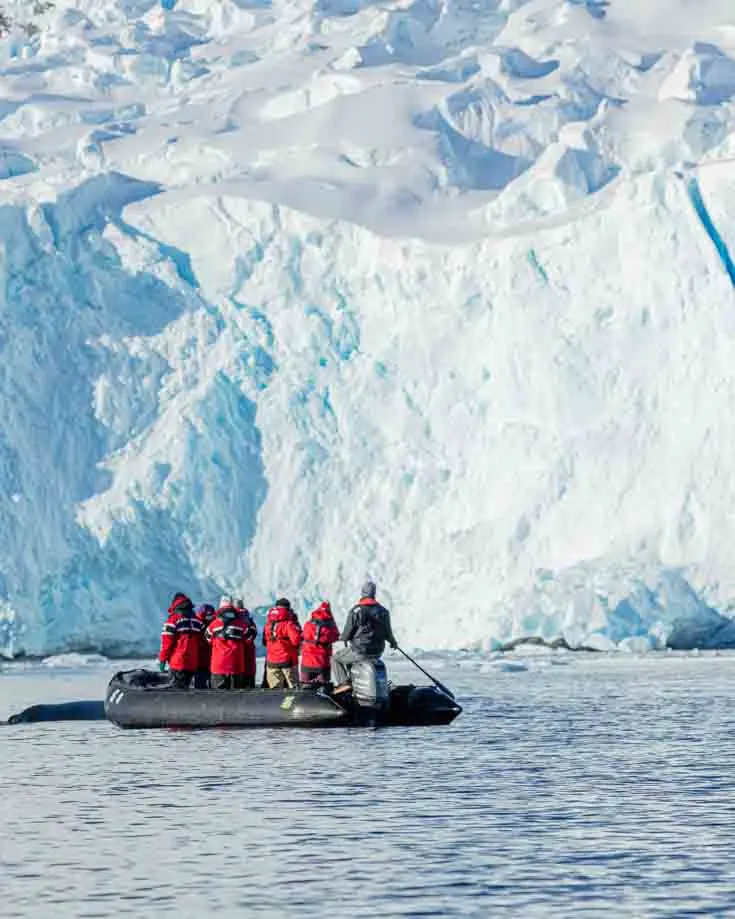 Climate change is one of the biggest threats to Antarctica and its wildlife.
As global temperatures rise, the ice sheets are melting at an alarming rate. This has enormous implications for the animals that live here and the rest of the world, as rising sea levels threaten coastal communities.
Seeing the effects of climate change first-hand is a sobering experience. It's a reminder of how important it is to do our bit to protect this fragile continent.
15. Abandoned Whaling Station at Grytviken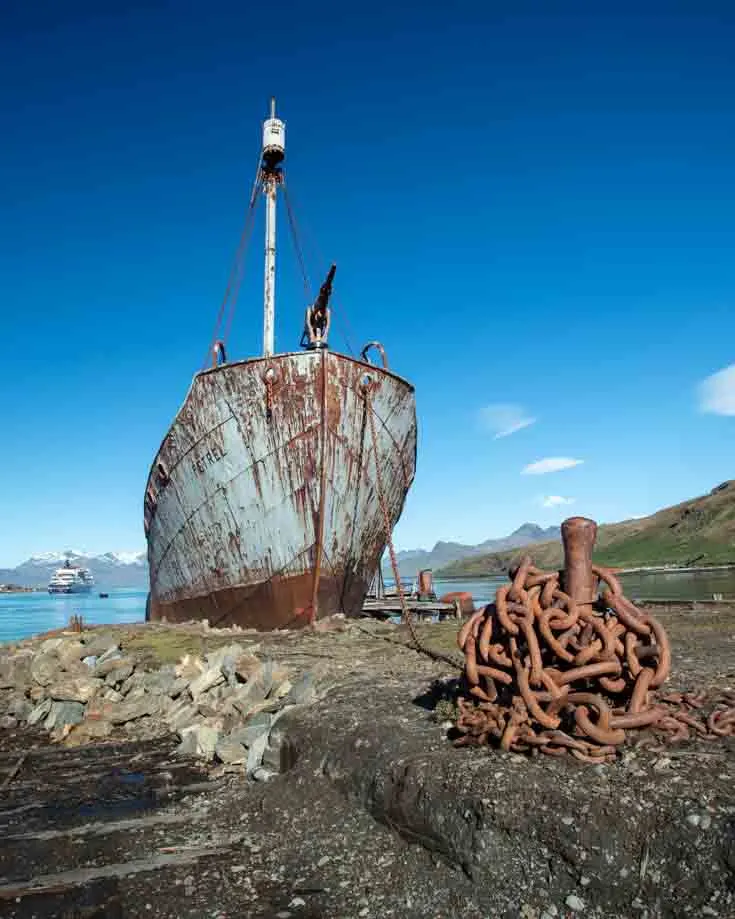 Grytviken is a former whaling station on South Georgia Island. It was one of the busiest whaling stations in the world in the early 20th century, but it's now abandoned.
Walking around Grytviken is like stepping back in time. You'll see rusting machinery, derelict buildings, and even the graves of some of the whalers who died here.
And, of course, the one and only Sir Ernest Shackleton is buried here too.
Visiting Grytviken is a moving experience, and it really brings home the brutality of the whaling industry.
16. Mind-blowing Antarctic Landscapes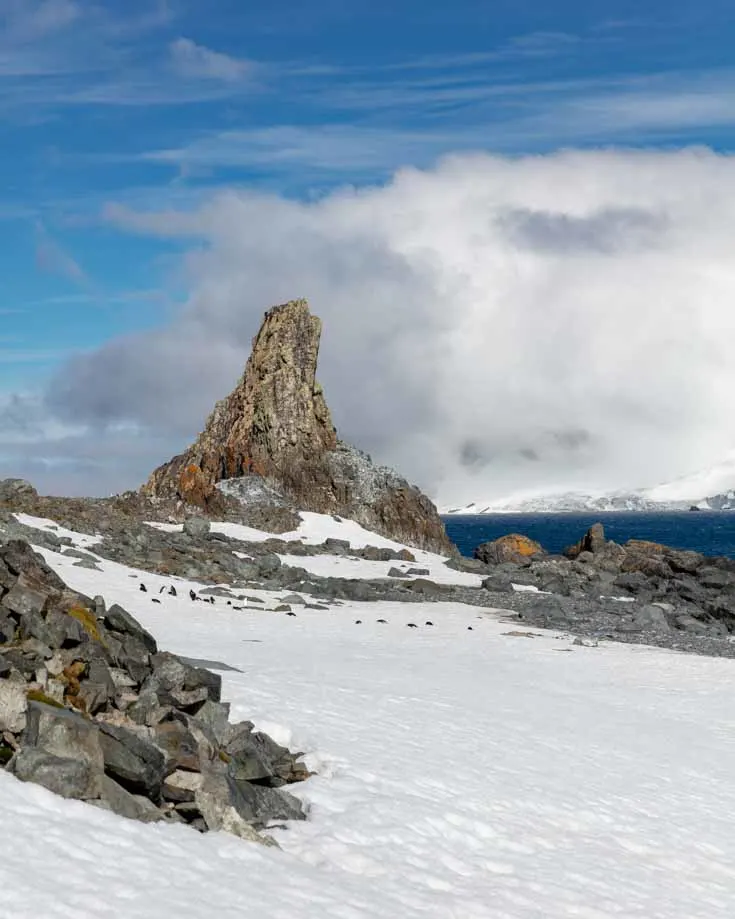 You'll be blown away by the landscapes when you set foot in Antarctica.
It's hard to describe just how vast and empty this place is. And the light! The light here is unlike anywhere else in the world.
The sun reflects off the snow and ice on a clear day, creating a blinding glare. And at night, the sky barely gets dark thanks to the austral summer.
Antarctica is a place that will stay with you long after you leave.
17. Nesting Gentoo Penguins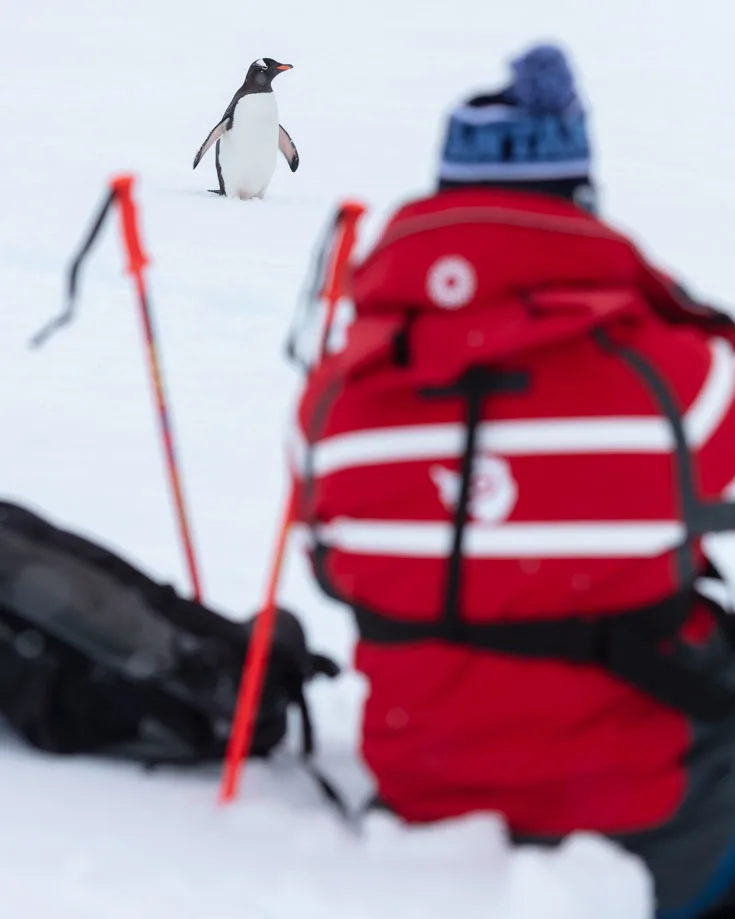 Gentoo penguins are the third largest penguin species, after emperor and king penguins. They're easily recognizable by the white stripe above their eyes.
We saw a lot of Gentoo penguins on our expedition. Gentoo penguins are one of the only species doing well out of climate change in Antarctica.
They cannot nest on ice, so they have more nesting sites as the ice sheets melt.
Gentoo penguins are also inquisitive creatures. So we often had Gentoo penguins waddling up to us to check us out. And if you sit down, they'll sometimes come and sit next to you.
Read more: Percy The Penguin On Gibbs Island
18. Orca Playing In Paradise Bay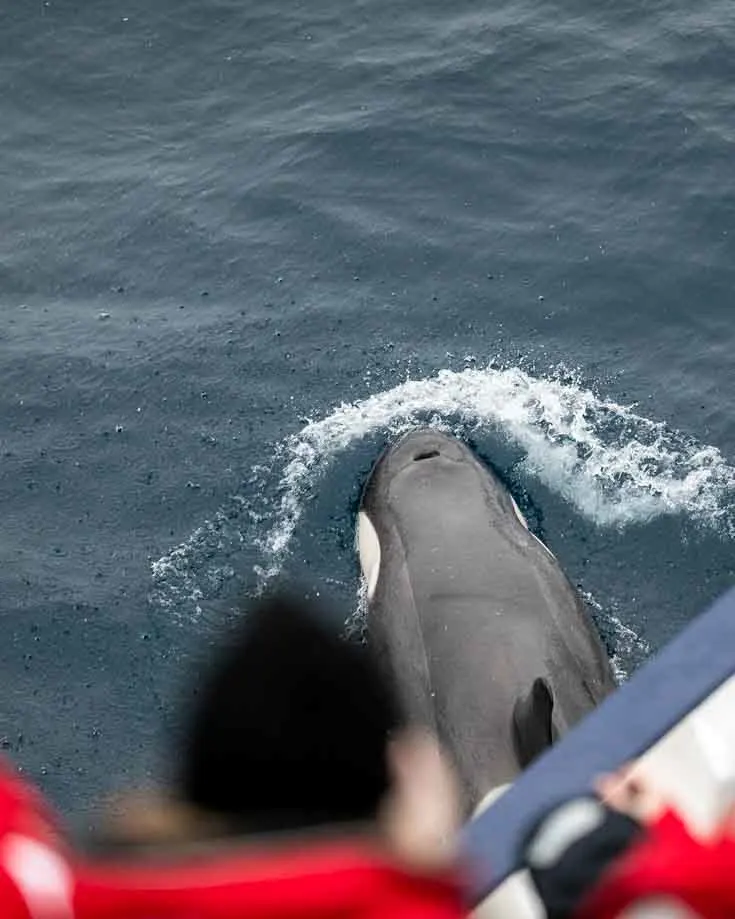 Paradise Bay is one of the most beautiful places in Antarctica. It's surrounded by snow-covered mountains and glaciers and often filled with icebergs.
One of the highlights of our expedition was watching a young orca playing in Paradise Bay. We saw him breaching, tail-slapping, and even fishing.
We were lucky enough to see orcas on several occasions during our expedition. One of the most memorable was when a pod of hunting orcas swam right by our zodiac.
Despite our efforts to keep up, we had no chance. They swim fast!
It was an amazing experience to see these beautiful creatures in their natural habitat.
19. Leopard Seal Hunting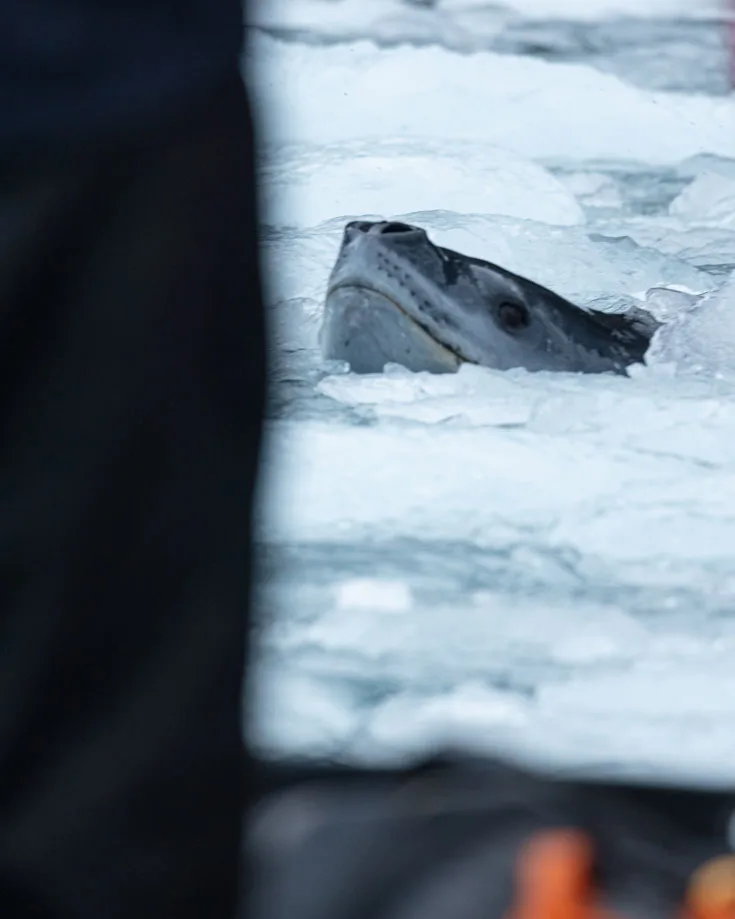 Leopard seals are one of the top predators in Antarctica. They're huge – up to 3.5m long – and they're not afraid to take on prey larger than them.
We saw a leopard seal hunting penguins on two occasions. The first time, he swam up to a small group of penguins and snatched one in his mouth.
The second time, he chased a penguin onto an ice floe and dragged him into the water to drown him.
Watching a leopard seal hunt is both fascinating and terrifying. They're super inquisitive, too, and often came close to the zodiac to check us out.
It always made the expedition team a little nervous – and that rubs off!
Read more: Wildlife Of Antarctica & South Georgia
20. Penguins On An Iceberg
One of the best things about Antarctica is the sheer number of penguins. There are around 12 million penguins in Antarctica (and you can help count them if you want) which is about 60% of the world's penguin population.
You'll see penguins everywhere you go in Antarctica. On shore, in the water, and even on icebergs.
21. Phenomenal Beaches Of The Falkland Islands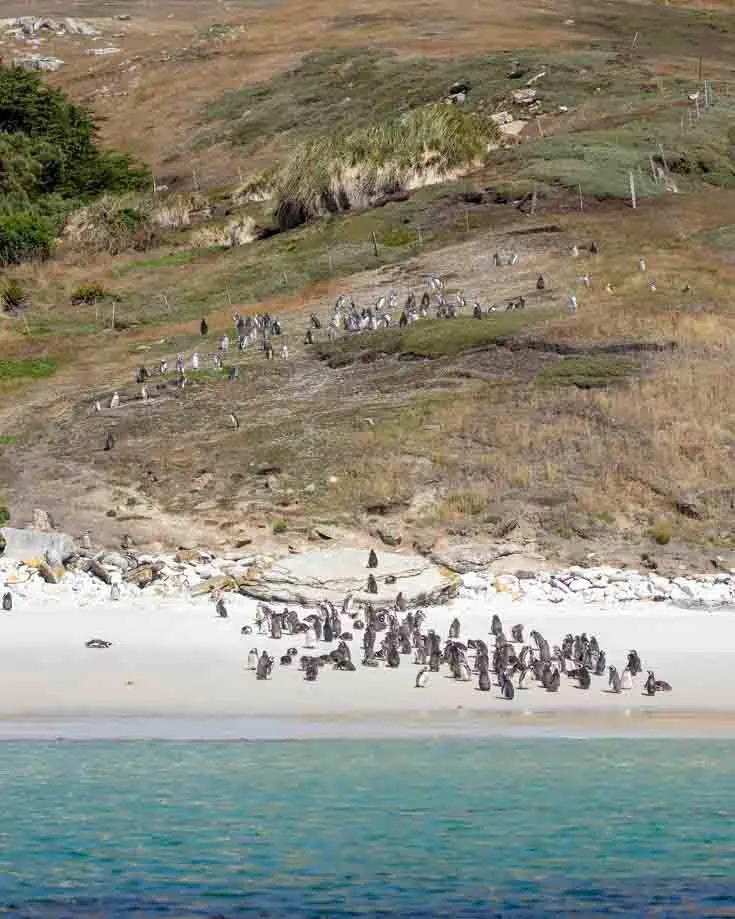 The Falkland Islands are home to some of the most beautiful beaches in the world. With white sand and turquoise water, it's easy to see why.
We spent a day exploring the beaches of the Falkland Islands, and we were not disappointed. We even saw penguins waddling along the shore.
If you're looking for a place to relax and enjoy some incredible scenery, the Falkland Islands are definitely worth a visit.
Best bring a coat, though!
22. Polar Expedition Cruise Ship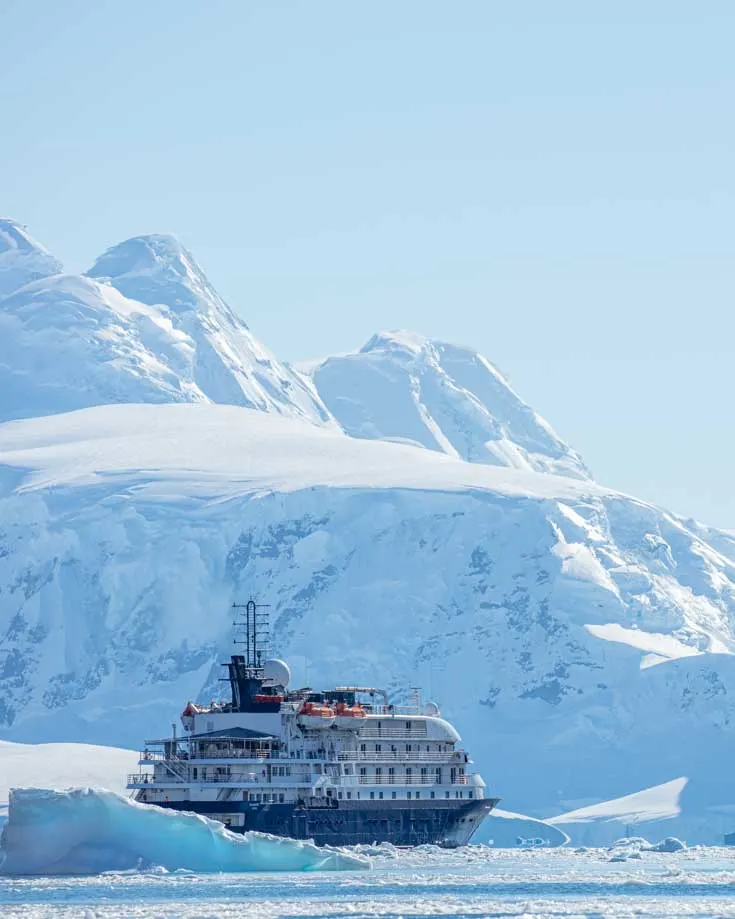 A polar expedition cruise is the only way to see Antarctica. There are no roads, no hotels, and no restaurants.
Depending on the cruise you book, you'll spend 10-14 days on a ship exploring the Antarctic Peninsula.
Choosing an excellent cruise ship and expedition team is the key to the perfect polar expedition. And the ship makes a great addition to your photos.
Read more: The Day In The Life On An Antarctic Expedition Cruise Ship
23. Port Lockroy – Most Southerly Post Office In The World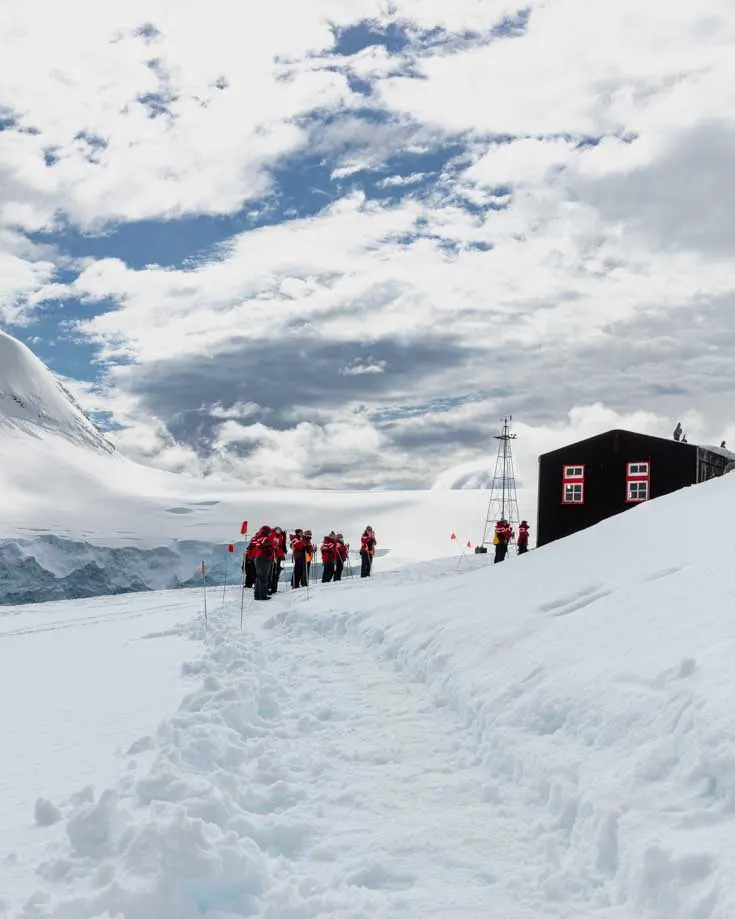 Port Lockroy is a British Antarctic Heritage Site on the Antarctic Peninsula. It's home to a small museum and the most southerly post office in the world.
The post office is only open during the summer and is a popular spot for tourists and expedition teams. In addition, you can post your postcards here for a unique souvenir from the white continent.
24. Pristine Antarctica Peninsula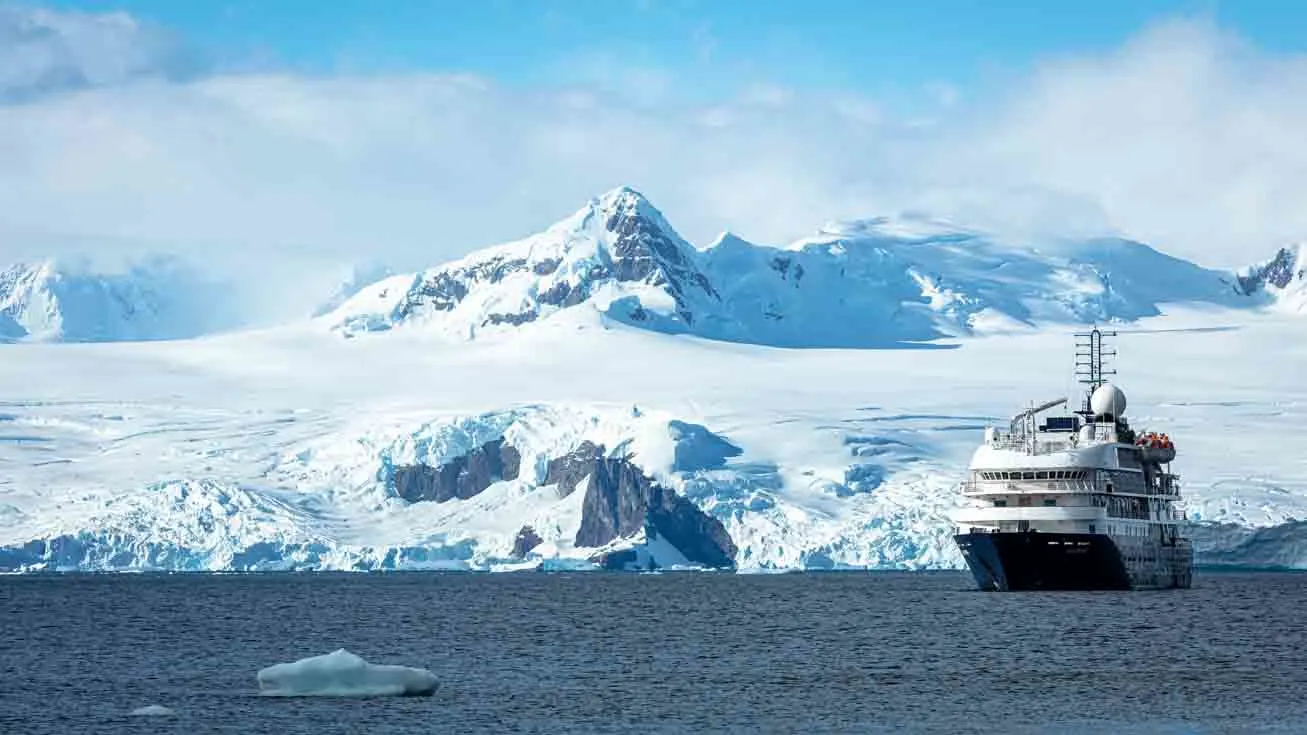 The Antarctica Peninsula is one of the most beautiful places on Earth. It's home to huge mountains, pristine glaciers, and abundant wildlife.
We've visited the Antarctic Peninsula twice, and we've been amazed by its beauty each time. This is the place to go if you're looking for an adventure of a lifetime.
25. Scientific Research Station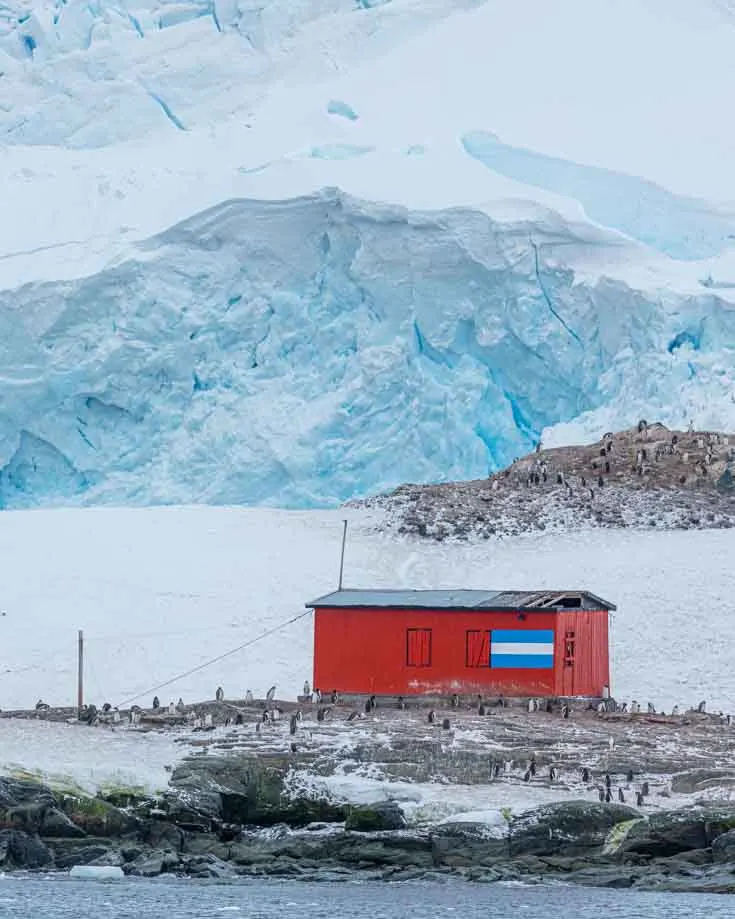 Antarctica has over 50 scientific research stations, many of which are open to visitors.
Shore landings aren't always possible due to the weather. Still, if you're lucky enough to visit one of the stations, you'll see first-hand the vital work done to better understand our planet.
Visiting a research station is a great way to learn more about Antarctica and the science being done here.
26. South Georgia Landscapes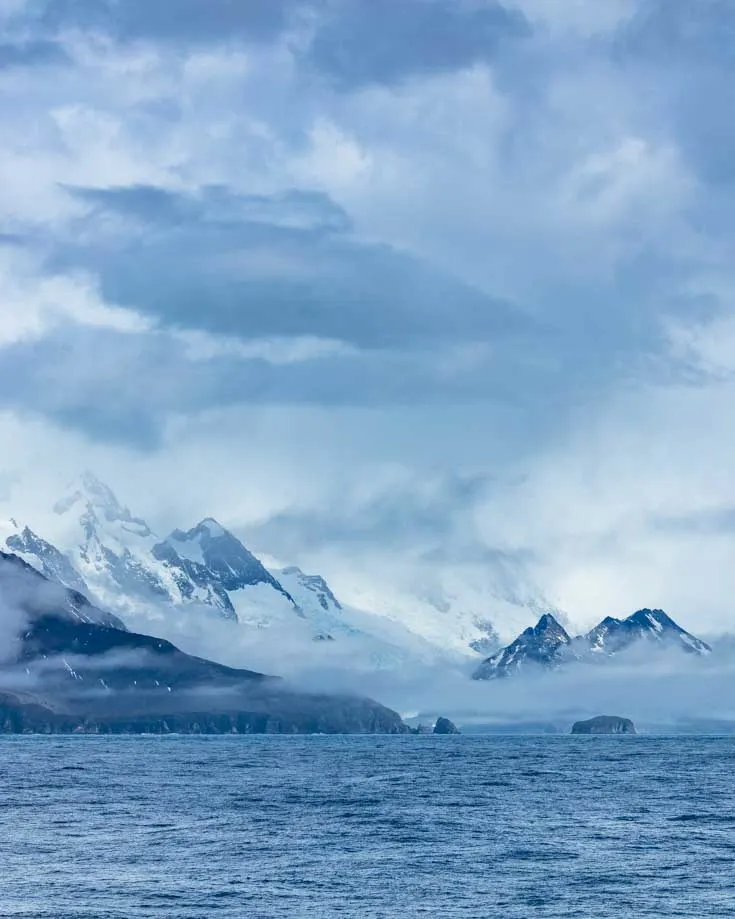 South Georgia is an island off the coast of Antarctica, and it's one of the most beautiful places on Earth.
The island is covered in glaciers, mountains, and incredible wildlife. We spent a few days exploring the island and were constantly amazed by the scenery.
27. Elephant Island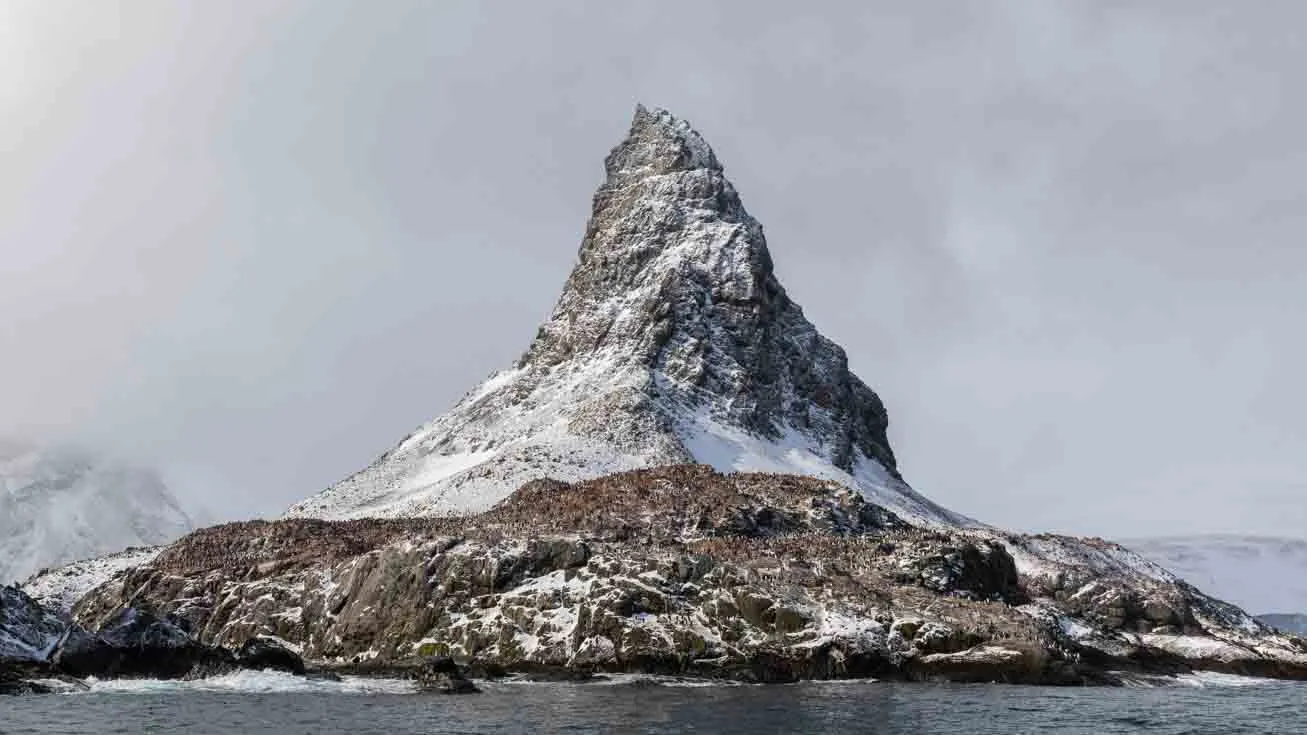 Elephant Island is an island off the coast of Antarctica. It's best known as the place where Ernest Shackleton and his men camped for four months after their ship, the Endurance, was crushed by ice.
The island is home to a large colony of penguins and a popular spot for expedition cruises.
Elephant Island is a must-see for anyone interested in the history of Antarctica. In addition, you can see the memorial to Luis Pardo on Point Wild.
He captained the Yelcho to rescue Shackleton's crew after they'd been stranded here for over four months.
28. Stepping On The Antarctic Ice Shelf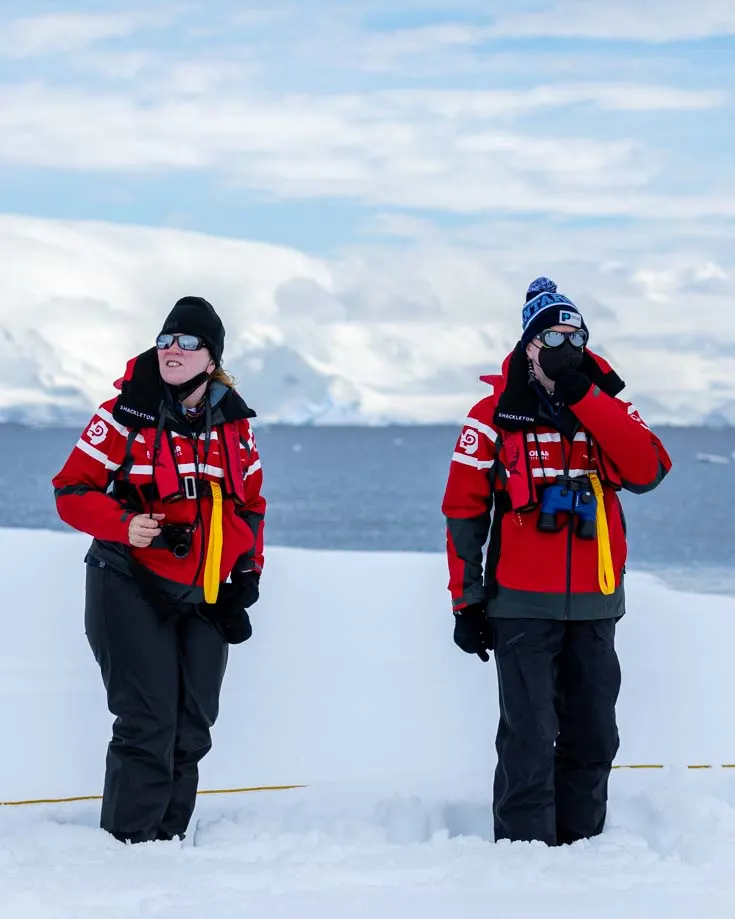 The Antarctic ice shelf is a giant sheet of ice that floats on the ocean, and it's one of the most amazing things to see in Antarctica.
We were lucky enough to step out onto the ice shelf, which was an incredible experience.
29. The Polar Plunge
The polar plunge is a rite of passage for many who travel to Antarctica. It's simply jumping into the Antarctic Ocean, and it's something that everyone should try at least once.
The water is freezing, but it's an incredible feeling. Plus, it's a great way to raise money for charities that work in Antarctica.
We traveled with Polar Latitudes on both of our trips to Antarctica, but the way they did the polar plunge was different on each trip.
On the first, we jumped into the Southern Ocean from the boarding deck of the ship. There was no turning back once you jumped.
On the second trip, we had to run into the water from the shore of Deception Island.
Deception Island is an active volcano, so the water is slightly warmer inside the caldera. So, perhaps this could be considered a lightweight dip rather than a polar plunge. It's not warm, though, so don't be fooled.
30. Zodiac Cruising In Cierva Cove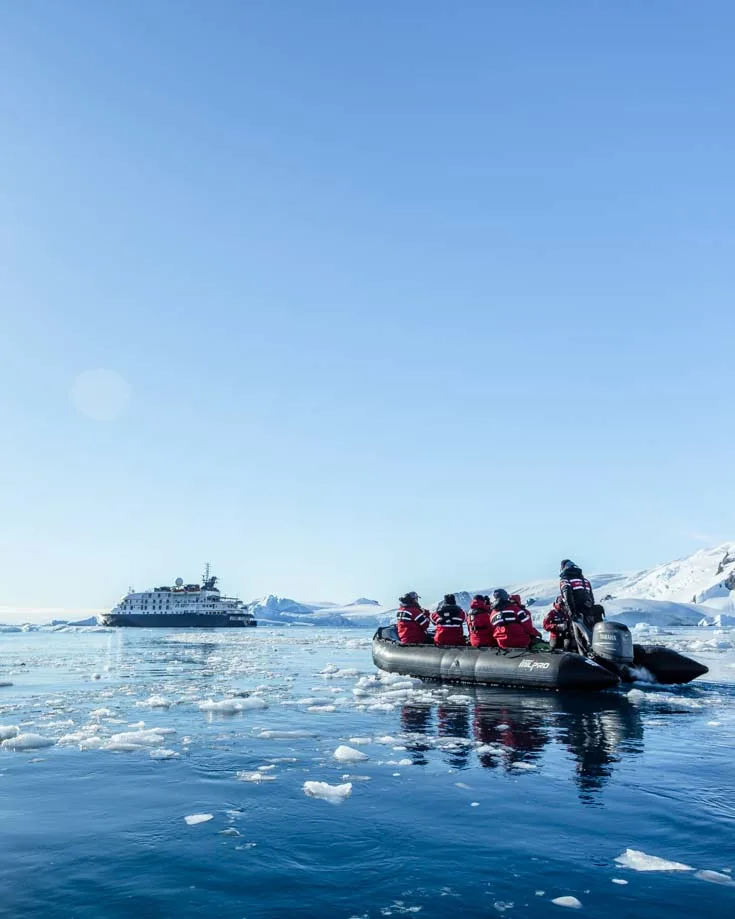 Cierva Cove is a beautiful spot on the Antarctic Peninsula, and it's a great place to go Zodiac cruising.
Zodiac cruising is simply taking a small boat out onto the water to explore. It's a great way to get close and personal with the icebergs and wildlife.
All excursions from the expedition cruise ship involve boarding a zodiac. It can be a little tricky, but you're in the safe and experienced hands of the crew and expedition team.
And don't worry, it would be bad for business if they let anyone fall in!
31. Gorgeous Antarctic Sunsets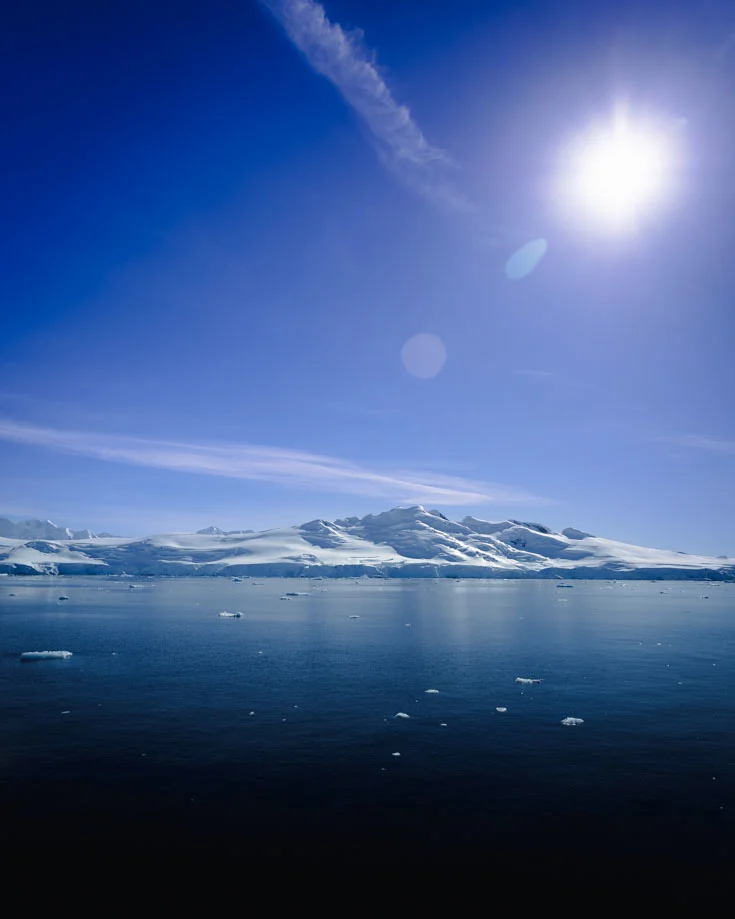 One of the best things about Antarctica is the light. The sunsets are incredible, and the midnight sun is a fantastic experience.
We were lucky enough to see both on our trips to Antarctica.
The sunsets are long and drawn out, and they always leave you feeling amazed.
The midnight sun is something that you have to see to believe. It's hard to explain, but it feels like the sun is just hanging in the sky.
If you're lucky enough to see the midnight sun, stay up as long as possible to enjoy it!
Our Exclusive Coupon Code
If you book your Antarctica cruise directly with Polar Latitudes, use our exclusive coupon code for 5% off.

That could save you as much as $2000 per person!

Plus, you can use it on already discounted prices.

Just quote "Mowgli" when booking.
In Conclusion
These are just a few of the most beautiful pictures of Antarctica we took on our trips. It's an incredible place and one of the most unique travel destinations in the world.
If these photos have inspired you to plan a trip to the 7th continent, check out our complete Antarctic travel guide before you book. It will help you figure out what cruise is best for you, when to go, what to pack, and more.