This guide will help you find the best 12 volt TV for RV campers & motorhomes. We'll discuss the top five models and their features, so you can decide which one is right for you.
---
As full-time campers and avid RVers, we can tell you that one of the things we missed most about living in a house was being unable to relax in front of the TV. TV has been shown to help relieve stress, enhance our moods and even improve our immune system.
But with all the latest technology, there's no need to let your blood pressure rise because TVs for RVs are available!
There are a surprising amount of things to consider before deciding on the best type of TV for your camper travels. Look at our RV TV guide for loads of background information.
Power consumption is an important consideration, especially when dry-camping or boondocking. Your RV's electrical supply is limited, but you want to watch TV, so it's essential to make sure your TV consumes as little power as possible.
12 volt TVs are the perfect solution for off-grid living and boondocking because they don't need AC power. This means you don't need to convert your RV's battery DC energy to AC, suffering power loss in the process. A regular TV would need to be connected to a power inverter, so they're generally considered higher usage than 12v alternatives.
These TVs hook up directly to your camper's battery and are powered through DC outlets like a cigarette lighter socket. They come in various sizes and with a host of different features, so you can find one that fits best into your rig!
When you click on links to various merchants on this site and make a purchase, this can result in this site earning a commission. As Amazon Associates, we earn from qualifying purchases. For more info, please check our disclosure page.
To help you find a 12v TV you'll love, we reviewed the most popular 12 volt RV TVs. We checked out every feature and considered how helpful they were to RVers while checking screen size, power consumption, mounting options, and price.
After all that work, we've come up with five units that we consider the best 12v TVs for RVs. We put the SuperSonic SC-2412 LED Widescreen 12v HDTV at the top of our list because it offers many features and excellent picture quality but is still affordable.
Check out our other suggestions, and then learn what to look for when picking one out for yourself.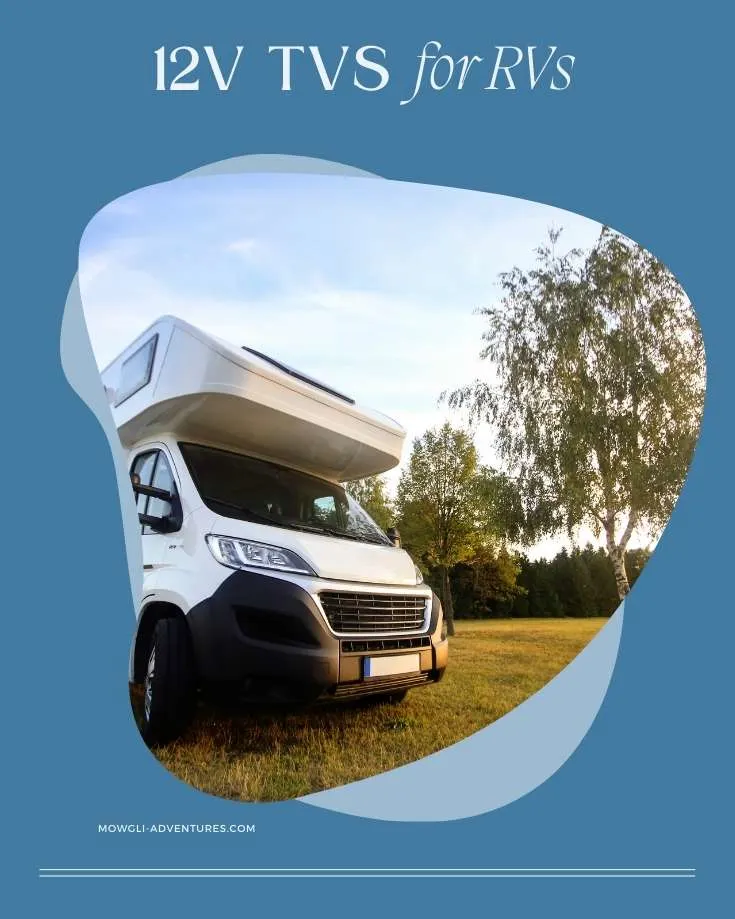 At A Glance | The Best 12 Volt TV For RV Campers
1. SuperSonic SC-2412 LED Widescreen HDTV

Best 12 Volt TV for RVers, Boondockers & Digital Nomads

CHECK PRICE ►
2. Jensen JTV19DC

Best Lightweight 12 Volt TV for Campervans

CHECK PRICE ►
3. Tyler 14" Portable 12v TV

Best Portable 12 Volt TV for RV Campers

CHECK PRICE ►
4. Furrion Sense 32″ 12 Volt RV TV

Best 32-Inch 12 volt TV for RV Campers

CHECK PRICE ►
5. Cello 24" Smart LED 12v TV

Best 12 Volt Smart TV for Campers

CHECK PRICE ►
Best 12 Volt TV for RVers, Boondockers & Digital Nomads
This widescreen TV is our top pick of the best 12 volt TVs for campervans. Why? First, it's both AC and DC compatible, making it an excellent option for watching TV when boondocking and hooked up to shore power on campgrounds.
It only uses three amps of power, so there's no need to worry about draining your battery bank. In addition, it has a 1080p resolution with a built-in DVD player, so we think it's a terrific all-rounder.
As 12 volt TVs go, this one is a good option for full-time RVers and part-timers because you can permanently mount the TV on the wall or use the legs occasionally.
Plus, you can simply use it as a computer monitor by connecting an HDMI cable and selecting the correct setting – perfect if you make a living on the road.
This 12v TV packs the features into a 24″ screen for a reasonable price and can be used with digital streaming services with a device like a Firestick.
This model weighs less than 8lb, which is ideal for small campervans, motorhomes, and larger RVs.
On the downside, the viewing angles can need adjusting to take advantage of the picture quality, and a swivel & tilting mount will help resolve this. If you're after great sound to watch movies, you may want to treat yourself to an extra set of external speakers.
What We Liked
Provides widescreen TV-watching for both 12v DC and AC.
Works with digital streaming services.
Offers a good crisp picture.
Has two mounting options.
You can also play music and videos via the built-in card slot.
What We Didn't Like
The sound isn't quite perfect unless you use external speakers.
Good picture quality may require adjustment of the viewing angle.
Best Lightweight 12 Volt TV for Campervans
We chose the Jensen JTV19DC as our best lightweight 12v TV because it weighs less than 6lb. That makes it ideal for wall mounting, even if you drive on bumpy roads (which you inevitably will), and it's easy to pack away too.
Jensen has designed this 12v TV specifically for campers, RVs, and other vehicles, so it's built with mobile living in mind.
This is a great replacement option if your old 12v TV in your RV or campervan has conked out. Because it fits most TV mounts, the JTV19DC is an excellent option if you need a replacement TV in your camper, especially where you already have a mount fitted.
We know how important space and simplicity are in a campervan, which is why this 12v TV makes its way on our best-of list.
After trying numerous models in this range, we found it to be the best option for your campervan because it also offers a 16:9 aspect ratio on its 19" screen while displaying an amazing 16.7 million+ colors.
What We Liked
Comes with stereo and video inputs (plus HDMI, RF, USB, and VGA).
Offers superb picture quality.
Includes a remote that's actually easy to use.
Housed in a sturdy reinforced cabinet.
What We Didn't Like
It doesn't have a stand nor a built-in DVD player.
The sound could be a bit better.
Best Portable 12 Volt TV for RVs & Motorhomes
Whether you have a camper or an RV, space is always at a premium, and stowing your TV is probably at the top of your list when you get ready to head out on the open road. If you're looking for something simple, small and portable, this dinky 14" screen is just the job.
Instead of connecting it to your camper's electrical system as most of the 12v TVs on this list, the Tyler portable TV is operated by separate rechargeable batteries.
You can get a full four hours from a single full charge. So, if you're on a weekend trip, you may not even need to use your camper's battery bank to recharge it, making it perfect for smaller setups.
You don't need any electrical know-how because it's battery-operated. You can recharge the battery by plugging it into a 12v supply, like a cigarette lighter.
And because it can be completely untethered from the AC and 12v systems, it's completely portable so that you can watch it from your hammock.
Another thing we liked is that it also eliminates the need for a separate stand that can get in the way when camping. The integrated stand on this TV model handily takes care of that. In addition, the tuner is pretty sensitive for quickly locking onto digit signals.
This battery-operated and budget-friendly TV is an excellent option for your RV or campervan, especially if you only want occasional TV entertainment.
What We Liked
It's compatible with a wide range of devices (i.e., Apple TV, Chromecast, Firestick, and Roku).
It offers a good clear picture at a low price.
This TV has integrated stereo speakers w/ volume control for better sound.
It also has a headphone jack for private listening.
What We Didn't Like
Not great for home use.
The screen is pretty low-resolution.
Best 32-Inch 12 volt TV for RV Campers
We chose this Furrion LED TV for its large screen and superb sound. Most people (including campers and RVers) have gotten used to big-screen TVs at home, so why shouldn't you have that in your RV camper too?
Its in-built soundbar and stereo deliver superior sound to accompany the Direct-Lit Technology picture and a 60Hz refresh rate. In addition, it seems to deliver a sharper and much clearer image that offers excellent contrast and detail.
If you're looking for a top-of-the-line viewing experience for your RV, this is probably the one. It's a bit pricier than the smaller models featured here. Still, after watching it, we feel it's well worth it, especially with its 178-degree wide-angle viewing.
What We Liked
Fantastic sounds, so there's no need for additional speakers
Terrific viewing experience with a large screen
Made to be durable for RVs and campervans & includes a vibration-proof case.
What We Didn't Like
More expensive than other 12v RV TVs.
It's a bit heavier than most TVs at 18.11 pounds.
Best 12-volt Smart LED TV for Campers
We chose the Cello Android TV because it's one of the few 12v smart TVs available for RVs and campervans. In addition, the picture quality is spot-on even when watching it from different angles.
Not only that, it's the only 12v TV on our list compatible with a 240v electrical system instead of a 110v. So all you UK & European campers & motorhomers, you're in luck!
With integrated Google Assistant, you can use the voice-activated features to control volume, switch channels and even ask about tomorrow's weather. Also, the Cello Android TV includes Freeview Play, so you can enjoy an additional 85 channels as standard.
Customers love the viewing angle on the 24-inch, 720p-HD-ready screen, so you'll have no dramas watching your favorite show from any position.
The Cello is wall-mountable, and with an 'A' grade energy efficiency rating, it's a perfect choice for life on the road.
What We Liked
It's available in the UK.
Three HDMI and two USB ports are included.
Works on both 12v and 240v.
Includes Freeview Play, Google Chromecast, and Google Assistant.
What We Didn't Like
Only available in the UK (so not 110v compatible).
The sound quality seems a bit inferior (but can be rectified using a Cello soundbar).
How To Choose The Right 12v TV For Your RV
The SuperSonic SC-2412 LED Widescreen 12v HDTV topped our list of the best 12v RV TV, but that doesn't necessarily mean it will fit all your needs.
If you are looking for the perfect 12v TV to take your RV living experience up a notch, there are a few features you should be looking out for. From power consumption to screen size and mounting options – we have got it covered. Here's what you need to look at when shopping for a 12v TV for your RV.
Power Consumption
One of the most important factors customers need to consider when choosing a 12v TV is its power consumption. Unfortunately, not all TVs are created equal, and some models can use much more power than others.
12v TVs use 12-volt direct current electric power. 12v TVs are obviously compatible with 12 volts DC power sources, like your camper van batteries, so they can operate without a power inverter or shore power hookup.
Some 12v TV models also have built-in rechargeable batteries that last about 2 – 4 hours. Others might not have batteries at all, and others can run on both AC and DC power sources.
This is especially important in an RV, where power consumption can add up quickly and drain the battery bank if left unchecked. We recommend aiming for a TV with the lowest wattage to minimize your TV's power usage.
Screen Size
Another important factor to consider is screen size. Again, this will vary depending on how much space you have in your RV. A smaller screen may be ideal if you have a small camper or won't use the TV often.
Large screens – upwards of 24″ – provide optimal viewing but are less maneuverable. Viewing angle is also very important, and more so with larger screens.
When you go for a 12v TV, make sure that the viewing angles are wide enough so everyone gets to see what's on-screen clearly- no matter where they're sitting or lounging!
Adjustable mounts can help so the TV can be stored flat, locked in place when not in use, and adjusted to the best viewing position when necessary.
Input Options
When it comes to input options, there are a few things that customers need to consider. First, different 12v TVs will offer different input types. The most common are HDMI ports, USB, VGA, RF, PC Audio, CVBS, and Audio Left and Right.
Some people may only require the basics- like an HDMI input – but others may want a 12v TV with multiple input options to make the most of their RV experience.
Consider all the accessories you may want to connect to and ensure your chosen model is compatible.
Output Options
What happens when you want a late-night movie session but your family wants an early night?
If your TV has the correct output port, you can plug in your wired headphones, so you all get the best of both worlds.
With a Bluetooth-enabled 12v TV, you can use your RVs speakers or other Bluetooth-enabled devices to enhance your mobile cinema experience. We use our Bluetooth functions for the best surround sound right through our camper's built-in speakers.
RV TV Mounting Options
Depending on the layout of your RV and where you want to mount it- there are several different 12v TV mounts to suit individual needs.
For example, if you have limited space in your camper van, then perhaps a stand-alone desktop stand would be a good option so you can store it when driving.
On the other hand, if you have a little more space and want to move your 12v TV around quickly, then a swivel TV wall mount would be ideal. This will allow you to rotate the screen in any direction for optimal viewing.
Price
Price is another important factor when choosing a 12v TV for your RV. Most 12v TVs are priced a little under $300, but some can be upwards of $600. Budget options come in under $200.
Carefully consider the features and if they offer good value for money. For example, does the TV have built-in speakers? This can be a great feature if you don't want to purchase external speakers separately.
Or, is the TV a smart TV, and can it connect to the internet? This can be handy for streaming content or even just checking emails and social media while on the road. We find this the most useful feature of any screen device!
At the end of the day, it's important to weigh up all of your 12v TV options and find the one best to suit you. We hope this guide helps take some guesswork out for our customers!
Do you want to maximize your viewing channels in your camper? Then, check out these portable satellite dishes for RVs, so you never need to miss your favorite show.
In Conclusion
Perhaps surprisingly, you have plenty of options when buying a 12 volt TV for your RV. It's best to consider the set's power consumption, screen size, and mounting options to find the perfect model for all your RV entertainment.
We like the SuperSonic SC-2412 LED Widescreen 12v HDTV at the top of our list because it offers many features and excellent picture quality but is still affordable.
Have you tried using a 12v TV? Did we miss a model you know is amazing? Let us know in the comments either way.