Camper vans are great on their own, but you can unlock their full potential through simple conversions. You can spend hours searching up the conversion process, weighing the risks and benefits, and trying to discover how to fit everything together, or you can look into some of the top conversion companies out there.
Businesses like Wayfarer Vans and Sportsmobile have solid reputations for turning a street-ready camper van into something you could only dream about.
Whether you want a second home for weekend travel or something to take you on a cross-country adventure, a camper van conversion company brings you miles closer to your dream life.
Locations: Reno, NV; Colorado Springs, CO
Cost: $5,580 – $12, 930; New vans with conversions are $26,765 – $53,000; carry some used stock
Conversion Time: less than one day after a 2 – 6 week lead
Specialties: RAM Promaster City Cargo (Tradesman) 2015+; RAM Promaster 136" and 159" wheelbase, high roof, 2014+; Ford Transit 148" wheelbase, high and mid-roof, long cargo, 2015+
Wayfarer Vans is an excellent choice for anyone looking for a more affordable option. This is because Wayfarer focuses on turkey camper van conversions.
If you have one of the vehicles in their lineup, you benefit from the countless hours the company has spent creating high-quality, affordable conversion kits. In addition, by focusing on a streamlined build process, Wayfarer can keep prices far lower than the competition.
This also leads to a quick installation process. Because all the kits are pre-built and few variables affect the process, Wayfarer Vans expect most installs to take only 4 hours. Of course, you still need to sit on their waiting list, but the shorter installation time also translates to shorter lead times.
Wayfarer Vans tend to be the best choice for anyone looking for a clean, modular build with lower wait times and easier modification. However, if you want more customization or don't have a van they work with, one of the other companies on the list will be a better fit.
Location: Portland, OR
Cost: $13,000+
Conversion Time: 3 months
Specialties: Mercedes Sprinter 144 and 170; Ford Transit High Roof Long and High Roof Long Extended
Adventure Wagon also specializes in modular conversion kits that install quickly, but they cost a bit more, only have one location, and focus on different vehicles.
Most Adventure Wagon buyers love the OEM fit of these kits. Because of the modular build and the focus on a few vehicles, Adventure Wagon can manage the same streamlined installation process.
Another major bonus is that Adventure Wagon materials are much lighter than you would expect for functions like elevator beds, insulation, and endless storage solutions. Adventure Wagon knows how to get the most out of your space without just piling on components that drag you down.
The A-Frame design of Adventure Wagon creates an exceptional support system inside your build, using steel bracers to create a support system for anything you want to add on. The frame can handle pretty much anything (including ceiling-mounted hammocks) and even improves stability in case of a rollover.
The MOAB elevator bed is a major selling point because it maximizes the space in your camper van. While there are other options, the MOAB elevator bed has overwhelmingly positive reviews and a design to fit other aspects of your modular build.
You also have a few options for installation that can make the process much easier for you.
Adventure Wagon offers factory installation at their Portland facility, and the process only takes an average of 5 days to complete.
For anyone outside of that area, Adventure Wagon maintains a network of certified installers across the country. This prevents you from making a cross-country trek just to drop your van off.
Location: Golden, CO
Cost: Available on request
Conversion Time: Available on request
Specialties: Mercedes Sprinter (both 2WD and 4×4); Ford Transit
For all-in-one service, check out TouRig. This Colorado-based business has plenty of floor plans to fit your needs, and they encourage you to take part in the design process.
TouRig interiors come in various styles, ranging from rustic to modern builds. One look at their gallery proves that the company works hard to meet your stylistic needs, bringing their experience to the table to create a safe, lightweight conversion.
The company focuses on allowing you to decide what you need and coming up with a plan to meet your expectations. Their usual conversion includes:
Adding a kitchenette
Creating sleek and stylish sleeping and living areas
Adding plenty of storage
Because TouRig focuses on customization, you can control the scale of your conversion. Your rig can be as luxurious or baseline as you need, but you need to contact a designer to hone in on a financial figure.
TouRig also offers plenty of service options to complete your conversion process. Including:
Basis services (tire mounting, alignment, detailing)
Exterior upgrades (roof racks, awnings, bumpers)
Weatherizing your vehicles (auxiliary functions, heating, and cooling systems)
Performance upgrades (suspension and lifts, performance tune-ups, air compressions)
If you have a Sprinter or Transit and want greater customization, TouRig is prepared to meet your needs.
Location: Portland, OR
Cost: $32,000+
Conversion Time: Available on request
Specialties: Mercedes Sprinter (2007+)
Outside Van offers plenty of modern floor plans for Sprinter owners that take advantage of the space at hand. You can choose between one and two-bedroom floor plans in a variety of styles, including:
Minimalistic
Rustic
Deluxe
Outside Van offers two different build options that meet different needs.
Peak conversions provide a more complete custom build experience. You work with a designer and an engineer to pin down as many details as possible. As a result, no two builds are designed exactly the same, making it perfect for unique options.
Fusion conversions cost about 10 to 15 percent less than full customization and combine your desire for customization with proven Outside Van layouts.
The custom conversion package includes a few options for standard details such as insulations, flooring, and overhead lighting. Safety is a major concern of Outside Van, and their engineering team focuses on the minute details to make sure everything fits together without issue.
Once you get past the basics, you have endless customization options. Outside Van employees their own woodworking and metalworking teams to cut down on outsourcing costs and time constraints. This also ensures consistency in the quality of details like racks or cabinets.
To better understand what Outside Van has to offer, check out their gallery of previous builds.
Location: Huntington, IN; Austin, TX; Fresno, CA; Reno, NV; Phoenix, AZ
Cost: $85,000 (price includes the van)
Conversion Time: 8 – 14 months
Specialties: Mercedes Sprinter; Ford Transit; RAM ProMaster; Chevy and Ford E-Vans; Mercedes Metris
Sportsmobile is an iconic brand, and even those outside the community have a vague understanding of what this company offers. They have been around since the 1960s, and those decades of experience provide you with customizable plans on several van makes and models.
Sportsmobile offers the most versatility in terms of locations and vehicles, so they might be a good starting place for someone without a van. Even better? Sportsmobile has established relationships with many dealers, and you can find financing for new vehicles bundled with conversion pricing.
Buying a vehicle and conversion through Sportsmobile can save you as much as 50 percent off the build price.
While the company has a reputation for sporty, rugged vehicles, several owners use them as a second home or family vehicle. You don't need to be an off-road enthusiast to benefit from these custom conversions.
One of Sportsmobile's unique offers is the ability to install a penthouse pop-up on low-roof vans, giving you more headspace and making daily living much easier.
The company has decades of designs that you can use to base your build off, but they also offer Design Your Own features. This gives you control over details such as:
Seating
Beds
Bathrooms
Cooktops
Windows
Colors and materials
The price point seems high at first, but keep in mind that this includes the vehicle. You can work with the design team from wherever you live and have the brand new conversion delivered anywhere in the United States.
Sportsmobile vehicles have a reputation for their quality and longevity, and their 5 Years/Unlimited miles warranty outlasts many competitor options.
Location: Bellingham, WA
Cost: $40,000+ for Phase 1 Projects; $80,000 to $160,000 for short wheel bases; $90,000 to $200,000 for long wheel bases
Conversion Time: 4 weeks for projects under $30,000; ~1 month extra per additional $25,000 on project
Specialties: Tailored solar systems
Freedom Vans is a small business in Bellingham that aims to provide a custom conversion to suit your specific needs. While specializing in solar system conversions, they have all the tools and experience necessary to create an off-grid rig to serve as a permanent or secondary home.
They keep the shop closed to drop-in visits to ensure the focus remains on getting through builds on schedule, but you can schedule a tour to check out the facility before entering a contract.
The listed prices give you a good idea of what to expect, but the actual price varies greatly depending on what materials and features you choose when building your campervan. You can work with previous layouts, but the team is willing to work on whatever you have in mind.
Your basis Phase One Project includes:
Insulation
Paneling
Solar panel system
Bed platform
Lighting
If you want appliances, higher quality materials, or any custom cuts, you should budget more for the endeavor.
The Freedom Vans process starts by making sure the shop is a good fit for you, and you'll need a $1,500 deposit to reserve their next production spot. After this, the payment schedule varies spending on your design and timeline.
Past projects show how much variety you can expect from freedom vans. From fully converted homes on wheels to properly-suited weekend warriors, rest assured that they can create the perfect layout for your needs.
Location: Longmont, CO
Cost: $5,000 deposit to secure spot; price varies on the project
Conversion Time: ~3 weeks
Specialties: Custom carpentry and designs
The team at Rossmönster Vans comes from a variety of backgrounds, including custom woodworkers, carpenters, and engineers. They're united by their passion for the outdoors, and they use their skills to push out quality work at competitive prices.
With over 10 years of experience, a Rossmönster Vans conversion will serve you only the best. However, if you aren't sold on the company based on reputation alone, they offer a rental fleet to let you test out their work before you trust them with your vehicle.
Each campervan conversion aims to create a space where you can live comfortably full time. Each design aims for weight efficiency without sacrificing durability. You should expect a variety of storage options in your layout.
Rossmönster Vans designs provide residential-grade comfort with standard design options like:
LED lighting
Concealed toilets
Roomy refrigerators
Waterproof laminate flooring
In your initial consultation, you'll spend about 30 minutes discussing the floor plan, design, and system requirements they need to work with. This helps the Rossmönster Vans team create a detailed floor plan to provide a detailed estimate.
Expect your designer to check in with you frequently. You can also check in throughout the process to see how things are going.
Their recent builds prove the custom carpentry style intrinsic to Rossmönster Vans. Even with a similar baseline for design, you see how they expertly customize each project to suit different styles and needs.
Between the opportunity to try before you buy, the opportunities to observe the conversion process, and the endless options for customization, the experience with Rossmönster Vans is full of skill and simplicity.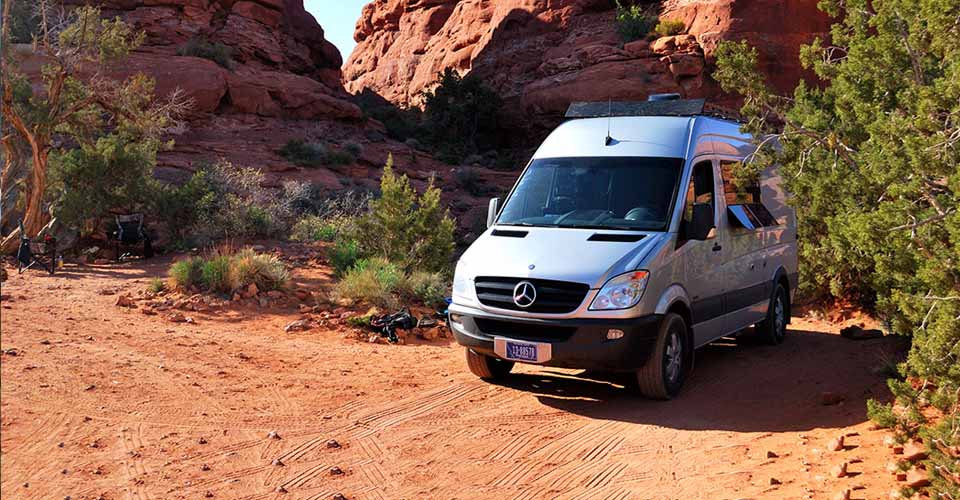 Location: Tualatin, OR
Cost: see conversion tool
Conversion Time: Available on request
Specialties: Custom conversions
The Van Specialties website may not be the sleekest UI, but one trip to the customization tool, and you might fall in love.
Here you can see all of your options, including the pricing for your specific vehicle model. The customization tool takes you through a checklist for:
Exterior changes
Interior adjustments
Electrical
Appliances
You'll see the total price as you check off what you want, and this is one of the most straightforward pricing tools available.
Van Specialties is so much more than a tool. They offer an endless list of customization options to help you create your dream campervan, regardless of van type. With over 40 years in business, their built reputation nods at durability and reliability.
The custom designs focus on utilitarian and minimal designs to keep costs down and streamlined. Still, they only use the highest quality parts and materials.
The team at Van Specialties wants to draw out the benefits of living a van life by keeping everything you need on the road with you. Their whole customization process aims to preserve space while creating more storage and any specific features you need.
Beyond this, Van Specialties has been able to branch out into complementary services, including recreational vehicle customization, hitch sales, installation, towing and braking systems, and fuel tank installation. They also offer a line of van parts and accessories you can add during your conversion.
Another primary customization service they offer relates to professional van conversions. This can be an easy way to customize fleet vehicles and create a luxury experience in every aspect of your business.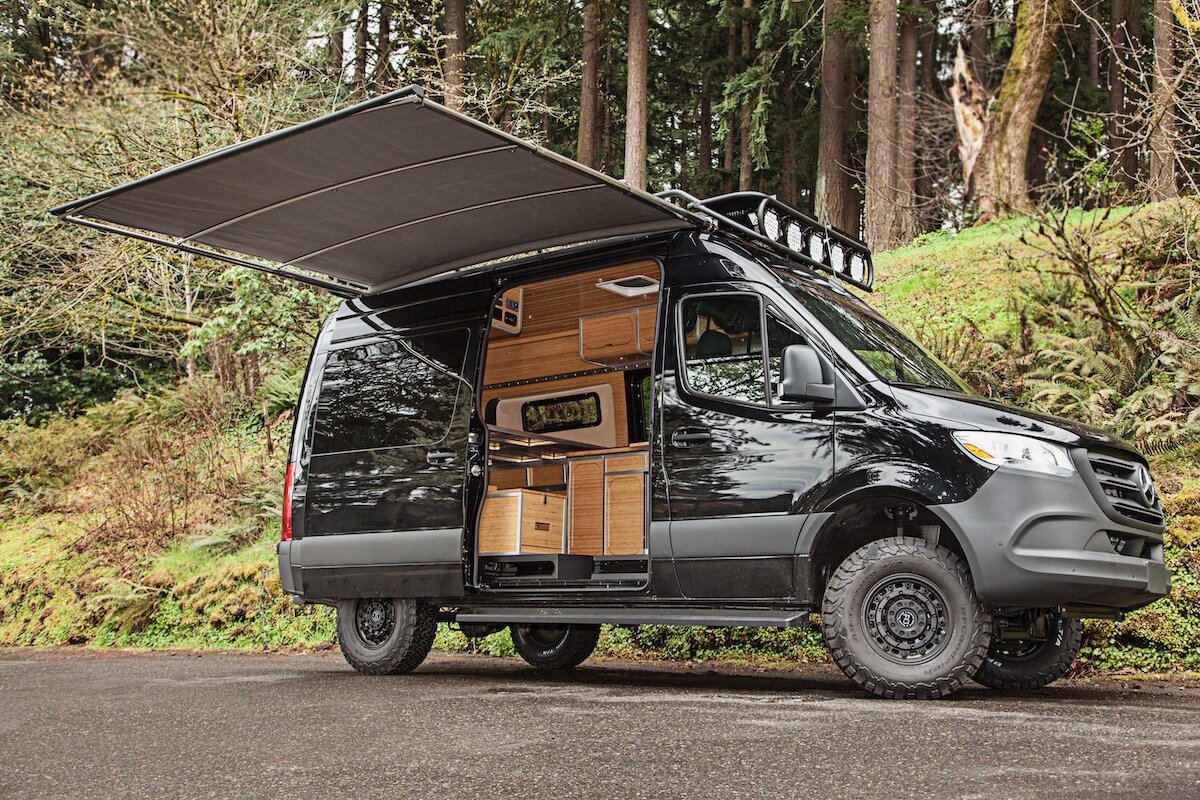 Location: Portland, OR
Cost: Kits start at $18,000; contact for custom pricing
Conversion Time: Available on request
Specialties: Custom conversions
ZENVANZ has a reputation for high-quality craftsmanship that brings the comfort of home to your mobile life. While other custom conversion companies focus on minimalism and tend to have a simple, modern design, ZENVANZ builds lean more toward elegance.
This style has been featured in spaces like the Wall Street Journal, highlighting their expertise in comfortable and stylish designs.
ZENVANZ employs a team with experience in design, including an award-winning small-space architectural and interior designer, so you have professional input on the stylistic layout of your campervan conversion.
Beyond their professional qualifications, ZENVANZ employees live the van life. With over 10 years of experience living in a van full time, their firsthand experience feeds authentic designs and testing processes.
These builds are best for those wanting to bring home with them instead of making a livable space wherever they are. This involves using fine, bespoke materials that focus on warmth and sustainability.
By using fine materials such as aluminum or bamboo, you have a clean, lightweight, and comfortable interior design.
Designers aim to maintain flexibility in the conversion. They only use a few bolts to convert your campervan to the layout of your dreams. The goal is to allow you to rearrange or remove portions as needed without drilling endless holes in your rig or locking you down with a specific layout.
You can easily adjust your layout and even remove parts of your conversion as needed by removing a few bolts.
If you're looking for simple elegance or prone to rearrange your living space, a ZENVANZ conversion or kit can create the van of your dreams.
Location: Belgrade, MT
Cost: $75,000+
Conversion Time: ~14 Weeks
Specialties: Custom conversions
If you assume that the name "Beartooth" indicates rugged designs, you're absolutely right. The Beartooth Vanworks team aims to create builds that offer rugged liberation, converting campervans in a way that fits personal style and needs.
They focus on custom conversions, working with the finest materials, and relying on over 70 years of trade experience as they install every piece of your conversion, down to the smallest screw.
The Beartooth Vanworks team will work with you to create the perfect floor plan, and they will even advise you on which chassis works best for your needs if you haven't purchased your campervan yet.
When you enter a contract with Beartooth Vanworks, the build time sits at 14 weeks, depending on what you request for the conversion, material sourcing, and other external factors.
Examples of Beartooth Vanworks conversions include:
A rugged, rustic build with cedar tongue that resembled a chalet
Simple, clean conversions with plenty of floor room and a focus on sleek lines
Rich, colorful family designs with enough room to entertain everyone
You can even use the design process to lock in on a specific campervan model, specifically Sprinters, Transits, or Promaster.
Beartooth designs are a far cry from off-the-shelf designs, and each one tells a different story. This narrative is built through extensive planning, and it starts with an extensive conversion survey to properly place your interests and needs.
Location: Loveland, CO
Cost: $14,275+ for low tops; $16,300 for mid/high roof tops; $16,115+ for interiors
Conversion Time: 2 weeks (pop tops); 4 weeks (interiors)
Specialties: Pop tops and Sprinter van conversions
Colorado Camper Van has over a decade of experience working in pop-top and full van conversions. They have 3 standard layouts for Sprinter van conversions but will work with you to create a fully customized build as needed.
Their focus remains on pop-top conversions to pretty much any vehicle. It's actually easier to list vehicles they cannot work with, and most popular campervan options are easy for Colorado Camper Vans to work with.
With the expertise of Colorado Camper Van, your sleek pop-top profile will match your vehicle perfectly and will not cause issues with regular travel.
The pop-top conversion offers you additional height for standing, but it can also be used as a sleeping space that stows when not in use. Professional installation protects the aerodynamic profile of your vehicle while offering greater space and comfort while stationary.
Colorado Camper Vans also offers base campervan conversions, starting with:
Insulation
Walls and ceiling
LED lighting
Flooring
Electrical (solar panels, wiring, and inverter charger)
Most of their layouts are straightforward, even as they expand to include appliances and additional features like:
Cabinets
Kitchen appliances
Dining areas
Premium beds
You can add as much or as little to your conversion design as you need, taking advantage of Colorado Camper Van's low prices.
If you would rather do the work yourself, they offer DIY pop-top kits starting at $9,270. While you lose out on professional installation and years of experience, the DIY kit can help you save money while adding to your dream campervan.
Location: Boulder, CO; Salido, CO
Cost: Available on request
Conversion Time: Available on request
Specialties: Custom conversions
Boulder Campervans has two locations and a team full of artists, adventurers, innovators, and perfectionists. Its mission is to create one-of-a-kind designs using the highest quality materials.
Each build aims for a truly unique design, and the Boulder Campervans team will work with you through the entire process to make sure they understand your needs and details do not slip through.
They utilize a mentorship program to advise you as you create the design for your dream campervan. Using 3D blueprints, it's much easier to perfect your design and the placement of each feature.
Each component is handcrafted, so it fits perfectly in your unique layout. While the general features may be the same, there are no two designs that look the same. From kitchen galleys to outside showers, each conversion has a different definition of what is important.
The designs zero in on materials and plans that meet your specifications, refining the placement of every small detail and ensuring top-tier lighting and materials. While the average build takes 2 to 3 months, the attention to detail is worth the wait.
Photo and video updates will hold you over until you finally get your dream campervan.
Boulder Campervans has plenty of pre-built conversions that you can sift through for inspiration and examples of their work. You can also purchase any available models to save time and money on creating a custom build.
If you haven't purchased a sturdy chassis yet, there's a decent chance that your dream campervan is already built and just waiting for you to find it.
Pros & Cons of Using a Camper Van Conversion Company
Working with a camper van conversion company has its benefits, but it is crucial to get a clear picture of where this decision falls short. This is a sizable investment, and there are a few alternatives to consider.
The immediate pros and cons of using a camper van conversion company are listed below. If the benefits aren't enough to win you over, you might want to consider working on a DIY conversion or purchasing a pre-built camper.
Pros
No Hassle
Working with a conversion company offers the most convenience because it keeps all the hassle in one place. The bulk of your work lies in deciding on a company to work with and hashing out the design with the build team.
Everything else, including gathering materials, piecing everything together, and handling the inevitable upsets, rests on the build team. This gives you more peace of mind and takes plenty of stress off your shoulders.
High Quality and Experience
When it comes to quality and experience, working with a camper van conversion company is the way to go. Even if you can build a DIY conversion, the odds are that you do not have years of experience to back you up.
Conversion companies usually get their products at wholesale prices, and they pass on the savings to the consumer. So not only will you have a professional working to install the materials, but you can usually work with higher quality materials at the same price.
No Need to Shop Around
Wrapped up in that convenience is having all your needs met in the same place.
With a DIY build, you should count on spending countless hours:
Learning what you need to do
Trying to find the best materials at the best cost
Making sure that everything fits together
A camper van conversion company should have all these details figured out, or they will include them in their problem-solving labor.
Easier to Insure
A DIY conversion might save you money, but finding an insurer willing to cover the vehicle can be difficult. In addition, even if you install everything perfectly, the insurance company will question how this affects liability.
Most companies have no problem covering a vehicle when professionals do the conversion.
Cons
Less Control Over the Build
Conversion companies do their best to offer you plenty of options, but these are limited by:
Supply
Demand
Contractual agreements with other companies
You need to go into the design process with an open mind; the beautiful flooring you saw on Pinterest may not be available with this company, requiring you to switch builders or compromise.
Higher Price Points
The bulk of the price when using a camper van conversion company revolves around labor. Working with a company is undoubtedly more convenient, but it comes at a cost.
This is because the company bears the weight for:
Designing your build
Securing the materials
Installing the components
Problem-solving
If you would rather save money and are willing to tackle these issues, the DIY route would be better.
Limited Van Model Choices
Most conversion companies only work with popular van models like the:
RAM ProMaster
Mercedes Sprinter
Ford Transit
If you do not own one of these vehicles or are looking to purchase a less popular option, using a conversion company may not be a choice. Even if you find one willing to work with your vehicle, you should expect an upcharge for the unfamiliar territory.
Harder to Fix or Modify
Working with a conversion company often limits you to making repairs or modifications with that company or an affiliate.
Because you did not piece everything together, you have less understanding of what went into the work and what will happen as time goes on. As a result, it can be difficult or intimidating to make any changes.
The warranty of the conversion company can also prohibit work done by anyone else, even if the warranty does not cover the issue. This traps you in a situation where you need to pay the company for a simple fix to preserve protection in other areas.
How to Choose a Camper Van Conversion Company
The key to choosing a camper van conversion company is learning which one best fits your needs and expectations.
Before you start to explore, come up with general figures surrounding:
Your budget
The level of experience you want to see
What options do you need (i.e., floor plans and customization)
The time frame for the build
The warranty attached
Most camper van conversion companies meet these needs in different ways, making it easier for you to narrow down your search. Of course, you may need to compromise on specific areas, but understanding which details mean the most gives you a stronger start.
Price
When choosing to have work done on your camper van, the most immediate concern is whether it fits into your budget. Using a conversion company usually costs ‌more than doing the work yourself, so you need to make sure that it fits your budget before committing.
Some camper van conversion companies offer in-house financing, making it easier for you to manage the cost. This might be your best option if splitting the sum up into payments and covering some interest doesn't bother you. Just make sure you look for reviews specific to their payment plans for a clear idea of what to expect.
If you do not already own a camper van, you might ‌ save money by working with the conversion company to find one. They often have exclusive pricing with dealers, and you can streamline the conversion process this way.
You might even find a used camper van with conversions that fit your needs from one of these dealers, saving you money and shortening the wait.
Experience
When it comes to experience, you want a camper van conversion company with:
Years of experience in conversions
Experience with your specific vehicle (make and model)
Experience with your floor plan
These weigh differently (i.e., a new floor plan can be excused by decades of experience), but the bottom line is that you want a company that can prove they do good work.
Ask for examples of any work they've done through the years, and let them explain what their process looks like. This should give you a good idea of how qualified they are to complete your build.
If you can manage it, tour a finished build in person and take the chance to test drive it. This provides the most hands-on assessment you can make of the company's experience in action.
Options
Different companies offer different options, including:
Specializing in different makes and models
Floor plans
Design details
Equipment
If you have your heart set on specific materials (such as cabinets or flooring), you might be limited to a specific company.
Camper van conversion companies work with certain supply lines to keep their prices low and their builds consistent. This allows them to tap into better quality, but it limits what is available for you to put in your build.
Check with a designer to make sure your vision is possible with the company. They can also surprise you with their ability to move stuff around and adapt to your needs.
Time Frame
There are two different time frames to consider.
The first is the lead time, which is the amount of time you spend on the waiting list before the conversion company even starts on your build. These lists can be months long, and they may not work with the time frame you have in mind.
Most companies require you to contact them to get an estimate on the lead time. These lists are constantly changing, and the lead time varies depending on who is in front of you and what work they need doing.
The second time frame is the conversion time, or the time required to work on your vehicle. Again, this can last anywhere from a single day to many weeks, but the builder can give you the best estimate.
Warranty
Your warranty explains:
What is covered in case it breaks
How long these items are covered
Any exclusions
Warranties usually last at least one year, but it is not uncommon to find a camper van conversion company with multi-year warranties.
You can also look for pair protection plans that expand and/or extend your coverage.
Free warranties are essential because they:
Show the company's confidence in the build
Give you financial peace of mind
Protect you from major breakdowns
Be wary of any camper van conversion companies that do not offer a warranty or have one that appears thin. These policies should go in-depth to protect the consumer and the company from discrepancies, and a bare-bones warranty can indicate a scammer.
How Much Does a Camper Van Conversion Cost?
A camper van conversion is not cheap, and you can expect to pay anywhere from $5,000 to $85,000. This is a wide range, but there are several things to consider, including:
Vehicle make and model
DIY kits vs. custom build
Scale of Conversion
New vs. used conversion
Many of these details are non-negotiable unless you are starting from scratch. However, these should help you estimate the cost for your current van or decide on a purchase that has a conversion estimate in your price range.
Vehicle Make and Model
You've probably already noticed that different companies specialize in different camper van makes and models. This allows the company to specialize in a particular setup and specific dimensions, allowing them to streamline their process and keep prices low.
Pricing is affected in the same way. The more work it takes to convert a can, the more it will cost for labor and materials.
Baseline Kits vs. Custom Builds
A decent baseline kit might run you $20,000 for materials and installation, erring on the smaller side of the budget.
The bulk of the price discrepancy lies in the details. Often, the point of conversion is to transform the vehicle to suit your needs. Therefore, it is better to customize the floor plan and features during the conversion than to change them later.
This usually results in a heavier price, but it can save you more in the long run and let you get the most use of your camper van.
Scale of Conversion
You may not need to convert the whole unit.
Sometimes, you may just want to convert the van to add more storage without adding features like a functional kitchen or plumbing.
These lower-scale conversions may only run into a few thousand dollars. However, keep in mind that you will spend more if you make multiple small conversions over time. Therefore, if you want a full conversion, it is best to save up to get the most out of your time and money.
New vs. Used Conversions
While van conversion companies focus on converting the vehicle you own, they may also have used models available for purchase.
If you want to get the most bang for your buck and you do not already own a camper van to be converted, looking for a used vehicle that is already converted maybe your best option.
Make sure you verify whether the company is the one who did the conversion as well as any details about the vehicle's history. You won't have as much control over the conversion details, but you can use the money you save to change up what matters most to you.
Which Van is Best for a Camper Van Conversion?
If you are looking for the best campervan to convert, the answer is unclear. There are plenty of things to consider, but the basics include your:
Living needs
Travel style
Budget
Different vans offer different features, so take the time to weigh the pros and cons of each before making your decision. Of course, the best van is the one you can make the least changes to.
Keep in mind that most companies work exclusively with popular vehicles such as the Mercedes Sprinter, so these give you more conversion options and companies you can work with.
In Conclusion
Choosing a camper van conversion company is the easiest way to keep your conversion stress free. While they have a reputation for higher upfront costs, you usually save money in the long term with straightforward upgrades and warranty coverage.
Researching the company, you plan to use is essential for satisfaction. As long as they can meet your budget and lifestyle needs, you will drive away in a vehicle that makes your daily life more enjoyable.
Hungry for more information about a DIY self build campervan conversion? You can get started with some of these posts:
Graham Bogie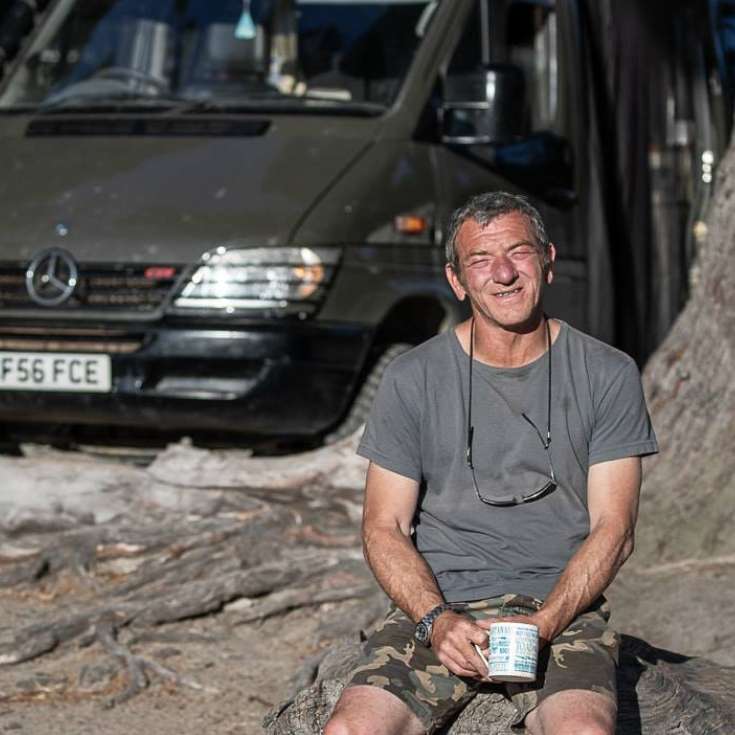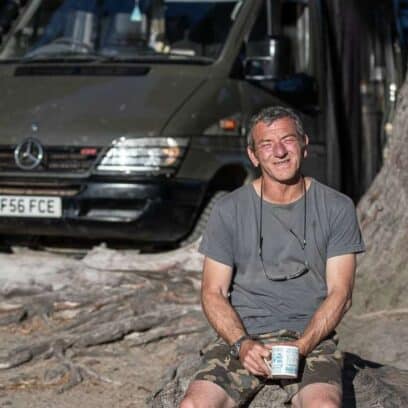 Graham is a seasoned marine electrical engineer with two decades of experience designing customized electrical systems for plant machinery and converting campers and overland vehicles. His expertise has led him to author the reputable Campervan Electrics Handbook and become the chief designer of the RV Wiring Design Tool. As a knowledgeable figure in the field, his YouTube channel, blog, Facebook group, and newsletter, offering electrical advice and product reviews, reach more than a million users each year.