Camping is one of those things that everyone wants to do! BUT, do you have what it takes to camp in the best campgrounds in New Hampshire in a van or an RV? The Granite State has a lot to offer its visitors, especially when it comes to outdoor recreational activities and camping opportunities. So, if it's your first time visiting, you need to be aware of the better campgrounds in the state as well as what you can expect while you're there.
If you're the type of camper that has an RV or enjoys spending the night in a camper van, you're in luck! Check out our list of the 11 best campgrounds in New Hampshire for your van or RV. You'll LOVE all of these options, I promise! These are the best campgrounds in NH.
Where is New Hampshire?
The state of New Hampshire is located in the New England region of the northeastern United States. It is bordered by Massachusetts to the south, Vermont to the west, Maine and the Atlantic Ocean to the east, and the Canadian province of Quebec to the north.
New Hampshire is a popular tourist destination for its natural beauty. The state is home to the White Mountains, which attract hikers and skiers from all over. The seacoast is also a popular destination, with many beaches and coastal towns to explore.
If you're looking for a place to camp in New Hampshire, there are plenty of great options. Here are some of the best RV campgrounds in the state.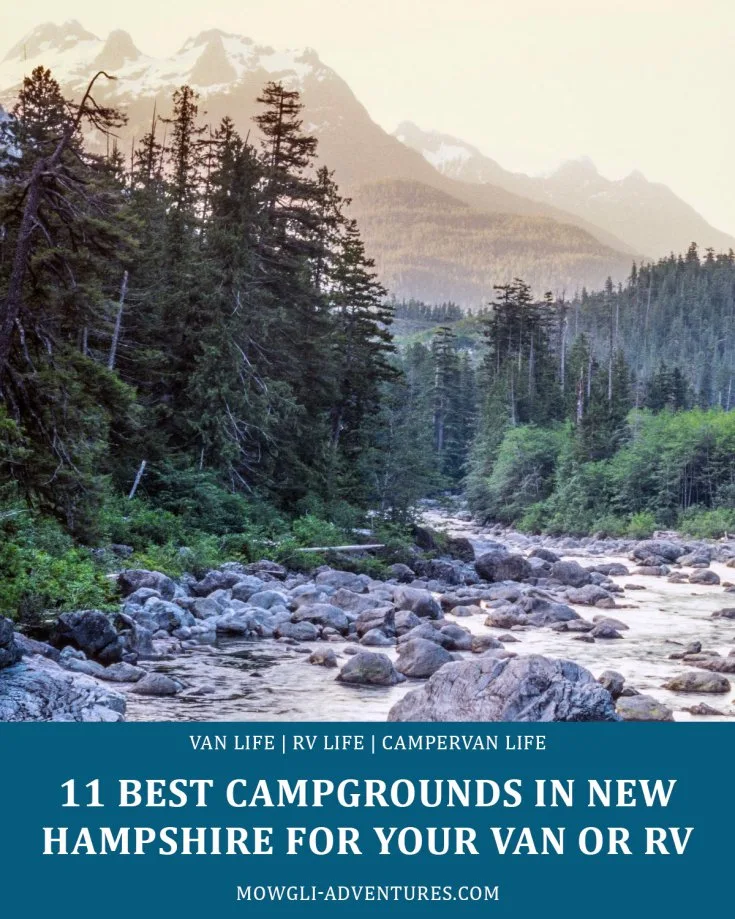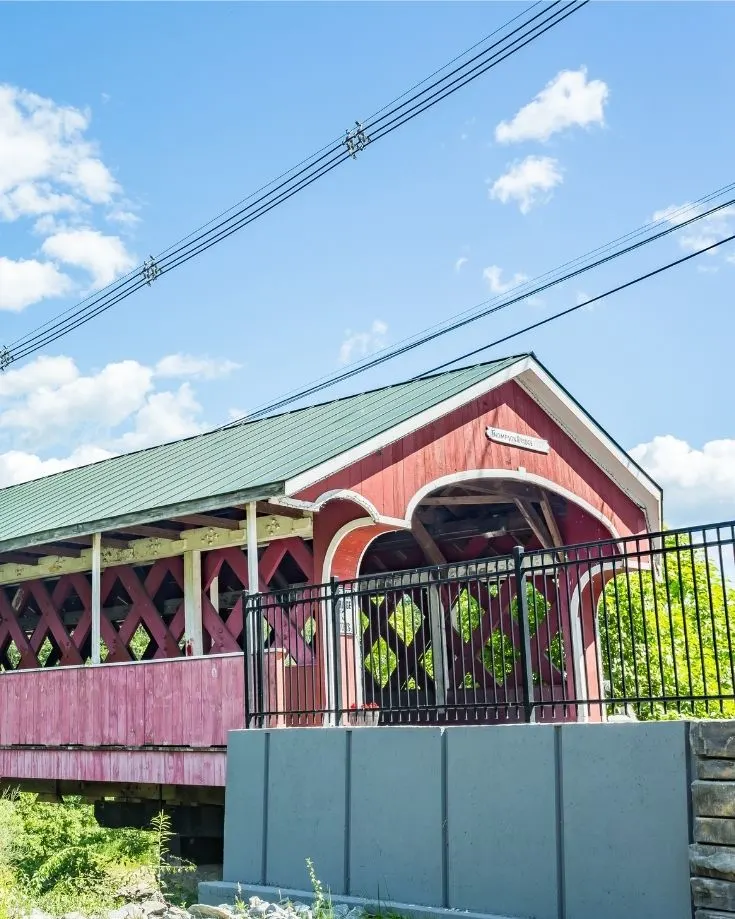 Located in Swanzey, New Hampshire, the Ashuelot River Campground will put you right in the middle of the Monadnock Region. Don't worry, this campground isn't in a RIVER (wink, wink).
This means you'll have quick access to several covered bridges, biking and hiking trails, and shuttles that will take you upriver for canoeing and kayaking (rentals available), swimming, and fishing. Does anyone else love swimming as much as I do? Swimming at a campground is a MUST!
Want to see one of the most amazing scenic drives ever? You'll also be within a short driving distance of hiking up Mt. Monadnock (a 40-minute drive), which happens to be one of the most popular mountains to hike in the world.
AMENITIES
There are several golf courses in the area, wineries, as well as shops, restaurants, and entertainment. Some of the amenities that you'll enjoy on-site include:
Free wi-fi
Hot showers
Bike, canoe, and kayak rentals
Game room (ping-pong, pool table, air hockey, and foosball)
Laundry room
Dump station
They offer 30 to 50 amp hookups that start at a nightly rate of $47 on up to $57 a night. I love this campground because of its proximity to everything. The campground usually opens up at the beginning of May up until around the middle of October.
If you are needing more information or would like to reserve a spot, you can reach this campground at (603) 357-5777. All in all, this campground is a great option for someone who wants to camp in an RV or a van. Which is all of us, right?
WHAT WE LIKE
Even when the campground is completely booked it's still a quiet campground. It's one of our favorites on this list.
WHAT WE DON'T LIKE
This is a popular campground with the only drawback of being very busy at times.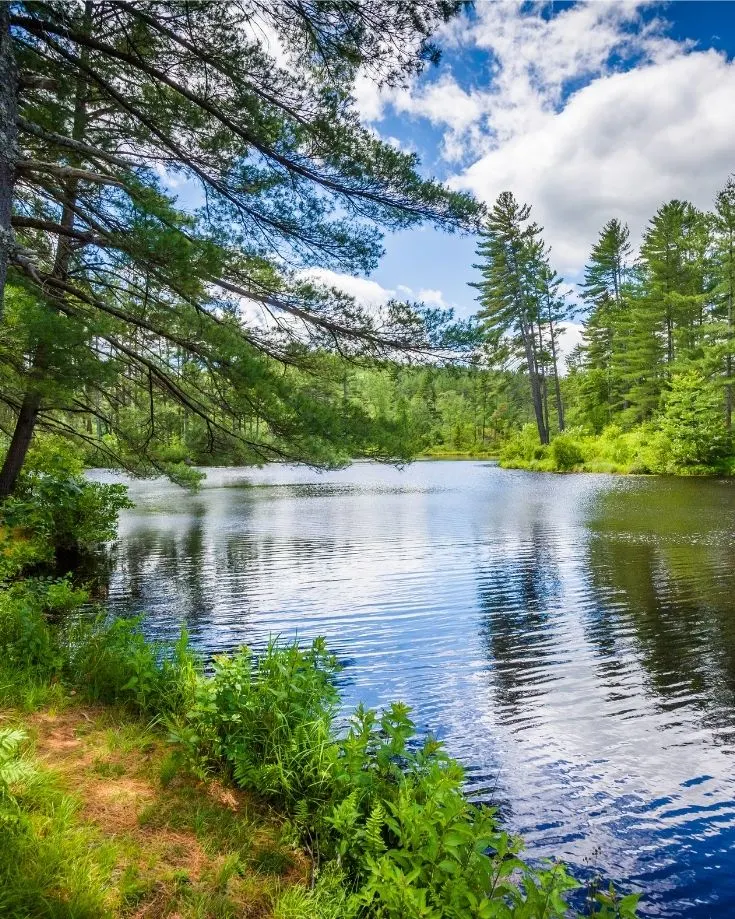 Do you want to camp somewhere that's been around for a while? Bear Brook State Park just so happens to be the most developed state park in the state of New Hampshire, with over 10,000 acres of preserved land and a whopping 101 campsites available! It's located in Allenstown, a southeastern New Hampshire town that provides plenty of exciting things to see and do.
Along with camping there, you'll find archery, hiking, biking, swimming, and horseback riding nearby. Winter activities include snowmobiling, downhill, and cross-country skiing. They also have canoe and kayak rentals available. Unfortunately, for this camping location, there are no hook-ups available but hopefully, this won't count you out on this great spot. Rumor has it that this is one of the BEST campgrounds in NH.
AMENITIES
Campground amenities include:
Hot showers
Dumping stations
Camp store
Laundry facilities
Firewood
Ice
These are some of the amenities available. I think this campground offers a lot for something that is in the middle of the woods! Want to know how much it costs to camp here?
Nightly fees start at $25 and go up to $40 for their remote sites. The State Park also has cabins available, starting at $50 a night for up to 4 people and $55 for a 6-person cabin. There's also a $6.50 reservation fee. You can make your reservation by calling 1-877-647-2757.
WHAT WE LIKE
Campsites close to camp stores.
WHAT WE DON'T LIKE
Hiking trails are nice with decent scenery, but they're not marked well.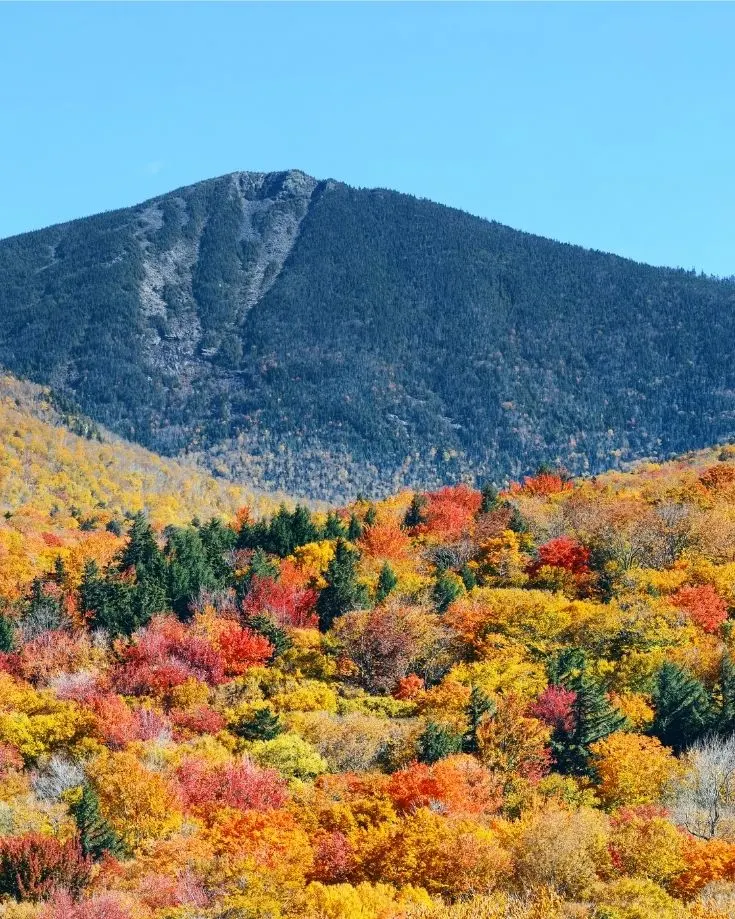 Sometimes you need a campground with some personality! At Danforth Bay Camping & RV Resort, you'll discover that there are over 300 campsites available, so you're sure to find a spot that fits your style of camping. The campground is in an excellent location between the White Mountains and the Lakes Region. providing campers with plenty of picturesque moments along with recreational activities and entertainment to enjoy.
With a lake on their property, you will find swimming, boating, fishing, as well as hiking and biking trails in the area. And, that's just the tip of the iceberg that awaits you there. Besides tent and RV camping, they also provide cabins for winter guests.
AMENITIES
Campground amenities include:
Wi-fi
Cable tv
Kiddie pool/with slide
Weekend entertainment
Basketball court
Tennis/volleyball
Ping pong
Boat rentals
Golf cart rentals
Wagon rides
This place has just about everything you could hope for in a camping destination. Check out these other camping facilities that they provide for their visitors.
Coin-operated showers
Laundry room
Flushable toilets
Dump stations
Camp store and gift shop
Beach area
Boat launch
Swimming Pools
Playgrounds
Dog park
Waterfront sites
The campground has full hookups with 30 or 50 amp service starting at $35 a night on up to $82 depending on what site you choose. Danforth Bay is located in Freedom, New Hampshire. If you're interested in reserving your spot or would like further information, you can reach the campground by calling 603-539-2069.
WHAT WE LIKE
All the amenities and facilities that the campground makes available.
WHAT WE DON'T LIKE
Nightly fees can get a bit pricey.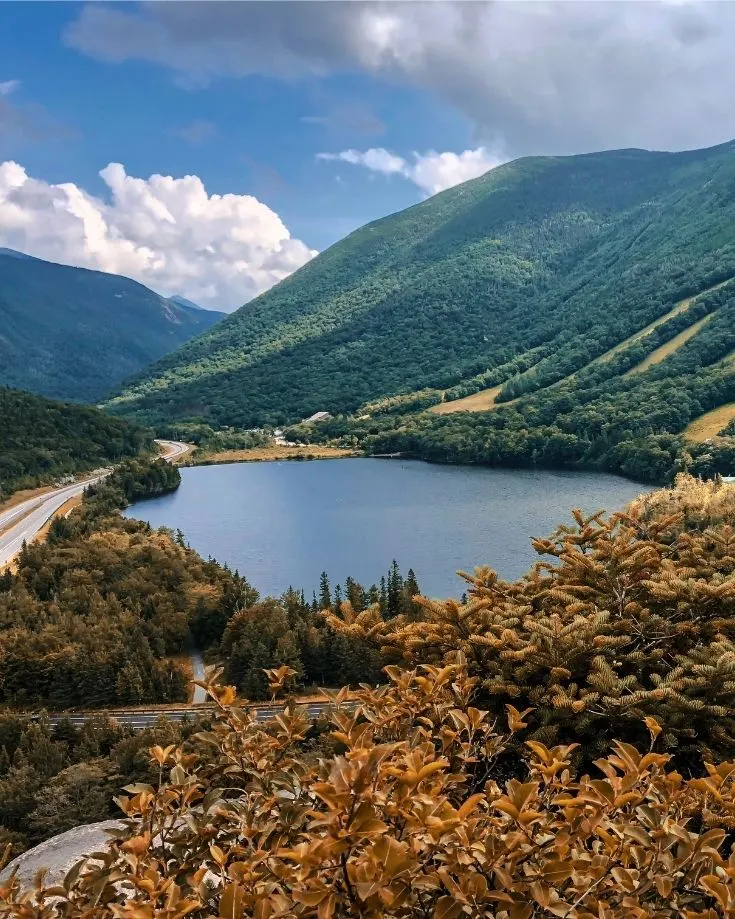 For those of you who are brave enough to camp with your family, this campground is for you!
Just like its name suggests, Fransted Family Campground is a family-friendly campground that has a lot to offer its visitors.
With the White Mountains as your backdrop and a river that runs along the campground, it's in a beautiful setting that offers beauty and relaxation. You're also within a few minutes' drive of Franconia Notch State Park, Cannon Mountain, and other fabulous White Mountains attractions.
AMENITIES
Campground amenities include:
Free wi-fi
Cable tv
Modern restrooms with flushing toilets
Showers
Camp store
Laundry room
Firewood
Ice
30-, 50- amp hook-up service
A few campground activities there include:
Hiking
Swimming
Tubing
Stream fishing
Children's playground
Mini-golf
Basketball
Volleyball
Wagon rides
The campground RV rates start at $53 a day on up to $60 throughout the year. Their rates are based on families with 2 adults and 2 children. It's an additional $10 per adult and $6 per kid after that. Fransted Family Campground is located in Franconia, New Hampshire, and can be reached by calling them at 603-823-5675.
WHAT WE LIKE
The spacious campsites, and their very clean facilities.
WHAT WE DON'T LIKE
This campground is nearly perfect in every way, but maybe the one thing they're lacking is a shade over their sites.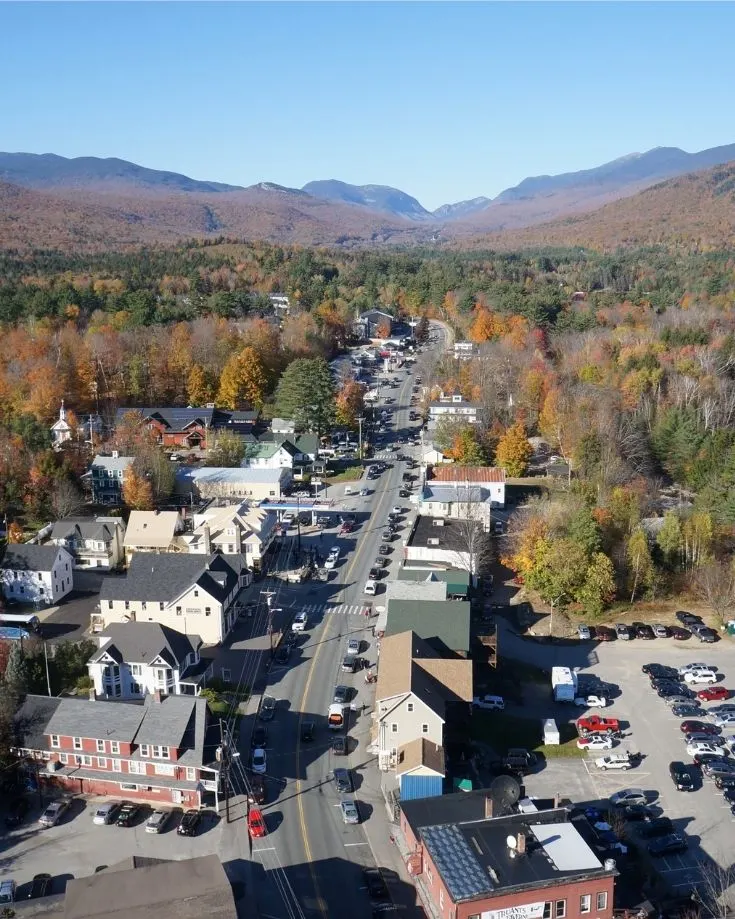 When you need a beautiful place to rest and restore, and camp, you will love Lost River Valley Campground, another RV/tent campground that's nestled amongst the beautiful and tranquil scenery of the White Mountains.
Three sides of their property are surrounded by National Forest, putting your family right in the thick of nature. It's a popular New Hampshire campground that brings vacationers back year after year. At one point,you income it was also voted as a top ten campground in all of New England by Yankee Magazine.
AMENITIES
Campground amenities include:
4-Season cabins
Full hookups (20-, 30-, 50-amp)
Camping store
Dumping station
Drinking water
Restrooms with flushable toilets
Firewood
Ice
As far as recreational activities are concerned, they offer swimming, fishing, kayak, and paddleboat rentals. Several of the area's best hiking trails are accessible just a few minutes away.
Other campground activities include basketball, tennis, volleyball, badminton, horseshoes, and more. Several wonderful attractions are nearby too, including Conway Scenic Railroad, North Conway, Polar Caves, and several amusements and water parks.
Lost River Valley Campground is located in North Woodstock, New Hampshire. Prices for their sites start at $22 a night on up to $75 a night. If you're needing more information about the campground or would like to reserve your site, you can reach them at (603) 745-8321.
WHAT WE LIKE
It's a great campground that's worth the price, including the cabins that they have available.
WHAT WE DON'T LIKE
Longer rigs tend to have a harder time navigating the trees and narrow roads there.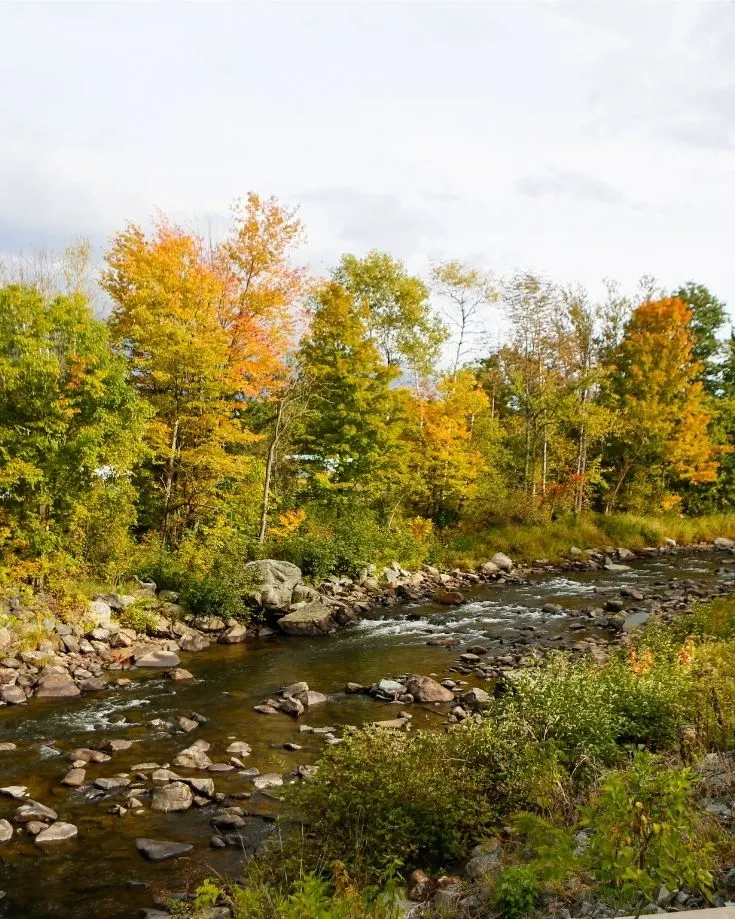 Have you ever wanted to get lost in the woods somewhere? Overlooking a gorgeous 30-acre lake, Mountain Lake Campground offers its campers many amenities and a handful of different camping experiences to choose from.
AMENITIES
The campground has tent and RV sites available, as well as yurts, tipis, and log cabins. While you may love this campground for the beautiful lake scenery, your kids are going to be thrilled about their large swimming pool and waterslides, giant chess set, along with their playground.
The campground is pleased to provide their campers with all sorts of recreational activities to keep them busy when visiting, but if you're the type that likes to set out and explore the area, you're in luck.
You're within a half hour's drive of scenic waterfalls, hiking trails, state parks, and an amusement park. Swimming, fishing, and boating are just to name a few on-site activities.
For RV camping:
Sites start at $50 a night on up to $65 during their offseason.
Peak season will cost $67.50 a night and up to $88 depending on what hookup site you're looking to get.
For huge savings, they also have a Spring Fling and a Fall Foliage Package for unlimited camping all month long at certain points of the season.
Mountain Lake Campground is located in Lancaster, New Hampshire. If you would like more information about the campground, you can reach them at 603-684-2539.
WHAT WE LIKE
There are a ton of activities and things for children to do there.
WHAT WE DON'T LIKE
The only complaint about this great campground is that the sites are a tad narrow.
Also Read: 5 Miami Beach Campgrounds for Your Van or RV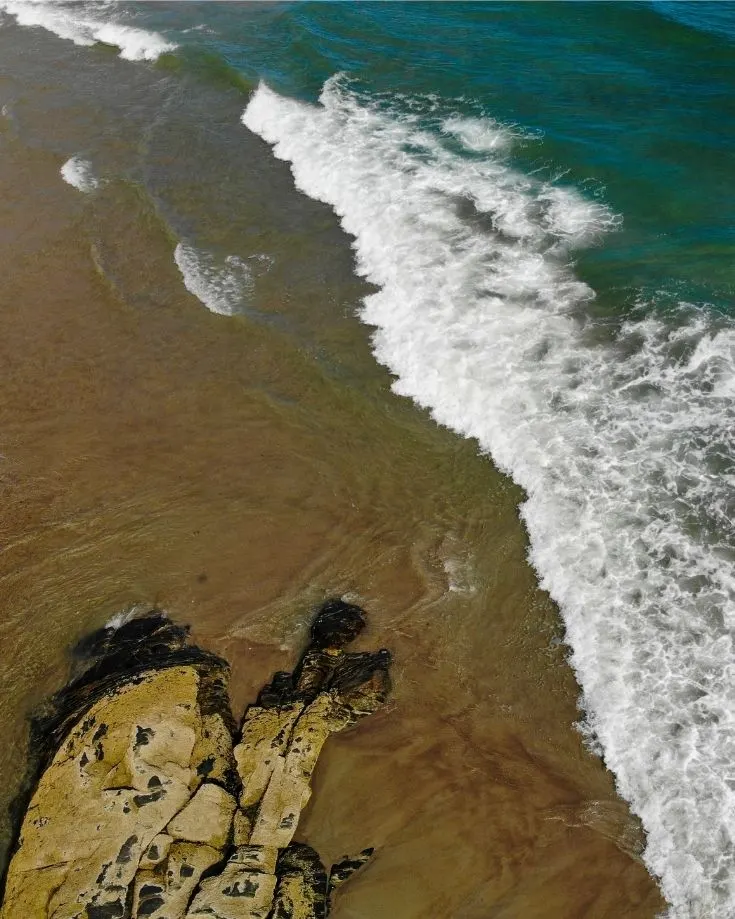 Raise your hand if you love beaches? Within minutes of the North Hampton beaches, Sea Coast Camping and RV Resort have everything you could want in a camping destination. It's a nice, relaxing campground that has a ton to offer.
There are a total of 154 campsites, where 61 are full-hookup sites (30 amp). You're not far from historical locations, whale tours, surfing, golfing, shopping, great dining, and other exciting entertainment. Our family LOVES entertainment! If you're looking for the BEST campgrounds in NH, give this one a try!
AMENITIES
Campground amenities include:
Camp store
Firewood
Ice
Bathhouses with coin-operated showers
Laundry room
Game room
Nightly rates start at $48 (20 amp), while a pull-through 50-amp will be $65. If you hope to reserve your campsite, you can do so by calling 603-964-5730, or by doing so online. Sea Coast Camping and RV Resort are located in North Hampton.
WHAT WE LIKE
Restrooms and other facilities are clean and well-maintained. It's also close to great dining opportunities and other entertainment.
WHAT WE DON'T LIKE
Nothing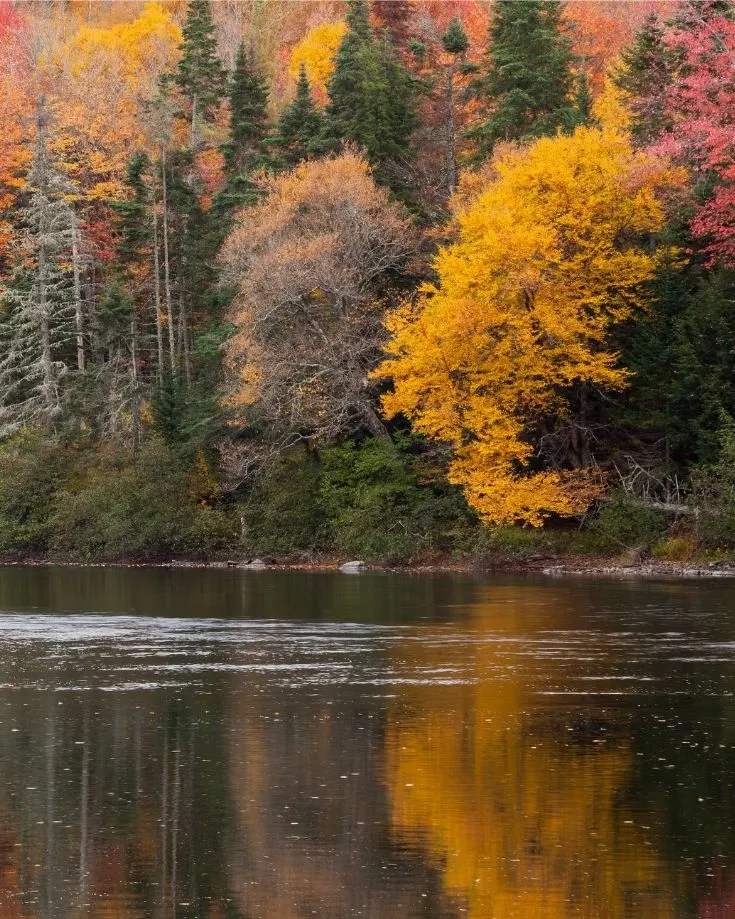 If there is a rumor that there is a GREAT campground existing somewhere, you have to go and visit. Nestled along the Androscoggin River and not too far from Mount Washington, Timberland Campground is considered to be one of the best RV campgrounds in the state of New Hampshire.
That's not just because of its beautiful setting but also because of the many amenities and activities that campers can enjoy while visiting. The campground has RV sites, RV rentals, tent camping, and cabins available. Each shaded site includes a fire pit and a picnic table.
AMENITIES
Timberland has several miles of hiking trails that can be found on their property, and also fairly close is a moose/wildlife viewing tour that's pretty neat to check out. When your family is wanting to take a break from nature there are several things to do nearby including golfing, minigolf, snowmobile and ATV riding, amusement parks, and an aquarium.
Other amenities at the campground include:
Full hookups (electric, water, and sewer)
WIFI
Heated outdoor swimming pool
Riverwalk trails
General camp store
Dump station
Laundry room
Coin-operated hot showers
Children's playground
Firewood
Ice
Primitive tent sites start at $28 a night, while the starting RV rate is $36 a night for 20 amp, and up to $52 a night for 50 amp hookups. Every additional child ages 6 to 17 will cost $3 extra per kid. The campground is located in Shelburne, New Hampshire. If you wish to contact the campground for more information or for reserving your site, you can reach them at 1-603-466-3872.
WHAT WE LIKE
This is a wonderful campground that's close to Mount Washington.
WHAT WE DON'T LIKE
Campsites are very close to one another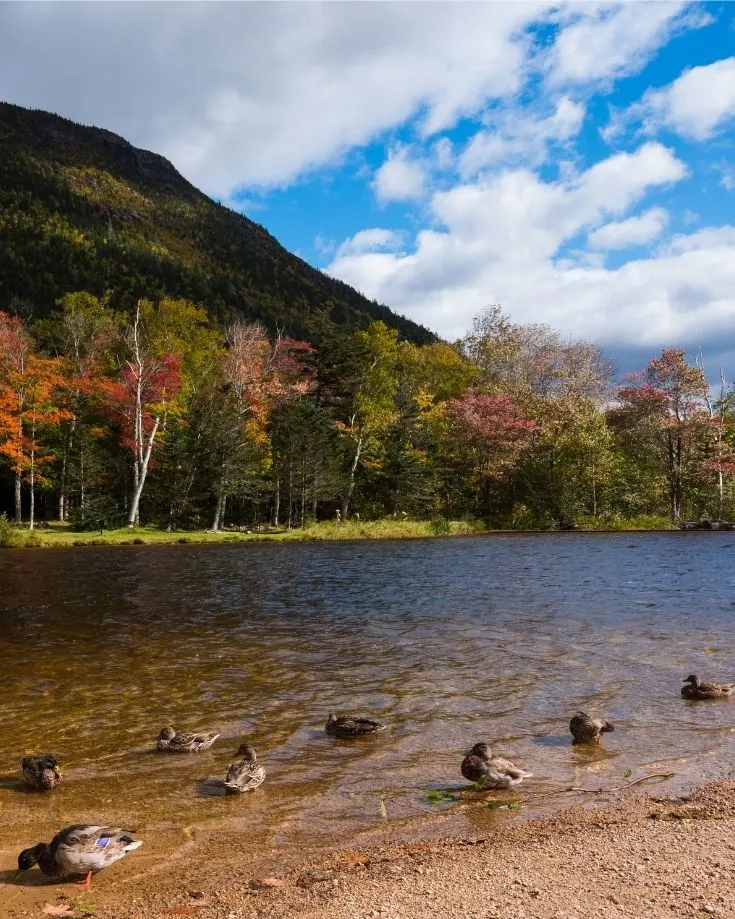 Every camping experience is different. The goal is to always make it awesome! A camping experience doesn't get much better in the White Mountains National Forest than when you're staying at the Twin Mountain/ Mt. Washington KOA Holiday.
AMENITIES
There's something to do for everyone (I know everyone says that, but it's true). A few recreational activities include hiking, mountain biking, swimming, fishing, and much, much more. Besides tent and RV camping, they offer glamping opportunities, lodges, cottages, and cozy cabins.
Recreational and amenities include:
50 max amp
Swimming pool
Gem mining area
Large children's playground
Hayrides
Friday s'mores
Pancake breakfast
Hot dog picnics
Wi-fi
Cable tv
Snack bar
Propane
Firewood
Dog park
They have 30- and 50- amp service hookups available for RVs, starting at This KOA camping experience is located in Twin Mountain, New Hampshire on Route 115. For rates and availability, click here. You can reserve your campsite by calling 800-562-9117.
WHAT WE LIKE
The amenities are outstanding and the staff there are extremely friendly and helpful.
WHAT WE DON'T LIKE
It's close to the highway and can be a bit noisy at night.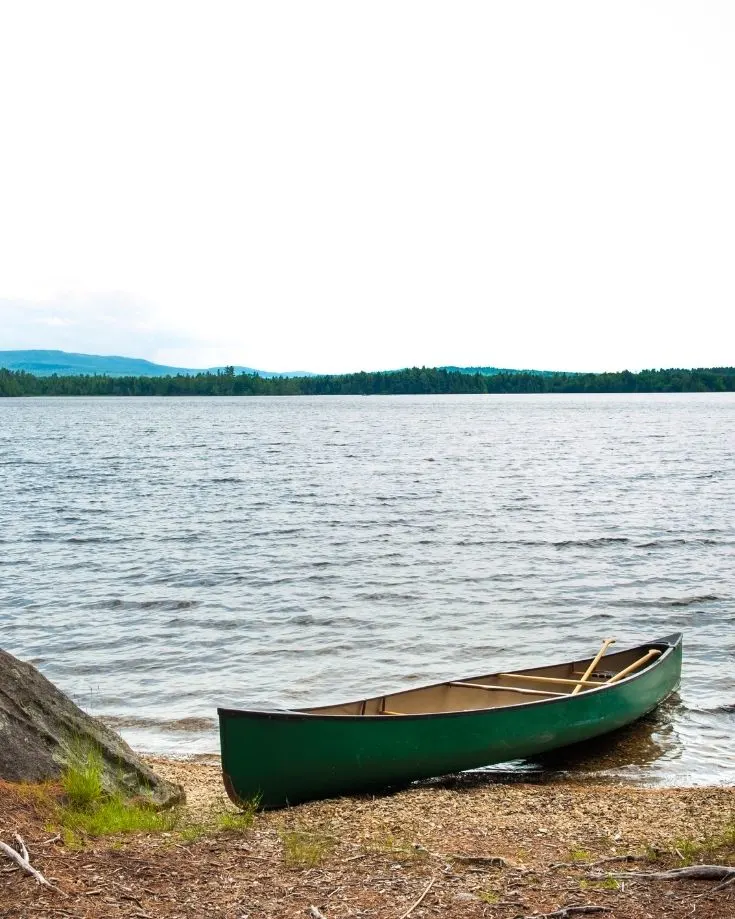 Beauty is in the eye of the beholder and this campground is proof! One of the neatest places in New England that you'll ever lay eyes on can be found at this next camping destination. Located in Cambridge just off of Route 26, the remote Umbagog Lake Campground is not only a sight for sore eyes but there are so many recreational activities available.
AMENITIES
Some of them you can enjoy include kayaking, canoeing, fishing, swimming, water sports, hiking, biking, stargazing, and wildlife viewing. Whew, what a list! The lake and surrounding area cover both the states of New Hampshire and Maine.
Some of the amenities that you'll enjoy here include:
Hot showers
Restrooms (flushable toilets)
Drinking water
Dump station
Boat rentals/launch area
Playground area
BBQ grills
Playground
There are 27 RV hookup sites available, tent sites, as well as cabin rentals. Here's where you can enter your camping dates to find out what their rates are when you're visiting. For more information, Umbagog Lake Campground can be reached at 603 482-7795. This campground is voted as one of the BEST campgrounds in NH.
WHAT WE LIKE
Its hiking trails, heated pool, and clean showers.
WHAT WE DON'T LIKE
It can get a bit noisy when it's busy and campsites are of a smaller size.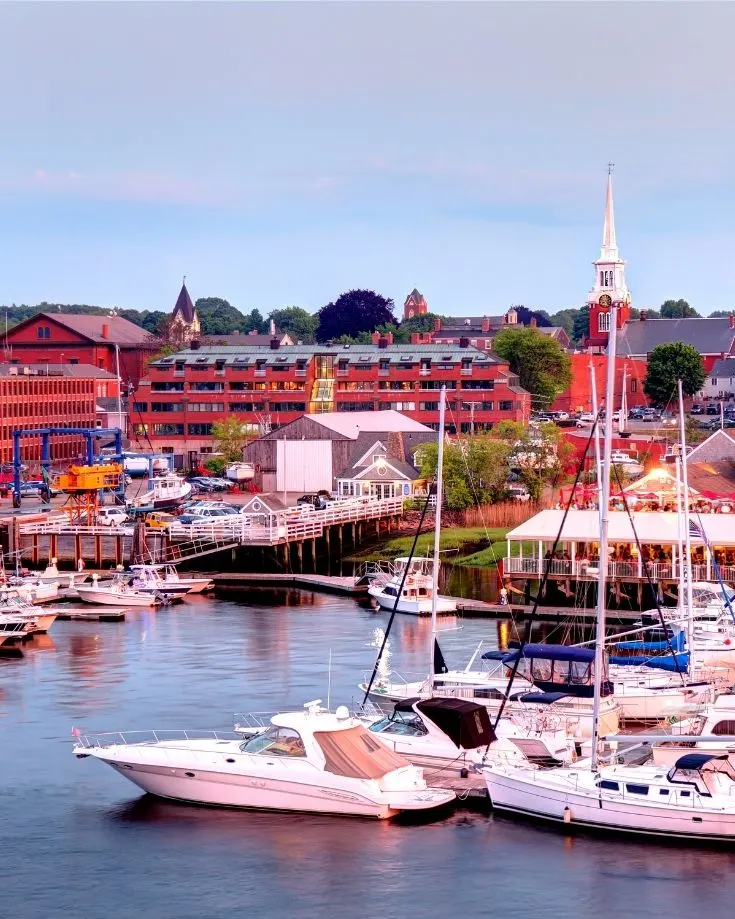 Again, hello to the beaches! If my family could choose one place to camp, it would be where there is a beach! Although there are only 13 miles of coastline in the entire state of New Hampshire, you can still find plenty of beautiful beach scenery not far from Wakeda Campgrounds LLC. There's also a handful of water activities to participate in while out on the water, including swimming, kayaking, canoeing, boating, and fishing.
You're only about a 20-minute drive away from the historic city of Portsmouth, the Kittery Outlets, and Newburyport, Maine. Another great day trip to consider would be to Boston, Massachusetts, which is only about an hour away. You'll be in a great location for shopping, dining, entertainment, museums, and other outdoor fun.
AMENITIES
Campground amenities include:
Free Wi-fi
Trading post
Dog park
Mini-golf
Game room
Hot showers
Flushing toilets
Laundry room
Dump stations
The nightly rate for no-hookups starts at $45, while a 50-amp site will cost $54. You're looking at a $59 nightly fee for a pull-through 50-amp site. These rates are based on 2 adults and 3 children under the age of 18. For every additional child, there's a $3 fee, as well as a $10 fee for every adult.
WHAT WE LIKE
A very relaxing campground with plenty to keep its visitors entertained.
WHAT WE DON'T LIKE
The roads are a bit narrow for big rigs but still doable.
Let's be honest, going to a new campground can be scary. That is why I've listed the 11 best campgrounds in New Hampshire for your RV or Van. If you're going to camp, you might as well do it right!
No matter what part of the state of New Hampshire you're staying at, you can rest assured that you'll have an excellent experience when you choose from any of these 11 amazing campgrounds. While each one provides its visitors with something different, these campgrounds come with an amazing view and tons of fun activities that the whole family will love. Which one of these campgrounds do you think is the BEST campground in NH?
Campervan and RV Rentals In New Hampshire
Renting an RV is a great way to get all the benefits of an RV vacation without having to own one. It's a perfect way to give RV living a trial run before making an investment and testing out the different models available to see what suits your family best.
At Outdoorsy, you can rent RVs and campers from other RVers. Click here to see what RV rentals are available in New Hampshire, and use MOWGLI50 discount code for $50 off your first rental.
If you already own an RV and don't live in it full-time, you can make it available for rental too, so keep maintenance down and get a welcome boost to your income at the same time.
If you liked this article about the best campgrounds in New Hampshire, consider checking out some of our other favorites below: