Buenos Aires is a fabulous city with more than enough to fill even the longest of vacations. But right on the doorstep, there's so much more to explore.
Within an hour or two, you can live the gaucho dream, cruise the tropical waterways of the Tigre Delta or visit Uruguay – another country altogether.
We've pulled together these day trips from Buenos Aires to help you enrich your itinerary and explore what else is on offer beyond the capital.
And if you want to go further afield for more than just 1 day, we have that covered too.
Take a road trip up Uruguay's Atlantic coast to visit off-grid villages with no mains electricity or running water.
Go hiking in Fitz Roy and watch tower block size icebergs fall from Perito Moreno Glacier in Southern Patagonia – just a 3 hour flight from the capital.
Still not exciting enough? How about the trip of a lifetime to the 7th continent, Antarctica?
What are you waiting for?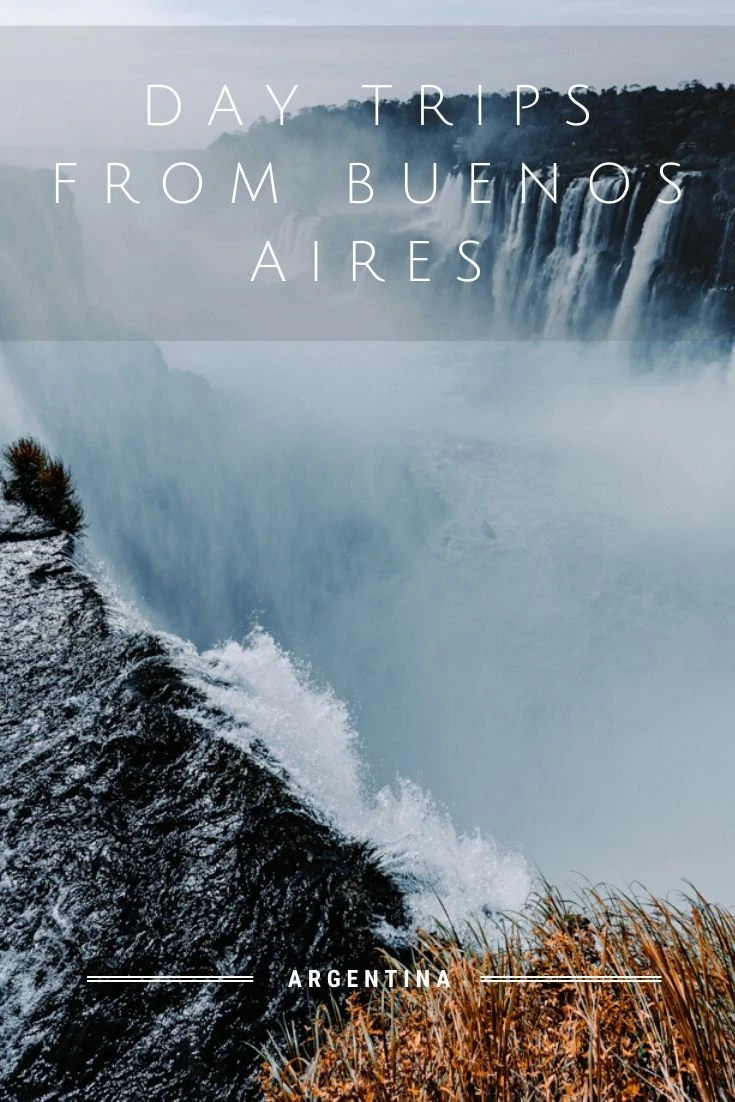 Colonia del Sacramento, Uruguay
First up on our list of day trips from Buenos Aires gets you out of Argentina and into Uruguay!
On the shores of Rio de la Plata, one of Uruguay's oldest towns, Colonia del Sacramento is a major draw for those wanting to escape Buenos Aires for a day or even a weekend.
A short ferry ride across the river (you can see the Buenos Aires skyline from Colonia), day trippers flock to the historic quarter.
Just like a real life cliche, Colonia del Sacramento's old town is bursting with cobbled streets. It's no surprise it's a UNESCO World Heritage site. It feels like a living museum.
The tree lined plaza offers plenty of shade in the height of summer – the perfect place for people watching.
On one street, vintage cars double as private dining rooms and even plant pots, the back seats overflowing with flowers and foliage.
Climb the lighthouse, the tallest building in the area, for 360° views, a pretty special spot for sunset.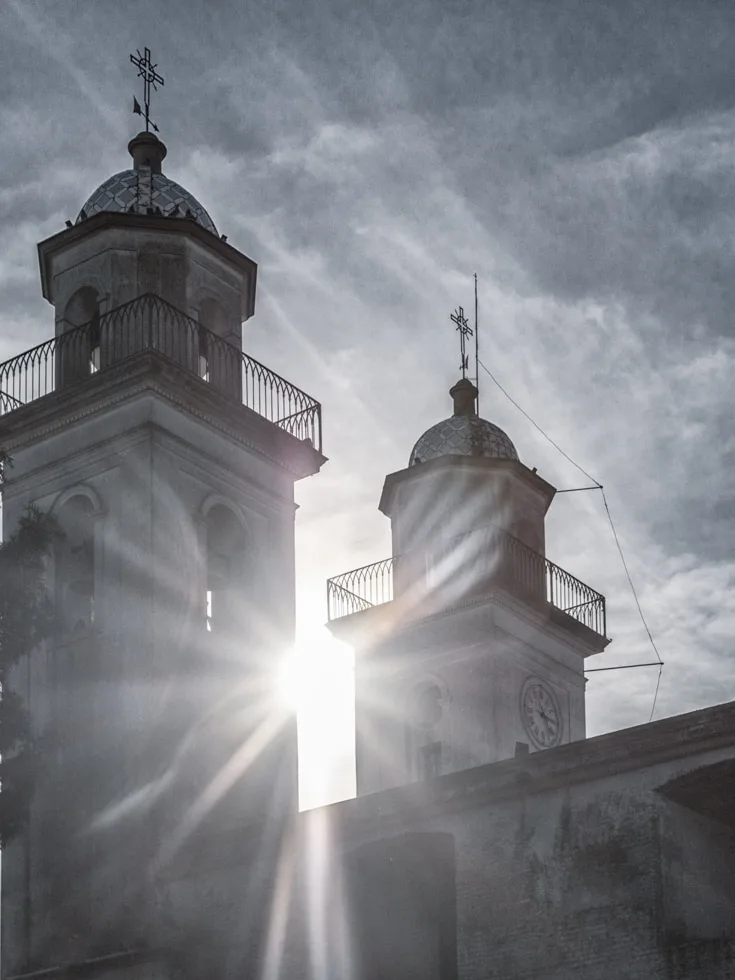 How to get to Colonia del Sacramento from Buenos Aires
You can catch a ferry from the Buquebus terminal in Puerto Madero for the short, 1 hour crossing to Uruguay. A return ticket currently costs around ARG $4-5000 and you can buy them online here.
The ferry terminal in Colonia del Sacramento is only a few blocks from the historic area of town so you don't need arrange transfers.
You can arrange your ferry tickets with an optional guided walking tour and lunch if you'd prefer all the arrangements made for you. This will cost around US $72.
To be honest – this is great value based on the currency exchange rates at the time of writing so well worth grabbing this deal. Check here for availability and current prices here.
Don't forget your passport!
San Antonio de Areco
In the heart of the Pampas, San Antonio de Areco is the epitome of gaucho life.
The small town is set around an 18th century church and leafy plaza.
Gauchos stroll around town, clad in boinas, berets, ponchos accompanied by a horse or two for good measure.
Siesta time is religiously adhered to here so don't expect anything to be open in the afternoons.
This is the time to head to the river and snooze in the shade of a blooming jacaranda tree.
If you're around in November, don't miss the world's largest gauche festival. Held on November 10th each year gauchos from all over the Pampas region descend on the town.
Gaucho games and horse skills take centre stage, all to the backdrop of music and dance as the air fills with mouthwatering smells of slowly cooked meats from the parrilla.
If you'd prefer something a little special like a day on an estancia, you can book a full day excursion from Buenos Aires.
You'll get a full on gaucho experience of dancing, music and typical Argentinian asado as well as return transfers to Buenos Aires. Check availability and prices here.
For the full estancia experience closer to Buenos Aires, you can also try the Don Silvano Ranch and Santa Susana Ranch. Both come highly recommended.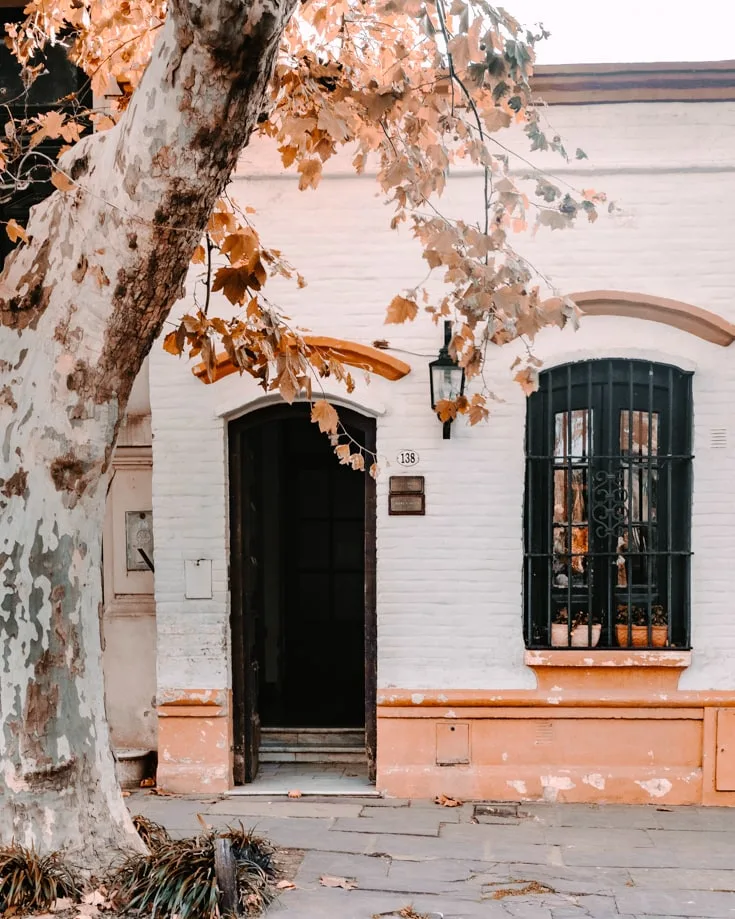 How to get to San Antonio de Areco from Buenos Aires
Most excursions from Buenos Aires to San Antonio de Areco include transfers so if you've booked a day on an estancia, this is probably covered.
The town is only 120 kilometres from Buenos Aires. Buses run regularly from Buenos Aires to San Antonio de Areco.
The journey takes around 2 hours and cost a little under ARG$300 or about US $7. Check with Omnilineas.com for all the up-to-date schedule and prices.
It's quite expensive (and unnecessary) to hire a car for the trip, and toll roads will cost around US $15 each way too. You're better off on the bus but if you want to hire a car, you can check availability and prices here.
Feria de Mataderos | A gaucho market in Buenos Aires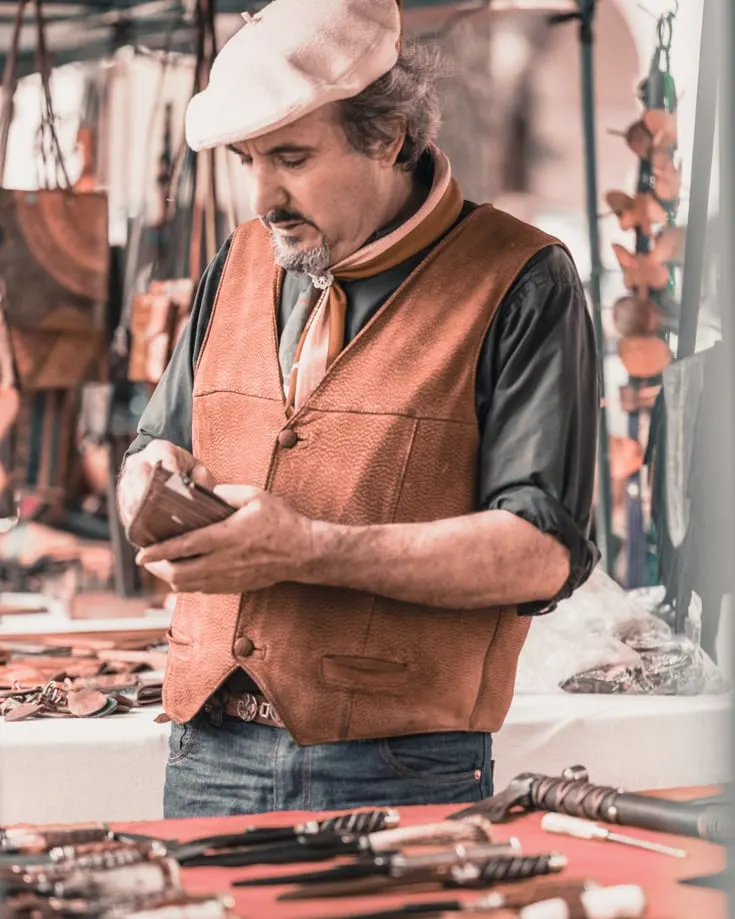 If you don't fancy leaving Buenos Aires but sill want a gaucho experience, you must head to Feria de Mataderos.
The Buenos Aires metropolis feels a world away from the rural stronghold of the gaucho. Yet without ever leaving the city limits, visitors can experience a taste of authentic gaucho culture at the weekly Feria de Mataderos.
Mataderos' Sunday market is a fabulous day out from Buenos Aires city centre.
Closed to traffic, the streets are filled with stalls selling pretty much anything you may need with entertainment, gaucho games and traditional dancing all day long.
The Mataderos Barrio was once the place where gauchos, having driven their cattle from the countryside, would meet the city slickers to trade and barter over livestock.
Today, a huge livestock market, Liniers Cattle Market, still takes place here and the residential area is proud of its cultural roots.
It's this rural heritage the weekly Feria de Mataderos – the Mataderos Fair – celebrates. It's a fabulous day out and you may be the only tourist there too!
Check out our full guide for details of how to get to Feria de Mataderos from Buenos Aires.
Montevideo, Uruguay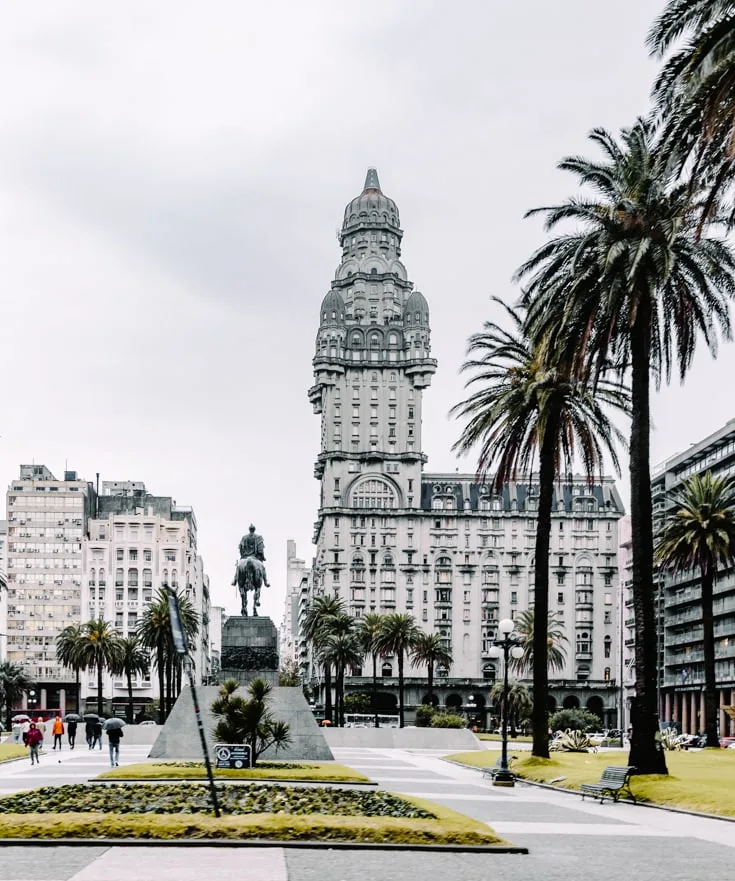 Back to Uruguay, the nation's capital and home to half of Uruguay's population of not quite 4 million, Montevideo is buzzing in a calm, laid back kind of way.
Remnants of the city's garrison can still be explored. With a past dominated by British, Spanish, Argentine, Portuguese and Brazilian rule, Montevideo now flourishes.
The oldest barrio in the city, Ciudad Vieja, spanning only a dozen or so blocks is filled with old world charm, if a little worn at the edges.
Once gorgeous buildings now show their age, crumbling in parts, peeling paint and often broken windows.
A revival of the abandoned architecture is underway. Trendy bistros and modern stores occupy growing swathes of town while musicians and street performers entertain visitors and passers-by.
Walk the historic streets on a Sunday evening to a backing track of drums. Practicing for the world's longest carnival celebrations, Candombe troupes keep this Uruguayan tradition alive.
A performance rooted in history, now a fusion of African slave music and European folk dance, this is unique to Uruguay.
When you need a breather and a little down-time, with the world's longest promenade, Montevideo has 20 kilometres of beaches so take your pick.
Montevideo is so unlike Buenos Aires it's definitely worth a visit.
While a day trip from Buenos Aires is possible, the ferry ride between the two cities take 3 hours in each direction.
You may prefer to spend a night in Montevideo, return late the following day.
Or there are buses between Montevideo and Colonia del Sacramento so you could do a 3 day trip, incorporating both places.
How to get to Montevideo from Buenos Aires
You can fly direct from Buenos Aires to Montevideo – check flight prices here. But it's a pricey option.
The flight time is swift, but all the faff at the airport and transfers makes it a less practical option, especially if you don't plan to spend the night.
A bus does run directly to Montevideo from Buenos Aires but it takes an entire day. There's no bridge across the widest part of the Rio de la Plata so the route goes around the river.
It's the cheapest option financially but takes the longest amount of time.
The best option involves another ferry. Buquebus run regular services between Montevideo and Buenos Aires.
They take about 3 hours in each direction and cost around ARG $6500 for a return ticket.
Alternatively, you could make a weekend of it and get the ferry to Colonia del Sacramento, followed by the bus to Montevideo and the return ferry back to Buenos Aires.
Don't forget your passport!
Iguazu Falls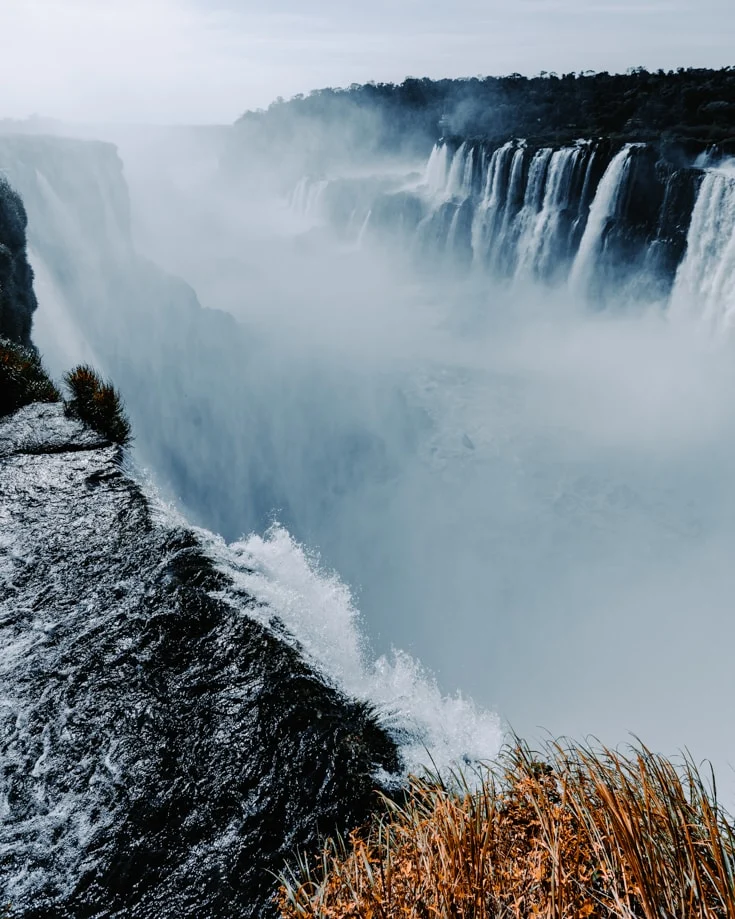 Although a long, long day, it's possible to visit Iguazu Falls as a day trip from Buenos Aires. But hey, it's one of the world's natural wonders so definitely worth the effort.
The cheapest way to do Iguazu Falls in 1 day is to do it independently:
You can get direct 2 hour flight from Buenos Aires to Iguazu. Book well in advance as the early morning flights sell out fast.
Take a bus from the airport directly to the falls – it's not worth the time or money to rent a car.
Explore the park at your leisure – grab a map as you enter. There's around 6 miles of trails inside the park and you'll want to do as many of these as you can. Use the jungle train where possible to reduce the time needed.
Return to the airport for an evening flight back to Buenos Aires
If you'd prefer to have all the arrangements done for you, consider booking an organised tour. It'll cost quite a lot more than arranging it yourself though.
Of course, if you have more time, we recommend getting accommodation in Puerto Iguazu and seeing both the Argentinian and Brazilian sides of the falls.
Check out our full guide to visiting Iguazu Falls before you go.
Tigre
Confession time – we're yet to visit to Tigre. We're still in Buenos Aires so hope to get out here in the next week or two.
But from everything we've read, it's a worthy day out. We'll update this post with our verdict soon.
Onward travel from Buenos Aires
Many people arrive in Buenos Aires to explore more of Argentina and Southern South America.
So if you're looking for some inspiration for onward travel from Buenos Aires, we have a few ideas to whet your appetite.
Carretera Austral road trip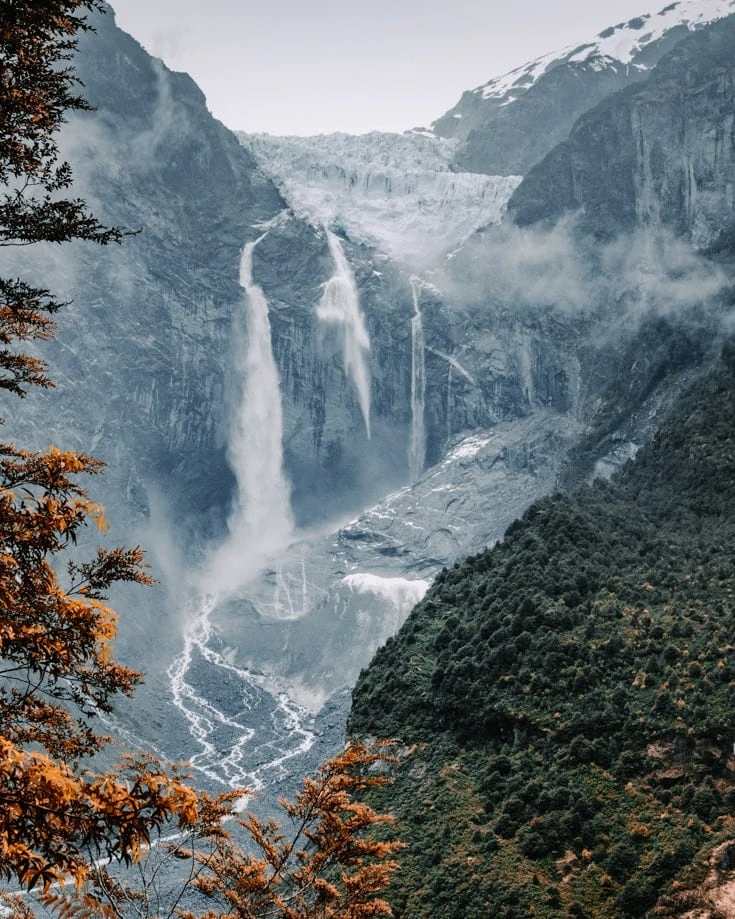 One of the world's most phenomenal road trips, the Carretera Austral will blow your imagination out of the water.
It's a route filled with hanging glaciers, hundreds of waterfalls, smouldering volcanoes and some of the most pristine national parks on the planet.
You'll need around 3 weeks for this trip but believe us, you won't regret it. This is one memorable road trip.
There's currently no direct flights from Buenos Aires to Puerto Montt so you'll need to fly via Santiago, Chile. With a good connection, total travel time should be around 5 or 6 hours. Check out flight prices and availability here.
You'll need to hire a car from Puerto Montt. If visiting during the high season make sure to book well in advance because the rental company's stock sells out fast. Click here for a quote and to check availability.
Explore the phenomenal nature of northeast Argentina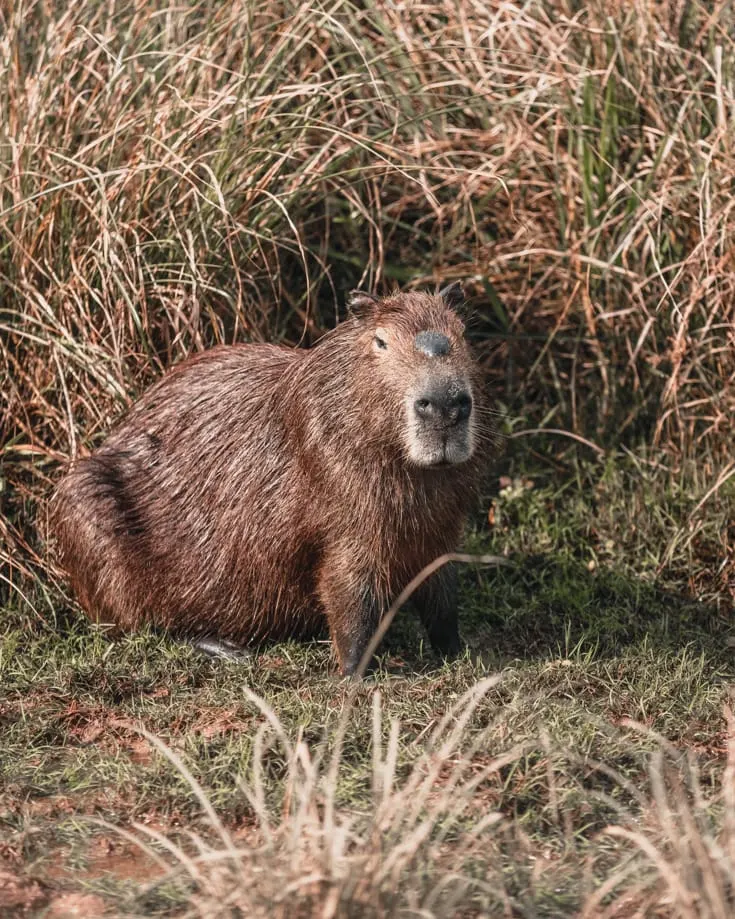 What's even in Northeast Argentina I hear you cry?
Well, apart from one of the natural wonders of the world in Iguazu, you can visit Amethyst mines, waterfalls that falls sideways across the length of a river and the best Jesuit missions in Argentina.
All that before arriving at Argentina's answer to Brazil's Pantanal – Ibera wetlands – a wildlife haven for birds, caiman, capybara, deer and anaconda.
Not to mention the rewilding projects to reintroduce red macaws, giant anteaters and even the jaguar.
This is an untapped part of Argentina where you're likely to see few foreign tourists.
From Iguazu Falls, this road trip through Northeast Argentina is a 1200 kilometre round trip and we recommend allowing at least a 7 days – 10 days would be better though.
Take this road trip after visiting Iguazu Falls from Buenos Aires then hire a car in Puerto Iguazu.
Uruguay road trip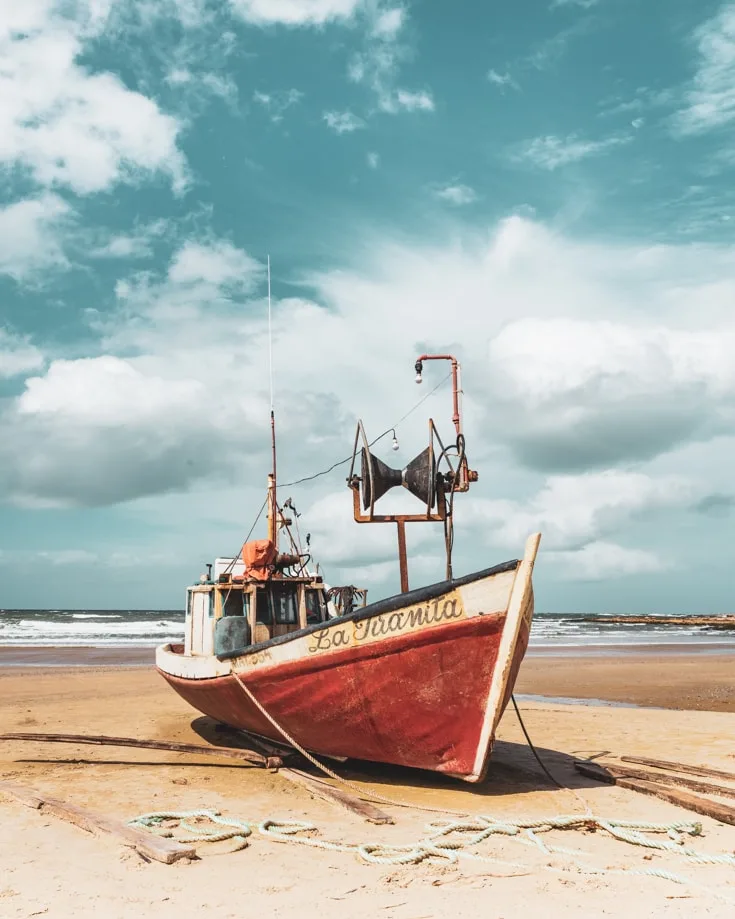 Uruguay's Atlantic coast is a mecca for sun worshippers – during the summer months at least. And if wildlife and bird spotting is your thing, the shoulder seasons are fabulous.
You can help at a turtle conservation station, explore the hippie off-grid village of Cabo Polonio or chill your beans in the laid back, windswept beach town of Punta del Diablo.
If you fancy exploring this under rated country, consider taking a tour of the coastline after a day trip from Buenos Aires to either Colonia del Sacramento or Montevideo.
A week in Southern Patagonia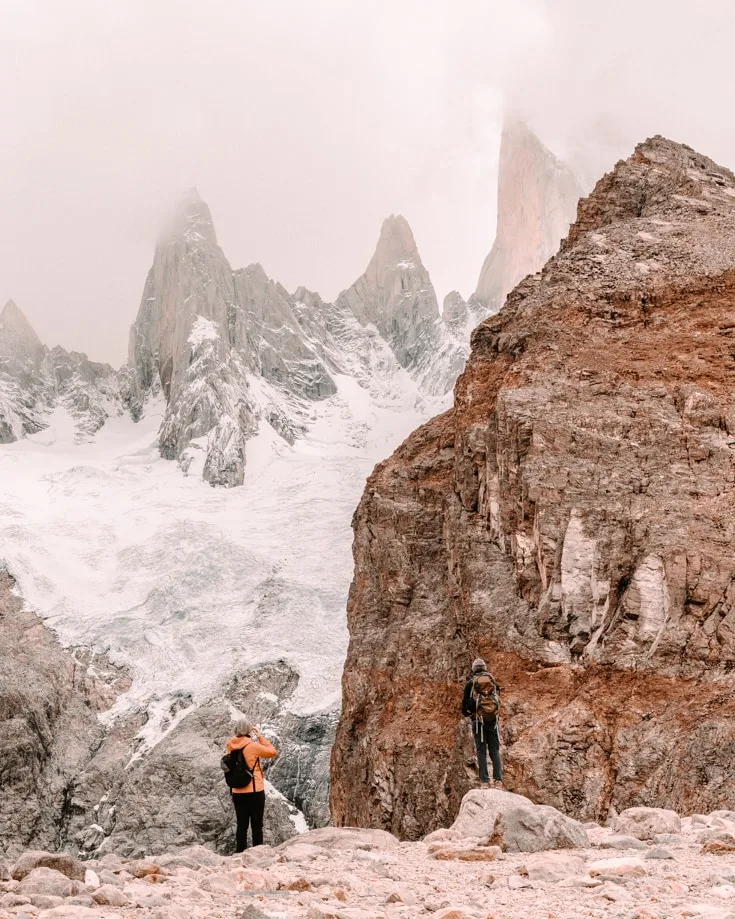 If you don't have 3 weeks to spare, how about 5-7 days? A week is enough time for a flying visit to both Perito Moreno Glacier and Fitz Roy Massif in Argentina's Southern Patagonia.
Perito Moreno Glacier is one of the only glaciers in the world to still be growing. Allow yourself a full day to explore this well managed attraction to get up close to the creaking sound of the turquoise ice and crashing icebergs.
Then pick up a hire car and drive 200 kilometres around Lago Argentino and Lago Viedma for the most spectacular view of the Fitz Roy Massif as you drive into El Chalten.
You can easily spend days or weeks here hiking the multitude of trails so plan an itinerary around the time available. And if you're short on time, consider one or two of the many El Chalten tours and organised activities. They'll save you the hassle of planning them yourself.
Just make sure to leave enough time to catch a return flight from El Calafate – there's no direct flights from Chaiten.
You can fly direct from Buenos Aires domestic airport to El Calafate in under 4 hours.
Car hire isn't available in El Chalten but you can get buses between the two towns.
It's the cheaper option but you'll wish you could stop en route, so we recommend getting a rental car.
A trip to Antarctica from Buenos Aires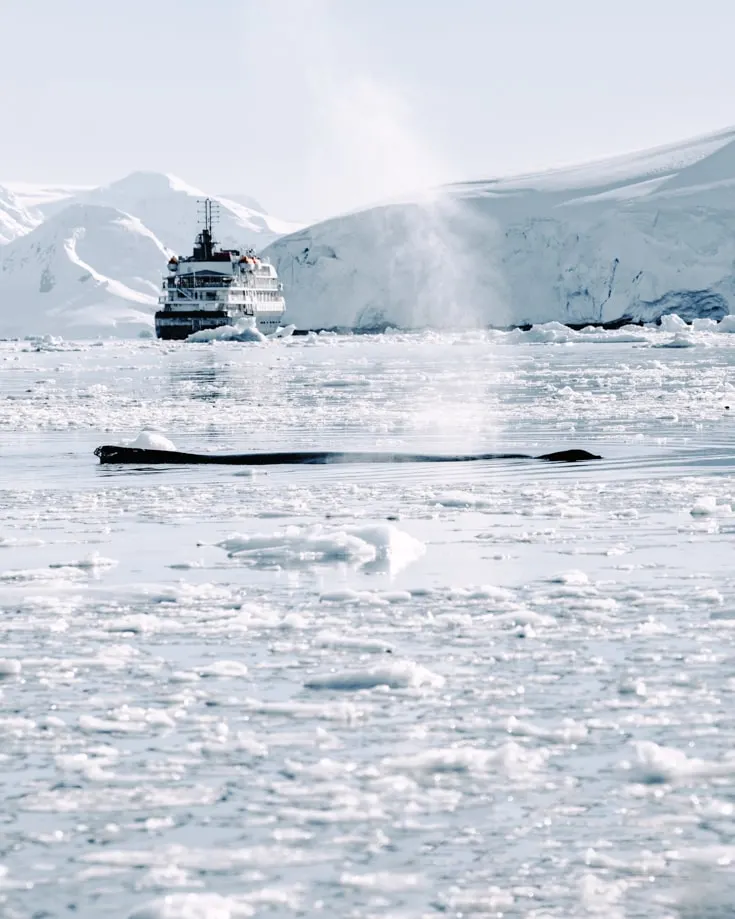 Not adventurous enough for you? How about a trip to Antarctica? Now we know you must be tempted by this and Buenos Aires is the perfect spring board to kick start your trip to the 7th continent.
We cruised the Falkland Islands, South Georgia and the Antarctic Peninsula for 3 weeks and learnt a lot about how to travel to what is effectively the final frontier on this planet.
Take a look at how we travelled to Antarctica on a budget and saved thousands of dollars booking last minute.
Go on! You know you want to find out what you can expect from a polar cruise on the white continent.
Our Exclusive Coupon Code
If you book your Antarctica cruise directly with Polar Latitudes, use our exclusive coupon code for 5% off.

That could save you as much as $2000 per person!

Plus, you can use it on already discounted prices.

Just quote "Mowgli" when booking.
Like it? Pin it!