Are you looking for a perfect gift for the RV lover in your life?
It can be tricky figuring out what to buy if you're not an RV owner yourself.
We've lived in our camper full-time since 2018 and have a good idea of the gifts we'd love to receive.
They've all made it onto this RV gift guide, so you're in the right place.
Whether you're looking for gift ideas for new RV owners or seasoned pros, you'll find something for everyone here.
We have over 100 gifts for RV owners on this list, so to make navigation easier, we've split them into fourteen categories:
When you click on links to various merchants on this site and make a purchase, this can result in this site earning a commission. As an Amazon Associate we earn from qualifying purchases. For more info, please check our disclosure page.
Best Gifts for RV Owners | Our Top Picks
If you want to look at the best of the best, here's a quick look at the best RV gifts from each category.
Short on time? Choose your favorite gift for the RV owner in your life from here, or keep scrolling to browse the entire list. There's something for everyone here.
Gifts Every RV Camper Needs
So, we compiled some gift ideas for the kit every single RV camper needs. Moreover, these are presents they're guaranteed to love!
Here we go.
More than anything, every RV owner needs to know what keeps their vehicle ticking.
Since the electric system is vital to living off the grid, the Campervan Electrics Handbook comes in really handy.
It is broken down into layman's language, so you become a maestro in the electric niche in no time.
No more breakdowns from electric problems that could have been fixed earlier.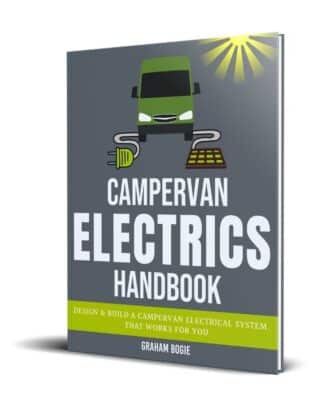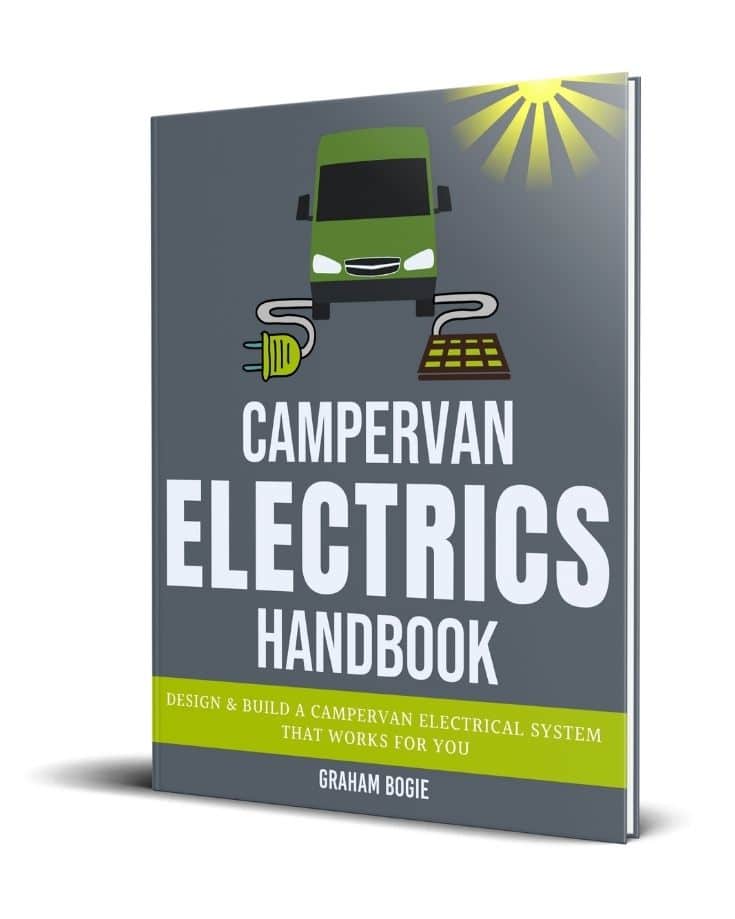 Enjoy perfect solitude and still have your devices fully charged without the necessity of a less-than-silent generator.
The Renogy 100 Solar RV Kit takes care of this over and over.
It's scalable, too, so a perfect gift to get the van dweller in your life started.
An RV water pump is a crucial piece of equipment for RV owners, especially if they plan to boondock regularly or if their camper doesn't have a city water connection.
If you're looking for a gift for someone converting a van or who wants to upgrade their onboard amenities, a water pump is a fabulous idea.
Out in the wild and off the grid, this is absolutely necessary.
The Nature's Head composting toilet guarantees zero smell, super easy to install, and a full 5-year warranty.
We use this in our camper, and with a huge capacity, it's one of the best campervan toilet options available.
Every RV camper loves this one.
The Lasko space heater is perfect for slowly heating small spaces and maintaining an overall warm atmosphere.
It is portable and fully assembled, so take it out of the box and get to using it! Another perfect addition for RV winter living.
An exterior shower in an RV camper is a significant luxury.
Once installed, there's no setup time needed making it ideal for washing muddy pet paws, rinsing off sports equipment, or showering outdoors.
This portable generator runs on gas, is ultra-lightweight, and easy to transport.
Giving 1700 watts of clean power for powering sensitive electronics, it makes a perfect addition to boondockers electrical setups.
Another great camping gift for any RV owner.
No, this portable generator doesn't run on gas and doesn't make a sound either!
Instead, it's charged by a solar panel in a few hours and can power smartphones, laptops, tablets, gaming devices, and much more.
A practical gift to protect water lines from freezing. The heat source self-regulates and has water flowing without overheating.
A super thoughtful gift idea and essential for winter RVing.
Gifts for the Wannabe RVer
Do you want to inspire a special someone to take the plunge and fulfill their dreams of owning an RV?
Or maybe you want to send a gift to someone who's waiting to take delivery of their brand new RV, and they're giddy with excitement!
Here's a couple of ideal gifts they'll love to receive.
For those unsure about committing to buying a camper or converting a van, RV rental is a terrific way to make sure it's something they'll love before making the financial commitment.
If they already know they want to commit, renting an RV similar or the same as the one they want to buy is a low-cost way of confirming their choice is suitable for them.
Or maybe you just want to encourage them to give it a go.
Outdoorsy is our top recommended RV rental company. It's a little like VRBO but for RV owners.
RV owners rent their campers to anyone in the USA with pick-up points all over the country.
Search for the ideal rental with Outdoorsy RV Rentals.
This coffee table book is filled with inspiring images of tiny RV campers living a life nomadic in amazing landscapes.
Give this stunning hardback book to someone on the verge of taking the step to RV living, and they'll leap right in!
A perfect gift for someone thinking of these kind of road trips or even a permanent lifestyle.
Gifts for RV Travelers
There's no shortage of fun gifts for RV travelers, but some gifts just come in so handy and are much appreciated.
So, here are some of the best RV gift ideas every RV traveler will love.
A Harvest Hosts membership is one of the best gifts an RVer can receive.
The list of bespoke camping experiences that Harvest Hosts offers guarantees incredible adventures.
With over 2353 breweries, wineries, farms, and a whole lot more across North America, RVers can join other campers and make incredible memories.
And if you use our link, you'll get 15% off membership today.
There's so much to write about when in tune with nature.
This makes a travel journal one of the best things to give an RVer. It's made with durable leather that guarantees it won't fall apart on a road trip.
We use our travel journals to create an extensive travel record, and they're great for reminiscing.
The National Geographic's Road Atlas Adventure Edition is an excellent gift for any RVer.
Features up-to-date maps of all U.S. states as well as Puerto Rico, Mexico, and Canada.
Fun places for adventure and locations worth visiting in the various major cities and metropolitan areas are clearly highlighted.
A filled-up state sticker map is a badge of accomplishment.
Track every single state your RV adventure takes you with this map and the colorful state stickers.
And the custom illustrations are a perfect conversation starter.
Any RVer will love this!
What gift guide is complete with a travel mug?
This particular pack contains two metal coffee mugs. Double walls keep drinks either hot or cold, and they're pretty easy to clean.
They're of great quality, so you don't have to worry about breaking them easily. Fantastic gift idea.
RV Accessories That Make the Ideal Gift
Choosing the ideal gift for an RVer might take a bit of thinking.
But we've taken care of that for you. Give an RVer any of these gifts, and they'll be made up!
No doubt it gets pretty cold out on the road sometimes, and sometimes an extra bit of warmth is all that's needed for a cozy evening.
This 12-volt blanket makes an excellent choice for a camping gift.
It's got a long cord so that you don't necessarily have to be close to the power source.
Forgetting where you left your stuff in the RV isn't an unusual occurrence.
This is why a bedside caddy is such a great idea for extra storage space and a convenient place to keep bedtime reading books and Kindles.
This is a perfect decorative gift and doubles as a great source of comfort. Made from environmentally friendly materials, this throw cushion is super soft too.
It cleans easily, and it comes in handy for the occasional pillow fight.
A stylish doormat at the entrance to an RV is a good call.
It helps keep the indoors clean by capturing dirt and moisture and a great welcome to visitors.
Cleaning up the indoors of the RV just got a whole lot easier with the cordless vacuum.
It's got powerful suction and a guaranteed run time of up to 50 minutes.
A gift that any RVer will appreciate, and since it is ultra-lightweight, they won't even have to use both hands.
For some extra lighting decoration or lighting for an RV party, these string awning lights are ideal.
Spice up the RV with some extra fun lights and add extra ambiance at the same time.
Some people are just so tricky to buy for, and RVers are no different. Maybe they're on the road, so you can't deliver a physical gift. Or perhaps you have no idea what they want or need.
If all else fails, gift cards are a guaranteed win.
There's no telling how handy a solar lantern can be on the road.
Charged during the daylight, a solar provides a free light source without any draw on the camper's batteries.
They are ideal for al fresco dining with a bit of mood lighting and can even be charged by USB if needed.
The confines of an RV camper can get a little hot without air-conditioning units, especially at night. However, a 12v fan can bring enough relief to make for a more comfortable night's sleep.
The two heads with 360-degree rotation allow cool air to circulate.
It comes with adhesive pads for sticking them to a surface, and noise levels are pretty low, so they don't disturb sleep.
This is a thoughtful gift item that goes a long way.
Getting caught blindsided in a storm or other hazardous weather is the last thing any RVer wants.
The emergency weather radio is hand-cranked, so it doesn't rely on electricity and includes an integrated flashlight, perfect if all hell breaks loose outside!
RV Gifts for Mom
Gifts for Moms can be tricky. You want to get them something special, but also practical.
So, memorable and useful in the same breath, it is! We've got you covered. Let's go!
A pocket knife is one of the handiest accessories to have in a camper. We use ours often and for all sorts of jobs. Once you own a pocket knife, you'll find more and more uses for it.
The gift that just keeps giving? Maybe not, but Mom will thank you for it!
This may not be a fashion statement but believe us, a mozzie hat wearer will be the envy of other travelers in bug-infested campgrounds.
Providing protection from the sun and bloodthirsty bugs, its packable, fold-away design guarantees it as a travel-friendly accessory.
This is one cool Tee that Mom is bound to love, especially if it's in her favorite color.
100% cotton, so it's easy on the skin. Not too tight, not too loose, just a perfect fit.
This is definitely one tee that Mom will look great in next time you go camping.
Camping Hair, Don't Care! I know that feeling! No need to stress getting your locks tamed – just cover it up!
This fun baseball cap comes in many different colors, so your Mom can accessorize it with the T-shirt!
The perfect mat for the RV life and adds some extra aesthetic appeal too.
The mat is durable but versatile and flexible and practical use for both indoors and outdoors.
Pretty cool pun too, and it would inspire some lighthearted laughter now and again.
If Mom is yearning for a break from crowded RV parks, this will make for a perfect gift.
It details everything there is to know about camping comfortably in the wilderness with the beauty of nature all around.
It contains practical advice, tips, and explicit tweaks and hacks for proper remote outdoors camping.
No more wires dragging about and snagging on door handles and furniture.
With a wireless headphones gift, the direct audio experience is practically redefined and super comfy.
It allows for up to 8 hours of continuous listening, and it's lightweight, so super comfy.
RV Gifts for Dad
Are Dad's easier to buy for than Moms? Maybe not, but here are the best Dad-worthy gifts for the RV-loving father in your family.
For the Dad who loves a BBQ, beer, or fishing, the Yeti Tundra cooler is the perfect gift.
It'll keep his beers cold and catch as fresh as can be, thanks to 3 inches of PermaFrost insulation.
There's lots of room to store food and drinks for a backyard barbecue too. Doubles as a thoughtful and practical gift.
If your Dad doesn't have an axe already, you can bet he wants one!
And for RV living, it makes a perfect and affordable gift. It's perfect for splitting small sticks for a wood fire or even felling small trees.
Getting a cell signal out in the wild can be quite a hassle. Even on some campsites, the signal can be sketchy.
A cell signal booster takes away the stress. It guarantees stronger signals from Verizon, AT&T, Sprint, T-Mobile, U.S. Cellular, and other carriers for better internet speed.
The RV toolkit may already have a headlamp, but it's probably a bit grubby from being stored with the tools if that one is anything like ours.
A headlamp makes an ideal, budget-friendly gift for your RV-loving Dad.
6 LED bulbs and an illumination distance of 500 meters make for a great lamp.
It is waterproof, can be turned 90 degrees, and has different light modes to choose from.
Does your Dad enjoy walking in the great outdoors?
A pair of trekking poles make an excellent support source, mainly when walking for extended periods or on uneven terrain.
They fold down into three pieces for super easy storage, crucial in the limited space of a camper.
Not just practical, but super stylish too, Dad will thank you for giving him a Panama hat.
It provides excellent protection from the sun's rays, is soft, comfortable, and hugs the head just right!
Gifts for Outdoorsy RV Lovers
For outdoorsy RV lovers, there's nothing better than an excuse to get outside. Ideal gifts are those that make their time easier, more comfortable, or more adventurous!
Here are our top 10 gifts for the outdoorsy RV enthusiast in your life.
If your loved one is the type to bring their phone or other small gadgets everywhere with them, a portable power bank makes an ideal gift.
Lightweight and small enough to carry while hiking, it's dust and waterproof too. They definitely won't run out of battery for their Instagram-worthy photos.
For RV owners who also enjoy the occasional bicycle ride but don't have space for a traditional cycle, a folding bike is a perfect compromise.
We recommend the Kespor K7 because of its solid frame, excellent disc brakes, and ease of use.
This one of the best RV gift ideas for outdoors lovers. Time to explore!
If the RV owner in your life prefers a more traditional bike, they need somewhere to store it if they want to take it on a road trip.
Unless they've built a racing conversion, their RV probably doesn't have a garage space to keep it securely. A bike rack is the next best thing.
This bike rack can carry up to two full-size bikes and stores flat on the back of the RV.
Conserving space is a significant concern in an RV, so we're always looking for practical, space-saving accessories.
This collapsing helmet folds in half and easily fits into any bag or backpack.
It's highly durable and meets safety standards for use on skateboards and bicycles. It's an ideal gift for any avid RV-loving cyclist.
Having access to clean water is essential, which is why the Lifestraw water bottle makes an ideal gift for outdoors lovers.
It filters almost 100% of bacteria, microplastics, and parasites. In addition, it improves the taste of water by removing chlorine and makes it more clear too.
This is a must for outdoors lovers so they can replenish their water supplies from streams while out hiking.
Who doesn't love exploring the country's incredible National Parks?
This annual pass grants entry to over 2,000 federal recreation sites all over the country. Valid for a whole year, it covers the entrance fees, standard amenity fees, and day use fees for a driver and all passengers.
The whole RVing family will love this!
A perfect gift to accompany the National Park Annual Pass.
Your loved one can collect stamps as they visit each National Park in the country, creating a fabulous keepsake of an amazing road trip.
Funds go to the National Parks park, so you're helping to preserve our beautiful natural treasures at the same time.
If your loved one is an adventurous sort, this inflatable kayak is the perfect companion for an RV owner.
Durable and designed for maximum comfort, it packs away into a handy carry case and weighs just over 27lbs. Oar included!
Are you looking for a gift for an outdoors lover who isn't into extreme sports?
This picnic backpack makes a perfect present and even has an integrated wine carrier. Now that's our idea of enjoying the great outdoors!
Gifts for RV Campers
RV campers spend a lot of time living beside their RV, enjoying their surroundings on campgrounds, National Parks, or boondocking.
Here are some gift ideas guarantees to leave them beaming from ear to ear:
Most RV campers will have a camp chair, sure. But a zero gravity chair will up the comfort levels a notch or three.
Initially designed for astronauts, the zero-gravity reclining position helps reduce the tension of the spine, making you actually feel weightless.
The perfect gift for camping comfort.
Sometimes it's impossible to find a dust-free, dry camp pitch. But fear not, these outdoor mats help keep an RV's outdoor living space dust-free, clean and comfortable.
They're easy to clean, fold away into a compact size, and easy to layout—the perfect underlay for outdoor living.
Portable standing hammocks make an ideal gift for RV owners who love soaking up spectacular views.
No need to find perfectly placed trees or damage their bark with this freestanding hammock!
It's easy to assemble, and quick-release buttons make packing up a breeze.
Perfect for relaxing on a cool evening in nature.
A picnic table is another must-have RV accessory for the outdoor living space.
We use ours as a dining table, office desk, and it's sturdy enough to double as a bar on camping party nights.
Its lightweight and weather-resistant frame guarantee easy transportation and durability.
Who's the grillmaster?
This portable propane grill is a fantastic gift idea for any RV camper!
Get those steaks on the go!
Multi-purpose RV accessories make great gifts for RVers, and a portable outdoor fire pit is one of the best.
They can add a little warmth to an otherwise cool night and an ambient glow for a cozy camp. You can even roast marshmallows or grill a steak!
No self-respecting grillmaster would be without a good quality grill set.
These stainless steel utensils make an ideal gift for RV owners and come complete with their own carry case for organized stowage.
It contains everything a grill master needs, including corn holders, basting brush, tongs, and more.
A portable gazebo weatherproofs an RV's outdoor living space, making year-round camping comfortable and spacious.
Even during the summer months, its mesh tent walls protect from bugs and provide complete ventilation, making it an ideal RV extension.
Despite its size, it requires no assembly and packs up into a compact bag for easy transport.
The Best RV Gadget Gift Ideas
Certain gadgets make the RV adventure a lot more exciting, more comfortable and bring a few conveniences to a simple way of life.
We're done some digging to find the best RV gadgets gift ideas, so you don't have to.
Who wouldn't want their very own onboard cinema while living off-grid? This is one of the coolest gadgets on the list!
Your loved ones can project their favorite TV series, the latest Netflix boxset, and YouTube movies onto their RV wall for a complete cinema experience!
They just need to bring the popcorn.
Is the RV owner in your life a nature lover? With these night vision binoculars, they can carry on right into the small hours!
The Creative XP digital night vision binoculars can capture clear photos and videos in the black of night and save them to the memory card included.
The iPad is a fantastic RV gadget to have in a camper. We recommend the model with cellular capability so your loved ones can stay connected.
We use our iPad daily, including for navigation, finding overnight parking spots, catching up on emails, and browsing the net.
And with a battery life of up to 10 hours on a single charge, it's not high maintenance – something an RV's electrical system will be grateful for.
There is no need for a library wing in an RV when you can carry around thousands of books on a Kindle!
A kindle is a mainstay on any RV gadget list. While Amazon continues to develop the Kindle range, we love the simplicity of the Paperwhite.
It's a perfect gift idea for any book-loving RV traveler.
Some of the most breathtaking sights become even more spectacular for the air!
We 100% recommended a drone as a great gift, especially for RV-traveling photography enthusiasts.
Just make sure they practice flying before they attempt woodland photography! (Unlike me!)
The Go Pro camera is known for capturing fantastic footage in minute detail.
The latest model, the GoPro Hero 9, offers 5k video, it's waterproof, takes 20mp photos, and has thousands of awesome reviews!
For such a tiny gadget, it packs a mighty punch, so any photography-loving RV traveler will love to receive a Go Pro.
Capturing magical moments in high quality is easy with this entry-level Canon 2000d DSLR camera.
It comes complete with a tripod for hands-free and stable shooting, captures images in high resolution, and is super easy to operate.
This is an ideal gift for anyone who wants to take a few road trip snaps or is considering taking photography a little more seriously.
A fantastic addition to an RV, a compact portable speaker takes up little space, and doesn't use much battery power.
With Bluetooth connectivity, you can use portable speakers indoors or outside for listening to music or creating a cinematic vibe when watching movies.
The battery on this one lasts up to 24 hours; it's waterproof and a great gift for your RV traveler friend.
Practical Gifts for RV Owners
With limited space in an RV, most accessories must be practical for the RV lifestyle.
Often the most appreciated gifts are the ones that get the most use and provide practical solutions. All of these practical gifts help RV life go a little more smoothly.
RVs tend to be pretty tall, so their roof is out of reach. But there's so much gear on the roof or high up on the walls to maintain.
Solar panels need to be cleaned, roofs need to be inspected for damage, prevent leaks, and awnings need maintenance.
A standard ladder takes up way too much space for the average RV.
These telescopic ladders offer all the benefits and sturdiness of a standard set but collapse into themselves, taking up a fraction of the storage space.
Made from aluminum, they're ultra-lightweight, too—a perfect practical gift idea for RV owners.
An air compressor is one of the most practical gifts for RVers. Unfortunately, most air pumps at gas stations don't have unlimited PSI.
This doesn't matter too much for smaller vehicles, but it poses a problem for large RVs that need upwards of 100 PSI.
With a portable air compressor and tire pressure gauge, it's sorted.
Not only is it convenient for maintaining proper tire pressure, but when driving on soft terrain, it's helpful to deflate the tires to increase traction.
The air compressor makes light work of the task.
Living in an RV virtually guarantees that you'll need to make occasional repairs.
A well-equipped RV toolkit is just what's needed. As a basic starter kit and a thoughtful gift for RVers, this complete toolkit has most of the tools an RVer might need.
Preparing an RV camper for winter storage takes a bit of preparation. But, when done correctly, the camper will survive even sub-zero temperatures without damage to pipes and plumbing systems.
If the RV owner in your life doesn't live in their camper year-round, this winterizing kit makes a fantastic practical gift.
A multimeter is budget-friendly yet one of the most valuable tools to have on board any RV camper with an off-grid electrical system.
It helps troubleshoot electrical problems, pinpoints the fault, and makes sure the circuits are safe to use.
Not the most glamorous gift but one that could save a lot of damage if the worst happens.
A fire extinguisher is ultra-practical, so it fits the bill if that's what you're looking for.
Installing a safety vault in an RV is the best way to keep valuables secure when leaving the camper unattended.
One of the most important aspects of installing a safe is to ensure it's secured to the camper's body, so any would-be thief doesn't simply make off with the entire vault.
Best RV Kitchen Gift Ideas
A well-equipped RV kitchen can be as modern as any kitchen in a house or apartment.
To help you gift smarter, we've rounded up the best RV kitchen gifts any RVer will be delighted to receive
If the RV owner in your life doesn't own a 12v fridge, this will make their day!
These aren't cheap, but they elevate RV living, keeping meat, fish, and vegetable fresh for days longer than without. It certainly helps allow RVers to stay off-grid for much longer.
This 12v fridge includes separate compartments for cooling and freezing.
Most 12v fridges don't include an icemaker. But how can you enjoy a mojito for sundowners without ice?
The short answer is you can't.
With this portable ice maker, the RVer in your life doesn't need to go without. It makes for a more civilized cocktail, we think!
We're both coffee lovers, and the only way to start the day is with a steaming cup of joe.
A non-electric camping coffee maker is perfect for off-grid camping because there's no need for fully charged leisure batteries.
The Aeropress is a popular choice with van life, RVers, and campers.
It's super portable and capable of making hot coffee, cold brew, and espresso within a couple of minutes.
A great gift for RV-traveling coffee lovers.
Does the camper in your life love to cook? In smaller motorhomes and campers, cooking can be a challenge.
But with this beautiful cookbook, they can eat like kings. It includes stunning photography and super tasty recipes, perfect for a 2-burner stove.
Stemless wine glasses are a fantastic gift idea for campers.
They take up less storage space and offer more stability, so less likely to blow over in a big gust of wind around the camp table.
These glasses are shatter-resistant and add a touch of elegance to any campfire dinner party.
Our favorite campervan kitchen gadget is undoubtedly our pressure cooker.
It cooks up a one-pot stew with a small stove in less than half an hour, so it is brilliant for saving on fuel and time.
Best of all, it reduces the amount of condensation cooking creates inside, so it is ideal for winter RV living.
A perfect practical gift for use in an RV kitchen.
The only sensible dinner set to have in a camper is made from melamine. This is because it's lightweight and more durable than china, less likely to result in breakages.
We've dropped them on the floor, and they've still survived.
Best of all, they don't feel like plastic picnic plates, so they make a perfect addition to dinner parties without feeling like you're roughing it.
Best Gifts for New RV Owners
New RV owners may not yet have the benefit of hindsight or experienced the pitfalls RV living can bring.
These thoughtful and useful gift ideas are perfect for the new RV owner in your life. And they'll be delighted with how considerate you are too!
Parking an RV can be tricky. Parking it level, so you don't roll out of bed is even more challenging.
Without a leveler kit, new RV owners will take a while to set up their rig on a campground.
Trying to find perfectly level ground or suitable planks to wedge beneath wheels, then adjusting them multiple times is time-consuming.
The Andersen Hitches Camper Leveller Kit is the perfect solution. They take the hard work and trial and error out of leveling an RV so they can park up, flat in minutes.
Aside from small campers, most RVs are far longer than the average vehicle on the road.
The problem with long vehicles is it's more difficult for the driver to see what's going on behind because the side of the RV obscures the view.
Some RVs don't include appropriate mirrors as standard, so an extending mirror is essential.
So it follows, this makes a thoughtful gift for a new RVer who may not realize the difficulty she'll have without it.
Parking long RVs is another challenge and not just for newbies either.
With obscured views of the back of the camper, small parking lots, and even a few tight camping pitches, a backup camera makes parking safer and more accessible.
And the passenger doesn't need to be the onboard guide, shouting instructions.
Breakdowns are an inevitable part of RV living. But, unfortunately, a simple breakdown or minor accident could be enough to turn a carefree road trip into a bit of drama.
Help the new RVer in your life be prepared for all eventualities with a roadside emergency kit.
The comprehensive kit from Roadside Rescue Solutions is a one-stop-shop for most breakdown emergency needs.
It includes items not typically found in other manufacturers' kits, including a 5t tow strap, bungee cords, and a multi-purpose tool.
If the RV camper in your life is anything like us, they won't be sticking to blacktop highways.
Sand tracks make a fantastic safety addition to their kit and make sure they're able to get out of any soft ground they find themselves stuck in.
New Rvers love their homes on wheels, and welcoming friends and family are one of the most enjoyable aspects.
A novelty welcome sign makes a homely but fun addition to their new home.
Fun Gifts for RV Owners
Isn't it great to give fun gifts? You know those that will make everyone smile?
Ok, so they're not always the most practical and sometimes a bit gimmicky but a small price to pay for a laugh.
Whether you're looking for a fun Christmas gift for a family member, stocking fillers, or a fun way to enjoy the holiday season, you'll find something here.
We love this! Who wouldn't?
It's a great way to spend an evening, and the result is fabulous. We know it has a suitable age range of 5-12 years, but it's great for the whole family to enjoy.
To be fair, we'd be inclined to keep it away from the kids!
Believe it or not, we have loads of keys for our camper. And not just for starting the van up and locking doors and windows either.
There's the safety vault, water filler, fuel tanks, toolbox, and the list goes on.
A keychain makes an ideal stocking filler for any RV owner.
This hasn't made our gift list for the RV kids in your family.
Adult coloring books help the brain relax, so they reduce stress and anxiety. It's a great way to kick off an RV road trip – just not while you're driving.
These quirky little pots function as regular salt and pepper shakers but make a fun little ornament too!
A playful addition, fun gift for anybody.
This is on our Christmas list for sure! Well, it will be once we're not living in the camper full-time, at least!
If you can't find what you're looking for here, check out our gear guides for more inspiration:
Like it? Pin it!