Discover the best lithium battery for your RV and elevate your on-the-road experience! Explore our top picks, expert advice, and buyer's guide to find the perfect power solution for your adventures.
---
Lithium batteries are dominant, if more expensive, force when it comes to campervan and RV batteries, leisure batteries, and solar batteries in off-grid setups. It's because they last so much longer than their alkaline cousins and are also far more efficient.
These batteries are far more dependable for long-term RV living, permanently residing in your RV, boondocking, or going off the grid, even if it's only for a little while.
The number of cycles you get from premium lithium batteries more than justifies the price.
With a solar setup, you'll have a dependable battery that will last anywhere between 3,000 and 5,000 cycles before the battery finally starts degrading and a replacement is required.
With that being said, you will want to make sure that your investment is worth it, so here are the best lithium batteries for an RV.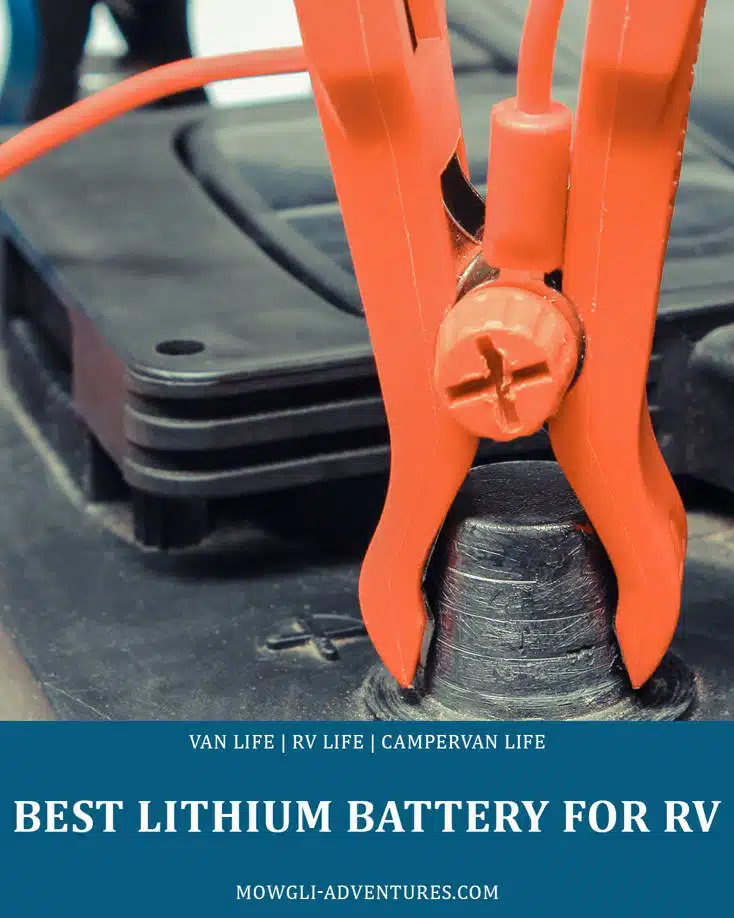 When you click on links to various merchants on this site and make a purchase, this can result in this site earning a commission. As Amazon Associates, we earn from qualifying purchases. For more info, please check our disclosure page.
At A Glance: Best Lithium Battery For RV Campers
1. Renogy 200ah Lithium Battery

Weight: 26lbs
Voltage: 12V

CHECK PRICE ►
2. Battle Born 100Ah LifePO4 12-Volt Deep Cycle Battery

Weight: 31lbs
Voltage: 12V
Number of Cells: 4

CHECK PRICE ►
3. Renogy Li 100Ah Smart Phosphate Battery

Weight: 26lbs
Voltage: 12V
Number of Cells: 4

CHECK PRICE ►
4. Ampere Time 12V 200Ah LifePO4 Lithium Battery

Weight: 24.25
Voltage: 12
Number of cells: 4

CHECK PRICE ►
5. Miady 12V Phosphate 2000 Cycles Battery for RV

Weight: 28.9lbs
Voltage: 12
Number of cells: 4

CHECK PRICE ►
6. AIMS LifePO4 Lithium Deep Battery

Weight: 30.2lbs for 100Ah
Voltage: 12
Number of cells: 4

CHECK PRICE ►
What Is A Lithium RV Battery?
A lithium RV battery is a rechargeable battery that has become increasingly popular in the RV industry as an alternative to lead-acid batteries.
It offers several advantages over lead-acid batteries, including:
longer lifespan,
faster charging,
deeper discharging,
lighter weight, and
higher energy density.
There are several types of lithium batteries, each with its unique properties and applications.
Lithium Iron Phosphate (LiFePO4) batteries are known for their long cycle life and excellent thermal stability and are the most common lithium battery for RVs.
How Does A Lithium RV Battery Work?
One significant advantage of lithium batteries over lead-acid batteries is that they can be fully discharged and recharged without causing damage.
This feature is crucial for RVers, as it allows us to make the most of our battery capacity without worrying about potential harm to the battery.
Lithium batteries use lithium-ion technology, which includes individual cells with positive and negative electrodes, an electrolyte, and a separator.
Lithium ions move from the positive electrode to the negative electrode when the battery is charged through the electrolyte.
During discharge, the ions flow back to the positive electrode, releasing energy in the process.
The key to a lithium battery's ability to be fully discharged and still recharged lies in its chemistry and design.
Lithium batteries have a built-in Battery Management System (BMS) that protects the cells from over-discharge, over-charge, and other potentially harmful conditions.
The BMS helps maintain the health and longevity of the battery by ensuring optimal charging and discharging cycles.
For RV users, fully discharging and recharging a lithium battery without causing damage can be a game-changer.
Not only does it increase the usable energy capacity, but it also helps prolong the battery's life and reduce maintenance needs.
With a lithium battery, you can confidently use your RV's electrical system without constantly worrying about preserving the battery's remaining charge.
Other Benefits Of Lithium RV Batteries
Lithium RV batteries offer several advantages over traditional lead-acid batteries.
Lifespan and Performance
Lithium batteries have a significantly longer lifespan than their AGM or Gel counterparts, often lasting 2-3 times longer.
They also maintain a consistent voltage throughout their discharge cycle, ensuring your RV's appliances run smoothly even when the battery is low.
Read More: How Long Will RV Battery Last Boondocking?
Weight and Space
One of the most significant advantages of lithium RV batteries is their lightweight design.
They weigh about half as much as AGM or Gel batteries, making them easier to handle and install.
They have a higher energy density, allowing them to store more energy in a smaller space.
Cost
While the initial cost of lithium RV batteries is higher than AGM or Gel batteries, their longer lifespan and better performance make them a more cost-effective choice in the long run.
1.

Renogy 200ah Lithium Battery – Best Overall Lithium Battery For RV Campers
Enter coupon code MowgliAdventures for 10% off at Renogy
Specifications
Weight: 60.2 lbs
Voltage: 12V
Battery Cell Composition: Lithium Iron Phospate
Dimensions: 20.55″ x 9.45″ x 8.62″
The Renogy 200Ah Lithium Battery is the perfect solution for powering all your off-grid adventures. With its high capacity and efficient energy output, this battery can power all your 12v electrical devices in your RV.
We've installed 2 of these lithium batteries and tested them on our camper. Here's what we've found!
Durability – The Renogy 200Ah Lithium Battery is built with top-notch materials, heavy-duty casings, and stainless steel terminals.
High Capacity – This battery can store up to 200Ah of power at any time, and if you size your system correctly, you don't have to worry about running out of power while camping in remote places.
Easy Installation – Installing the battery is extremely straightforward; a simple bolt-together connection system means that even those without technical experience can get up and running quickly – provided the entire system is compatible with a lithium battery.
So if you're looking for an efficient way to power your campervan or RV off-the-grid, then the Renogy 200Ah Lithium Battery is definitely worth considering!
What We Like
Can connect up to 8 multiple batteries in parallel.
The upfront price.
What We Don't Like
They cannot be connected in series, so if you need a 24v or 48v electrical system, that's a deal breaker.
No terminal covers are included, so they need to be fitted where the posts will always be protected from any risk of being touched.
Pros
Great price for a 200ah lithium battery
Built-in BMS
200A Surge
Cons
Can't connect in series so only supports 12v systems
Specifications
Weight: 31lbs
Voltage: 12V
Number of Cells: 4
Battery Cell Composition: Lithium-ion
Dimensions: 12.75" x 6.875" x 9"
The Battle Born, despite having an awesome name, almost makes the top of our list as the best overall lithium battery for RVs. It's the prominent pick among consumers, and there are many reasons behind the surge in popularity.
This battery is designed to store solar energy in the most efficient way possible, utilizing the technology behind lithium-ion battery manufacturing.
You can expect anywhere between 3,000 and 5,000 cycles, which leaves a pretty large middle-ground. However, even the low end is still a fairly decent rate.
The Battle Born is a fairly heavy battery. A little bit of planning is called for prior to getting it situated. Since it is designed to run in a series, that planning may involve leaving some room for additional batteries down the road.
The Battle Born has a continuous current of 100aH but a surge current of 200Ah, and you don't have to worry about damage from discharging, as it's designed with "automatic cell balance."
Although it has a pretty high price tag, it's often difficult to find a battery with as much performance and longevity as a Battle Born, so it's a case of getting what you pay for.
What We Like
We love the high-performance rating of the Battle Born 12V and the brains in the battery that manages the entire system, preventing damage to the battery from a variety of accidental usage and environmental factors.
What We Don't Like
While 31lbs doesn't sound like a lot, it really is when you're lugging around a cumbersome battery. The weight definitely has some disadvantages, as well as the high price tag.
Pros
Built-in BMS
Multiple systems with 12V, 24V, 36V, and 48V
200A Surge
Cons
Heavy for a lithium-ion/bulky
High price tag
Specifications
Weight: 26lbs
Voltage: 12V
Number of Cells: 4
Battery Cell Composition: Lithium Iron Phosphate
Dimensions: 11.38" x 6.77" x 7.38
Renogy seems to be going for a new type of large RV battery by giving it a significant degree of smarts. Out of the batteries on this list, the Renogy has more built-in smarts than any other, including dual-processors that monitor and control overcharging, discharge protection, short-circuits, temperature, and more.
It's also more lightweight and less unwieldy than the Battle Born, and it includes an "auto-balance" function for connecting multiple batteries. However, you have to do so in a parallel, as the Renogy doesn't support a series.
The intelligent functions really shine if you have a Bluetooth-connected computer, where you can monitor battery communication, the charging status, and more with the Renogy DC Home App.
The Renogy is a far more focused 4,000 cycle battery in terms of cycles. However, since it has so many built-in protective features, it's not likely that it will lose any of those cycles, even if it is mishandled or exposed to extreme temperatures.
What We Like
The smarts that are packed into this battery are seriously next level. There are so many redundant, automated systems, all designed to protect the battery and give you the best performance for the maximum number of cycles.
What We Don't Like
It's a little irritating that a smart battery isn't designed for a series connection, so you have to go the extra mile to build a parallel system. Also, the continuous charge current is half that of the Battle Born at 50A.
Pros
Pouch battery cells
Smart technology
Auto-balancing
Built-in BMS
Cons
No Series Support
Lower continuous charge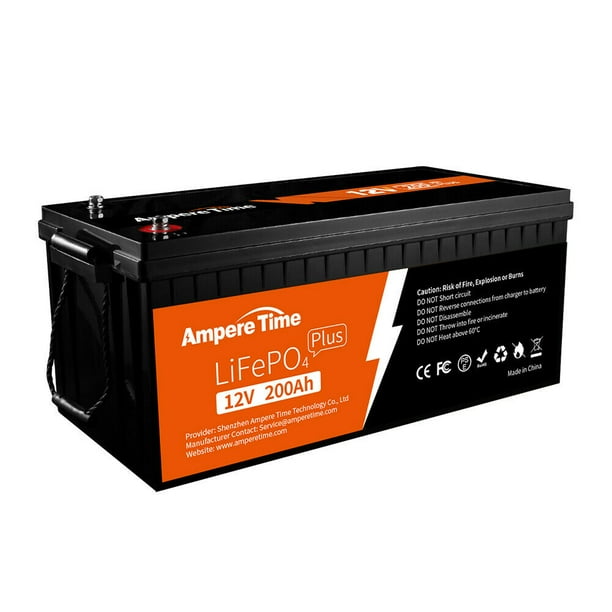 Specifications
Weight: 24.25
Voltage: 12
Number of cells: 4
Battery Cell Composition: Lithium-Phosphate
Dimensions: 13" x 6.82" x 8.48"
It's such a long name that we thought we would throw the rest of the name, "with 200A BMS for RV Solar," into the first sentence. It's a pretty relevant portion, too, because this battery screams, "put me in a solar bank."
This is an excellent battery for solar use, and the fact that you can keep it outside with your panels or inside, whichever suits your needs. Either way, you will get 2,560Wh out of this monster since it operates at 200Ah and 12.8V.
This battery makes a good outdoors battery because of its casing, which is constructed of ABS material and has an IP65 weather rating. That's good enough for dust, debris, and maybe a light water mist, but it definitely shouldn't be left out in the rain.
You can also discharge this battery at 100% with built-in protection against damage from it. That doesn't mean that you should allow that to happen, just that it has the capability. You will easily get 10 years out of the Amper Time, with 4,000 to 8,000 cycles. It also supports both series and parallel.
What We Like
The physical defenses that this battery has separate it from the group, on top of the fact that it is an incredibly robust battery than can push up to 8,000 cycles. It also comes with multiple built-in system protection and is one of the lowest costing batteries on the list.
What We Don't Like
It has low-temperature cutoff protection. However, if you ensure that the protection is on, you sacrifice the use of the battery in below-freezing temperatures, as it won't charge or discharge at those temperatures.
Pros
2,560Wh
Excellent in a solar bank
Good weather protection for a battery
Up to 8,000 cycles
Cons
The low-temp cutoff can be confusing.
Specifications
Weight: 28.9lbs
Voltage: 12
Number of cells: 4
Battery Cell Composition: Lithium-Phosphate
Dimensions: 12.9" x 6.7" x 8.5"
Sure, it's one of the least capable batteries on our list and one of the lightest; however, not everyone is camping in a massive Class A RV, necessitating monster batteries laid out in larger solar banks. The Miady is the best lightweight battery on this list, and it still manages to pack quite a punch.
The 2,000 cycles limit doesn't seem like much but considering that it will give you more than five years, so long as you treat it right, it's still hard to beat. It also has a built-in battery management system that protects against overcharge, discharge, over-current, and higher temperatures despite its small size.
While it doesn't support series connections, it can be built into a parallel so you can set up your customized solar bank with ease. In addition, it's a durable battery, highly rated against leakage, and highly praised for its low footprint.
The battery is designed to operate at maximum power until it is discharged without taking damage, thanks to the built-in BMS. Since it is so small, you can really get creative when setting it up, and it will remain out of the way during operation.
It also has a high safety rating in terms of leaks, fumes, and explosive hazards because it has a highly stable thermal and chemical process. Overall, it's a well-put-together battery that will last a long time, even if you put it to hard use, especially in a bank with additional batteries.
What We Like
It's always nice to see an underdog pull its weight amongst the big dogs. We like the versatility and customization options of this small and easy-to-place battery. It also packs quite a punch in the power department with plenty of longevity for a low-cycle rate.
What We Don't Like
It's definitely on the short side when it comes to longevity, but it's to be expected for a battery that is really made for smaller applications, such as teardrop campers and much smaller RVs.
Pros
Lightweight
Exceptional power and longevity
Versatility
BMS built-in
Cons
Half the power of the others
No series connection support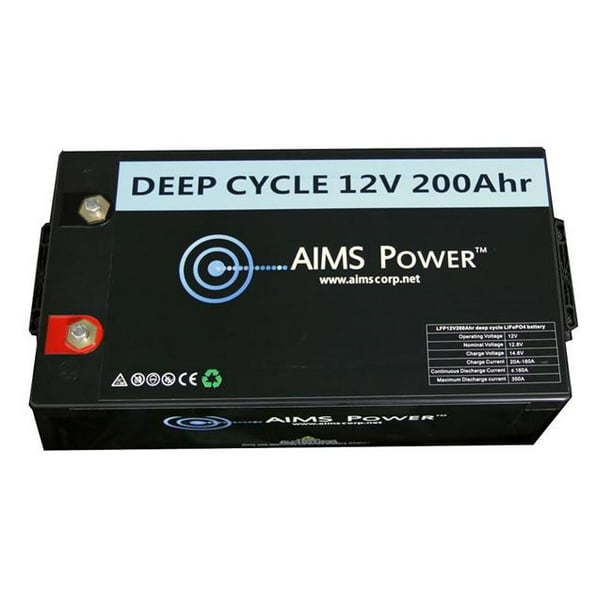 Specifications
Weight: 30.2lbs for 100Ah
Voltage: 12
Number of cells: 4
Battery Cell Composition: Lithium
Dimensions: 13" x 9" x 6.7"
This is the battery you want as your backup when you're headed out to Arizona, Nevada, or anywhere with a desert or subtropical climate. Like all of the batteries on this list, the AIMs contain a built-in BMS that's more sophisticated than any other besides the Renogy.
It comes in three different versions, with the 200Ah monster getting most of the love for larger RVs. Either way your choose, you will get 4,000 cycles. If you opt for the largest one, bring a forklift because it weighs over 60lbs.
This battery has a constant output voltage, which means that, like the Miady mentioned above, it can operate at full power to the point of 100% discharge without damaging the battery. Furthermore, the BMS system protects it from everything you would expect and cell balancing, fault recovery, and thermal safety fusing.
It works by separating any damaged cells from the operating cells, so you can still get some use out of it, but more importantly, it prevents chain reactions which can cause leaks and explosive hazards.
What We Like
We really like the extra sophistication that went into the built-in BMS. Many batteries keep the battery management system pretty basic, but the AIMS takes it to the next level, challenging Renogy.
What We Don't Like
It's not the best battery for cold weather use, and, of course, that makes plenty of sense considering the fact that it holds up so well in the heat.
Pros
Sophisticated BMS
Constant output voltage
Solid high heat operation
Read more: Best RV Battery For Dry Camping
Read More About RV Batteries
Conclusion
You really can't go wrong with any of the lithium batteries on this list. All six of these batteries have risen above the combination in terms of power, efficiency, durability, and longevity and certainly demand your attention.
However, when boiled down to the basics of which battery does what and does those things better, it's the Renogy 200ah Lithium. Out of the six batteries, it simply holds the core of what these batteries do, and at a higher level. It's the most impressive battery overall. Despite its high price, you would do well to check it out.
If you like this article about the best lithium battery for RV, consider checking out these other articles below: