Thanks to its tropical climate, incredible views and endless entertainment options, Miami Beach campgrounds are a popular destination for travelers all year long. Without a doubt, the area's miles of pristine beaches are its biggest draw, but this famous destination is also known for world-class dining, exciting shopping destinations, and endless outdoor activities, ranging from sunbathing and surfing to hiking and waterparks.
Because the area is so populous, you might wonder if it's appropriate for a campervan, RV, or even fifth-wheelers. We're pleased to say that we reviewed dozens of the top Miami RV parks, and we found that the best can accommodate travelers of all kinds. As a matter of fact, most offer exciting activities and amenities within their grounds so you never have to travel far for a good time.
Of all the south Florida RV parks we researched and visited, we found that the Larry and Penny Thompson Memorial Campground offered the most well-rounded experience. Its prices are reasonable, and even being so close to the action, it still has plenty of room to spread out. Learn more about this awesome spot and our other top picks by continuing below, and then check out our suggestions for ensuring the campsite you're considering is right for you.
Where is Miami Beach?
Miami Beach is located on the Atlantic coast of southeastern Florida, about 35 miles (56 km) southeast of downtown Miami. It is a barrier island separated from the mainland by Biscayne Bay and the Atlantic Ocean to the east.
The city's main attractions are its nightlife, beach, art galleries, restaurants, and high-end lodgings. It's the perfect location to go for all things fun and enjoyable.
Also Read: 11 Best Campgrounds in New Hampshire for Your Van or RV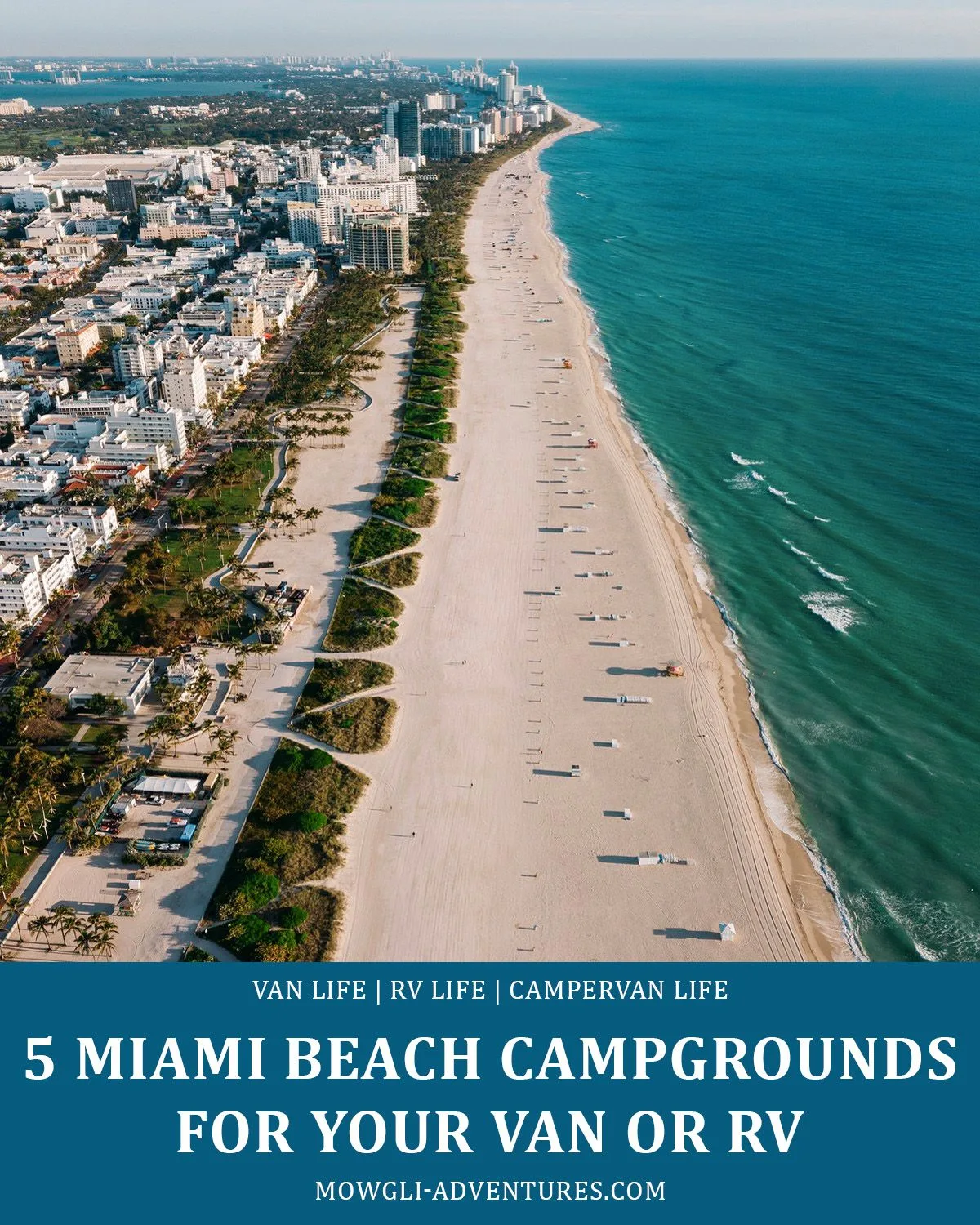 Miami Beach campground is spacious despite its urban location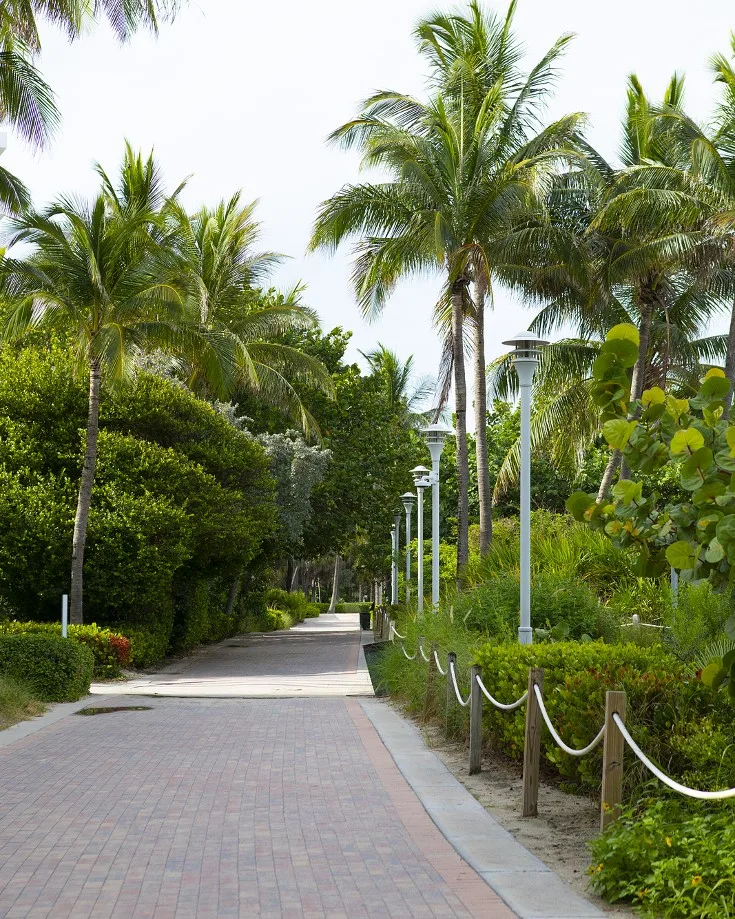 When you're in a huge city, it can start to feel claustrophobic, especially when you're driving a campervan or RV. Thankfully, the Larry and Penny Memorial Campground offer you an opportunity to stretch out.
The campground is part of a 270-acre facility, and it's located directly behind the Miami Zoo, so you're further insulated from the sights and sounds of the big city. While we can't say that all the city noise was drowned out, we didn't hear a bit of it when we were inside the van running the air conditioning.
One interesting thing we noticed about this park was that there was constant security and police presence. We were concerned at first, but then we quickly realized they were there to keep things safe. And they were effective — we felt very secure despite the urban surroundings, and neither we nor our neighbors encountered any issues.
AMENITIES
This Miami RV park offers nearly 250 campsites with electric and water hookups. The sites are broken up into groups of about a dozen spots each, and each group shares restroom and laundry facilities, including hot showers. I like this setup much more than a central location that the entire park uses.
You'll find an incredible lake close to the campground with a private beach. You won't mistake it for the ocean, but it's a beautiful place to visit when you want to relax in the park.
There are also picnic tables and trails for jogging and biking, so you have other options for enjoying your time within the park in the immediate area.
Want to hit the water but don't want to drive to the beach? Visit the RV park's lovely pool instead. Just be sure to visit when it's open. We came in early May, and despite the weather being warm enough for it, the pool was not yet available for use.
Pets are also welcome at this campground, but they have to stay within the RV area as is typical with most facilities. We brought our dog with us, and she had lots of space to explore around our campsite.
What I Liked
The huge facility helps make it seem as if you're not in a big city
The Miami Zoo is right there, so you can visit without needing to drive
Security regularly driving by made us feel more secure
What I Didn't Like
Slight road-noise, especially in the middle of the day, can be bothersome
The pool isn't open year-round, even though the weather definitely supports it
Miami Beach campground that's just 10 minutes from the ocean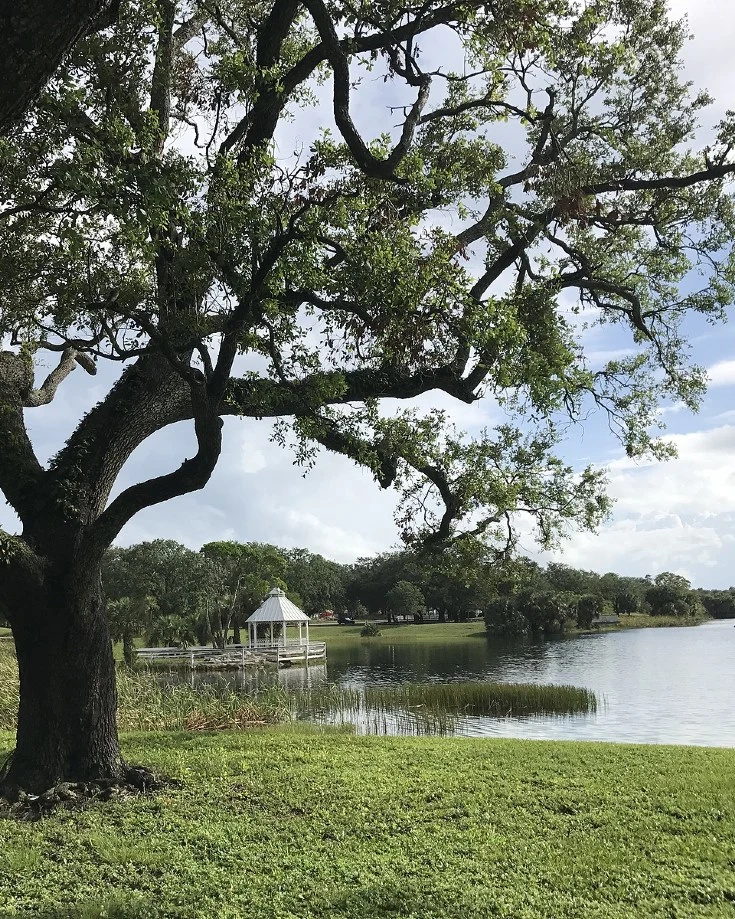 If you're in town because you want to hit the waves, you won't find a closer, more convenient RV park than this one. It's located just 10 minutes from the beach; just turn onto Sheridan Street when you exit the park and head east until you see the waves.
Once you get to the beach, you can beeline for the water. Or if you'd rather get some shopping done or have a nice meal, you can visit the Hollywood Beach Boardwalk. During our trip to the area, we spent an entire afternoon exploring the boardwalk, so there's plenty to see and do.
If you're traveling with a pooch, you'll be happy to know that this is a pet-friendly RV park. There's even a section of the beach where dogs are welcome, so you can take your pup with you to enjoy the sand and waves.
You'll find Interstate 95 just minutes from the park. This means that if you want to visit iconic Miami Beach, you're only about 30 minutes away. If you'd rather take the more scenic route via A1A, it's about an hour.
AMENITIES
As far as the park itself, it's not very big. It has 60 campsites with electric hookups and nearby showers and restrooms. Even though the campground is part of a larger park, the area for RVers is a bit cramped, with spaces fairly close together. During our time here, we didn't run into problems being so close to other campers, but that could have changed quickly if we had a noisy neighbor.
The park outside of the campground is nice. There are basketball courts, a playground, and walking paths that are great for families and those who want to get out for a bit. There's even a water park for staying cool during the warmer months. We visited in January, and while it wasn't terribly cold, playing in the water wasn't on our minds.
A word of caution if you're visiting this park in a larger vehicle: There are low-hanging branches soon after you enter, and if you're not careful, they can definitely cause damage. We heard from other campers that the trees have been a problem for a long time, yet they're still there, tormenting AC covers and other roof protrusions.
What I Liked
It's just a short, 10-minute drive to the ocean
Lots of nearby activities, both in and outside of the park
Dog friendly, with a dog-friendly beach about 15 minutes away
What I Didn't Like
Campsites are a bit crowded because they're so close together
Low-hanging branches can cause damage to larger vehicles
Also Read: 5 Best Places to Camp In Or Near Death Valley in a Van or RV
Plenty of sports and activities for campers who like to play during the day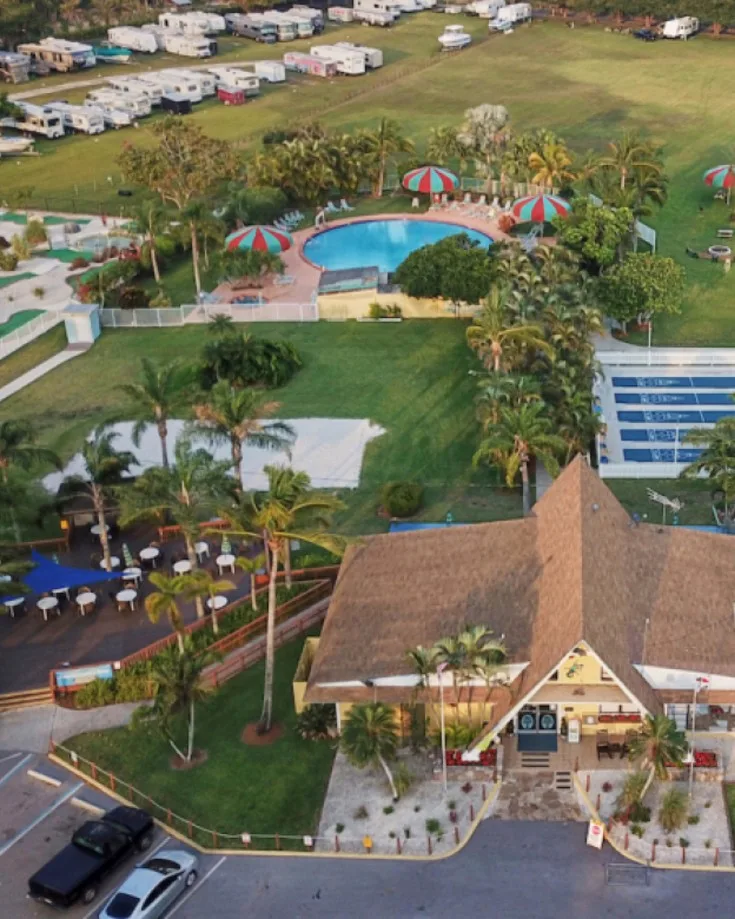 If you can't imagine heading to an RV park just to stay inside all day, you'll find the Miami Everglades Resort to be a bit like paradise. This well-maintained and picturesque campground sits on over 30 acres and offers a huge array of recreational activities.
Outdoor enthusiasts and sportsmen can pass the time playing horseshoes, mini-golf, pickleball, shuffleboard, and volleyball. There are nature trails for exploring the area's gorgeous scenery, and a rec room where you can partake in ping pong, quilting, and other low-impact activities.
The park also has a hot tub and heated pool, so you can enjoy a nice soak or swim, even if you travel in the off-season.
We'll be honest: During our 10-day stop here, we didn't leave the park for a full 48 hours. There was just so much to do — did we mention the live music, daily happy hour, and Sunday church service?
AMENITIES
Should you run out of things to do in the park, you'll find ATV riding, archery, canoeing, and fishing opportunities within a 15-minute drive. The trip to Miami Beach is a little bit longer at an hour, but we didn't mind the drive.
Miami Everglades Resort has 300 spaces for campers, including paved sites and grassy patches. The sites include patio tables, grills, and electric and water hookups, plus there's a dump station on the premises.
If you take a look at a map of a campground, you'll notice that the sites are positioned one after another. It seems crowded, but in reality, we found that there was adequate space. There's no missing the fact that you're surrounded by neighbors, but we saw plenty of larger RVs with their slide-outs deployed, so there's room to go around.
Seeing as you are in a populated area, it's no surprise that the park offers Wi-Fi. It's accessible in most public areas and about half of the RV sites. Our cell phone service with AT&T was also very good.
What I Liked
Numerous activities within the park and close by
Lots of camping spaces, so you don't have to book too many months in advance
Electric and water hookups are provided at every campsite
What I Didn't Like
Would have preferred a better layout at the campsites so we weren't on top of each other
Miami Beach is about an hour away, which could be far for some
South Florida RV resort with incredible ocean views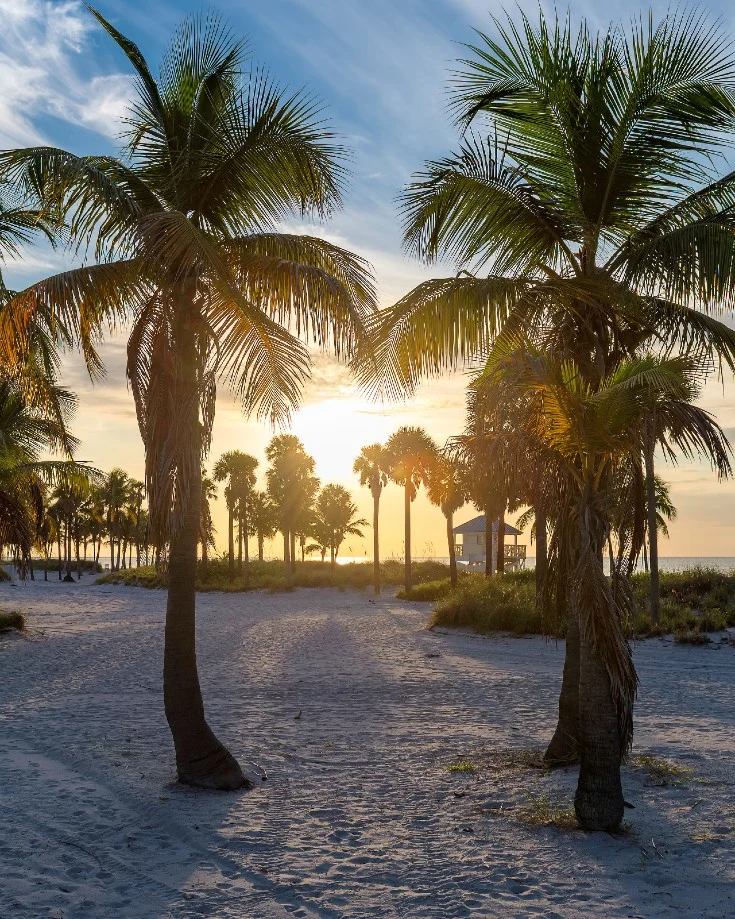 While the Key's Palms RV Resort isn't quite in Miami Beach (it's about one hour south), you'll definitely enjoy the Florida experience thanks to its location right on the water. This waterfront property is gorgeous — there are beautiful views of the beach and ocean, and the park has private beach access for RVers only. Seeing as Florida beaches tend to get crowded when the weather is nice, this little perk is actually pretty huge.
AMENITIES
The campground offers sites for vehicles of all sizes, with pull-in, pull-through, backup, and waterfront spaces. All the sites are similarly priced, but we definitely recommend that you try a waterfront one if you can. Note that they're extremely popular, so you need to reserve well in advance.
The sites offer full hookups with water, sewer, and 30/50-amp electricity. Each space also has a cable hookup and a private patio so you can relax or enjoy a meal. The main road is paved, so you can expect a smooth trip to your spot. Thoughtful privacy landscaping does a great job of making the area feel more secluded than it is. You'll see your immediate neighbors, but you won't feel as if you're sitting in a parking lot.
Once you're settled, you can take advantage of the park's clubhouse, gym, and community center to work out, meet other campers, and have fun. In the evenings, you can chill out without catching a chill in the heated pool and spa — we arrived in August, and the pool was amazing for cooling down after a long day.
If you plan to stay for a while, you can make use of on-site showers and laundry facilities. The park is fully gated, and we noticed lots of security cameras, so you don't have to worry about yourself or your belongings even though you're so close to a major city.
If there was one thing that we weren't happy with, it was the road noise, especially during the day. The Miami area is heavily populated, so even though part of this park is on the beach, there's still tons of traffic around it. Thankfully, the noise mostly died down by nightfall, so it's not like we were listening to cars passing all night.
What I Liked
Beautiful campground on the beach with stunning waterfront sites
Full hookups and the capacity for vehicles of all sizes, including fifth wheels
A private beach comes in handy during the more popular months
What I Didn't Like
The best spaces — the waterfront sites — sell out extremely quickly
Road noise during the day can be distracting
Miami RV park with a waterslide, golfing, tennis, and more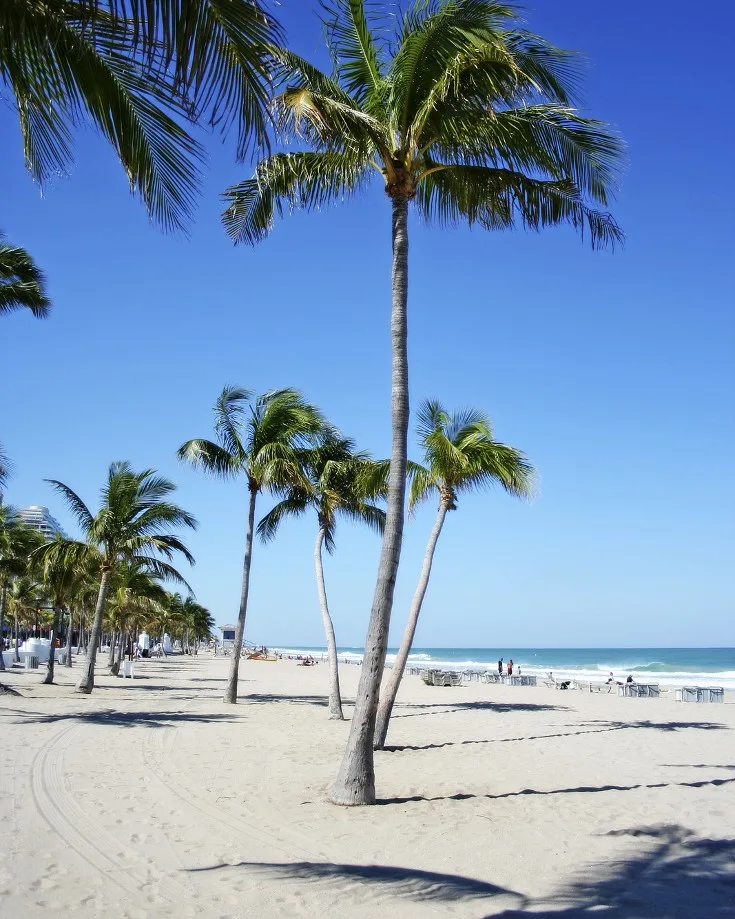 C.B. Smith Park is another great example of a Miami Beach campground and park that has plenty of amenities for the traveler who never wants to run out of things to do. You can catch all the excitement of Miami Beach by traveling about an hour, but when you're ready to get away from the crowds, you can enjoy a beautiful lake, swimming pool, walking trails, team sports, and even a lazy river and waterpark — all right there at the campground!
We aren't huge theme park-goers, but we have to say, we loved the waterpark. It's called Paradise Cove, and it was a refreshing way to spend an afternoon when it was too hot to do anything else. Note that the waterpark isn't exclusive to campground visitors, so you'll be sharing it with other park goers. We never found it too crowded to enjoy, but be prepared for lots of kids.
AMENITIES
Even though the campground is part of a 300-acre park, there are only about 80 camping spaces available. On the plus size, they're roomy, and they come with full hookups, including 20/30/50-amp power and sewer. The campground can accommodate even the largest vehicles, including big rigs.
Each site comes with a picnic table and fire ring, and there are nearby restrooms and showers if you need them. The camping spaces are sort of separated into groups, so you'll never find yourself lost in a sea of recreational vehicles. Instead, you'll enjoy a more intimate experience with a few neighbors.
For staying connected, you have WiFi throughout the camping area. It was fairly reliable, but we also had a great reception with our AT&T and Verizon cell phones. If you plan to work while traveling, consider adding hotspot service to your cell phone so you have a backup plan in case something happens with the WiFi.
Our biggest complaint about this place hasn't anything to do with what's within the campground — rather, it's the traffic and congestion outside of it. This park is nestled within a heavily populated area, and we'll just come out and say it: Expect a bit of a nightmare if you want to get out and explore the surrounding area.
What I Liked
Lots to experience at this South Florida RV park, including a waterpark
Roomy spaces and a thoughtful layout keep you from feeling crowded
Miami Beach is only one hour away by car
What I Didn't Like
If you don't like kids, you'll probably want to stay away from the waterpark
Traffic and congestion outside of the park are awful
Campervan and RV Rentals Near Miami Beach
Renting an RV is a great way to get all the benefits of an RV vacation without having to own one. It's a perfect way to give RV living a trial run before making an investment and testing out the different models available to see what suits your family best.
At Outdoorsy, you can rent RVs and campers from other RVers. Click here to see what RV rentals are available near Miami Beach and use MOWGLI50 discount code for $50 off your first rental.
If you already own an RV and don't live in it full-time, you can make it available for rental too, so keep maintenance down and get a welcome boost to your income at the same time.
How to Choose the Right Campsite
Our favorite Miami Beach campground is Larry and Penny Thompson Memorial Park because it's an attractive space that offers travelers of all ages and interests plenty to do. But is it the right place for you? When thinking about where to stay, we suggest you pay particular attention to your budget, the campground's location, and available amenities.
Budget
When traveling to such a popular tourist destination as Miami Beach, you have to take careful stock of your budget to make sure you can make the most out of your trip. As this part of Florida is in such high demand (and nearly all year long), it's important that you research campground costs before you even turn on your GPS.
If you're looking to save some money, consider traveling during the off-season, which generally runs from June through December. The weather during this time can range from very hot to somewhat cool, but you'll never see temps lower than 65 degrees F.
Other ways to save some cash include exploring various locations (in general: the further you are from Miami Beach, the lower it costs) and deciding which amenities you must have and which you can live without.
Location
When deciding where in the Miami area you'll stay, you'll need to weigh how close you want to be to Miami Beach proper. If there are specific activities you want to do in the area or you have your heart set on lying on the city's shores all day, you'd probably prefer a park that's within 30 minutes of the beach.
However, you can still choose a campground that's up to an hour away; even with bad traffic, it won't take longer than a couple of hours to reach the beach, so you'll still have a full day to take in the sights.
Amenities
One of the nicest things about a popular destination like Miami Beach is that no matter where you go, you'll always find things to do. This often includes the Miami Beach campgrounds themselves, with many offering awesome amenities like pools, rec centers, parks, and even waterparks.
Do keep in mind that when you choose a park with lots of amenities, you'll pay for it. If you plan to stay around the campground and use these added features, the extra cost should be worth it. But if you're just looking for a home base to sleep between adventures, consider a campground with fewer frills.
Wrapping Up
If you're planning a trip to Miami Beach, the age-old saying "location, location, location!" is undoubtedly flying through your mind. When visiting such a popular tourist destination, you have to carefully weigh the location and amenities with your budget to ensure you have a good time.
Of all the Miami Beach campgrounds we reviewed, we loved Larry and Penny Thompson Memorial Campground the best because it offers an excellent mix of convenient locations, fun amenities, and fair prices.
Love visiting sunny areas? Learn about how to install solar panels on your campervan or RV to harness the power of the sun to save on electricity costs.
If you liked this article about the best places to camp in Miami , consider checking out some of our favorites below —