The Peak District was the first national park to be recognised in the UK, and to this day, it's still one of the most impressive — and one of the most popular. Over 13 million people pour into the Peak District every year to drink in all the majestic natural beauty you can find here, including hikers, cyclists, mountain climbers, and more.
Part of what makes the Peak District National Park such a wonderful attraction is its massive size. At over 555 sq. miles (1,438 sq. km), it takes up a large portion of five counties. That means there are dozens of fun walks and vast stretches of land to explore, so you can keep coming back for years without getting bored.
That much variety is a bit of a double-edged sword, however. While it's nice to have a ton of things to do and see, there's always the risk that you could accidentally miss the best of what the Peak District has to offer.
We obviously don't want that to happen, which is why we put together a list of some of our favourite walks in the park. The list below isn't meant to be comprehensive — other walks certainly merit a place on any "best of" list about the park — but it is a good starting place if you're looking for the cream of the crop in the Peak District.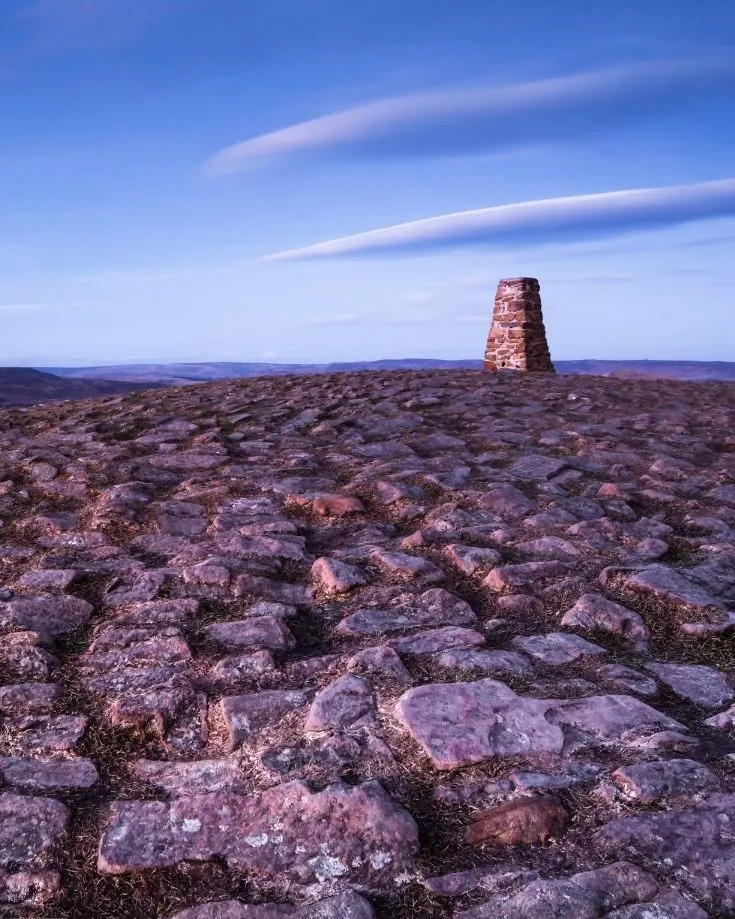 Mam Tor is both one of the most famous and most pleasurable walks in the entire Peak District. A relatively short jaunt at just 3 miles (5 km), it's one hike that doesn't require you to be a triathlete in order to finish it.
Mam Tor itself is 1,696 feet (517 m) tall, but the trail to the peak is well-maintained, and any steep parts along the ascent are over quickly. Reaching the top is well worth the effort, as you'll be rewarded with stunning views of the entire Peak District (it's a great way to plan your next walk).
This is a wonderful hike for your entire family (dogs included). Not only will you get to climb a mountain and survey the territory around you like a king, but you can also swing by Peveril Castle and really feel like royalty.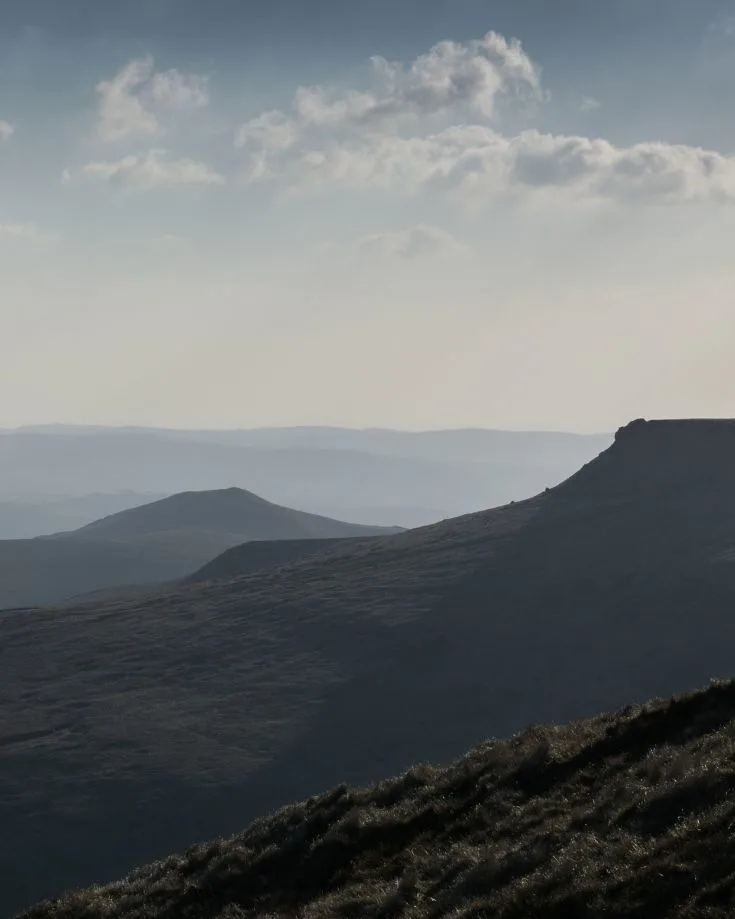 Think of Kinder Scout as Mam Tor's evil (but irresistible) twin. This 9-mile (14.5 km) walk involves climbing another mountain — this one 2,051 feet (625 m). It's a long, daunting hike, and you'll need to dedicate an entire day to it.
Oh, but what a day. You'll reach the tallest point in the entire Peak District in Kinder Scout, and along the way, you'll encounter wild peat moors, gritstone cliffs, and a pool where a mermaid is said to offer anyone passing by immortality (there's a lot of fine print involved, though).
Perhaps the most breathtaking part of the walk is Kinder Downfall, a massive waterfall that results when the River Kinder plunges off those gritstone cliffs. Be careful around the falls, though, as the rocks can be quite slippery.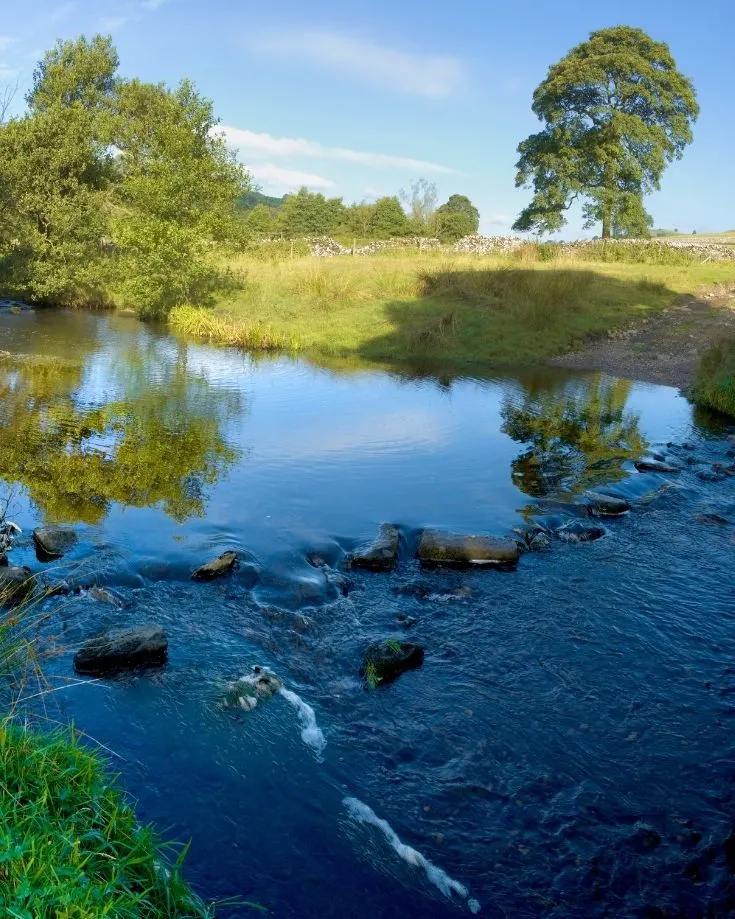 This route won't require you to scale any mountains, although there are a few brief inclines along the way. Instead, you'll be skipping across the River Dove using the famous stepping stones that sit inside it; they may be a bit slick at times, but for the most part, this is a safe and easy walk.
Don't think that just because you won't find yourself on top of a mountain at any point that there isn't any worthwhile scenery here. On the contrary, the views are absolutely gorgeous, and you'll see limestone crags, fields of wildflowers, and the quaint village of Ilam at various points of the walk.
This is a trail of medium length at 6 miles (9.7 km), but the terrain is fairly solid for the most part, and you should rarely if ever, find yourself out of breath. You'll be surrounded by lush vegetation and the soothing River Dove for most of the walk, making it the perfect respite from all the time you spend navigating the concrete jungles of home.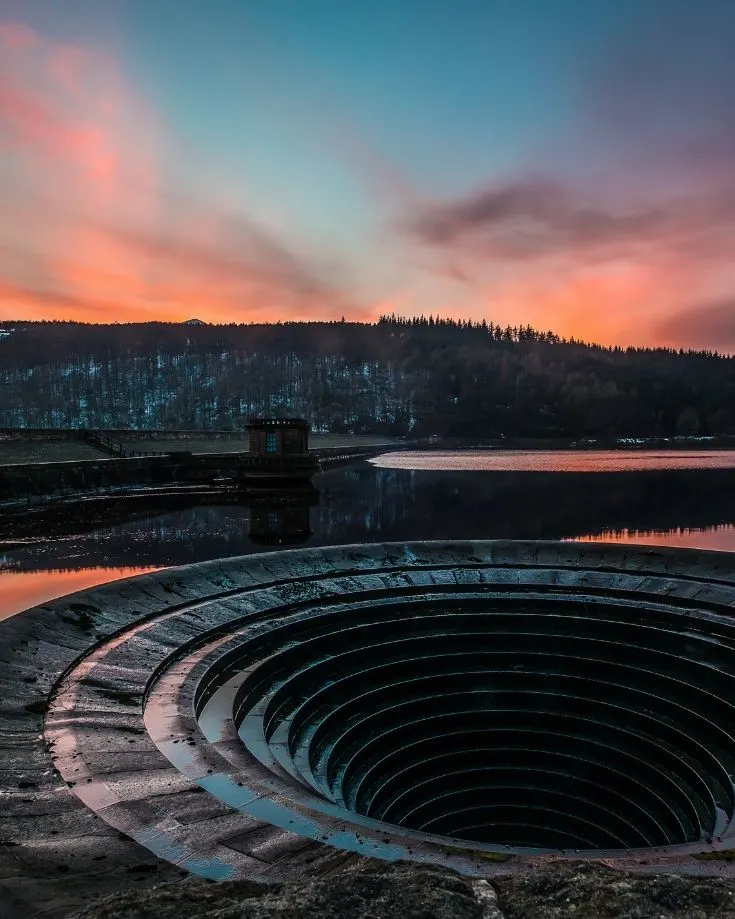 This is one of the few walks in the Peak District that's truly accessible to everyone. The entire 5-mile (8 km) walk is fairly flat and even, and there are no gates to cross or stiles to climb, so users in wheelchairs or those pushing prams can enjoy it as well.
The whole walk only takes an hour or two to complete — if you power through it. We recommend taking your time, though, as there are several great picnic spots along the way, as well as a few restaurants nearby.
The star attraction on this walk is the impressive Derwent Dam, which was created in the 1940s (and used by the RAF to simulate bombing raids during WWII). The dam also flooded two villages in the area, and on certain days you may be able to see some of the sunken buildings through the clear water.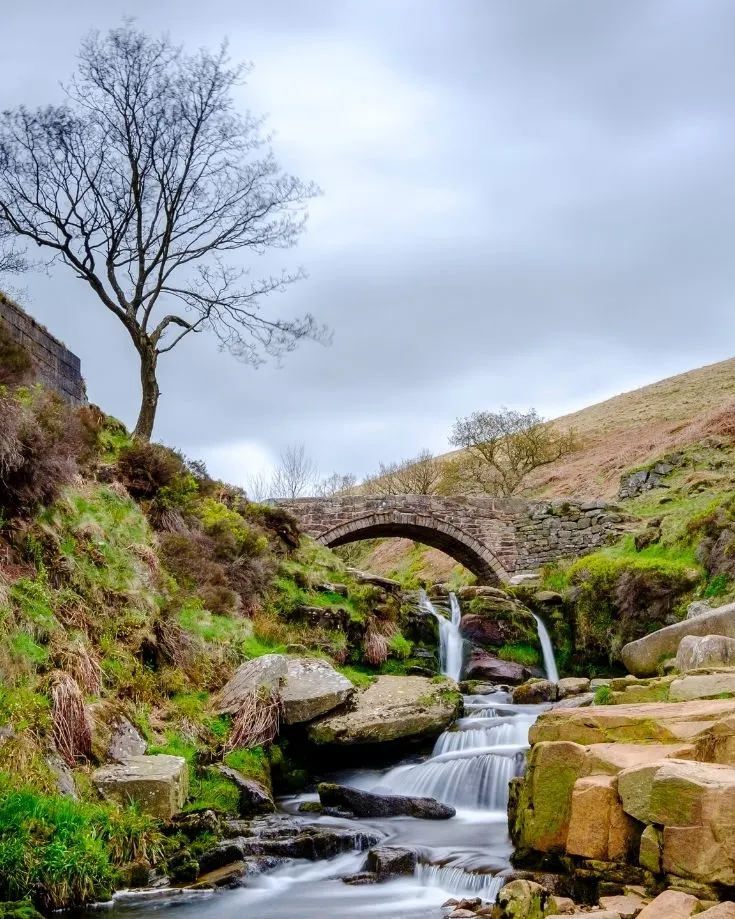 This 8-mile (13 km) walk gets its name because three 'shires — the counties of Staffordshire, Derbyshire, and Cheshire — all meet here. It's more than just a geographical oddity, though, as it's also home to the River Dane — and a gorgeous waterfall at Three Shires Head.
The fall culminates in a picturesque pool, and you can often find people splashing around in it. It's a great way to cool off after the moderately challenging hike, or you could just lounge on the banks and appreciate the scenery (including the stone packhorse bridges that overlook the pool).
You'll also come across some old quarries that you can explore, but be careful. Many of the rocks in the area aren't as solidly placed as you'd expect.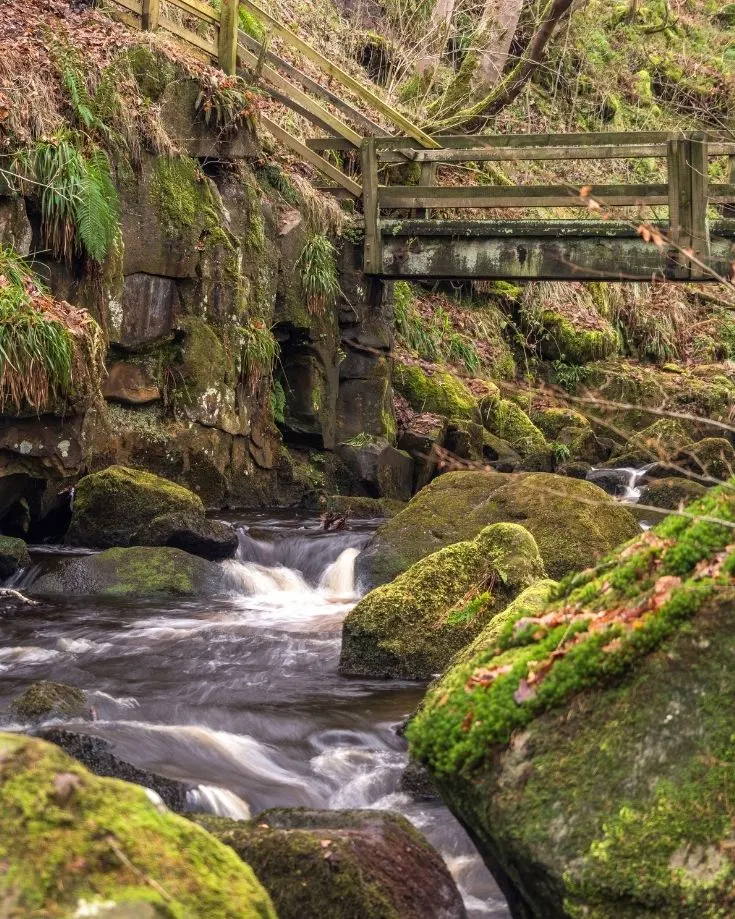 This walk is one of the most customisable routes in the Peak District, as there are several points where you can turn off and double back if you've had your fill of nature for the day. The "proper" route is about 3.5 miles (5.6 km) long, and it includes the historic Longshaw Estate, the gorgeous Burbage Brook, and the enchanting Yarncliffe Wood.
This walk offers multiple opportunities to stop and play, as you can splash around in Burbage Brook, monkey around on the extremely climbable trees, or even take advantage of a rope swing along the way. As such, this is one of the best walks for kids in the park.
Don't sleep on the Longshaw Estate, either. Home to some of the earliest human settlements in the UK, it's also the site of one of humanity's greatest achievements: the Longshaw Sheepdog Trials, which are held here annually.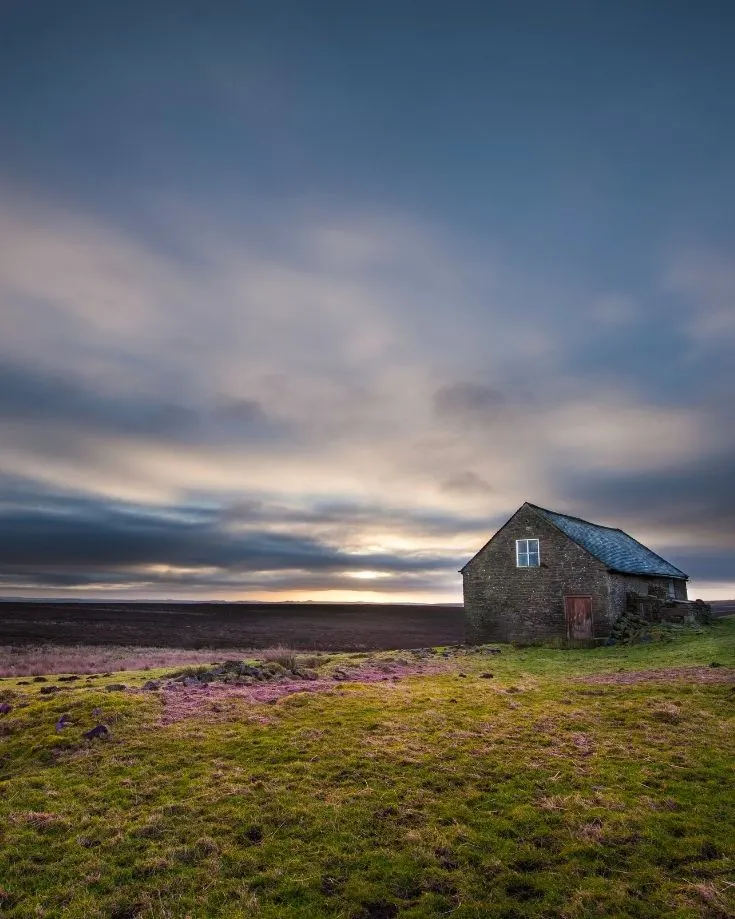 While the name doesn't exactly inspire visions of beauty and grandeur, The Roaches itself is a majestic ridgeline that's popular with both hikers and climbers alike. This path is also home to Lud's Church, a chasm that was famously used by pious separatists and bandits alike.
There are two primary rock formations here: a gritstone escarpment called Ramshaw Rocks and a massive hill called Hen Cloud. Both will offer you panoramic views of the surrounding countryside, but both will require you to earn that scenery in the form of a somewhat tricky ascent.
You'll also come across Doxey Pool, home of the Blue Nymph — another mermaid who inhabits the Peak District (just how many mermaids live here, anyway?). Unlike the immortality-granting mermaid at Kinder Scout, though, this one snatches stray children and pulls them into her watery abode.
8. Pilsbury Castle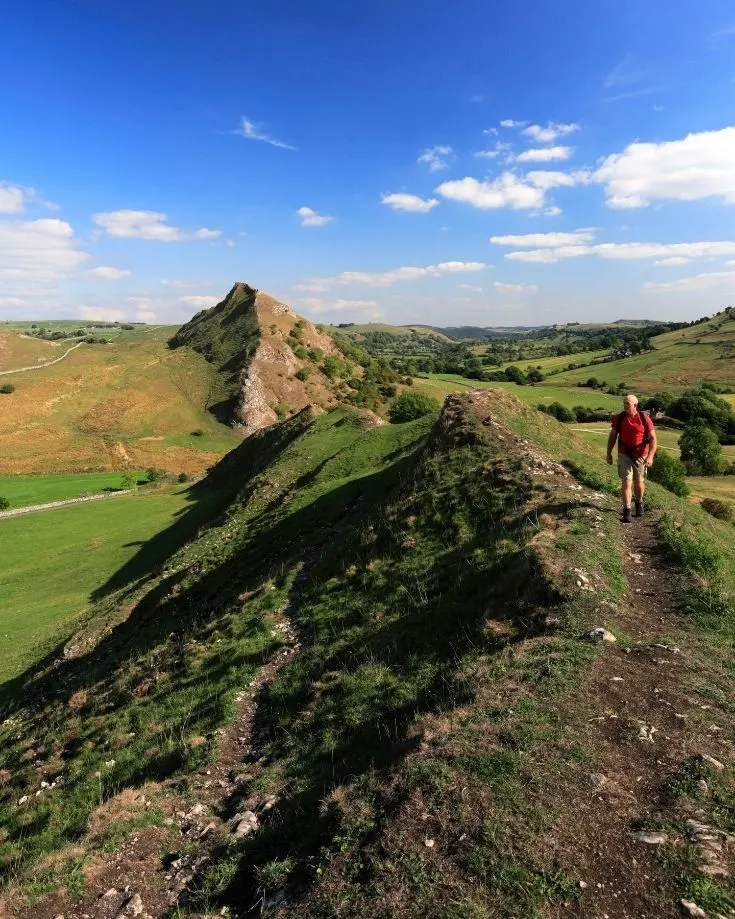 Every walk is better when there's a castle at the end. That's just one of the reasons why we love this little jaunt, as it's a pleasant 7.5-mile (12 km) circular trail that starts and ends in the Derbyshire village of Hartington.
The crowning jewel (no pun intended) of this hike is Pilsbury Castle, which the Normans built in the 11th century. There's not much of the actual castle left, of course, but you can see the remains of earthworks and the limestone outcropping that may have served as its base.
You won't miss the castle, though, as you can stand on the grounds and look down on the gorgeous River Dove, and — just for a second — you can truly feel like a king.
9. Stanage Edge Walk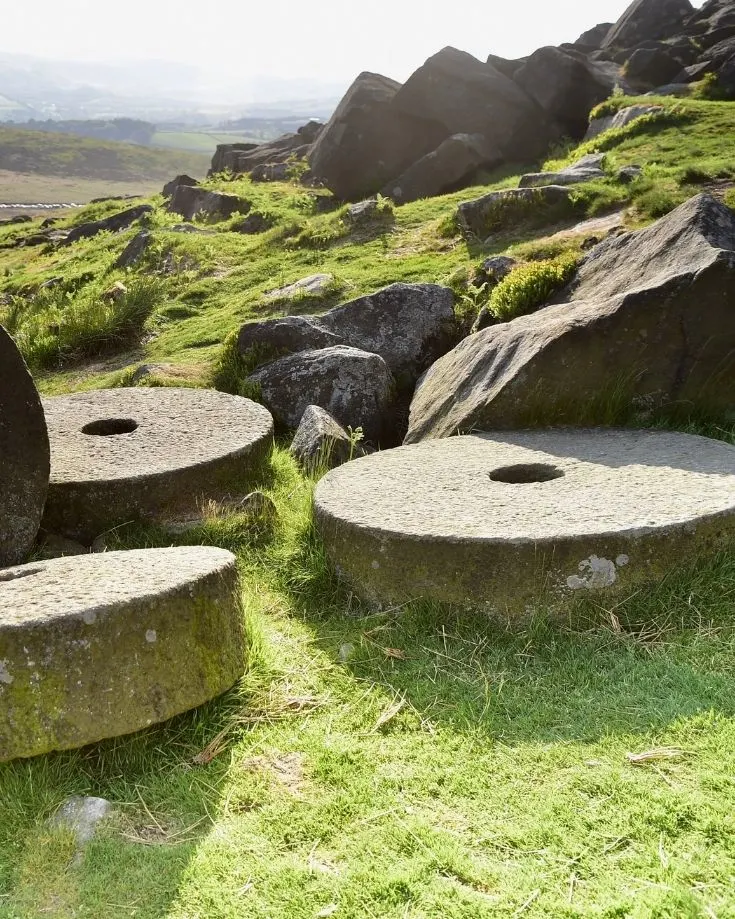 Beginning in the village of Hathersage, this 9-mile (14.5 km) walk will skirt along the cliffs of Stanage Edge before taking you to North Lees Hall, a 16th-century manor that supposedly acted as the basis for Mr. Rochester's home in Jane Eyre.
There's more to this walk than famous literary inspirations, though. This used to be active mill country, and the path is littered with old millstones and grindstones, some of which are quite massive.
If you're more of a fan of Jane Austen than Charlotte Bronte, you'll appreciate Stanage Edge for reasons other than their natural beauty. This location is where Kiera Knightley stood in the famous film adaptation of Pride and Prejudice. All this literary atmosphere may make you feel like bringing a book along on this hike, but don't bother — you won't be able to tear your eyes away from the scenery long enough to read a single page.
10. Pennine Way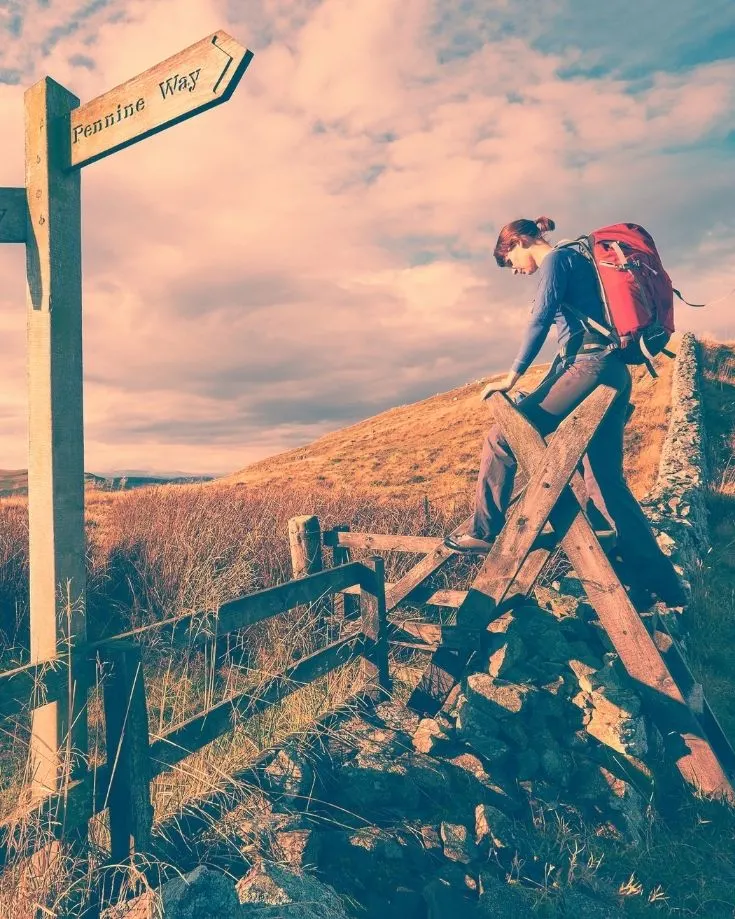 This one's a doozy — at over 268 miles (435 km), it's one of the longest walks in the entire UK, stretching from the Peak District all the way to the Scottish border. You don't have to walk the whole thing, though, and if you limit yourself to just the part that's in the Peak District, you can get a nice sampling of virtually every part of the Peak District.
The path starts at The Nags Head in Edale, then heads to Kinder Downfall, up Jacob's Ladder, and across the River Kinder. It then moves across the River Alport to the Wessenden Reservoir before dumping you in Crowden; from there, it continues snaking its way across England on its way to Scotland.
We don't suggest walking even the section of Pennine Way that's located in the Peak District in a single day if you do it at all. However, you can use Pennine Way as a launching point to all sorts of other interesting walks, including many of those on this list.
(Several) Walks to Remember
The Peak District is full of excellent walks, each with its own gorgeous scenery and enchanting atmosphere. You could spend a lifetime exploring the natural grandeur of the park and barely scratch the surface of what it has to offer.
The walks above are intended merely as a starting point for you, nothing more. We're confident that, after taking in the hikes above, you'll have the same love for the Peak District that's shared by countless others — and you'll keep coming back to find your next magical walk somewhere within its borders.
Read more // Keen to take a walk with flowing water? Check out our favourite Peak District waterfall walks.