When you think of Malibu, California, the ocean's first thing to come to mind. This iconic seaside town is home to celebrity mansions, famous restaurants, and waves that attract surfers from around the world.
But beyond the glitz and glam, this area offers incredible opportunities for campers, whether you're traveling by van, RV, or something in between. On one hand, you can enjoy the beaches for swimming, fishing, or beachcombing; but on the other, there are miles of wilderness and trails to explore through the peaks and valleys of the Santa Monica Mountains.
Whether you like to travel, you'll find something pleasing in this California spot, whether it's a Malibu RV resort, a primitive tract of land devoid of cell phone service, or something that combines the best of both worlds.
Of all the campgrounds we've explored and researched, our favorite is the Malibu Beach RV Park. This place allows you to camp as simply or as elaborately as you please, and with the shores of the beach just a quick jaunt away.
Keep reading to learn more about what this RV park and our other top camping locations near Malibu, CA, have to offer so you can find a spot to call your own the next time you're in town.
Where is Malibu?
Malibu is located in southwestern California, just west of Los Angeles. The city is situated along 21 miles of coastline on the Pacific Ocean. Malibu is known for its warm weather, beautiful beaches, and celebrity residents.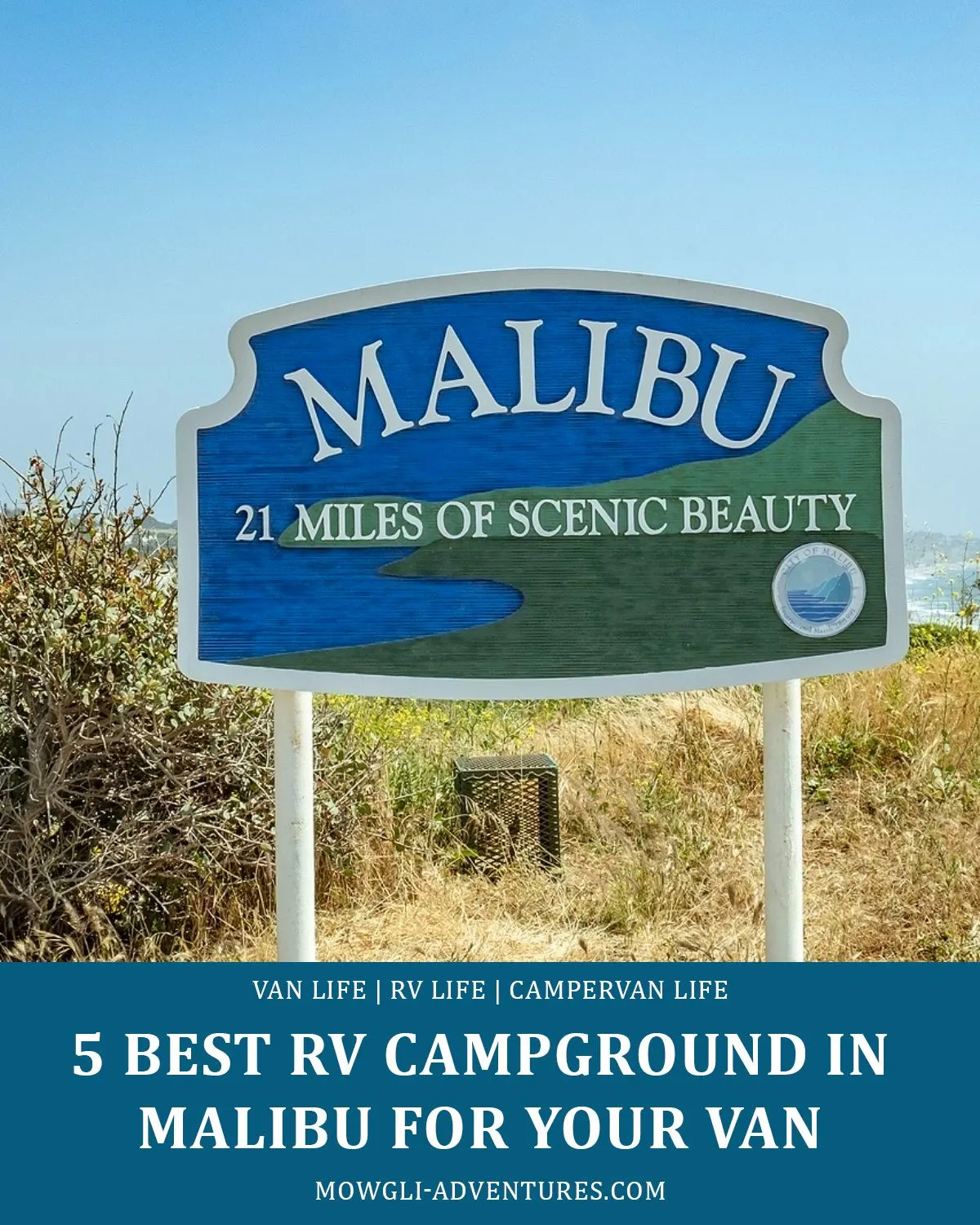 Full-service Malibu RV park for campers who want it all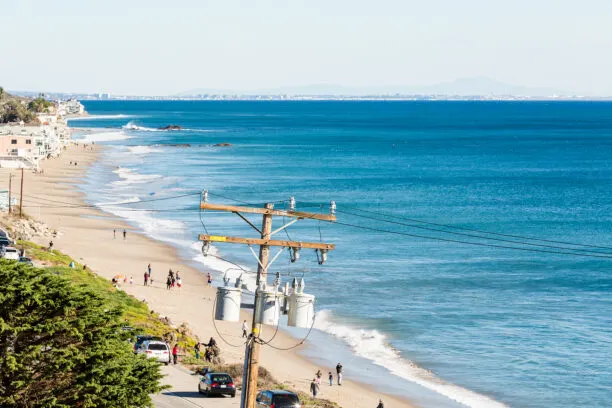 Malibu Beach RV Park is a benefit-rich travel park that caters to campers who love feeling a sense of community. It offers 142 RV spaces and 35 tent sites, plus a wide range of amenities that will make it seem like you're spending time at your resort vacation home.
We also spent some time hiking around the area. There are several trails around the park, but our favorite was the path that ran between the park and the beach. We brought our dog along with us (of course this place is pet-friendly!), and we met plenty of others who were also taking their pups for a walk.
Love beautiful sunsets? Can you spend hours stargazing? You're in luck because this park is perfect for both. Even though the highway was nearby, the noise died down quickly once it got dark. Seeing the sun come up and go down was magical, but it's the stars that really put on a show.
AMENITIES
On the campgrounds itself, you'll find a clubhouse for visiting with other campers, a rec room with table tennis and a big-screen TV for a bit of leisure activity, a swimming pool for taking a quick dip, and a convenience store stocked with anything you might need on your trip — including clothing, spare parts, snacks, beer, and wine.
The park is open all year long, and its RV spots are either ocean-front or mountain-view, so you'll enjoy the scenery no matter which you choose. You can pick from spaces that come with full hookups (electric, water, and sewer) or just electric and water. If you choose the latter, you can make use of the campground's dump station.
Traveling by campervan or spending your nights in a tent? The campground has you covered too. It offers on-site restrooms with hot showers and an area for dishwashing. All visitors are also welcome to use the park's washer and dryer facilities, trash disposal area, and propane filling station.
As you explore the grounds, you'll find there's a horseshoe pit. Whenever we passed it, we saw visitors having fun and connecting with others. There's also a patio area with a fire pit and heaters for conversing and lounging on cool nights. (We traveled in the spring, and the warmth of the fire was so nice as the temperatures dipped into the 50s.)
Of course, for a place with so many amenities, WiFi is a given. We were told that it could be spotty, but we never had any issues with it no matter where we were on the property.
As far as filling your days, you're spoiled for choice. Seriously, whether you're into boating, paddle boarding, fishing, swimming, canoeing — basically any beach-related activity — you'll find it here. We spent most of our days swimming in the ocean and fishing. (We'll be honest, we didn't catch any fish, but we did pick up some delicious shrimp, clam chowder, and red snapper at the seafood market right next door.)
What I Liked
Just about every creature comfort, you can imagine
Full or partial RV hookups at every space
Every campsite offers an amazing ocean view or mountain view
Plenty of activities on-site and around the campground
What I Didn't Like
Definitely not the spot for those looking to disconnect
Highway traffic is a little distracting during the day
Malibu RV camping with 70+ miles of trails to explore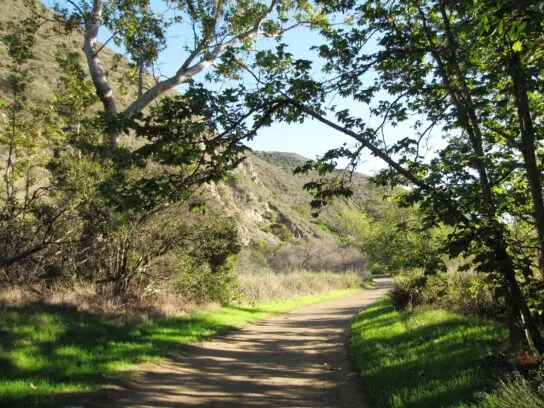 Sycamore Canyon Campground is one of several campsites within Point Mugu State Park, a park spanning over 13,000 acres. We loved its proximity to the water — it's just ½ mile to the beach, with easy access by foot or car — and the sound of crashing waves at night was so soothing.
The beach is the biggest draw in the area, but there were also lots of hiking trails in the immediate vicinity. (The whole park actually has over 70 miles of trails.) There was even a ½-mile path straight to the water if you preferred to walk rather than drive. The beach was pretty busy when we went in the summer, with lots of swimmers and surfers, as well as those relaxing or working on their tans.
This campground has 58 sites, all of which can accommodate RVs. Your entrance fee includes your RV or vehicle, plus a towed vehicle. If you need space for more cars, there's an on-site car park that comes at an extra per-day cost.
Reserving a spot at this site is so easy: Just head to its online reservation system. You can book up to six months in advance, and campsites are assigned at the time of reservation, so you don't have to worry about arriving early to get a good spot. (It's also great for booking neighboring sites if you're traveling as a group.) You can check-in as early as 2 PM, and checkout is at noon.
AMENITIES
While this park offers drinking water and water spigots throughout the area, there are no electric or water hookups. However, there are flushing toilets and sinks at the restrooms so you can relieve yourself and get cleaned up. There's also an RV dump station for disposing of wastewater.
Surprisingly, you'll also find shower facilities (with hot water) at this campsite. To operate the showers, you'll need to purchase tokens at the machine right outside. (Note: Be sure to bring $1 bills for the showers. The machine doesn't accept coins, and it doesn't offer change for bills larger than $1.)
In addition to being spacious, each campsite comes with the basics for outdoor living, including a fire ring, a grate, and a table. You can use the fire ring so long as there isn't a fire ban, but that's the only place you're allowed to have an open flame. Forgot firewood? You can purchase bundles at the camp host (and at an affordable price!)
While some of the campsites are situated close to each other, they really are large enough that you don't feel crowded. The park has rules about noise, and rangers regularly patrol, but we found all of our neighbors to be extremely friendly and considerate. We also met lots of people who brought their furry friends along. Dogs are allowed so long as they're leashed but note that you can't take them on the trails.
What I Liked
Easy reservation system with assigned campsites
Only ½ mile to the beach with a convenient footpath
Lots of creature comforts, including hot showers (for a fee)
A dog-friendly site that's regularly patrolled
What I Didn't Like
No water or electric hooks
The popular campsite that's sometimes booked solid for months
Beautiful campgrounds in Malibu, CA, for beach explorers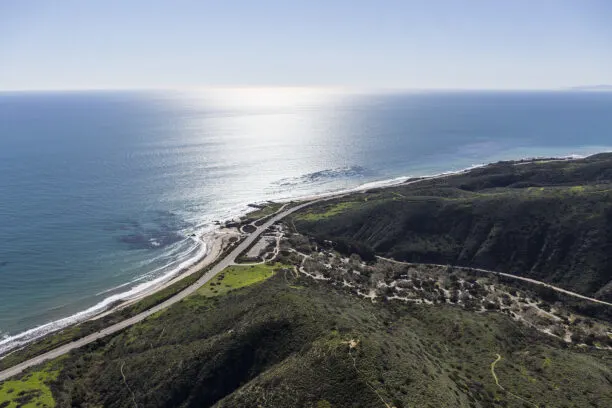 Located on the Pacific Coast Highway and just 15 minutes from Malibu proper, Leo Carrillo State Park Campground is an ideal spot for primitive campers and RVers who have their sights set on exploring the area. Whether you stick around the campgrounds or head to the beach (just ½ mile away), you're sure to spot treasures.
When you're ready for a change of scenery, you can turn your sights on all that the state park offers. There are lots of trails, both easy and more challenging. One of our favorites was Yellow Hill Fire, which took us to high ground so we could enjoy a 360-degree view of our surroundings, including the ocean. On the advice of other campers, we also spent a day on the Nicholas Flat Loop. It wasn't an easy hike, and the seven-mile trip took us about five hours, but we saw so many colorful flowers and a small pond.
AMENITIES
The campground has 135 campsites, of which 46 can accommodate RVs. Each site comes with a fire pit, grate, and table so you can enjoy meals right outside your tent or RV. There are no water hookups here, but you will find running water, including toilets, sinks, spigots, and token-operated hot showers. All of the RV-accessible spaces do, however, have electric hookups (20, 30, and 50 amps).
We love bringing our pup with us on trips, so we were happy to see that not only did this campground allow it, but so did the beach. Note that you can bring your pooch along with you to the ocean, but only on the north side of the shore (lifeguard tower #3 is the cutoff).
Also Read: 5 Best Places to Camp In Or Near Death Valley in a Van or RV
Speaking of the beach, this particular 1.5-mile stretch is amazing for beachcombers and other explorers. Best of all, it takes less than 10 minutes by foot to get there. (Just take the beach access trail, which leads you under the highway and to the sand.)
We heard rumors that you could find pirate treasure, but we weren't so lucky. We did, however, pick up some gorgeous pieces of sea glass, and we saw several children hunting for sea stars and crabs in tidal pools. There's even a section of the beach where you can explore sea caves.
Keep in mind that this particular bit of beach is rather rocky; it's not rough, per se, but it's not really a good spot to sunbathe. Swimming is no problem, and we (nor the kids who were already on the beach) had any issues with rocks in the water.
Also of note: A couple of beachgoers told us that they saw whales the last time they visited. We didn't see them on our trip (but we did see lots of snorkelers!), and upon further research, we found that the best time to catch adult whales and even calves is January to May, when they're migrating north.
What I Liked
RV spots include electrical hookups
Plenty to do on the beach outside of swimming
Pet-friendly campground and portion of the beach
Both easy and challenging hiking trails within the park
What I Didn't Like
No water hookups
Beach isn't great for sunbathing
Secluded Malibu RV spot for camping in peace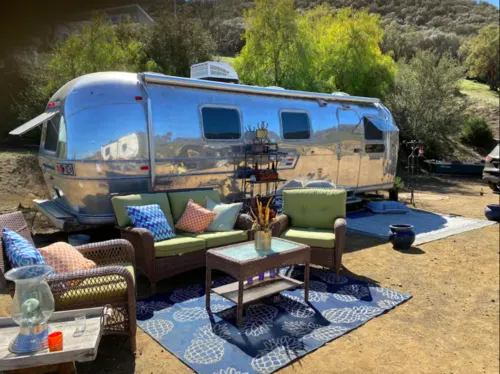 Located just 25 minutes by car from the beautiful shores of Malibu, Prospector Ranch is a prime destination for glampers and RVers who crave seclusion and mountain views but also don't want to be too far away from the action.
What we found most unique about this little slice of heaven is that it's situated next door to an 1800s-style ranch, complete with a saloon. This means that after a long hike through mountain trails or upon your return from the beach, you can cozy up with your hosts for a drink. The ranch itself is actually used for filming and photoshoots, so it's a really interesting place to check out.
If you're traveling by car and looking for a glamping experience, you also have the option to rent the host's gorgeous vintage 1972 Airstream. We came by RV so didn't need the accommodation, but we saw Fearless Mary, as she's known, and she's a beauty. The trailer has been fully remodeled and has all the creature comforts you need, including the cutest little patio with outdoor furniture for relaxing before bedtime.
AMENITIES
When it comes to the campsite, you'll find it to be a spacious open lot with level ground, a 30-amp electrical hookup, and potable water access. Do note, however, that there's no sewer hookup. The lot can accommodate RVs up to 35 feet in length, including slide-outs.
An important note for those who need to stay connected to the outside world: This campsite doesn't provide WiFi, so you'll have to rely on your cell phone signal to use the internet. We didn't mind it too much as we spent most of our time outdoors, but if you need to stay in touch with work or family back home, you'll want to verify you'll have your own internet connection before making the trek out.
Also Read: 5 Best Places to Camp in Banff and Jasper National Parks in a Van or RV
As far as what to do when camping in this area, the sky's the limit. We loved hiking through the Santa Monica mountains and star gazing at night (seriously — almost no light pollution!) While we also took trips down to Malibu to see the ocean, do a little fishing, and enjoy the area's amazing restaurants, we found that there was plenty to explore without leaving the campsite.
(Also note that Thousand Oaks is 15 minutes north of the ranch, and that opens up a whole new world of attractions and activities, including plenty of shopping, dining, and nightlife.)
During our stay, we caught glimpses of so many animals, including rabbits and squirrels. We aren't birdwatchers, but we saw several hawks and some blue jays, and we were treated to the sounds of an owl one evening and awoken by lovely chirps every morning. In the immediate area, we saw neighbors with horses and visitors horseback riding. Honestly, what a serene place this was.
What I Liked
The secluded spot that almost felt like it was off-grid
Plenty of hiking and outdoor opportunities on-site
Within 25 minutes of both Malibu and Thousand Oaks
Electric and water hookups included
What I Didn't Like
No sewer hookups
No WiFi available
No-frills Malibu RV park just steps from the ocean
If you're heading to the Malibu area to camp, you're there for the ocean, so why not get as close as possible? That's what you'll get — and really, not much else — when you pick the Thornhill Broome Campground as your campsite.
This chunk of land also happens to be situated smack dab between the Pacific Coast Highway and the ocean. So yes, when you open your RV door, you are literally stepping onto the sand, but on the other side of you, you'll hear the traffic of cars zooming along. Thankfully, the road noise does die down by evening, and we didn't hear any traffic when we were ready for bed.
The campground is essentially just a mile-long patch of concrete, and the campsites are one right after the other. There's not a ton of privacy, and it can be difficult to get in and out of your space if you have a larger vehicle. (We saw a larger RV do a 7-point turn to get out.)
AMENITIES
When we say that Thornhill Broome is for primitive campers, we mean it: You won't find electric or water hookups, and there's no dump station. There is running water courtesy of random spigots throughout the campground, but we don't trust it to be potable. The spigots also aren't threaded, so forget to connect a hose. Honestly, we think you should use it to wash your hands or clean out the cookware, but we wouldn't drink it.
This park offers 75 spaces for RVs, vans, trucks — really whatever you'd like to bring, so long as it's 30 feet in length or shorter. During our time there, we saw vehicles of all sorts, including a couple who came in on bicycles with all their camping equipment strapped to their backs!
Reservations are handled online, and despite the lack of creature comforts, the park was booked solid. It took us four months before we were able to find an available weekend.
But for all that this site lacks, it makes up for with its view. Seriously, you're 30 feet from the water. We saw dolphins and seals several times, and little crabs and various sea birds were constantly making their way over the beach.
We were fortunate that our slice of heaven was relatively flat, sandy, and clear, but we did see further down that there were areas of rockiness and vegetation, so keep in mind that you may need to deal with that if you plan to spread out on the beach or go swimming.
Each spot includes a table and firepit, but it doesn't seem like the park is maintained very well because we had to clear out a lot of ash and refuse from our pit because we could use it. But again — we didn't choose this particular spot because we were looking for easy living.
Speaking of no easy living, there are no formal restrooms or showers on the premises. There were port-a-potties, and they were as unpleasant as you might imagine. This wasn't an issue for us as we had our RV, but it's definitely something to keep in mind if you're coming with a camper van or truck.
What I Liked
Primitive camping for those who really want to disconnect
Campsites are right on the beach, with the water just 30 feet away
Excellent opportunity to watch dolphins and other sea life
Mostly clear beaches with opportunities for swimming
What I Didn't Like
No restrooms and questionable running water
Difficult to navigate larger RVs
Campervan and RV Rentals In Malibu
Renting an RV is a great way to get all the benefits of an RV vacation without having to own one. It's a perfect way to give RV living a trial run before making an investment and testing out the different models available to see what suits your family best.
At Outdoorsy, you can rent RVs and campers from other RVers. Click here to see what RV rentals are available in Malibu, and use MOWGLI50 discount code for $50 off your first rental.
If you already own an RV and don't live in it full-time, you can make it available for rental too, so keep maintenance down and get a welcome boost to your income at the same time.
How to Choose the Right Campsite
We think the Malibu Beach RV Park is the best place to go camping near Malibu, CA, but what works for us may not work for you. Consider the following points to help you find the right campsite for your next trip.
Proximity
When choosing a Malibu RV park or campsite, you'll want to consider its proximity to the attractions you want to visit. For example, if you're in Malibu to spend your days in, on, or around the water, you may like a nearby location better as it allows you to quickly and easily travel between the beach and your campsite. On the other hand, if you're in Malibu to sightsee or visit other attractions, a campsite in the mountains gives you a cozy place to retire to and a different kind of place to explore in the mornings or evenings.
Atmosphere
The atmosphere is important when you're camping. If you're traveling with family or young children, you may want to find a place where other families are staying. This gives you an opportunity to connect with other parents and allows your children to make new friends. If you're single, traveling as a couple, or retired, you may be more interested in a spot that offers lots of peace and quiet.
Hookups and Facilities
How important electric and water hookups may be to you depend largely on how you're traveling. If you're camping out in a van or have brought along your tent, you may not care much about electricity, but you'll probably appreciate toilets and running water. Travelers with RVs may find it more convenient to find spots that offer full or partial hookups, though the latter will generally cost you less. Of course, you can also look for campsites that offer neither, and then take advantage of dump stations on the way out.
Amenities
Campsites may come with a range of amenities. There are primitive spaces that offer you a plot of land and nothing more; full-service RV parks with electricity, showers, and fully stocked stores; state parks with basic creature comforts; and places that fall somewhere in between. The easiest way to narrow down viable campgrounds in Malibu, CA, is to make a list of your must-need amenities and then cross off spots that don't match your needs.
Pet-Friendly
If you're like 75% of American households, you have a pet. And if you like to travel with yours, you have to be sure that the campground you intend to visit allows them. Many campsites tend to be pet-friendly, but you have to be cognizant of park rules to enjoy a pleasant visit for yourself and others. Be sure to clean up after your pet, keep them on a leash when appropriate, and watch for rules about where they're allowed and not allowed to go.
Also Read: 11 Best Campgrounds in New Hampshire for Your Van or RV
Wrapping Up
It takes a little work to find a campsite that's right for your type of travel. You have to consider its proximity to what you want to do, its atmosphere, and what kinds of amenities it offers. We like the Malibu Beach RV Park because it's close to the beach, fosters liveliness in its campers, and offers everything you might need (plus things you may not have considered). Ready to hit the road? Don't head out before checking out our list of 50 must-have tools for RVs and campers.
If you liked this article about the best places to camp in Malibu, consider checking out some of our favorites below —