It's a moment you'll never forget: when you bring your family together, sit the kids down, and tell them that you're finally taking them to the happiest place on Earth.
That's right-you're going to Death Valley.
Okay, so Death Valley might not be everyone's idea of a good time, but if you want to experience the otherworldly beauty of one of the harshest deserts on Earth, it can't be beaten.
Best of all, though, you can tough it out in extreme conditions during the day and then escape back to civilization at night, thanks to the camping spots on this list. Furnace Creek Campground is our favorite of the bunch, as it's centrally located and can accommodate all sorts of campers, but you don't have to limit yourself to just a single campsite during your stay (and we don't recommend that you do).
Death Valley can be an incredible place for campers to visit despite its foreboding name and formidable reputation. There's plenty to do in the park, but preparation is key, as it's not someplace that's forgiving to people who run around half-cocked.
However, if you know what you're doing — and you know where to stay while you're there — Death Valley may just end up being one of the most memorable trips you'll ever take.
Where is Death Valley?
Death Valley National Park is an American national park that straddles the eastern and western sides of the Sierra Nevada in Southern California. The park protects the northwest corner of the Mojave Desert and contains a diverse desert environment of salt flats, dunes, badlands, valleys, canyons, and mountains. It is the largest national park in the lower 48 states and has been declared a World Heritage Site by UNESCO.
The park is home to many species of plants and animals that have adapted to this harsh desert environment. Some of the more notable species include the critically endangered Death Valley pupfish, Bighorn sheep, mountain lions, and the Mojave tortoise.
The park is also popular with hikers, backpackers, and photographers for its diverse landscape and unique geological features.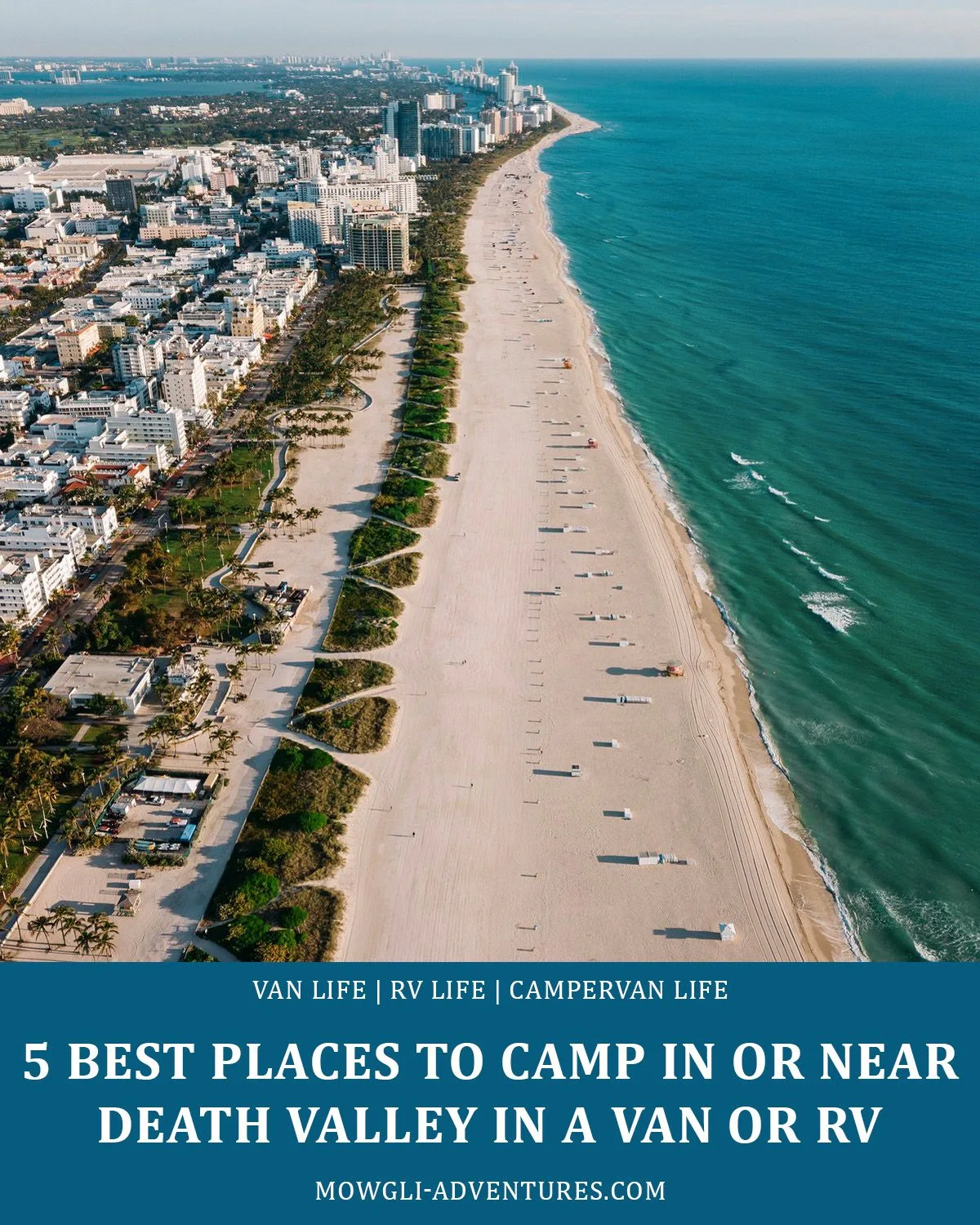 This site is big, beautiful, and the perfect spot to branch out to other death valley campgrounds in the area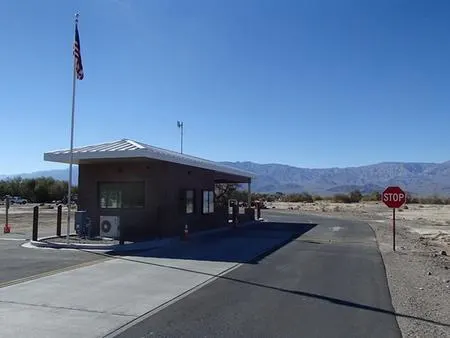 If you want to experience the ultimate in romance, you could always visit the Eiffel Tower in Paris or ride the gondolas in Venice. For our money, though, nothing says love is in the air quite like wandering around near an abandoned borax mine.
The campground is centrally located, so it's great for establishing a base if you're hoping to see as much of Death Valley as possible. It's also one of the few camping spots in the area that's open year-round, enabling you to see it. The location is nearly 200 feet below sea level, though, so you'll need to pack an extensive wardrobe — it can get nearly as cold at night as it is hot during the day.
This is also the only death valley campground in the entire park that accepts reservations, although that's only true between October and April. The rest of the year, the sites are all first-come, first-served. There's also a staffed campground kiosk to assist you with anything you need during the reservation season.
Also Read: 11 Best Campgrounds in New Hampshire for Your Van or RV
AMENITIES
If you agree, then you're in luck — there's one of those you can visit near the Furnace Creek Campground. You'll also find more traditional amenities like fire pits, a dump station, and flush toilets, all of which will feel like the height of luxury after a day spent navigating the various hiking trails that are easily accessible from this spot.
There's plenty of room to stretch out here, as the site supports 136 different camping spots. The site itself isn't much to look at, as there's just tons of open space broken up by the occasional tree (so don't expect to find any shade, either). That vast expanse is the main attraction when the sun goes down, however, as you'll bear witness to some truly spectacular sunsets out here.
It's equally good for RV living or van camping. There are 18 full hookup sites (either pull-through or back-in), and a large variety of tent-only sites. The site is pet-friendly, although you'll want to keep them close by you at all times, as it's also coyote-friendly. There's plenty of friendlier wildlife to look at as well, and bird watchers will have no shortage of targets to gawk at year-round.
This is definitely one of the best places to camp in Death Valley, so make reservations if you can (and show up early if you can't).
What I Liked:
136 camping spots available
Offers some truly spectacular sunsets
Centrally located and ideal for visiting other parts of the park
Good for both RVs and vans
Open year-round
Accepts reservations between October and April
What I Didn't Like:
Often packed, making it difficult to find a spot
Not much shade or vegetation around
This elevated area is one of the coolest spots in the park (literally) — but it can be dangerous in the winter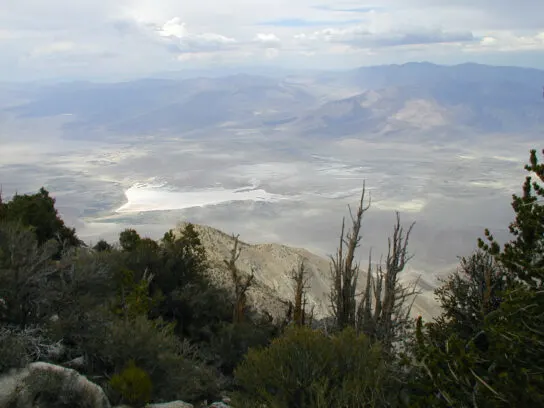 Thorndike campground is unlike almost any other site in Death Valley. At 7,400 feet, it's much higher than most of the other death valley campgrounds in the area. Not only is it cooler (expect snow in the late fall), but you'll also find tons of trees. It's almost like not being in Death Valley at all.
Despite this, it's a mere hour or so to some of the more traditional sports in the valley. You can definitely get a good idea of what you want to see, as the height gives you incredible views of the surrounding area.
During the winter, the weather can get truly out of control, so it's only open from March through November (although it may close early, depending on the snowpack). Even when the weather is cooperating, you'll need a high-clearance vehicle, so RVs are most likely out of the question (and there aren't any hookups, anyway). This is van-only, to be sure, although a 4×4 may be required at certain times of the year.
AMENITIES
There's not much in terms of amenities to be found here, only a few tables and fire pits. The only bathrooms to be found are pit toilets, and there's no potable water, so bring your own. You also won't find many camping sites, as there are only 6 to be had and they're all first-come, first-served.
Something else you won't find is much noise. This is as close to nature as you can get without going off the grid completely, and the fact that there aren't many other campers around will give you the feeling of being all alone in a forest paradise.
It's also within walking distance to the historic Wildrose charcoal kilns, which may be even more romantic than a borax mine. These beehive-shaped structures are actually quite interesting, especially if you have a taste for 19th-century mining techniques.
What I Liked:
Much cooler than virtually any other campsite in the area
Plenty of trees and shade
Close to more traditional campgrounds
Excellent for van camping
Extremely quiet and peaceful
What I Didn't Like:
Can be subject to extreme weather
Very few amenities or campsites
While not part of the park itself, this campground offers a bit more civilization than what you'll find inside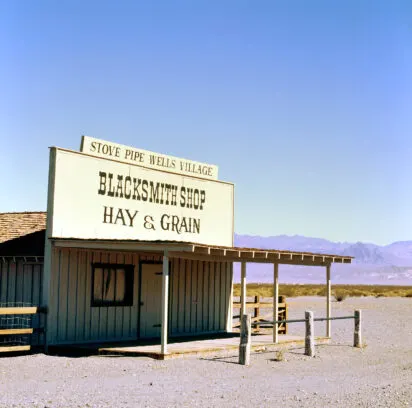 Before we get too far in describing Stovepipe Wells, we should mention that there are two different campsites by this name. One is operated by the National Parks Service, while the other is a privately-owned RV park. While the federally-run one has its charms (especially if you're a primitive camper), we're bigger fans of the RV park.
The RV park is pet-friendly (whereas the hotel only allows service animals), but as with any other part of Death Valley, you'll want to keep your furry companions safely leashed at all times. You'll understand why when you see the coyotes freely roaming around near the death valley campground.
The hotel is definitely the moneymaker here, so much of the park service (and space) is geared towards hotel guests. As a result, the RV slots are fairly cramped, and the amenities are fairly lacking in the park itself. Don't expect to find picnic tables, fire pits, or anything like that around here.
AMENITIES
The park has 14 full-hookup sites, and it's adjacent to a hotel if you feel like roughing it in style for a night or two. There's a large pool at the hotel that RV campers are welcome to use, giving you an easy way to beat the heat, and free Wi-Fi is available in the hotel lobby.
While you're in the lobby, you can talk to the people behind the desk about the area; everyone is very knowledgeable and can help you plan your trip, including providing you with informational packets about the park.
They have showers available to campers, although there is an extra fee for their use, and there's both a restaurant and a general store on-site, so you shouldn't starve while you're here. The restaurant has an excellent selection of craft beers as well.
You can book a reservation online at their website, and doing so is recommended (there are only 14 spots to be had, after all). Don't expect to get much done once you're here, though, unless you plant yourself in the lobby for hours on end. Wi-Fi and cell service are spotty at best, although the satellite TV signal is typically strong.
What I Liked:
Has 14 full-hookup sites
The pool is free for RV park customers
The staff is friendly and knowledgeable
Showers available for an extra fee
The restaurant has a nice selection of craft beers
What I Didn't Like:
Spaces are a bit cramped
Wi-Fi and cell service aren't great
You'll be surrounded by beauty at all hours of the day at this popular site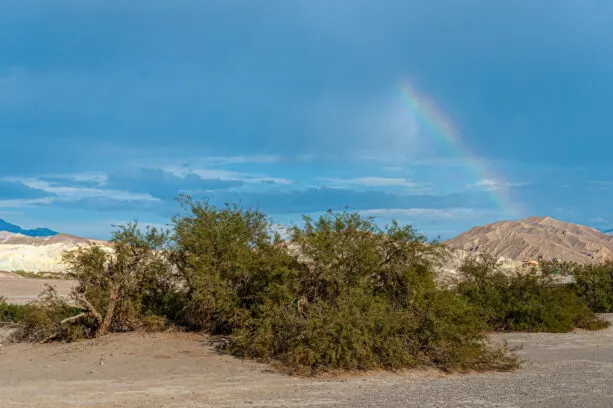 Nestled in the hills overlooking Furnace Creek, Texas Springs offers gorgeous views of other parts of the park while still being beautiful in its own right. The nighttime sky here is something to behold, as you can seemingly see every star in the universe all at once.
The days here are generally unforgiving, but your eyes will still be treated to some luscious scenery while the rest of your flesh bakes. There isn't any gold in them thar hills as best we can tell, but when the sunlight bounces off the rocks, you'll be forgiven for thinking the entire honeyed valley is made from the stuff.
There are 92 campsites, each of which is only available on a first-come, first-served basis. They're more or less equally distributed between slots for RVs and tents, allowing the site to accommodate all sorts of travelers. The season lasts between October and May, so don't expect to snag any of those spots if you show up in the summertime.
Generators aren't allowed, but if you show up during the peak season, the site may still be incredibly noisy. That's because the campsites are right on top of each other, and it can feel cramped and crowded when there's a full house. That won't affect your views, but it may prevent you from hearing everything that Mother Nature has to offer.
The lack of generators also prevents RVers from camping out for long-term stays, so there's good turnover on the sites. Still, it's not uncommon to show up only to find that there's no room for you, so arrive early if you can.
AMENITIES
Amenities are largely in short supply here, but at a certain point, flush toilets, a dump station, and fire pits all start to seem like the height of luxury. Oh, and there's potable water to be had here, too; presumably, you don't need to be lectured on just how valuable that can be in the middle of a desert.
Most of the terrain is gravel, so if you're camping in a tent, you'll want to bring thick sleeping bags. The wind can be ferocious as well, and you'll need long stakes if you want to wake up inside the tent you went to sleep in.
What I Liked:
Breathtaking scenery
Offers potable water, flush toilets, and more
Nighttime views are incredible
Good mix of RV and tent spots
No generators are allowed, which prevents long-term stays
What I Didn't Like:
Sites are very close together
Fills up quickly and doesn't accept reservations
It may not feel like a 5-star resort, but this site is as close as you'll get to glamping out here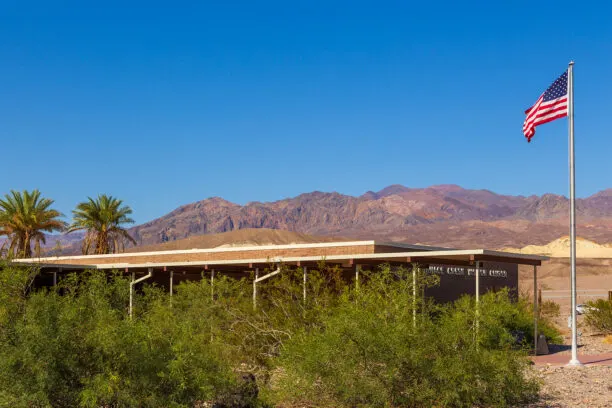 If you're visiting someplace called "Death Valley," you should already suspect that glamping will largely be out of the question. While that's undoubtedly true, The Oasis at Death Valley Fiddlers' Campground will get you as close to the lap of luxury as you're likely to come.
That counts for quite a lot out here, though, as it's more than most other death valley campgrounds can offer. There's also plenty of shade available, and the weather is almost tolerable if you're able to get out of the sun.
AMENITIES
The rates to stay at this RV park are on the high end for Death Valley, but they still represent a bargain compared to what you'll find in many other parts of the world. For your money, you'll get to enjoy amenities like a spring-fed swimming pool, volleyball courts, shuffleboard, and more, as well as more utilitarian offerings like a public dump station and coin-fed laundry room. Most decadent of all, though, is the reliable cell service you'll find throughout the camp.
There's also the Furnace Creek Golf Course nearby, in case you feel that merely subjecting yourself to 120°+ weather isn't torture enough. This course is notable for being the lowest-elevation course in the world, so if you tell your ball to go to hell, it might just wind up there.
While the amenities are nice, there are other things that are strangely lacking. You won't find any hookups here, and each spot is back-in only. There are fire pits, but they're communal, so expect to get to know your neighbors. In fact, the entire camp is basically just a big, flat expanse of dirt that someone fancied up a bit.
Round-the-clock generator use is allowed, so it will spoil some of the ambiances once the sun goes down. That's a small price to pay, though, and you'll almost certainly prefer being able to cool off a bit to be able to hear the coyotes howl (which is probably their way of complaining about the blasted heat).
What I Liked:
Top-notch amenities
Cell service is generally reliable
Close to Furnace Creek Golf Course
Lots of shade available
What I Didn't Like:
No hookups available
The site is basically a big dirt lot
Campervan and RV Rentals In Death Valley
Renting an RV is a great way to get all the benefits of an RV vacation without having to own one. It's a perfect way to give RV living a trial run before making an investment and testing out the different models available to see what suits your family best.
At Outdoorsy, you can rent RVs and campers from other RVers. Click here to see what RV rentals are available in Death Valley, and use MOWGLI50 discount code for $50 off your first rental.
If you already own an RV and don't live in it full-time, you can make it available for rental too, so keep maintenance down and get a welcome boost to your income at the same time.
How to Choose the Right Campsite
Death Valley is becoming an increasingly popular place among campers, and with camping options like the Furnace Creek Campground available, it's not hard to see why. However, that popularity can have a sinister side, as many people forget just how menacing this location can be.
We don't say this to scare or discourage you — far from it. We love Death Valley and wish more people would give it a chance. It's absolutely critical that you do your research and plan ahead before going, though, and the guide below should help you do just that.
Check Availability
Most national park campsites in the area are closed during the summer months, as the weather is just too harsh. A few are still open, though, and regardless of when you're planning to visit, you should check ahead to make sure that your preferred site will actually be open.
Also, most of the campsites are first-come, first-served, and the park can get busy, especially during holiday weekends. Don't expect to just roll up as the sun goes down and get your pick of prime spots.
Most campgrounds aren't staffed, and they use automated payment kiosks, so bring plastic and leave the cash at home.
Don't Expect Much in the Way of Amenities
Part of the thrill of camping in Death Valley is facing some of Earth's harshest terrain head-on. It's man vs. nature in its purest form (well, at least it is until you roll up in an RV, anyway).
As a result, don't expect to be coddled. The most you'll likely get from a site inside the park is potable water and maybe some flush toilets; if you need Wi-Fi, air conditioning, and a day spa in order to be comfortable, well…let's just say you won't be comfortable.
There are more amenities to be found at sites outside the park itself, but even these aren't much compared to what you'll find at RV parks elsewhere.
Don't Neglect the Dirt Roads
While this guide was all about the best-established campsites in Death Valley, many people prefer to just pull their van or RV off one of the many dirt roads for a night. This can be tremendous fun, and we'd recommend trying it for at least one night.
However, check in with park officials before you do so. This will give them a heads-up as to your location (and that can be a literal lifesaver out here), and they can fill you in on all the pertinent regulations you must follow.
If you do plan to drive on dirt roads, make sure you have off-road tires and a serviceable spare. You'll also want to make sure you have a full tank (and maybe a spare can or two).
Be Safe
As the name implies, meeting your maker is absolutely a possibility at Death Valley. Fortunately, the risk is remote, but it still exists, so you need to be careful.
Never go anywhere without plenty of water, and be aware of your surroundings. There are venomous snakes and other dangerous animals out here, and even the (very) occasional cool rain can quickly turn into a deadly flash flood.
Cell service and even GPS is extremely unreliable out here, too, so don't expect to be able to simply call for help if you find yourself in a jackpot. Plan ahead, stick to clearly-marked trails and roads and always tell someone where you'll be and when you'll be back.
Also Read: 5 Miami Beach Campgrounds for Your Van or RV
Wrapping Up
If you've been itching to camp under an endless sky — and to really test yourself against a fierce, unforgiving climate — then a Death Valley adventure may be perfect for you. We'd recommend staying at Furnace Creek Campground while you're there, as it's both comfy and convenient, but there's no shortage of fun places to explore.
In fact, maybe if enough people start to appreciate the park for how incredible it can be, it could even get a new, friendlier name. Let's just check the temperature real quick…nope, Death Valley is perfect, actually.
Check out our guide to the best places to camp in Alaska for help planning a trip you'll never forget.
If you liked this article about the best places to camp in Death Valley, consider checking out some of our favorites below —