You can't really call yourself a nature lover if you've never visited Redwood National Park. Home to the tallest (and some of the oldest) trees on the planet, the thick forest also houses all manner of woodland creatures — including one famous (and seemingly ubiquitous) herd of elk. Here is the best campground in Redwood National park.
There's more to see while you're here than just trees, however. The area is also home to breathtaking beaches, wide swaths of prairie, and picturesque rivers. There's something for everyone here, and campers will be forgiven if they feel like staying for longer than just a few days.
If you're planning on really getting the lay of the land while you're here, then it's important to find a campground that can accommodate all your needs. Regardless of whether you're pulling up in a big-rig RV or just cruising in with a van full of tents and other gear, the sites on this list will help make your stay a magical one.
We feel the best place to camp is Redwood Meadows RV Resort, as it's in a fantastic location and has a little something for everyone. We encourage you to try out all of the spots on this list, though, as each can reveal something different about this majestic park.
That's the great thing about a place as breathtaking as Redwood National Park: there are no bad places to stay — we just think these 5 are nicer than the rest.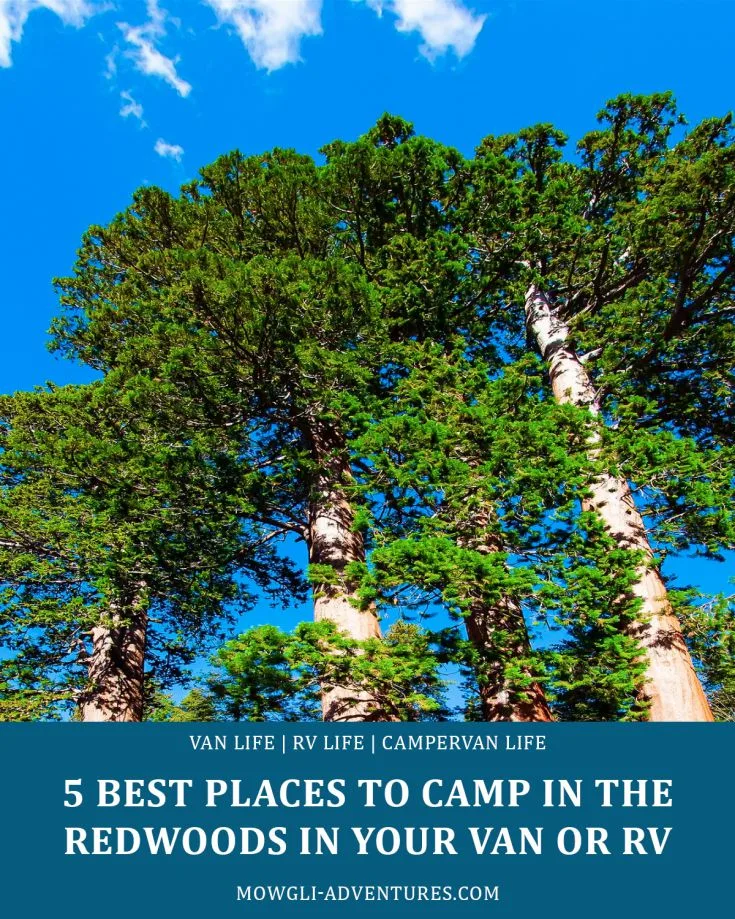 Where is Redwood National Park?
Redwood National Park is located on the north coast of California. The park is situated along the coast of the Pacific Ocean, and it extends inland to the east. The park encompasses an area of approximately 133,000 acres (538 km2).
The best time to visit Redwood National Park is during the summer months. The weather is mild and there is a great deal of daylight. However, if you are looking for a more quiet experience, spring or fall may be a better time to visit.
This park has a little something for everyone — and if you feel something is lacking, it's a short distance to other top campgrounds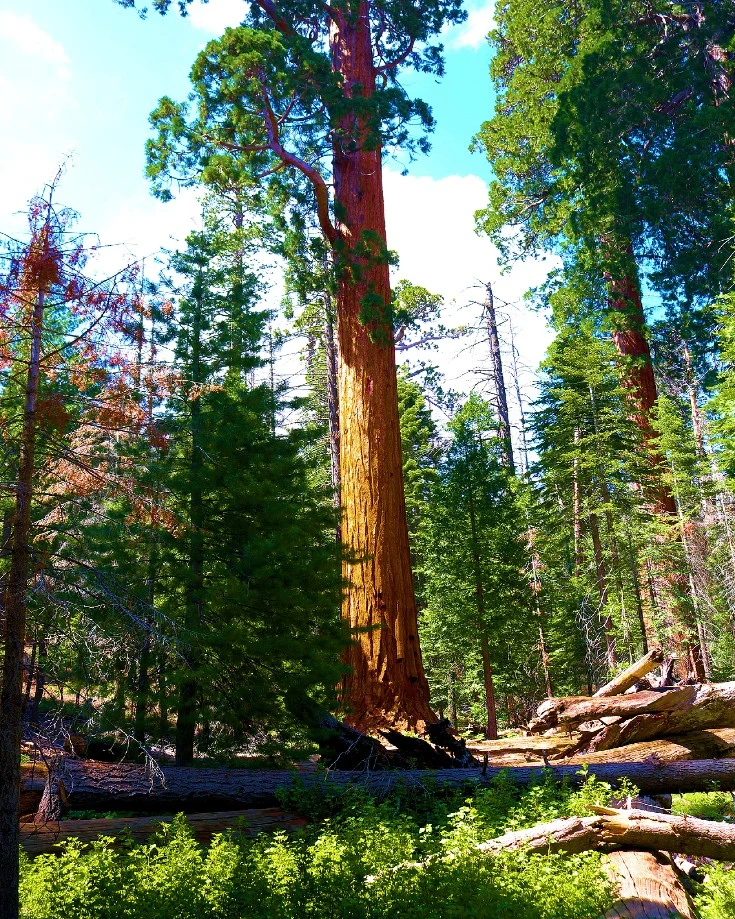 A Good Sam campground, Redwood Meadows RV Resort is close enough to the Jedediah Smith Campground that it's a good alternative for motorists who don't want to risk navigating the difficult terrain getting to that campsite.
Water enthusiasts will be in hog heaven here, as the beach and Smith River are both incredibly close. Swimming, fishing, kayaking, and more are readily accessible, yet it's far enough inland that you don't have to deal with the fog or ocean noises. It's also noticeably warmer here than it is a bit closer to the coast, so tent campers won't freeze overnight.
AMENITIES
For those who prefer to get their entertainment needs in more modern ways, the park offers blazing-fast Wi-Fi, and it gets excellent reception for both your phone and satellite dish. Dog lovers will appreciate how pet-friendly of a location it is, and it even has an on-site dog park. Your pup can have just as much fun as you do — just keep them on a leash when they're not in the park.
There's quite a bit of civilization near the campground as well. You can find grocery stores, restaurants, historic lighthouses, and a variety of shopping options just a short drive away, allowing glampers to truly make the most of their time "roughing it" in the Great Outdoors. This is a wonderful spot for anyone who can absolutely get enough of looking at giant trees all day.
If you don't want to stay in your rig, you can also rent a luxury tent or yurt. These are kind of a midpoint between an RV and a regular tent, as they can't quite match the comfort of your motorhome, yet they won't really get you all that close to nature. They likely have some sort of purpose, but we think you're better off going all the way in one direction or the other.
Given that it seems to target campers who enjoy a bit of luxury, it's not surprising that this site will take every opportunity to squeeze a few extra bucks out of you. It's not outrageously expensive by any means, but everything from firewood to extra linens requires an additional fee — and those fees are just a bit higher than what you'd find elsewhere.
WHAT WE LIKE
Excellent weather
Proximity to rivers and ocean makes it ideal for water enthusiasts
Fast Wi-Fi and reliable cell and satellite service
Close to dining, shopping, and other tourist attractions
Luxury tents and yurts are also available
WHAT WE DON'T LIKE
A bit on the pricey side
Yurts are kind of the worst of both worlds
Situated next to the Smith River, this site is an angler's paradise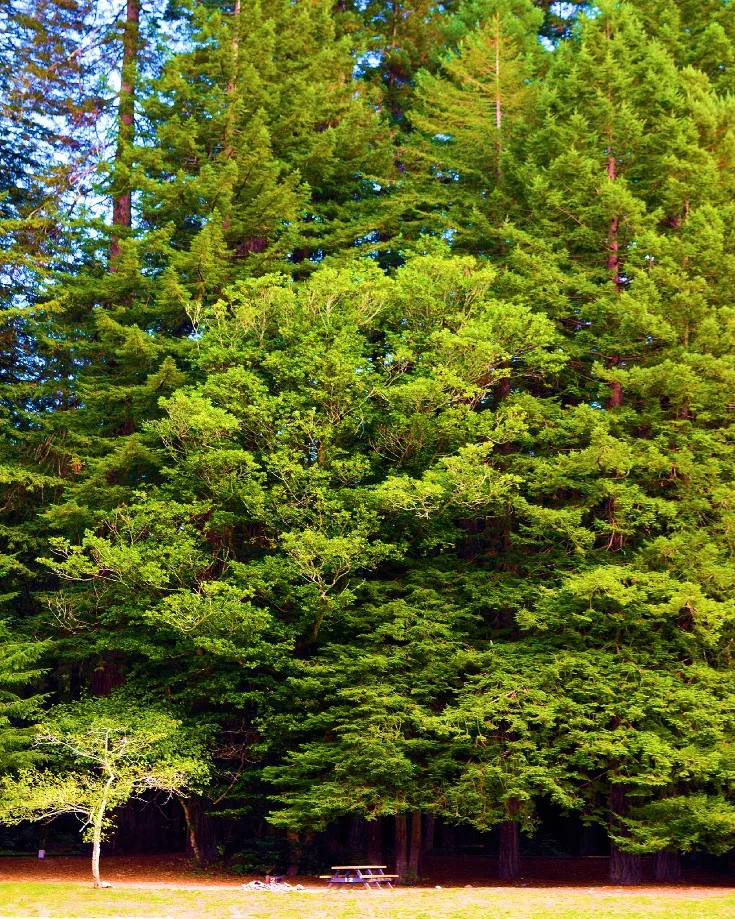 Many park veterans consider the Jedediah Smith Campground to be the crown jewel of the Redwoods State Park, and it's not hard to see why. Nestled deep in the heart of the park, this campsite offers a little bit of everything — provided you can get to it, of course.
That includes the Smith River, which flows alongside the campground. The water is full of steelhead, and anglers will love spending their days chasing after them. The river is perfect for swimmers as well, so you don't have to bring a rod and reel to have fun here. You can also spend a lazy day rafting downstream if you like (just watch out for those hooks).
Chances are, however, that you came to Redwoods State Park to see one thing in particular: redwood trees. You'll be surrounded here, as the campground is lined by the massive old forest. There are plenty of hiking trails nearby if you want to explore, and you'll have plenty of shade and wind protection regardless of where you go.
AMENITIES
The park itself has 86 campsites, 50 of which are reserved for RVs. They allow rigs of up to 25 feet (and trailers of up to 21 feet), but getting to the site can be a bit of a harrowing experience, as you'll have to travel down narrow roads that are full of twists and turns. There won't be any hookups waiting for you when you get here, either. You will find fire pits, picnic tables, and food lockers, though, and there are strict rules about storing any food that isn't actively being consumed.
There are restrooms and showers here, and while they're very nice, you'll need to bring lots of quarters to use them. There's also a visitor center on the premises, and during the weekends in the summertime, the rangers will lead walks through the area. These walks are a great way to learn about the forest and everything that lives in it — including Sasquatch (the rangers probably don't talk about Sasquatch).
Despite the fact that you'll be deep in one of the most majestic forests on Earth, it's unlikely that you'll forget you're living in the 21st century while you're here. The problem is that the park is very close to Highway 199, and you can hear traffic noise at almost all hours of the day. The car sounds may be drowned out a bit by the river if the water rises high enough, but usually, you'll have to deal with a cacophony of honks, vrooms, and other car sounds.
WHAT WE LIKE
Perfect for surrounding yourself with redwood trees
50 campsites reserved for RV use
Situated next to the beautiful Smith River
Ideal for fishing and swimming
Nice restrooms and pay showers are available
WHAT WE DON'T LIKE
Roads you must take to get here are difficult to navigate
A nearby highway provides constant background noise
Maybe the only thing that can rival Redwood National Park in terms of beauty is the Pacific Ocean — and guess what, you can see both here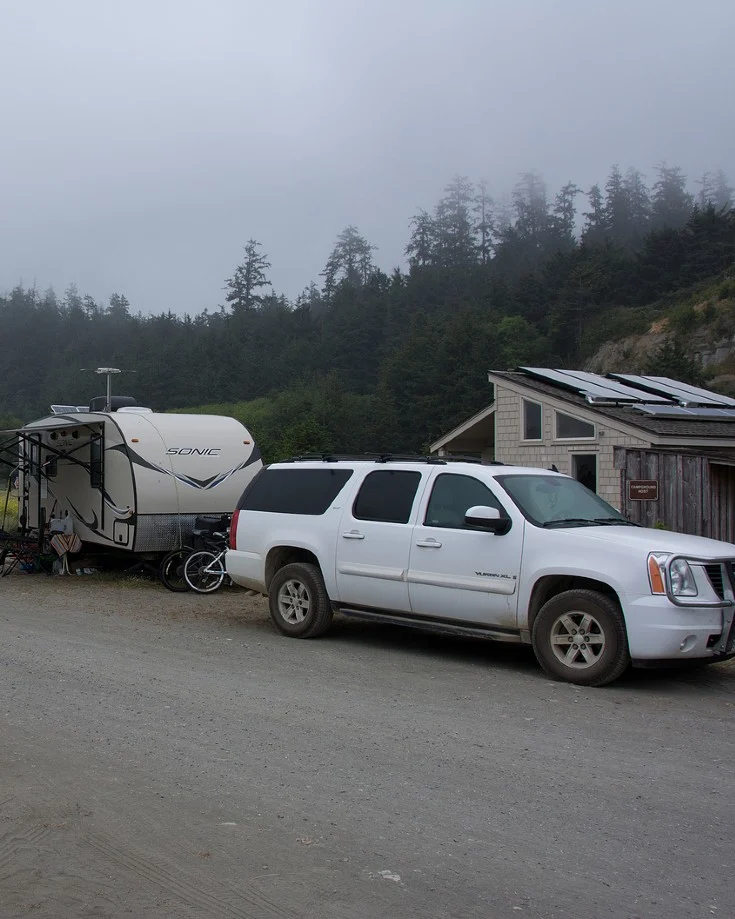 Few resorts — much fewer RV parks — can hope to match the spectacular beauty that Gold Bluffs Beach Campground offers in spades. Set alongside the Pacific coastline, you'll wake up to the kind of beauty that people pay big bucks to experience — but camping here only costs $5 a night.
While there's certainly no shortage of sand and surf to explore, this isn't just a beach. There are over 70 miles of biking and hiking trails in the area, and you can go from sandy dunes to the majestic forest in just a few steps.
The wildlife is indicative of that variety as well. There aren't many beaches in the world where you can see herds of elk roaming nearby, but this is one of them. Don't get too close, however; while they may look docile and majestic, no one wants the words "stomped into elk paste" written on their death certificate.
AMENITIES
This campground may be one of the most beautiful on the planet, but you'll have to work to earn that beauty. You can park small RVs (up to 24 feet) at one of the campgrounds, but to reach the most majestic spot, you'll have to walk 5 miles or bike 10. No vehicles are allowed at this spot, so it's tent camping only. It's well worth it if you're able to make the trek, however.
If you decide to stay at the campground that accepts RVs, you'll find solar showers, restrooms, picnic tables, fire pits, and barbecues available for you to use. None of this will meet your standards if you're used to the height of luxury, but it has everything you need to spend a few comfortable nights here — and the scenery more than makes up for the lack of sophistication.
There aren't any hookups to be found, although they do offer covered trash receptacles and animal-proof bins. You can get in a lot of trouble if you leave food out (even crumbs), so be sure to police your scraps — or else a bear might do it for you. You can also find potable water here, and you're much less likely to get yelled at while using that.
Being near the beach is certainly a perk, but it's not without its drawbacks. There aren't any actual redwoods at this site, so you'll have to travel elsewhere to find those (or, you know, look down the roadways). Fortunately, the camp is pretty centrally-located, making it easy to mosey on over to other sites when you're tired of splashing in the water. The lack of trees also means there really isn't any shade or windbreaks, although the site does offer wind shelters.
WHAT WE LIKE
Breathtaking beach views
Can see herds of elk roaming nearby
Close to other campsites
Lots of hiking and biking trails nearby
Showers and animal-proof trash bins are available
WHAT WE DON'T LIKE
Most beautiful campsite requires a long hike to access
No actual redwoods here
Also Read: 5 Miami Beach Campgrounds for Your Van or RV
If you want to see something other than trees on your trip, this campground is fantastic for spying on all kinds of animals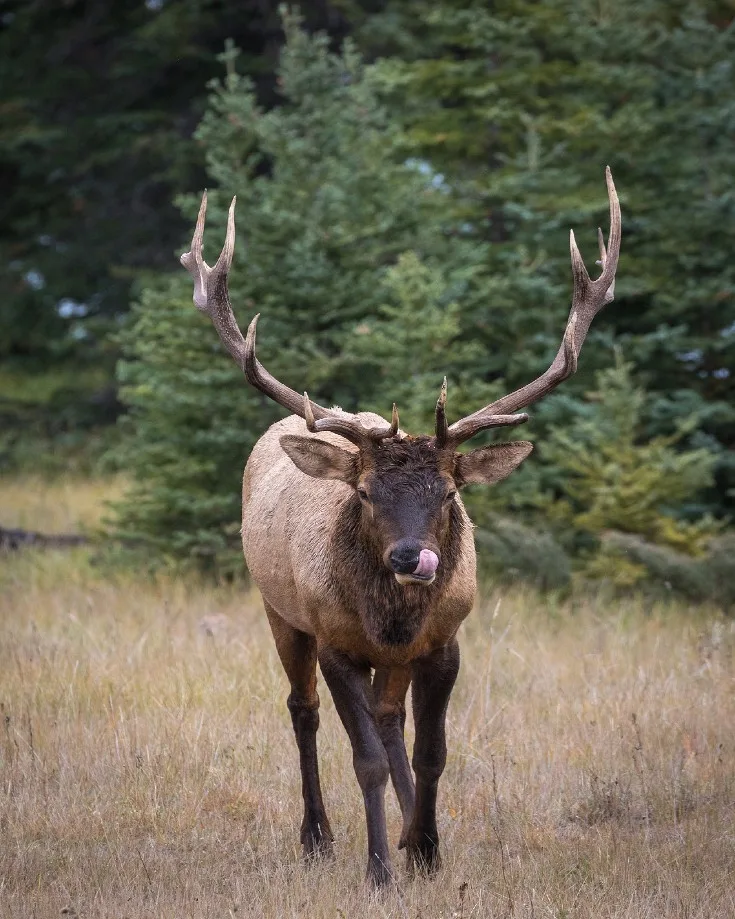 As you've probably noticed, the local elk herd is something of a big draw around here. The Elk Country RV Resort & Campground makes no bones about that fact, as they promise near-daily views of the herd from their grounds.
It's understandable that the animals would be drawn to this spot, as it offers huge, lush meadows for them to graze upon. Those meadows also offer you an unobstructed view of both the beasts and the scenery, and it can be refreshing to get some distance from the forest (as it turns out, it is kind of hard to see the forest for the trees).
The campground sits on nearly 200 acres of mostly flat land, giving you plenty of room to park your rig. There are plenty of campgrounds to choose from, so you shouldn't have to worry about getting shut out (but they do take reservations, just in case). There's a good mix of full-hookup RV sites and tent-only campgrounds, and they offer both pull-through and back-in spots.
AMENITIES
The facilities are clean if unspectacular, but at the very least you should be able to take a shower without walking away feeling dirtier than when you went in. That's no small thing, and it may be enough to convince you to come back after you visit some of the other sites in the area.
Regardless of what kind of campground you stake out, you shouldn't lack things to do. The beach is less than a mile away, and you can ride horses, go kayaking, swim in the private lake on the premises, or head out on the local hiking trails if you like. If you're bored here, you're not trying very hard.
You can get Wi-Fi and satellite TV here, but the reception for both is spotty, so you're better off spending your time surfing in the ocean than on the web. The park has a small convenience store and gift shop if you left behind any essentials, but don't expect to stock up there, as the selection is limited.
The staff will help you with anything you need but don't expect them to play tour guide. They have a bit of a reputation for being less-than-chipper, but as long as you follow the rules, you should be fine. This isn't a place that goes above and beyond to make your stay magical, though.
This is one of the quieter campgrounds you'll find in the area. It's set far enough back from the road that you shouldn't have to deal with lots of traffic noise, and the site is large enough that other campers shouldn't bother you.
WHAT WE LIKE
Tons of things to do
Open meadow creates wonderful views of elk and other wildlife
Lots of room to stretch out
Good mix of full-hookup RV sites and tent-only spots
Very quiet
WHAT WE DON'T LIKE
Poor Wi-Fi and satellite TV reception
Customer service isn't spectacular
What does this site have to offer? Oh, nothing much — just the oldest tree on the planet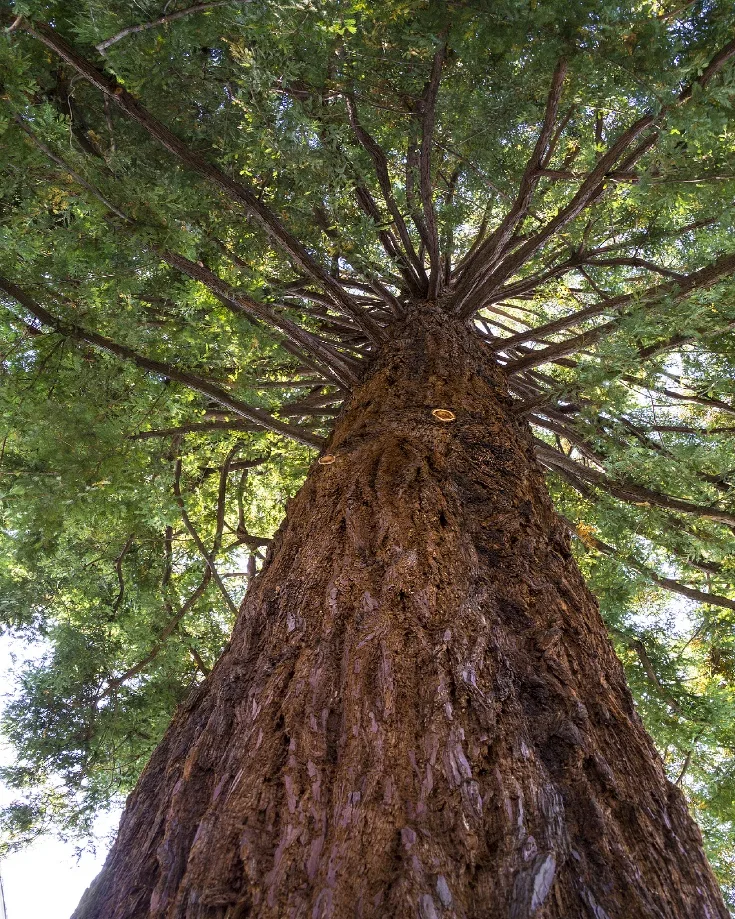 There's a reason why Ancient Redwoods RV Park was given its moniker: it's very close to the Immortal Tree, a 1,000-year-old redwood that has survived all sorts of misfortune. That's not the only old giant in the area, as there are dozens of other huge, elderly trees to check out. It's not far to the famous redwood that you can drive through, either (although we guess that, technically, they're all redwoods you can drive through if you go fast enough).
Just because the park hangs out around old shrubbery doesn't mean it's old as well, however. While the variety of amenities won't blow you away, everything is clean and well-maintained, and you'll actually feel comfortable using the restrooms and showers. You can also use the laundry facilities if necessary.
AMENITIES
The park is surprisingly large, and it has room to accommodate 49 big rigs, although smaller RVs are also welcome. They offer 20-, 30-, and 50-amp hookups, and each spot has plenty of room for slide-outs. Each of their slots is paved, but there are grass medians between each berth, giving you a bit of breathing room from your neighbors.
All that room means that it's very quiet out here, and nature lovers will actually be able to hear nature. Don't expect to be able to call your friends and tell them how quiet it is, though, as cell service is poor except for a single booster spot. Satellite reception is hit-or-miss, but if you tell the staff that it's important that you not miss your stories, they'll try to situate you in one of the spots that get a strong signal.
There's a convenience store on-site, but it's not useful for much more than snacks. You'll want to stock up on groceries before you come, although you can at least whet your appetite by picking some of the wild blackberries that grow around the campgrounds.
It's not open year-round, though, so you'll have to make reservations between April and October. That can make it a bit more crowded when it is open, so don't dawdle if you're thinking about dropping in.
WHAT WE LIKE
Close to some famous ancient redwoods
Facilities are clean and well-maintained
On-site laundry
Room to accommodate big rigs
Quiet and friendly for nature lovers
WHAT WE DON'T LIKE
Not open year-round
Getting groceries can be a pain
Campervan and RV Rentals In Redwoods
Renting an RV is a great way to get all the benefits of an RV vacation without having to own one. It's a perfect way to give RV living a trial run before making an investment and testing out the different models available to see what suits your family best.
At Outdoorsy, you can rent RVs and campers from other RVers. Click here so see what's RV rentals are available in Redwoods, and use MOWGLI50 discount code for $50 off your first rental.
If you already own an RV and don't live in it full-time, you can make it available for rental too, so keep maintenance down and get a welcome boost to you income at the same time.
How to Choose the Right Campsite
We believe that Redwood Meadows RV Resort is your best bet if you're visiting Redwoods National Park, but it may not be perfect for everyone. To decide which campsite is right for you, you need to evaluate them all on their merits — and that means first deciding what it is you value in a campground.
Below, we've listed the criteria that we use to evaluate potential camping spots. These things are all worth thinking about, but feel free to add your own if you think we've missed any.
Location
A campground isn't of much use if it's not near anything you want to see. There are plenty of places where you can set up a tent or hook up an RV, but unless they're surrounded by sights and attractions you're interested in, they're just another place to sleep.
Also, even in a place called "Redwood National Park," you'll find quite a few different settings to choose from. Do you want a beachfront view, or would you rather be surrounded by trees? How far away from civilization do you want to be? These are just a few of the questions you should consider before settling on a spot.
Price
Campground prices can run the gamut from a few bucks a night to rates rivaling some hotels. As a general rule, the more expensive the site, the more amenities it would be expected to provide.
Most campsites in national parks only cost a few bucks a night, but all you're likely to get in return is a place to sleep, a bathroom or two, and maybe some potable water. High-end RV parks, on the other hand, can offer all the comforts of home, although they'll be considerably more expensive.
Amenities
Different campers have different camping styles, and you'll need to decide what amenities you absolutely have to have. For primitives, it may just be a flat spot to set up a tent, while glampers may feel like reliable Wi-Fi is an essential human right.
There isn't any sense of uniformity when it comes to amenities, and each site will vary wildly in what it has to offer. Don't roll up just expecting a campsite will have full hookups or even potable water. Do your research in advance, or else there's a good chance you'll wind up disappointed.
Ease of Use
While there are many sites in and around Redwood National Park that allow RVs or vans, that doesn't mean they're all equally suitable for them. Many of the sites in the area are accessed by driving up narrow roads with lots of sharp turns, and that can be harrowing for many drivers.
You should also check to see how big the berths are, whether they're pull-through or back-in, and the like. Some campgrounds are much easier for RVers to use than others, and there's no sense in making it harder on yourself than it needs to be.
Wrapping Up
If you're ready to see some of the most impressive forests the world has to offer, then Redwood National Park is the place to be — and we recommend staying at Redwood Meadows RV Resort while you're there. It offers easy access to almost anything you could want, including aquatic activities, shopping, and hiking trails.
Then again, you can't really go wrong with any of the sites on our list. That's the great thing about a forest full of redwoods — they've spent hundreds of years perfecting themselves, just in the hopes that you might decide to visit someday.
Make sure you choose an RV weather station to help you keep track of the weather.
If you liked this article about the best campground in Redwood National Park, consider checking out some of our other favorites below–