RV owners who enjoy living off-grid and boondocking know the importance of having a reliable power source.
When you're out in the middle of nowhere, you need something that can handle the load.
One way to do this is by using a generator when camping in areas without power hookups or if you need more electricity than your battery bank and solar panels can provide. The best propane generators for RVs are perfect for those who like to live off the grid.
With a dependable power supply, you'll never have to worry about losing your lights or your refrigerator running out of power. The question is: what's the best generator for your RV?
There are a few different types of generators to choose from, but the best option for most people is a propane generator. Propane generators are easy to operate and provide plenty of power, making them perfect for RVs. In this post, we'll take a look at some of the best propane generators for RVs and help you decide which one is right for you.
One of the best things about propane generators is that they are incredibly easy to operate. You don't need to be a mechanic to get them up and running – all you have to do is attach the propane tank, hook it up and turn it on.
Shopping around for a good propane generator can be quite a challenge. Fortunately, we've done the research to bring you 5 of the best propane generators for RVs, so you don't have to compare them yourself. In this guide, you'll see what each generator has to offer and which ones will suit your needs the best.
When you click on links to various merchants on this site and make a purchase, this can result in this site earning a commission. As Amazon Associates, we earn from qualifying purchases. For more info, please check our disclosure page.
DuroMax XP4400EH Dual Fuel Portable Generator-4400

Wattage: 4,400 Watts
Volts: 120 Volts
Sound level: 69 decibels

CHECK PRICE ►

Champion Power Equipment

Wattage: 3,800 Watts
Volts: 120 Volts
Sound level: 68 decibels

CHECK PRICE ►

Pulsar G12KBN Heavy Duty Portable Dual Fuel Generator

Wattage: 12,000 peak Watts
Volts: 120 Volts
Sound level: 77 decibels

CHECK PRICE ►

All Power America APG3590CN, 10000 Watt Propane Generator

Wattage: 10,000 Watts
Volts: 120 Volts
Sound level: 75 decibels

CHECK PRICE ►

Westinghouse WGen3600DF Dual Fuel Portable Generator 3600 Rated 4650 Peak Watts

Wattage: 3,600 Watts
Volts: 120 Volts
Sound level: 69 decibels

CHECK PRICE ►
Features
Wattage: 4,400 Watts
Dimensions: 23.8 inches long, 20 inches wide, 18 inches high
Color: Combination of blue and black
Volts: 120 Volts
Sound level: 69 decibels
Engine Type: DuroMax 210cc overhead valve (OHV) engine
The first thing you'll notice when looking at this unit is how it's built entirely out of metal. That means the entire unit is pretty rugged and can take a bit of punishment if it ever has to.
Of course, it's not just built tough, but it also offers flexibility with its dual-fuel capabilities.
Don't worry if you ever run out of propane because you can still run this generator on gas.
This generator offers 4,400 starting watts and 3,500 running watts, and all of it runs through three outlets. Better yet, those outlets are GFCI-protected to keep things safe while you've got it up and running.
Lastly, you can move the unit around easily thanks to its two 8-inch, solid fill tires. Even if they get cut, those solid fill tires will still help you move the generator to where it needs to go.
What We Like
Firstly, we like that this generator has a high starting wattage of 4,400 Watts. That provides assurances that you'll have no problems powering larger appliances like fridges onboard your RV.
Besides that, the overall metal build and solid wheels are also plus points for this model. Living the RV lifestyle is all about mobility and ruggedness, and this generator offers both.
What We Don't Like
Unfortunately, DuroMax didn't provide any kind of waterproofing or weather protection on this generator. So, you'll have to be mindful of the weather when you decide to pull this out and use it.
Plus, it's also pretty heavy at 132 pounds. Sure, it's got wheels and handles. But at that weight, even dragging it around will be pretty tiring.
Pros
Electric starter
Rugged wheels
Dual fuel (gas and propane)
Cons
No waterproofing
Heavy (132 pounds)
Features
Wattage: 3,800 Watts
Dimensions: 26.3 inches long, 24.8 inches wide, 22.9 inches high
Color: Yellow
Volts: 120 Volts
Sound level: 68 decibels
Engine Type: 224 ccs, 4-stroke engine
For RVers looking for a bargain, check out this 3,800-Watt generator by Champion Power Equipment. Not only is it budget-friendly, but it also packs plenty of useful features.
Aside from its high 3,800-Watt output, this generator also has dual-fuel capabilities. So, even if you do run out of propane, you'll still be able to keep this running with gas.
Besides that, this model also comes with Intelligauge. It's a three-way digital display that helps you keep an eye on voltage, hertz, and even runtime hours so you can be sure you're not overworking it.
Lastly, this unit has four outlets protected by the Volt Guard built-in surge protector. That includes two household outlets, an RV outlet, and a 120V 30A locking outlet, too.
What We Like
Without a doubt, the one thing we liked the most is the Intelligauge. The digital gauge that shows you voltage, hertz, and run-time hours might not seem like a big deal at first.
But all that information will go a long way in helping you monitor its output and keeping it well-maintained.
What We Don't Like
Unfortunately, there is a learning curve in using this model. Turning the generator on and off requires a few different steps, the same way it does with any other model. However, this model doesn't have all of those controls in the same place.
So, getting used to the start-up and turn-off procedures will require a bit of practice.
Pros
High Output
Intelligauge Digital Gauge
Dual-Fuel
Cons
Loud (68 decibels within 23 feet)
Multiple steps to turn on/off
Fluctuating output
Read more: Best RV Surge Protectors (30A & 50A)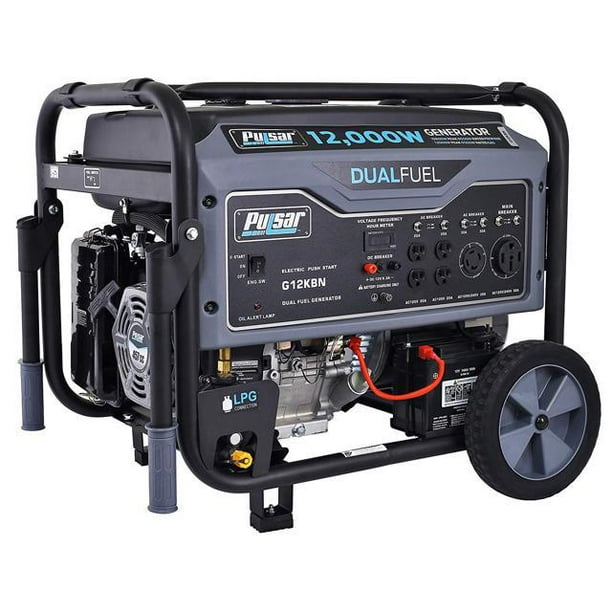 Features
Wattage: 12,000 peak Watts
Dimensions: 28.5 inches long, 26 inches wide, 25.5 inches high
Color: Space Gray
Volts: 120 Volts
Sound level: 77 decibels
Engine Type: 457cc, 4-stroke engine
Some users are looking for a portable generator that packs a bit more of a punch. If that sounds like you, then you're going to love what Pulsar has to offer.
Pulsar's heavy-duty, space-gray-colored generator offers a whopping output of 12,000 Watts. That's certainly more than enough to power just about anything in or around your RV.
Better yet, it's got an 8-gallon tank that you can use to run it with either LPG or gas. With that much fuel on board, you can run this generator for a long time without any interruptions.
Despite how powerful this generator is, you'll find that it's surprisingly straightforward to use. On top of that, the electric starter that's built into this model helps you start it even quicker.
What We Like
As you might expect, we liked this generator for its impressively high power output. But there's much more to it than that.
Firstly, all that high-power output remains stable even when you run the generator for extended periods. So, you won't have to worry about an unstable electricity supply in the middle of the night.
Plus, despite how powerful this unit is and how much fuel its tank can store, it's surprisingly fuel-efficient overall.
What We Don't Like
Sadly, Pulsar didn't seem to put enough effort into reducing the noise that this generator creates. So, along with the high power output, this unit also lets out about 77 decibels worth of noise every time you run it.
Besides that, this portable generator would be much better if it came with increased portability. Its wheels are not the optimal size for pulling this generator around, especially if you're on unpaved terrains like dirt and soil.
Pros
High power output
Stable long-term output
Fuel-efficient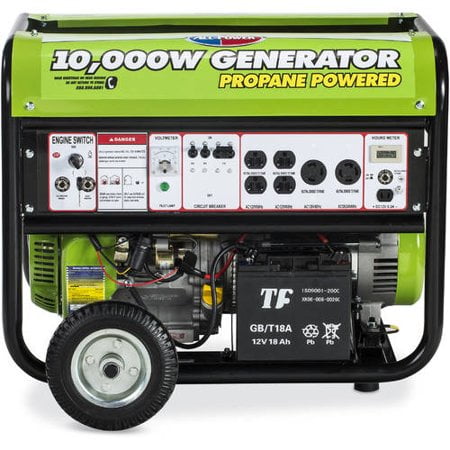 Features
Wattage: 10,000 Watts
Dimensions: 29.5 inches long, 23 inches wide, 22 inches high
Color: Green and black
Volts: 120 Volts
Sound level: 75 decibels
Engine Type: 420cc, OHV engine
Portable generators are the only option for RVs, aside from being permanently fitted. Still, some units are more portable than others. All Power America offers an incredibly portable propane generator with an output of 10,000-Watts.
This neon-green and black generator is an excellent option for RV-ers who don't have high electricity needs and prefer smaller ones. It'll run for 8.5-hours straight at a relatively quiet 75 decibels.
The generator's form factor makes it incredibly easy to store, especially if you have limited space onboard your RV. Plus, the neon-green color offers an additional benefit. It's effortless to find this generator in the dark, especially during emergencies.
What We Like
The main thing we like about this generator is that it's lighter and more portable than a lot of other RV generators.
But on top of that, the anti-corrosive coating on this generator will also help you in the long run. Even if you keep this generator in storage and never pull it out, you don't have to worry about it rusting away so quickly.
What We Don't Like
Being an exceptionally portable generator means that this unit comes with a few tradeoffs. For starters, the onboard fuel tank is slightly smaller at only 5 gallons. So, you'll have to be a bit more mindful about keeping the tank full if you plan on running it for extended periods.
Besides that, the outlets are uncovered and will get wet if it rains. So, you'll have to provide the unit with some shade if there's a chance of a drizzle or rain in your location.
Pros
Anti-corrosive coating
Light and portable
Automatic low oil shutdown
Cons
Uncovered outlets
Smaller 5-gallon fuel tank
Not compliant with California emissions rules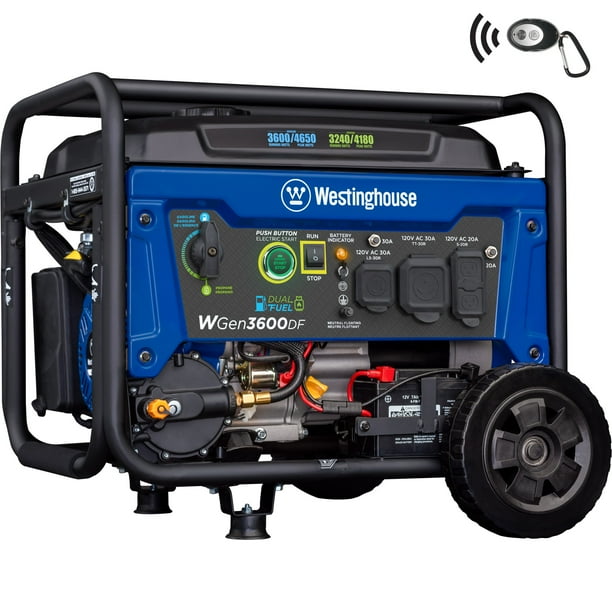 Features
Wattage: 3,600 Watts
Dimensions: 23.3 inches long, 22.8 inches wide, 21.3 inches high
Color: Blue and black
Volts: 120 Volts
Sound level: 69 decibels
Engine Type: 212cc, 4-stroke OHV engine
Last but not least, we have Westinghouse's dual-fuel portable generator. This unit offers an output of 3,600 watts thanks to its 212cc, 4-stroke OHV engine.
One of the highlights of this unit is its electric starter. Sure, it has an electric starter like many other portable generators do. However, this is one of the few models that features a remote electric start that you can control with the key fob they provide.
Just imagine: you could set up the generator outside your RV and turn it on from inside using the key fob whenever you need to.
Thanks to that neat little feature, this unit offers a new dimension of convenience that many other models don't.
What We Like
As you've seen above, the main highlight of this portable generator is its remote start capability. However, it's also worth mentioning that this model is RV-ready thanks to the Travel Trailer or TT-30R receptacle featured on its control panel.
Evidently, Westinghouse had RV-ers in mind when they designed this portable generator.
What We Don't Like
Sadly, this unit isn't as fuel-efficient as some of its peers. That might not be too much of an issue if you're only using it for short periods. However, using it for many hours can be a challenge.
Less fuel efficiency means this unit will burn through its fuel pretty quick, and that'll require a refill from you. So, even though the generator can run for a long time, it can't do so uninterrupted.
Pros
Remote start
RV Ready
Additional accessories (e.g. battery charger, key fob, tool kit, etc.)
Cons
Less fuel-efficient
No hour meter
Heavy for some users
Types of RV Generators
Shopping around for an RV generator can be pretty overwhelming, especially with all the available choices. You can make the process easier by deciding what type of generator you want.
In RV Generators: The Definitive Buying Guide, you can see that you can categorize RV generators in two ways:
By fuel type: Generally, you've got gas and propane generators. These days, dual-fuel generators that can run on both are becoming more common. If you have to choose one over the other, stick with whichever type of fuel you're most likely to carry in your RV. That way, you'll save space and money on your RV.
By inverter type: Some generators have inverters, and others don't. Inverter generators will run slower when it's got a low load and adjust themselves to a higher speed when the load gets heavier. Some buyers avoid inverter generators because they're more expensive upfront. However, they're also more efficient and can save you money on fuel costs in the long run.
Read more: What Is An Inverter Generator?
What Makes a Great RV Propane Generator?
The perfect propane generator for one person might not be the same for another. It all boils down to what you need it for and how you plan on using it.
As an RV-er, here are the 3 things that make a propane generator suitable for you:
Portable: There's never enough space in your RV. So, you'll need a generator that's small and light enough that it doesn't get in the way or become a burden.
Powerful (enough): You don't need the most powerful generator on the market. But, you do need one that's powerful enough to keep your appliances running and your batteries charged.
Easy-to-use: Some generators are easier to use than others. To save you time and prevent headaches on the road, choose one that doesn't have a steep learning curve to operate.
Read more: Best 50 Amp Generators for RVs and Campers
Read More About RV Generators
Conclusion
All things considered, the best propane generator for your RV in 2023 is the DuroMax Dual-Fuel Portable Generator. It's got a reasonable size that'll fit neatly in pretty much any RV, it's got enough of an output to run your onboard appliances for plenty of time, and it doesn't take long to figure out how to use it. You can't ask for a more versatile generator.
If you like this article about the best propane generator for RV, consider checking out these other articles below: