Picture this — you're out on a long drive in your camper van. Suddenly, you find the perfect time of day and site to set up camp. You pull over, layout your camping lawn chair, and realize that you need something to protect yourself and your belongings from the beating sun.
The realization hits you — you need a roof rack awning.
Buying the best roof rack awning for your camper or RV will require a bit of homework on your part. Choices abound, and it's easy to get lost in all of the options.
Luckily, that's where we come in! We've done some research to bring you the best roof rack awnings.
We've listed five, but we've given the crown to Front Runner's Easy-Out Awning for its versatility, fool-proof assembly, and overall protection.
When you click on links to various merchants on this site and make a purchase, this can result in this site earning a commission. Affiliate programs and affiliations include, but are not limited to, the eBay Partner Network. As Amazon Associates, we earn from qualifying purchases. For more info, please check our disclosure page.
Overall Best Roof Rack Awning- Front Runner Easy-Out awning

Mounts to the side of the vehicle
Weighs 37.5 pounds
Fits most roof racks and rafters

CHECK PRICE ►

Most Budget-Friendly Roof Awning – Moonshade REGGREY 7 x 9 ft. Portable Vehicle Awnings

Lightweight at eight pounds
7 x 9 feet
Manual setup

CHECK PRICE ►

Best For Small Vans – ARB 4×4 Accessories Touring Retractable Awnings (1250mm x 2100mm) – 814301

Side-mounting
Weighs 25 pounds
4.1 x 6.8 feet

CHECK PRICE ►

Best Batwing Compact Roof Awning – Rhino-Rack Batwing Compact Awning

Mounts to the side and rear of the vehicle
Weighs 40 pounds
Shaded area totals 6.4 square meters

CHECK PRICE ►

Easiest To Set Up Roof Awning – Thule Outland Awning

Goes on either side of a vehicle
8.2 x 7.6 feet
Weighs 30 pounds

CHECK PRICE ►
Features
Fits most roof racks and rafters
Three-piece enclosure type awning
Easy to attach with the nylon clips that fit on the rafters of the camper
Mounts to the side of the vehicle
Weighs 37.5 pounds
Each wall measures 2.5 meters in both width and height
The Best Roof Rack Awning for Those Who Want All-around Protection from the Elements
Part of camping is the element of surprise. The elements can throw all sorts of things your way — from rogue rain storms to cold snaps. If you're prepping for an outdoor excursion where anything can happen, look no further than the Front Runner Easy-Out Awning.
Unlike most roof rack awnings, the Easy-Out Awning has an enclosure design. It provides a 2.5 x 2.5-meter closed space, giving you maximum privacy.
Outdoor privacy is only one of the perks of this roof rack awning. Made of industrial-strength canvas and nylon, this roof rack awning provides protection that keeps sunlight, rain, and even mosquitos at bay.
The Easy-Out Awning lives up to its name with its hassle-free setup. A pair of nylon hangers latch onto the rafters of your camper as two horizontal poles support the rest of your awning from the other side. Besides that, each wall comes with windows and zippers that make you feel like you've got a home in the great outdoors.
What We Like
Awning delivers on its promise of 360-degree protection
Easy to attach to the rafters with the nylon clips
Access to the vehicle is easy because of the zipper in the rear panel of the awning
Very lightweight for an enclosure-type awning.
What We Don't Like
Can get pretty warm inside during a hot summer day
Easy to set up only if there's another person to assist
Pros
Durable
All-around privacy
Fits most camper roof racks or brackets
Cons
Two-man assembly
Can be extremely warm inside
The spiked pegs can require a bit of effort to drive into harder soil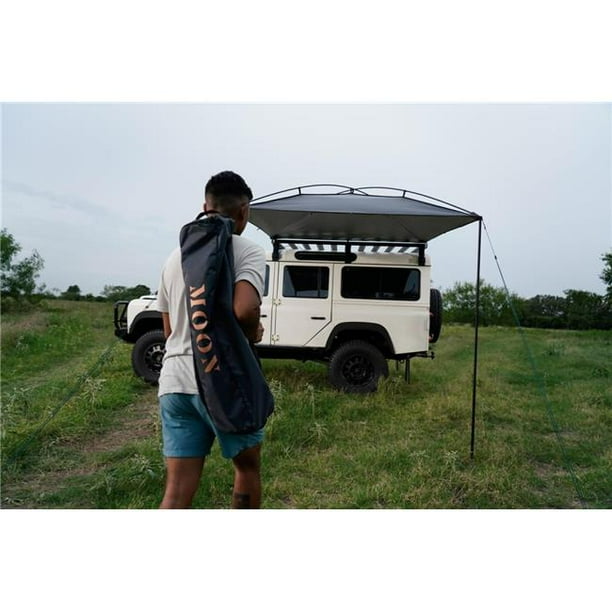 Features
Easily attaches to most roof racks and other objects like trees
Manual setup
Attachable to a camper's roof rack or on objects like trees or even rocks; may stand even on its own with added four upright pegs
Lightweight at eight pounds
7 x 9 feet
The Best Roof Rack Awning for Anyone on a Tight Budget
Finding the best roof rack awning doesn't need to break the bank. No other roof rack awning proves this better than the REGGREY 7 x 9 feet Portable Vehicle Awning.
The REGGREY Portable Vehicle Awning is very affordable. But don't let the low price fool you; this awning has a lot to offer — from full waterproof coverage to easy anchoring.
The REGGREY Portable Vehicle Awning can latch on to your vehicle or any other sturdy surface. With a variety of anchoring systems that come along with the package, it's hard to believe the whole awning weighs only eight pounds!
What We Like
Easy to set up
Portability par excellence
Doubles as an outdoor garage for medium-sized vehicles
What We Don't Like
No overhang on the awning, so water splashes into the roofed area when it pours
Lightweight construction allows it to be blown by strong winds
Cheaper options are available for those who really want to rough it
Pros
Easy to assemble and pack
Easy to transport
Can go on vehicles or anything else that's sturdy enough
Cons
Doesn't protect 100% from rain owing to its open construction
Could be blown off by strong winds
Not ideal for camping groups of more than three people
Features
Goes on most small vehicles with roof racks
Self-standing with the height being adjustable with telescopic legs
Latches onto rafters with universal brackets
Side-mounting
Weighs 25 pounds
4.1 x 6.8 feet
The Best Roof Rack Awning for Those with Small Camping Vehicles
Not everyone's got a big RV or camper. For smaller campers and vehicles, there's ARB's Touring Retractable Awning.
This roof rack awning has the right attachments for most SUVs and even larger station wagons with roof racks. PVC-lined polyester lines the entirety of the awning, guaranteeing protection from rain and UV.
With a self-standing system, all you'd need to do is latch it to the rafter or rack, pull the awning roof across, and set the telescopic legs. This can be done in under 30 seconds!
Four feet across and six feet in height, it gives just enough coverage from the elements.
What We Like
Waterproof and UV-resistant as advertised
Takes less than a minute to set up the awning's frame
Sturdy telescopic legs
What We Don't Like
Not ideal if you want better protection from the elements
Great for quick shade but not much else
A bit pricey for what it offers
Pros
Straightforward setup
Comes with instructions and a heavy-duty PVC bag for storage
Easy to attach on small compact vehicles like SUVs and pickup trucks
Cons
Expensive
Too many accessories
Provides enough shade for only two people
Features
Fits most small to medium-sized vehicles with Pioneer, Thule, Rhino-Rack racks
Attachable to brackets on the side and rear of the roof rack
Easy-fit brackets branch out to form the awning's roof
Mounts to the side and rear of the vehicle
Weighs 40 pounds
Shaded area totals 6.4 square meters
The Best Roof Rack Awning With a Batwing Design
Batwing awnings are another excellent option for those looking to maximize the outdoor use of small and medium-sized vehicles. These awnings latch onto the side and rear parts of the roof rack, giving 270-degree coverage.
If you're in the market for such an awning, Rhino-Rack's Compact Batwing Awning is a great choice.
The 270-degree coverage shades roughly 6.72 square meters when fully spread. The Compact Awning is sizable, offering rain and UV protection for up to six people. The material is also resistant to mold, so don't worry about the awning's condition deteriorating when you store it.
Ripstop lines the entire awning and gives it lasting power even with frequent use. This awning will take anything you throw at it since it's waterproof and UV-resistant.
What We Like
Tripping is nearly impossible with the awning's bright orange guy ropes
Neodymium earth magnet helps secure the awning arms — not common in many roof rack awnings
Conversion into a full enclosed awning is possible
Modular design capable of accommodating other Rhino-Rack attachments and accessories like the Rhino-Rack Shovel Holder
What We Don't Like
Powder-coated poles and frames can chip with repeated use
The PVC cover bag leaked when we stored the awning after the rain
Not the most lightweight roof rack awning out there
Pros
Durable
Weather-proof
Convertible into a full enclosure
Cons
Will fit only certain roof rack brands
Not the best roof rack awning for windy days
On the heavy side, as far as roof rack awnings go
Features
Compatible with most roof racks
Push-button operation and setup
Attaches with a roof rail system
Goes on either side of a vehicle
8.2 x 7.6 feet
Weighs 30 pounds
The Best Roof Rack Awning If You're Looking for One That's Easy To Set Up
Roof rack awning assembly and setup is a pain point most companies have tried to solve. Thule has come up with a solution — the Outland Awning.
Simple in appearance and assembly, this is a roof rack awning for those looking for a good time outdoors with no fuss.
The roof rack awning comes as a bar that attaches to the side of a roof rack. The bar contains a rolled-up fabric that makes up the awning roof. All you need to do is pull it out and prop up the legs folded to the fabric's ends.
The telescopic legs come with a quick-lock mechanism that's great for height adjustments. The push-button operation takes care of everything from stretching the roof fabric to storage.
Attachments like the rain guard are easy to install with the Outland Awning's lead rail system. Easy installation and rain and UV protection — what more can you want in a roof rack awning?
What We Like
Can't make a mistake setting this awning up
The rail box that contains the awning roof and telescopic legs can be left latched on the roof rack when weather conditions allow
Takes less than a minute to set up the awning
The anthracite roof looks great
What We Don't Like
A bit pricey for the limited coverage it provides
Setup can be tricky the first time (but easy after that)
Doesn't hold up during heavy rain
Pros
Straightforward setup
User-friendly accessories and instruction manual
It will not fall off when attached to the roof rack
Cons
Pricey for its limited coverage and protection
The aluminum shell rail can make noise on the road if you haven't secured it well enough on the roof rack
Pegs need to be nailed to the legs, so the awning doesn't get blown off
Self-retracting vs. Manual vs. Air Campervan Awnings
There are several types of roof rack awnings according to operation on the market.
A self-retracting awning usually comes with a casing system. The casing system goes on the roof rack and stores the fabric that makes up the awning's roof. To set up a self-retracting awning, all you need to do is pull out the roof fabric and attach the telescopic legs.
After usage, the awning is easily retractable with a push-button system that draws in the fabric. One example of a self-retracting awning is the Thule Outland Awning we discussed earlier.
Manual awnings usually have levers to control how the awning gets drawn in. Some manual awnings will have knobs. They may be cumbersome, but for the reduced convenience, these come with lower price tags.
Air campervan awnings are also inflatable awnings. These are roof rack awnings that resemble tents. Because of their construction, these will offer better 360-degree protection from the elements. Of course, you'll need a compressor on hand.
What Is the Best Type of Awning: 360 vs. 270 vs. 180 Degree?
Now let's look at coverage. There are three types of awnings according to how much protection they provide — 360, 270, and 180-degree awnings. The best one depends on your needs and budget.
180-degree awnings — without features like self-retraction — will usually be cheaper but offer limited protection. These awnings provide just enough shade on one side of the vehicle but not much else.
360-degree awnings like the Front Runner Easy-Out Awning will offer maximum protection. Because they're like umbrellas or tents, these awnings will protect you and your vehicle. Of course, you should be prepared to pay more for one of these awnings.
In the middle are batwing or 270-degree awnings. These awnings mount onto the side and rear parts of the roof rack. Usually, the frames will extend to the back and sides, supporting the roof that extends to the side and rear parts of the vehicle.
The Best Roof Rack Awning Is…
For the balance, it strikes between versatility, protection, and ease of setup, the Front Runner Easy-Out Awning is the best roof rack awning for any outdoor trip.
While we couldn't sing enough praises for this roof rack awning, the best roof rack awning will ultimately depend on your preferences and budget. Whichever one you choose, ensure that your choice follows research — hopefully, one our product guide has already helped you with.
Enjoy the outdoors and keep all your bases covered with the right roof rack awning!
If you like this article about the best roof rack awning, consider checking out these other articles below —