Buying gifts for RVers is a little different than buying presents for anyone else. They don't have a lot of space, so everything they bring along with them has to count.
We've been taking our camper around the country for years, so we've got lots of insight on what makes a great RV gift and what doesn't.
Right off the bat, we'll tell you that the Instant Pot Duo 7-in-1 Electric Pressure Cooker is an excellent choice. It's just as convenient and a time-saver in an RV as it is in a traditional house.
Keep reading for lots more smart ideas for RV gifts for dad, mom, and kids. If you're still looking for that perfect present after that, check out our RV gifts buying guide for more help.
When you click on links to various merchants on this site and make a purchase, this can result in this site earning a commission. As Amazon Associates, we earn from qualifying purchases. For more info, please check our disclosure page.
Best RV Gifts for Mom
Thoughtful gift for RVers to help with cooking
We've given the Instant Pot Duo 7-in-1 Electric Pressure Cooker our top spot for best gift for RV owners because it's such a convenient piece of machinery.
With this pressure cooker, RVers can prepare a variety of meals in just minutes. Chicken, roasts, and more cook in a fraction of the time so your campers can spend more time having fun.
What I Liked
Compact appliance that packs a big punch
Makes dinner time quick and easy
Prepares a variety of foods in a fraction of the time
What I Didn't Like
Power cord is on the short side
Adorable RV gift for families on the go
Living on the road doesn't give a lot of RV owners an opportunity to decorate around the outside of their mobile home.
That's why this Home is Where We Park Decorative Doormat is such a thoughtful gift. The humorous saying and cute graphic will brighten up the space and give the recipient a way to make their home away from home a little more cozy.
What I Liked
Cute gift for decorating outside the RV
Keeps dirt and debris out of the camper
Easy to move when it's time to go
What I Didn't Like
Pattern will wear away with repeated use
RV gift that carries the camper motif into the kitchen
Another gift for RVers that will inject a little personality into their space are these adorable kitchen towels.
Perfect for the traveler who loves camper motifs, these towels look great, but they're also super absorbent, so they're useful too.
What I Liked
Fun towels with camper trailer graphics
Super absorbent for use in the kitchen
Machine washable for easy care
What I Didn't Like
Only two towels are included in this package
Smart alternative to glass and ceramic
Ask anyone who's broken a glass in the kitchen, and they'll tell you it always leads to a massive cleanup effort and a stressful few days as they make sure there are no stray shards.
These unbreakable, stemless wine glasses are an excellent choice for RV use because they won't shatter if dropped. Seeing as campers do a lot of moving, this is a huge benefit.
What I Liked
Set of four stemless glasses for wine and drinks
Nearly indestructible, won't shatter if dropped
Perfect for all kinds of occasions
What I Didn't Like
Feels more like plastic than glass
Keeps drinks safe, steady, and nearby
In any stationary house, you can set a glass on a table with no fear of it spilling over. That's not always the case in a moving RV.
This drink holder makes our list of great RV gifts for mom (and anyone else!) because it allows her to keep her drink nearby, without having to keep it in hand.
What I Liked
Let's mom relax with her drink nearby
Fits cups and mugs of a variety of sizes
Holder slips over the arm of armchair or sofa
What I Didn't Like
Doesn't do anything for condensation
Funny RV gift for hiding messy hair
If you know an RVing mom, you've probably seen her on occasion with less-than-flattering hair. Wind, sweat, driving, camping, and not being able to wash it more often can lead to a style that isn't quite catwalk ready.
But you know what? Most moms (or really anyone who's had to go more than a couple of days without a shampoo) will tell you that they don't care — how can they when they're having so much fun? This funny baseball cap lets them show that they're too busy to bother (all while giving them a way to tame the unruly mane!)
What I Liked
Cute hat is funny but also functional
Available in several color options
Adjustable strap for fitting all head sizes
What I Didn't Like
Weird plastic piece on the inside for maintaining the hat's shape
RV gift for mom that allows for a little pampering
When on the road, moms tend to be very busy. They've got to do all the usual household tasks, from keeping things clean to taking care of the kids, but with fewer resources.
As such, it's easy for a mom to forget about taking care of herself. That's why this Burt's Bees gift set makes such a loving present. Filled with travel-sized containers of luxurious hand cream, foot cream, lip balm, and more, this kit gives her the opportunity to take a moment for herself.
What I Liked
Compact gift set with travel-sized containers
High-quality products from a well-known company
Various sets available depending on her needs
What I Didn't Like
Product sizes could have been bigger
Best RV Gifts for Dad
Useful gift for RV owners all of types
When you live in an RV, you're constantly cleaning on the go. Whether it's clothing or messes in the kitchen, campers are always on the lookout for places to hang shirts, towels, and rags.
This elastic travel clothesline looks like a bungee cord. It has hooks on either side so you can quickly hang it anywhere you've got space, and it has integrated clothespins to eliminate the search for clips.
What I Liked
Super useful for hanging clothes, rags, and more
Built-in hooks for fast hanging
Integrated clothespins so they're always handy
What I Didn't Like
Only extends about 10 feet
Cleans quickly and stores easily
The best gifts for RV owners are those that make their life a little simpler. This collapsible broom with a dustpan definitely fits the bill. It's not glamorous or expensive, but it's sure to get plenty of use.
When it's collapsed for storage, the broom measures just 24 inches long — that's the perfect size for stowing under a sink or behind a table. But when it's time to use it, the broom extends to a comfortable 52 inches.
What I Liked
Collapsible broom telescopes to just 24 inches for storage
Extends to 52 inches when you're ready to use it
Includes a dustpan for mess-free cleaning
What I Didn't Like
Broom collapses during use if you don't lock it properly
Cool RV gift for travelers with tired muscles
Long days on the road can lead to aches and pains by the end of the day. As finding a massage therapist in the middle of nowhere is an unlikely proposition, tired dads (and moms!) need a better alternative.
That's where this portable back, neck, and shoulder massager comes in. This nifty gadget doesn't take up too much room, but it offers big results. Rotating nodes with heat deliver a deep massage that will relax and invigorate.
What I Liked
Small enough to store, big enough to appreciate
Heat function is a nice added touch
Can be used in the driver's seat or elsewhere
What I Didn't Like
No setting to adjust the strength of the massage
Fun, comfortable seating in just seconds
This interesting inflatable air sofa made our list of the best gifts for dad because it's super convenient. It looks like an empty, unassuming sack when deflated. But all it takes is a quick swipe in the air to bring the inflatable sofa to life.
From there, you just tie off the end to keep the air from escaping, and then you have a soft, comfortable, and supportive place to sit or lounge. The air sofa stays inflated for about five hours, so there's plenty of time to enjoy it while lounging by a lake, gathering around the fire, or just taking a snooze next to the RV.
What I Liked
Fills with air in seconds — requires no pump
Stays inflated for about five hours
Folds into a small package for easy storage
What I Didn't Like
Sofa is only comfortable for one person at a time
Cook almost anything with a single RV gift
It goes without saying that RVs are not known for their spacious interiors. When campers hit the road, they have to be very selective about what they bring along to make sure they can function but still have space to move around.
This pre-seasoned cast iron skillet is an excellent gift for RV owners because it's such a versatile tool. Whether the camper wants to make pancakes, fried eggs, steak, biscuits, or even pizza, this skillet can handle the job. There aren't many kitchen essentials that can do so much.
What I Liked
Comes pre-seasoned so it's immediately ready for use
Incredible versatile; use it for breakfast, lunch, dinner, and more
Available in several sizes for varying family sizes
What I Didn't Like
Cast iron requires more care than just washing
Reliable gift that RV owners will really appreciate
For many campers, there's no worse feeling than flicking a lighter, only to find that it doesn't work. Whether it's out of fuel or simply being finicky, this type of situation can often cause lots of unnecessary stress.
This waterproof and windproof lighter eliminates this small problem that can have big impacts. Powered by a built-in, rechargeable battery, it "lights" no matter the circumstances, and it only takes two hours to fully charge. Best of all, it uses no butane and is designed for years of use, so it's incredibly eco-friendly.
What I Liked
Operates no matter the weather conditions
Fully charges in just two hours
Doesn't use butane, so no refilling required
What I Didn't Like
Slightly bulkier than a traditional lighter
Best RV Gifts for Kids
RV gift for making S'mores whenever the mood strikes
When the hankering for sweet, melty S'mores hits, nothing can stop it — except maybe the weather or local ordinances against fire pits. Some people might turn to the microwave in a desperate bid to get their chocolate-and-marshmallow fix, but we've got a better idea.
This smart gift for RVers allows hungry travelers to enjoy their favorite camping snack anytime and anywhere. It has no open flame so it won't violate burn bans, and it's safe to use inside.
What I Liked
No open flame makes this a safe tool you can use anywhere
Ready to go in just a few minutes
Includes compartments for keeping ingredients nearby
What I Didn't Like
Only includes two roasting forks — four would have been better
No more searching for S'mores ingredients
While we're on the topic of S'mores, let's talk about how impatient kids can be. When they want S'mores, they want them now. Of course, every second spent searching for the ingredients is one second closer to a possible meltdown, so it makes sense that you'd want to do anything possible to avoid such a situation.
This cute caddy keeps your chocolate, marshmallows, and graham crackers in one spot so all you have to do is grab and go. Even the kids can retrieve the caddy while you get the fire going. It's a win-win situation all around.
What I Liked
Instantly recognizable Hershey's imagery looks great
Keeps the ingredients for S'mores in one place
Have the kids help by retrieving the caddy
What I Didn't Like
Doesn't include skewers for heating marshmallows
Kids love the taste of fresh, buttery popcorn
Popcorn is such an amazing snack, and it's perfect to turn to whether you've got that craving in the morning, afternoon, or evening. What's not so amazing? The smell of popcorn lingering in the RV because you prepared it in the microwave.
This open-fire popcorn gift set for RVers eliminates the problem of a stinky camper by taking the snack preparation outdoors. It comes with everything you need — including tubs — for using your campfire to make buttery popcorn.
What I Liked
Eliminates the need to prepare popcorn inside the RV
Popcorn is ready in as little as five minutes
No need to measure as everything comes ready to go
What I Didn't Like
Tubs are disposable, so they're only good for one use
Fire HD 10 Tablet – Best RV Gift for Reading, Games, and More
Interactive entertainment for kids and adults
Better than a handheld video game, the Amazon Fire HD tablet will keep kids entertained for hours. You can install games, of course, but you can also download books, watch videos, make video calls, and more. It's an all-in-one device with a big screen that can go anywhere, but it doesn't take up precious space.
What I Liked
More versatile than a handheld video game or gaming console
Download books, movies, music, and more to stave off boredom
12-hour battery life for plenty of use between charges
What I Didn't Like
It's a sensitive electronic device, so have to be careful around moisture
Cool RV idea for getting the kids off the phones and computers
If you've got or know RV kids who love playing on their electronics all day, you can get them to take in the world around them by gifting them this fun scavenger hunt card set.
The set comes with 35 cards featuring various types of things they need to locate. Examples include large things, sparkly things, cold things, and fuzzy things. While this scavenger hunt is a great way to get the kids out of the camper to go exploring, they can also use it when you're driving (just give them cards for items they're more likely to find on the road).
What I Liked
Fun RV gift for kids of all ages
Encourages youngsters to take in their surroundings
Can be used on the road or when parked
What I Didn't Like
Multiple game pieces means more chances of getting lost
RV fun stuff that kids won't tire of
We'll be the first to admit that this magical, mysterious powder for fire pits doesn't actually have a practical use — it doesn't make your fire last longer, burn hotter, or smell better. But listen: It's really cool.
With this gift, your favorite RVers will receive 12 packs of this extraordinary powder. To use, they simply toss one onto a wood-burning fire. Within a few minutes, they'll notice their regular, boring fire turn into an incredible one with color-changing flames. The effects last for at least three hours, so they'll get quite a bit of enjoyment out of the gift.
What I Liked
So easy to use — just toss on the fire
Color-changing effects last for at least three hours
Comes with 12 packs for repeated use
What I Didn't Like
Can't cook over the open flame when in use
Cool RV idea for kids of all ages
Honestly, it doesn't matter how old your kid is — when they hear the buzz of this drone taking off, they won't be able to help but get excited about what incredible scenes it will reveal.
Equipped with a high-definition camera, this easy-to-use drone can soar over one hundred feet into the air to give you an aerial view of your surroundings. This fun drone even has the ability to hover in front of you and take a selfie pic when you give it the signal by hand.
What I Liked
Intuitive handheld controller allows for easy use
Can take photos, videos, and selfies
Comes with two batteries and extra propellers
What I Didn't Like
Only gets 10 minutes of flight time per battery
Cool RV gift cures the "what to do" blues
RVing is usually tons of fun for adventurous kids, but if it's their first time on the road, they might find the situation a little overwhelming. This smart activity book for kids is a great way to prepare them for their upcoming journey.
It offers helpful info that they'll constantly use on the trip, including how to pitch a tent and build a fire. It also helps them learn about things they'll see and wonder about on the road, like plants and even clouds.
What I Liked
Helps kids learn about the basics of camping
Tons of info packed within 80+ pages
Fun activities get them outside and exploring
What I Didn't Like
Lots of reading required, so younger kids will need help
Cool RV idea for kids who love being outdoors
Suitable for boys and girls up to about age 12, this outdoor exploration kit gives them everything they need to explore the area around their campsite.
A magnifying glass, binoculars, and crank flashlight let them spot bugs, flowers, and other interesting things that can be easy to miss, while a whistle lets them signal to you that they've found something that even you'll want to see.
What I Liked
Fun idea for boys and girls who like exploring nature
Thoughtful tools for checking out bugs, plants, and more
Includes a carrying bag for easy transport and storage
What I Didn't Like
Build quality could be a little bit better
What We Looked for in the Best RV Gifts
We spend a lot of time on the road, so we know all about what kinds of gifts RVers are sure to appreciate. When compiling this list of the best gifts for campers, we only picked products that followed a strict set of criteria:
Function — More so than other types of gifts, RV gifts have to serve a useful purpose. Those who travel in a camper are extremely limited on space, so everything they bring with them has to offer utility.
Size — There are tons of things that RVers can use and would love to have, but if those things don't fit in the RV, they can't come along on trips. When considering the best gifts for RV owners, we paid careful attention to size and ease of storage.
Value — As with any niche market, the RV world is full of products that cater to campers. Some may be good ideas, but because they have a cute image of an RV or mention camping life, they're ridiculously overpriced. We made sure our suggestions were affordable to offer real value.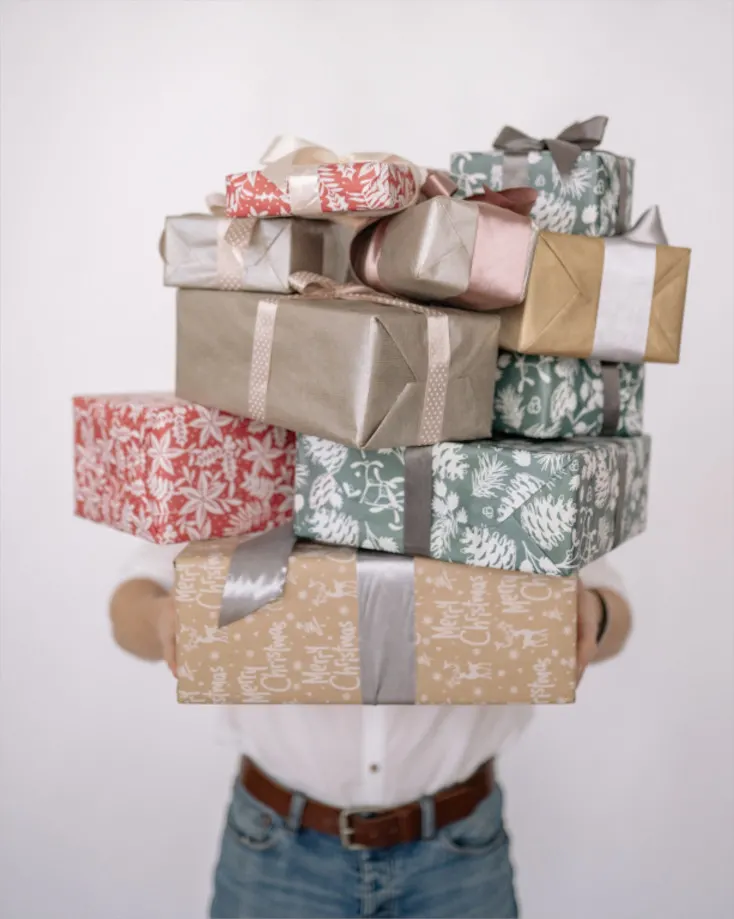 How to Choose the Right RV Gifts
If you're wondering right off the bat what's the best RV gift for a family on the go, we recommend the Instant Pot Duo 7-in-1 Electric Pressure Cooker. Anyone who's in charge of cooking for the family will attest to the fact that anything that speeds things up will always be welcome.
If you're looking for something else, check out our suggestions below of what you need to consider.
Usefulness
RVers have to make tough decisions every day about what's allowed to go into their camper and what's not. That's because they're working with very limited space — they simply don't have the freedom to take everything they may want.
Whether you're considering an RV gift for a mom, dad, or child, think long and hard about what the intended recipient needs. If you're not sure, don't hesitate to ask! It's much better that you get confirmation that your gift will be welcomed and used than run the risk of it being tossed in a closet.
Size
Because RVers have such limited space, you have to pay careful attention to the sizes of your gifts. It also helps if you think about how the gift will be stored; look for those that offer hooks, clips, bags, and other accessories that facilitate easy storage.
Even if you think you've found a gift of the right size, try to look at it in terms of its use within the RV. For example, camper fridges tend to be much smaller than what you'd find in a traditional house. If you purchase a cut fruit basket, it may not fit in the refrigerator.
Accessibility
RVers don't have the same accessibility as people living in a traditional house. Depending on the type of camper they have, they may not have running water or constant access to electricity. As such, you'll want to buy gifts for RV campers that they can actually, physically use.
As you're probably not as familiar with a person's RV setup as they are, this is another time when it may just be best to ask before buying a gift. This will relieve stress on both sides.
Age-Appropriateness
When buying RV gifts for kids, it's very important that you consider the recipient's age to be sure you buy gifts that are appropriate for their maturity level. A 12-year-old will be disappointed with a gift designed for a much younger kid.
Also, keep in mind that children mature at different rates. If you don't interact with the child often, ask a parent about their reading level and various interests.
Wrapping Up
Buying gifts for RV owners doesn't have to be a difficult process. You can ensure that you give something meaningful and useful if you remember the limitations of living on the open road and think about your friend or family's interests.
Of all the awesome RV gifts we reviewed, we think that the Instant Pot Duo 7-in-1 Electric Pressure Cooker is one of the best for the whole family. It offers travelers a fast, easy, and foolproof way to prepare a variety of meals anywhere they go. Even the kids will appreciate the taste of home cooking in a fraction of the time.