Looking for the best portable grill for RV camping trips? Find the perfect RV grill for your next road trip with our comprehensive guide!
---
Kitchen space is limited in RVs and campers, and using a campervan oven or stove indoors in a hot climate can be uncomfortable. Being able to cook outdoors is a massive bonus.
A portable grill offers you more room to cook when camping and to travel without taking up too much space.
The best RV grills have a compact design and aren't too big for your RV, and offer up more flexible ways for you to cook while on the road.
Here's a list of some of the best RV grills you can buy, along with our buying guide, which tells you everything you should be looking for when choosing a portable grill.
When you click on links to various merchants on this site and make a purchase, this can result in this site earning a commission. As Amazon Associates, we earn from qualifying purchases. For more info, please check our disclosure page.
At A Glance | Best Portable Grill For RV Camping
1. Weber Q1200 Liquid Propane Grill For RV

The grill is made with high-quality materials.
Durable and reliable.
You can't go wrong with Weber's reputation for quality and durability

CHECK PRICE ►
2. Coleman RoadTrip 285 portable RV Propane Grill

Foldable legs and a handle for easy transport
20,000 BTUs of power
Three separate burners with individual temperature controls

CHECK PRICE ►
3. Smoke Hollow Propane Tabletop Grill

Easily transportable.
Easy to use and no lighter needed.
Affordable price point.

CHECK PRICE ►
4. Char-Broil Grill2Go TRU-Infrared Propane Gas Grill

Easy to carry and transport.
Portable and lightweight
Sturdy design

CHECK PRICE ►
5. Cuisinart CGG-059 Chef's Style Stainless Tabletop Grill

Portable and lightweight – only 10lb!
No assembly required
Dishwasher safe cooking grate

CHECK PRICE ►
6. Flame King RV Mounted Motorhome Gas Grill

It's a durable, versatile grill.
Get a great taste with less gas usage.
Cook a variety of dishes on one grill.

CHECK PRICE ►
7. KITCHPRO Outdoor Grill

You can cook faster and more efficiently.
It's portable.
It's easy to use.

CHECK PRICE ►
8. Weber Go Anywhere BBQ

Easy to set up and use.
The grill is lightweight and easy to carry.
It has a fold-away stand for easy use.

CHECK PRICE ►
9. Camco Olympian 5500 RV Mounting Gas Grill

Flare-ups are minimized, creating safer and more consistent cooking
The lid is lockable and has a cool-touch handle
The grill doesn't rust and can be used with different types of fuel

CHECK PRICE ►
Find The Best Portable Grill for RV Camping
Weber is a major name in household grills, so you'd expect this to be the best portable grill for RV cooking, or at least amongst the top options.
The company claims to spend hours perfecting every element of their portable gas grills, and this is a high-quality option.
It doesn't have a lot of fancy features for the price you pay. What it does have are enameled cast-iron grates that are easy to clean, sensitive controls to give you more options for heat levels, and a clever grease management system that uses disposable trays to make it simple to maintain.
The reason it's priced a little higher than other simple grills is the Weber quality. They claim it'll be more durable and more reliable than other brands.
Review scores are high, which suggests customers agree. While it's not the most powerful (with 8,500 BTUs) or the largest, it is just a solid, dependable grill that will last for many years if properly maintained.
If you're looking for a slightly larger version, the Weber Q2200 Gas Grill kicks out 12,000 BTUs.
Pros
The grill is made with high-quality materials.
Durable and reliable.
You can't go wrong with Weber's reputation for quality and durability
Cons
Lacks any wind blocks
The propane tank installation process is a little inconvenient
If you take your cooking seriously, then this Coleman RoadTrip grill has many features to make it very easy to use.
With a 285 square inch cooking surface and 20,000 BTUs of power, you get fast and efficient cooking – helped by the fact it has three separate burners with individual temperature controls, so you can manage your food with ease.
The foldable legs mean it can stand at waist height, so there's no need to mount it or place it on a table, while they fold down to create a handle which, working with the wheels, makes it easy to roll into place.
This is important because the grill weighs almost 50lb and so is not one you want to be carrying around.
It has side tables built-in, and you can also buy different cooking surfaces as an extra accessory if you'd prefer a griddle for your fried potatoes or breakfast. While this is a powerful and versatile grill, make sure you have the space for it in your RV and that you're comfortable with the weight.
Pros
Foldable legs and a handle for easy transport
20,000 BTUs of power
Three separate burners with individual temperature controls
Cons
Weighs almost 50lb
The grills are heavy and bulky
The drip tray isn't deep enough
The Smoke Hollow is an affordable, portable gas grill with one burner and a warming rack, which can gently heat veggies or soften bread rolls before building your burger.
The grill itself is made from stainless steel, making it lightweight and nicely portable, although the warming rack grate is chrome-plated and not as hard-wearing.
It uses disposable 16 oz propane cylinders and has an easy-to-use ignition button, so there's no need for a lighter.
The BTU rating is 10,000, while it has a total cooking surface of 288 square inches, which gives it 34.7 BTU per square inch – more powerful grills are available, but if you focus your cooking above the U-shaped burner, you should get good results.
These portable gas grill legs are foldable, and the lid is lockable, which means it stays nice and compact when it is not in use, and it has a large carry handle, so it's easy to move around.
It's not the most powerful grill, but as an affordable, simple option, it's worth considering.
Pros
Easily transportable.
Easy to use and no lighter needed.
Affordable price point.
Cons
The burner easily disengaged
Imprecise burner control
If you like to park your RV in more rural, natural settings, the sturdy design of this Char-Broil grill might come in handy. The wider frame and legs make it easier to place on slightly uneven surfaces, so you don't need flat paving or a table if you want to cook on the go.
Rather than working as a simple grill, it uses a 'TRU-Infrared' system with special cooking grates. This is warmed by the flames and then spreads the heat evenly, so even high temperatures are consistent across the whole surface.
While this means a more even cooking surface without any flare-ups, it does also mean you won't get the same flame-grilled effect on your food.
Like most other gas grills, it's easy to connect to a standard propane tank, and it has a temperature gauge to help you monitor your food and push-button ignition for safer, simpler cooking.
At 200 square inches, it isn't the largest cooking surface, and the 9,500 BTU rating gives an average 47.5 BTU per square inch rating, so it isn't the fastest option. It is portable and lightweight, though.
Pros
Easy to carry and transport.
Portable and lightweight
Sturdy design
Cons
Gives an average 47.5 BTU per square inch rating, so it isn't the fastest option
Can get too hot
If you're on a strict budget, or if you just want one of the most portable and lightweight RV grills you can buy, the compact size of this Cuisinart gas option could be perfect.
It weighs just 10lb and has a really simple design that keeps it small, so storing it away won't ever be an issue.
It works with a standard 1lb propane tank but can be connected to larger tanks or your RV if you buy a separate adapter, and it needs absolutely no assembly – it's completely ready to use as soon as you've bought it.
However, the downside is that it does have a smaller cooking area and a low BTU burner rating of just 8,000, so while it'll light quickly with the ignition button, it won't cook food particularly fast, and you may need to wait a bit longer for your meal to be ready to eat.
One benefit is that the enamel cooking grate is dishwasher safe, so cleaning is a little easier if you've access to a dishwasher once you've used it.
Pros
Portable and lightweight – only 10lb!
No assembly required
Dishwasher safe cooking grate
Cons
Smaller cooking area
Low BTU burner rating
This Flame King grill offers you a flexible cooking space, as it comes with a bracket that lets you mount it to the side of your RV, which also doubles as a stand if you want to use it freestanding instead.
It's a solid piece of kit, with locking pins to keep it secure on the side of your motorhome and a dual-locking lid when it's being stored.
It's also flexible whether you connect it to your RV's propane tank or a standalone one, too – you just need the right hose.
The gas grill has 12,000 BTUs across a cooking surface of 214 square inches, which is 56 BTUs per square inch – enough for reasonably quick cooking.
Design-wise it is otherwise fairly basic, but style isn't important; functionality is – and this is a solid, versatile option that would suit many RV owners.
Pros
It's a durable, versatile grill.
Get a great taste with less gas usage.
Cook a variety of dishes on one grill.
Cons
Only connects to RV LP system
The bottom can be too hot for a table
This is one of the more unusual grills we've seen, but its unique design is certainly interesting. The KITCHPRO is a cylindrical grill that uses charcoal but promises to be smoke-free due to its clever design.
It also claims that it will be ready to cook within just four minutes, which is a fraction of the time compared with other charcoal grills.
That's because as well as using charcoal, it's also powered by electricity – it has a fan that circulates heat, helping to ignite the charcoal and keep fumes to a minimum. It's super-portable, too, since it runs from either a power bank, a USB cable, or 4 AA batteries.
It holds 250 grams of charcoal, which isn't a lot compared to other grills, which it says lets it cook for two hours – enough for a meal.
Weighing around 11lb and with such a compact design, it could be a really useful portable grill for your RV – however, you do need to buy ignition gel to get it lit, and even the four-minute wait is longer than you would be waiting for a propane option.
Pros
You can cook faster and more efficiently.
It's portable.
It's easy to use.
Cons
Too much ignition fluid can result in extreme smoke and fire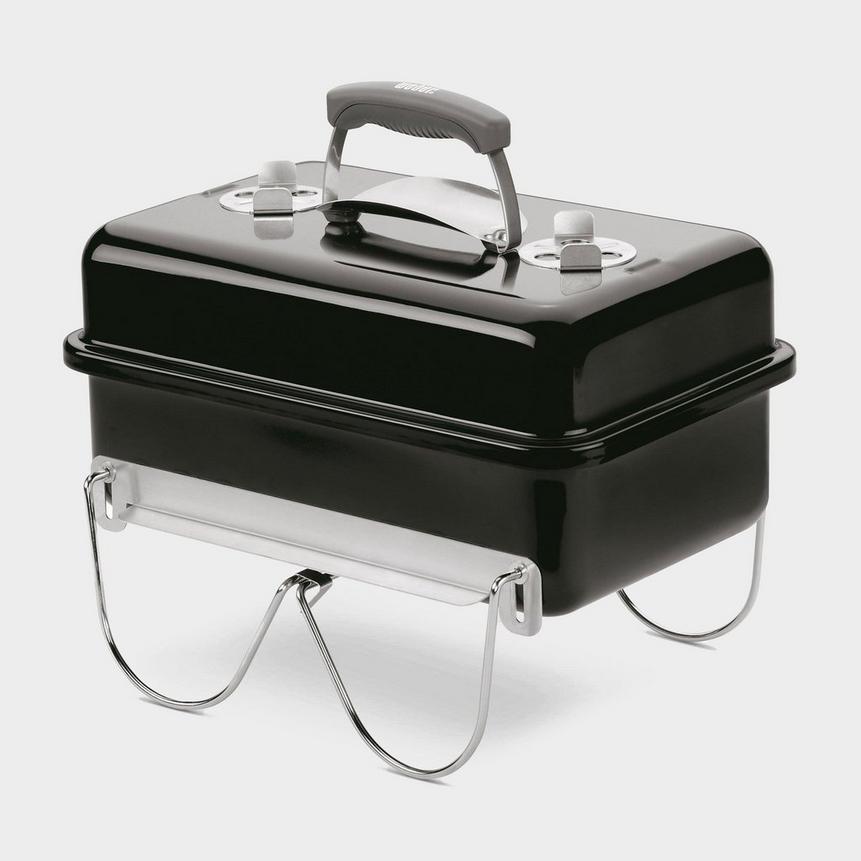 Another Weber option, and again a very simple design. As this is the only pure-charcoal fuel grill on this list, it's by far the most basic tool.
However, it still has the classic hallmarks of a Weber grill, manufactured to a high standard so that it's reliable and reusable for many years. The 10-year manufacturer guarantee reflects this.
The charcoal grill has a fold-away stand to make it easier to use, which is a little bit lightweight but should be sturdy even in windy conditions or on slightly uneven terrain.
It's not the lightest, at just over 14lb, but it is much lighter than some of the propane grills on this list. And the glass-reinforced handle makes it easy and safe to carry.
It will need more cleaning out due to the leftover ash, but for the authentic taste of a charcoal BBQ, a few portable grills are better suited to the job.
Pros
Easy to set up and use.
The grill is lightweight and easy to carry.
It has a fold-away stand for easy use.
Cons
Vents are often hard to adjust.
Requires more preparation
Another flexible grill, this Camco Olympian model, isn't completely freestanding, but you can choose to either mount it to the side of your RV or use it as a tabletop model.
It's a completely stainless steel model, which means it'll last longer without rusting and can be used with your RV's propane tank or disposable options.
What makes this grill stand out is the smoker plate, which is cleverly designed. It minimizes any flare-ups so that cooking is safer and food doesn't unexpectedly burn, but it creates a flavourful smoke that seasons your food as you grill it.
The lid is lockable and has a cool-touch handle, while the cooking space has 12,000 BTUs. It's not the largest but over the slightly smaller grill plates that are 180 square inches.
That gives you a powerful heat level of 66.67 BTUs per square inch, so food cooks faster. It comes with a temperature gauge too, so monitoring your food is simple.
Pros
Flare-ups are minimized, creating safer and more consistent cooking
The lid is lockable and has a cool-touch handle
The grill doesn't rust and can be used with different types of fuel
Cons
Some customers had trouble with the regulator
Why Buy A Portable RV Grill?
You might be wondering why a portable grill is needed if you own an RV. By design, they already have onboard cooking facilities, and if you want to cook outdoors, you can always build a firepit, right?
Well, you might not have the suitable space to build a fire pit. And even if you do, they can take longer to get up to cooking temperature, plus you still then need a surface on which to cook.
As for your RV's cooking appliances, you may not have much room to work with, and cooking odors can linger too.
Plus, nothing beats cooking outdoors. There's a reason outdoor grills are so popular, not just for RVs but also for homes and gardens too.
No matter how big your RV, the best grills give you more flexibility and keep all cooking smells outside.
This is perfect if you like to fish or you just don't want that greasy burger scent to hover around in the place you're going to sleep.
And because portable grills are designed to be compact, they don't add a lot of bulk to your RV's storage space.
They're lightweight, too, so once you've finished using your grill and cleaning it, it's easy to pack them up and store them away.
If you're traveling to a new site each day, a portable grill is an easy and reliable way to cook on the go, perfect for RV owners who want to keep their motorhome smelling fresh.
Also read: Van Life Kitchen Essentials You Need to Cook Up a Feast in 2023
Types of Portable Grill
There are three main types of portable grills available, differentiated by their fuel source.
Propane Grill
Propane gas grills are some of the most common because they're straightforward for RV users to operate. You simply need to connect the grill to your RV's propane tank (though you might need to buy a hose separately for this), and you're ready to start.
You can also buy portable canisters if you plan on carrying your grill with you for a walk or if you want to set up somewhere a little more communal on the campground.
A portable propane grill is the fastest to heat up and easy to clean. They're also good for temperature control – you can usually adjust the flame to suit the food you're cooking.
Charcoal Grill
Charcoal grills are for those who love that authentic BBQ flavor. There's an authenticity to cooking with charcoal, adding a smoky taste to your burgers.
Indeed some portable charcoal grills also double up as a smoker, so you can slow-cook meats over the course of a day – ideal if you're set up for a hike and want to return to your RV for a delicious, melt-in-your-mouth meal.
However, temperature control is trickier with charcoal – you need to be a lot more involved in keeping the coals going if you want to maintain a steady heat.
Lighting the coals can be trickier, especially in windier locations. Once you're done, you need to wait for the ash to cool down before you can find somewhere to dispose of it.
Generally, charcoal grills are more work to use and maintain, but for some, that authentic flavor makes them worth it.
Electric Grill
Electric grills are by far the easiest to use – as long as you have an electric hook-up, you can just plug them in, and you're ready to cook.
They're also good for temperature control since you can set the heat. They're the most odorless choice, too, with only the food itself creating any smells.
However, electric grills are slower to heat up, so you'll need to wait longer before you can start cooking. And you might not have the power supply available.
Plus, since you're cooking on a plate rather than a cooking grate, you won't get that flame-grilled effect on your food, making it a little blander.
Which Portable Grill Should You Buy?
There are a few key things you should be looking for when choosing your portable grill. Of course, you'll first want to decide on the correct fuel type, but then there are other basic factors to consider.
Size of the Grill
The grill dimensions are important because you need to find the right balance between the storage space needed and the cooking space they offer.
Your RV will have limited storage space. If you're traveling for a while, you won't want a bulky bit of kit that stops you from bringing along other essential appliances or supplies.
Think about everything you'll want to take with you and buy a grill that will fit comfortably in your RV's storage.
You don't want to fight every evening to put it away, especially on a full stomach after a tiring day of exploring.
However, don't just buy the smallest option either. Think about your traveling party – will you mainly be alone or just with a partner, or is it likely you'll be traveling in groups?
And if you're a social traveler who likes to prepare food for others, you're going to need more cooking space too.
The number of burners and size of the grill will determine how much food you can prep at once. Get one that's big enough to allow you to cook what you need without spending your entire evening swapping things around.
Materials Used
The actual grill material makes a difference in how sturdy your grill is and how easy it is to clean once you're finished using it. Aluminum or chrome-plated grills are cheap and lightweight, but they're also more likely to wear out.
Cast iron and ceramic grills are hard-wearing but also significantly heavier, making your entire grill less portable. Cast iron is also prone to rust, even if you carefully clean and dry it each time.
A durable stainless steel burner is one of the better options overall. It's resistant to rust and sturdy while still being easy to clean and lightweight.
While the grills we've chosen here are all reliable, solid options, be wary of others that are cheaper as they can wear out quickly or rust before you've had the right amount of time to enjoy them properly.
British Thermal Units
When you're shopping for grills, you'll often see the BTU number – this stands for British Thermal Units, and it's a measurement of the heat that the grill produces. Grills with a higher BTU will produce more heat but also consume more fuel too.
Also, it's not as simple as just measuring the BTU because that number is for the entire grill.
A grill with 20,000 BTU will not be as powerful as one with 14,000 BTU, but a cooking surface that's half the size.
Ideally, you should look for a grill with between 75 and 100 BTUs per square inch if you want fast, powerful cooking.
Anything from around 50 BTUs per square inch will work but may take longer to get the sear you want.
To work out BTUs per square inch, multiple the length and width of the cooking surface in inches to get the total square inches, and then divide the BTU rating by that number.
So, as an example – if the cooking surface is 22 inches long by 11 inches wide, you have a total cooking surface of 242 square inches.
If the grill then has a BTU rating of 12,000, you're only getting 49.6 BTU per square inch (12,000 divided by 242).
It's not going to be hot enough for really efficient cooking. So do the math before you buy to make sure the BTU and cooking area is good enough.
Tabletop Grills vs. Standing Grills
Portable grills are small and often designed to be used on a tabletop. A good tabletop grill needs to have insulated feet to protect the surface they are placed on.
If they don't, then you'll need to buy a separate insulation layer.
Of course, you then need a table to place them on, so you might need your own, adding to the storage space you're using.
The alternative is to place the grill on the ground, ideally on a stone or paved surface. It's not as easy to use because you'll need to bend or crouch, but this might be acceptable to you.
A better option is to look for portable grills with fold-out legs. These let you set the grill up at a higher level, similar to the full-size grills you might use at home.
Then you can comfortably use them standing upright and just fold them back down once you've finished cooking for the evening.
Read more: Best 12 Volt Refrigerator for Campervans & Van Life
Features To Look Out For
Various features can make your cooking experience easier or more enjoyable. Some are tied to the fuel type of the grill, but others can apply to all grills.
These extra features are often just a nice bonus and aren't essential, but if you're the sort of person who loves to cook on a grill, then they might help you find the perfect one for you.
Some example features that you might be interested in include:
Number Of Burners
Propane and electric grills may have separate burners with individual temperature controls, ideal if you want to cook meat at a high heat without cremating the vegetables for the side dish.
Automatic Ignition
Some propane grills have auto ignition, letting you start them with just a button press. If you're camping somewhere windy, this can be a lot easier than using a lighter or matches.
Mountable
Some grills can be attached directly to your RV, meaning there's no need for a table – they sit at the perfect height either directly on the side of the RV or attached to a fixture.
Attachable Tables
Having an extra small table that can attach to the grill is useful when you want to cook a lot of food, as you can simply have a plate on standby ready for anything that's done, freeing up space for the next batch to cook.
Wheeled Grills
For the bulkier grills, having wheels just makes them a little more portable – you can transport them around the campsite easier, without having to lift them completely each time.
Smoker
A charcoal grill with a smoker option lets you slowly smoke meats over several hours. These are more for the cooking enthusiast who wants to start prepping their food in the morning but can give you some deliciously flavored food by the end of the day.
How To Maintain A Portable Grill
If you don't maintain your portable grill correctly, it won't last. So the most important thing you can do is properly clean the grill every time you use it.
Include the actual grill grate and the body of the grill, too, especially when you've chosen a charcoal one.
Don't use harsh chemicals to clean your grill, as they can damage the finish. Check your grill's manual if you aren't sure, but standard dish soap and water should be sufficient if you clean it as soon as it's cooled down enough.
If you spend long periods on campgrounds, avoid storing your grill outdoors where possible. However, if you need to, then a cover will help protect it.
Leaving your grill at the mercy of the elements is a sure-fire way to let it rust and become unusable.
Always make sure it's on a level surface too. Dropping your grill, or letting it topple over, can damage fuel lines or warp the metal, affecting how the grill grates fit the unit or any foldable legs. Also, an unstable grill isn't safe to use on a campsite, so it's vital you look after it and keep it secure.
Finally, for propane grills, look after the line and check it for any damage regularly – if it leaks, it could be a hazard.
Also read: 8 Best Camping Coffee Makers for 2023 (Reviews and Comparison)
Portable Grill Accessories
A portable grill is a relatively simple bit of kit by design, but if you want the best RV grill, then you might want to add some extra accessories.
A mounting kit can help you attach your grill to your RV's mounting rail, or if you prefer, you can just buy a collapsible stand so that you don't need to keep bending down to cook over it.
A grill cover is essential if you intend to leave your grill outdoors for any period of time to protect it from rust or other damage.
Finally, don't forget your cooking accessories – you might already have them in the RV, but a quality set of tongs and BBQ utensils can just make it a lot easier to cook over a hot grill.
FAQs
Can I use charcoal in a propane grill?
You should not use charcoal in a propane grill. Charcoal burns very hot, and it can damage the grill and the propane elements when lit. Some propane grills are compatible with wood chips – check your manual for more information, but chips can safely add that smoky flavor.
How do you light a charcoal grill?
The easiest way to light a charcoal grill is to arrange the charcoal in a pyramid and use a firelighter, which will burn fast and help the charcoal catch. If you're using a liquid firelighter, let it soak into the coals first. A chimney starter is a useful accessory that keeps the coals compact as they light – simply lift it away when they're turning white to spread the coals out.
Is propane grilling bad for your health?
Propane grilling won't cause you any health issues providing you follow best practices and are safe. Propane is a safer way of cooking than charcoal – charcoal fumes are toxic in enclosed spaces, and charcoal-grilled meats tend to have slightly higher carcinogens – substances that can cause cancers.
Get Inspired With More Outdoor RV Accessories
In Conclusion
Most of the best portable grill for RV campers use propane, just because it's an easy fuel to use and it's quick to clean up.
Find one that's big enough for your traveling party, and make sure you look after it – cleaning is essential if you want it to last more than one summer.
Mountable grills are a great option, but otherwise, check out those with foldable legs if you don't fancy taking a table with you or bending down to flip your burgers.
Do you have any experience with a RV grills? We'd love to hear about your experience in the comments below.
Like it? Pin it!