If you want to prevent nature from moving into your RV, look for a good patio mat. These work as a buffer to prevent dirt or debris from tracking into your home, and they create a nice visual space for outdoor living areas.
Patio mats come in many sizes, patterns, materials, and weights. We layout all these essential details below and give you the tools you need to choose the best RV patio mat for your setup.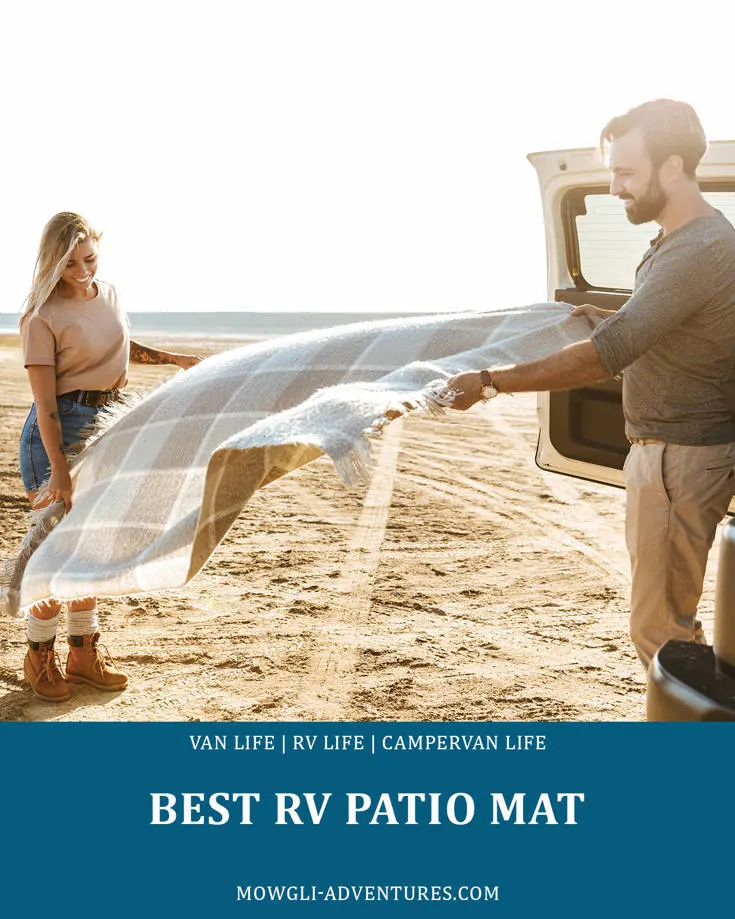 When you click on links to various merchants on this site and make a purchase, this can result in this site earning a commission. As Amazon Associates, we earn from qualifying purchases. For more info, please check our disclosure page.
1. Stylish Camping Ming's Mark GC1 Graphic Mat

Size: 8 ft x 20 ft
Pattern: Grayscale design
Material: Virgin polypropylene

CHECK PRICE ►
2. Reversible Mats Outdoor Patio / RV Camping Mat

Size: 9 ft x 12 ft; 9 ft x 18 ft
Pattern: Palm trees
Material: Polypropylene

CHECK PRICE ►
3. CGEAR The Original Sand-Free Outdoor Camping Mat

Size: 6 ft x 6 ft; 8 ft x 8 ft; 10 ft x 10 ft; 12 ft x 12 ft
Pattern: Solid (Orange/Agave or Blue/Green)
Material: Polyester

CHECK PRICE ►
4. SAND MINE Reversible Mats

Size: 5 ft x 8 ft; 9 ft x 12 ft; 9 ft x 18 ft
Pattern: Geometric
Material: Virgin polypropylene

CHECK PRICE ►
5. Camco Large Reversible Outdoor Patio Mat

Size: 9 ft x 12 ft
Pattern: Blue lattice
Material: Polypropylene

CHECK PRICE ►
Specifications
Size: 8 ft x 20 ft
Pattern: Grayscale design
Material: Virgin polypropylene
Weight: 12 lbs
The Stylish Camping Ming's Mark GC1 Graphic Mat is one of the largest RV patio mats we have seen, and that size does not compromise its performance. The mat features breathable, woven material that lets sunlight reach the grass underneath.
The reversible UV-coated design holds up well to both sweeping and hosing off, and the poly material dries quickly for fast recovery. The Stylish Camping Ming's Mark GC1 Graphic Mat has built-in loopholes to help you stake it into the ground, or you can weigh it down.
What We Like
We appreciate that this mat is made from recycled materials, and keeping the grass underneath green is always a plus. The UV coating protects the design from the sun, but the woven structure works great at letting it pass to those plants.
This woven structure pays off in other areas as well. The mat holds up better to staking if you need more than the four loopholes, but this breathability also speeds up drying. It's also woven tightly enough that you aren't struggling to pass a broom over the surface.
The patio mat works well on plenty of surfaces, and it's resisted staining from
Even with poor treatment, you can expect it to last two years or more of continued use.
What We Don't Like
It's massive, so expect more difficulty trying to fold it and put it away. While the included carrying bag is a plus, you need to be precise to fit back in (or have a backup plan).
The thin, breathable patio mat material works well for cleaning and drying, but it may not be sufficient for more textured ground. If you set this out on rocks, you'll struggle to walk barefoot. Even if you think you've cleared the space before laying it out, there's a good chance you'll find that one rock or acorn you missed.
Pros
Durable and breathable (won't kill grass)
Easy to clean
Dries quickly
Built to last
Cons
Difficult to fold
Material may be too thin for rocky areas
Color discrepancies depending on screen resolution (this rug is grayscale, not blue)
Specifications
Size: 9 ft x 12 ft; 9 ft x 18 ft
Pattern: Palm trees
Material: Polypropylene
Weight: 7.41 lbs; 11.6 lbs
This reversible patio mat comes in two large sizes and features a trendy palm trees design on both sides. The colors work well to complement each other, so both sides will match whatever scheme you have set up in your RV.
The mat surface is also:
Mold and mildew resistant
UV coated
Easy to clean
It comes with a large carrying case to help you out as well.
What We Like
We enjoy the two large-size options offered by Reversible Mats. This should fit most RV setups to create a sizable and comfortable outdoor area.
If you like to walk barefoot often, this mat is perfect for not scorching your feet. While some poly materials seem to soak up the sun, both sides of this reversible mat stay cool on hot days.
The surface is also great at resisting stains. Even if you forget to wipe up spilled wine, cleaning it the next day is no issue, and the integrity of the design remains intact.
What We Don't Like
The weave on this reversible mat is not as tightly woven as others, making it easier for the patio mat to snag on pet claws or sticks underneath. We've also noticed that the material dents easily under furniture, holding onto these marks.
You may notice that the creases from storage and travel remain even after weeks of sitting out and using. They shouldn't interfere with your mobility, but other mats ‌usually settle in the same amount of time.
We love the palm tree design, but some people may want something simpler. The mat may appear more "plasticky" and give a cheaper appearance. It may not fit your personal tastes.
Pros
Large surface area
The surface does not hold heat
Stain-resistant
Cons
Snags and dents easily
Creases remain after weeks of use
Appears more "plasticky" than other rugs
Specifications
Size: 6 ft x 6 ft; 8 ft x 8 ft; 10 ft x 10 ft; 12 ft x 12 ft
Pattern: Solid (Orange/Agave or Blue/Green)
Material: Polyester
Weight: 2.9 lbs; 5 lbs; 7.8 lbs; 10.9 lbs
If you frequent the beach, you're probably familiar with the CGEAR Sand-Free mats. They come in various sizes, ranging from small to extra-large, and you can easily find one that fits your space perfectly.
The CGEAR mats were first used for military helicopters to land in the desert, which should attest to their durability. They have multiple layers of high-density weaving designed to let sand, dirt, and debris slip through.
These mats travel nice, feel great, and include a comforting 30-day guarantee.
What We Like
While many other RV patio mats feature the same cloth loops and binding, the CGEAR Sand-Free mat uses reinforced D rings and fully bound edges. We expect better results from these features over time, especially if you depend on them to hold it down.
Regardless of which size you get, the mat is lightweight and easy to pack away. It's also pretty easy to set up and can easily shake the patio mat out to lay it down. The portable drawstring back works well for travel and storage.
CGEAR offers a 30-day guarantee to settle any fears you may have about the mat. If you're unsure how the mat will work in your space or want to make sure the colors work well with your setup, you have 30 days to try it out and return it if needed.
After those 30 days, it's reassuring to know these patio mats are built to last a decade, so you'll get plenty of return on your investment.
What We Don't Like
These are a more expensive option, likely due to the product going viral online, but it's well worth the investment. Just know that these mats are a bit pricier than the competition, but it's not out of the norm for them.
If you live in an area with coarse sand, this mat may struggle. We noted that fine, sugary sand gets put away much easier, but the mat doesn't meet expectations with gritty sand or other small objects (i.e., seashells).
We love the reinforced D-rings, but the patio mat is not as fast drying like other materials. If you don't take care to make sure it dried completely, you will notice rust on and around those metal rings. In this instance, cleaning is less straightforward.
Pros
Reinforced D rings instead of cloth loops
Fully bound edge
Lightweight
30-day guarantee
Cons
It only comes in square designs
Struggles with coarse sand
Metal hardware rusts if not dried quickly
Specifications
Size: 5 ft x 8 ft; 9 ft x 12 ft; 9 ft x 18 ft
Pattern: Geometric
Material: Virgin polypropylene
Weight: 2.66 lbs; 8.13 lbs; 12.32 lbs
SAND MINE mats are another excellent option for sandy areas, and they come in a unique reversible geometric design. You also have three sizes to work with, but these mats are rectangular.
The edges of the SAND MINE Reversible Mats are heat treated to reduce fraying, and the entire mat is mold and mildew resistant. The polypropylene material is soft, durable, and easy to clean up.
The geometric design on either side of these mats is elegant and timeless, but it isn't so busy it clashes with other styles. UV stabilization protects the design and prevents any issues from sun fading.
What We Like
While most other mats come with a carrying case, we really enjoyed the size and shape of this one. Instead of forcing you to fold the mat and try to fit it into a cylindrical case, the SAND MINE Reversible Mat includes a square-shaped case. This makes so much more sense for storage and transport.
This mat has the widest range of a rectangular polypropylene mats on this list, so you can find one to fit your area. You can even purchase two to set up different outside areas.
Unlike some patio mats, these SAND MINE mats have a cushioned surface that protects you from rocks or debris that end up trapped underneath. It also does not get slippery when wet, so you can rinse the mat off and continue about your day.
What We Don't Like
Don't think too highly of the stakes included with this mat. They may be great in a pinch, but you're better off buying heavy-duty ground stakes if you have enough time. The included ones are plastic and likely to break or pull up from the ground.
You probably can't go without stakes with this RV mat, either. All three sizes are pretty lightweight, and they will fly off in the moderate wind.
This SAND MINE mat also heats up easily in direct sun, so try to find a shady place to set it up. This shouldn't be an issue, but the wrong conditions can make it intolerable.
Pros
The carrying case comes as a square, not a roll
Wider variety of sizes
Cushioned and non-slip surface
Cons
Included stakes are not very sturdy
Blows away in the wind when not staked down
Gets hot in direct sun
Specifications
Size: 9 ft x 12 ft
Pattern: Blue lattice
Material: Polypropylene
Weight: 9.3 lbs
Camco's Large Reversible Outdoor Patio Mat resembled many of the other RV patio mats on this list, but its most attractive quality is its lightweight feel and ease of transport. Because of how the mat is made up, it feels much lighter than it is (and it isn't heavy to start).
The mat also features basic features like mold and mildew resistance, and reinforced binding. The blue lattice design appears on both sides, so you can fit the most appealing color to face up.
What We Like
The Camco mat is easy to clean, and it does not turn into a slip and slide if you hose it down. This may disappoint families with small children, but it prevents your trip from taking a detour to the emergency room.
Some rug manufacturers will simply melt the edge of a polypropylene mat and call it a day, but the Camco mat uses soft binding on the edges to prevent fraying. These double as corner loops to stake the mat down.
We also find the blue lattice design elegant and a nice change to simple brown mats. This can throw up a pop of color when needed, but it's not so bright that you'll be blinded stepping out to watch the sunrise.
What We Don't Like
While we appreciate the soft binding, it also weakens the anchor loops. We would have a backup plan for securing the mat to the ground. Using weights or furniture may help smooth out the surface.
This should also prevent it from bunching up. Some RV patio mats resist moving when you catch your foot under them, but shuffling your feet will pull the lightweight mat with you unless you get it settled.
Pros
Not slippery when wet
Soft binding on edges to prevent fraying
Elegant design
Cons
Anchor loops are very weak
Creases remain on the rug even after sitting out
Bunches up easily
What to Look for When Buying an RV Patio Mat
You can't just grab the first RV patio mat, you see. While the patio mats on this list are a great place to start, you still need to determine your wants and needs relating to:
Size
Material
Durability
Portability
Easy of use and cleaning
Every RV situation is different. What works for one person may not work for the next. You might be able to compromise on specific details while others remain firm.
Understanding your options in these areas and how deep you should help you realize what to look for when buying an RV patio mat.
Size
In most cases, you want an RV mat that is long and skinny so it can sit in front of your trailer and serve as another living space. The RV mat creates a visual boundary and can turn into an outdoor living room, but it also makes it easier to keep the RV free of dirt and debris.
In other instances, you might just want a smaller square mat to cover the living space right outside the door. This works well if you don't have a lot of room or want to save some money.
Try to set up the area you want the mat to cover and measure those estimated dimensions. This will give you the best idea of what size and shape you need, but you may need to adjust your expectations.
Material
RV patio mats use materials designed for outdoor use. These are almost always synthetic fibers like:
Polypropylene
Olefin
Polyester
Nylon
While synthetic fibers aren't fantastic from an environmental perspective, they hold up better than natural fibers over time and prevent you from tossing yours in the trash every few months. Most companies try to use recycled plastic material when they can.
Synthetic fibers are easier to clean and hold up better against most weather conditions.
Durability
An RV patio mat should have great reviews to attest to its durability. Not only will you use it every time you step outside, but it needs to hold up to extreme hardships like:
Pet or child traffic
Weather
Elements
You should also check in to see how the mat affects the grass underneath it. While a bulletproof RV mat is attractive, it can be a drag to fold it away and realize the less-durable grass didn't hold up well underneath.
Portability
A lot of the rugs you see when you search "patio rug" will work well for stationary use, but they're miserable to work with on the go. You need to verify:
How easily the rug folds/rolls up
How big it is when stored
The rug's weight
Make sure you know if the rug comes with a carrying case, and make sure the case won't fall apart the moment you pack things back up. If not, you should have a plan to keep the rug folded or rolled and in place while you are mobile.
Ease of Use and Cleaning
Again, make sure the weight is not too much for you to handle to roll it out or unfold it. If a rug is too difficult to shake or unfurl, you may end up leaving it packed away and going without.
A key detail to pay attention to is how well the rug cleans. Some rugs magically pull the sand off as you walk on their surface, but they should at least:
Sweep up easily (no nooks and crannies to trap dirt)
Resist dirt and grime buildup
Rinse clean with a hose
Dry quickly
You don't want a rug you'll end up scrubbing halfway through your trip. Find something that works well for your lifestyle.
Also Read: Best RV Washer and Dryer
Get Inspired With More Outdoor RV Accessories
Conclusion
After hours of research and spending too much time on Amazon, we've finally concluded the best RV patio mat. And the winner is…the Stylish Camping Ming's Mark GC1 Graphic Mat! This mat is extra-large (8′ x 120′), perfect for RVs, campsites, and picnics. It's also made from durable polypropylene fabric that can withstand heavy traffic and UV rays. Plus, it's reversible, so you can choose between two different colors/patterns.
Remember to choose a mat that fits your needs, including your personal preferences and the climate you'll be RVing in. Like most pieces of furniture, you'll spend a lot of time on the patio mat. You want something that simplifies your life, not something you would rather put away.
If you like this article about the best RV patio mat, consider checking out these other articles below: