Are you kitting your RV out with a brand new washer and dryer? Not sure which one to choose? We've done the research.
We've gone through countless models, and we have come up with a washer and dryer to suit all needs and budgets. If you are looking for the best RV washer and dryer for your rig, look no further.
As RV owners ourselves, we know how important it is to make life on the road as comfortable as possible. You may already have loaded up your RV with all sorts of useful equipment.
Now you are considering taking things a little bit further. You want to keep your clothes clean, no matter where your RV takes you.
In the reviews that follow, we have carefully selected RV washer and dryer options. We have considered numerous criteria, including how easy it is to install the washer and dryer into your RV.
We have also considered energy efficiency, ease of use, and whether the washer dryer is capable of standing up to life on the road.
We have tried to include something for everybody here. So, if you are in the market for a new RV washer and dryer, read on.
When you click on links to various merchants on this site and make a purchase, this can result in this site earning a commission. As Amazon Associates, we earn from qualifying purchases. For more info, please check our disclosure page.
1. LG WM3998HBA Ft. Smart Wi-Fi

Dimensions: 27 (W) x 39 (H) x 30.25 (D)
Weight: 213.80lbs
Capacity: 4.5-cubic feet

CHECK PRICE ►
2. Panda PAN50SWR1

Dimensions: 19.75 (W) x 37 (H) x 20.50 (D) inches.
Weight: 68.3lbs
Capacity: 1.6-cubic feet

CHECK PRICE ►
3. Equator Stackable Washer And Dryer Set

Dimensions: 23.5″ (W) x 55.8″ (H) x 22 (D) inches
Weight: 206lbs
Capacity: 3.5-cubic feet (per drum)

CHECK PRICE ►
4. Splendide WDV2200XCD

Dimensions: 23.5″ (W) x 33 1/8 (H) x 22 5/8″ (D)
Weight: 148lbs
Capacity: 15lbs wash, 11lbs dry

CHECK PRICE ►
5. Giantex Portable Mini Compact

Dimensions: 15″ (W) x 28.5″ (H) x 24.8″ (D)
Weight: 29.3lbs
Capacity: 11lbs wash, 6.6lbs dry

CHECK PRICE ►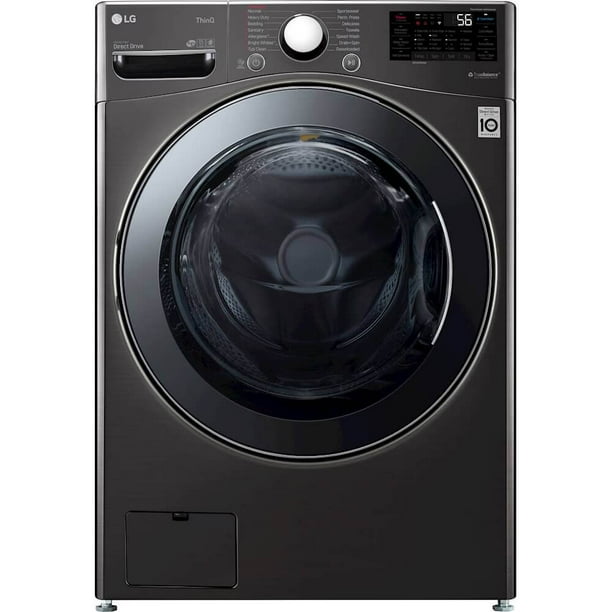 Specifications
Dimensions: 27 (W) x 39 (H) x 30.25 (D)
Weight: 213.80lbs
Capacity: 4.5-cubic feet
Color: Black
The LG3998HBA is one of only a few washer dryers on the market that boasts Wi-Fi capabilities. Once you have downloaded the companion app to your phone, you will have full control over your washer dryer no matter where you are. This includes seeing how much time you have left on the wash or dry cycle. Sure, the control panel on the LG WM3998HBA is easy to use, and the companion app makes controlling the appliance even simpler.
The LG WM3998HBA offers 4.5-cubic feet of drum space. This means that there will be ample room for a family to do their washing.
Even if you have to do multiple loads, you will be pleased to know that this LG appliance is quick. It makes use of LG's patented 6Motion technology. Rather than just spinning your washing around in the drum, the machine will move it in six different ways. This results in a far quicker wash. Not only does this result in you getting through more loads, but it also increases energy and water efficiency.
Installation should be simple. This is a ventless dryer. This means there will be no need to drill any extra holes into your RV.
The IMEF rating for the LG WM3998HBA is 2.4. This means it is towards the top end of the energy-efficient scale. Not bad for something with a large capacity.
What We Like
We enjoyed the Wi-Fi capabilities. It made programming our wash and dry cycles so much easier. It is also nice to be able to see how much time is left on a cycle without having to be near the machine. It makes those RV vacations much more pleasant. We wish more manufacturers incorporated Wi-Fi features into their appliances. Until you use it, it seems like a gimmick. Once you have used it, you will love it.
We also loved the versatility of the machine. With 14 different wash programs covering everything from sportswear to delicates, it is easy to find a program suitable for your clothing. There is even a setting specifically for ridding clothes of pet hair.
Because this is an LG product, you can also expect it to be well constructed. This is something that is likely going to see years of use.
What We Don't Like
While the wash cycle is quick, the dry cycle isn't. Because the LG WM3998HBA uses ventless drying technology, it can take several hours for the clothes to dry properly.
Even at the end of the dry cycle, you may sometimes find that there is still a bit of moisture left on the clothing. Although, if you leave the clothes in the dryer for 30-minutes longer, most of that moisture will clear up.
Not all cleaning features will be directly accessible through the machine. For some reason, LG has locked certain features to the smartphone app. So, unless you have a smartphone connected to Wi-Fi, you won't be able to unlock the full potential of this appliance.
Pros
Wi-Fi capabilities
Fast wash
Sleek design
Multiple cleaning options
Cons
Some features are locked to the smartphone app
Slow drying
It may be a bit large for most RVs.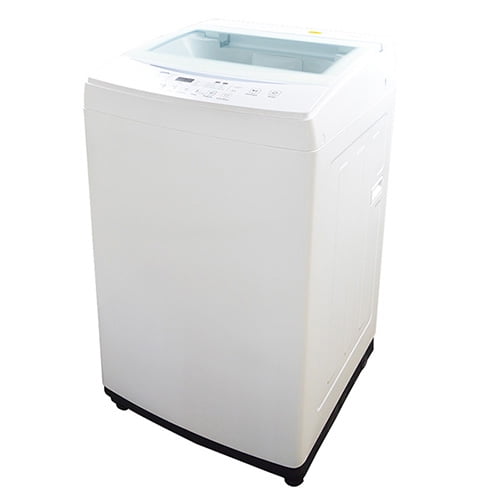 Specifications
Dimensions: 19.75 (W) x 37 (H) x 20.50 (D) inches.
Weight: 68.3lbs
Capacity: 1.6-cubic feet
Color: White
The Panda PAN50SWR1 has been designed specifically for those who may not have much space in their RV. Measuring just 19.75″ wide, you should be able to find a space for it in most RVs. Even if you do not have a dedicated space for it in your RV, there are two rollers built into it. This means that you can roll it into position whenever you need to carry out a wash and then put it back into storage when you are done.
While the 1.6-cubic feet drum is paltry in comparison to the previous LG model, we find that it is still more than enough space for a couple or a solo traveler. You should easily be able to fit a couple of days' worth of clothes in the washer.
Despite being a portable washer dryer, it isn't lacking in features either. There are six different wash programs. This means that your clothes can be cleaned in the best possible way.
It is even easy to use. It offers a responsible touchpad and an LED display, so you know exactly what is going on.
This is one of the more energy-efficient washer dryers. However, do bear in mind that it is a portable unit. Part of the energy efficiency comes from the fact that it doesn't completely dry your clothes. It will spin dry them, and then you have to hang the clothes up to dry afterward.
What We Like
When they say that the Panda PAN50SWR1 is a portable model, they do mean that it is portable. While it is a small size, you don't need to leave it hooked up all the time. The convenient wheels mean that you can bring it in and out of storage as needed.
We also loved the fact that while Panda was clearly building this product to a budget, they didn't cut corners on the features. There are multiple wash cycles and a wash delay feature. These are things that you wouldn't normally get at this price point.
What We Don't Like
Since this is a portable washer dryer, it does suffer from the fact that it is not going to get your clothes completely dry. It will get rid of most of the water, but the clothes will still need to be hung up afterward.
The finish on the appliance isn't that great either. This is more a washer dryer that you will buy for practical purposes rather than aesthetics.
Pros
Very portable
Good drum size for a solo traveler or couple
Quiet
Multiple wash cycles
Cons
No detergent dispenser
Leaves clothes very wet
The finish isn't the best
Specifications
Dimensions: 23.5″ (W) x 55.8″ (H) x 22 (D) inches
Weight: 206lbs
Capacity: 3.5-cubic feet (per drum)
Color: White
You get two appliances here. You have your washer and your dryer. They stack neatly on top of one another.
If you are regularly dealing with a lot of laundries, then you will love having one drum for washing and the other for drying. It means that you can constantly have two loads on the go. The 3.5-cubic feet drums will ensure that they can be rather sizeable loads too.
Because the dryer included in this set is a vented dryer, it means that your clothes are going to finish their drying cycle far drier than with any of the other models that we have discussed so far. The drying cycle will be completed a whole lot quicker, too, thanks to the high-powered fans that the Equator has loaded this model up with.
On the washing machine side of things, the drum can spin at a rather capable 1,200RPM. This helps to ensure that your clothes get cleaner, much faster.
This set offers a variety of power and water-saving options too. This includes an automatic power off after 5-minutes of a cycle being completed, something which is surprisingly rare incomparable models.
On top of all of this, this Equator set has a winterize function, which has been designed specifically for RVs. With a press of a button, your washer/dryer set will automatically winterize in over 2-minutes, saving you a whole lot of time and effort.
What We Like
We do enjoy vented dryers. While they are a little bit tougher to install because they will require you to drill a hole in your RV, there is no denying that they get your clothes dried so much quicker.
We also liked the fact that the Equator has designed a washer and dryer set that takes up space under 24″ wide. The two separate drums mean that you can double the amount of washing that you do in the same amount of space as other washers/dryer combos for RVs.
What We Don't Like
There are fewer wash cycle options than other products on the market. For most people, this is unlikely to be a problem. However, if you are the type of person that enjoys a lot more control over your wash, then the Equator may not deliver.
Pros
Dries clothes quicker than other products
Double drum means double the washing.
Small footprint
Fast wash
Cons
Requires drilling a vent.
The low number of wash program options.
A bit too high for some RVs
Specifications
Dimensions: 23.5″ (W) x 33 1/8 (H) x 22 5/8″ (D)
Weight: 148lbs
Capacity: 15lbs wash, 11lbs dry
Color: White
Because the Splendide WDV2200XCD is a vented dryer, it can complete a drying cycle much faster than other RV washer and dryer options on the market. When your clothes come out of this model, they really will be dry.
If you only have a small water tank in your RV, then the Splendide WDV2200XCD may come in useful. A single wash cycle can use as little as 8-gallons of water (some cycles can take up to 16-gallons). This means that this appliance is highly water-efficient.
This particular model feels very similar to the type of washer that you will have at home. This means eight different wash cycles, a clean cycle, and three different dry cycles. This gives you full control over how you do your washing.
You can add detergent, softener, and bleach to the washer dryer. They will be dispensed automatically. Most other RV washer dryers won't have a dedicated space for detergent and softener. Instead, you will be required to put them in the same tray, which can mess up the wash. That isn't a problem with the Splendide washer dryer.
This model is especially quiet too. You certainly won't be able to hear it outside of the RV, which can make it useful for use on campsites.
What We Like
We like how clean this model can get your clothes. It is almost as if Splendide has looked at a full-size machine and just shrunk it down without cutting features. This genuinely can give a wash and a dry as good as any appliance that you have in your home.
We also like how little water it uses. On a basic cleaning cycle, 8-gallons is barely anything. Most other RV washer dryers will consume much more than this, which means they demand much larger water tanks and waste disposal.
What We Don't Like
It isn't the most intuitive machine in the world. It has an easy-to-read display, and the buttons are very responsive. However, sometimes it can flash various error codes at you, even when you think you have done everything right. If you are going to purchase this, then we suggest that you give the manual a good read. You really won't be able to work out what is going on just by looking at it.
Pros
High capacity drum
Multiple cleaning options
Fast dry
It uses very little water
Cons
Not intuitive to use
Requires you to modify your RV
Drying has a lower capacity, which means you may need to remove some washing.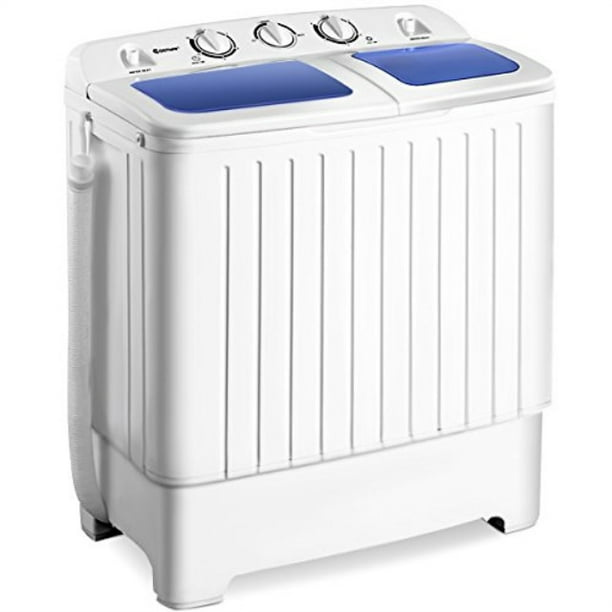 Specifications
Dimensions: 15″ (W) x 28.5″ (H) x 24.8″ (D)
Weight: 29.3lbs
Capacity: 11lbs wash, 6.6lbs dry
Color: White
Sure. The Giantex Portable Mini Compact isn't necessarily brimming with features, but at 15″ wide and weighing in at just 29.3lbs, you aren't going to get anything more compact than this. This is the sort of washer dryer that you can pull out for a quick wash and put back into storage.
There is no need to plumb this washer dryer into anything. The tank is built into the washer and dryer. Just fill it up with water, and you are ready to go. All hoses, including a wastewater disposal hose, are included in the box.
Despite being compact, you have both a wash basket and spin basket built into the washer dryer. These can be used independently of one another. This means that you can have multiple washes going on at once. This is exceedingly rare in something this low priced. Although, do bear in mind that this is a portable dryer. It won't get your clothes completely dry with a spin.
What We Like
This is a compact washer dryer. It is lightweight enough that you can easily carry it around. The small size means it doesn't have to be permanently set up in your RV. You can just bring it out whenever you need to do the washing.
It is also easy to use. It isn't brimming with features. However, there are a couple of wash cycle options, and these can be accessed by a quick turn of some dials. It takes less than a minute to get going.
What We Don't Like
While having a separate spin basket can come in useful, it is also a bit inconvenient. It would have been nicer if the spin functionality had been built into the wash basket. That would reduce the amount of hassle that it takes to do the washing.
It is also somewhat annoying that the spin basket can only hold half of what the wash basket can hold. This means that for every wash, you have to spin twice.
Pros
Affordable
Compact
Separate wash and spin baskets
Cons
The spin basket holds half of what the wash basket does.
Doesn't dry clothes fully
Not a lot of wash program options.
Read more: Best RV Cleaning Products & Supplies To Make Your Camper Shine Inside and Out
How Does An RV Washer Dryer Combo Work?
It depends on the model.
Some of them will have a single drum with combined wash and drying functions. Once the wash cycle is over, the machine will automatically switch over to drying mode. This option is ideal for those that want the most hassle-free experience when cleaning their clothes.
Other models will keep the washer and dryer drums separate. When the wash cycle is done, you will need to move the clothes from one drum to the other. The main advantage is that you will be able to run a wash cycle and a dry cycle at the same time. This can be beneficial if you have a lot of clothes to deal with, e.g., families.
RV Washer Dryer Buying Guide
We have covered five different RV washer dryers. One or two of them may already have caught your attention, but how do you make your final choice? We figured that we would give you an overview of some of the things that you will need to think about when picking your RV washer dryer combo. This way, you can be sure that you are getting the right appliance for your needs.
Your Budget
Your budget is the big one. While many of us dream of kitting our RVs out with the best gear imaginable, it isn't always affordable. Often, that RV washer and dryer will be near the bottom of the list of appliances that you may want to splurge on. Having a fully working kitchen and bathroom is probably more important.
If you only have a few hundred dollars to spend on an RV washer dryer, then that is fine. You won't be getting all of the bells and whistles of something many times the price, but you will be getting something functional.
You may want to avoid going too cheap, though. Cheaper models tend to dry slower and may have a shorter lifespan.
Space In Your RV
You probably don't have the luxury of moving things around in your RV in a bid to make a home for your washer and dryer. The space you have is the space that you have. Measure it. Write down this measurement. Choose an appliance that will fit this space perfectly. A little bit undersized is fine. Never oversized. You won't be able to fit it in.
Washer Dryer Load Capacity
The load capacity is the maximum weight of clothing that you can add to the washer and dryer at any one time. The higher the load capacity, the more clothing you can fit in.
If you have a family traveling in your RV, then you will probably need a higher load capacity than a solo traveler.
While it can be tempting to buy the machine with the highest load capacity, it isn't always advised. A high load capacity requires more electricity and water. This can often be at a premium. Buy the right size for your needs.
Electricity Usage
Washer and dryer combos require a huge amount of power. When you are comparing models, always pay attention to their power requirements. Make sure that your RV is capable of meeting them.
If your RV is constantly hooked up to mains electricity, then you can probably opt for a much more powerful appliance than an RV that runs on solar power.
Water Consumption Rate
Your clothes won't get clean without water.
Always check the water consumption rate on the appliance. You need to know that your RV's water system is capable of dealing with it. If you only have a small water tank in your RV, you probably don't want to be buying an appliance that will be getting through your water stockpile in a matter of minutes.
Ease Of Use
Most modern RV washers and dryers are complicated pieces of kit. They will have multiple programs for wash and dry cycles. Each program will do a slightly different job.
You will want to choose an RV washer dryer that is easy to use. You don't want to switch between programs to be complicated. You want that wash cycle to start with no more than a couple of taps of a button.
Noise Levels
The noise levels of an RV washer dryer will always be given in dB: the higher the dB, the louder the appliance.
If you are going to be spending a lot of time on campsites, then you will want a quieter washer and dryer. The same applies if you are planning to do most of your washing at night.
Type Of Washer Dryer
You will also want to consider the type of washer dryer that you purchase.
For example, you may want to consider a stacked washer and dryer if you plan on getting through a lot of clothes. These units will have separate washers and drying drums. This means that you can run two loads at a time.
If space or cash is at a premium, then you may want to opt for a combined unit. Both washing and drying take place in the same drum. They are a little slower, though.
Types of RV Dryer
You don't have to think too much about the washing cycle on a machine. As long as you can hook the washer up to your water and waste system, then you are fine. You will need to think about how the unit will dry clothes, though.
There are three different types of RV dryers on the market.
Portable RV Washer Dryer
This is the most basic of units. They are affordable and easy to install.
Drying with a portable dryer will be a spin dry. This means that the drum will spin rapidly in the hope of getting as much water out of the clothes as possible.
A portable RV washer dryer will never get the clothes completely dry. They will do the bulk of the work, but you will have to hang the clothes up if you want to dry the last of them off.
Vented RV Washer Dryer
If you want your clothes dried quickly and appropriately, then you will need a vented RV washer dryer.
These systems work similarly to a dryer that you would have in your home. The RV washer dryer will be connected to an outside vent, and all of the moisture from the clothes will be pushed out of that vent, the same with the hot air.
The downside to a vented RV washer dryer is that you will need to carry out some modifications to your vehicle. This means drilling a vent, which can be tough.
Ventless RV Washer Dryer
A ventless RV washer dryer will use a system called 'heat exchange.'
When the drying cycle is started, the ventless dryer will pull in cool air from your RV. It will heat this air. As it does so, moisture will be pulled from your clothes.
The hot air will then be fed through a heat exchanger. Here, the air will be cooled down. As it does so, the moisture that the air gathered will turn to water. The water will then be collected in a drip tray, ready for emptying at the end of the dry cycle. The cooled-down air is heated up again, and the process continues.
Ventless RV washer dryers will not require you to drill any vents into your RV. They will also get your clothes completely dry, unlike a portable washer dryer. The downside is that they are not that energy efficient. They work slowly.
Benefits Of An RV Washer And Dryer
When you have an RV washer and dryer, you can clean whenever you want. There is no need to hunt down a laundromat, most of which don't have space for RV parking anyway.
Whenever you have a stack of filthy clothes, just toss them straight in the washer. It doesn't matter where you are. This is ideal if you have a small RV. Unwashed clothes can take up a lot of space, so you will want them clean as quickly as possible. It may even reduce the number of clothes that you need to pack.
Having a combined washer and dryer is also an advantage. Even in the largest of RVs, space is at a premium. You can't afford to have two separate appliances taking up space. Even if you could, I doubt that you would put a separate washer and dryer at the top of that list. Combine the two? You have the same amount of function in half the space.
Conclusion
If you want a washer dryer for your RV, you will have multiple options available to you. If you have a smaller RV, then you may want to opt for a portable washer dryer. If you have a bit of space to spare permanently, then you may want to opt for our top pick, the LG WM3998HBA 4.5 Cu. Ft. Smart Wi-Fi Enabled All-In-One Washer/Dryer. With Wi-fi capabilities and multiple wash modes, it is the most fully-featured RV washer dryer on the market.
If you like this article about the best RV washer and dryer, consider checking out these other articles below: