Long term overlanding can take its toll sometimes. We've been living in the desert for 3 weeks with a few days break in desert towns to clean up and resupply.
Occasionally, we just need a bit of easy living. So for New Year, we arrived in Agadir on the Atlantic coast of Morocco.
Boasting 300 days of sunshine each year the region is popular with European tourists.
For us though, the best thing about Agadir is Marjanes, Morocco's premier supermarket. Or is it?
The Reality of Wild Camping
In short, wild camping can get tiring. Each day, we consider how much water we have left in our tanks and if we can afford a shower. How many more days our food will last and how far is the next town.
Even if that town is nearby, it could still take days to get there if we end up stuck in a sand dune or Mowgli throws a strop. So after 3 weeks, we just felt the need to relax, get clean, resupply, treat ourselves and put our feet up.
What that called for was a decent campsite with hot running water on tap, wifi and a washing machine, in a town with a decent area to resupply. Even better, a supermarket.
So where to next? Agadir, of course. With 300 days of sunshine each year, the climate is 10c warmer than in the desert at this time of year.
There are a couple of campsites within a few kilometres of the main stretch of beach and we could shop for food and wine to our hearts' content.
The Reality of Agadir
Camperhomes
During December, Agadir is popular with the European white plastic camperhomes, complete with their satellite dishes.
Now we have little against this breed of overlander, apart from their seemingly "we're better than you" attitude towards anyone arriving in a vehicle that isn't white or plastic and their handbag sized, barking dogs that aren't even Moroccan.
I could go on but I shan't for fear of contradicting myself. Suffice to say, in December, you cannot move for camperhomes in Agadir.
Downright Rubbish Campsites
We arrived at a less than average campsite, the only one in Agadir.
We'd stayed here last summer so knew it was overpriced and the facilities were 2nd class but it would do for a day to clean up and resupply.
As we arrived, the armed guard now on duty waved us through and opened a barrier. We hesitated as we peeked through the entrance.
The place was heaving. There were camperhomes in every available space. I'm not in any way exaggerating.
If 2 camperhomes both opened their doors in unison, they would have touched.
Given this throng of sunseekers were all sharing 2nd rate facilities and were being charged European prices for the privilege, we did a swift u-turn and waved farewell to the bemused owner.
Benidorm of Morocco
Ok, so many people flock to the Spanish resort of Benidorm each year. Many of those people return and actually quite like it.
We've never been but we suspect that there's very little authentically Spanish about the place. Well Agadir is akin to Benidorm.
Yes, Agadir has the weather. Great.
But that's where your indulgence of the Moroccan culture ends.
The mint tea is served with dry mint leaves and without sugar; you'll be hard pushed to find a decent tagine; the locals are utterly shocked that you speak Arabic 'fluently' when they hear you say Shukran.
There's little in the way of haggling for anything. People drive Bentleys not donkeys here…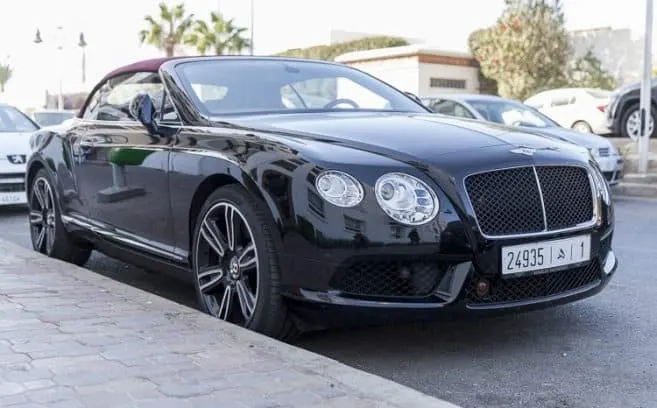 …and the Marina may as well be in the Italian Riviera than in North Africa.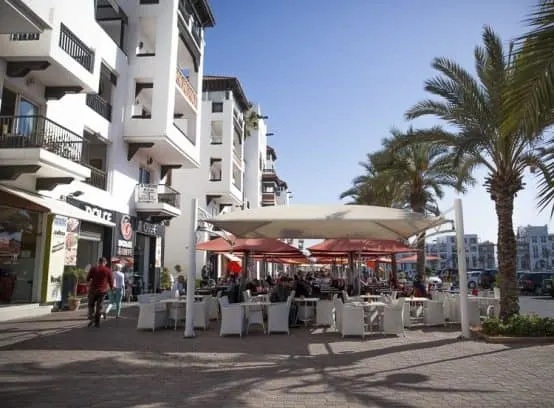 They even cook the eggs properly; although they do come with garnish and leave you with a little of the shell, by way of apology.
The Best Thing About Agadir That Nobody Will Admit To…
Maybe I sound like I don't like Agadir too much but let me correct that, quick smart.
As overlanders, the main purpose of our visit to Agadir, was for a little easy living for a few days.
Ok, so we had to head 20km out of town for a decent campsite, but nonetheless we found one.
Yes, it also had some camperhomes but it wasn't overcrowded and we found our own hideaway away from them all….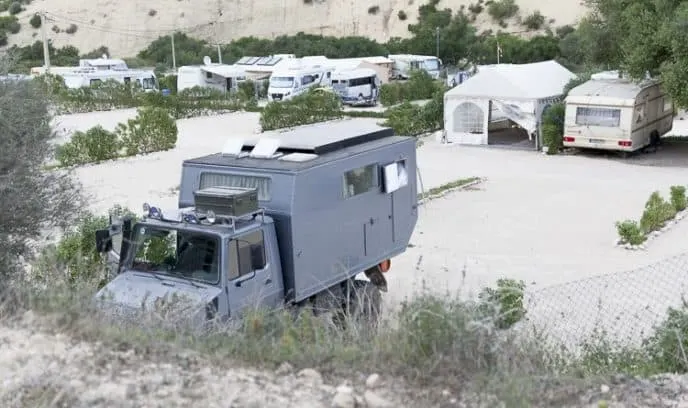 Best not to mingle.
And we found the best thing about Agadir. Marjanes, Morocco's premier supermarket.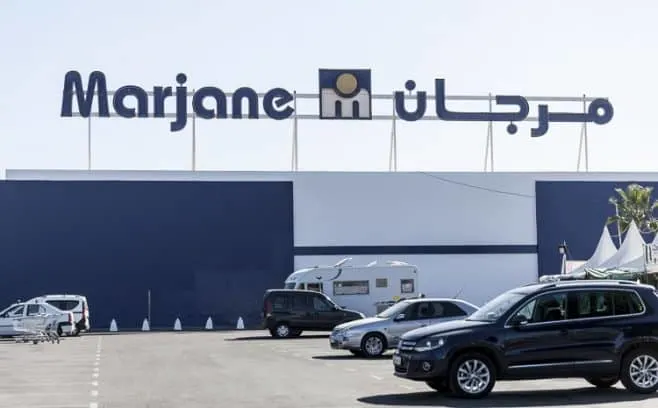 There is aisle upon aisle of packaged foods, fresh milk, muesli, yoghurt, instant coffee, and biscuits.
There's a fresh bread bakery, deli counter, a butchers and we even found ham! In Morocco! It's just like being in Waitrose.
After 3 weeks of shopping in small desert towns, we'd found a little bit of heaven.
The piste de résistance was to be a browse of the wine section, located near the security desk at the front of the store.
This was all too good to last of course.
As we approached the grand finale of our visit to the aisles driving a wonkless, 4 wheeled trolley with space for a dozen bottles, we were utterly stunned to find the area selling only soft drinks. Weep?
We wailed! We were like 2 toddlers having a tantrum! On the brink of giving up this overlanding thing as a bad idea, we set off on what may well have been our final ever overland mission.
And then it happened. We found the best thing in Agadir….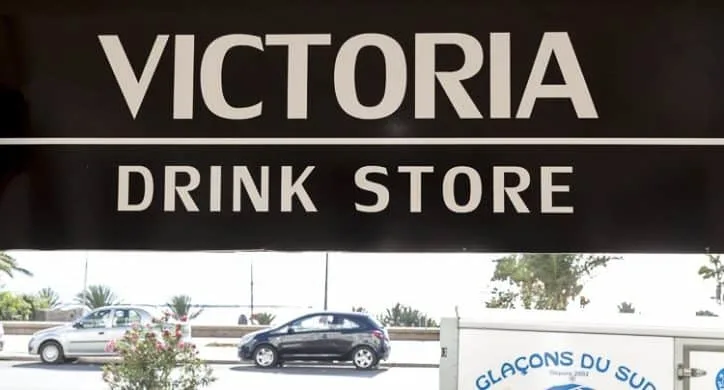 GPS Co-Ordinates: 30° 25′ 29.63″N 9° 36′ 38.85″W
Victoria Drink Store, complete with a wide selection of alcohol and nibbles. And on that note, hic, gotta dash.