Are you looking for things to do in Essaouira? Morocco's windy city has a laidback vibe, but you can easily fill a few days here. In this guide, you'll find everything you need to plan your visit. It includes the best things to do in Essaouira, advice on where to stay, and essential travel tips.
---
If you're looking for a little bit of everything, Essaouira is the place for you. This vibrant city in Morocco has something for everyone, from its stunning old town to its long stretches of beach. And don't forget the bustling fishing port, where you can try your hand at bargaining for fresh seafood.
The old town is a UNESCO World Heritage Site, and it's not hard to see why. The fortified walls and winding streets are straight out of a history book, and the views from the ramparts are simply breathtaking. You can easily spend a day (or two) exploring everything this ancient city has to offer.
When you need a break from all the sightseeing, head to one of Essaouira's many beaches. With its strong winds, the city is a mecca for windsurfing and kitesurfing. Or, if you prefer a more relaxing experience, just soak up the sun with a good book.
No matter your interests, Essaouira is sure to have something that will capture your imagination.
​​In this guide for travelers, we've shared our advice on making the absolute most of your time in Essaouira, Morocco.
From the best beach activities and places to visit, tips on the best time to visit, getting there, and where to stay in the surf capital of Morocco, we've got you covered.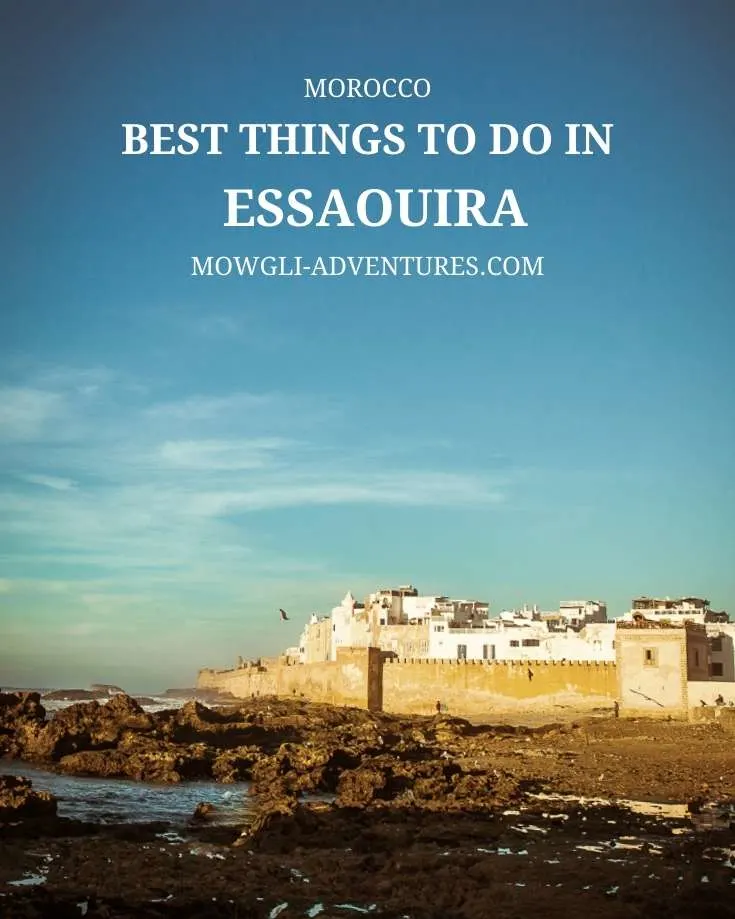 When you click on links to various merchants on this site and make a purchase, this can result in this site earning a commission. As Amazon Associates, we earn from qualifying purchases. For more info, please check our disclosure page.
Top 10 Things To Do In Essaouira
Essaouira is a truly unique and special place – there's nowhere in Morocco quite like it!
The activities on offer here are varied and diverse. It's a place to get away from it all, relax, or find yourself constantly entertained.
Whichever way you choose to spend your time here, you're guaranteed to create some unforgettable memories.
Here are the best activities to do in Essaouira.
1. Scale The City Walls At Essaouira Ramparts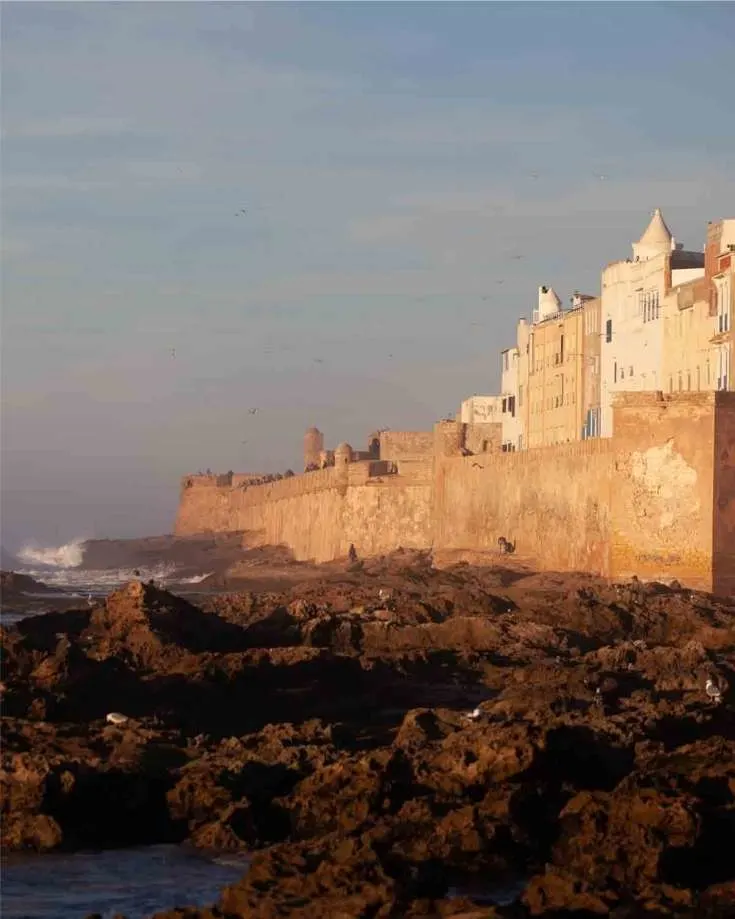 Essaouira's ramparts are an excellent spot for visitors to get a sense of the city's history.
The Portuguese ramparts of Essaouira are home to a collection of 18th-century cannons. Today, it's one of the best places to get a panoramic view of Essaouira.
Visitors can scale the walls and explore the various towers, getting a close-up look at the intricate stonework.
The ramparts offer fantastic sea views of the rocky cliffs and the Atlantic Ocean dramatically boiling below.
You'll undoubtedly find yourself sitting for a while, high above the ocean below, mesmerized by the ever-crashing waves.
And for the beady-eyed GOT fans, you'll recognize the ramparts as Astapor in Game of Thrones.
The ramparts are also a great place to watch the sunset, as the light catches the golden stones and casts a warm glow over the city.
Below the Portuguese ramparts in Skala de la Ville are many art galleries and artisan studios.
The traditional artisans here work mainly in wood carving from thuya wood, and it's said the exquisite work here is the finest in Morocco.
You'll find painters, potters, and stone masons. Watching them work is fascinating to gain an insight into their craft.
Whether you're interested in history or just want to enjoy a unique view, the city walls are the place to be.
Even the locals agree it's one of the best things to do in Essaouira.
2. Wander The Narrow Alleys In The Old Medina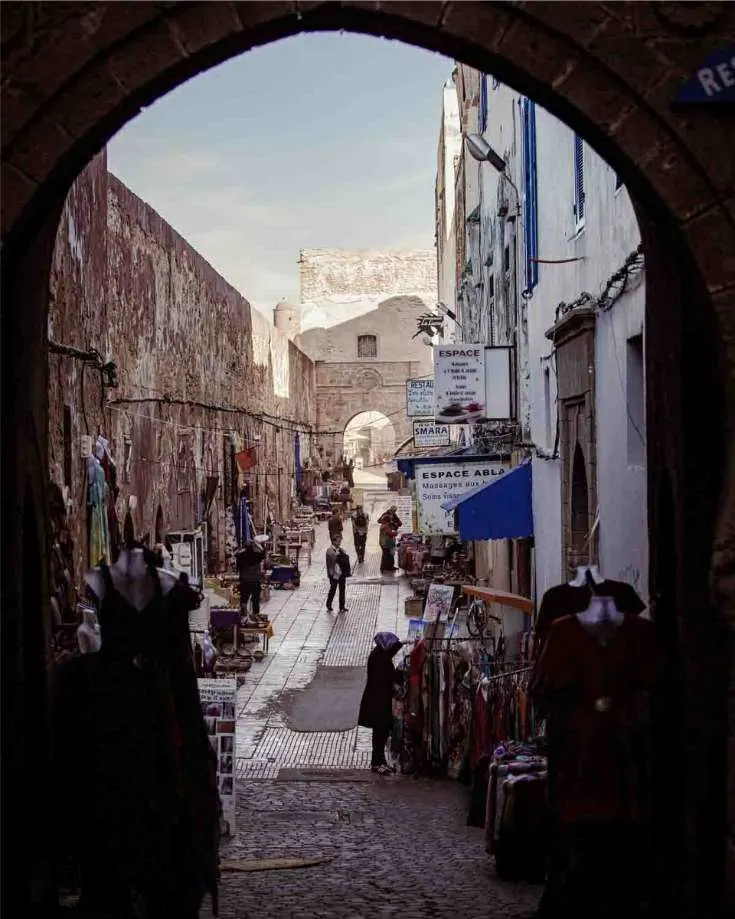 There's something magical about getting lost in the narrow, winding alleyways of the old city or Medina.
It's like stepping back in time to a world where the hustle and bustle of modern life disappears. Just soak in the atmosphere of this ancient place.
The Medina of Essaouira is a UNESCO World Heritage Site, and it's not hard to see why.
The white-washed architecture is simply stunning. Morocco and European architecture blend, with intricate detailing on every building.
And it's not just the buildings – even the doors are works of art!
You'll come across hidden courtyards and traditional workshops. Exploring is the best way to get a sense of what life was like in Essaouira in days gone by.
If you're looking for a truly authentic Moroccan experience, then you can't go wrong with a wander through the narrow alleyways of the Medina.
3. Haggle For A Bargain In The Souks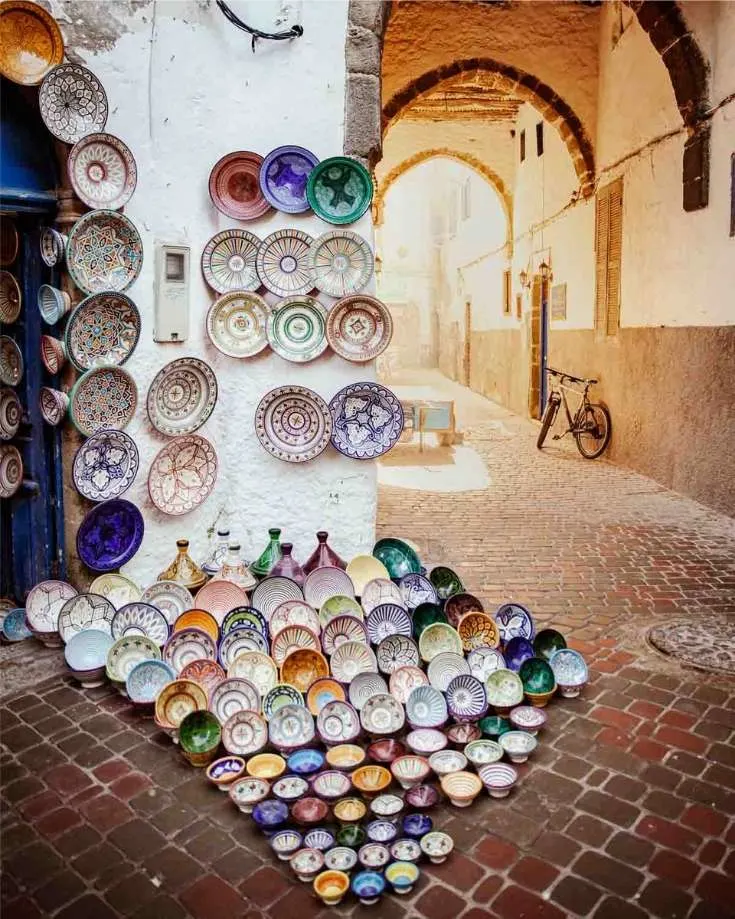 The Medina is also great for shopping in the souks (marketplaces).
Essaouira's Medina offers a relaxed atmosphere in direct contrast with the hectic hustle and bustle of the souk cities like Fes.
And unlike in Marrakech, the traders here are much less pushy – you can wander and bargain in relative peace!
Shop owners are more than willing to talk about their wares without much pressure to buy, making for a more relaxed experience.
The souks here are cheaper than those in Marrakech, and the traders are less pushy.
You can find everything from spices and leather goods to handmade carpets and ceramics. And if you haggle well, you might even get yourself a bargain!
That said, the lack of a hard sell makes haggling a little more difficult. As a result, you're unlikely to get a significant reduction in the initial price quoted.
Read more: A Complete Guide To Marrakech
4. Indulge In Fresh Fish, Dockside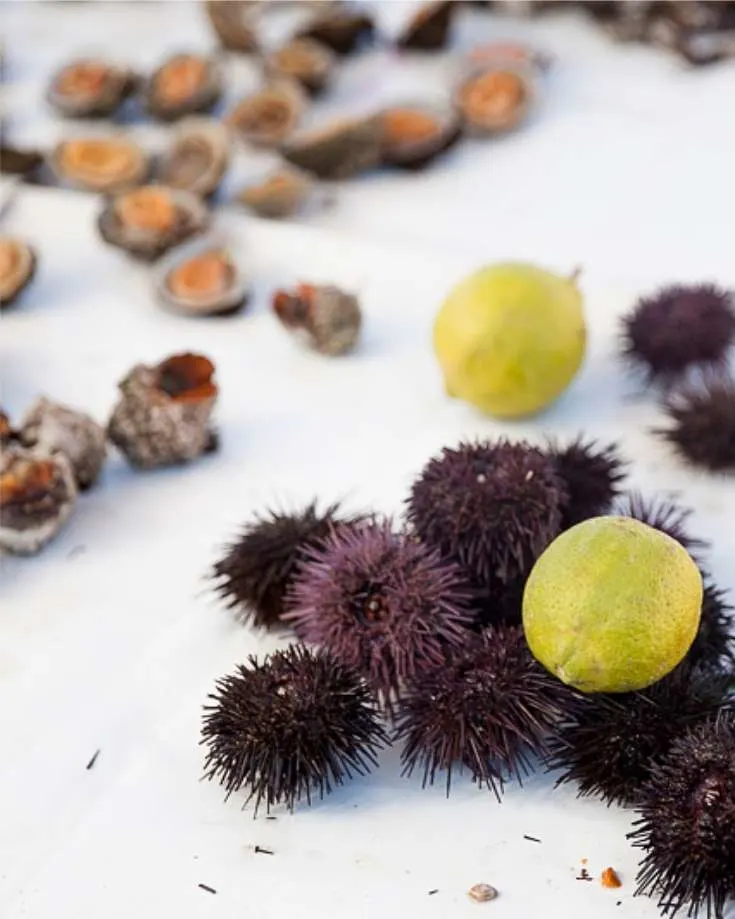 The area outside the harbor is filled with many restaurants that you'll be spoiled for choice.
They're all selling the same day's catch and aim their menus, side orders, and prices at the independent tourist market.
There's little to choose between them, and you'll likely eat at whichever restaurant sweet talks you best.
Before you decide, just look around to see who's eating in these restaurants and ask why there are no Moroccan diners here.
They're eating where the fish is fresh and cooked most simply. For an authentic dining experience, follow the locals and head for the fish market stalls along the quay.
Enter the harbor area at Skala du Port at the end of the ramparts.
Here, you have free access to mingle amongst the fishermen going about the day's chores within the Portuguese ramparts. The harbor, strewn with fishing nets, is used by commercial fishing boats and the local fishermen to land their catch.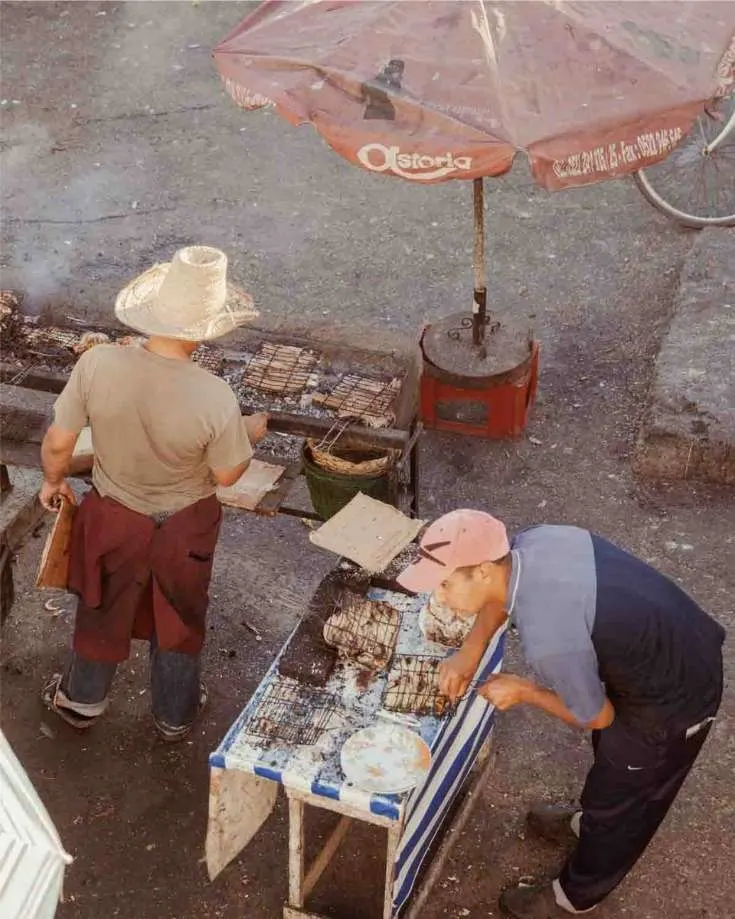 Browse the fishmonger's stalls and pop-up food stalls. These makeshift cafés are not fussy. A barbecue, a plastic patio set, a few loaves of fresh bread, the day's catch, and a basket of lemons. What more do you need?
There's no pushy sell here. There doesn't need to be. The menu is on display; scales, fins, and all.
From prawns to sea urchins, red snapper to eel, lobster to crab, the menu is only limited by what was caught that morning.
It's all cooked in a similar way. The fish are de-scaled and cleaned, and the crab claws are removed before being cooked on the barbecue.
Sea urchins don't need much effort; slice them in half, squeeze lemon, and simply spoon out the sushi contents.
You can get a salad with your fish dish, as well as olives and bread for a small extra cost.
And of course, tomorrow is another day, and its lunch menu will be determined by how successful the next fishing trip is. So even the gulls know as they watch the fishing boats sail again.
Essaouira's fish market is a must-visit for seafood lovers.
5. Get Active With Essaoiura's Beach Activities
Essaouira offers 10km of sweeping sands to the south of the town.
For sun worshippers, there are sun loungers for hire nearer the town. The water temperature is perfect for swimming most of the year. However, when the wind is up – which is most of the time – conditions may be a little rough for a paddle.
If you're seeking some solitude, head a short way south along the beach, and you're sure to find a quiet secluded spot for lazing away a day on your beach mat with a good book.
If you're after something a little more active, there's no shortage of beach activities. Take an exhilarating horse ride along the beach, or for speed junkies, hire a quad bike for an hour.
If that's all a little too active, you can take a more leisurely camel ride, which is sure to loosen up your back after all that sunbathing.
5.1 Camel Rides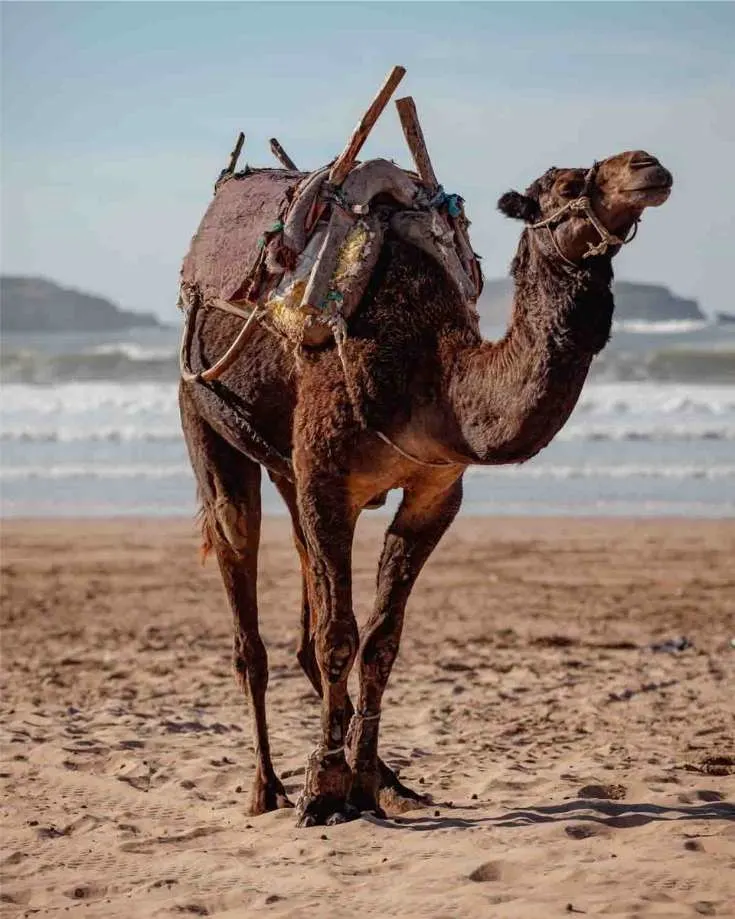 Camel rides along the beach are a popular activity for tourists in Essaouira.
The best place for a camel ride is outside the city walls on the road to Diabat. Here, you'll find several operators offering rides along the beach.
Most camel rides last around an hour and are pretty low cost. Here are a few you can book in advance:
5.2 Horseback Riding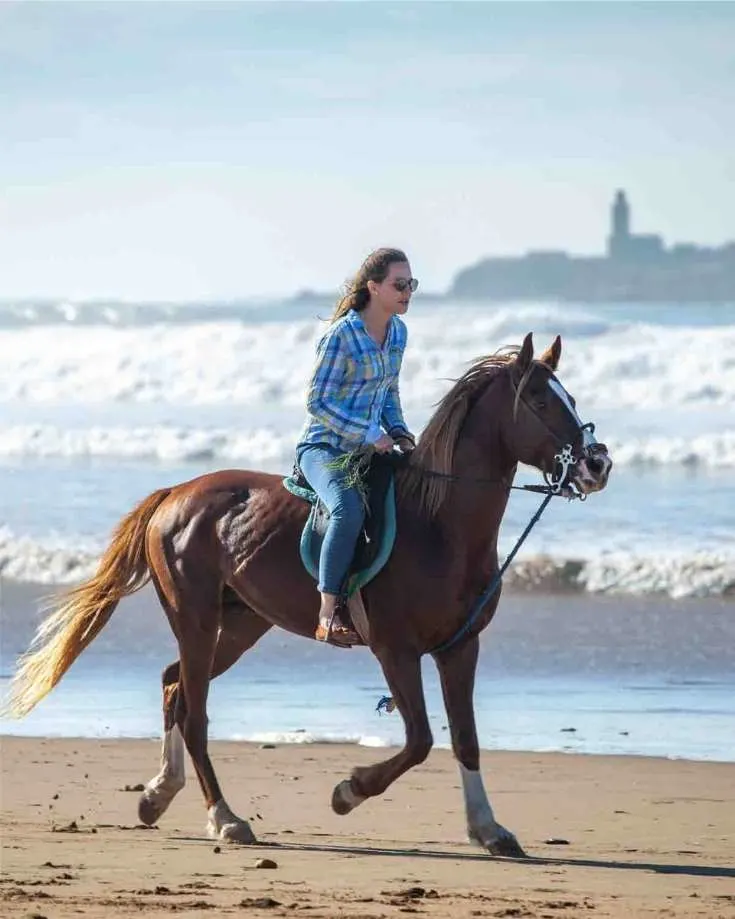 Horseback riding is another popular activity in Essaouira.
There are several operators offering horse riding along the beach, as well as in the nearby countryside.
Most rides last around 1-2 hours, but longer expeditions are available too. Here is a flavor of some of the excursions available:
5.3 Surf Camp
Essaouira is well deserving of its nickname of the windy city. The Atlantic coast here is battered by the ocean winds. And that makes for some terrific waves.
Essaouira, and neighboring Tamraght, are great spots for water sports, and if you're a keen surfer, the waves are ideal.
Bring your own board or hire equipment along the promenade. You'll find hire shops with jet skis, surfboards, windsurfing, and kitesurfing equipment.
Surf camps typically offer accommodation, as well as lessons and equipment rental. And you don't need to go all in. Lessons and equipment hire are available at reasonable prices.
If you've never tried any of these activities but would like to give it a go, you can even take some lessons from the local experts. They'll offer tuition for the complete novice up to the more advanced who'd just like a refresher course.
Take a look at this selection of camps and lessons for an idea of what's available in the area:
If you're simply not into surfing or just not brave enough, grab a friend and play air surfing along the beach. So that's what we did.
5.4 Learn To Kite Surf in Essaouira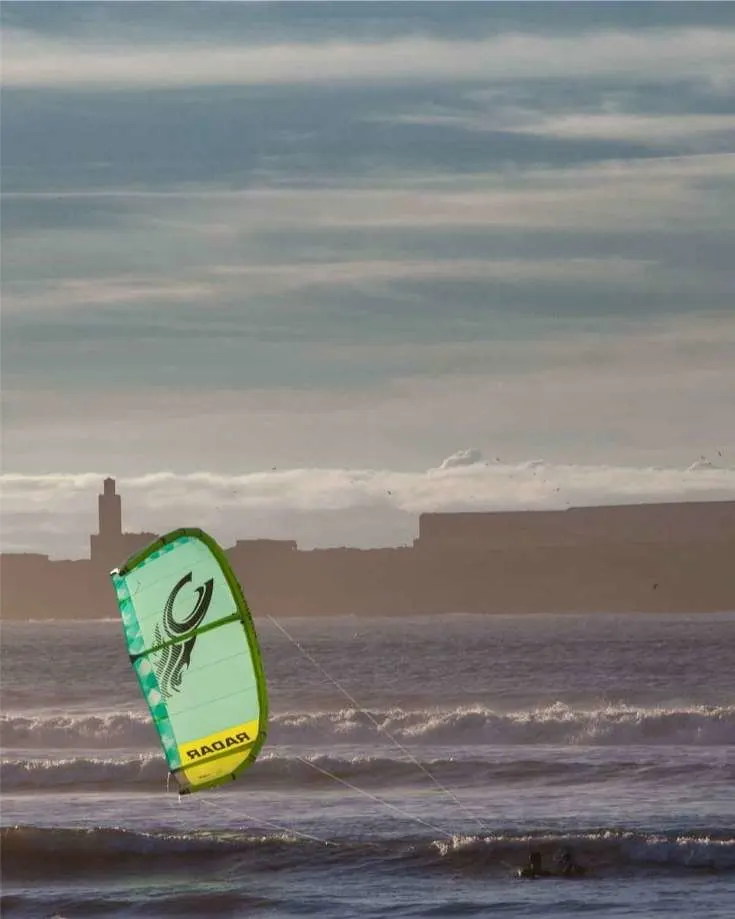 Essaouira is a great place to learn to kite surf. The windy conditions are perfect for kiting, and a skilled trainer will have you up and surfing in no time. Several kite surf schools are located in Essaouira, so finding one to suit your needs and level should not be a problem.
Depending on the conditions, kite surfers can find waves to ride all year round. That makes it an excellent destination for those looking to escape the cold winters back home.
Many experienced kiters in Essaouira can give you tips and help you improve your skills.
Several kite surfing schools in Essaouira offer lessons for all levels, from beginner to advanced. Here are a few:
6. Afternoon Tea On The Promenade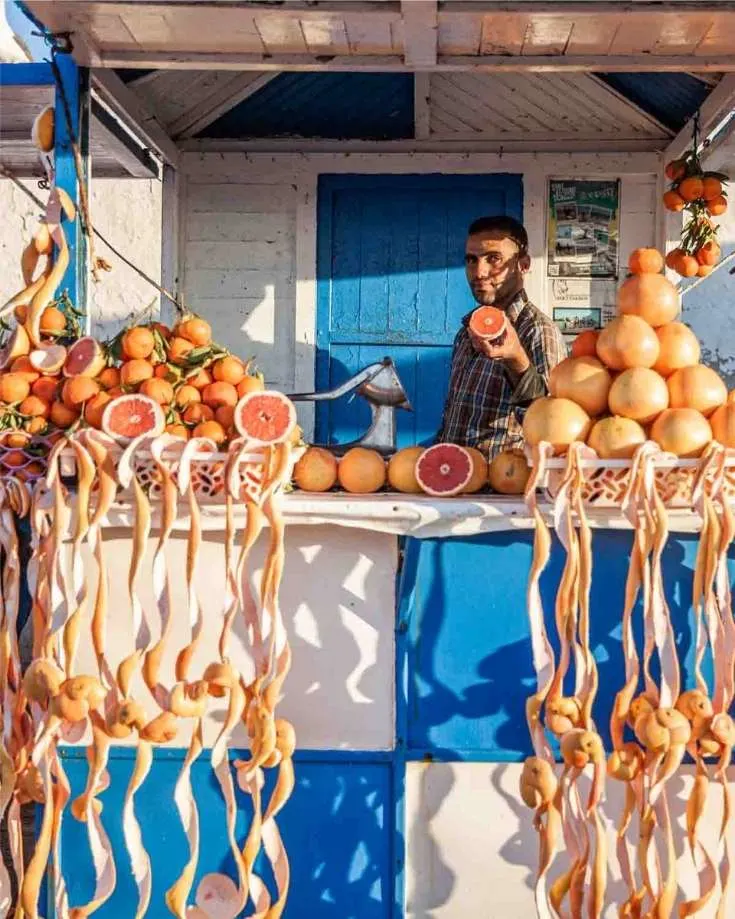 Hey, we're Brits, so what else would you expect? For us, having afternoon tea along the promenade was one of the best things to do in Essaouira.
When you're exhausted after all that exercise or need a refreshing drink, the promenade has a wide selection of sophisticated cafés.
Fresh orange juice is popular, but we recommend the local beverage of choice: Moroccan mint tea, which you may see listed on the menu as Berber Whisky.
You can even indulge in a glass of chilled rosé. And why the devil not?
7. Explore the Jewish Quarter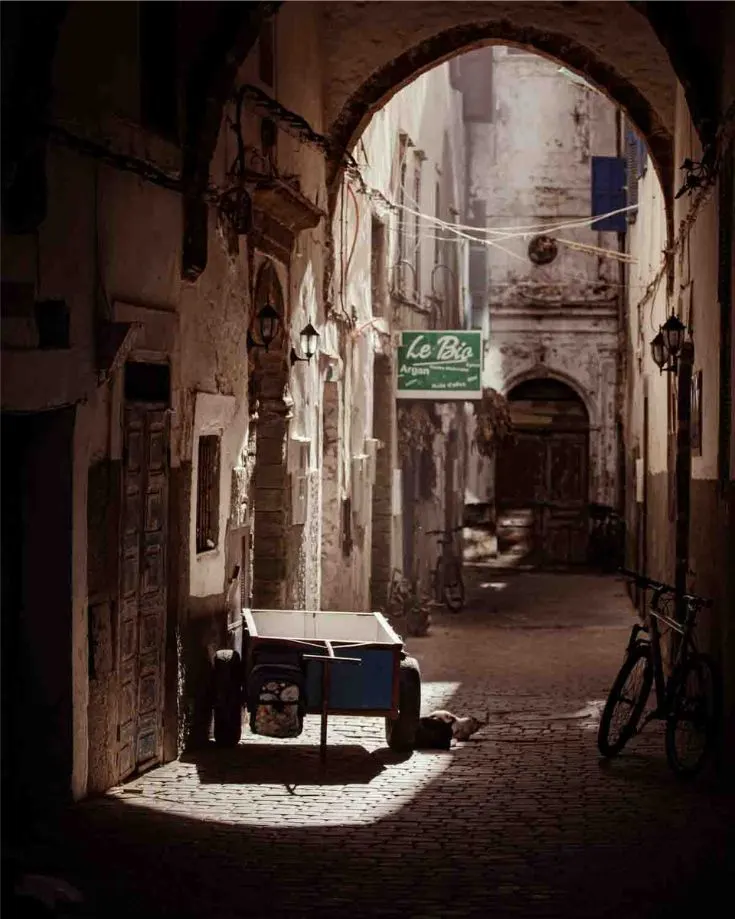 Essaouira was once a town in which Muslims and Jews lived side by side and got along well.
The town's rise in commerce in the 19th century led to increased Jewish involvement in import-export trade. This made Essaouira unique because there were almost as many Jews as Muslims in the town.
The Mellah, or Jewish quarter of Essaouira, was built in 1807 to accommodate the growing Jewish community in the city. The Mellah is a well-preserved example of a Moroccan medina and is today a popular tourist destination in Essaouira.
The Jewish Museum in Essaouira is a must-see for visitors interested in the history and culture of the Jewish people.
The museum is housed in a beautiful 18th-century building. It was once a synagogue. Now, it contains a fascinating collection of Jewish art, ancient pottery, and artifacts.
Visitors can learn about the rich history of the Jews in these regions and their contributions to the arts, culture, and society.
8. Quad Bike In The Sand Dunes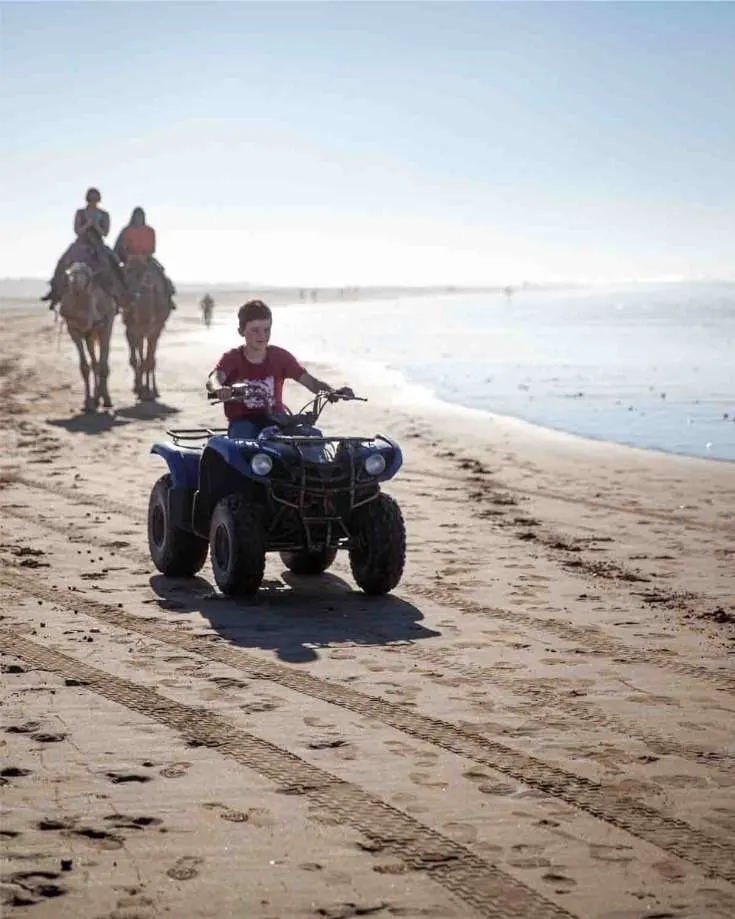 Quad bike tours into the sand dunes on Essaouira beach are a great way to experience the area's natural beauty. The dunes are a great place to explore, and the quad bikes make it easy to get around.
The views of the ocean and the sand dunes are breathtaking, and it's a great way to spend a day in the sun.
The ocean views and surrounding landscape are spectacular, and it's a lot of fun to race through the sand on a quad bike.
Our experience on a quad bike tour was definitely unforgettable. We started off by making our way down the beach. Speed is vital to ensure you don't get bogged down in the sand.
Halfway through the tour, we stopped for a break and enjoyed the views. Our guide was very knowledgeable about the area and pointed out some interesting facts about the dunes and wildlife there. We even saw some camels!
The second half of the tour took us inland, away from the beach. This was a completely different landscape, with small sand dunes and valleys.
Again, our guide pointed out some interesting landmarks and told us stories about life in Essaouira.
We raced up and down the dunes, laughing and screaming with excitement. It was such a rush!
After conquering the dunes, we rode along the beach for a while before returning to town.
We had an incredible day on our quad bike tour, and it's something we highly recommend to anyone looking for a fun and exciting adventure.
Here are a couple of fabulous quad bike tours you can book in advance:
9. Enjoy A Rejuvenating Hammam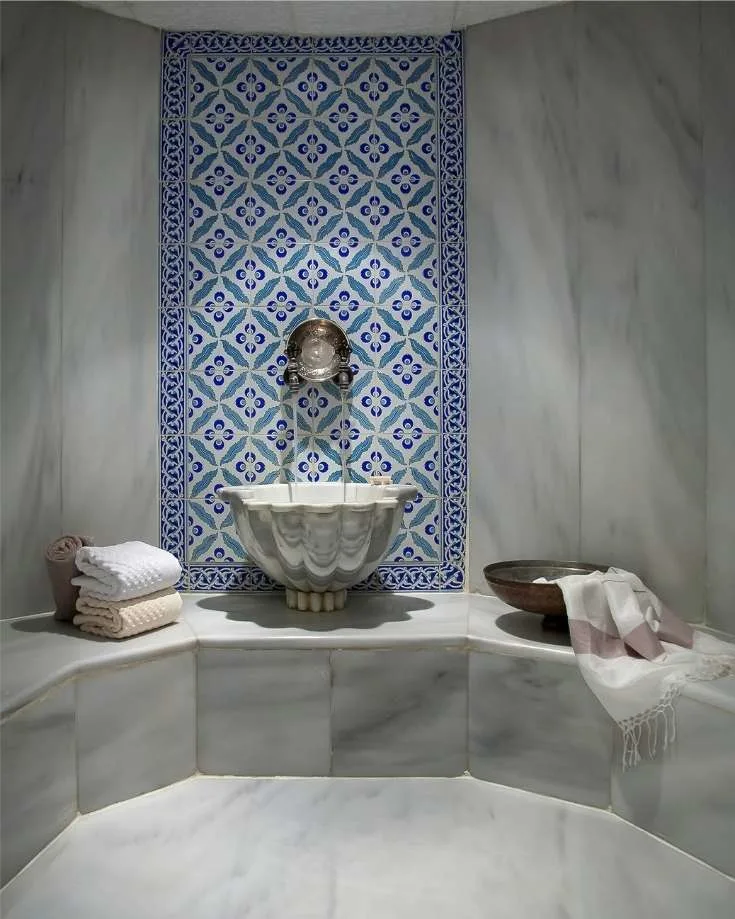 A hammam is a traditional Moroccan bathhouse. It's a great way to relax and rejuvenate after a day of exploring the city.
They offer a unique and relaxing experience and are perfect for cleansing and rejuvenating the skin.
You'll get a traditional Moroccan robe when you visit a hammam in Essaouira.
You can then choose from various services, including a scrub, massage, or steam bath.
The scrub is one of the most popular services. It involves using special soap and a rough cloth to exfoliate the skin. It's an invigorating experience that leaves you feeling refreshed and renewed.
After your treatment, you can relax in the hammam's communal area. This is an excellent opportunity to socialize with other visitors and enjoy traditional Moroccan tea or coffee. It is an unforgettable experience that will leave you feeling relaxed and rejuvenated.
There are many hammams in Essaouira, and each one offers its own unique atmosphere and choices of spa treatments.
We used Hammam with Fatima and had the best scrub and massage we could have wished for. You can find plenty of hammams in and around the Medina.
If you're looking for an authentic Moroccan experience, visit a hammam. The spas are one of the most relaxing things to do in Essaouira, offering a unique glimpse into Moroccan culture.
10. Visit Mohammed Ben Abdallah Museum
The Sidi Mohammed Ben Abdallah museum is a fascinating and informative glimpse into everyday life in Essaouira.
It's housed in a lovely former French-colonial town hall in the heart of the Medina. The museum displays a collection of items used daily by the people of this region.
You can see Gnaoua and Sufi musical instruments, regional rugs, and carved wooden pieces.
Jewish, Berber, and Muslim dresses and ritualistic items can also be seen. In addition to the permanent exhibits, the museum also hosts temporary exhibitions.
The Sidi Mohammed Ben Abdallah Museum is a beautiful opportunity to learn about the culture and history of Essaouira.
The museum is closed on Tuesdays, so plan your visit around that!
Other Things To Do Near Essaouira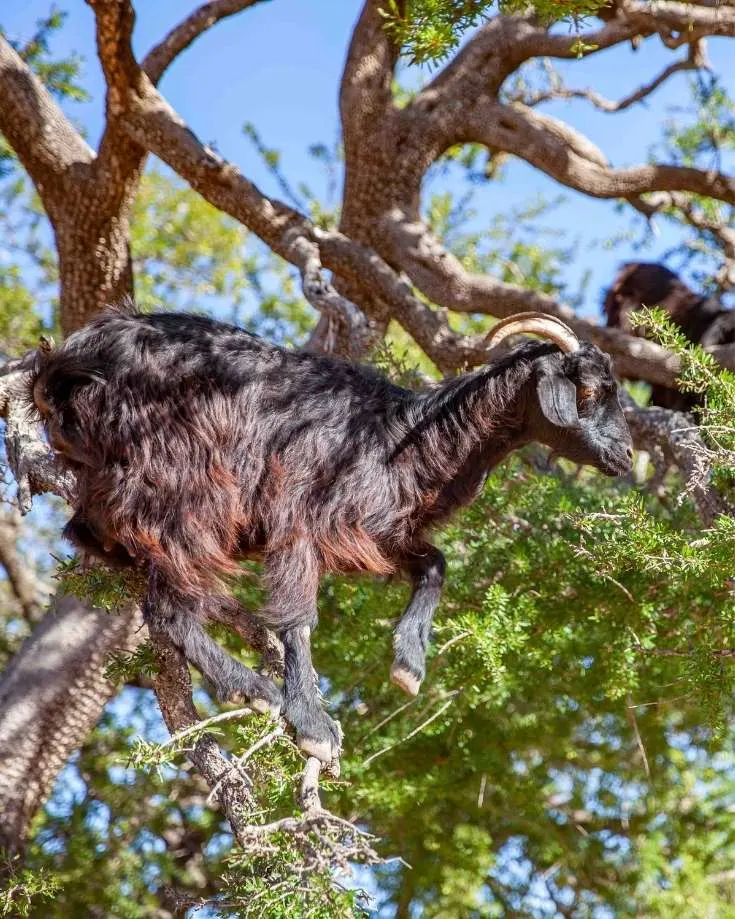 If you're staying in Essaouira for a while and fancy taking a day trip or two, there are few off-the-beaten-path options nearby.
Here are our top recommendations for easy day trips from Essaouira:
Take a road trip to Marrakech and spot goats in trees (yep – you reading that right!)
Where To Stay in Essaouira
The Sofitel Essaouira Mogador Golf & Spa is a 5-star resort located on the Gary Player Golf Course. The resort features 2 swimming pools and a fitness center.
All villas and suites are stylishly decorated in natural, soft colors with butler service. There are also 2 bars where guests can relax after a day by the pool.
The resort is ideally located for exploring Essaouira, with the historical museums and beaches only 1,000 yards away. Parking is free on site.
As you'd expect from a 5-star hotel, the resort is beautiful and well-maintained. In addition, the staff are incredibly friendly and accommodating.
If you're looking for a luxurious place to stay while in Essaouira, the Sofitel Essaouira Mogador Golf & Spa is a great option.
However, suppose you're on a budget or want to be closer to the Medina. In that case, plenty of other hotels and riads in the city may better suit your needs.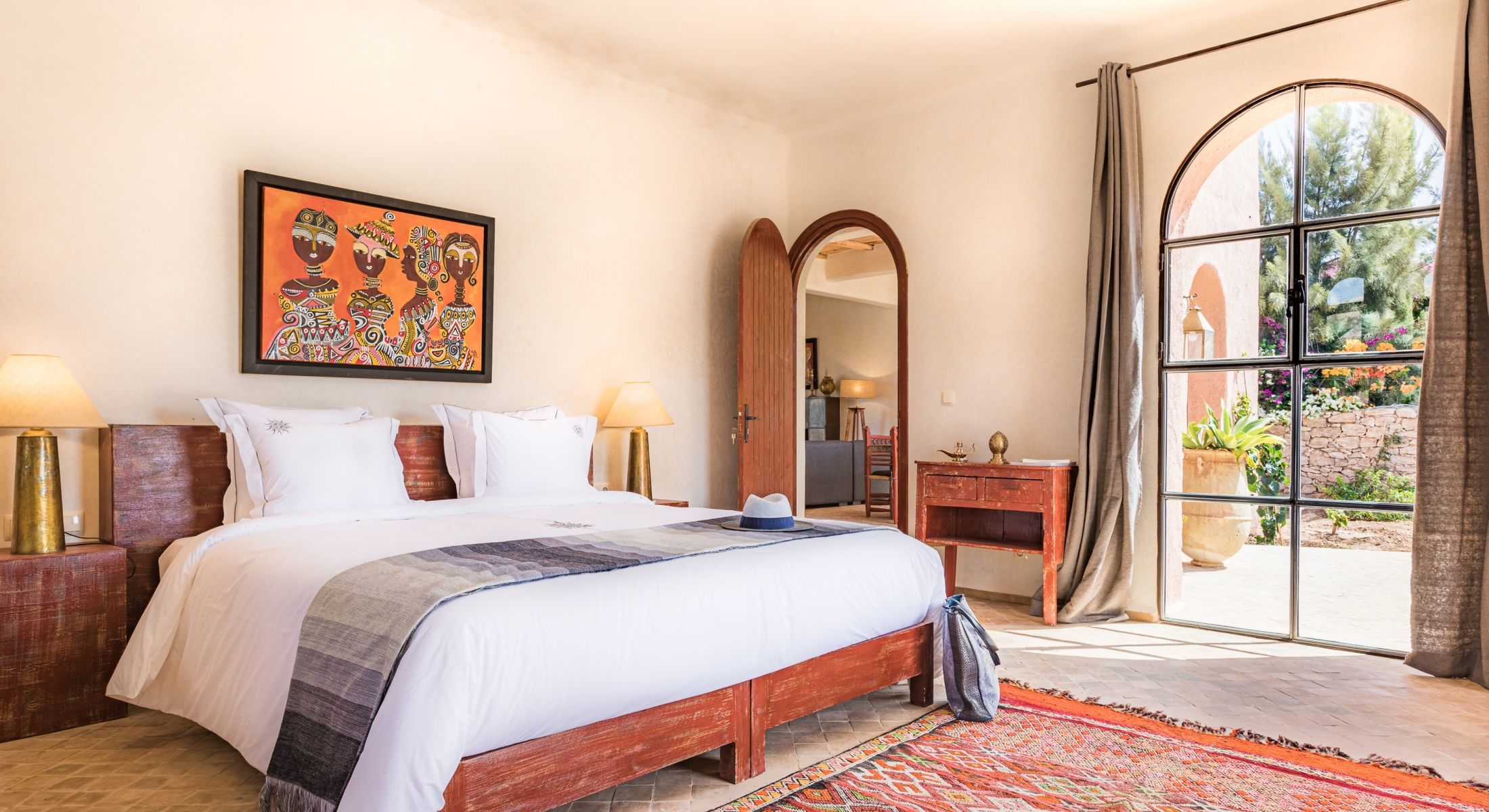 Le Jardin des Douars is a beautiful guesthouse located on the banks of the Oued Ksob River in Essaouira. This guesthouse offers guests:
2 swimming pools,
a wellness center,
and plenty of opportunities to relax in the garden or poolside terraces.
Each room at Le Jardin des Douars features traditional Moroccan décor. In addition, many rooms open up to private terraces.
Guests can enjoy meals in either of the 2 on-site restaurants, which offer Moroccan and international cuisine.
Drinks are served in the bar, and those looking for relaxation can enjoy the wellness center's hammam and body treatments.
Free parking is available on site, and you'll need it to park your rental car because Essaouira is 8.1 miles away.
Suppose you're looking for a relaxing and private getaway in the heart of the Moroccan countryside. In that case, Essaouira Lodge is the perfect destination.
The lodge is nestled amongst olive trees and gardens and offers stunning views of the surrounding mountains.
It's a 15-minute drive from the beach, and the perfect place to relax by the pool or enjoy a massage in the spa.
The lodge has various accommodation options, from apartments to villas, each with its own living room and kitchen.
They're all well-equipped with free Wi-Fi and private bathrooms, making them perfect for longer stays.
The on-site restaurant serves delicious Mediterranean cuisine, and there's also a bar where you can enjoy a refreshing drink.
There's plenty to do at Essaouira Lodge:
swimming in the pool,
taking a dip in the heated indoor pool,
relaxing in the garden,
exploring the local area.
And if you need help organizing activities or getting around, the team at Essaouira Lodge is more than happy to help.
So if you're looking for an idyllic and peaceful escape in Morocco, check out Essaouira Lodge.
Campsites in Essaouira
Essaouira has a shortage of quality campsites.
There is one campsite to the south of the town, but it's little more than a car park.
Camping des Oliviers is a few miles out of town but comes highly recommended by fellow overlanders.
It's a 15-mile / 24 km drive, so not convenient if you want to visit Essaouira for a few days.
Failing that, there is a camper stop at the southern end of the beach. There are no facilities, so ensure you're stocked with water, and your toilet doesn't need emptying.
Read more: How To Use iOverlander Offline To Find Free Places To Camp
Where To Eat In Essaouira
Essaouira is a renowned seafood lover's paradise. It offers an impressive array of local and international seafood options.
The city's restaurants serve everything from simple grilled fish to great tagines, making it easy to find a meal to suit any taste.
Eating out in Essaouira is a relaxed affair, often accompanied by live music. Most restaurants offer outdoor seating where you can enjoy views of the Atlantic coast while tucking into your meal.
Whether you're looking for a quick bite or a leisurely feast, the restaurant scene in Essaouira has something to offer everyone.
Here are three of our favorite restaurants you'll love:
If you're looking for a fantastic atmosphere and some incredible entertainment, Caravane Café is the place for you.
Beautiful art adorning the walls, side rooms, and courtyard makes it a wonderfully atmospheric place to spend an evening.
And if the weather is cool, they have portable fires to keep you warm. It was a chilly January night when we visited, and we loved the cozy atmosphere.
We knew there would be live music, and there was – a cabaret that had us smiling and tapping our feet all night. But there was also singing, dancing and even fire dancing, which made for a really fun evening.
So if you're looking for a great night out, Caravane Café should definitely be at the top of your list.
Caravane Café is closed on Mondays, and bookings are recommended.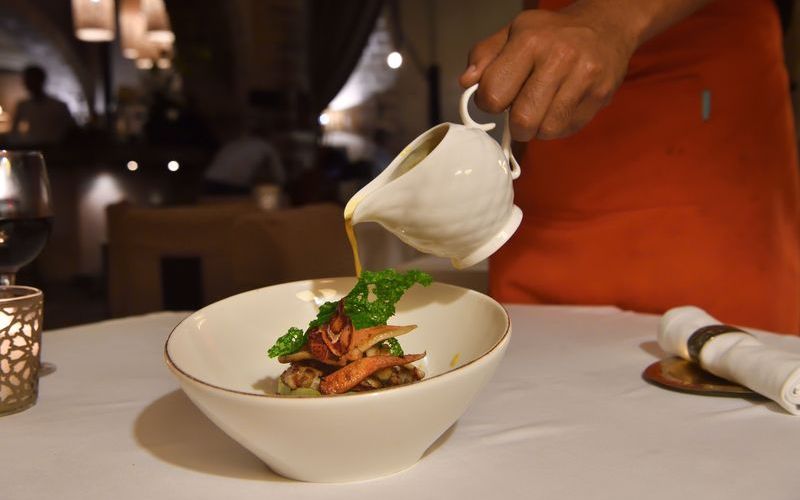 La Table by Madada is a luxurious restaurant in Essaouira that offers innovative dishes from the local cuisine.
The menu features seafood platters prepared with fresh ingredients and spices like lemon grass, John Dory, and olive oil. You're promised an unforgettable experience of flavourful taste sensations on each bite!
The restaurant is only open in the evenings and closes on Tuesdays. So it's best to make a reservation for a guaranteed table here.
If you're looking for an intimate, romantic evening out, Umia is the perfect spot. From the moment you walk in, you'll be struck by the restaurant's chic decor.
The staff are attentive and will be happy to help you choose from the mouth-watering menu.
The food is creative and beautifully prepared, and the wine list is excellent.
Our red wine was at the perfect temperature (and from the local vineyard), and the main dish of Monkfish was divine.
Dessert was also a treat, and we left feeling thoroughly satisfied. Umia is definitely worth a visit!
Where Is Essaouira?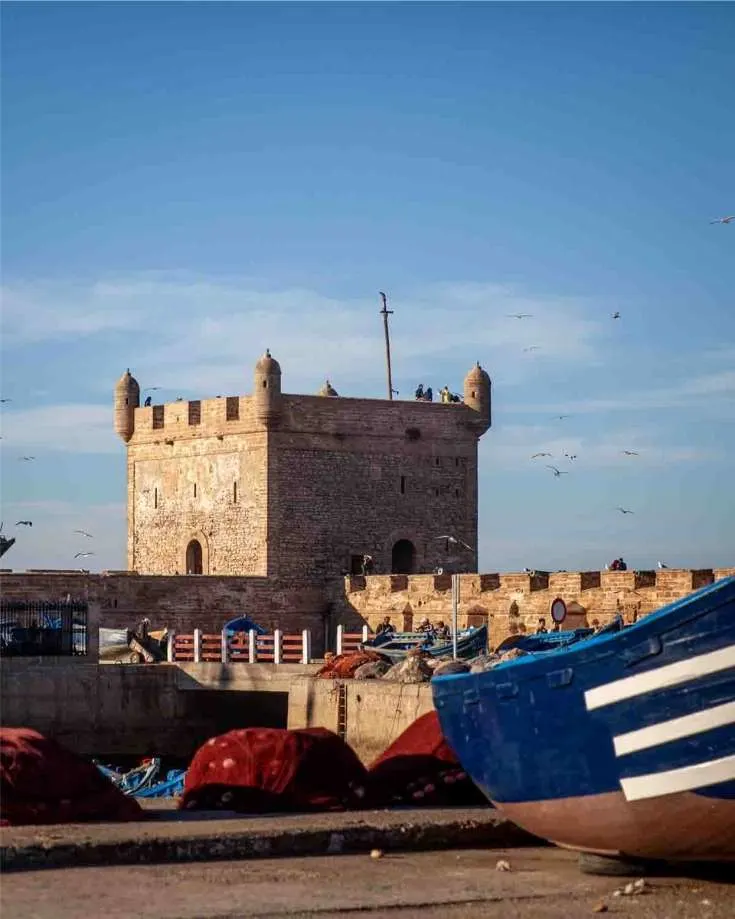 Located in southwest Morocco, the seaport city of Essaouira (Google Maps) is easily accessible from Marrakech, Casablanca, and Agadir.
The coastal town sits at the edge of the Atlantic Ocean and features a Mediterranean climate. With an annual average temperature of 65 degrees Fahrenheit, it's one of the most pleasant places to visit in Morocco.
This historical city is known for its strong winds, which make it a popular spot for windsurfing and kitesurfing.
With its sandy beaches, towering cliffs, and vibrant old Medina, Essaouira is a popular spot for tourists and locals alike.
The city has something to offer everyone, from exploring the ancient ramparts to relaxing on the beach.
And with its relatively convenient location, it's the perfect place to take a break from the hustle and bustle of Marrakech or Agadir.
How To Get To Essaouira?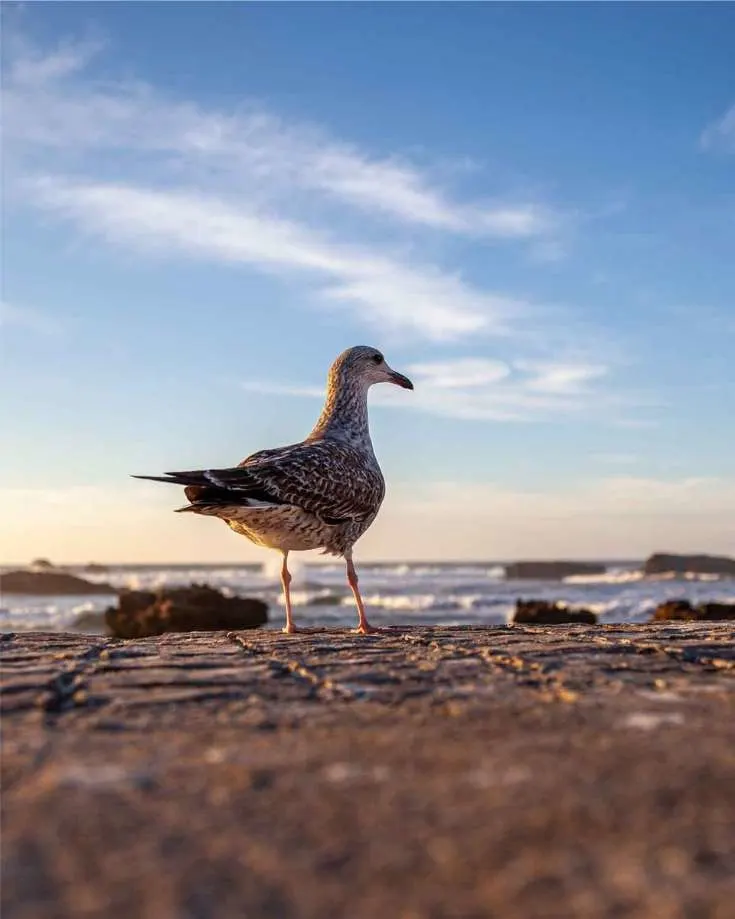 While Essaouira has a small international airport, the routes are limited to a few direct flights from France and Belgium. It doesn't even have any internal flights. So, if you wanted to fly from Marrakech to Essaouira, you'd have to fly via Paris!
Most tourists to Essaouira arrive from other Moroccan cities, and the only way to get there is by road.
Self-Drive
We recommend exploring Morocco at your own pace as a self-drive road trip.
We've frequently visited Morocco, driving from the UK or other European countries. While we love the freedom of traveling with our own vehicle, we recognize not everyone has the time for extended overland trips.
Car hire in Morocco can be a little dubious if you arrange it from your hotel. Therefore, we recommend hiring a car in Morocco from a reputable firm.
Rental cars are available from Marrakech, Agadir, Fes, Agadir, and Essaouira, should you want to travel onwards by car from here.
You can get a comparison quote with Auto Europe from many well-known companies such as Hertz, Avis, and Enterprise.
Driving distances and journey time
Marrakech to Essaouira // 111 miles / 177 km | 2 1/5 hours driving
Casablanca to Essaouira // (via Marrakech for the fastest route) // 242 miles / 388 km | 5 1/2 hours driving
Agadir to Essaouira // 116 miles / 184 km | 3 hours driving
Also read: A Complete Guide To Driving In Morocco
Public Transport
There is no train station or railway line anywhere near Essaouira, but it's well served by bus services from most of the major Moroccan cities.
CTM and Supratours are the largest bus companies, offering comfortable journeys across the country.
Marrakech to Essaouira // 3 hours – 90 Dirhams | £7 | €8.5 | $8.75 – 1 direct bus each day
Casablanca to Essaouira // 6 1/2 hours – 210 Dirhams | £17 | €20 | $20 – 6 times each day
Agadir to Essaouira // 3 1/4 hours – 125 Dirhams | £10 | €12 | $12 – 3 times each day
Fes to Essaouira // 13 hours – 370 Dirhams | £30 | €35 | $36 – 1 direct bus each day
Check the latest prices and timetables when you want to travel in case these change.
Grand Taxi
This is the most expensive way to travel, but it's also the quickest and most direct.
Shared taxis, known as grand taxis, are available in all cities listed above. The driver has a designated route. However, they depart when they're full, so you might have to wait a while, especially if you're traveling solo.
You can, of course, hail an empty cab for the whole journey, but you'll pay for all the seats. So make sure the driver switches on the meter or agree on a price to your destination before you get in the taxi. And don't forget to check that the price is for the whole car, not per passenger.
The journey from Marrakech takes 3 hours and costs around 400 Dirhams per person.
Day Tours
You can hire a driver from Marrakech of Agadir for the day if you fancy a whistlestop tour of Essaouira. They'll pick you up, ferry you around Essaouira, and hang around while you do your tourist thing, before driving you back to your hotel.
It's not something we recommend. Essaouira is worth at least 2 nights, if not longer. If you don't have the time, there's little point in visiting.
Getting Around Essaouira
Once you're in Essaouira, getting around is pretty straightforward. The Medina is small enough to explore on foot, and there are plenty of petit taxis.
You can either hail one down or find the rank by the fishing port. They're cheap and will take you to any destination within Essaouira for around 10 Dirhams.
How Many Days Do You Need In Essaouira?
At the very least, we recommend two full days in Essaouira, preferably 2 nights.
There's plenty to see and do, and it's a great place to relax. So, 3 days would be even better.
Best Time to Visit Essaouira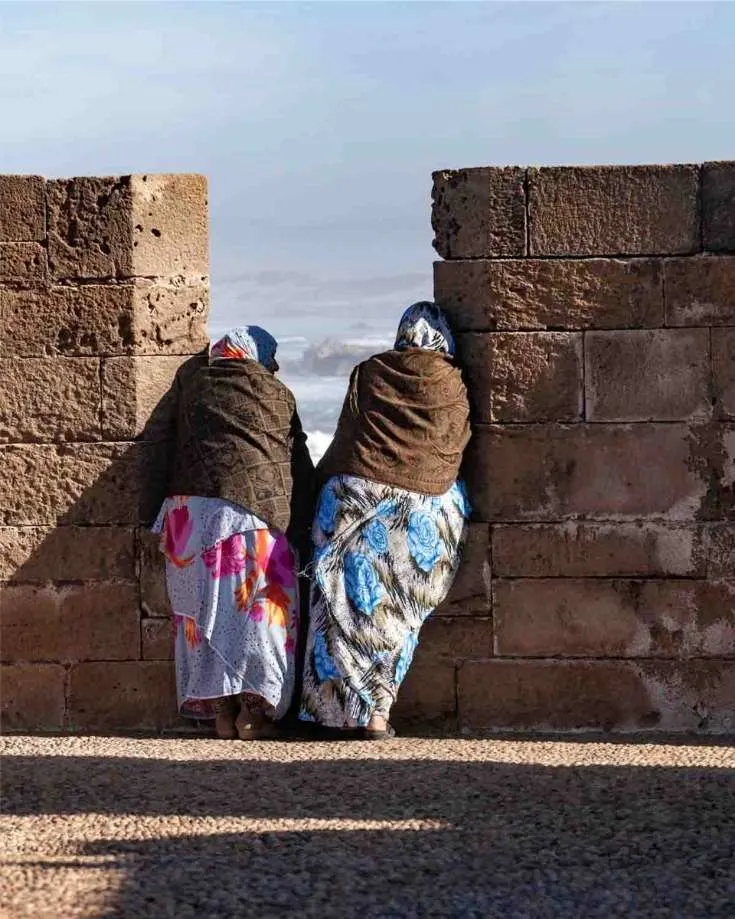 The climate in Essaouira is relatively mild all year round. The summers aren't too hot, and the winters are relatively short and not overly cold or wet.
The best time to visit depends on what you want to do while you're here. If you love windsurfing or kitesurfing, the best conditions are from October to March. Spring and autumn are lovely, with fewer crowds and more moderate temperatures.
Summers can also be pleasant, although the trade winds die down a little bit, so it's not quite as windy as winter. July and August can also be quite busy, with Moroccan tourists escaping the balmy city heat.
June through to August are the best months for swimming, as the water is at its warmest.
Is Essaouira Safe?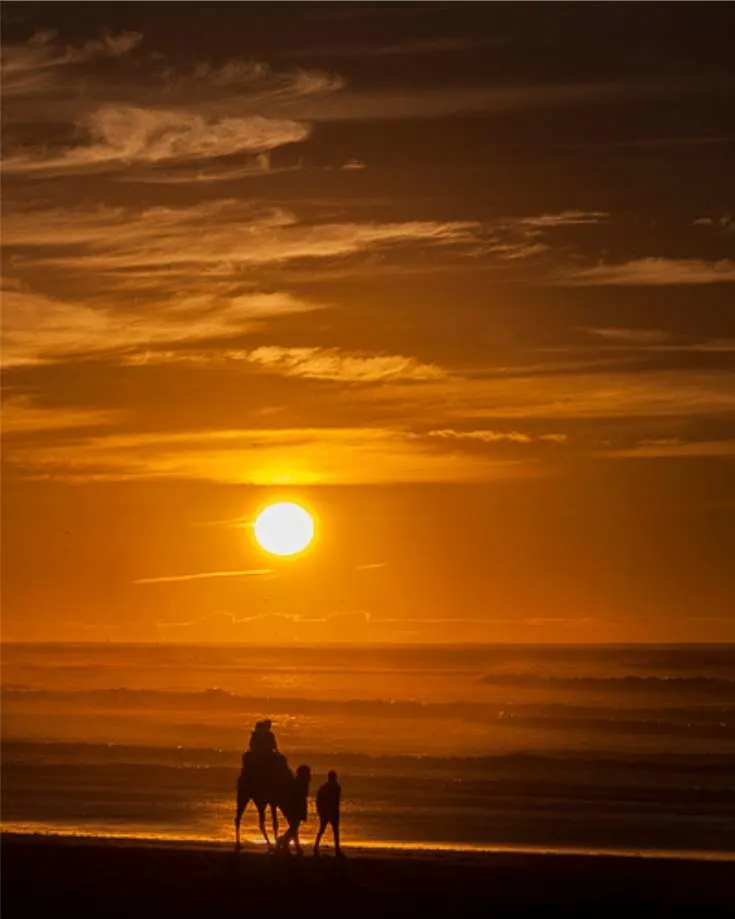 Morocco is generally a safe place to travel. However, there are always safety concerns when traveling to any new place. Essaouira is no different.
While the overall crime rate in Morocco is low, it's still important to take some basic precautions while visiting Essaouira.
Here are a few tips to help you stay safe while traveling in Essaouira:
1. Be aware of your surroundings at all times. This means being aware of who is around you and what is happening around you. If you feel like something isn't right, trust your instincts and move to a different area.
2. Keep your belongings close to you and ensure they are secure. Pickpockets and thieves operate in busy areas, so keeping an eye on your things is important.
3. Don't carry all of your valuables with you. If you must carry them, ensure they are well hidden and secure.
4. Be cautious when using ATMs and only use them during daylight hours.
5. When in doubt, ask a local for help. People in Essaouira are generally friendly and helpful, so if you're unsure about something, don't hesitate to ask for assistance.
Following these simple tips will help ensure that you have a safe and enjoyable trip to Essaouira.
What To Wear In Essaouira
The dress code in Morocco is quite different from what you might be used to at home. Therefore, it's important to dress conservatively, cover your shoulders and knees, and avoid anything too revealing.
Red is a popular color in Morocco, so feel free to pack a few red items to wear during your trip!
Most Moroccans dress relatively modestly in day-to-day life. Still, carry a scarf to cover your head when entering mosques.
That being said, a few essential items will help you blend in and stay comfortable during your time in Essaouira.
First and foremost, comfortable shoes are a must. You'll do a lot of walking while exploring the city, so make sure to pack a pair of shoes that you can easily walk in. Sandals are fine, but closed-toe shoes are best.
Next, pack some light, airy layers. The weather in Essaouira can be pretty warm during the day, but it can cool down at night. So a light cardigan or jacket is always a good idea. And if you're visiting during the winter months, a coat is a must!
Finally, don't forget to pack swimwear and a beach cover-up. Essaouira is a beach town, after all, and you'll want to have something to throw on over your swimsuit when you're not in the water. A long skirt or loose pants are perfect for this.
With these few essential items, you'll be well on your way to packing the perfect Essaouira wardrobe!
What To Buy In Essaouira
Souvenir shopping in Essaouira is a fun and easy way to take a piece of Morocco home with you. From hand-painted ceramic tiles to intricate metalwork, there are plenty of beautiful and unique items to choose from.
Here are some of the best things to buy in Essaouira (with links to buy them from home):
Argan oil is a multi-purpose oil that can be used for both skin and hair care. It's rich in vitamin E and antioxidants, making it good for your complexion and hair health.
You can find bottles of oil in many souvenir shops around Essaouira, so be sure to pick some up before you leave!
Moroccan lanterns make for beautiful home decor items and great gifts for friends and family.
They come in various colors and styles, so you're sure to find one that suits your taste.
Tea is an integral part of Moroccan culture, so it's only fitting that you should take home a Moroccan tea set as a souvenir!
These sets usually come with a teapot, glasses, and serving tray, and they make for lovely decoration pieces.
Moroccan cuisine is known for its bold and flavorful spices, so pick up some to take home with you!
Typical spices used in Moroccan dishes include cumin, paprika, cinnamon, saffron, and turmeric. You can find these spices in the old Medina and souks around Essaouira.
In Conclusion
When we visited Essaouira, we were won over by how much is packed into such a small town without feeling overcrowded or spoiled by mass tourism.
Essaouira is a unique destination in Morocco. Whether you have a day or a week, it's a charming town that will leave you with lasting, romantic memories of Morocco's exotic and vibrant culture.
The small city is one of the most unique laidback places in Morocco. And while visitors can enjoy a relaxing time here, beach activities are some of the best things to do in Essaouira.
Plus, exploring the old Medina, indulging in some delicious Moroccan food, and pampering yourself at a hammam spa are all highlights of any visit to the windy city.
When packing for your trip, bring comfortable shoes, light layers, and a scarf to cover your head when entering mosques. And don't forget to pack swimwear and a beach cover-up if you're planning on spending time at the beach!
Finally, don't leave without picking up some souvenirs! Leather bags, aromatic spices, Moroccan lanterns, and tea sets make great gifts and home decor items.
If you're looking for a coastal getaway in Morocco, it's difficult to beat Essaouira.
If you have ever traveled in Morocco, we would love to hear about your experience! Please leave a comment below and let us know what you loved most about your trip.