If you've landed here hoping for a quick answer to what sounds like a simple question, we're going to disappoint you.
Patagonia is enormous. Covering the entire southern cone of South America, Patagonia is over a million square kilometers.
From Bariloche in the north to Ushuaia in the south is almost 1600 kilometers as the crow flies.
It's surrounded by the world's largest oceans, the high Andes Mountains, the Patagonian desert, and Antarctica. So the climate differs drastically across the Patagonian seasons and the different regions within it.
Finding the best time to visit Patagonia is entirely dependant on what you want to do when you get there.
This post will help find the best time to visit Patagonia for you.
It explains what Patagonia travel is like throughout the 4 seasons and the best times of the year to visit for the things you enjoy most.
So buckle up to explore the region and find the best time of year for your Patagonia adventure.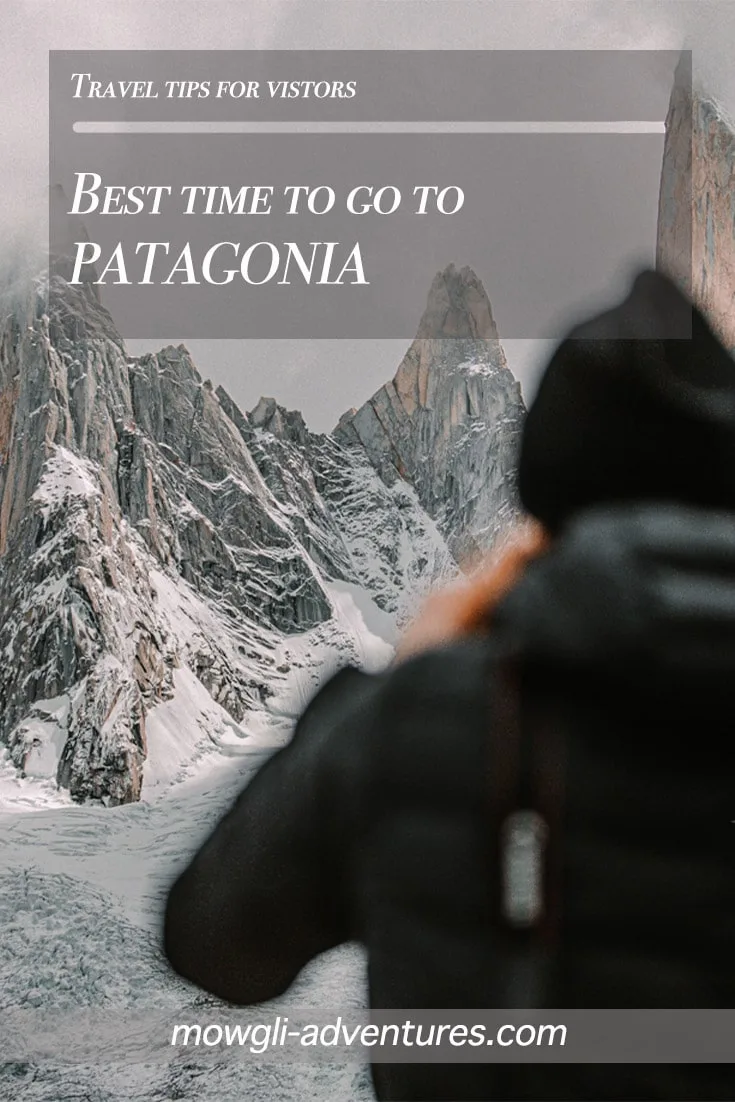 Best Time To Visit Patagonia By Seasons
Located in the southern hemisphere, Patagonia experiences seasons at the opposite time of year to those in the northern hemisphere.
Summer in Europe is winter in Patagonia. Winter in North America is summer in Patagonia. Fall is spring, and spring is fall.
Here's a rundown of the Patagonian seasons, including expected weather conditions, crowds, costs, availability of amenities, where to go, and what to do.
Spring In Patagonia
Spring begins in late September and sees Patagonia emerging from the long, cold winter.
Average springtime temperatures across the region range from a little above 0°c at night to 8°c during the day.
Although still chilly, the cooler temperatures are on the rise. The landscape slowly begins to thaw, at least at lower altitudes.
You can still expect to see snow on the ground and certainly on the mountains. Spring flowers begin to appear, and wildlife give birth to their young.
The infamous Patagonian winds begin to show their force as the season progresses.
Snow and rain can still fall at any time – this is Patagonia after all – but you can also experience some glorious, calm, blue sky days.
Throughout spring, the days get longer, and by the end of November, you can enjoy over 14 hours of daylight.
Traveling Patagonia In Spring
Road conditions, especially early in the season, can be icy and definitely wet.
Take care driving in Patagonia at this time of year, particularly on the unpaved stretches of the Carretera Austral near the Marble Caves, Torres del Paine National Park, and on the Chilean side of Tierra del Fuego National Park.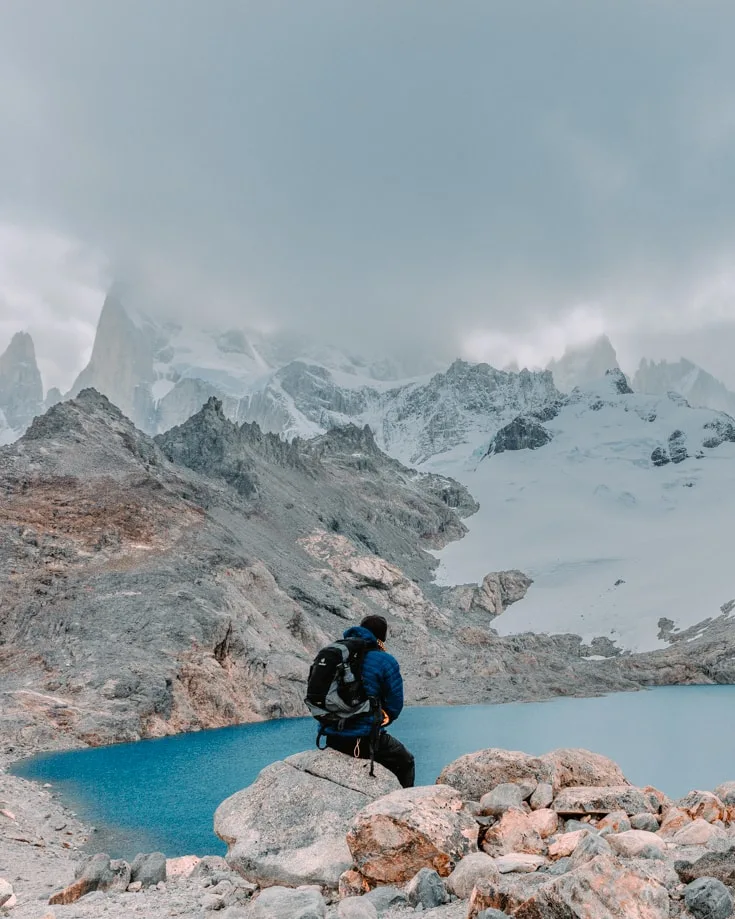 Buses run in Patagonia year-round but only leave if enough people travel to make the journey economically viable.
You may experience some delays in mid-spring but these all but disappear by the end of the season.
Some long-distance buses don't run every day, so check the schedules before committing to travel dates.
Accommodation In Patagonia In Spring
The ski season in Bariloche is still in full swing until the end of October. Because early to mid-spring is still high season around Cerro Catedral, make sure to book your accommodation well in advance.
In southern Patagonia, hotels and hostels begin to open their doors again, but finding a room can be challenging.
While visitor numbers are low, demand for the few available beds is often high.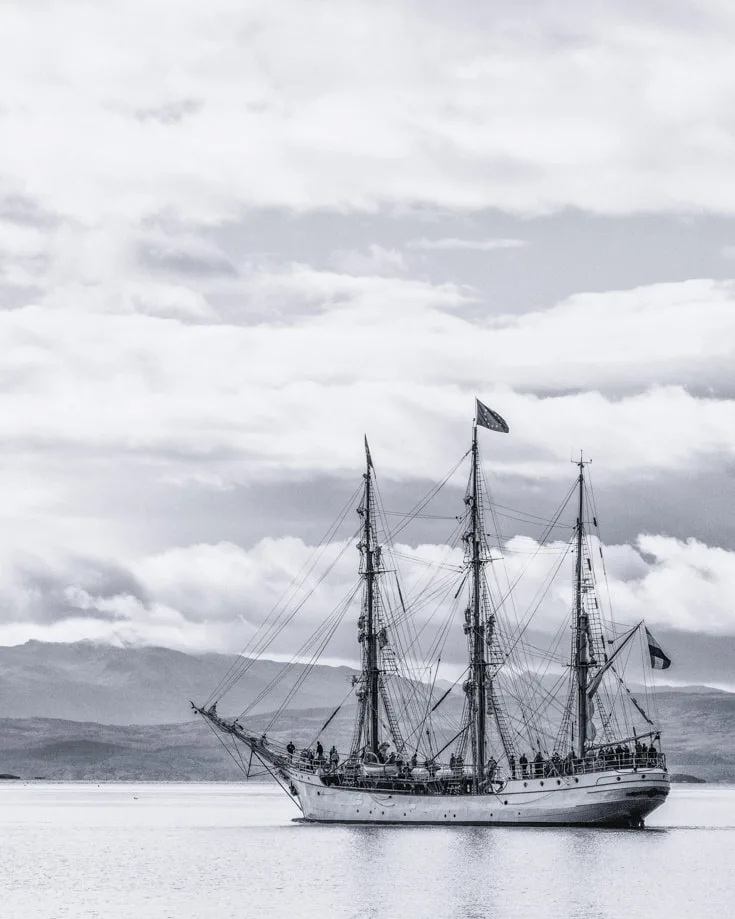 Few campsites, if any, are open in early spring.
On the Carretera Austral, some free campsites are available but don't expect hot water. You'll need to get used to frigid showers if you don't have a camper van with onboard facilities.
Wild camping in Patagonia during the spring becomes more practical and comfortable with the rising temperatures.
Read our guide to wild camping in your camper van to help you do so responsibly.
Tourist Crowds In Spring
One of the greatest advantages of traveling to Patagonia in spring is the lack of crowds. Hiking routes are clear of queues, and you can enjoy the peace and solitude of this incredible place.
Of course, Bariloche is busy until October because of the skiing but come November, there's a brief lull before the summer crowd lands.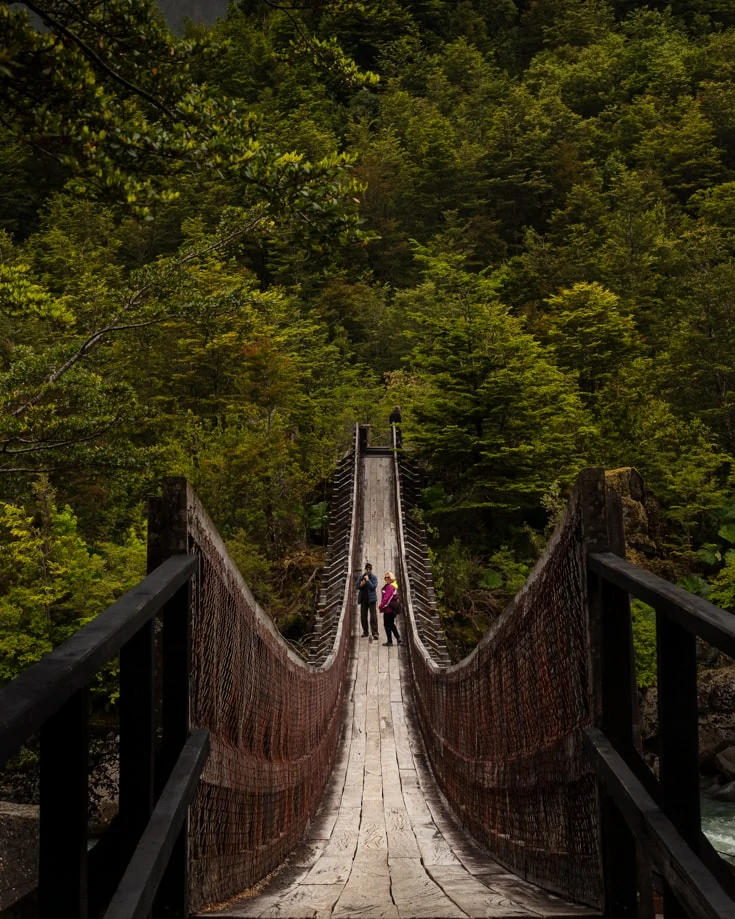 Cost Of Traveling Patagonia In Spring
Spring is the shoulder season, so you can expect lower prices than in the height of summer. In November, prices begin to inflate to near peak levels.
From November, all activities are available. Combined with the lower prices, it makes late spring a budget-friendly time to go to Patagonia.
What To See & Do In Patagonia In Spring
Visiting Patagonia in Spring is a special time of year. Because the crowds are so few, you'll feel you have this place all to yourself.
Hiking In Torres Del Paine National Park
The hiking routes are open all year, although many become impassable in the depths of winter.
Like the W trek in Torres del Paine, a hiking guide is mandatory in winter for some trails. But in spring, the snow line recedes, and the trails open up.
And with fewer crowds, spring is an ideal time to enjoy the remoteness of this wilderness.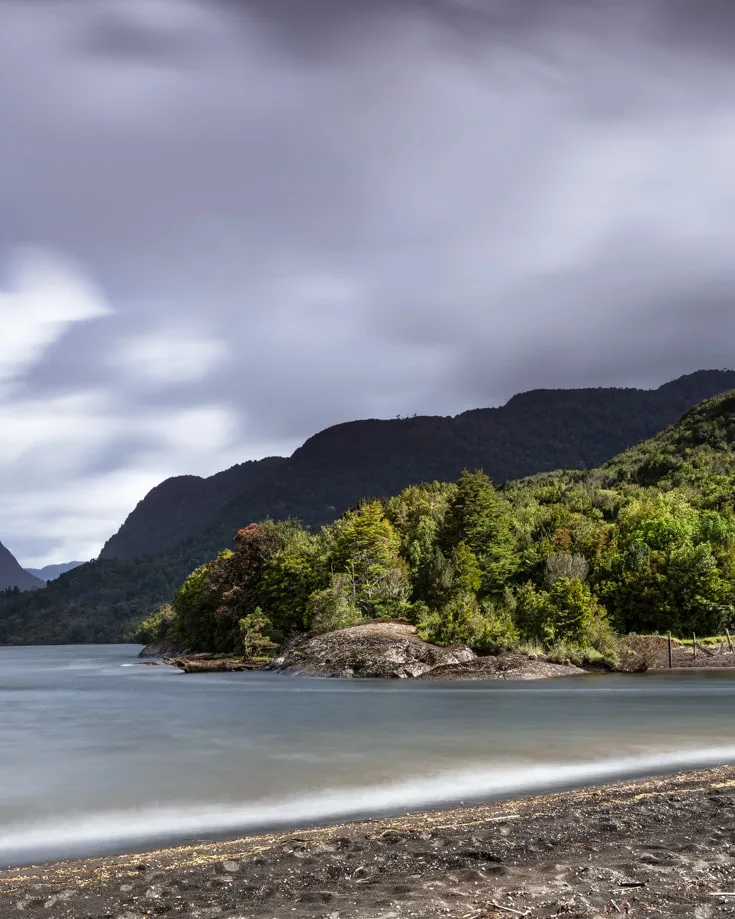 Skiing In Bariloche
So you fancy some winter sports? In spring? Head to Bariloche for world-class facilities at one of Argentina's best skiing resorts.
Cerro Catedral and nearby Piedras Blancas offer skiing, snowboarding, and cross-country skiing.
If you're an adrenalin junkie, you can even try your hand at heli-skiing.
The ski season ends in October, making early spring your last chance for some winter sports in Patagonia.
Drive The Carretera Austral
With improving weather comes better road conditions. The Carretera Austral in Chilean Patagonia is one of the world's most epic road trips. Spring is a fabulous time of year to explore.
Snow-capped mountains, thunderous waterfalls, and hanging glaciers line this 1200 kilometer route through one of the most magical stretches of Patagonia.
Visit Chiloe Island
Chiloe is unlike anywhere else we've seen in Patagonia. Rolling hills, lush fields bursting with corn and potato harvests, and remote, deserted beaches.
Chiloe is home to both Magellanic and Humboldt penguins. Their chicks begin to hatch in November, and, if you're lucky, you may even spot a whale or two in the coastal waters.
Whale Watching On Valdes Peninsula
Spring is the perfect time for spotting Southern Right Whales mating rituals in the bays around Valdes Peninsula.
You don't even need to get on a boat. Stand on the beach, or better still, upon one of the coastal cliffs, and you can see the whales breach right out of the water.
If you're especially lucky, you may even spot Orca hunting seals and taking them from the shore. Valdes is one of the few places on earth you can witness their learned behavior.
Antarctica Season Begins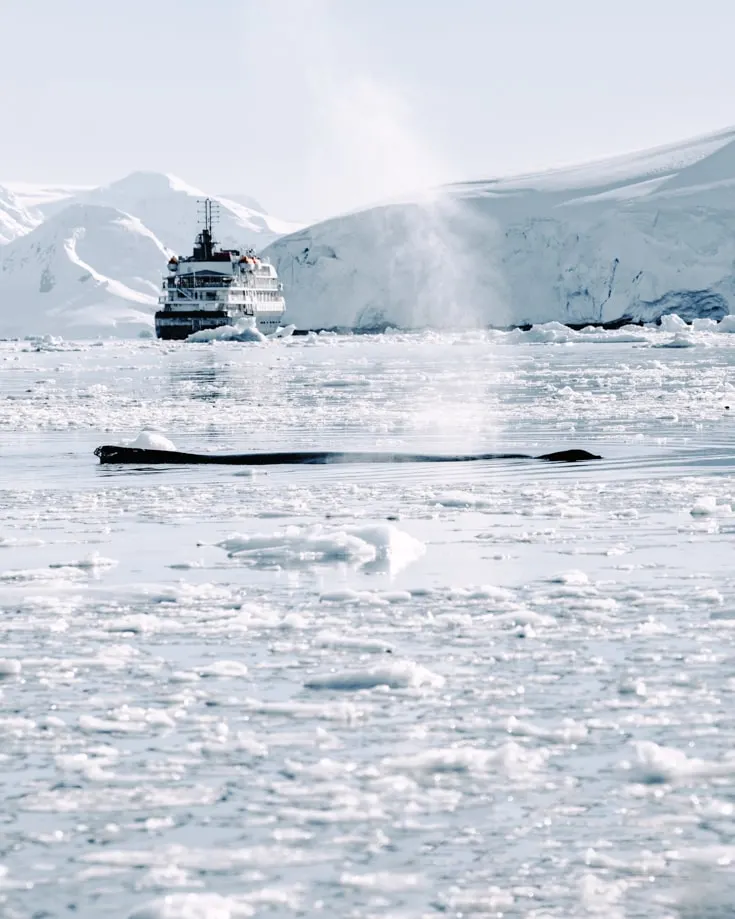 Antarctica is almost on Patagonia's doorstep, so you're in the ideal spot to launch your cruise to the 7th continent.
With the springtime temperatures, the pack ice begins to thaw, and the Antarctic season kicks off. The first cruises of the season leave Ushuaia and Punta Arenas at the end of October.
And if you haven't booked your cruise years in advance, fear not. You can bag a last minute deal and save thousands of dollars. Here's how we traveled to Antarctica on a budget.
Patagonia In Summer
Welcome to the peak season in Patagonia. Most of the annual visitors arrive in summer.
Up to 18 hours of daylight rules out stargazing but brace yourself for long day hikes, loads of solar power for those campervan batteries, and late evening barbecue parties.
The Patagonian summer runs from December to February. Mild temperatures make for pleasant days and cool nights but hang on to your floppy sun hats! The fierce Patagonian winds frolic up to 70+ miles per hour.
You can still expect some rain, and at altitude, it falls as snow. The weather in Patagonia is always unpredictable, so come prepared and pack warm clothes. Use our Patagonia packing list to make sure you bring everything you need.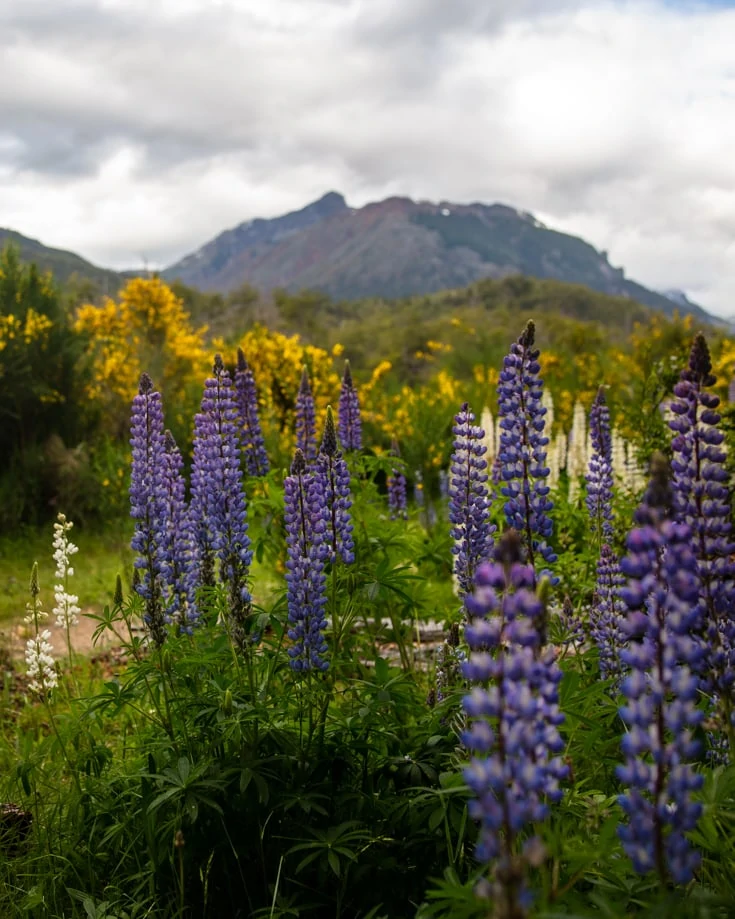 Average summer temperatures across the region range can peak at around 30°c, but it varies widely.
Los Glaciares National Park, especially near Perito Moreno Glacier, can be as low as the mid-teens during the day.
Snow tends to only be visible on the highest mountain tops or in and around the glaciers and ice fields. And as tempting as the turquoise lakes look, they remain mighty cold – only the hardiest swimmers will brave a dip!
Make sure to check out this guide to Patagonia's largest lake, Lago General Carrera.
Summer flowers of bright yellow broom and colorful lupins make a splash across swathes of the landscapes like an imaginary scene from a CGI movie.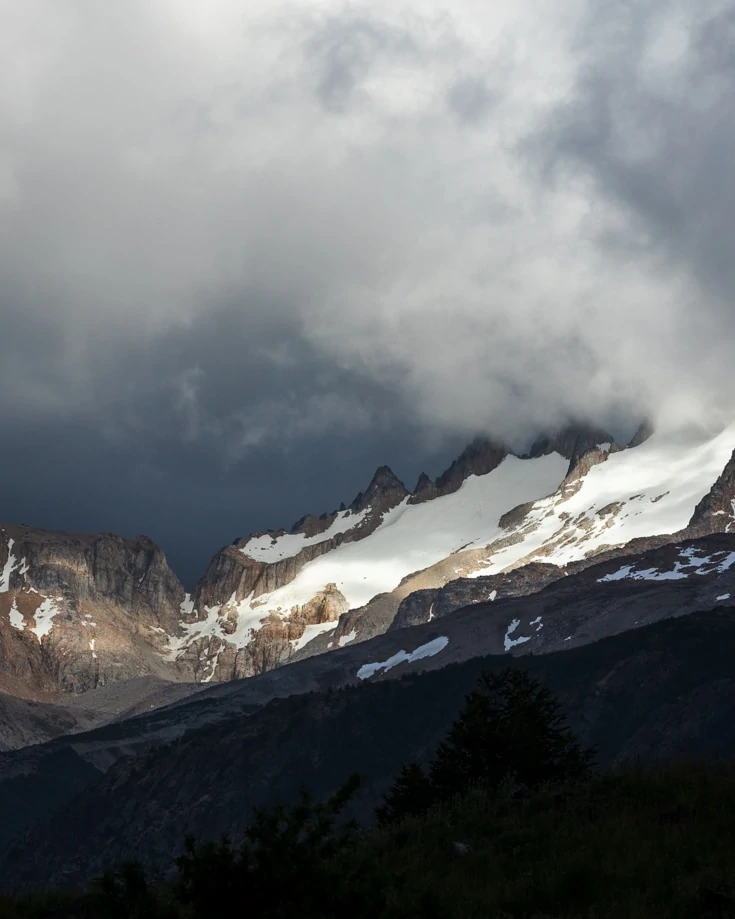 Traveling Around Patagonia in Summer
Road conditions are at their best in summer but can still be wet following heavy rain showers. You'll always need to take care on the unpaved stretches of road. Watch out for rock falls too.
The roads are never hectic in Patagonia, but you'll experience more traffic in summer than any other time. Still, nothing to write home about, though.
Summer is the peak season for cyclists in Patagonia. Many are cycling the Pan-American Highway from Alaska to Ushuaia and carry a lot of gear on their bikes.
Make sure to give them a wide berth as you overtake. Better still, stop for a cuppa and a chat!
Herds of guanaco's (wild llama) are prolific in the Patagonian Steppe at this time of year and quite skittish.
They seem nervous when separated from the main herd. Take care because they tend to run in front of fast-moving vehicles.
A collision with a guanaco will ruin your day!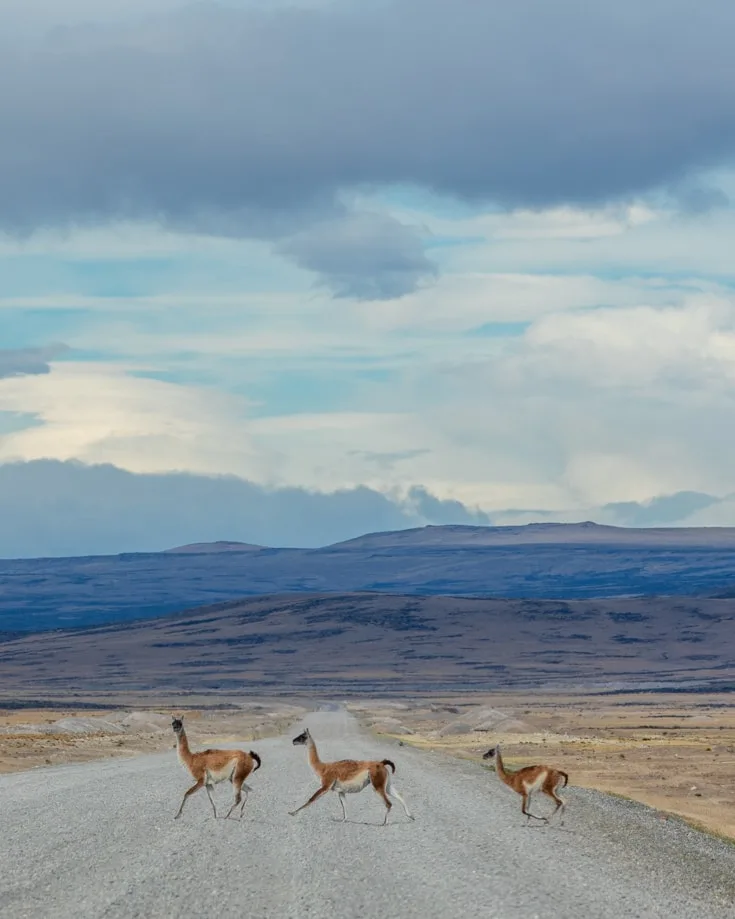 Hitchhikers are out in force during the summer months, so if this is how you plan to travel around Patagonia, you have fair competition.
Bus schedules are frequent, although some long-distance buses still don't run every day. They can get fairly busy at the height of the season.
If you're on a tight deadline, consider booking in advance for travel in January and February.
Accommodation During The Patagonian Summer
If you're traveling in Patagonia in a car or camper van, you're in luck. Patagonia is chock full of wild or free camping spots.
Make sure you know how to use iOverlander app offline on your mobile device. Pack a few car camping essentials so you can make the most of the budget-friendly accommodation options.
Waking to views like this is priceless!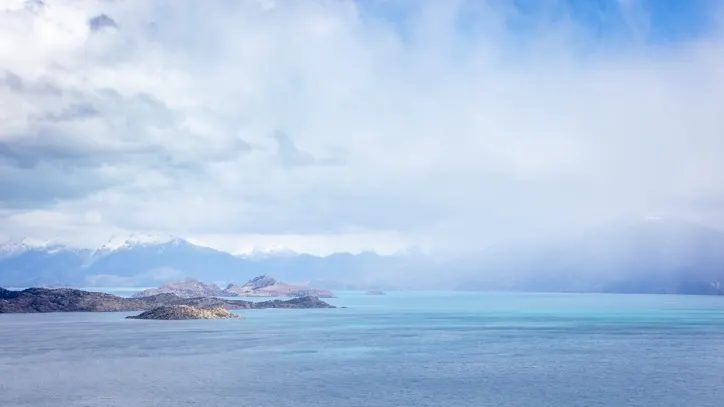 For the less fortunate, you'll need to rely on campsites, hostels, and hotels.
They'll all be open during the summer months. In popular places like El Chalten and Puerto Natales, they can get pretty busy. It may be best to book at least a few days in advance for January and February.
Take a look here at a few guided tours near Fitz Roy to get an idea of some of the phenomenal things to do in the area.
Tourist Crowds In Summer
In our opinion, the worst thing about traveling in summer is the crowds. You'll rarely be alone, at least in the popular spots around Torres del Paine and Fitz Roy.
You can expect more of a slow-moving queue for the most popular hikes than a brisk hike.
Travel tips for avoiding the crowds in Patagonia
Avoid the popular hikes in Torres del Paine, favoring some of the wonderful day hikes in the park instead
If you still want to hike to Mirador Las Torres, get on the trail before the sun comes up. You'll have a peaceful uphill hike and meet the crowds on the way down
Travel in the shoulder seasons of late spring or early autumn
Drive the Carretera Austral – even in the height of the summer, the attractions along the route aren't crowded
Explore some of the lesser-known National Parks like Pumalin Park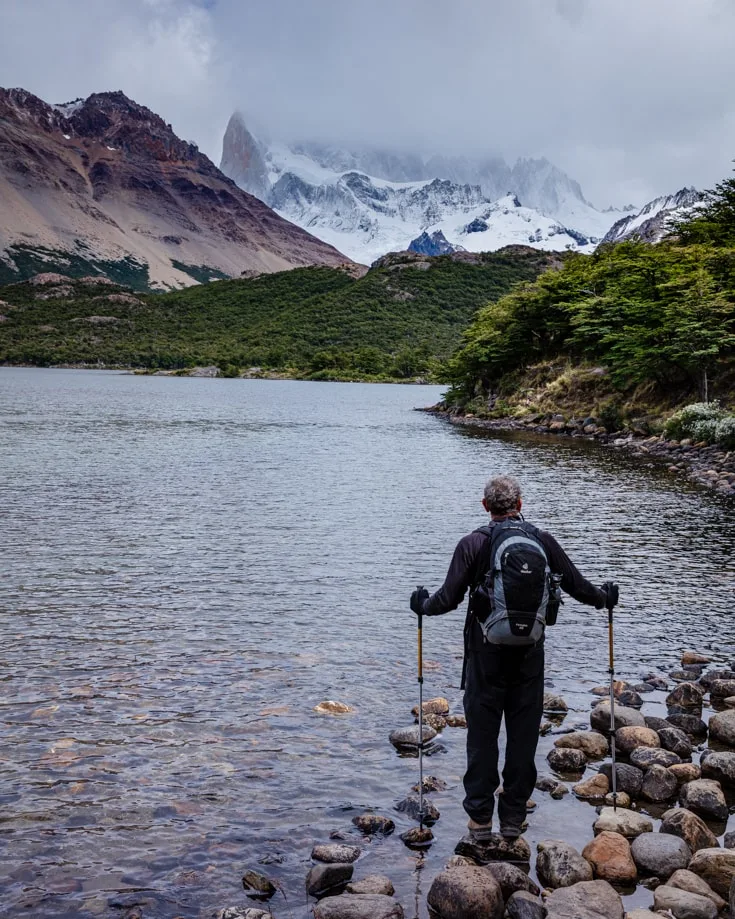 Cost Of Traveling Patagonia In Summer
Summer is the most expensive time to travel in Patagonia. Demand for everything is high, including accommodation and Patagonia tours.
Wild camping, taking advantage of free campsites, self-catering, and avoiding unnecessary guided tours can make for a more budget-friendly trip.
What To See & Do In Patagonia In Summer
With all amenities open and better weather, you can pretty much do anything you want in summer in Patagonia.
Explore The Fitz Roy Massif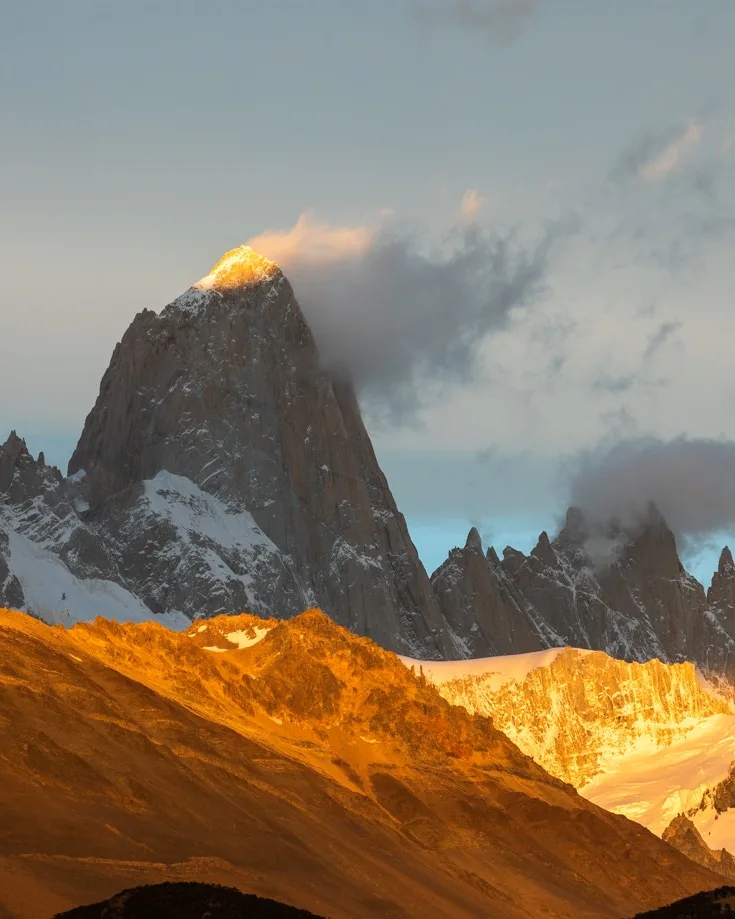 Mount Fitz Roy is one of those iconic Patagonian images. Best of all, the hiking trails here are completely free.
El Chalten caters well for visitors with accommodation options for every budget, restaurants, supermarkets, and gear rental shops.
Outdoor pursuit enthusiasts are in their element here. You can go rock climbing, take your pick of multi-day hikes, ice trekking or for something more sedate, choose from the many day hikes in the area.
Patagonian Fjord Cruises
I know it sounds expensive but bear with me here. A 5-night luxury cruise through the Patagonian fjords could cost anything upwards of US $1500 per person, excluding flights.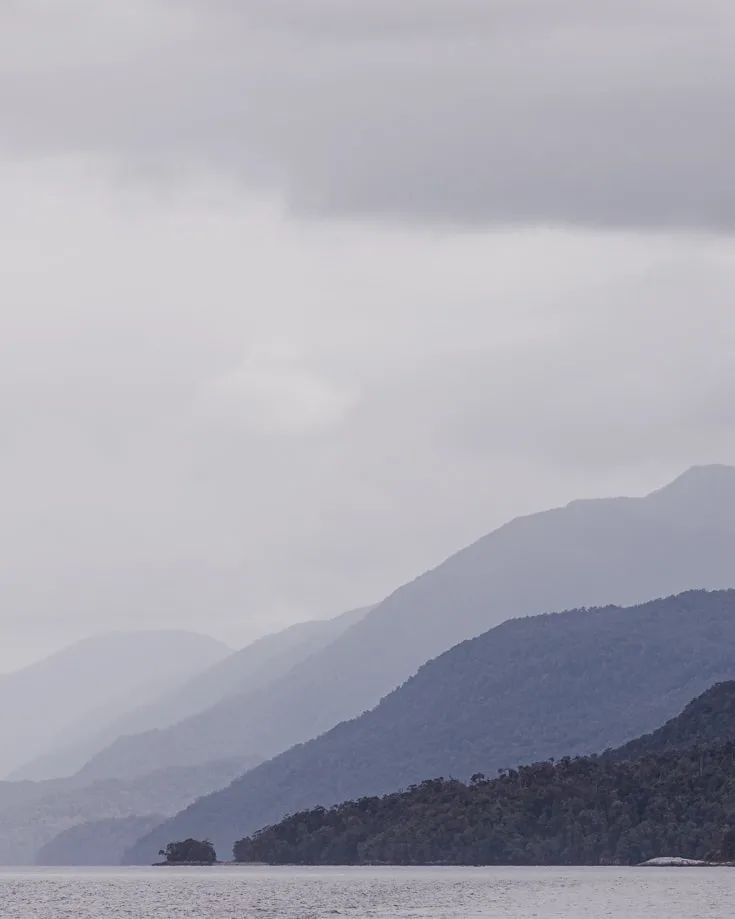 Ok, so you'll disembark at a couple of places and probably be served fabulous meals but even so. US $3000 for the 2 of us is out of our budget.
But there are other, more budget-friendly options to sail through this magical scenery.
The Navimag ferry from Puerto Montt to Puerto Natales takes 4 days and costs a fraction of the price. The cheapest bunk costs US $450 per person, the food is good, and the scenery identical. Plus, this ferry takes you to the heart of Southern Patagonia.
A cheaper option is the shorter journey from Puerto Montt to Chacabuco. It costs a quarter of the price but only lasts 24 hours.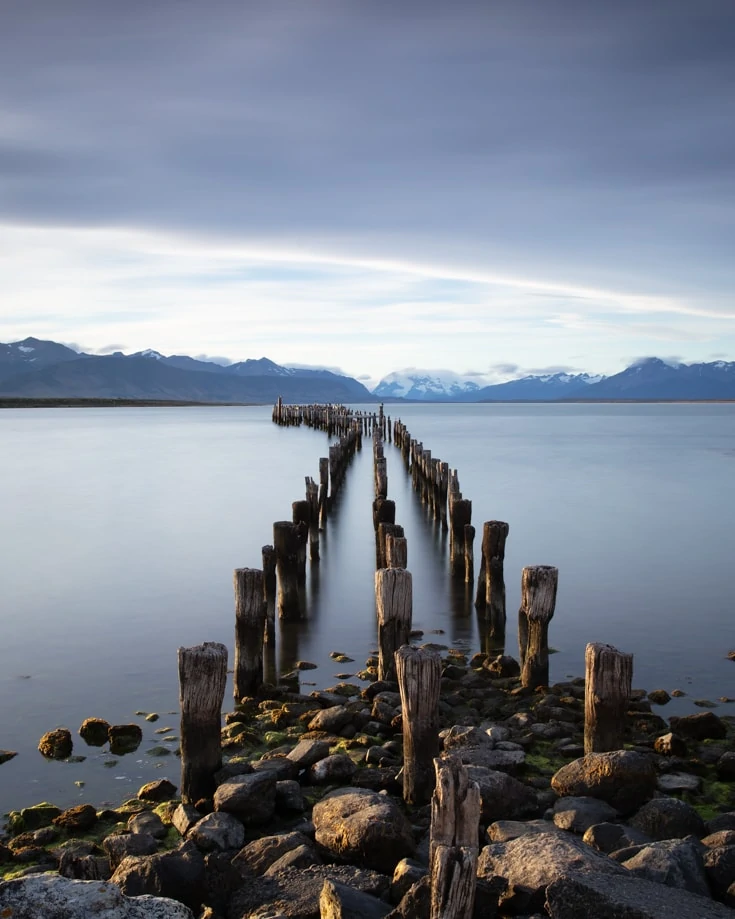 From Chacabuco though, you can plan a boat trip to Laguna San Rafael & glacier. It's a fabulous day, not just because of the fjords and glaciers either!
Alternatively, you can arrange a cabin on the weekly ferry between Puerto Yungay and Puerto Natales. You can get your camper van or car on this but book ahead.
Visit Perito Moreno Glacier
Another iconic Patagonian photo opportunity awaits near the town of El Calafate. One of the few glaciers on the planet maintaining its size rather than shrinking, Perito Moreno Glacier is a sight to behold.
You can visit at any time of year. Because temperatures are warmest during the summer, statistically, you stand a greater chance of witnessing magnificent ice blocks falling into the lake.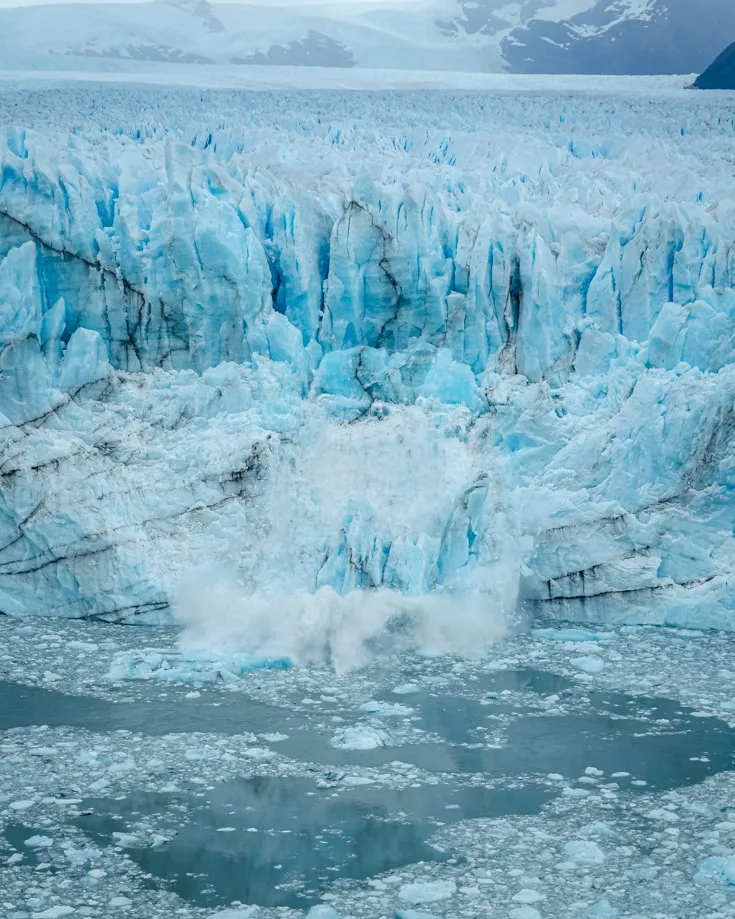 Explore The Argentinian Lake District
The lakes around Bariloche are nothing short of spectacular. It's an easy 1-day road trip between Bariloche and San Martin de los Andes. If you're short on time, you could easily do it as a round trip.
But this area is best savored. Take your time to kayak, hike, and explore this stunning scenery in the middle of fly fishing season.
Look at our definitive guide to the 7 lakes route in Argentina's lake district.
Go Hiking In El Bolson
A little further south than Bariloche, El Bolson in Argentinian Patagonia offers hiking in lush forests to see emerald green rivers, waterfalls, and deep ravines.
The hiking opportunities here surround El Bolson town with its hippie vibe, excellent craft beer, and plenty of accommodation options.
Discover The Little Visited Lihue Calel National Park
Right up in the northern reaches of Argentina's Patagonia region, this little-visited national park is a hidden gem.
Its remote location deep in La Pampa province means few passers-by. With no big ticket natural wonders or nearby popular tourist attractions, Lihue Calel National Park (Lihué Calel Nacional Parque in Spanish) doesn't even make it onto a tour bus itinerary.
A perfect summer escape from the holiday crowds and a chance to enjoy nature and have it pretty much all to yourself!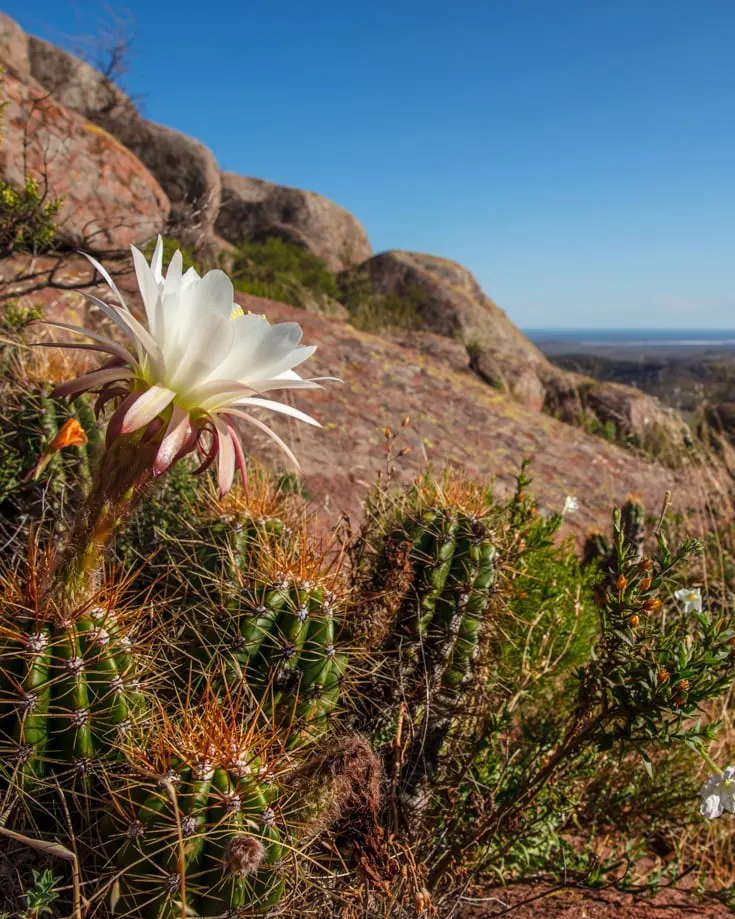 The Patagonian Autumn
Autumn runs from March to May. The summer crowds dwindle, and peace and tranquility return to the slopes in the Patagonian fall.
Patagonia in April and March is much quieter. Yet, the temperatures are only slightly cooler than the summer months, making it a perfect time for visiting Patagonia. Rainfall increases, but there's plenty of sunny, clear days early in the season too.
The days begin getting shorter during autumn, but you can still expect over 11 hours of daylight hours as late as April. By May, this drops to less than 10 hours.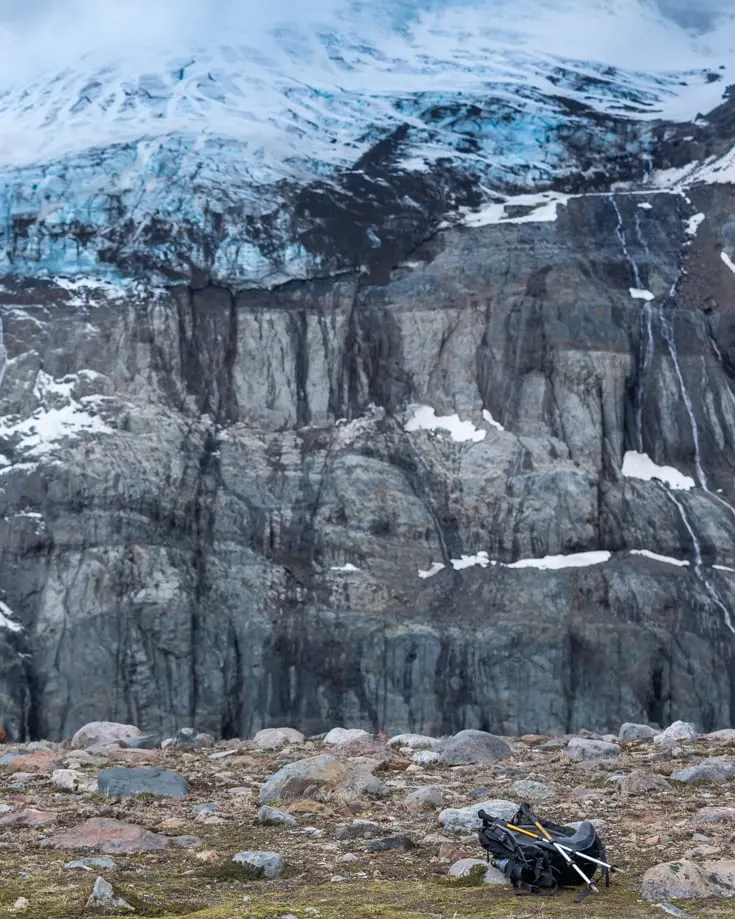 The nighttime temperatures get cold later in the season, but the ferocity of the wind drops. But don't worry! The unpredictability of the weather doesn't go far.
Of course, the leaves on Patagonia's trees begin to change color as early as March, making for a wonderfully colorful photographic season.
In southern Patagonia, snow can fall any time of year, but by May, the mountains are becoming snow-covered once more.
Travel In Patagonia During Fall
Road conditions remain good early in the fall season, but you can expect slightly more hazardous conditions with increased rainfall.
Roads can become unexpectedly slippery after heavy rains, and unpaved roads, especially the edges near the verges, can become soft.
Rivers can quickly breach their banks, and lakes have been known to flood. Landslides, rockfalls, and developing sinkholes are relatively common, so keep in touch with local Facebook groups and the news.
As the season progresses, wildlife moves down from the mountains because of colder conditions and fewer people. Keep a watchful eye out for skittish guanaco again.
Bus schedules begin to pull back later in the season, so make sure you check the timetables.
Hitchhikers beware; with few travelers on the road throughout Patagonia in autumn, success may be limited.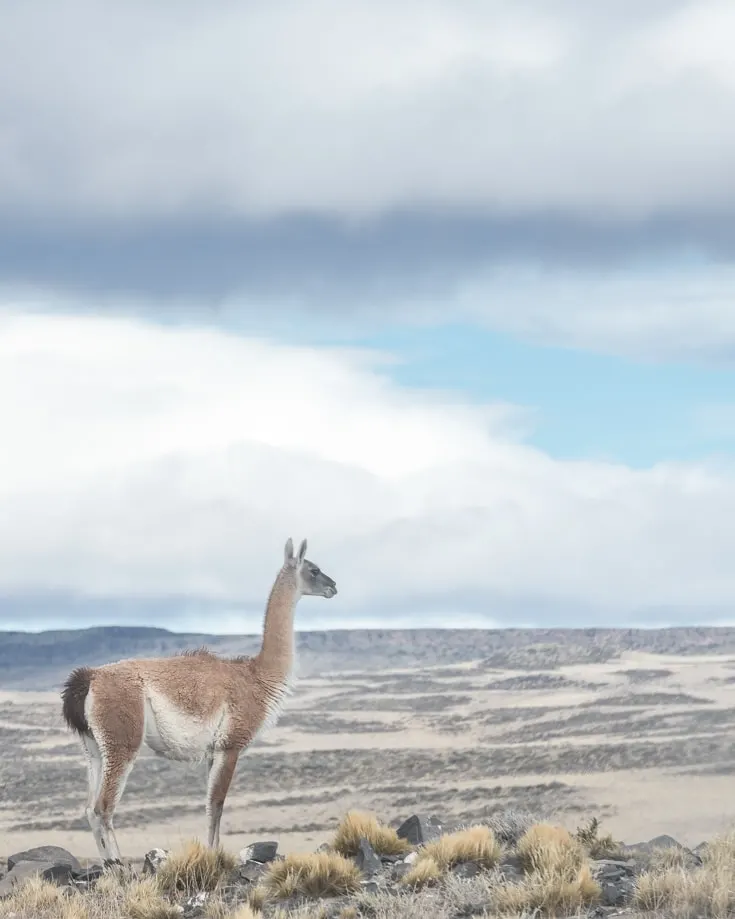 Accommodation During The Patagonian Fall
If traveling in Patagonia in a car or camper van, you're still in luck. It's easy to find idyllic locations and have them all to yourself.
Beware, though. It starts getting pretty cold at night later in the season, so make sure you have a good heater or good quality 4 season camping gear.
Campsites begin to close from early fall, and by the end of the season, you'll be hard pushed to find any open.
Many hostels and hotels start closing their doors from mid-fall onwards too, so if you want to be in the area at this time, book ahead to avoid disappointment.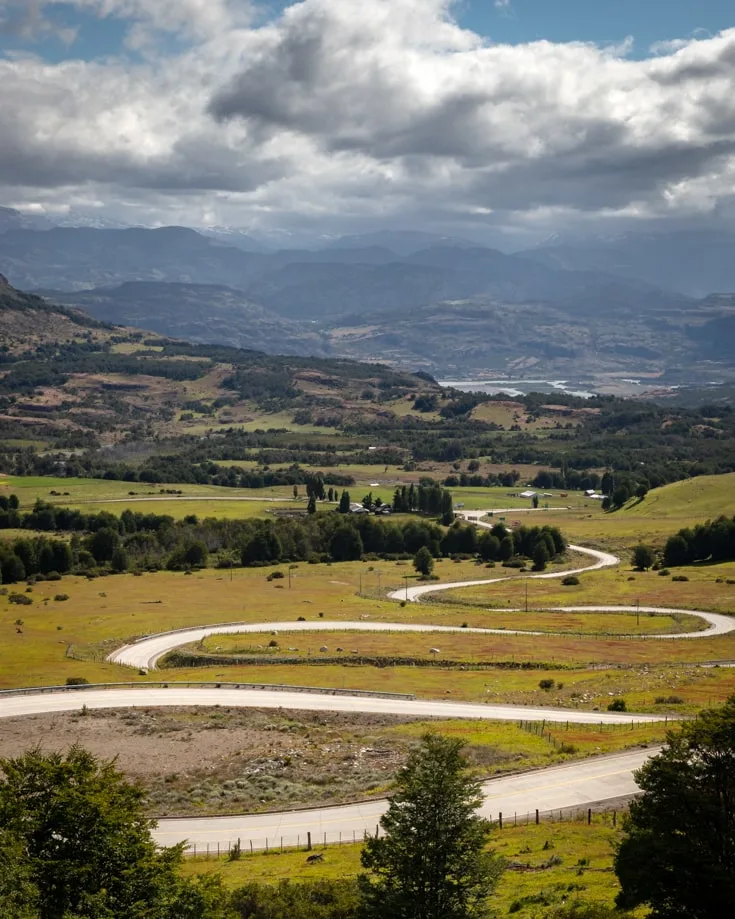 Tourist Crowds In Fall
The summer crowds dwindle, and in fall, visitor numbers tail off to almost none by the end of the season.
The trails become pleasant again, and for us, it's perfect! For others, it's a little too quiet.
Cost Of Traveling Patagonia In Autumn
The start of the fall season may see a slight drop in prices, but it's a popular time for photographers, and the prices still lean on the high side.
Costs begin to fall as the season gets cooler and the photographers leave, so later in the season is a great time for budget travelers.
Just as in springtime, because many hotels and hostels close, demand for available beds can be high, so consider booking ahead.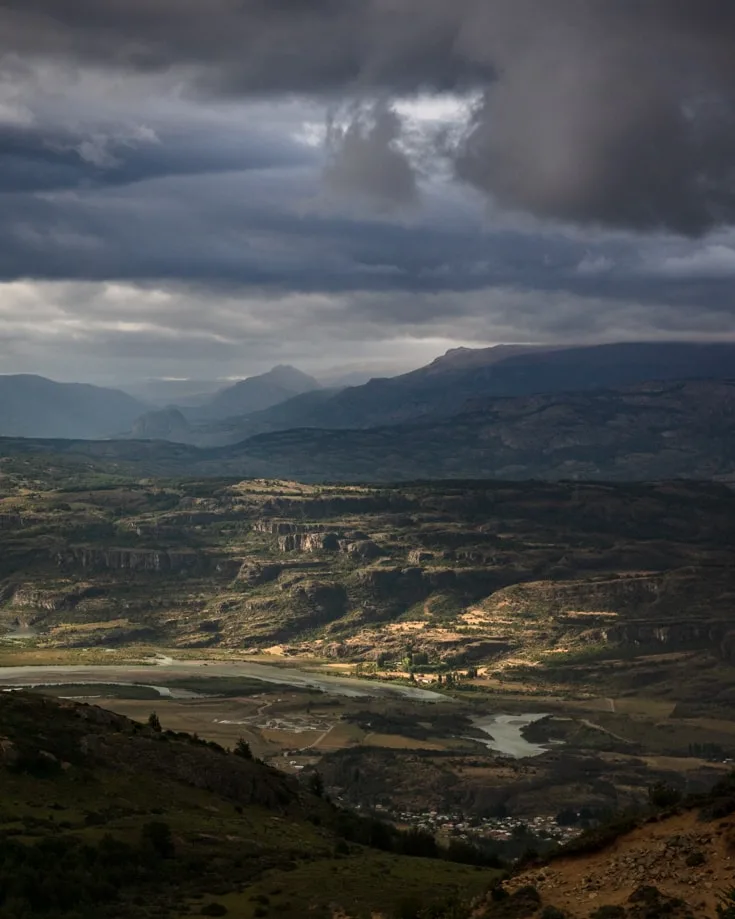 What To See & Do In Patagonia In Fall
Photograph The Fall Colors
Late March and April is the best time for fall colors in Patagonia. You can spend day after day immersed in the beauty of the region and never take the same shot twice.
Enjoy The Quieter Hiking Trails Of Torres Del Paine & Fitz Roy
Most of the hiking trails remain passable for much of the Patagonian fall. With visitor numbers much lower than during the summer months, now is a fabulous time for taking to the mountains.
Just keep an eye on the light if you plan any long hikes as the daylight hours are falling quickly, especially later in the season in the deep south.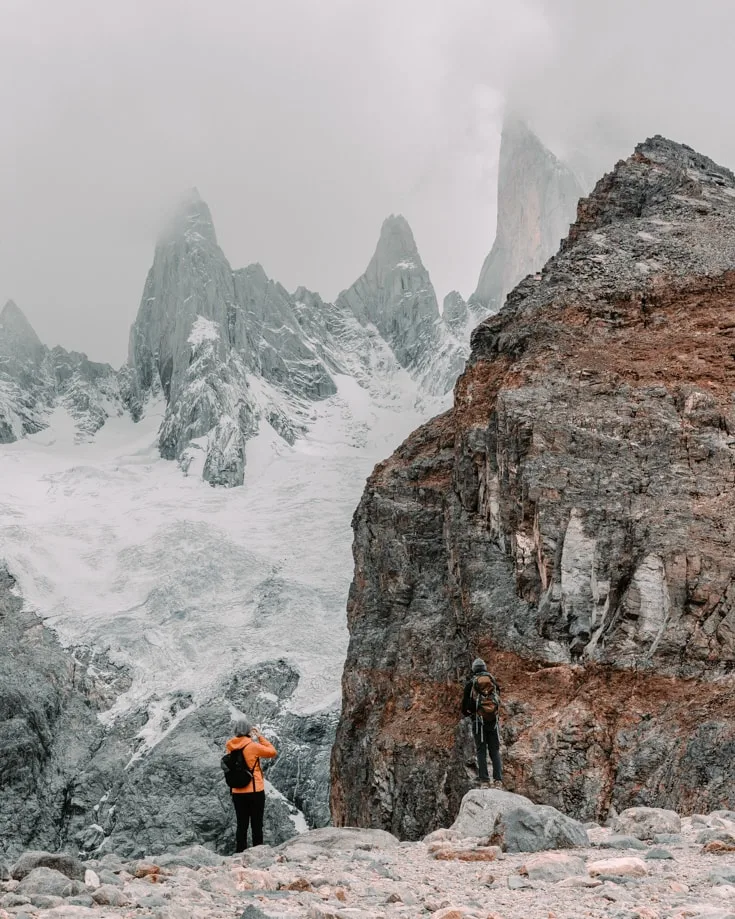 Explore Argentinian Side Of Tierra Del Fuego
If you've taken one of the last Antarctic trips of the season, you'll arrive back in Ushuaia in mid to late March. The land of fire and ice is stunning at this time of year.
Explore the Beagle Channel, check out the penguins and sea lions, or drive to the end of the road. You can drive no further south than this anywhere on the planet, so it's right up our street!
Spot A Puma
With the retreat of the summer tourists and the impending winter season, the animals begin to come down from the mountains in April.
And where guanaco roams, wild pumas are sure to follow. We're yet to spot a wild puma, but this is high on our bucket list.
Patagonia In Winter
The Patagonian winter season runs from June to August.
In the southern reaches of both Chilean Patagonia and Argentinian Patagonia, the towns virtually hibernate. Hotels close, tour guides are few and far between, and you'll be lucky to find an open restaurant.
But oh boy, is it pretty!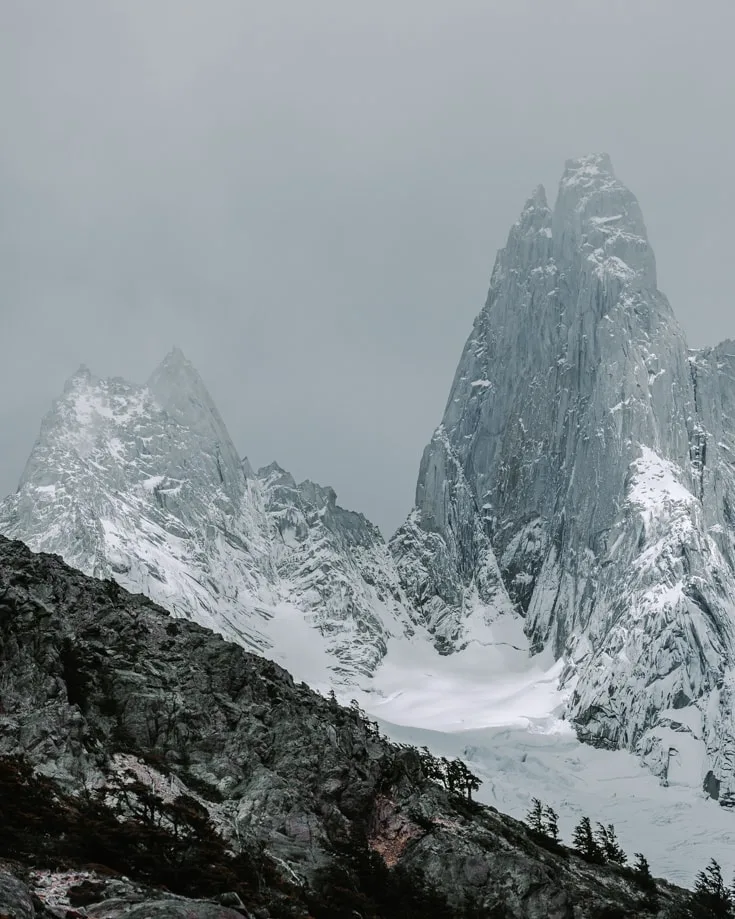 While temperatures plummet to sub-zero in the mountains and at night, at lower altitudes, expect something hovering around freezing point.
Daylight fades away to around 8 or 9 hours a day.
This may be mid-winter, but Patagonia's strong winds are at their gentlest at this time. Heavy snowfall aside, there's plenty of days to enjoy glorious blue skies.
And the Patagonian winter wonderland isn't only in the south. The northern reaches experience so much snow it has some of the best skiing in South America.
East of the Andes, towards the Atlantic coast, experiences little to no snow, even in winter. It's windier here, though, thanks to the Atlantic winds.
What To See & Do In Patagonia In Winter
Bariloche ski season kicks off in earnest around June. In the south, the hiking trails remain open as long as they're passable. You can even arrange to hike in Torres del Paine on the multi-day treks but only with a guide.
Best Time To Visit Patagonia By Activity
So you see, it's almost impossible to say what the best time of year to visit Patagonia is. Each season has its advantages and drawbacks.
To help you decide, here's a list of the best time to travel to Patagonia for some of the popular activities to do in the region.
Best time to visit Patagonia for photography | There's no wrong time for visiting Patagonia for photography. It's beautiful all year.
Best time to drive the Carretera Austral | November to May
Best time to hike Patagonia | year-round
Best time to visit Torres del Paine National Park | October to May
Best time to visit Perito Moreno Glacier | October to May
Best time to extend your visit from Patagonia with a cruise to Antarctica | October to March
Best time for snow sports in Patagonia | Mid-June to October
Best time to see animals in Patagonia | October and April
Best time of year for sunbathing in Patagonia | Nope – you're in the wrong place if this is how you want to spend your days. Try Rio de Janeiro.
Travel Resources for your Patagonian Adventure
When you click on links to various merchants on this site and make a purchase, this can result in this site earning a commission. As Amazon Associates, we earn from qualifying purchases. For more info, please check our disclosure page.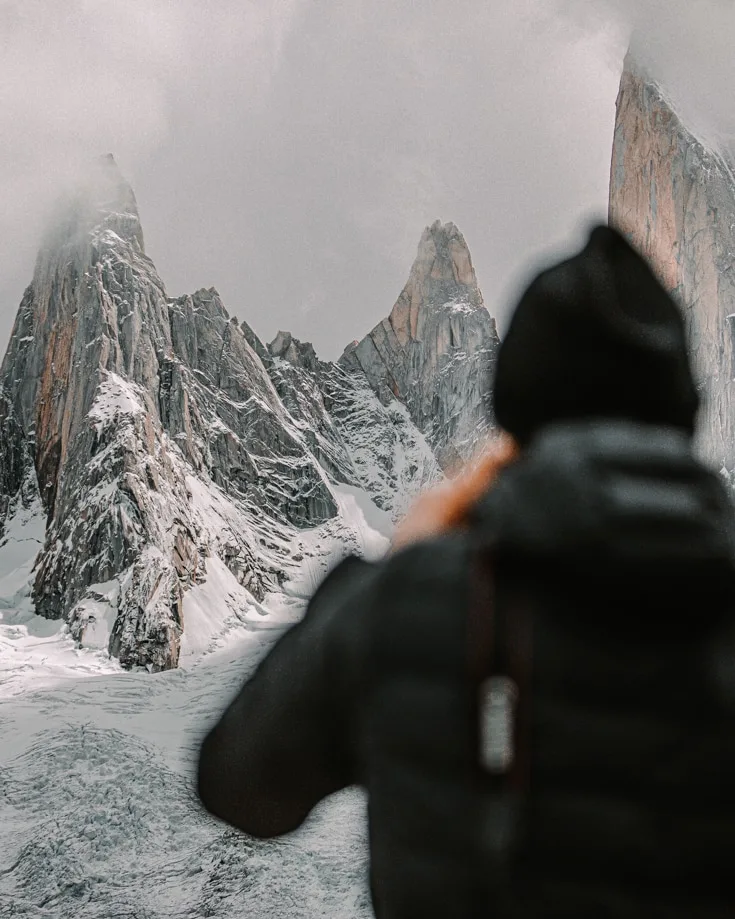 Patagonia Travel Tips
Important tips and resources for planning an incredible trip to Patagonia, based on our extensive experience traveling through the entire region.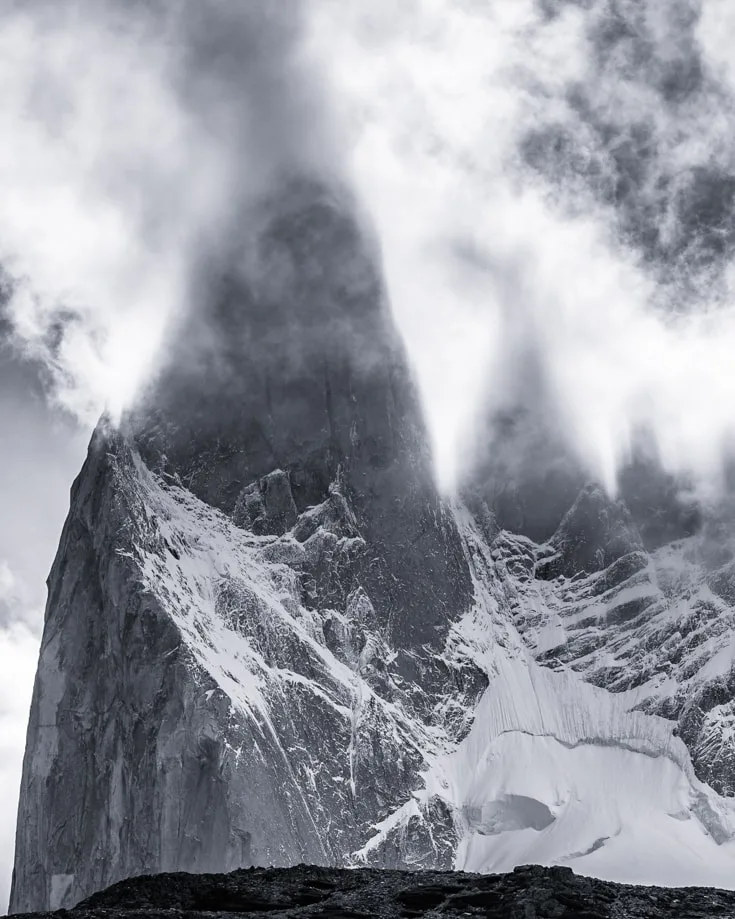 Useful Resources
Top Tips
Find the best time to go to Patagonia for the things you enjoy.
For flights into Patagonia from Buenos Aires or Santiago, we use Skyscanner to find the cheapest seats. Better still, if you're planning a long-term trip, ship your camper van to South America as we did!
Plan a rough itinerary with an idea of how long you'll stay in each place. But be flexible – Patagonia will get under your skin, and you'll wish you had more time. Get a copy of the Moon Patagonia travel guide to help you plan your itinerary.
If you want to explore Patagonia in a rental car, make sure to book in advance, especially if you travel between December and February. Get free comparison quotes with rentalcars.com.
For mapping and navigation, we use Maps.Me. Click the link to download it to your mobile device.
Check out our extensive and still growing guides to Patagonia for more information on both Chilean and Argentinian Patagonia with places to go, things to do and see & loads more.
To check on bus schedules and the latest ticket prices, here's a list of the companies running services in Patagonia:

Bus travel throughout Argentina, check with Omnilineas.
Big Sur has a timetable of cross-border journeys such as Puerto Natales to El Calafate.
Buses Fernández runs services in southern Chile.

For ferries through the Chilean fjords and to navigate parts of the Carretera Austral, use Navimag and Naviera Austral.
Book your accommodation in advance, at least for the first destination. For hotels, use booking.com. For apartments, use Airbnb and get a discount on your first booking. For free camping, use the iOverlander app offline.
Try to learn Spanish or at the very least have some basic phrases. English is widely spoken in the major tourist towns in the south, like El Calafate, El Chalten, and Puerto Natales. Everywhere else, you'll need some basic language skills to get the most out of your trip.
Reserve your tours and activities in advance with Viator and Get Your Guide.
Get your rucksack ready with our definitive Patagonia packing list.
Don't leave home without your travel insurance. Take a look here at 3 companies offering good travel insurance for long-term travel or adventurous trips like this one.
Go have the adventure of a lifetime!
Like it? Pin it!