Choosing the best camper van for a camper van conversion can get tricky. It's a critical decision to a successful build and how the van works for you.
It needs to suit your living needs, travel style, and budget too.
There are so many vans on the market. If you're new to the van lifers movement, knowing where to start can feel overwhelming.
Before buying a campervan, pre-loved or ready to convert, you need to decide on the best camper van to live in for you.
We all have our own reasons for buying a van.
Whether you want to live in a van for financial reasons, for weekend getaways, or for campervan travels around the world, choosing the perfect home on wheels is the first big decision for your new camper van life.
But take a look at Instagram for a few minutes.
Living in a van isn't the same for everyone. Some camper van lifers chase their passions, whether that be surfing, cycling, kitesurfing, photography, or something else.
Some travel solo or as a couple, while others live in a van with their spouse, kids, and dog.
So there's no one size fits all.
Avoid impulse buying. Choose the best van for a camper van conversion by giving it your well-thought-out consideration before taking the plunge.
We recommend you decide on your best camper van to live in based on your budget, lifestyle, and campervan travel plans.
Choose wisely and begin your camper van conversion confident you have the best base vehicle for your needs.
In this post, we'll take you through everything you need to consider to help you decide on the best van for your camper van conversion.
We'll help you to think about your camper van life lifestyle so you can identify the type of vehicle you need.
And finally, we'll cover the types of vans often used for camper van conversions and the pros and cons of each. This should allow you to write up a shortlist of ideal options.
Once you've decided on a shortlist of makes and models, buying the right van for you to convert or even a pre-loved camper, will be much easier.
Things To Consider When Choosing A Best Camper Van Conversion
Settle in for a long read.
To give you the best chance of getting the best camper van life to live for you, your family, and your lifestyle, there's a long list of considerations to take into account.
Size Matters
The size of the vehicle you buy is the most significant consideration when buying a van to live in.
Even if you only plan to use the van for weekend trips and not live in it full-time, if you don't get the best size van for you, your van life may fall a little flat.
Nothing else on our list of considerations comes close to how important the size of the camper van you choose is.
Everything you want to do and how you want to live will be done from your van. You can't change the size of the van once you've bought it so take the time now to consider what size is the best camper van for you.
But choosing the right size van isn't straightforward either. Bigger isn't always better and too small is best avoided.
To help you decide, or at least give the subject due consideration, here are a few questions to ask yourself:
---
How Many People Live In The Van?
You need a camper adapted to accommodate the people you expect to live in the van.
If the campervan is for one person only, a small van may be big enough. But for a family of 4 living in the van full-time, a small van would be a tight squeeze, especially in poor weather.
If you only plan to use the van on occasional weekends and in fair weather, you can possibly afford to make some compromises.
If the van isn't big enough to sleep you all, a smaller van may be suitable with a roof tent or ground tent to accommodate the extra people.
How Much Storage Do You Need?
Storage needs have a huge impact on the size of the vehicle and layout most suitable for you.
You need storage for your clothes and personal items, galley kitchen essentials, campervan accessories, tools, bedding, LED lighting, and toiletries.
Do you need storage for adventure sports equipment too? Kayaks, bikes, and surfboards can take up significant storage space.
Will you have a full campervan water system in the van? Where will you store the water tanks?
Do You Need Or Want A Toilet Onboard?
There's no getting away from it. If you want a toilet in your campervan you need to make space for it.
There are lots of campervan toilet options available that don't involve installing an entire bathroom though.
Collapsible toilets are ideal for emergencies and take up little space, so perfect for small conversion vans.
At the other extreme, a campervan composting toilet takes up a fairly large footprint and needs at least a storage cupboard, if not a toilet cubicle built-in.
Deciding if a toilet is essential or a nice to have is key to choosing what size van you need.
Do You Need A Shower In Your Camper Van?
Some camper vans shower take up little to no storage space at all.
Portable shower bags fold away when empty for easy storage.
You can fit a shower to use outdoors so you don't need to install it in a separate cubicle.
Or there are clever uses of space and layouts where the shower doesn't affect the living space too much.
Or you can go without.
We have 2 showers installed in our Sprinter van conversion and neither uses any space inside the van.
Ask yourself how essential a fitted shower is to you and if there's a way of minimizing the dedicated space it needs inside.
Do You Need A Van You Can Stand Up In?
You may not think a pop-top van is essential but think it through carefully.
If you plan only living in the camper van in fair weather, standing up indoors may not be so important.
You'll spend most of your time enjoying the great outdoors and the evenings will be warm enough to sit beside the van.
But if you expect to spend any time in wet and cold conditions, think of your comfort levels.
A few days hunched over when it's raining and miserable outside doesn't sound like much fun.
A standard height of camper van has advantages over a pop-top though.
They fit in a container for more secure shipping.
They're not affected by height restrictions so they fit in city car parks easily.
And you could always add an awning for some outdoor sheltered living space as a compromise.
Bear in mind, if you're in the UK and want to change your body type to Motor Caravan the DVLA camper van conversion rules state the vehicle must be a pop-top.
Where Will You Park The Campervan When You're Not Using It?
If you don't plan on living in the van full time, where will you park it when not using it?
A small campervan may fit in your home garage with ease.
Finding parking and garages suitable for long vehicles or high-top vans can be more challenging and more expensive too.
Even if you will live in the van year-round, consider parking restrictions in towns and cities.
Will You Work Inside The Van?
If you're a digital nomad and work inside the van, more space may make life a lot more comfortable.
Perhaps you need a desk. If so, does it need to be fixed?
Consider a typical working day and the practicalities when living in the van.
In a small van you may only have the space to do one thing at a time. Is it acceptable to put your laptop and desk away so you can cook lunch?
The practicalities and convenience you need play an important role in determining the best camper van size for your lifestyle.
We have a big, robust table in our Mercedes Sprinter van. Yet even with a long wheelbase and a relatively large amount of space, we only put it up when we need it.
The rest of the time it lives under the bed out of sight and secures when we're on the move.
Do You Need To Cook Inside The Van?
The camper vans kitchen can be as simple as a portable gas stove with a few basics to make coffee or heat a tin of soup.
Or it could be fitted out with a full cooker with oven and grill, perfect for cooking up a 3-course meal.
What you want to install in your campervan will determine how much space you need.
Even small vans can have well-equipped galley kitchens. You may not be able to stand at the stove or sink and things may feel quite compact, but it is possible.
If you'll eat out more than you'll eat in, consider if a basic kitchen is enough.
Fairweather van dwellers may only need gear storage for a portable camping galley kitchen rather than something permanently fitted indoors.
The best way to work out the best-sized van for your camper can conversion is to draw up some rough floor plans.
With your list of must-haves, try out different campervan layouts on paper.
This will help you appreciate how much or little space you have, really question your must-haves, and consider alternative solutions too.
Price, Budget & Running Costs
The price of the van is probably the 2nd thing you look at in the advert, after the picture.
Even if the price is within your budget, make sure you know the book value of the van compared to the seller's asking price.
Sites like Autotrader in the UK or Kelley Blue Book in the US can provide a book value online.
As a rule of thumb, if it seems like a bargain, there's probably something wrong with it. If it seems to be overpriced, do you want to check it out to find out why or just not go there?
The choice is yours. We recommend you set a budget for buying the base vehicle and stick to it.
But think beyond the price of the base vehicle.
Camper vans conversion costs can run into the thousands. Although you can still build a DIY conversion on a tight budget, a large van will cost more to fit out than a small van.
Perhaps your DIY skills aren't as polished as you'd like. Make sure you budget for the conversion company's fees.
Once the best camper van conversion is complete, you'll have running costs to pay for.
Fuel is one van life cost you can't avoid. Choosing a van with good fuel efficiency and higher miles per gallon can help it be more affordable.
Consider the cost of parts too. Things inevitably wear and break. Choosing a van whose parts aren't notoriously expensive will help fend off big bills in the future.
Can You Drive The Van Legally?
Depending on your country, driving licenses cover specific types of vehicles. Make sure you're clear about which vehicle you can legally drive with your license.
Since 1997, the UK driving licenses restrict new drivers from driving vehicles up to 3500 kg.
Angela's driving license restricted her from driving our 7500 kg Unimog camper van so she had to sit her driving test again to upgrade her license.
And it wasn't cheap and she was obliged to take a 4-day course before the test.
Make sure you know in advance if you have to upgrade your license to avoid surprise costs and delays.
Vehicle Capability
Think about life on the road, and how you'll use the vehicle and the terrain you'll encounter on your best camper van travels.
Do you intend to drive off-road or will your wheels remain on blacktop roads?
But be realistic. A 4×4 campervan is a prized possession indeed and will hit you in the pocket too.
4-wheel drive vans are more expensive to buy, run and maintain than their 2-wheel drive counterparts.
We've owned 2 4×4 campervans, Mowgli and Baloo.
When traveling and living full-time in our vans, we can hand on heart say the routes we drive where we need a 4×4 capability are avoidable.
We take these routes because we can. And some of them can be done in a 2-wheel drive.
To be completely honest, when you live in a van full-time, your risk outlook changes.
Where once you may have taken the challenging off-road trail on a weekend trip, now you think about the risk to your home.
And the world is becoming increasingly accessible.
We've met fellow travelers who have circumnavigated Africa in a 2 wheel drive camper vans. You just choose the appropriate route for your van.
Left Hand Drive Or Right Hand Drive?
It's not possible to drive a right-hand drive vehicle in some countries around the world while enjoying life on the road. Costa Rica and Nicaragua are good examples.
So if you're considering buying a right-hand drive van to convert, think carefully about where you plan to travel and if this will cause you any problems.
Our Unimog was a left-hand drive but our Sprinter van is a right-hand drive. We're traveling in South America and so far, experienced no issues.
We know as we continue our journey toward central America, we'll need to ship the van around Costa Rica and Nicaragua.
On balance, the left-hand drive is probably the better option because more countries drive on the right than the left. It's just another consideration and potential compromise when choosing the best van to convert.
How To Choose A Make And Model For Your Conversion
Choosing the best make and model of the van for a camper van conversion is tough. With so many options, how do you boil it down to a manageable shortlist?
We have no secret formula but we can break it down into things you need to give some thought to.
How Modern Are The Mechanics?
Modern vehicles may look shiny but don't let the bling lull you into a false sense of security.
Many modern diesel vehicles are fitted with a DEF system to lower the pollution from exhaust emissions. This system needs to have a regular top-up of AdBlue fluid.
It's known to have issues when driving at altitudes over 3000 meters above sea level.
So if you plan to drive the Pan American Highway, maybe consider an alternative.
Modern vehicles have clever onboard computer systems to manage the engine. When they detect some problems, they protect the engine by going into limp mode.
This shuts the engine down to the absolute minimum power possible. You can still drive, albeit very slowly and you may not even have enough power to get up steep hills.
Even with a code reader, you may not be able to fix the problem without visiting a specialized dealer.
The other thing to consider if buying a van for a camper van conversion is the build may invalidate some parts of the warranty you get from the seller.
Availability of Parts
You could choose a cracking base vehicle for your camper vans conversion but you're stuck if you can't source spare parts where you're traveling.
Some brands and models are more prevalent in certain parts of the world than others. In Brazil, for example, Volkswagon Kombi cruise the country in abundance.
Try to pick up a part for a Volkswagon 4motion in Rio de Janerio though! It's not going to happen in a month of Sundays.
Mercedes Benz have a global network of dealers. It was one of the things that attracted us to a Sprinter. But that doesn't always mean the standard of service is consistent.
We asked a Mercedes Benz dealer in Argentina to change a simple oil seal on a rear hub. It should have taken an hour or 2.
But even Mercedes Sprinter needed to buy an aftermarket part – one which was a millimeter too thin so the leak remain unresolved, even after 3 attempts.
Consider where you're most likely to travel to and check parts for your vehicle of choice are readily available there.
If not, think about taking a stash of parts you're most likely to replace and have a plan B.
How Easy Is It To Fix?
Are you handy with a spanner?
If you have no idea about basic mechanics, think about a beginner's course. At least you'll be able to do basic maintenance and even a little troubleshooting without spending on mechanics.
But even the best mechanic in the world will be hard pushed to diagnose and fix some vehicles without a fully kitted out garage, complete with computers.
Ideally, look for a camper van with as few electronics as possible. They're easier to maintain and fix yourself or by a non-specialized mechanic.
Check online for the technical manual. This comes in handy when you need to order parts or check how something should work when diagnosing issues.
They're useful to get an insight into frequent problems certain models are prone to before you buy, and for advice on issues after you buy.
Has the van had many overland build modifications made to it already? Make sure these don't render the vehicle difficult to fix by a standard mechanic.
Age
We've already touched on how modern vehicles aren't always the best option for a camper van conversion.
While older models may have a lot of advantages on the mechanical side, they're also more likely to need more maintenance. They may have fewer safety features too.
We bought our 2006 Sprinter van when she was 11 years old. She was owned by the British military so in good shape and only had 47000 miles on the clock.
Mileage & Service History
The mileage of a van can be an indication of how long it has left before it needs a major engine overhaul.
A relatively modern panel van could have a high mileage because it was used as a delivery van for a few years. But it was probably well maintained and could have a fantastic service history.
Older vans with high mileage may be something to avoid.
Camper Van Conversion Kits
Where will you store the vehicle throughout the van build? If you don't have space for the fit-out on your property, you'll need to find an alternative location.
If you don't have all the necessary skills to build your own camper vans conversion nor the funds for a bespoke fit-out, you may consider using camper van conversion kits.
The flat-pack lift kits tend to only be available for the most popular vans so make sure you buy a compatible vehicle.
Where Do You Plan To Park Overnight?
Are you going to use the camper vans for wild camping or boondocking in Patagonia or along Scotland's NC500?
Or are you going to use campsites most of the time?
Is stealth camping an option for city breaks? Your color scheme becomes more important.
Or do you want to drive through Europe using the free Aires along the way?
Consider this before you decide on the type of base vehicle. A Unimog camper van for example is not stealth-like in any shape or form. But great for exploring the Sahara Desert.
Security
Think through the security you want before choosing a van.
Do you want access to the living area from the driving cab? This is a great security feature meaning you can keep the van locked and drive away without getting out of the van.
Some base vehicles have a bulkhead between the driving cab and the living area. This means you'll need to get out of the van to access the living area.
A minibus with all-around windows isn't as secure as a panel van version of the same model.
A van with a fitted immobilizer gives an extra layer of security against would-be thieves too.
Most locks on vehicles aren't especially robust against a screwdriver-wielding thief.
You can bolster the security of your converted van though so consider increasing your budget to protect your new home.
And don't forget to protect the build with camper vans insurance too.
Best Camper Van For Conversion
You've had some food for thought by now and figured out what you'll use your van for, how often, and what's most important to you.
You'll find out soon enough, that most things to do with living in a van need some kind of compromise.
Do you want a lot of space, a fixed bed, a full onboard bathroom and somewhere to store 2 bikes? That's one big truck you need and probably deep pockets.
Or you could compromise. Replace the fixed bed for a sofa bed you put up each night and a bike rack on the back. Now you have indoor space for a bathroom and plenty of living space in a Sprinter van.
The best van for a camper van conversion is one you need to make the least compromises on.
So what are your options and what are the pros and cons of each?
Cargo Van Campers
Cargo vans are generally vehicles specifically designed for transporting cargo around by road.
They'll often have at least 1 sliding door at the side and rear doors to give you plenty of configuration options.
Because cargo vans are widely used, the market is saturated with them putting you, the buyer in a strong position.
Consider the mileage and service history. If the van was part of a fleet, chances are it was well maintained so you could be onto a winner.
Cargo vans come in a variety of heights and lengths.
A high rooftop is great for a longer trip because you can stand up inside without banging your head.
But they don't fit into a container for shipping.
Then you have the choice of a short, medium, or long wheelbase.
A short wheelbase is perfect for stealth camping and easy to park but pretty small inside.
For longer trips, medium to long wheelbase vans tends to be best as they provide more living space.
If you need more gear storage space and a bathroom, a long wheelbase is ideal.
PROS
Cheap
Lots of choices
Easy to fix
Long life
CONS
Some engines could be thrashed
Check the condition of the cargo loading doors
So many to choose from!
Examples of cargo van campers include | Mercedes Sprinters, Ram Promaster, Ford Transit, and Chevy Express.
Panel Vans, Small Vans & Mini-Vans
Panel vans are smaller than cargo vans and generally based on a car chassis. Bijou, they're ideal for short trips or for solo van dwellers who don't need to stand up in the van.
PROS
Lots of choices
Cheap to buy
Low conversion costs
Good gas mileage
CONS
Small (although not a bad thing if this is what you're looking for)
Limited space for amenities
Examples of panel van campers include | Ford Transit Connect, VW Transporter, Mercedes Vito, Chevy Astro
Best Minibus Camper Van Conversion
A minibus is often the same as a cargo van but with windows all around and seats throughout.
The extra led lighting is great but unless they're tinted, can reduce privacy a lot. It's also a greater security risk than a windowless cargo van.
Our Sprinter van, Baloo was a minibus. This photo above shows the state of her the day we brought her home.
The extra windows were one of the main things that attracted us to her. We tinted the windows to give us privacy without losing the benefit of the extra daylight.
And with the fantastic scenery, we've been driving through in South America, we wouldn't change it for the world.
PROS
Windows all around give great light
Generally better condition than the cargo van counterparts
Some may have climate control in the camper area already installed
CONS
Windows reduce security
May have a speed limiter or other safety equipment fitted (could be a good thing though)
Classic Best Camper vans
The retro, Insta-worthy VW camper! Who doesn't love the look of these things?
Ideal for weekend getaways or short road trips, they're the epitome of the van life movement.
Yet in our view at least, highly impractical as a permanent home on wheels unless you're 3 feet tall.
But don't they look cool!
PROS
The coolest looking vehicles on Instagram
Easy to fix – just as well really!
And if you buy one in Brazil instead of the northern hemisphere you can get one for 2 sticks and a balloon
CONS
God, they're small!
Can't think of anything else negative to say
Converting A Bus To A Best Camper Van
Convert an old bus into a camper van and you won't compromise too much on living space.
There's room for a bedroom or two, a large bathroom and even a galley kitchen and sitting room.
Regardless of how tempting this is, they're not convenient to park and are not ideal for driving down narrow lanes and high mountain passes.
Best Camping Car Conversion
A 4×4 car is a great base vehicle as a stepping stone from roof tents to camper vans. They're small, maneuverable and with the right configuration give a little indoor accommodation.
For the majority of the time, you still need to live beside this camper van, rather than inside it.
There are many more vehicles to choose from. From ambulances to flatbed trucks, removal vans to horse boxes.
Our advice is to know your criteria before you settle on the vehicle.
Best Camper Van Conversion Brands
Mercedes Sprinter vans are getting a lot of kudos as the best camper van for a camper conversion these days.
Although we're completely on board with that – our Sprinter perfectly meets our needs – it does carry a premium price tag.
There is nothing wrong with a Ford Transit, Vauxhall Vivaro, Iveco Daily, Renault Trafic or a big old chevy. Small vans like a Suzuki are doable too.
Pro Tips For Buying A Best Camper van
Hopefully, you've now decided on a shortlist of the best camper vans for a camper conversion to suit your needs.
While this is exciting, it's no time to let your heart rule your head.
Whatever you do, avoid falling in love with a van before you've seen it and had a good drive. Even then, you still don't really know what you're potentially buying.
Our detailed post goes through everything you need to inspect when buying the best camper van, even if it's not yet converted. We set out the key points here to summarise.
Check as much as you reasonably can to avoid buying a rust bucket with a dodgy engine.
Check all around and underneath for any leaks.
Check all the fluids – engine oil, coolant, and brake fluid. If these are too low it could be an indication of a mechanical issue or the vehicle hasn't been well maintained.
Look at the vehicle from every conceivable angle. You're looking to see if there are any signs it's skewed – a sure sign of a previous shunt.
Check the tires. If the van needs new tires, this could help you negotiate on price.
Check the van starts on the first turn of the key and there are no rattles or knocking. Let it idle for a while and see if any dash warning lights appear.
Take it for a good long test drive. Get it up to the top (legal) speed, drive in slow-moving traffic, try a hill start or 2, and pull away hard.
If there's anything you feel suspicious of, get the van checked by a mechanic before you commit to buying it. Or walk away.
Graham Bogie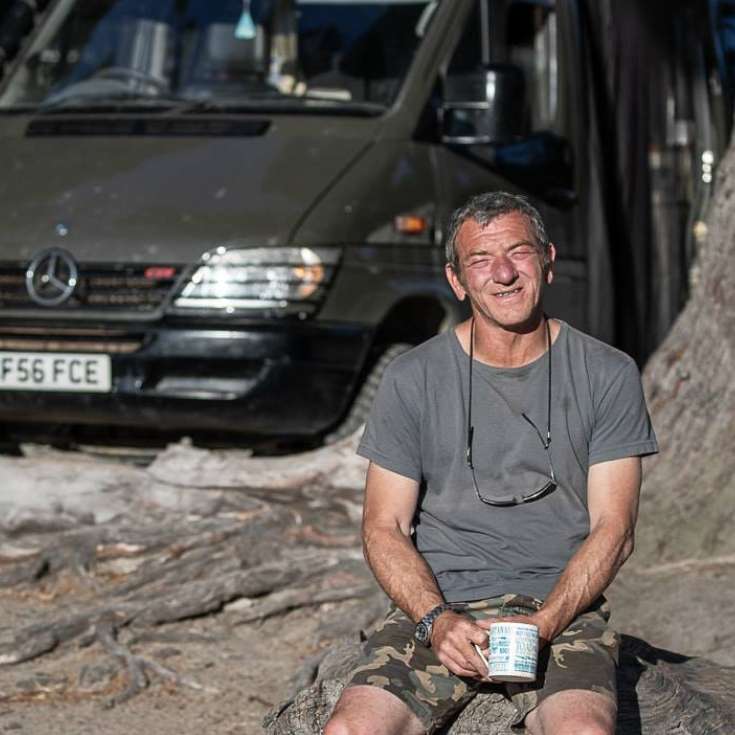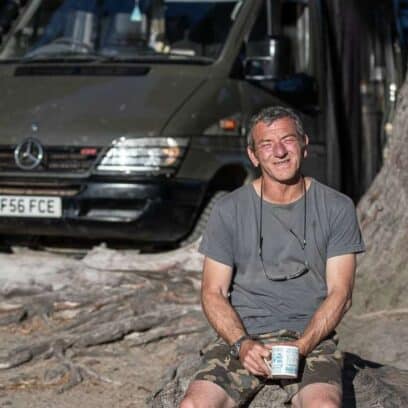 Graham is a seasoned marine electrical engineer with two decades of experience designing customized electrical systems for plant machinery and converting campers and overland vehicles. His expertise has led him to author the reputable Campervan Electrics Handbook and become the chief designer of the RV Wiring Design Tool. As a knowledgeable figure in the field, his YouTube channel, blog, Facebook group, and newsletter, offering electrical advice and product reviews, reach more than a million users each year.