At 500 metres round and 100 metres deep Buraco das Araras is South America's largest sinkhole. It's so spectacular, dozens of red and green macaws have made it their home. So while we toured the southern Pantanal in Brazil, we couldn't pass up the opportunity to take a look.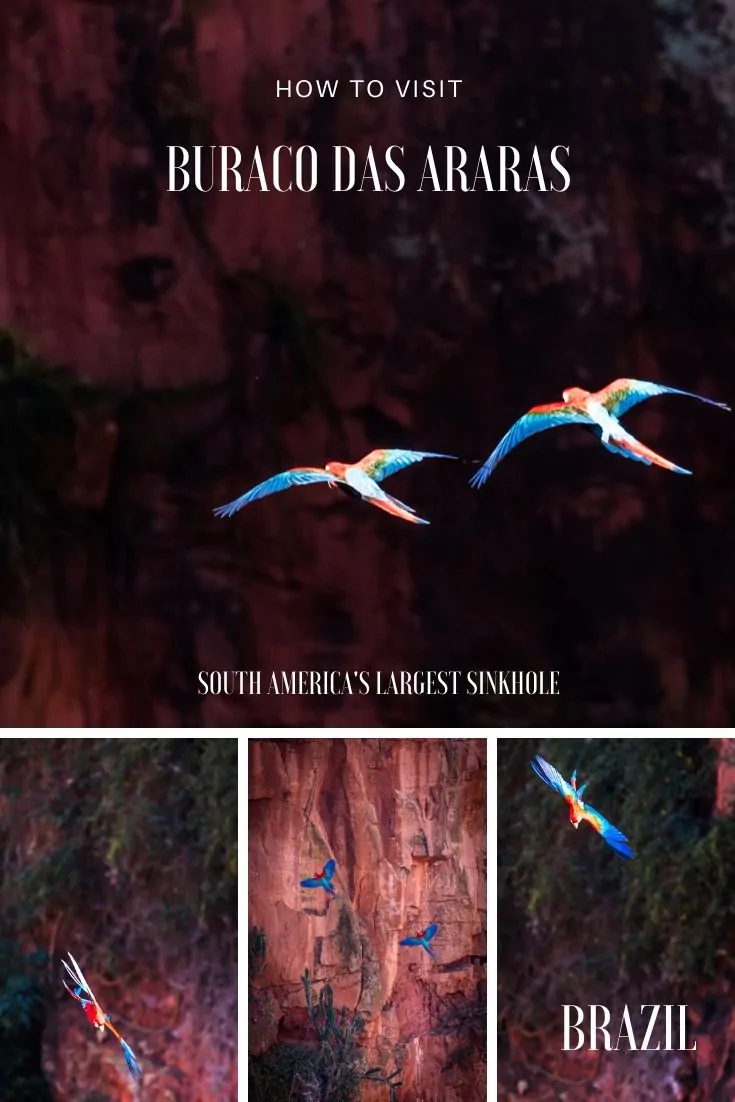 How the sinkhole of the macaws was found
Despite forming over 300 million years ago, Buraco das Araras was only found in the early 20th century.
The story goes that a curious farm hand followed a pair of red and green macaws to the edge of the sinkhole. The landowner wasn't pleased because he didn't want his cattle falling in, so he cut off access by building a road to separate it from the rest of the ranch.
The road allowed for easy access for visitors though, and people came to see the enormous sinkhole for themselves and the colourful birds within.
A sorry state of affairs, but people also used the sinkhole as their own personal dustbin. Trash piled up and worse still, some used it as a shooting range. The macaw numbers dwindled.
Part of the land was sold in the 1980s to Modesto Sampaio, the son of a gaucho starting out with his own farm. He didn't realise at the time, but the sinkhole was smack in the middle of his land.
He spent years cleaning up the garbage and legend has it, even found the remains of over 20 bodies!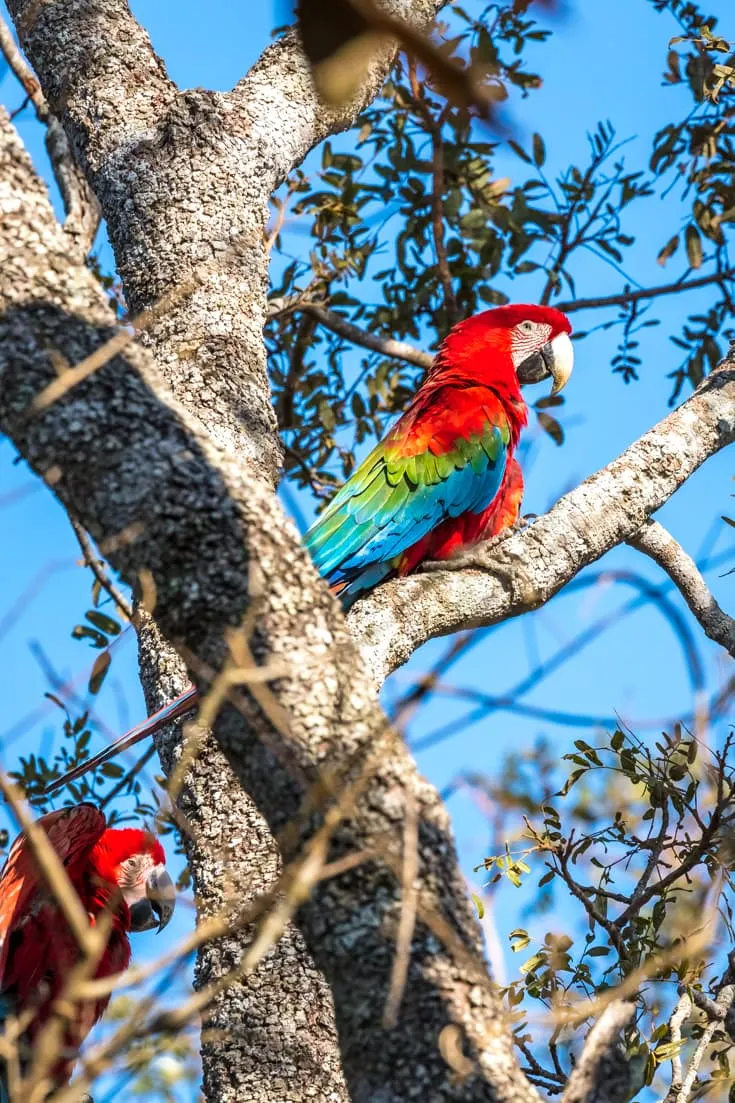 In 1997, he released a pair of red and green macaws in the hope they'd encourage others of their species to return. And it worked. Today, Buraco das Araras is home to over 60 pairs of breeding red and green macaws and much more wildlife besides.
Eco-tourism has proved far more lucrative than farming ever could. With some of the best infrastructure we've seen in South America the entire site is a joy to visit.
Today, the sinkhole and 29 hectares of land surrounding it are protected by Private Reserve of Natural Heritage. The macaws will be safe for years to come.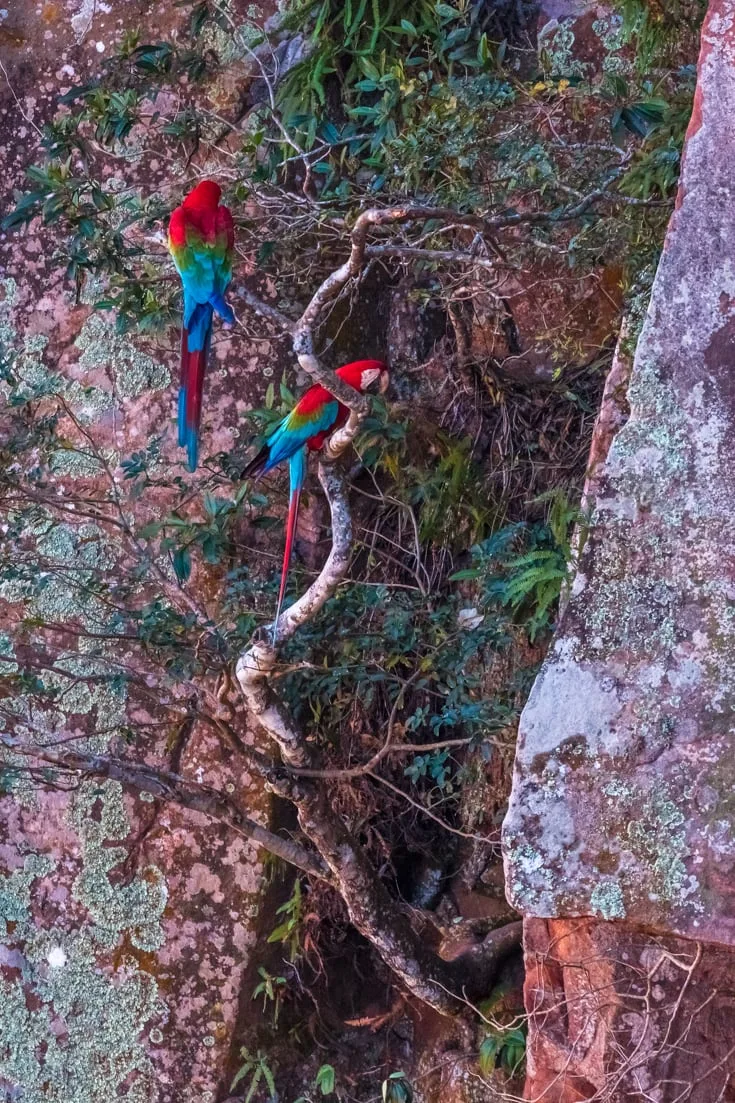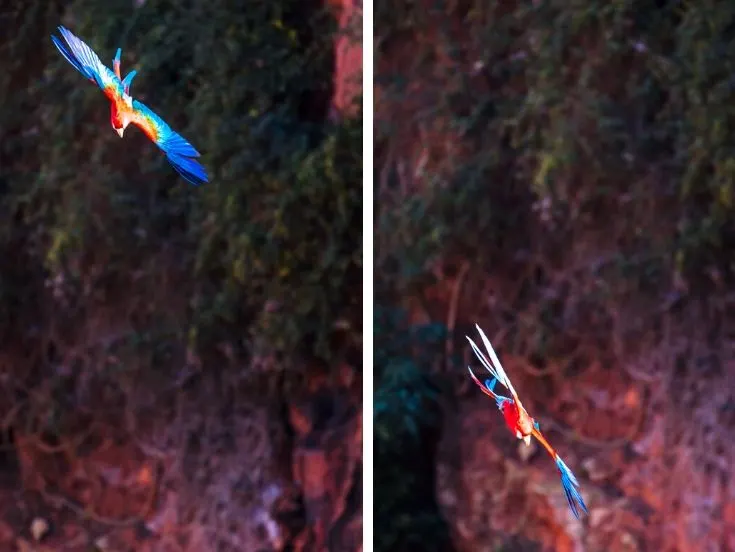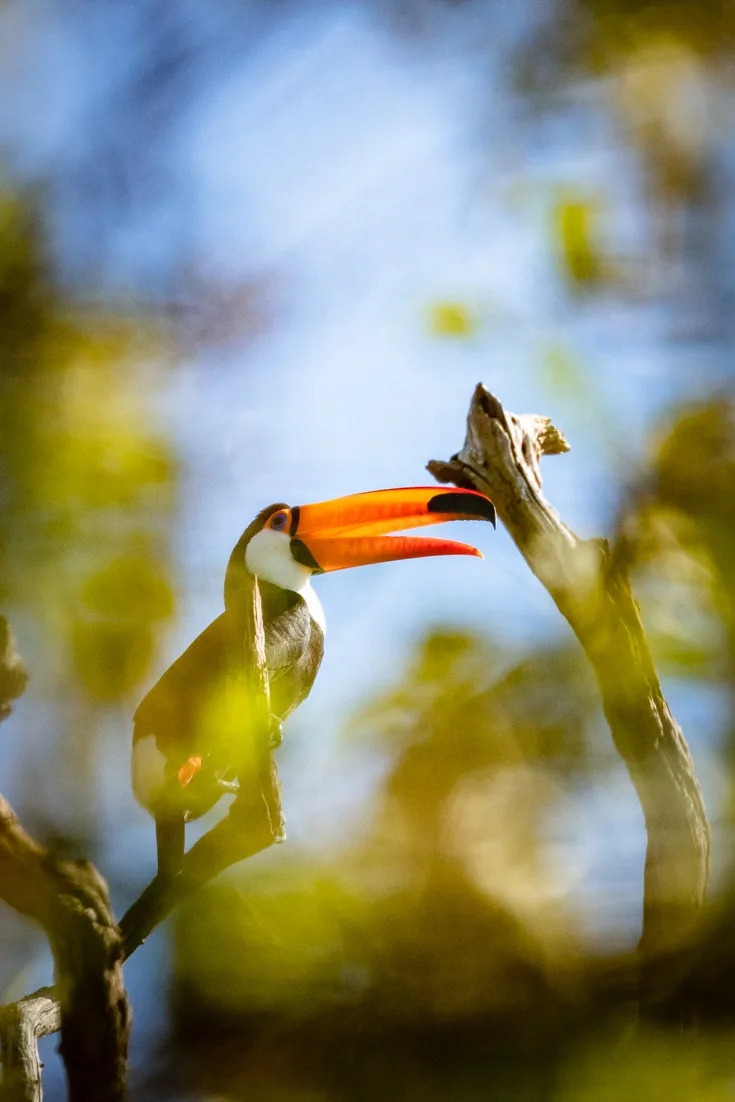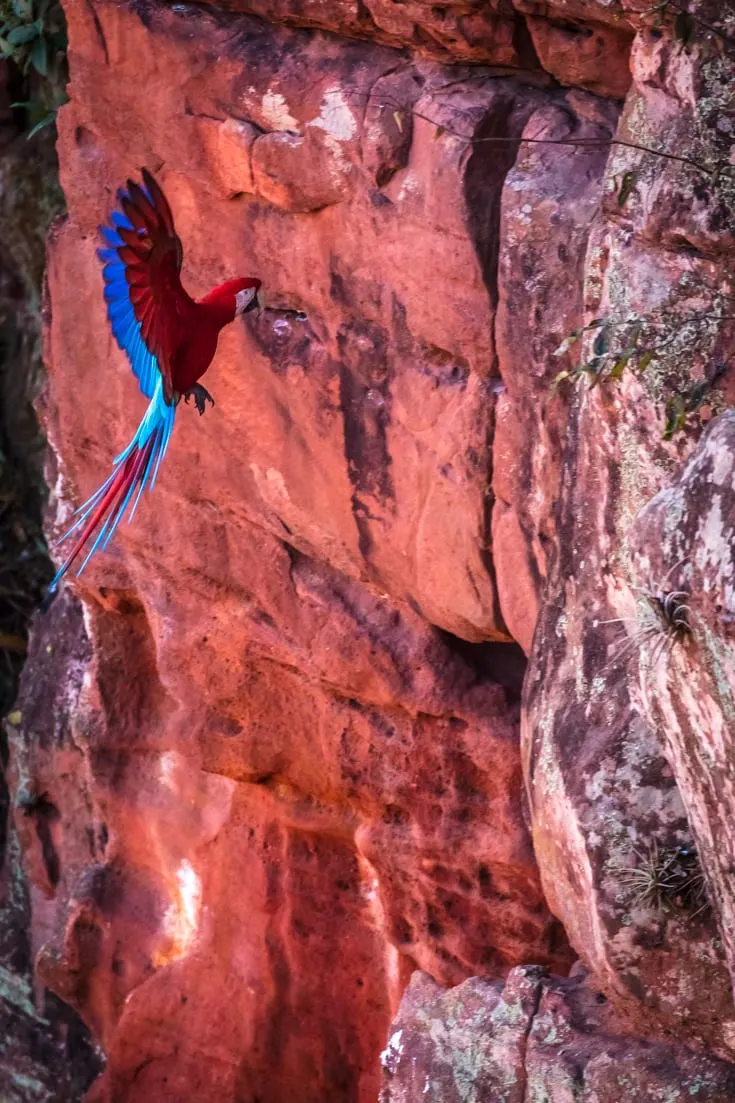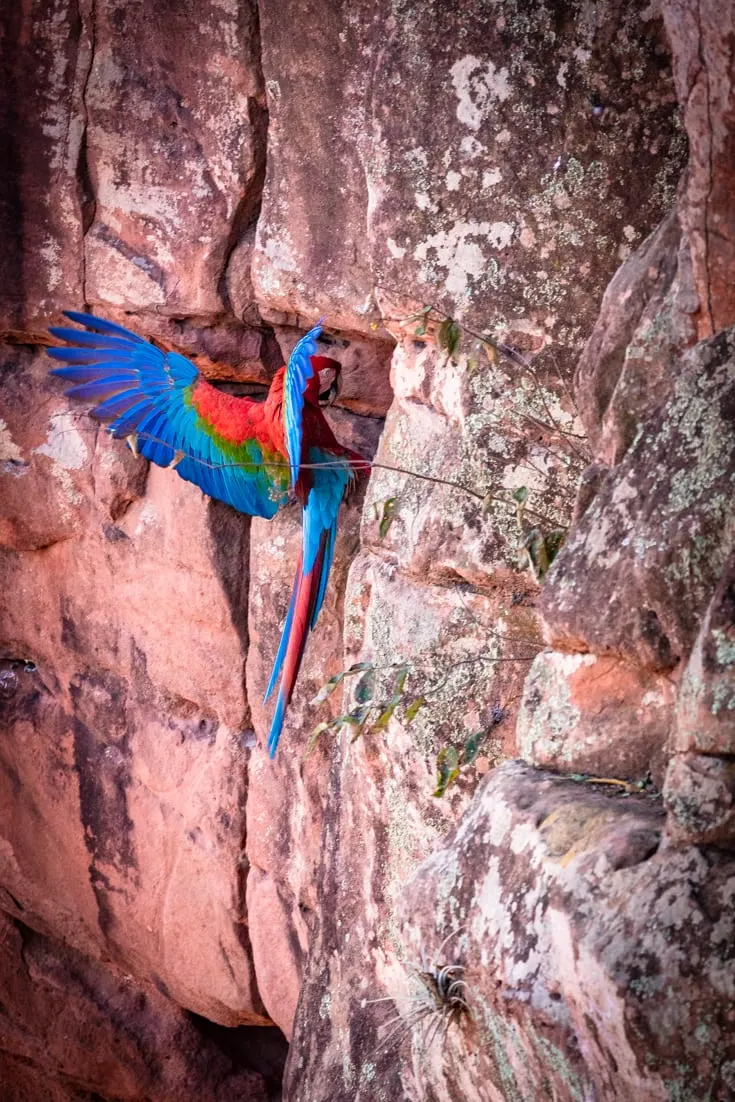 Photography tips
It's best to time your visit to coincide with the height of macaw activity. Fortunately for photographers, this is early in the morning when the light is also at its best.
There are 2 platforms on the trail, opposite each other on the lip of the sink hole.
The first platform is best for the morning light, the 2nd one preferable in late afternoon. The light has pretty much gone by 5pm so try not to arrive much later than 3:30pm.
The birds move fast. Super fast. Even shooting with high end cameras at high speeds and auto focus tracking, we have dozens of blurry photos. None of them accidentally fabulous either!
For photographing birds, our tips are:
Shoot at high speeds. Any slower than 1/1000 and the chance of capturing a sharp image is drastically reduced.
Don't be afraid to bump up your iso. This will allow you to shoot at faster speeds or aim for a greater depth of field so furthering increasing your chances of a sharp shot.
Because the birds move so fast, use one of the auto programs on your camera so you don't have to keep changing your settings while the action is going on. Aperture Priority, with auto iso and minimum shutter speed set to 1/1000 worked better for me than Shutter Priority because I preferred to determine the depth of field myself.
A monopod might help stabilise your shot if your camera equipment is heavy. You may find shooting hand held is less restrictive though.
Long prime lenses are great but if the birds are flying towards you, you'll probably be happier with a telephoto zoom lens. We used the 100-400mm Canon, 150-500mm Sigma and the 17-40mm Canon on full frame cameras.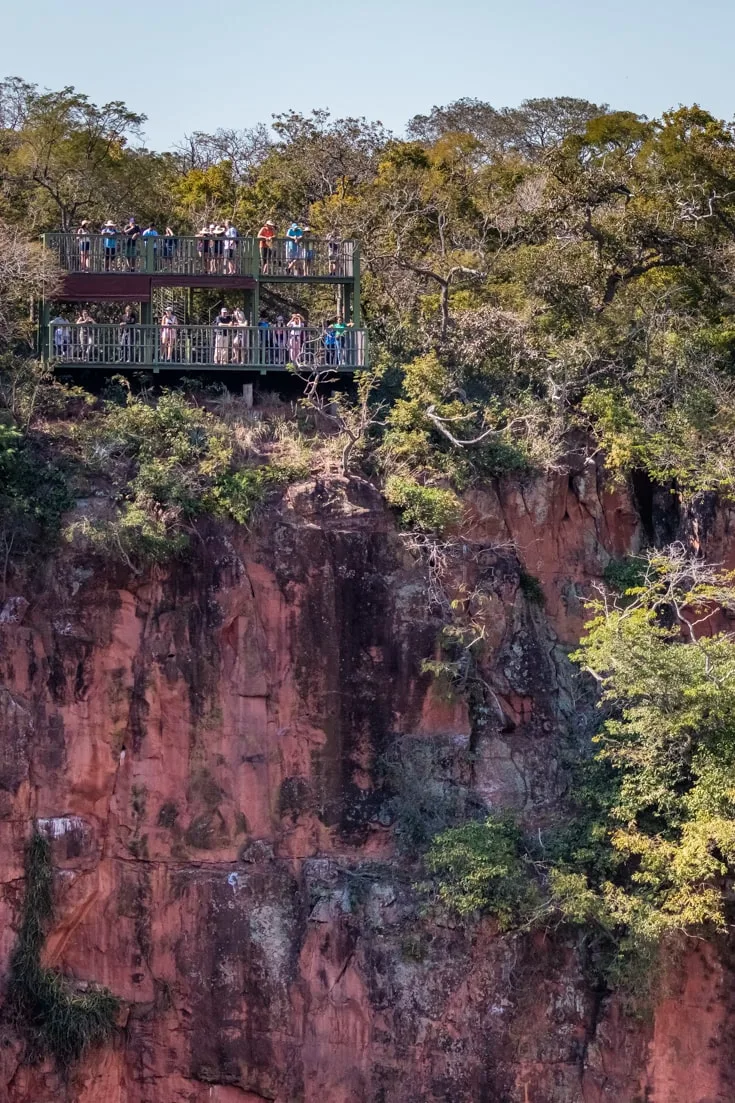 How to get to Buraco das Araras
The best way to visit the sinkhole is to drive. It's located 30 kilometres west of Jardim and 60 kilometres south of Bonito.
The site has plenty of free parking available.
The full address is Buraco das Araras Ecoturismo, BR267, KM510, Fazenda Alegria, Jardim, State of Mato Grosso do Sul 79240-000. Their website is here.
From Jardim, follow the BR267 road for about 27 kilometres. It's signposted as you get close but if you reach the turn off for Bonito, you've gone about 7 kilometres too far.
From Bonito, follow the MS178 for about 45 kilometres until you reach the BR267. Turn left and the entrance for the sinkhole is 7 kilometres away on the right.
If you don't have your own vehicle, car hire in Brazil is quite cheap. Plan an itinerary for a few days to visit places you'll need the car for to get your money's worth.
If you don't drive, a lot of tour companies operate out of Jardim and Bonito. Most don't do a trip specifically to visit Buraco das Araras. Instead they add the sinkhole on to the start or end of a day trip to Rio do Prata or Lago Misteriosa. Check out tours available on GetYourGuide.com.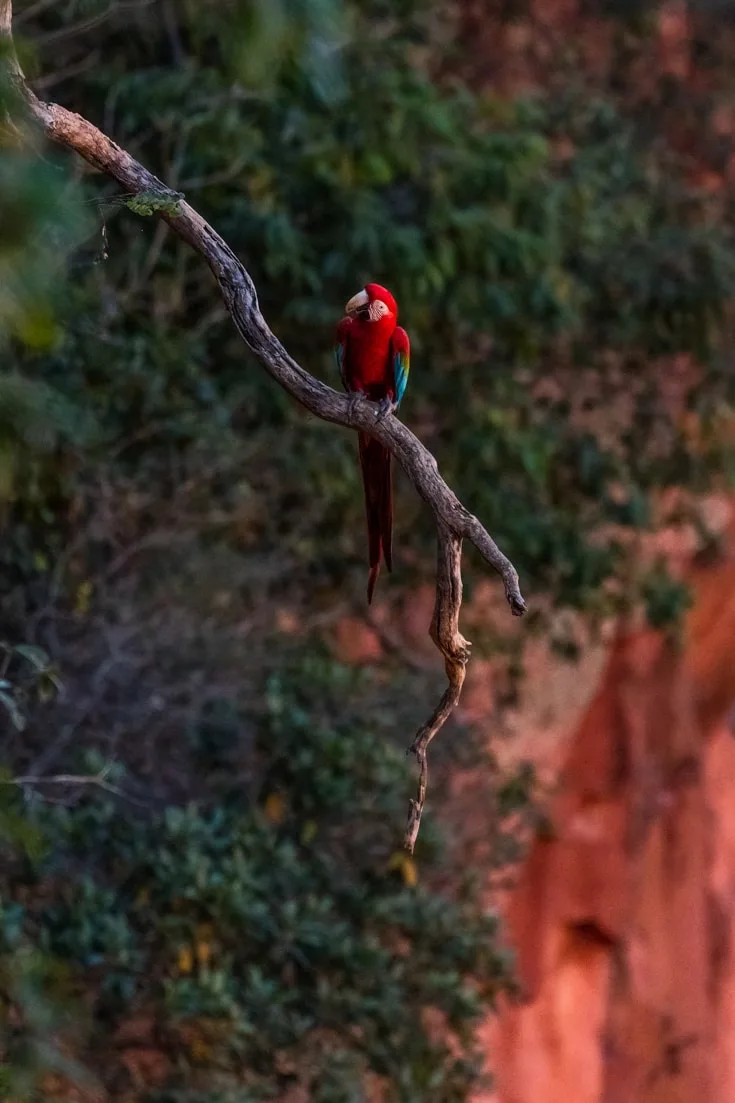 Entrance to Buraco das Araras
It's not possible to wander around the site alone and all visitors must join a guided tour. The rangers speak good English and will answer all your questions about the sinkhole.
The standard tour lasts for about an hour and costs 78 Brazilian Reals. We went on this tour and although it was quite wonderful, we wish we had more time at each of the viewing platforms.
We're not used to being herded around in groups but given this is private land, I guess the rangers have no choice.
The private photographers tour allows 4 hours on the trail from 7:30am and is twice the price of the standard 1 hour tour.
We chose not to do this based on cost. While we stand by the decision, it would have been far better for our photography had we gone with this option. We wouldn't have felt quite so rushed either.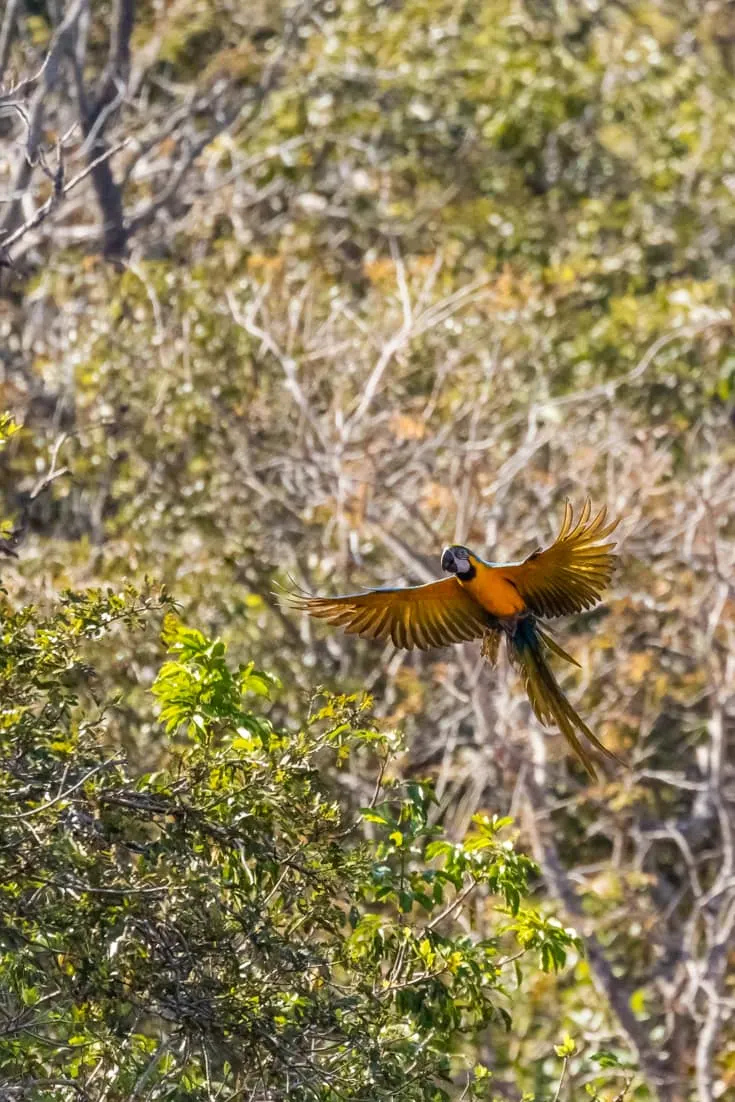 What to bring, wear and pack
When you click on links to various merchants on this site and make a purchase, this can result in this site earning a commission. As Amazon Associates, we earn from qualifying purchases. For more info, please check our disclosure page.
Camera gear – the best camera to bring is the one you already own so no need to buy expensive kit. If you have a zoom lens though, definitely bring it with you.
Binoculars – although you can see the macaws and other birds without them, a pair of binoculars will enhance the experience and help you spot other less colourful birds too.
Wear long sleeves, trousers and a sun hat – they'll help protect you from the sun, biting insects and scratches from the shrubs too.
Sun cream – although much of the trails to and from the sinkhole is shaded, the viewing decks are in direct sunlight. At least Factor 30 will help protect any bear skin you haven't covered up.
Plenty of water – the weather in the southern Pantanal is hot and humid so keep hydrated.
Insect repellant – the areas surrounding the sinkhole is jungle, a perfect home to insects. You're going to need this!
Swap your flip flops for walking shoes – anything to cover your feet to stop bugs biting the skin between your toes.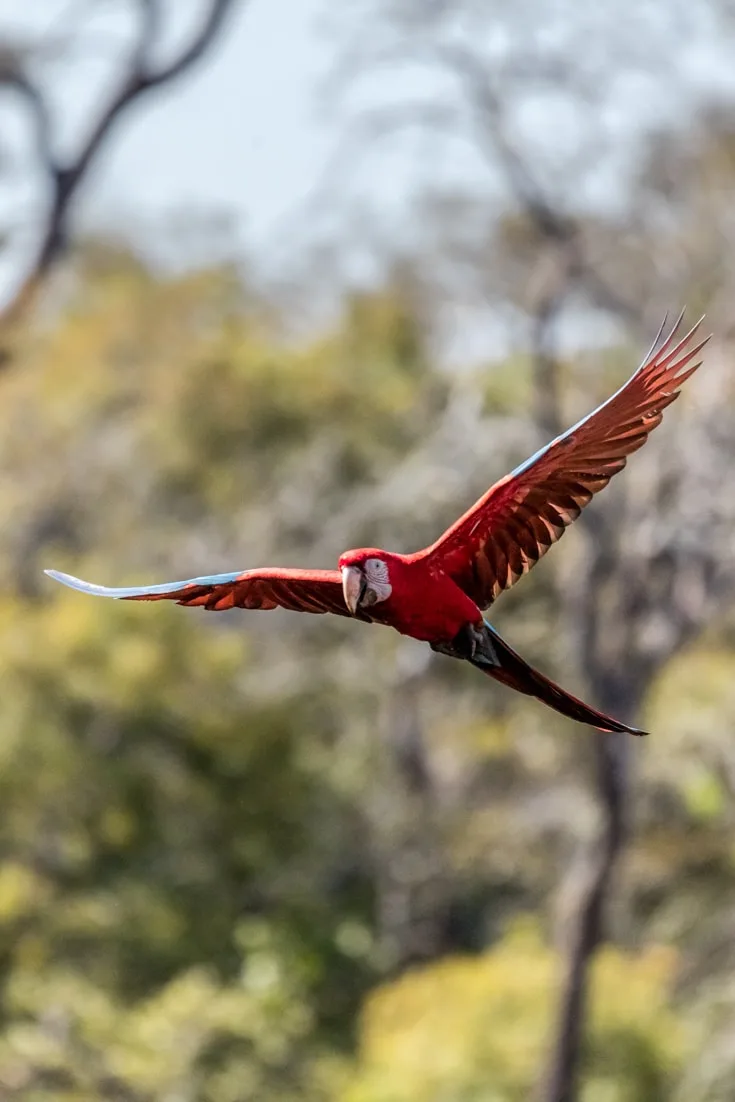 Where to stay near the sinkhole
Jardim
If you'd prefer a roof over your head, Jardim is the nearest town with accommodation options. The town isn't worth a visit in itself but is a great base for exploring the area and a bit cheaper than Bonito. It's also the closest place to buy supplies.
A long term favourite of travellers to this region of Mato Grosso do Sul, Pousada Zamora offers simple yet homely rooms.
With air conditioning, fast wifi and plunge pool guest can enjoy the highly rated breakfast on the sun deck. The communal kitchen is well equipped so self catering is a definite option to save money on eating out.
And depending on the time of year, you can bag a double room with a private bathroom for as little as 140 Brazilian Reals per night! Not bad for one of the best rated places to stay in town.
Check availability and reserve on booking.com.
Other options in Jardim are fairly limited. There's a fancy(ish) hotel and a couple of other relatively basic option. Take a look on booking.com for the full list.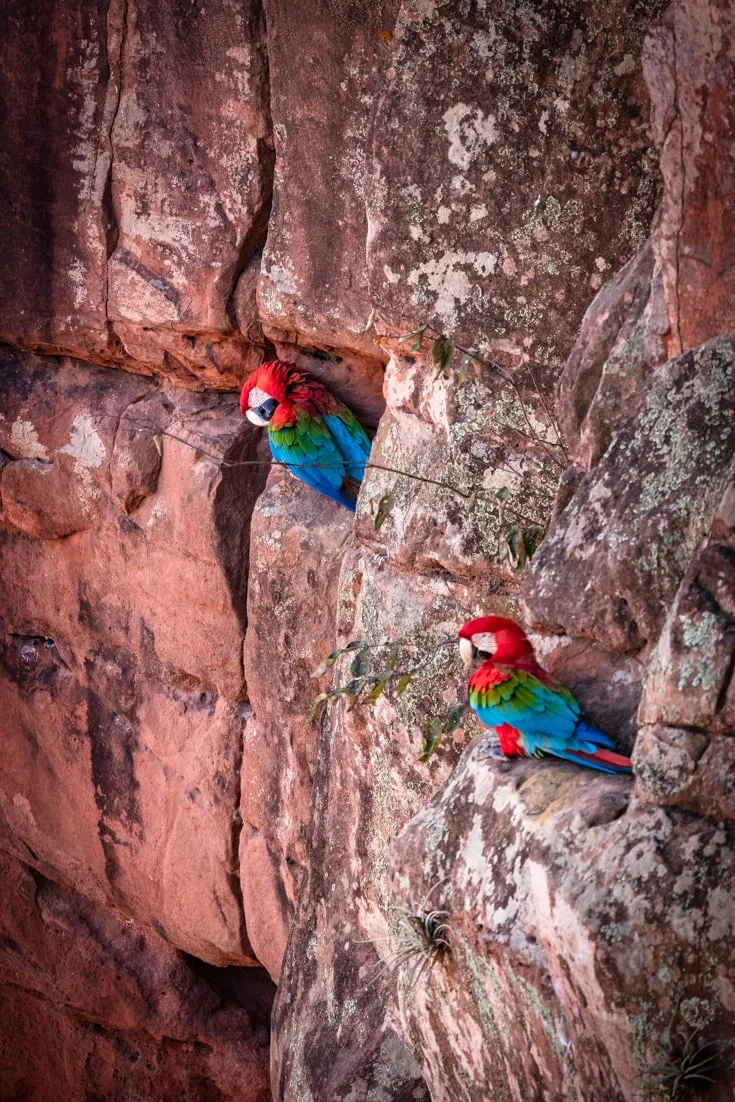 Bonito
Most visitors to the southern Pantanal base themselves in Bonito. It's the centre for most tour agencies and facilities in town revolve around the tourists.
If staying in Bonito, try to stay as close to the town centre as you can. You can find most restaurants, bars and tour agencies on the main street.
The most popular tourist attractions are a few kilometres away from town.
For location, CLH Suites Bonito offer great accommodation with terrific reviews. Clean, modern and simple rooms all with air conditioning (don't skimp on this), and the staff speak English too!
Check availability and reserve on booking.com.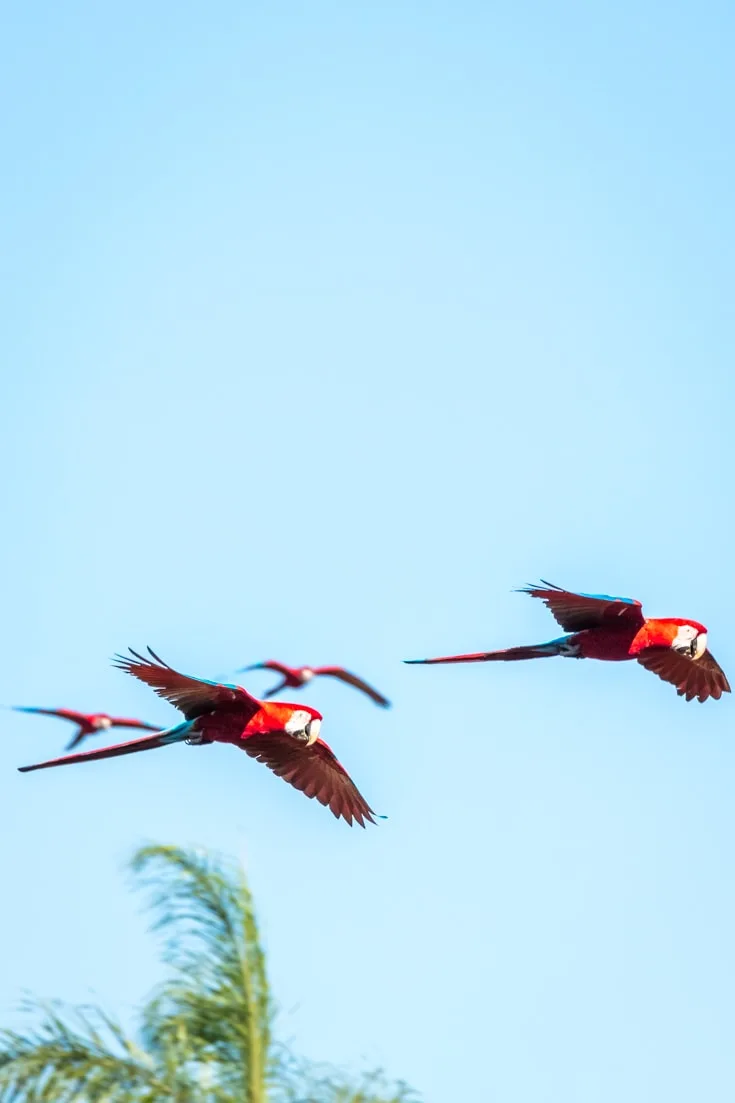 Closest place to stay to Buraco das Araras
For overlanders and campers, Seu Assis campground is only 8 kilometres away from Buraco Araras. Facilities are good although the wifi is a little weak. It even has its own swimming area in the crystal clear river complete with zipline.
Keep an eye out for both red and blue and green macaws, toucans, monkeys and tapirs wandering into camp! At the time of writing, prices were 30 Brazilian Reals per person, per night.
This is one of those places where camping is way better than any hotel. If you don't have you own camper van, we recommend packing a few essentials for car camping and coming here.
Make sure you resupply with everything you need in Bonito or Jardim before you arrive.
If you'd prefer more budget accommodation, make sure to check out Hostelworld for their latest rates and availability.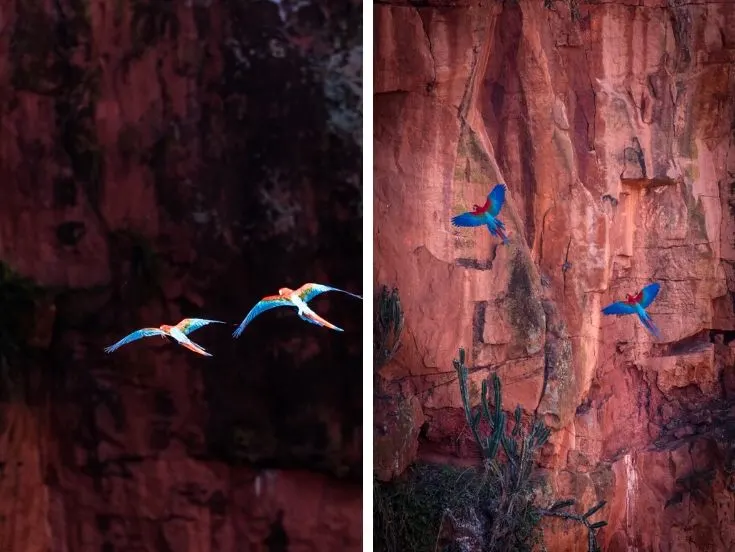 Things to do near Buraco das Araras
There's loads of things to do in and around Buraco das Araras and most have to be arranged through a tour agency, even for independent travellers.
You can book them in Jardim or Bonito or online. Here's a sample of the tours available.
Like it? Pin it!