After reading our guide on choosing the best van for a camper conversion and to live in and saving up enough money, you're in the market for buying a campervan.
You might be buying a campervan to live in full time, travel in for a couple of years, or for weekend camping trips.
You may have decided to build a DIY camper van conversion or to buy a used campervan. You may even have an open mind.
The first step towards your new van life is buying a campervan. And it's a huge decision. One you want to get right.
It's easy to get excited when you first see the cozy-looking interior of a used camper vans or the 4×4 capability of a Sprinter van ready for conversion.
But get over that excitement quick smart. Love is blind so do not fall in love with it just yet!
Instead, keep a level head. Inspect the van thoroughly to avoid inadvertently buying a rust bucket, prone to mechanical problems, and not fit to live in without significant additional spending.
There are things to consider before you commit to buying or building. Your new home on wheels is a significant investment in money and time.
To help you, we've detailed everything you should ask and inspect when buying a camper vans.
You can even download our handy checklist to bring with you to the viewing.
Where To Buy A Campervan Or Van To Convert
You've done your research and have a couple of vans, makes, and models in mind.
So, where do you start looking?
Begin by browsing the market. Look on Autotrader, Craigslist, and so on. Check out the local classified ads too.
What about camper van conversion companies near you? They often have camper vans conversions for sale, fresh out of the workshops.
Get active in the online forums on social media too. They often have for sale boards.
Word of mouth and recommendations can result in finding gems before they even hit the classifieds.
Try to view a few vans before settling on one.
You'll get a feel for what you might get for your money, the build quality, various campervan layouts, and how they actually work.
Finding your ideal used camper or van to convert, – is as much about perseverance and patience as it is about luck.
Is This Van A Contender For Your Van Life?
Regardless of Insta-worthy, the van looks in the advertisement photos, ask yourself a few questions before calling the seller.
Is it within your budget?
Are the make and model appropriate for where you plan to travel?
Does the make, model and year of the van suffers from known issues?
Does the van have all the vehicle modifications you need? If not, is it easy and cost-effective to retrofit it without going over your budget?
Can you drive it legally or do you need an enhanced license?
Is the vehicle's age an issue? Newer vehicles have more safety features but more electronics, so they're more difficult to fix in remote areas.
If you plan to sell the campervan when you've finished traveling, will it hold its value well?
Is the van big enough for you and your family?
Do you need a 4×4 camper,or does a 2wd meet your needs?
Does the van have everything you need for your lifestyle? If not, is it easy and cost-effective to retrofit without going over your budget?
Ask yourself these questions to help you rule out vehicles and avoid wasting your time.
Things To Bring With You When Buying A Campervan
Magnet
Torch
Notebook and pencil
Phone charger (and your phone) with USB cable and plug
Multimeter (and here's a complete guide on how to use a digital multimeter)
Dress in old clothes and expect to get mucky
Our checklist
Inspecting The Van
No matter how cool the camper vans might look, if it's mechanically unreliable, your life in a van will not get off to a great start.
When buying a camper van, the first priority is to avoid buying a trouble-prone vehicle.
Start by doing your homework. Research manufacturer brands and find models with a record of reliability and spare parts available where you plan to travel.
Finding the best van to live in for you is as much about the base vehicle as it is about the living space.
Once you've found a used camper van for sale within your budget, it's time to contact the seller.
Speak To The Seller
You'll need to speak to the seller to make an appointment to view the van.
Keep the call informal, using the time to ask questions before agreeing to make an appointment.
Ask them why they're selling and how long they've owned it. Ask if everything works on it and if they've experienced any problems with it.
Do they have the service history? Ask how they used the vehicle and what mileage they put on it.
You're trying to get a feel for the seller's sincerity and how tough a life the van may have already had. While most sellers are honest, you don't want to be hoodwinked by the few less scrupulous sellers out there.
If you're happy with the answers, go ahead and make an appointment.
Camper van buyers who are mechanically minded are in a better position to give the van a once over. If not, seriously think about getting a mechanical inspection.
The peace of mind is worth the money and if their report suggests you shouldn't touch it, it could save you thousands.
Tell the seller you will need a couple of hours to inspect the vehicle thoroughly. Explain you want to take it for a test drive.
Ask them to make any documentation related to the vehicle and the camper vans build available too – wiring diagrams, appliance manuals, and so on.
The seller will know you're serious and should be happy to accommodate you rather than risk losing a strong lead.
Meet the seller at the same address the vehicle is registered at. And ask the same questions again during your appointment to check for consistency.
Contact your insurance company to check you will be insured to test drive the vehicle.
Check The Paperwork Carefully
First and foremost, you want to make sure the seller is legally entitled to sell the vehicle, and all the official paperwork is in order.
In the UK, this means checking the V5 log book matches the vehicle in front of you. Check the number plate, VIN number, descriptions, and color all match the V5.
If this is a private sale, make sure you view the vehicle at the registered address. Ask to see the identification of the seller – it should match V5 too.
Read the MOT certificate carefully to ensure it has not expired. You cannot legally test drive a vehicle if it has no valid MOT.
You can check the MOT history online with the DVLA when you have the V5 details in front of you. This will help you see previous issues identified through testing.
It's also worth checking the book value of the vehicle. Sites like Autotrader in the UK or Kelley Blue Book in the US can provide a book value online.
Inspecting The Engine
Even if you haven't brought a mechanic with you, there's still things you can do to check for problems.
Lift the bonnet. Make sure it opens easily, and the stay support bar does its job of keeping it open.
Now check the engine oil, coolant, and steering box oil levels. Check in the vehicle handbook for how to check each and what the acceptable levels are.
Low levels could indicate either a leak or lack of maintenance, both of which could result in mechanical issues.
Check the floor underneath the van for any signs of leaks. Make a note of any marks you see because you're going to check again before and after you take the vehicle for a test drive.
You want to know how the engine starts from cold. A warm engine can disguise potential starting problems. So check the engine is cool before you start it up.
Start the engine, listening for any odd noises, knocking, rattling, or smoke. You want it to start easily, sound smooth and healthy, and have no obvious smoke coming from anywhere.
Let it idle for a while and see if any dash warning lights appear.
The Exterior
Check all the headlights and indicators work correctly. Don't forget the brake lights, reversing, and fog lights.
Look at the vehicle from every conceivable angle. You're looking to see if there are any signs it's skewed, not straight or unusual looking gaps in the panels. It's a good sign of a previous shunt.
Check the tires. Even if they're worn, they should be worn evenly. Check the rear tires for uneven wear too.
If the van needs new tires, this could help you with any price negotiation.
If the van's wheels have locking nuts, check the seller has the key.
Inspect the bodywork. You're looking for rust or any signs of rust spots being covered up with filler. A magnet will help you check if any suspect areas are filled.
Rock the van about to check the suspension. It should only rock 1 and half times before settling. Anything resembling a yoyo could indicate it needs new dampers.
The Interior
Before checking the living accommodation of the camper vans, you should check the interior of the van as you would if you were buying any used vehicle.
Check all the gadgets and bits and pieces work correctly.
Windscreen wipers
Windscreen wash
Lights
Mirrors
Windows open and close
Doors lock and open correctly
Hand brake – you might need to check this on a test drive on a hill too.
Heating
Air conditioning
Is the spare wheel in good condition?
Is the wheel spanner and jack in their proper place?
Test Drive
Before you take the van for a test drive, check all around and underneath again for any leaks you may not have noticed when you first arrived.
Then take it for a good, long test drive.
This may be the only time you drive the vehicle before you buy it so it's vital you give it a good run.
The aim is to drive the camper van in as many situations as possible to try to find faults. Don't drive with the radio on or with too much chat – you need to be able to listen to the sound of the van.
Accelerate hard – does it run smoothly and without hesitation?
Get it up to the top (legal) speed – is the RPM acceptable for this van? Can you hear any unusual noises?
Drive on urban roads – is it smooth? Does it idle quietly in traffic? Are gear changes smooth? Can you feel any strange vibrations?
Test the steering – go somewhere where you can drive in a circle in the full lock in both directions. Listen for unusual noises or vibrations.
Test the hand brake – try holding the van on a hill without the foot brake.
Test the brakes – does it stop in good time? Try an emergency stop when safe to do so. Does the ABS kick in?
If there's anything you feel suspicious of, get the van checked by a professional mechanic before you commit to buying it. Or walk away.
Inspecting The Camper
If you're considering buying a camper van already converted, you'll be hitting the road in no time.
Once you've given the camper vans the mechanical once over as described above, check the living quarters thoroughly and if the layout will work for you.
It's unlikely to find used camper vans in perfect order so the aim here is to find anything not working and significant issues that would be costly to repair.
Even minor issues and faults can help you negotiate a better price.
Avoid getting excited. Go through the living quarters of the van methodically. If you feel uneasy about anything, walk away.
If you don't have the necessary skills, don't be afraid to bring someone else along to help you check it out. An electrician, mechanic, and/or an experienced camper owner would be ideal.
When you arrange to view the camper vans, ask the seller to allow enough time. You probably need a couple of hours.
Also, ask for any documentation to be available and enough fuel for testing any gas or diesel appliances.
Checking For Leaks
Leaks can be the bane of van life. If water is dripping inside your home, not only will you be thoroughly miserable but finding the source of the leak could be a messy and costly endeavor.
Ideally, view the camper when it's raining or after a few wet days, even better when the weather is cold.
The ceiling is always the best place to start. Any discoloration, mould, damp smells, or signs of a collapsing ceiling are all good indications of past or present leaks.
If the camper vans has a pop-top, open it up and inspect the seals, looking for any signs of water damage or tears.
If you spot any condensation in the van, especially if the footwells are dry, this could be a sign of a leak.
Our advice is if you find any signs of leaks from outside the van, walk away without hesitation. If not, run.
Leaks from the internal plumbing may not be quite so severe.
Ask the seller to fill the water tanks so you can see how it's done, where the hose is stored, and to check for leaks at the fill point.
Though often easy to fix, if left dripping water damage could affect the area surrounding the leak.
Hunt out any signs of water damage. The areas around the kitchen, waste pipes, and bathroom are usual suspects.
Run the taps in the sink and campervan shower. Make sure it drains to the grey water tank without any leaks along the waste pipe.
Check for leaks around and underneath the taps. Make sure they don't drip when switched off.
Look underneath the vehicle to check for any leaks along the waste pipes.
Open the grey water tank to ensure it isn't blocked.
If the camper vans has a hot water tank, ask the seller how it works and test it.
If you find any issues with the internal plumbing, make a note of it. This is the start of your snagging list and negotiation case.
Check The Campervan Electrics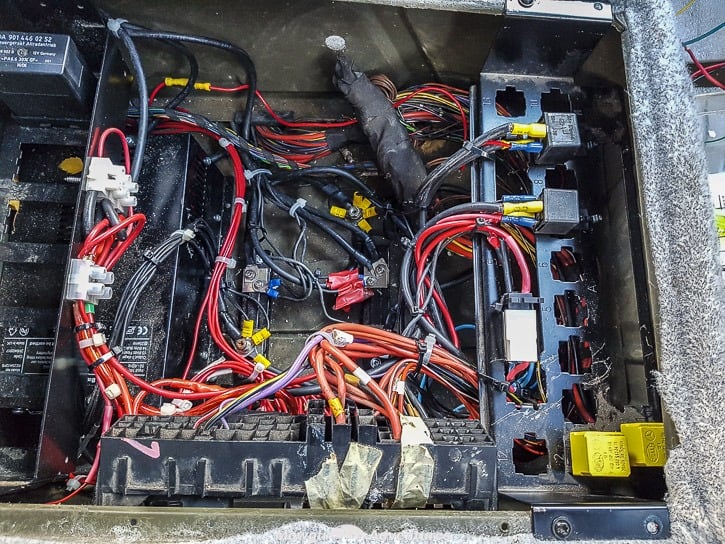 When converting a van yourself, you can install your campervan electrical system to support your needs.
But when buying a used camper van, an electrical system may already be installed.
Before you view the prospective camper van, make sure you know how much electricity your lifestyle demands and compare this to the advertised spec.
If it falls short, is the system scalable? Can you add more capacity?
Does the roof have space for additional solar panels or anywhere to put additional batteries?
If no hook-up electricity supply is installed, retrofitting is easier if there's space to fit a connection box and battery charger.
Add any shortfall in capacity, concerns, and faults found during your inspection to your snagging list.
When you view the camper vans, check the health of the electrical system. Someone with the necessary skills needs to undertake the health check if possible.
Battery Health
Check the campervan batteries with a multi-meter. Each should read 12.3v to 12.6v when isolated from all inputs and outputs. Disconnect them before you take the reading.
Anything less than 12.3v could indicate the battery hasn't been charged for a while so might be ok or it may need replacing. This is a risk to note.
Ask the seller how old the batteries are. If older than 2 years, consider replacing them anyway.
It's more difficult to ascertain the health of a lithium-ion battery because it needs specialist equipment. Ask the seller as many questions as you can about them and try to get a gut feel.
If buying from a dealer, you definitely want lithium-ion batteries included in a warranty – they're very expensive to replace.
Fuse Box Inspection
Inspect the fusebox. You're looking for signs of burnt or melted fuses or plastics.
Check the rating of the fuses installed against the wiring diagrams. You're looking for any overrated fuses.
Overrated fuses – for example, a 20 amp fuse instead of a 10 amp – could be disguising an electrical fault or additions to the original install.
Try putting in the correct fuse. If it blows, this is a sign of a fault somewhere but it could be anyone's guess where it is or what's causing it.
It leaves you out on a limb when it comes to fault finding in the future so be cautious.
Check The Solar System
You need to view the van outside during the day. Even an overcast day will provide some solar energy.
Climb up on the roof and check the camper solar panels for obvious signs of damage. Inspect the holding brackets to check they are secure and rust-free.
Make sure the cable grommets into the van are completely sealed.
While you're up on the roof, look for any signs of damage or rust.
If a control panel is installed with a display, check the readings.
The output voltage should be more than 12.6v if the batteries are not being charged. If any charge is coming from the solar panels, hook up or engine, they should read 13.4v on the multimeter. This is a good sign the system is working well.
Anything less needs investigating further.
If the seller has the user manual for the control panel, ask to see it and check all the readings against it.
Check The Alternator Works
If the leisure batteries charge from the camper's alternator, start the engine to check this works.
You may need to wait a while if the camper has a smart relay fitted.
Unless there's a display panel to indicate the voltage, use your multi-meter again on the batteries.
It should read above 13.4v. Anything less needs further investigation.
Check The Hookup Power Works
Plugin the campervan to the seller's electrical supply to check the hookup, battery charger, and 110 or 240v AC outputs all work.
AC power can kill you if you don't know what you're doing.
If you don't have the necessary electrical skills, check the camper has an RCB breaker fitted.
Press the test button to check the electrical safety systems work.
When you're sure the safety system will protect you, plugin an appropriate device to check it works in the camper.
Do The Appliances Included In The Sale Function Correctly?
Campervan appliances carry hefty price tags.
If the services are gas-powered ask the seller to connect the gas bottle.
Check all appliances included in the sale before making an offer to avoid an unwelcome expense. And be thorough.
Sockets and USB ports | Plug in your phone charger to check these work.
Lighting | Turn on all the lights at the same time. LED lights are preferred.
Water pump | Running the taps and shower for a few minutes will check the 12v water pump properly.
Hot water tanks | Check the water heater with whatever system is installed. This will take some time to switch on the system early in the viewing.
Heating | Switch it on full blast and let it run for a while. Check any outside exhaust pipes are clear too.
Roof fans | Check they expel and draw air as per the manual
Fridge | Get this switched on early into the viewing and check it works correctly at the end. You want to give it time to cool.
Cooker | The best way to test this is to boil a kettle.
Air conditioning unit | if the camper has an air conditioning unit, test it works when hooked up.
Music system, TVs & satellite dish | turn it all on and get it working.
Campervan Furniture, Toilet & Storage
When buying a used campervan, you have no idea how well it's been loved or how it's been used.
With prolonged use on rough tracks and little maintenance, a 2nd rate of interior fit-out could soon fall apart.
This could make for an expensive repair or overhaul so checking the condition of the interior is important.
Campervan Bed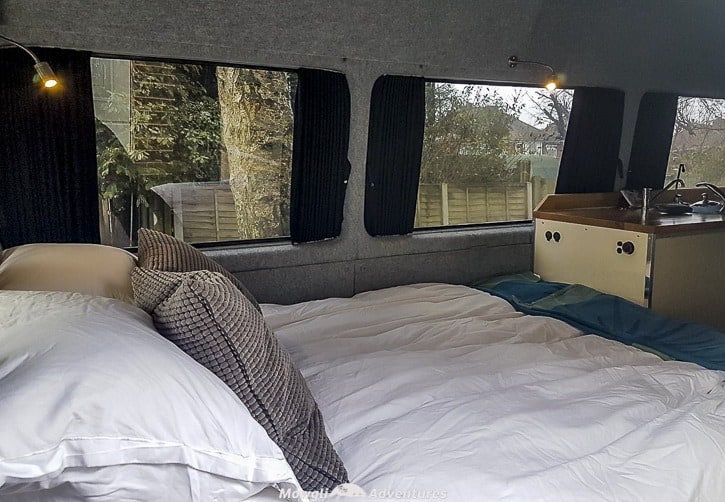 If the bed needs to be configured, put it up and back down again. Does it all work and is the build quality in good condition? Can you put the bed up and down on your own?
Check the condition of the mattress and base.
Is it long enough and wide enough for you to sleep comfortably? Lie down on it to make sure.
Changing a mattress may be easy enough but making it bigger is a different story.
Storage Cupboards & Wardrobes
Pull out all the storage and check for any signs of damage. Check the condition of the fixtures, hinges, and doors.
Remove drawers where possible to inspect the area behind them.
Do all the storage areas close securely? That shelf may look homely but with heavy braking, that potted cactus hitting you on the back of the head will smart a bit.
Is there enough storage space for you and your family? Is it suitable for your surfboards or mountain bikes?
If the area isn't clean and tidy, ask yourself if you're sure you want to buy from this seller. Dirt can be cleaned easily but it may also be a sign this pre-loved camper wasn't much loved and maintenance may be lacking.
Table & Dining Area
Many campervan tables and dining areas aren't permanent features. The tabletop and legs may be stored elsewhere in the van to be assembled when needed.
Put it up and back down again. Make sure it doesn't wobble when it's up and sits at an appropriate height for dining or working.
Toilet
There are loads of campervan toilet options available. In a used van, we'd expect the toilet to be clean and decommissioned in readiness for the new owner.
Some camper toilets are pricey, like a composting toilet. Others, like a bucket toilet, are low-cost.
Where appropriate, just buy a new one.
Floor, Walls & Soft Furnishings
The cosmetic aspects of the campervan interior may look tired in some cases. If the condition is good though, they might clean up well.
Check the floor for damage. Old carpets can easily be replaced with cheap lino and rugs.
Are the wall coverings in good condition? A bit of paint could be all they need to brighten the place up and make it your own.
Is the upholstery ripped? Anyone good with a sewing machine could repair a few holes or make replacement covers.
When inspecting the camper van, try to be realistic about any cosmetic issues. They're usually cheap and easy to resolve.
Awnings & External Fittings
Awnings and other external fittings can be expensive to replace.
Wind out the awning and check the condition. Open all windows, checking for any damaged latches and security issues.
Check any external storage, making sure it's securely attached to the vehicle and in a good condition.
Check where the gas bottle is stored, if used. Ideally, it will be stored external to the camper's living space in a metal store.
It should be secured in that store so it can't roll around or dislodge itself during transit.
If it's stored indoors, it must be well secured in a designated, metal-lined storage box.
Check regulations in your country though for safe gas storage.
Documentation
Ask the seller to provide the following documentation if it's available:
Campervan water system and plumbing diagrams if available
All manuals and guarantees for appliances
Any receipts for equipment, especially those still under guarantee
Safety inspection certificates for the gas and electrical installations – this isn't a legal requirement but gives peace of mind. Ideally, ask the seller to pay for this before you buy.
Safety inspection scan is arranged from:
Take 5
When you've been through everything, ask the seller if you can just sit in the van for a short time. You want to try to imagine living in it.
Taking the time to sit back and look around help you to spot other things to look at more closely.
Some things are easy and relatively low cost to replace or repair but make a note of anything you find.
While one or 2 minor things may not prevent you from buying the camper, they could help with negotiating a fair price.
Look too and the campervan accessories included in the sale. They may add value to the deal.
If you find too many compromises, you may be better off looking for another vehicle or doing a DIY campervan conversion.
Trust your instincts and don't be afraid to walk away.
If you're happy, try to contain yourself. Come back a day or two later for a 2nd viewing. Sometimes a break helps you see the good and bad things you may have missed the first time around.
Negotiating The Deal
Once you've decided you'd like to go ahead with the purchase, it's time to negotiate the best possible deal.
Make sure you're armed with an idea of the current market value.
If you've carried out your inspection and test drive with a level head, avoiding any displays of excitement,
Ideally, you want the seller to make the first offer because it could be less than you're prepared to pay.
Ask them for their best price. They may easily drop the price from that advertised without any pressure.
If the price suggested by the seller is way higher than the market value you've researched, you might be better off just walking away.
If the price suggested is close to the market value, make a counteroffer a bit lower but without going so low as to get a straight rejection.
Watch their body language, tone of voice, and facial expressions for an indication as to how close to a deal you might be.
If you need to increase your offer, do so in small increments. Or try to make a better deal without increasing your price.
Mention the MOT may be up soon or point out a few minor issues you've noticed to offset the price against and aim for a fair compromise.
Stop when you've reached your limit. If you don't agree on a deal, leave your details with the seller so they can contact you if/when they reconsider your offer.
Only ever begin negotiating when you've been through the complete checklists and always be ready to walk away.
But buyer beware. Most private sales will be sold as seen. Once you've agreed on a price and exchanged contracts, any problems are yours to resolve.
If you're buying from a dealer, try to negotiate a warranty for specific parts and components. Make sure any warranty negotiated isn't invalidated by your conversion.
Follow this guide to buying a campervan to reduce the chances of encountering problems.
Once you've completed the purchase and all the relevant paperwork to make it road legal, get out and live in the van for at least a few days to test everything is functioning.
Printable Checklist
Click the image below or the link to download your free buying a campervan checklist. Keep it on your phone or print it to refer to when viewing any potential vans.
Graham Bogie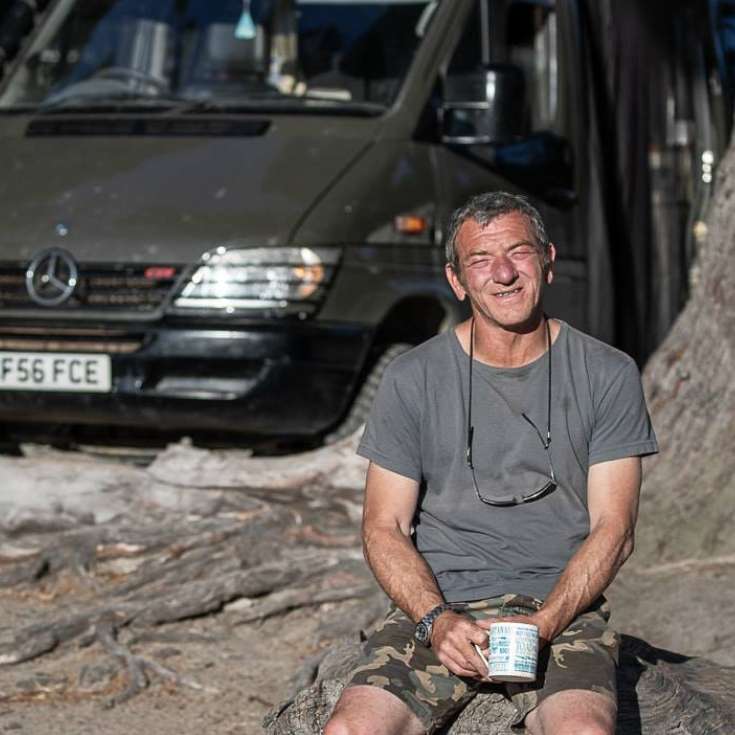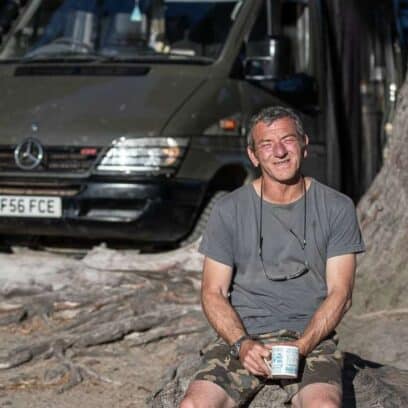 Graham is a seasoned marine electrical engineer with two decades of experience designing customized electrical systems for plant machinery and converting campers and overland vehicles. His expertise has led him to author the reputable Campervan Electrics Handbook and become the chief designer of the RV Wiring Design Tool. As a knowledgeable figure in the field, his YouTube channel, blog, Facebook group, and newsletter, offering electrical advice and product reviews, reach more than a million users each year.