Installing a camper's electrical system is challenging enough without finding you've forgotten to buy essential parts when you're half way through a job.
So this quick and easy tool has you covered.
To create your bespoke camper van electrics kit and parts list, enter your van's design details here and your parts list will appear below, with useful links to price check as you go.
It's simple and straightforward to use.
For a full parts list for your campervan wiring, use our wire size calculator where you can generate a detailed list including correctly sized cable, switches, relays & fuses.
Note, this tool is best used once you've already designed your ideal system.
Everything you need to know about campervan electrics. Now available in ebook and paperback!
Learn how to design, size, install and troubleshoot your camper's electrical system.
When you click on links to various merchants on this site and make a purchase, this can result in this site earning a commission. As Amazon Associates, we earn from qualifying purchases. For more info, please check our disclosure page.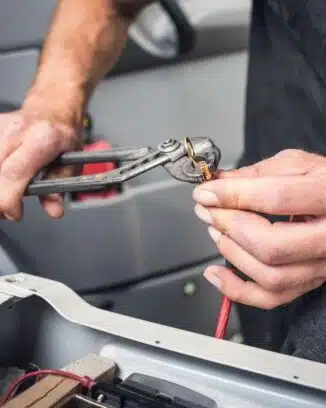 Need help & advice with your electrical setup?
Join Our Facebook Support Group
Like it? Pin it!