Camper van insurance is a legal requirement in the UK as well as in most countries around the world.
If you've bought a pre-loved campervan, insuring it is straight forward once you've decided what protection you need.
But what if you've bought a van to convert?
It's not a motorhome or RV in the traditional sense.
It'll morph from a van or bus or whatever you chose as the best van for your camper conversion into a fully fledged campervan.
As your camper van conversion progresses, you may add expensive vehicle modifications and install utilities and new appliances.
Your investment increases and so the insurable value.
Once your build is complete, will your camper van insurance cover personal belongings and specific higher value contents? What if you live in it full-time?
In this post, we'll break down exactly what you need to know about camper van insurance.
While this is specific to the UK market, much of the information applies everywhere.
Contents
Disclaimer | We're not insurance professionals. This post is an overview of the what we did you insure our Sprinter van conversion during and after the build.
Getting camper van insurance quotes
When you click on links to various merchants on this site and make a purchase, this can result in this site earning a commission. For more info, please check our disclosure page.
Camper van insurance is more complex than standard car insurance. Your insurable needs may be unique to you and you could have lots of questions.
Online quotes don't really allow for this so we recommend getting multiple quotes and speaking to an agent.
If you use someone like Quotezone, they'll collect as many details online from you as they need and get up to 5 insurers to call you back.
This avoids any unnecessary uncertainty as you can talk your needs through directly with the insurance company agents.
Campervan insurance before you begin your conversion
It's a criminal offence to drive a vehicle in the UK without a minimum of 3rd party liability insurance.
This includes test drives and driving it home after you've done the deal.
For test drives, the best thing to do is contact your car insurance company and check they'll cover you.
If you're buying a campervan from a dealer, they may have trade insurance cover which extends to your test drive. Check with them before you drive on a public highway.
Once you own the vehicle, you'll need appropriate insurance to keep you legal and protect your investment.
While you could insure the vehicle as a van (or whatever body type you've bought), once the build is done, chances are you'll want to change to a camper van insurance policy.
So it's worth getting a specialist quote up front. When the insurance companies call you back, talk them through your intentions and timeline for your conversion. They'll advise you on what cover they can offer.
Campervan conversion insurance during the build
Assuming your base vehicle isn't already a camper van, you may find most insurance covers on offer are commercial policies.
But most commercial policies are more expensive than camper van insurance so this isn't the most economical option.
Specialist camper van conversion insurance is a solution though.
When you complete your details with Quotezone (or whichever insurance broker you choose), tell them it's a conversion camper and that it's not yet complete.
They'll find insurers to provide cover for a specified duration to allow you time to carry out the conversion.
Our advice is to take a good guess on how long your conversion will take, then add a bit.
And don't forget to consider your risk.
Will you drive the vehicle on a public highway during the conversion?
Can you afford to take the risk of not insuring the conversion until it's finished?
Get some comparison quotes for camper van conversion insurance and commercial cover to see which gives the best value.
A decent insurance company will help you with your options before your start on your conversion project.
Campervan insurance post conversion
Once your campervan conversion is complete (hoorah!), you can get campervan insurance with ease.
Registering your campervan with the DVLA
You must notify the DVLA of the change of body type to a motorhome.
But getting them to change the body type isn't as simple as it once was.
The new DVLA camper van conversion rules are clear for the interior but more vague on the exterior appearance.
If they don't change the body type, it doesn't prevent you from insuring it as a camper van.
The insurer may ask for some photographic evidence of the conversion but nothing compared to the body of evidence the DVLA ask for.
What to look for in a great camper van insurance policy
Specialist insurers understand how we use our camper vans so they tend to tailor their policies to suit. When comparing camper van policies, look out for the following:
Insurance company
Is the insurance company a specialist in camper van policies and do they understand your needs?
Does the insurer offer agreed value cover? Many insurers will only pay out the 'market value' of your precious camper van if you suffer a total loss. That would be somewhat of a surprise if you need to make a claim. Some insurers will work with you to assess your camper van and agree cover for its true value. Make sure you discuss this with the insurer at the time of taking out the policy, especially if you're starting your conversion project.
Can you use the no claims discount from your car policy? Some camper van insurers won't allow this and you'll need to start with no discount. Others will allow you to use it so long as it isn't already used on the car.
Cover
Will the policy insure all the fixtures and fittings so they're covered in the event of damage?
Does the policy provide enough contents cover for your camper van?
What claim limits apply to equipment and are they high enough to cover the value of your insurable items?
Is windscreen cover included and does it include broken glass in the side windows?
Does the cover include emergency accommodation? After all, your camper van is your home and bed!
Will the insurer provide a replacement vehicle while your camper van is repaired?
Is there any "get you home" cover included in the policy?
European Cover
How much European cover is extended in one trip? Watch this one because some insurers give annual cover but each trip cannot exceed 60 days. Not great if you plan on touring Europe all summer.
Is breakdown cover included and does it extend to the EU? Check for any restrictions too.
If you're taking out a comprehensive camper van insurance policy in the UK, does it offer the same level of protection in Europe? Many policies only offer the minimum legal requirements so make sure to check this point in detail.
If driving in certain European countries, you need a Green Card. This proves to the authorities that you have at least the minimum level of insurance cover in place. It's worth checking the list of countries covered by the Green Card. For example, some insurers will include Morocco while others won't.
How to calculate the contents cover needed
Camper van insurance should provide some level of cover for personal possessions kept in your vehicle. This could include clothes and gadgets including laptops, tablets and smartphones.
Make sure the amount covered under your policy is enough to protect your belongings. Also check the excesses on the policy don't exceed the value you might look to claim for.
It's important to get a good and fair estimate the value of your belongings. Your insurance policy won't pay out if the sums insured don't cover the value of the items stolen.
It's easy to undervalue the contents of your camper van as you accumulate belongings over time. If you suffer a break-in you could find that they aren't all covered.
To help you calculate the contents cover needed, list all your personal belongings. Make sure to included their value too. Something like this is perfect….
Insurance companies often want proof, before they will reimburse any losses claimed. If you want to make a successful claim, you'll need to prove:
you owned the item, so keep all your receipts if you have them.
you had the item with you, so take a photo of your camper van contents before you leave. Update the photo every now and then on long term trips.
the item was stolen, so you'll need to inform the police. The insurance company will ask for the crime number.
Insurance for living in a van full time
Living in a van full time doesn't take away our need for medical insurance.
If you travel away from your home country, travel insurance is critical. A decent policy will get you home under some circumstances and cover any emergency medical needs.
Long term travel insurance is important but your health needs don't start and end with emergencies.
What happens when you need to see a doctor for a non urgent issue or for pre-existing conditions your travel insurance provider has excluded?
You'll either need to pay for it your self, or if you come from a country provide a national health service like the UK or Canada, go home.
Going home isn't an easy option for long term travellers, especially when they live in a van.
And that's where SafteyWings Remote Health policy comes into its own.
Annual policies, payable monthly, cover members for pre-existing conditions, diagnostic procedures and even cancer treatment.
Prevention is better than cure
Even with a terrific camper van insurance policy, we all want to avoid loss of our contents of worse.
Prevention is better than cure so keeping your camper van secure is important.
Follow a few common sense rules to help avoid awful situations:
Lock your camper van! Sounds obvious but we know how easy it is to forget to lock one door.
When unattended, always remove the ignition keys and never leave the engine running. Keep keys out of sight and away from windows and doors.
Fit an anti-theft device, such as a steering lock.
Close all windows when leaving the camper van unattended.
When unoccupied, remove all non-fixed gadgets.
Keep all your valuables out of view.
Think about fitting a secure box or safe.
Get creative and build hidden storage to hide valuables.
Fit an alarm to prevent break-ins, or an immobiliser to stop thieves driving your camper van away.
Make sure you have working fire alarms and fire extinguishers fitted.
Graham Bogie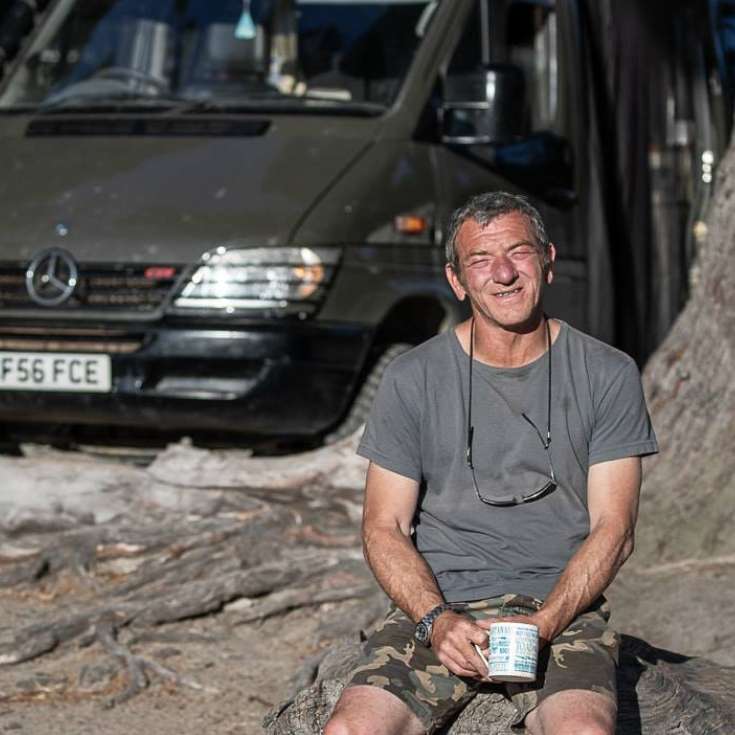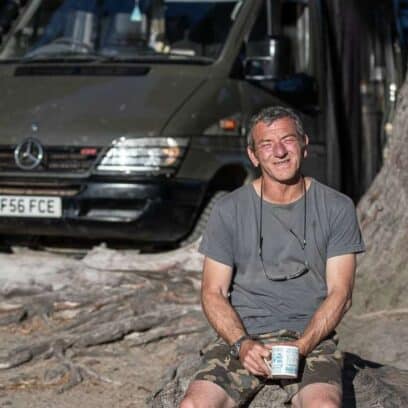 Graham is a seasoned marine electrical engineer with two decades of experience designing customized electrical systems for plant machinery and converting campers and overland vehicles. His expertise has led him to author the reputable Campervan Electrics Handbook and become the chief designer of the RV Wiring Design Tool. As a knowledgeable figure in the field, his YouTube channel, blog, Facebook group, and newsletter, offering electrical advice and product reviews, reach more than a million users each year.