Designing and building your camper van is a tremendous job. Even if you plan to outsource to an up-fitter, you still need the final say on things.
The camper van layout design you choose needs to suit your lifestyle, activities you expect to enjoy while living in your camper van, and provide the storage you need. It's critical to get the camper van layout right upfront.
Camper Van Layout Design
We spent many hours looking at other layout designs to help us refine our own van conversions. We ended up taking ideas from many different sources, including our own experience living in Mowgli before.
So to add to the researching camper van layout mix on the internet, here's our penny's worth. We've included plans, the materials we used, and some of the advantages and disadvantages of our design.
Hopefully, this will help inform you of your final camper van layout design.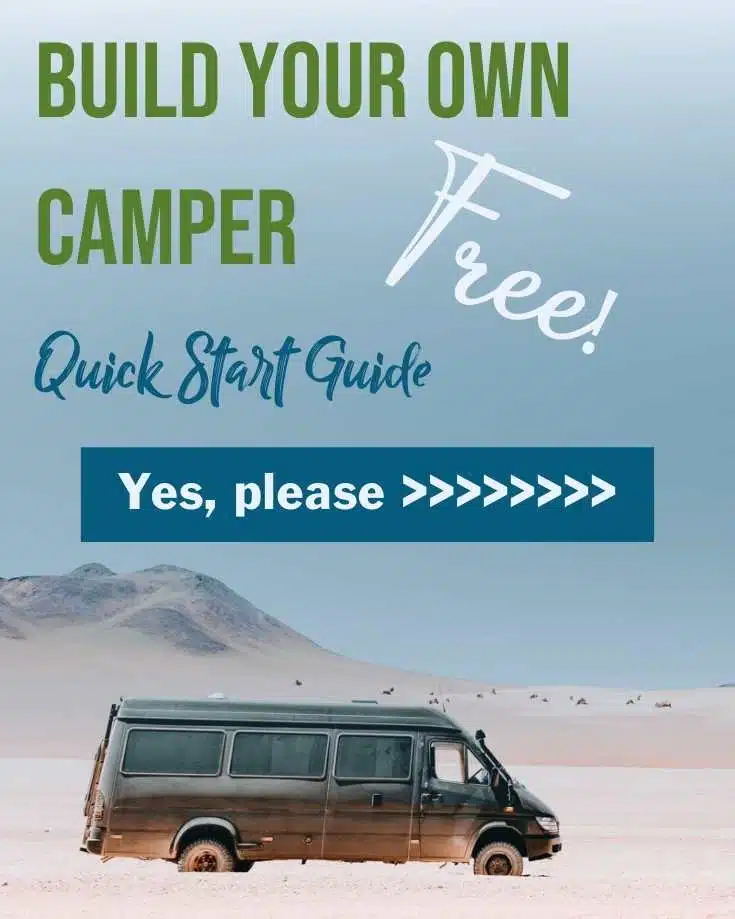 The Vanlife Our Camper Van Needs To Support
We're now living full-time in our camper van as we drive around and discover South America. This was the reason for the build in the first place.
In considering the aspects of the van's living accommodation important to us, the main thing was maximum daytime living space.
The South American climate varies from really hot and humid, to cold, wet, and windy, so we wanted to design a camper van we could live in and beside comfortably, regardless of the weather.
We don't carry bikes, motorbikes, canoes, surfboards, or rock climbing equipment so we don't need a large garage.
We're explorers first and foremost; we like to photograph and narrate the sights we see, so Baloo is our workshop, office, home, and safe storage of our gear.
We also expect to travel to a few remote places and it's sensible to carry some vehicle recovery gear for those odd occasions where a driver error gets Baloo stuck. Let's hope there isn't a repeat of Mowgli's incident Graham!
Elements We Needed to Include in our Camper Van Layout
With our lifestyle needs understood, we set about designing the layout for the van.
Working & Dining
When the weather demands indoor living, we still need to work on the blog, edit our photos and eat dinner. We wanted to include a good size table we could both work at together, without being cramped.
We had limited worktop space in Mowgli. In fact, most camper van designs we've seen don't have much at all. A decent amount of working counters is tantamount to luxury when living as a couple in such a small space.
This was something we knew at the outset we wanted to maximize.
Sleeping Arrangements
We had a fixed bed in Mowgli and can't deny it was fab. We didn't have to make the bed up every night or in the afternoon when the heat demands a siesta.
And we didn't both have to go to bed at the same time either. We'd love to have had a fixed bed in Baloo too.
At the time we started designing the layout, we had this as a must-have. But as the design progressed, we reconsidered just how critical it was to us.
A fixed bed needs 2m x 1.4m and is used mainly at night. While we're asleep! So during our waking hours, it's just taking up otherwise usable space.
And did we need so much storage underneath the bed? We even considered an electric, elevated bed on rails but we'd lose headroom during the day.
On balance, a fixed bed had more cons than pros, so the decision was made. No fixed bed. We decided on a 2-meter long couch that slides out to become a full-sized double bed. When closed we lift the top to store our bedding.
Onboard Bathroom Facilities
Before we had Mowgli, we traveled in Land Rovers and Land Cruisers with rooftop tents. A bathroom was often a bush, campsite, or restaurant facility.
Moving into a camper van provides the opportunity to have an onboard bathroom. We had one in Mowgli the Unimog, and it didn't take much getting used to.
We hardly used the indoor shower in Mowgli so when designing Baloo, we decided we wanted the indoor toilet but showering indoors wasn't essential.
So both (!) our campervan showers are for use outdoors in our final design. So far, we think it was the right decision.
Designing Our Camper Van Storage
Our camper van was once a minibus so has windows all around. The light makes the space feel roomy and we didn't want to close them off.
Neither did we want to mount overhead lockers; they'd provide extra storage but detract from the roomy feel we aimed for. We went for the minimalist look and approach to storage and packing. In fact, it wasn't even difficult.
Aside from our clothes, kitchen equipment, and electronics, we have a slender storage area at the back door for outdoor gear like our chairs, bbq, and awning.
We even have a library – ok it's small but we keep books in it, so it's a library.
One of the things we love most about our design is the walkway. We can walk through from the driving seat to the side door to the back door during the day.
Living out of the back or side of the van is easy and it really gets the breeze blowing through too so has a lovely cooling effect.
Build Material Choice
Our choice of material came down to 4 things: budget, ease of build, weight, and finished look.
We didn't want to spend our travel budget on building the camper van so the only other choice was to build it ourselves.
While this would save us thousands, as a self-build, the material choices and tools required for the design needed to be suitable for a reasonable DIYer.
Graham's an engineer so more accustomed to metalwork than woodwork. And although Baloo is rated at 4.6t, we'd like to keep her weight down as much as possible, maybe less than 3.5t.
We chose to build the framework for the bed, storage, and bathroom from 25mm box aluminum with plastic angle joints for connections. It took 100 meters of aluminum all in.
For more information about Modifying an overland vehicle – Click here
We used di-bond to line the bathroom and make the cupboard doors. Di-bond is a 3mm thick Formica, aluminum, and plastic composite sheeting.
It comes in a range of block colors or could be screen printed with your own designed pattern if you want something a little different.
Using aluminum and di-bond was about 10% more expensive than wood but only 30% of the weight. We chose two di-bond colors, cream for the furniture exterior and white for the toilet and internal cupboard lining.
Camper Van Layout Design
Camper Van Layout – the Driving Setup
Our Sprinter is right-hand drive and the sliding side door is on the left. We use this as the main entrance into our living room, and we wanted to keep this as a spacious area.
The couch is 2m long and behind the driver's seat. It's hinged so we lift the base to access the storage space below.
Kitchen & Storage space
The kitchen is between the back doors and the end of the couch and at 2.4 meters long, gives us loads of worktop space. The counter is fitted with an inset sink and diesel cooker.
The bench end is chamfered to allow easier access out of the back door without having to open both doors.
There is also a half cupboard at the end of this long bench and is the storage for our outside showers hoses and emergency diesel cooker.
We used solid oak for the benchtops. Although it's heavy, it gives a real warm finish and over the years, we can maintain it with danish oil and sand it if necessary.
We protect it daily by avoiding any sitting water and using cork coasters to rest the pots and kettle on.
Baloo has twin wheels on the rear axle so the arch eats into the kitchen cupboard space a little.
We still have 220 liters of storage space though as well as 2 fitted cutlery drawers; plenty of room for all the kitchen equipment, food, and clothes.
Along the left side, we've kept the sliding door space free and have chamfered the bench and cupboards to allow access for when the table is up.
The narrow bench is our library, storage for our electronics, and often doubles as a drinks cabinet.
The full-width bench that follows towards the rear houses a chest fridge. The benchtop is hinged and lifts to access the fridge.
There's more deep storage space below the fridge and around the wheel arches should we ever need to use it.
Bathroom
The bathroom is full height and contains our campervan composting toilet, toiletries, and hanging space for wet coats and laundry.
The final full-height cupboard at the back door is the camping store, and home to the hopefully never needed recovery gear.
Further recovery gear is attached to the inside of the door and on the outside ladder.
Camper Van Layout – Office & Dining Setup
When we pull up to stay somewhere for a few hours, we can swivel both front seats around into the living area.
We set the table and can comfortably fit 4 around to eat and even more to drink a small glass of red wine or 2. 7 guests is our current record on a cold, wet Welsh Easter weekend.
We can still get from the front seats to the kitchen and bathroom when the table is up too.
Our awing is a 3m2 tarp we attach to the roof rails. We can use it at the back or the side doors.
Camper Van Layout – Sleeping Arrangements
When we want to sleep, we drop the table, slide out the bed and use the back cushions to become the second half of the mattress.
We store the bedding under the couch so we have a little routine to remove the seat cushions, open the bench, remove the bedding, close the bed base, slide open the bed, replace cushions and then make the bed up.
Reverse routine in the morning. After a couple of days of use, we became very quick and organized and, delighted we decided against the fixed bed.
If one of us wants to go to bed early and the weather outside isn't great, the other can sit in the front seats to continue reading or whatever. In the case of an extreme event, all four doors are easily accessible for a quick exit.
In this layout, we have a full-size bed and can still access the side door, kitchen, and bathroom, so nighttime toilet visits and early morning coffee aren't a problem.
Our Camper Van Layout Design – The Verdict So Far
Designing the layout of a camper van isn't easy and even with careful planning, the finished design will incorporate some compromises.
The key is to prioritize what's important to you at the design stage so keep any compromises to a minimum.
So far, we're generally happy with our design. The build provides ample storage, is functional and lightweight.
We're yet to get Baloo re-weighed but we think she's around the 3.5t mark. It's a terrific layout for cooking, working, and even entertaining.
We love the uncluttered look and simple clean lines and the worry we had about making the bed up each evening has all but evaporated.
This was definitely a compromise worth making for the extra living space it provides during our waking hours.
We like our material choice and the high gloss finish helps with the brightness inside the van.
It can scratch quite easily though and while we are rather careful, it may not survive intact less careful owners.
If we were to change anything, it would be the design of our mattresses. We had 3 2 meter cushions made up but in hindsight, we'd have split these into 6 1 meter lengths.
It would have made putting the bed up each night a tiny bit easier.
If you're thinking of a similar design, this is definitely worth thinking about, especially if living in your van alone.
Our Camper Van Layout Design – Materials Used
When you click on links to various merchants on this site and make a purchase, this can result in this site earning a commission. As Amazon Associates, we earn from qualifying purchases. For more info, please check our disclosure page.
Insulation, panelling & floor
Kingspan 30mm & 50mm boards
Rock wool insulation
Framework & benches
Aluminium box tubing
3mm Dibond
25mm self tapper screws
27mm oak block board
Furniture
Chromer locks
Plastic lightweight tambour sliding doors for the bathroom