You've finally made it through the bulk of your campervan conversion and on the home stretch! It's probably been a long road for you to reach this goal, and now it's time to get your van flooring sorted.
Your camper's flooring consists of several different parts, starting with your van's metal floor. It also includes a sound dampener, insulation, and a plywood subfloor. After all of these parts are installed, you can then focus on the actual van flooring .
One of the most daunting decisions of renovating a campervan is deciding which flooring option is the best for you and your van. There's an overwhelming amount of choice.
Each has its own set of pros and cons, and only one will best fit your chosen campervan lifestyle. Once you've decided which van flooring material is best for your lifestyle, it's time to buy.
You really don't need much when renovating a campervan, and chances are there is someone local who may have some leftover from a larger house renovation. It's worth checking in the local ads before you buy a bulk load because it's a great way to use the resources available to you and get some quality flooring on a budget.
You will also need to install van flooring edging. Raw edges in busy areas can deteriorate quickly (like doorways), so take care of exposed edges during installation. You can use different types of edging material to match your floor covering, like vinyl, aluminum, hardwood, and laminate.
When you click on links to various merchants on this site and make a purchase, this can result in this site earning a commission. As Amazon Associates, we earn from qualifying purchases. For more info, please check our disclosure page.
Do You Need Subflooring?
The short answer is yes! You do need subflooring in your campervan conversion.
The floor of the base vehicle is most likely a relatively thin metal base. It's uninsulated, and the surface isn't suitable to take the floor covering directly. You'll need to prepare and install a subfloor first.
Subflooring provides a solid, level surface for your van flooring. Think of it as the support base for your flooring. Installing subflooring is essential to prevent your flooring from cracking, warping, or peeling up.
It also protects the van flooring from any moisture that may build up on the base of your van. In addition, this helps with mold issues, which can be unhealthy and difficult to fix.
We'll write another post on how to install a subfloor (one day), but in the meantime, here's a quick summary:
Empty the van & sweep, and thoroughly clean the floor.
Prepare the surface by covering any holes, and give the floor a rust treatment where necessary. Include all bare metal, rust damage, and scratches.
Adding sound deading is an optional extra (we reckon the weight of the furniture is enough on the floor).
Lay 2"x2" furring strips and glue them in position. The aim is to leave enough space between the strips to install insulation board but close enough together that you can use them to secure the subfloor in step 6.
Install insulation in between the furring strips.
Using ¼ inch to ¾ inch plywood, cover your camper's floor, making sure all the seams are neat and level. Using a cardboard template of the floor is a great way to ensure a good fit.
If you've bought a used camper, check out the condition of the subfloor before ripping it up. It may be adequate for your needs, so you can save a little money on the build.
If you need to rip it out and start again, try to remove the original wooden subfloor with some care – parts of it could be reusable.
Installing a subfloor is one of the first jobs in a campervan conversion but once it's in, try to avoid the temptation to lay your final campervan flooring. As the build progresses, it will undoubtedly become scratched and damaged. So instead, wait until you've almost finished the conversion.
Let's go over all of the flooring options for your campervan!
Out of all of the flooring choices for a campervan, our top pick is Luxury Vinyl Plank or LVP. This one ticks all of the boxes – it is durable, easy to clean, and looks beautiful. This type of flooring is very popular in homes right now, so there are many colors and designs to fit the aesthetic you're creating.
Another perk of LVP is that installation is a breeze. This type of flooring is a tongue and groove installation or floating installation. There is no adhesive, so the planks just click and lock together.
The seams also prevent moisture droplets from seeping through the cracks in your planks, which is important to prevent molding issues. It's also super easy to clean.
Besides floating installation, there are also peel and stick installation products, essentially peeling the backing off and sticking it to the floor.
These are just as easy to install but very difficult to uninstall. If you think you may change your mind in the future about your camper van flooring, we recommend choosing the floating installation.
When shopping for your LVP, take note of your choice's "wear layer". Every manufacturer will list this, and it basically describes the thickness of the protective coating on the planks. The thicker this layer is, the more durable it will be.
What We Like
Durable
Easy installation
Wide variety of colors and designs
What We Don't Like
Can be expensive, depending on the thickness of the wear layer
Not the most environmentally friendly
Sheet vinyl flooring comes in one long continuous roll. Installation involves cutting the sheet vinyl to fit your floor and gluing it down. It is a cheaper option and relatively lightweight. While less durable than LVP, it will still hold up well in your campervan.
Since there are no seams, sheet vinyl is completely impervious to water, which is a significant advantage. It's also extremely easy to keep clean.
However, since it is one continuous piece of flooring, it is inconvenient to do small repairs without ruining the entire floor. Since you are also gluing the vinyl down, it is very difficult to uninstall or change it if it gets damaged.
If you do choose sheet vinyl flooring, make sure to pick one with low VOCs (volatile organic compound) to limit the amount of toxic fumes in the air. This is especially important for such a small space as a campervan.
What We Like
Cheaper
Lightweight
Relatively durable
What We Don't Like
Difficult to do spot repairs
Difficult to uninstall or change
If you're renovating your campervan with eco-friendly and sustainable materials, cork flooring is for you. This type of flooring is soft underfoot but also incredibly durable and solid.
Cork also works as an extra layer of insulation and as a sound dampening material, actually double that of vinyl's performance. Another advantage of cork flooring is that it is resistant to fire, water, bugs, and mold.
Cork can either be purchased as sheets that need to be glued down or as planks with tongues and grooves that can interlock as a floating installation. Installation is not as easy as vinyl though, as cork needs to be sealed to prevent damage.
It actually needs to be sealed every two years, so there is some general upkeep when having cork flooring. As long as you have your cork flooring properly sealed, it is relatively simple and easy to keep clean.
Cork is also an expensive material; however, since a campervan is relatively small, you will most likely not need much of it. You need to weigh up what's most important to you when choosing your camper van flooring. The cost may be worth it.
What We Like
Eco-friendly and sustainable
Insulating and sound dampening
Resistant to fire, water, bugs, and mold
What We Don't Like
Most expensive option
Requires upkeep with sealing
Rubber coin grip flooring is a very durable and thick material to use in your campervan. It provides a lot of insulation and sound deadening properties and is very simple to install.
Many people use rubber flooring in the "garage" portion of their build, but outdoor enthusiasts may also like it throughout the entire van.
If you're someone who does a lot of snowboarding, surfing, or bicycling, a rubber floor covering may be your best option because it is completely waterproof and can accommodate the inevitable wear and tear from your gear. This is another van flooring option that is simple to keep clean.
Some of the downsides of rubber flooring include the smell, which can be bothersome to those with sensitivities. Because of its thickness, it is also extremely heavy. If you are nearing your van's weight limit, you may want to choose another option.
What We Like
Durable and strong
Waterproof
Easy to install
What We Don't Like
Can have a smell
Extremely heavy
Linoleum is another excellent option for your campervan flooring. Not only is it non-toxic, hypo-allergenic, and antimicrobial, but it is also water, fire, stain, and static-resistant.
It doesn't emit any VOCs, so there's no need to worry about toxic fumes in your space. It's also made of naturally renewable materials, so it's one of the more eco-friendly options on the list.
Linoleum is usually purchased in sheets or as a roll that needs to be glued down as adhesive; however, there are some products that can be installed floating. This type of van flooring is also very easy to keep clean.
This flooring option is not as durable and does scratch and dent easily. This is probably not the best option if you see yourself being rough on your flooring. If you are exposing the camper van flooring to lots of sunlight, it can also discolor over time. Some linoleum products do have a protective coating to prevent this from happening.
What We Like
Non-toxic and hypo-allergenic
Water, fire, stain, and static-resistant
Made of naturally renewable materials
What We Don't Like
Not as durable and scratched easily
Can discolor in the sunlight
Nothing is more impressive than beautiful, rich hardwood flooring. If you're going for aesthetics and this is really your only concern, then hardwood flooring maybe your best option. It's classic, timeless, and also is warm to the touch, which may be nice if you'll be camping in cold climates.
As beautiful as it is, it may not stay beautiful for long. Hardwood flooring can scratch easily, and it may not stand up to the rough van life. It is also very heavy and tall, which may weigh down your campervan and reduce overall space. As long as you use hardwood cleaner, it is relatively easy to keep clean of dirt and mud.
If you'll be in more wet and humid climates, hardwood may not be your best option. This type of camper van flooring tends to absorb moisture, which leads to warping, bowing, and swelling, which can completely ruin the floor.
What We Like
Classic, timeless, and beautiful
Warm to the touch
What We Don't Like
Scratches easily
Heavy material
Absorb moisture, which can damage the van flooring
Laminate flooring is inexpensive, easy to install, and comes in a wide variety of colors and styles. This type of van flooring is very popular with DIYers, so it's easy to find and has lots of options to fit your design aesthetic.
Laminate flooring is durable and strong and is also super simple to clean. It comes in planks with tongues and grooves, so installation can be done in a floating manner. It is not as easy to install as vinyl flooring, but still relatively simple.
The biggest downside to laminate flooring is that it is not water-resistant. It is susceptible to absorbing moisture, which causes swelling and mold to grow. There are some waterproof products on the market, but they are more expensive.
What We Like
Inexpensive
Comes in a variety of colors and styles
Durable
What We Don't Like
Not water-resistant
Takes longer to install than vinyl flooring
This is probably the most surprising flooring choice on our list, but interlocking foam tiles can be a great option for your campervan flooring. This is the type of flooring material you might see in a gym or playroom.
It's easy to install because you simply lock the tiles together. It's also cheap and incredibly lightweight. The tiles can be easily wiped clean or vacuumed, so this option is perfect if you'll be tracking lots of dirt or mud.
This is a great option for the "garage" portion of your van but may also work for your campervan's entire flooring too.
If you happen to have rugged, heavy, or sharp gear, interlocking foam tiles may not work for you. This type of flooring can be prone to tearing. It's also not the most aesthetically pleasing option, so if you care about looks over function, this may not work for you.
What We Like
Inexpensive
Easy to install
Easy to keep clean
What We Don't Like
Can tear easily
Not very aesthetically pleasing
While carpet is a flooring option for your campervan, it is not the best suited for outdoor living. It can attract lots of dirt and is probably the hardest van flooring option to keep clean. However, if your heart is set on a warm, carpeted campervan, there are some pretty durable indoor-outdoor carpet options that are waterproof.
Installing carpet is fairly easy and involves cutting the carpet and stapling it to your plywood subflooring. There are also peel-and-stick carpet tiles that you can use as well, although uninstalling something with adhesive is more difficult. For carpet, you will want to use aluminum or metal transition strips for your edging.
If you would just like to add some extra coziness to your space, you can always use a small rug on top of your flooring that you can easily remove, shake out, and clean.
What We Like
Soft underfoot
Can create added coziness
What We Don't Like
Can easily stain and attract dirt and debris
Difficult to clean
How To Choose The Right Campervan Flooring Option
There are lots of different features to consider when choosing the best campervan flooring for you and your build. You want the flooring to be strong enough to withstand van life, but you also want it to be lightweight, inexpensive, and good-looking.
Choosing your flooring depends on your campervan lifestyle. Will you be using your campervan for water activities like surfing or snowboarding? Do you need strong flooring for your bicycle gear? Do you just want your campervan to fit your interior design dreams? Figure out where your priorities lie for your campervan and go from there.
After doing a few of our own campervan renovations and builds, we've compiled our list based on the following factors. Luxury Vinyl Plank flooring is our favorite and ticks all of the boxes for us, but it's up to you to decide for yourself.
Durability
The durability of your campervan flooring may be the most important factor when making a decision. You'll be walking, standing, and living on this floor a lot, so it needs to be able to withstand the wear and tear of van life. You should also consider how much moisture the material absorbs because that can ruin your flooring and create a mold issue.
Weight & Height
Your campervan can only hold so much weight, so choosing a lightweight material may be beneficial. In addition, you don't want to choose an overly tall flooring option.
Every square inch in your campervan counts, and you don't want to give up living space just because of your flooring's height. You should definitely take the flooring's weight and height into your calculations and choose one that will work for you.
Budget
There is really no need to break the bank when it comes to your campervan's flooring. Going for the cheapest option may not be the smartest decision, though.
While the material may be cheap to purchase and install, you may need to replace or repair it sooner than a slightly more expensive option. However, several inexpensive products on the market are both cheap and durable. So do your research and stick to your budget.
Appearance
Obviously, you want your campervan to look amazing and fit your interior design dreams. What kind of look are you going for? Figure out if you prefer something more modern or rustic or something with warm or cool tones. Deciding on the kind of style you are going for will help you narrow down your choices.
Wrapping It Up
Installing the flooring in your campervan is very exciting and will really finish off the look of your build. There are many options to choose from, including functional choices like rubber, eco-friendly choices like cork flooring, and beautiful choices like hardwood flooring.
It's important to consider the durability, weight, height, and appearance of the flooring as well as your budget when making a decision.
Our top pick is Luxury Vinyl Plank (LVP) flooring because it is durable, easy to clean, simple to install, and looks beautiful in a campervan. It's in so many homes right now (maybe even your own!) that scoring some leftover planks on the cheap can be pretty easy.
Our best advice is to do your research, determine which factors are most important to you, and choose your campervan flooring accordingly.
Graham Bogie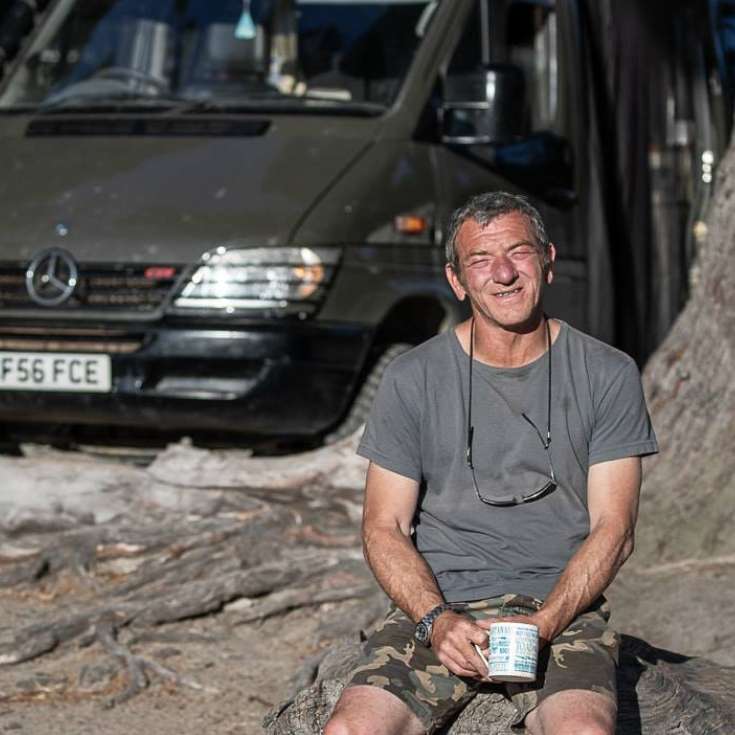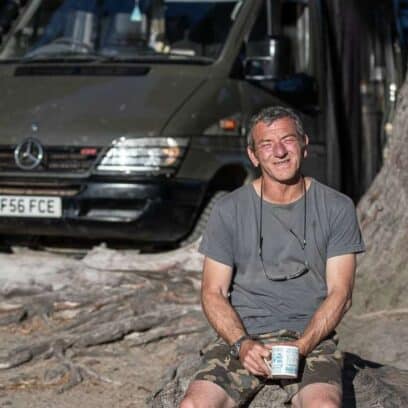 Graham is a seasoned marine electrical engineer with two decades of experience designing customized electrical systems for plant machinery and converting campers and overland vehicles. His expertise has led him to author the reputable Campervan Electrics Handbook and become the chief designer of the RV Wiring Design Tool. As a knowledgeable figure in the field, his YouTube channel, blog, Facebook group, and newsletter, offering electrical advice and product reviews, reach more than a million users each year.