Looking for perfect campervan gifts for the on-trend traveller in your life? Choosing the ideal presents for campervan owners isn't always easy.
When living in a van, space onboard is limited so you don't want your gift to take up too much room.
Unless you're buying a present for someone new to the scene, chances are they have most practical campervan accessories covered already.
The perfect campervan gift needs to be practical, useful, compact and offer a bit of a luxury in equal measure.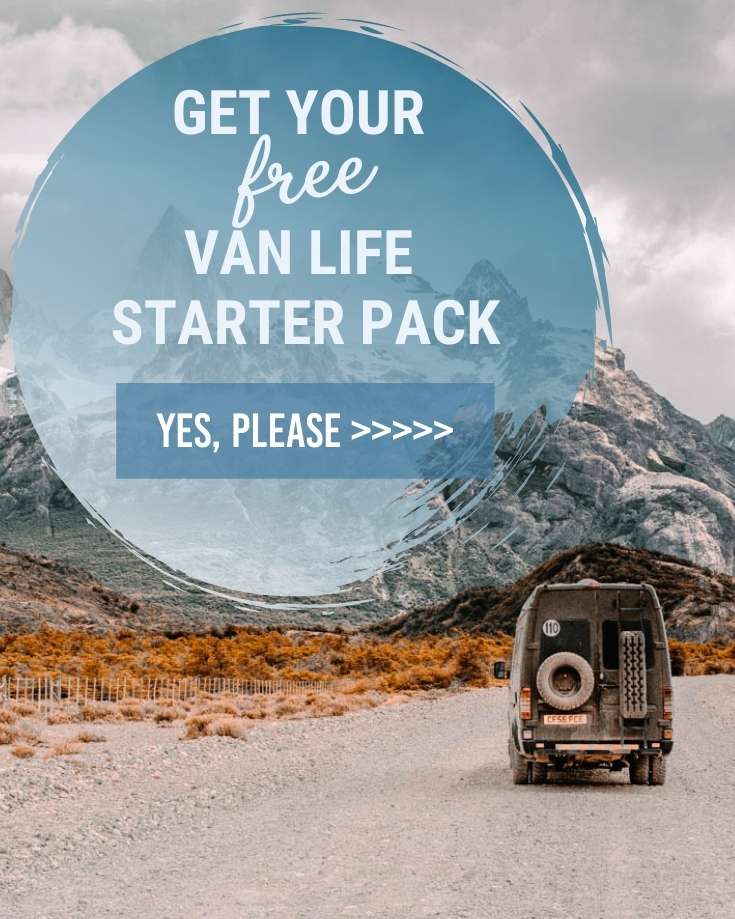 When you click on links to various merchants on this site and make a purchase, this can result in this site earning a commission. As an Amazon Associate we earn from qualifying purchases. For more info, please check our disclosure page.
Fun & Practical Gifts for Campervan Owners
Having travelled in a campervan for almost 6 years, the last 2 full-time, we've based our list on things we wouldn't want to travel without.
So forget ideas of scratch wall mounted maps and his and hers Louis Vuitton carry on luggage.
Here are some of our best campervan gift ideas guaranteed to put a smile on any van dweller face.
These gift ideas are perfect for intrepid explorers travelling in their tiny home, no matter what your budget.
And they'll actually use them too.
Let's start with some free stuff
Yep you've read it right. Free stuff! Not everything has to cost an arm and a leg.
You may not be able to wrap these up but honestly, if you tell someone about these that doesn't already know about them, they'll thank you forever.
And wonder how they managed before too.
1. Maps.Me
This is our goto app for GPS mapping. We've travelled across much of South America with this and wouldn't leave home without it.
Download the app to a phone or tablet along with the maps of the places you plan to visit and away you go.
Offline maps at your finger tips for free.
Turn up the volume to listen to the driving directions and warnings.
2. iOverlander
This is a phenomenal app not just for overlanders but for anyone travelling independently.
The app is created and maintained by overlanders. Travellers add points of interest to the app and all users can see them when they refresh the app.
You can update an existing point of interest with the latest prices, new information and add photos so it stays fresh.
The app isn't really about tourist attractions – tourists can find these in any guide book. It's primarily for independent travellers.
Entries include fuel stations, campsites, border crossings, laundries, where to get fresh drinking water and empty campervan toilets and find good mechanics. And the list goes on.
Once downloaded, you can even use iOverlander offline. Just refresh it every now and again to upload any entries made by you or others.
The only downside (if you can call it that) is it's easy to rely on it a little too much – especially for finding free camping locations.
3. Free camper van conversion guide
If you want to give a gift to someone thinking about building their own van, then give them a link to our campervan conversion guide.
We keep threatening to turn it into an ebook but never seem to have the time. Until then, these articles are free to help plan, design and build a camper.
And we're always happy to try to answer questions people have about their van build too. Just drop us an email and we'll respond when we're next online.
Outdoor Gear
Doesn't every campervan owner love the outdoors?
Well, maybe not but an awful lot do. More often than not, much of our life is lived outdoors.
Whether it's outdoor activities like hiking, photography, something more extreme or living outdoors beside the van.
Maybe they already have a sleeping bag, camping chair or even a bike rack.
The best gifts for motorhome owners are completely useful but they wouldn't have thought of buying themselves.
Here's a few gift ideas perfect for the outdoor life any campervan owner will love.
4. Portable Power Charger
Even with the electrical set up in our campervan our phone batteries still run low on long hikes. Especially when we're using mapping software for navigation.
These handy devices are lightweight and charge most phones upto 8 times.
A perfect practical gift for campervan owners and hikers alike.
5. Simple Camp Shower
Building a bathroom in a campervan takes money and space.
While we have a shower in our camper, we decided against installing it in the bathroom.
Instead, we shower outdoors at the back of the van.
Smaller vans simply don't have the indoor space for a shower room.
For us, having a shower isn't a nice to have. It's essential.
It keeps us from visiting expensive campsites out of necessity and we can stay off-grid for longer too. It's helped us to live in the van full time for as long as we have.
A simple shower solution makes a perfect gift even if there's no space indoors for a shower.
This camp shower holds up to 5 gallons of water so enough for a couple of showers.
Securing it to a tree, the campervan or even the roof, just leave the bag in the sun for a few hours.
On a hot clear day, the water can reach shower temperature really fast.
This is a perfect, simple solution and makes a perfect gift for owners of small campervans without an onboard bathroom.
6. Dry Bag
A good quality dry bag is a diverse and practical addition to any campervan set up.
We bought ours for our Antarctica trip but we've used them so often since – especially for carrying our camera gear onto boats in the Pantanal and Ibera Wetlands and hiking in wet conditions.
Whilst it may not seem an exciting gift, it will get plenty of use. Believe us.
They've saved us from losing or seriously damaging our equipment on a few occasions!
7. Tent
We don't carry a tent in our campervan because our van is big enough to live indoors in wet and cold weather.
But some camper vans are much smaller and living beside the van is the only way to stand up straight.
A pop up tent, tall enough to stand up in makes a perfect lounge and gives a little shelter from the elements.
And doubles as an extra bedroom for visitors.
8. Folding BBQ & Grill
BBQs can take up so much space in a campervan, even a small one.
But these fold up so they fit at the bottom of a drawer or cupboard when not in use.
We've been trying to pick one of these up here in South America and not yet found one.
So don't make our mistake and buy one before you leave home.
Chile, Uruguay and Argentina have many public BBQs. Many either have no grill, a dirty one or one much too high for cooking a small steak for 2 people.
We carry a grill with us and use it almost everyday in those countries.
Camper van gifts to keep explorers comfy
Curling up inside a campervan, especially when its cold, windy and wet outside would be miserable without a few creature comforts.
After all, a campervan is a home whether for a short road trip or long term travel.
There's no reason to be uncomfortable.
These camper van gift ideas make for cosy winter nights and lazy summer days without taking up too much storage space.
9. Hammock
There's nothing like pulling up on to camp, strapping up the hammock and gently swaying in the shade of a tree to unwind.
Better still, portable standing hammocks are perfect for car camping and don't rely on well spaced trees.
If you're buying a present for an even more adventurous traveller and they'd like to sleep outside, opt for the hammock tent.
It keeps mozzies out and is great for sleeping in humid environments.
10. Rumpl Blanket
A durable must-have addition to cosy up in any camper van.
They come in a huge range of colours and pack away easily so they can fit into unused small spaces in storage compartments.
Waterproof, odour and stain resistant, these blankets are perfect for chilly evenings by the campfire or long, cold nights indoors when living in a camper during the winter.
They can double up as an extra layer on the bed, over sleeping bags or even as a comfy throw.
11. Thick chunky comfy socks
A fellow traveller gave me a pair of thick wooly socks in Patagonia.
They have non-slip grips on the soles and I love them.
I can't get my feet into a pair of shoes or boots with them on but I use them as my indoor slippers.
12. Fleece Pyjamas
They may not be stylish. They may never see the outside of the van. But they will get a lot of wear!
A pair of comfy pjs, coupled with my thick socks and wrapped up in a blanket with a cup of steaming tea.
Does life get any more cosy?
Practical gift ideas for campervan owners
Until we started living in the camper van, we wouldn't have thought of half of these practical things to make van life so much easier.
After years of trial and error, finding solutions to small issues we encounter in daily living, we've come up with this list of practical gifts ideas.
They'll get plenty of use for sure.
13. Electronic mosquito swatter
This device is a must-have for anyone travelling to an area where mosquitos and midges can make life quite uncomfortable.
When insect repellent and incense just don't cut it, this electronic swat is THE answer.
It looks a bit like a tennis racket but packs an almighty 4000 volt electric shock into any little critters that come into contact with it.
So just before bedtime, gently sweep the air with this swat and van dwellers can have a bug free night.
14. LifeStraw Go Water Filter Bottle
Some water sources can be questionable, depending where you are. If the camper isn't fitted with a water filtration system, these handy devices are a life saver – literally.
You can buy them as a complete water bottle but they have a straw only option too.
A steripen is great alternative too. It's a handheld UV water purifier and zaps the impurities of upto 8000 litres!
15. Portable bluetooth speaker
For campervans without built in bluetooth speakers, these portable devices are perfect.
We use our Bluetooth speaker to listen to music outdoors or get a more cinematic experience when we're watching the latest new release on Netflix.
Who knew campervan living could be this good?
16. Environmentally friendly toiletries
It's really difficult in some places in the world to buy environmentally friendly toiletries.
Gifting of these alternatives will bring a smile to the recipient's face and help save our planet too.
17. Trasharoo Spare Tire Trash Bag
These are basically hard wearing and waterproof canvas bags for collecting rubbish.
They fit neatly on the back of the spare wheel so there's no need to keep smelly rubbish inside the van.
They also double as the perfect container for carrying dirty barbecue charcoal.
18. AeroPress Coffee and Espresso Maker
The best filtered coffee on the road and a perfect way to start the day. No mess, no grit and a perfect coffee every time.
Make sure to buy the optional extra reusable filter so you'll never run out of the paper filters.
19. Scrubba Wash Bag
Van life laundry can be a challenge but with this nifty contraption washing your smalls doesn't need to be so much of a chore.
Pop in a few item of dirty clothes with a little water & detergent, give them a scrub and they come out well laundered!
Inside the bag is a washboard-like inner scrub panel that produces a machine quality wash.
20. Goal Zero Yeti
Our van is fused and wired and we have a fairly robust electrical system set up.
But we've met many travellers whose vans have next to no electrical supply, other than the vehicle's main battery.
The Goal Zero Yeti provides portable power on the road so you can charge laptops, camera batteries and phones anytime.
Simply plug it in when you drive to store up the power. You can even add a camper solar panel for extra juice!
Fun & quirky presents for campervan owners
Who doesn't love giving and receiving fun & quirky gifts?
Here's a few ideas we picked out because we completely loved them.
Most are practical too with the exception of maybe the Lego set. We just couldn't keep that one off the list!
21. Campervan colouring book
Long gone are the days when colouring books were something you could grow out of. Adult colouring books have become quite the thing.
A terrific way of reducing anxiety, colouring allows us to switching off and focus on the moment.
These colouring books are a perfect inexpensive gift and they won't take up much space in the camper either.
Just don't forget to buy the crayons too.
22. VW Camper mug
Surely no list of gift ideas would be complete with a novelty mug? Nope? That's what we thought too.
So whether you go for a chunky VW camper mug like this one, something less breakable like tin mugs or a more elegant cup, they make a whimsical gift for any camper van lover.
23. 1962 Camper van Lego set
Perhaps the most exciting thing on this entire list.
We may not drive a VW camper ourselves but we appreciate how cool these vehicles are.
So cool they have a Lego set created in their honour!
The detail is brilliant and the finished build includes includes split screen, pop-up roof, textile curtains, engine, wing mirrors and folding furniture. Does it get much more funky than that?
It may be the most impractical and ridiculous thing to actually pack in a camper van though.
24. Apron
We've had an apron on our shopping list for ages and we still haven't got round to picking one up.
When storage is in short supply, motorhome owners keep clothes packing to a minimum.
So believe me when I say, messing up your clean clothes by squirting food all over yourself when preparing dinner is as annoying as it gets.
These fun but highly practical aprons will save the day and reduce visits to the laundry too!
25. Novelty wash bag
The Volkswagen camper stuff available is incredible – there mustn't be much demand for similar products in the shape of a Sprinter van – shame!
But hey-ho.
Every campervan owner needs a wash bag.
They keep our toiletries all tidy in one place and they get a lot of use on campsites.
Why wouldn't a van owner want one to match their mug, apron and colouring book?
It's even officially licensed by VW! Who knew such a thing was necessary?
Gift ideas for RV owners with everything
Then there's those people you just never know what to buy them.
Van lifers are even harder to buy for if they've been travelling in their campers for a while because they've already got everything they need.
So what do you buy for them? Here's a couple of ideas.
26. Travel journal
We love our travel journals. While we regularly use Facebook and this blog to keep a track of places we've visited, they can't replace how we use our journals.
We scribble down all sorts of stuff: funny things we've said or heard, the names of people we meet and small incidents we encounter along the way.
Details we'd easily forget but fond to recall when we read our old journals.
These travel journals are a safe gift for any traveller.
27. Satellite tracker device
Contrary to popular belief, wifi and cell signals are not everywhere.
For those who travel to remote places in their campervans, the lack of communication can cause them (or more often their loved ones at home) some anxiety.
For peace of mind, a satellite tracker allows the user to trace and record their route (even off road), and make contact with someone in case of an emergency.
There's a few providers on the market like Garmin InReach and Inmarsat to choose from.
This is quite an expensive gift but if you're the person who wants some peace of mind, it's well worth it.
28. Travel insurance
If someone gifted us our annual travel insurance policies we'd be over the moon happy. Travel insurance isn't cheap but is essential.
If you want to buy someone a travel insurance policy, we suggest you discuss their needs with them first to make sure you buy the appropriate cover.
We're written a few posts on buying the right policy and finding the right travel insurance provider too. Read those articles for more information.
Otherwise, we recommend:
29. Gift Cards
If after reading this entire list you still haven't found the ideal gift for the campervan owner in your life, we've run out of ideas.
It's always safe to give them a gift card though so they can suit themselves. You can choose as much or as little as you want so you can't go wrong.
We hope our pressie guide has given you a few ideas for your campervan gift list and maybe even yourself!
Make sure to head on over to our Amazon store where we have a growing list of campervan gift ideas with up-to-date prices and availability.
If you can't find what you're looking for here, check out our gear guides for more inspiration:
Like it? Pin it!