A buyer's guide to the 6 best campervan ovens for van life.
---
Living in a campervan doesn't mean giving up Sunday roasts, homemade muffins, or crispy, fluffy roasties.
With a campervan oven, you can bake and roast to your heart's content.
The best ovens for your campervan depend on a few things. Do you want to cook inside the van? How often will you use an oven? How much space do you have available?
In this guide, we'll help you choose the best campervan oven for you.
When you click on links to various merchants on this site and make a purchase, this can result in this site earning a commission. As Amazon Associates, we earn from qualifying purchases. For more info, please check our disclosure page.
Best Campervan Ovens | Our Top Picks at a Glance
Best Campervan Ovens
With so many different ovens for campervans to choose from, how do you know which is best for you?
We've got you a selection of the best campervan ovens available today. The list includes our recommended in-built propane ovens, butane, portable ovens, and the best alternatives for those with limited space.
Best In-Built Gas Ovens for Campervans
There are lots of gas ovens for campervans available, so we've got a selection of our top 4 picks here.
Dometic Oven & Grill
If you're in the market for a campervan gas oven, we recommend this Dometic oven.
We had this fitted in the Unimog, and it is an ideal size for a couple's van conversion.
It's 20 litre capacity is perfect for 2 though a little on the small size for families.
It includes everything you need from an oven with electric ignition and interior light. It even doubles as a grill without taking up extra space.
12v ignition
20 litre oven
1 oven shelf
Thermostat & interior light
Combined grill
530 x 310 x 410 mm
Dometic Starlight Campervan Oven, Grill & Stove
The compact Dometic Starlight is designed specifically for the marine & RV markets.
Compact with 2 powerful burners on the stove, it's a complete cooker, not just an oven. This version also includes a separate grill.
The oven has thermostatic control for precision.
The only downside of this model is it doesn't have an ignition, so always make sure you have a lighter or matches handy. On the plus side, it doesn't need a 12v electrical connection.
Update: The latest Dometic Starlight model includes a safety ignition system!
No ignition
19.8 litre oven
1 oven shelf
grill & 2 burner stove
450 × 505 × 420mm
Thetford Ovens
Thetford is a well-known brand in the world of motorhomes and campervans.
Though we most associate their name with portable camping toilets, they also do a great line on ovens and cookers.
The Thetford Duplex is a good size for medium-sized campervans, and the oven is as big as many household appliances.
It includes an integrated grill, ideal for cheese on toast!
Choice of Piezo or 12v ignition
36 litre oven
2 oven shelves
445 x 456 x 490 mm
If you have a large motorhome, caravan, or RV and looking for a full-sized cooker, similar to a household appliance, the Thetford Caprice Cooker is a great choice.
Full-size oven, grill & hob
12v ignition
36 litre oven, 13 litre grill & 4 burners
2 oven shelves
844 x 513 x 500 mm
Best Portable Gas Ovens for Camping
Portable ovens are ideal if you don't want to install a permanent oven in your camper.
The ovens are still a fair size for those living in a van full-time, though you'll need to find storage for it.
They're ideal for camping weekends or short trips, though, where you can choose to bring it along or leave it at home.
NJ CO-01 Portable Gas Oven
The NJ CO-01 portable gas oven is designed for outdoor use on a camping table and ideal for car camping.
They're pretty bulky items and need propane bottles, so forget carrying this around in a backpack.
Some people have modified and installed them as in-built ovens in their campervans.
While this may sound like a great idea, we encourage you to think that one through.
The price of this is comparable with the Dometic Duplex, designed for indoor use, so you won't save any cash.
Any modifications you make invalidate any warranty.
More importantly, your van and potentially your life is at risk by dicking around with gas appliances.
If you want a portable oven, this is a great option but only use it outdoors as per the manufacturer's instructions.
The Camp Chef Camping Outdoor Oven is a comparable oven, popular in the US.
2 oven shelves
Adjustable wind-resistant panel
2 burner stove & oven
Piezo ignition
Compatible with butane & LPG (propane)
15kg
540 x 300 x 460 mm
Kampa Freedom
The Kampa Freedom is similar in size to the Camp Chef Camping Outdoor Oven but uses small, disposable cartridges rather than big propane bottles.
It is the biggest disadvantage of the Kampa Freedom.
While carrying small canisters around is lighter and more convenient, it's not great for the environment.
30 litres oven
Oven temperature gauge
Complete with carry bag
470 x 325 x 325 mm
Weight: 9.6 kg
The Best Alternative Ovens for Campervans
As you can see, all the in-built ovens and portable ovens take up a fair amount of space.
So what if you live in a small camper or won't use an oven often?
Fortunately, a smaller kitchen gadget is available to give the benefits of an oven but without the size.
The Omnia oven is growing in popularity amongst van lifers, and it's even on our wish list!
So long as you have a stovetop (inside or out), you can use the Omnia to bake bread, cakes, pizzas, and roasts. And much more besides!
The stovetop oven works by heating the air under the pan and in the top part of the pot. It creates an oven-like environment.
It comes complete with a cookbook, and you can buy optional extras like a handy carry case and muffin tray.
Note though, these won't work with an induction cooktop.
As soon as we find one of these, we'll buy one! As we live and travel in our campervan full-time, online shopping doesn't quite work for us!
Things To Consider Before Buying A Campervan Oven
Some ovens can account for a fair portion of the campervan conversion cost, so it's essential to buy the right one for your lifestyle.
There's a lot to think about before you buy a campervan oven.
Will you cook inside, outside, or both? Do you have space for a full oven? What fuel will you use? Do you even need an oven in your camper?
Here, we'll walk you through each consideration when choosing the best campervan oven.
You can use these links to skip ahead or read through everything.
Do You Need An Oven In A Campervan?
Whether you need an oven in a campervan depends on you and your van lifestyle.
If you can't live without a daily loaf of homemade bread, Sunday roasts, and tray bakes, you might consider an oven essential.
But if you prefer stews and BBQs over slow-roasted pork belly, choosing a space-saving alternative, a campervan cooker, or no oven at all might be the better option.
We've lived full-time in Baloo, our Sprinter van conversion since 2018 without an oven.
There are times we wish we could bake fresh bread or quickly heat a pizza, but we survive.
Before Baloo, we lived full-time in our Unimog, Mowgli, for almost 2 years, and we did have an oven.
We used it a couple of times a week, and while it was great to have the option of a roast chicken dinner, it felt like a luxury, especially in terms of space.
Fortunately, our list of the best campervan ovens includes alternatives, so a fully installed oven isn't the only baking option.
What Fuel Is Best For Running A Campervan Oven?
Most ovens for campers use either propane or butane.
While both fuels are petrol-based, they usually can't be used interchangeably. So if you have a butane oven, you can't use propane and vice versa.
The problem with butane is sourcing it. Because it's hard to find and you can't refill the bottles, butane tends to be more expensive than propane.
We recommend propane ovens.
It's available everywhere and works at low temperatures when butane doesn't.
Is your heart set on a butane campervan oven? This portable butane Leisurewize oven is your best bet.
Which Is Best – A Portable Or Built-In Oven?
There are many camping ovens described as portable, but it's a loose term.
There are a few ovens we'd call portable.
GoSun produces a range of portable solar ovens. They're not typical ovens, so we think of them more as alternatives.
These are real portable ovens and easily packed into a hiking pack.
Other portable ovens are quite large and not much smaller than an in-built oven.
Camp Chef Outdoor Camp Oven is a good example. At 35lb, it's a hefty bit of kit, and you'll still need to find storage space for it.
Portable ovens are ideal for car camping or weekend camping trips, though.
If you have enough storage space and like to cook a roast dinner from time to time but don't want it permanently fitted, a portable oven is an ideal solution.
But if you're anything like us, it will live in your deep stores, gathering dust.
We recommend going down the in-built route like the Voyager 4500 oven for those who take oven cooking seriously.
Size & Weight
Ovens are available in several sizes, from compact 20 litres ovens like the Dometic Smev to full-sized models like the Thetford Caprice.
The available space in your campervan, of course, plays a big part in what size will fit.
Check your counters' depth compared to the oven specification to make sure it will fit neatly, allowing for space for gas pipes and any electrical connections needed.
And make sure you have enough room to open the oven door fully. It'd be easy to overlook this until it's fitted.
Also, consider where you'll store the propane tank or gas bottles.
Weight should always be a consideration when converting a van to a camper.
Overloading the base vehicle can lead to stability issues and may even be illegal.
Check our guide to vehicle modifications for more information about balancing the weight.
With this in mind, we recommend choosing a practical size rather than merely the biggest, even if you have space.
Want the smallest built-in oven for your camper? Try the Thetford Duplex.
Though its oven capacity is larger than the Dometic Smev, the overall size is smaller.
Ignition
Most campervan ovens need a connection to the 12v circuit for the ignition. They're not power-hungry, though.
Some don't need an electrical connection for the ignition, instead using a multipoint piezo to create a spark.
It's one less electrical component to fit in your campervan electrical system and one less thing to go wrong too.
Campervan Oven Accessories For Van Kitchens
A good oven is just one component of cooking in your campervan. You'll need a few kitchen gadgets too.
Here are our favourite accessories you might want to include in your campervan kitchen.
Oven Gloves
A good quality pair of oven gloves is essential to help prevent burnt fingers.
These silicone mitts protect up to almost 450°F, so ideal for handling anything coming out of the oven.
Made from silicone, they're easy to wash too and not as bulky as more traditional oven gloves.
Heat Pad Trivets
Protect kitchen counters from hot pots and oven trays with these food-grade silicone trivets. You can use them as placemats as well.
They take next to no space and are easy to rinse and keep clean too.
Roasting Pans
A good quality, non-stick roasting pan is an essential bit of kit for your campervan kitchen.
This pan comes with a removable rack to raise meats to allow fats to drip away for a healthy meal.
Steel handles make removing this pan easy and the non-stick surface, inside and out, and for quick and easy cleaning.
It's a great addition to your camping oven.
Oven Dishes
One of the benefits of ovens is the means of cooking lasagnas, pies, and tray bakes.
And for this, you'll need some oven dishes.
This set of hollow handled ceramic dishes tick every box. They're easy to clean & you can even stack them inside the oven.
Oven Thermometer
Some ovens don't have a thermostat on the control dials, so if your recipe calls for precise temperatures, things can get a little tricky.
This low-cost oven thermometer does just the job. Hang it on the oven rack, or stand it up on the bottom of the oven to get an accurate reading.
It's an ideal kitchen gadget for every campervan oven.
Hose Regulators & Adaptors
Different countries around the world have various regulations for onboard gas fittings.
Some of these countries, like New Zealand, will check your van meets this on entry.
Check here for more information about the regulating bodies.
We recommend meeting the most stringent rules for where you plan to travel.
Propane bottles around the world aren't standard either.
It means you may not be able to swap an empty bottle for a full one where the 2 bottles aren't the same standard.
Equally, bottle regulators aren't all standard either, so you may need a selection of hose regulators and adaptors for the different countries you plan to visit.
If you're lucky, you may be able to find a place to refill an existing bottle, but for safety reasons, these tend to be few and far between.
You can buy hose regulators online easily enough or go to the local hardware store when you need to change the bottle.
The alternative is to install an LPG tank, though this is an expensive and tricky modification.
From The Oven To The Table Cookbook
Need inspiration for campervan oven recipes?
Look no further than this beautifully illustrated cookbook full of oven recipes.
Take a handful of ingredients, simple recipes, and your campervan oven and knock out a top drawer meal night after night!
Safety & Installation Tips
Unsafe gas work and poorly maintained gas appliances pose a severe risk to life.
Always follow the manufacturer's installation instructions. If you do not feel competent with installing a campervan oven, hire a registered engineer.
When gas doesn't burn fully, it produces carbon monoxide (CO). A deadly, silent, and odourless gas, carbon monoxide can lead to death.
Make sure your van is well ventilated. It's one of the best ways to stop condensation in your van.
More importantly, ventilation will help eliminate any build-up of carbon monoxide produced by the campervan oven.
Always fit an audible CO alarm and follow the manufacturer's instructions when installing it. Test the alarm regularly too.
Find a reputable source of medical information to familiarise yourself with the symptoms of carbon monoxide poising.
They include headaches, dizziness, nausea, and breathlessness, but there are more severe symptoms too.
If you ever suspect a problem, get out of the van and leave the doors and windows open until you can find the source of the leak.
Propane is combustible, so always follow the correct instructions for changing bottles and using the right regulators.
If you smell gas, don't light any naked flames, open the doors and windows and switch off all gas appliances.
Make sure you check local regulations related to storing gas bottles in your campervan too.
Graham Bogie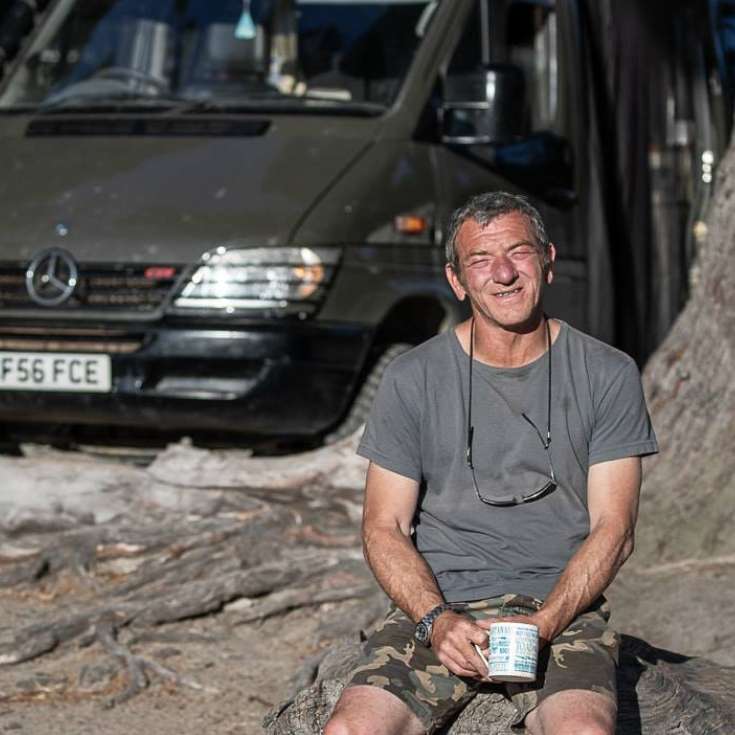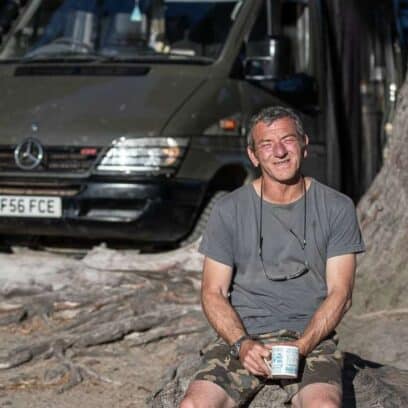 Graham is a seasoned marine electrical engineer with two decades of experience designing customized electrical systems for plant machinery and converting campers and overland vehicles. His expertise has led him to author the reputable Campervan Electrics Handbook and become the chief designer of the RV Wiring Design Tool. As a knowledgeable figure in the field, his YouTube channel, blog, Facebook group, and newsletter, offering electrical advice and product reviews, reach more than a million users each year.