Our campervan sink probably gets more use than any other accessory installed in our Sprinter conversion.
We use it washing up, preparing meals, making coffee and even as a kettle store when we're driving.
Space in most campers is pretty limited, and sinks can be fairly large components.
A campervan sink is an integral part of your van conversion's water system. But unlike the plumbing and the water tanks, it's always on display.
So given the limited space, the desire for it to be aesthetically pleasing and functional, how do you go about choosing the right sink for your campervan?
In this post, we're going to look at campervan sinks in detail and take a look at our favourite models.
We'll look at everything you need to consider when choosing a sink from the overall size, faucets and taps, water filters, pumps and plumbing considerations.
So what are the best sinks for campervans, RVs and motorhomes? Read on!
When you click on links to various merchants on this site and make a purchase, this can result in this site earning a commission. As Amazon Associates, we earn from qualifying purchases. For more info, please check our disclosure page.
At a Glance: 8 Best Campervan Sinks
Best Sinks for Campervans and RVs
Because space is so limited in our tiny homes on wheels, not all campervan sinks are made equal.
Instead, you can buy models suitable for massive RVs, compact sinks for smaller vans, combinations units with a sink and stove, and even portable sinks.
Let's take an in-depth look at the types of sinks available.
Combination Sink and Stove
These practical designs are ideal for a tiny home, a popular choice for the smallest campers.
They use limited counter space. Because they aren't especially deep, they don't intrude more than necessary on the under-the-counter storage.
Because they combine a sink with a gas burner stove, they save time on your campervan conversion too.
There are a few different models of combo sink and hobs available, so you're not limited to the smallest sizes.
The brand, Dometic Smev, produces a few different sizes. You can choose to have the sink either on the left or right of the hob, perfect for customising your conversion. A Smev sink is of good quality, making them an excellent option.
The Dometic Smev 8821 is a compact unit, ideal for the smallest campers. It includes a removable drainer, a folding tap and a tempered glass lid.
The sink is big enough to wash dinner plates and small pots and pans.
If you have a bit more space in your camper van but still want the convenience of a combo sink and hob, Dometic Smev's 9222 model is a good choice.
It has a larger sink than the 8821 model, and though there are still only two burners on the hob, it can accommodate larger pans.
An important thing about the Dometic Smev 9222 is the option to buy a self-contained package. It includes a complete installation kit for gas and water, faucet/tap, fitting template, submersible pump and 20-litre water container.
Suppose you prefer to choose different taps or fit them to your water tanks and electric pump for your DIY campervan conversion. In that case, you can buy the Dometic Smev 9222 without the installation kit.
It still includes the heat resistant safety glass, but you'll need to buy everything else separately. It gives you the flexibility to incorporate it any way you like in your campervan water system.
Compact Camper Sinks
Designed especially for RVs and campers, compact sinks often include an in-built tap.
The fold down glass lids means you can use the top as an extra workspace when the sink isn't in use.
Some compact sinks include foldable faucets that hideaway beneath the glass lid when not in use. For others, the tap needs to be installed into the kitchen unit beside the sink.
Then tend to be small sinks, but when one of the biggest challenges in a campervan is the tight space, they're often a perfect size.
Some have glass lids; others have inset ridges to balance a chopping board or covers with channel grooves to act as a drainer.
Anything in a camper that has multiple functions gets our vote!
The SMEV VA8005 is a rectangular sink complete with a glass lid. You'll need to buy the taps and waste water drainer separately.
Basic Sink
A basic camper van sink isn't much different to a regular sink, though most are smaller.
Some have an integrated drainer; others have holes ready tapped out for taps and faucets. There's a wide choice of styles too. You can find inset sinks, countertop sinks, and various materials from stainless steel to copper or even porcelain.
The shape and style of basic sinks vary widely. Your choice is down to personal preference and your interior design tastes.
However, think about the shape of the sink bowl and how practical they are for washing dishes.
Square or rectangular sinks are most practical but take up most space. Round sinks tend not to include drainers but use less counter space.
We chose an oval sink in our van. We chose it mainly for cosmetic reasons and convinced ourselves the oval shape would be the perfect compromise. And it probably is.
We can't leave a pot to soak in the sink. Instead, if we need to soak it, we'd leave it on the counter. But otherwise, we're happy with our choice.
Here are a couple of RV sinks we love and think would look fabulous in a van conversion.
SOMRXO Undermount Bar Prep Sink
Under mount installation for a flush finish
Inbuilt ledges support cutting board and drainer
Insulation pads reduce the noise caused by water droplets
Includes: Cutting Boards, Roll up Rack, Bottom Rinse Grid, Basket Strainer Drain
Satin nickel finish for a modern look
Top mount protects the kitchen counter
Sloped bottom with grooves allow complete water drainage
Includes: Roll-up dish rack, dish grid and basket drainer
Double Sink
If you have space, double sinks for campervans will be a complete luxury.
A double sink, by its very nature, is likely to result in more water usage. Given water is a precious resource for van living, especially when off-grid, we think double sinks are only suitable for those with reliable access to plenty of water.
That said, if you have the space for a double sink, we recommend going all out on size. Look for a sink you can soak your largest roasting tin.
We recommend an ordinary household double sink like the Kraus Premier Kitchen Sink. Its heavy-duty stainless steel construction is scratch and stain resistant, so it will look good for years.
All the mounting hardware is included, but you'll need to buy a separate faucet.
Bathroom Sink
Larger campers with built-in bathrooms may have the space for a bathroom sink. Even in a reasonably large conversion, the chances are you'll want a compact bathroom sink, and there are a few models available to choose from.
We have a bathroom in our camper conversion, but there's nowhere near enough space for a sink. We use the kitchen sink to wash our hands.
We don't think bathroom sinks designed explicitly for campers look great, but they're functional.
Caravan and motorhome corner bathroom sink set includes a tap and the waste plug too. It's made from durable and lightweight plastic.
If you prefer, find a small sink, perfect for the space available in your onboard bathroom and better suited to your taste.
Portable Sink for Camping
A portable sink is a good option for car or van camping without any plumbing required. It's probably not the best option for living in a van full-time, though.
The SereneLife portable camping sink is probably the best on the market.
Completely self-contained, its fresh water tank can hold up to 5 gallons.
It includes an integrated liquid soap dispenser, foot pump, towel holder & a flexible drainage hose to direct waste to a grey water tank.
You can use this sink either inside your camper or outside, and it packs away easily.
It is no replacement for an in-built campervan sink. Still, suppose you only use your camper for an occasional camping weekend. In that case, it's a great option to avoid any internal plumbing.
Faucets & Taps
Many campervan sink models don't include in-built taps, so you'll need to buy them separately.
Again, there are different types to choose from, each more suited to different needs.
When choosing taps for your campervan sink, ask yourself:
Is it compatible with your preferred sink?
Is it durable and easy to clean?
Will it cope when driving down bumpy tracks?
Are plumbing and installation easy?
Is water flow rate important to you?
Water consumption levels.
You can use standard household faucets and taps in your camper. In some cases, the connectors may differ, so you might need adaptors to plumb them correctly.
Also note, standard household taps often have larger pipework than more specialised taps for campers. This means they will provide a greater volume of water at a higher flow rate.
Aerated faucets reduce water consumption by mixing the water with air. They also help reduce splashing, a significant advantage in a camper.
The easy to clean chrome finish on the foldable water faucet makes it easy on the eye and practical addition to a camper's sink.
It has a compact, single handle and rotates 360º, so easy to use and move out of the way when washing up larger items like saucepans.
Although it has a chrome-plated finish, the tap is made from copper, so it's durable for your camper van kitchen and all you can throw at it. When not in use, it folds flat.
If you only have basic water needs, a hand pump faucet could be the perfect choice for you.
Because they don't need a separate water pump, a hand pump faucet is a budget-friendly option.
The Whale Flipper Hand Pump Faucet has a far better finish than some off-white plastic models available.
It works by rotating the handle back and forth to pump the water from the holding tanks through the tap. This model features a locking mechanism so you can keep the water primed.
This means it flows as soon as you begin pumping, rather than having to pump water from the holding tanks every time you use it.
Installation is simple too. Once you've drilled the correct size hole in the countertop, the water supply line between the tap and tanks is secured in place with a basic jubilee clip.
The downside of hand pump taps is they only be used for cold water supply.
Camper Water Pumps
An RV water pump allows you to draw water from your fresh water tank to the sink's faucet or tap.
Some of the sinks we've listed above include a pump of sorts. The SereneLife portable camping sink, for example, includes a hand pump tap.
You don't need a separate pump with the Valterra Rocket faucet either.
Foot pumps are another low tech option so you can avoid electrical installations. The Whale Babyfoot Galley Pump is a quality product designed for marine use.
A 12-volt water pump is the ideal long-term solution, though. 12v pumps are worthy of an entire post (which we'll write soon), but in the meantime, we recommend the Shurflo water pumps. They are an excellent brand with a great reputation.
If you have a newer RV model, its plumbing system is probably designed to handle between 40 and 60 PSI. We recommend the Shurflo 4088 55 PSI.
Otherwise, your campervan water system may need a smaller pump – we use the 30 PSI version, and it's ideal for the shower and the sink.
Water Filters
Adding a water filter to your camper van water system is a good idea. They are especially useful if you plan to travel to places where the water source is of dubious quality.
Water filtration also deserves a dedicated post which we'll publish soon. In summary, though, we recommend three water filters:
Graham Bogie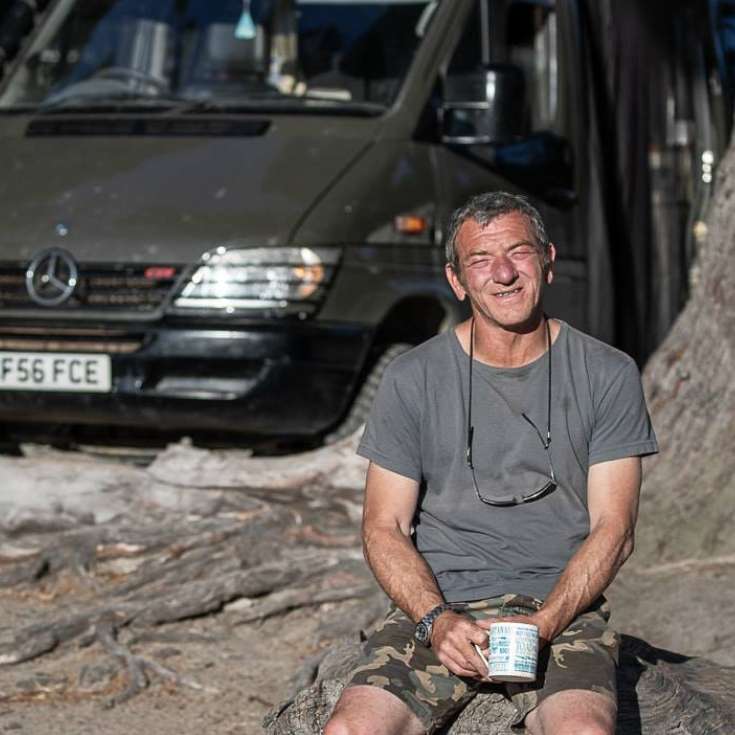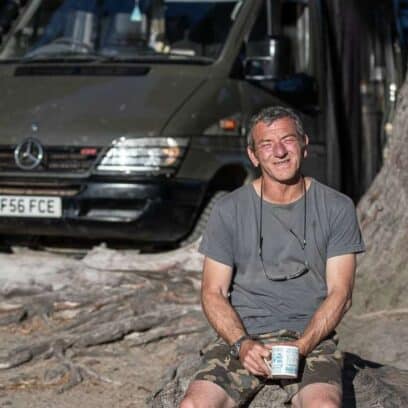 Graham is a seasoned marine electrical engineer with two decades of experience designing customized electrical systems for plant machinery and converting campers and overland vehicles. His expertise has led him to author the reputable Campervan Electrics Handbook and become the chief designer of the RV Wiring Design Tool. As a knowledgeable figure in the field, his YouTube channel, blog, Facebook group, and newsletter, offering electrical advice and product reviews, reach more than a million users each year.