Keen to explore Chilean Patagonia but don't know where to start? We've put together the perfect Carretera Austral road trip itinerary.
---
When people consider visiting Chile, it is often the phenomenal Torres del Paine National Park, the epic landscapes of the Atacama Desert, the enigmatic Moai of Easter Island, or its capital Santiago that top the must-do lists.
But we've driven the length of the Carretera Austral, and it is, without doubt, one of the world's most fabulous road trips.
This part of Patagonia is unique to Chile. On a slither of landmass, it treats adventurers to a bonanza of sights: imposing, snow-capped mountains, staggering glaciers, remarkable volcanoes, unfathomable fjords, and rip-roaring rivers.
The Carretera Austral was built to enable overland travel to all regions of Chile without the need to cross into Argentina. And it makes for an unforgettable journey. We've driven the full-length of Carretera Austral, exploring many parts in-depth and sampling the best of this beautiful part of the world.
Although there's only one main route, there's a myriad of possible diversions off Ruta 7. So, if you're in the planning stage for your own road trip and looking for some ideas, information, and inspiration on where to visit and where to stay on the Carretera Austral, then this is the post for you!
In this guide, we've put together a comprehensive itinerary so that you can also explore the Carretera Austral on your very own road trip!
Carretera Austral Road Trip Route // Overview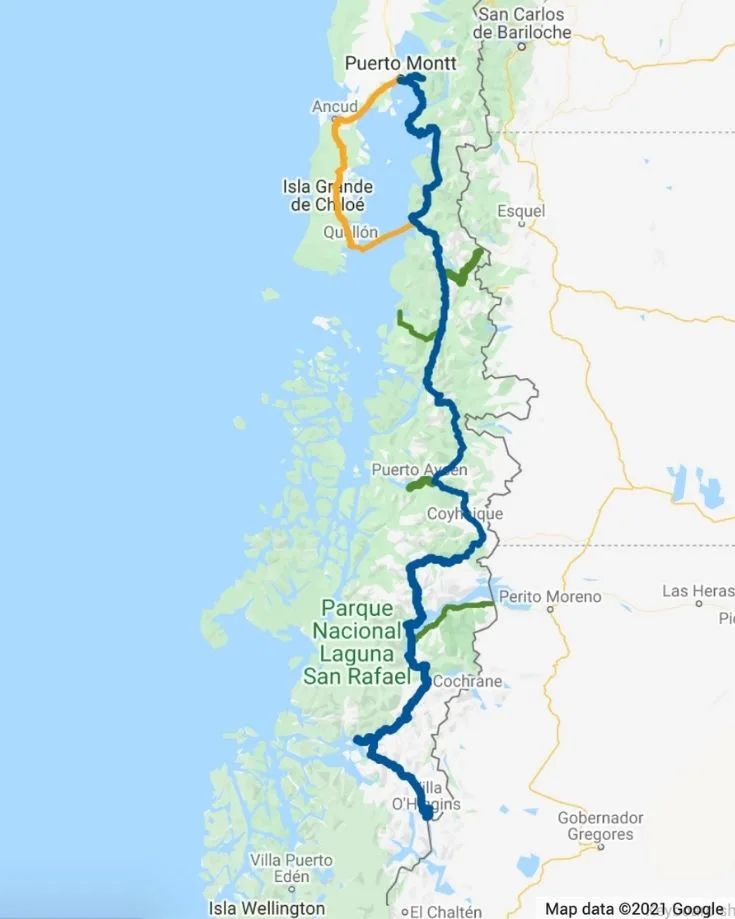 Click for the image above to open the map in Google Maps.
We drove the Carretera Austral route from north to south. While it's a little over 1200 kilometers (almost 800 miles) from Puerto Montt to Villa O'Higgins, we covered many more with impossible to resist diversions.
Before we provide the day-by-day breakdown of our Carretera Austral road trip, we want to give you a few pointers about the map above and the post in general.
The route shown on the map above indicates the main Carretera Austral Route (the blue line), alternative routes (orange line), and optional diversions (green line).
You can open the map within Google Maps to give you a full-scale interactive view and more detail on directions and driving distances.
We use Maps.me as our GPS on all our road trips, and an offline copy of Google Maps works too.
This road trip itinerary is aimed primarily at self-drive travelers. You can hire a car in Puerto Montt or Coyhaique. However, you can also hitchhike (quite common on the route), take public transport to almost every destination, and even cycle – many people do each year.
The itinerary assumes you'll begin your road trip in Puerto Montt, but we cover other options at the end of the post.
One of our main tips for any Carretera Austral road trip is to carry essential camping gear so you can take advantage of wild camps and campgrounds along the route.
14 days is just enough to drive the main route without diversions. However, the timescales we've included are an indication only. We encourage you to allow as much time as you can. Whatever you have, you'll wish you had more. Our first Carretera Austral road trip took 6 weeks!
Driving in Patagonia, and especially the Carretera Austral, needs a little preparation. Fuel stations and ATMs are few and far between; road conditions can be challenging, the route impossible without taking ferries, and traveling even short distances can take much longer than you might expect.
If you drive the route from north to south, you need to either go back, cross into Argentina, or take a 2-day ferry crossing into Chile's southern Patagonia when you get to the end.
We encourage you to read our in-depth Carretera Austral travel guide before setting off.
Although the Carretera Austral is one road, there are many diversions to incredible destinations. This post highlights the main route, plus diversions we recommend along the way.
We encourage you to use this as a basis to help you create your own itinerary, explore the back roads and see where the road takes you. Finding hidden gems and getting off the beaten track – even this slightly trodden one, – is the key to the best adventures.
When you click on links to various merchants on this site and make a purchase, this can result in this site earning a commission. As Amazon Associates, we earn from qualifying purchases. For more info, please check our disclosure page.
Carretera Austral Itinerary // Day by Day
Arrive in Puerto Montt
Puerto Montt marks the northern entrance to the Carretera Austral and the journey to get there, the first part of your adventure.
There are three ways to get to Puerto Montt: air, road, or sea.
By Air
Internal flights in Chile are low-cost. For example, direct flights from Santiago to Puerto Montt take less than 2 hours and cost as little as US $50 return, while return flights from Punta Arenas take a little over 2 hours and usually cost around US $150. Search for cheap flights here.
By Road
Many independent travelers, ourselves included, explore Patagonia by road. If you plan to drive to Puerto Montt, you'll either come from Santiago (fast highway), the Chilean lake district (good sealed roads), or the Argentine lake district (good sealed roads).
From Santiago // Ruta 5, fast highway, 1000 kilometers, 11 hours driving
From Pucón in Chilean Lakes // Ruta 5, fast highway, 340 kilometers, 4 hours driving
From Bariloche in the Argentine Lakes // Ruta 40, Ruta 215 & Ruta 5, sealed roads, 320 kilometers, 5 hours driving, and 1 border crossing
By Sea
The weekly Navimag ferry sails between Puerto Natales (the nearest town to Torres del Paine National Park) and Puerto Montt. Although the journey takes 4 nights and sails through the spectacular Patagonian fjords, this isn't a luxury cruise. It's an ideal way to make the return journey and a chance to spot whales, dolphins, penguins, and many marine birds. Check out more details on the Navimag website.
Puerto Montt is not an unenjoyable city but, as you're here for a Carretera Austral road trip, you probably don't want to spend too much time here when you could be enjoying the magical highlights of Patagonia.
The first 2 days of the itinerary cover the journey from Puerto Montt to Chaiten on Ruta 7. Some itineraries suggest taking this stretch more as a commute. While you can easily drive between the two (plus at least one ferry), we recommend a slower pace.
Day 1 // Puerto Montt > Alerce Andino National Park
Distance // 31 kilometers / 19 miles Driving Time // 40 minutes
Once you leave the city behind, the scenery quickly begins to reveal itself. The northern reaches of Reloncavi Sound lap against the rocky shoreline, conical volcanoes loom large on the distant horizon, and signs of civilization become fewer and further between.
Just as things begin to get interesting, you'll take a 20km diversion from the Carretera Austral and visit one of Chile's fabulous National Parks – Alerce Andino.
As its name suggests, Alerce Andino National Park serves to protect the endangered Andean Alerce tree. They have humongous trunks of up to 5 meters in diameter. The largest known living tree is in the park and is over 3600 years old!
The thing we loved most about this park was the solitude. Aside from the rangers, we didn't see another visitor and got to enjoy the dense forest trails, crystal clear lake, and an incredible amount of birdlife all to ourselves.
Read More // A Complete Guide to Alerce Andino National Park
Things To Do In Alerce Andino National Park
Hiking the national forest trails
Bird spotting
Secluded lakeside picnic
Where To Stay Near Alerce Andino National Park
The park has a couple of basic campgrounds run by CONAF. Spaces are limited and allocated on a first-come-first-serve basis, but they're not usually full.
If you prefer hot showers, book a room at Cabañas Lenca Carretera Austral.
Tips
Make sure you've stocked up on supplies in Puerto Montt before you leave. It'll be a while before you find another well-stocked supermarket.
Day 2 // Alerce Andino National Park > Hornopirén
Distance // 150 kilometers / 94 miles Driving Time // 3 ½ hours
The route from Alerce Andino National Park rejoins the Carretera Austral, southbound.
One of the benefits of taking a self-drive tour is the option to stop whenever and wherever you want. So instead of commuting to Hornopirén, take your time. Most of the route follows the coastline, and there are many picturesque spots along the way.
Take time to stroll on a deserted beach, and if you're lucky, you'll see dolphins hunting as a team right from the shoreline.
Check out some of the old wooden churches, similar to the UNESCO architecture on nearby Chiloe Island. Then, instead of sticking to Ruta 7, take as many diversions as you can. They don't add much to the overall route and allow you to cast your adventure net a little bit wider.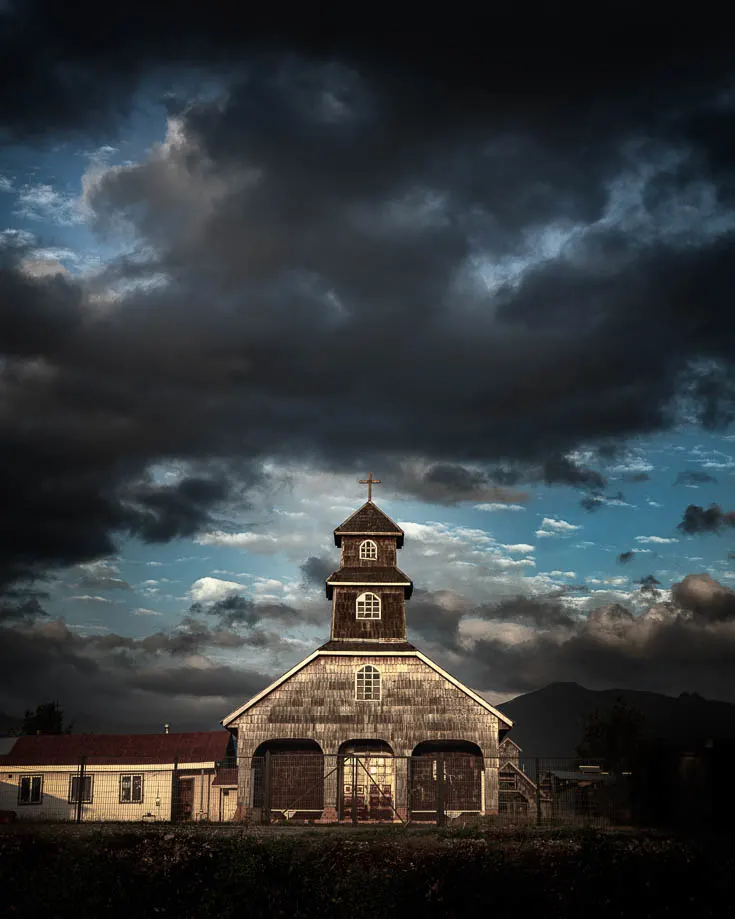 The road leads to La Arena, a tiny port where you'll board a ferry for a short crossing to Caleta Puelche. From here, we recommend taking the coastal road instead of the direct route to Hornopirén.
Itty-bitty villages like La Poza and Punta Poe provide perfect perches so the curious sea lions can check you out. A real highlight of our day was collecting mussels at low tide and cooking them right on the beach for a satisfying lunch.
There are 2 worthwhile stops on the final 25 kilometers into Hornopirén:
Pichicolo Hot Springs // Walk through the dense Patagonian forest on wooden walkways leading to steaming hot springs where you can bathe in clear natural waters, with fantastic views and relax in style.
Del Bosque Roadside Apiary // So many places selling honey in Chile add extra sugar (!), but this is the authentic, raw variety, and it's delicious!
There's nothing special about Hornopirén village, other than its port where you'll board the next ferry, and it has a supermarket, should you need to resupply already. We recommend buying your ferry ticket when you arrive before heading out towards the Hornopirén National Park.
You'll probably arrive late afternoon or early evening so if you want to hike in Hornopirén National Park, consider adding an extra day here. Lake Pinto Concha hike will take around 8 hours there and back, and you can add another 3 ½ hours for the Yates Volcano trail.
If you don't have time for these fairly challenging hikes, don't miss the views of the Rio Blanco from the bridge just out of town. The color of the water will undoubtedly leave you spellbound. You can also spend a few hours on the shore of Rio Negra, closer to town and in the shadow of the Hornopirén Volcano.
Things To Do In Hornopirén
Visit the Río Blanco
Hike to Lake Pinto Concha in Hornopirén National Park
Enjoy riverside lunch in the shadow of Hornopirén Volcano
Where To Stay In Hornopirén
There are plenty of boondocking opportunities around this entire route. Entrepreneurial homeowners set up campgrounds in their gardens. They're basic, and most are ok for tent campers but a tight squeeze for anything other than small campervans. Ask wherever you see a camping sign.
For a comfortable cabin before catching the ferry, check out Rincón del Gaucho. It's only 4km out of town, so it's convenient for catching the early ferry.
Take a look at this map of all Hornopirén's accommodation options to see if there's anything special and available in the area on your dates.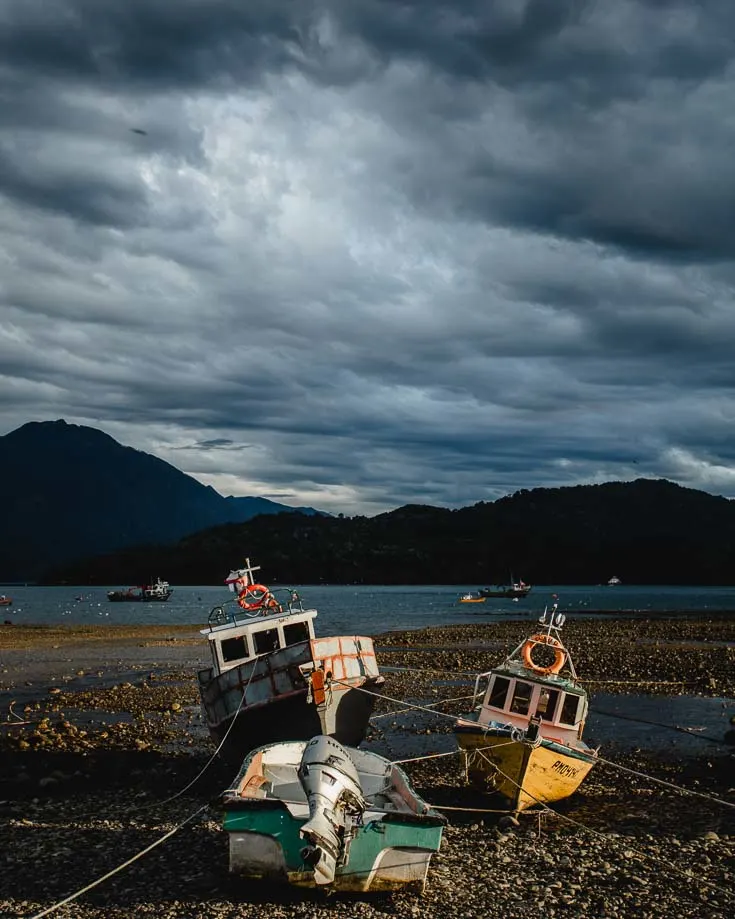 Tips
Hornopirén has a gas station and an ATM – don't pass up on the opportunity to use either of these – they become less frequent from here on south.
There are several beaches along this stretch of coast that look ideal for parking and even boondocking. But be warned, the tide comes in a long way here, so always park on solid, dry ground.
The crossing between La Arena and Caleta Puelche only takes 20 minutes or so, the ferry regularly runs throughout the day, and you pay cash onboard. Prices are about 15000 CLP depending on the size of your vehicle.
If buying honey and intending to cross into Argentina later, it's best to buy a small jar as you're not allowed to take it across the border.
Tomorrow you'll be getting another ferry from Hornopirén. The crossings to Caleta Gonzalo are in high demand, especially during January and February. If you arrive in Hornopirén without tickets, buy them as soon as you arrive to increase the chance of getting a seat on the sailing of your choice. Sometimes you may need to wait a day or two for availability. In this case, we recommend buying your tickets for the most convenient date and if you want to try for an earlier sailing, join the queue at the port, and you may get lucky with a last-minute space.
You need to pay in cash. Alternatively, you can book tickets in advance if you're sure about your dates.
Day 3 // Hornopirén > Pumalin Park
Distance // 32 kilometers / 20 miles Driving Time // 40 minutes
The ferry crossing from Hornopirén is quite special. Now don't get us wrong – the ferry is nothing special. It's more of a big floating lounge with a large TV streaming a local Chilean newsfeed and the occasional Disney movie to keep the kids entertained.
And note too, these ferry services aren't here to cater for tourists. Instead, they provide the only viable means of transport for residents. So buses from Puerto Montt, cargo trucks carrying supplies to remote villages, and cars cram onto the vehicle deck, alongside adventurous road trippers like you.
But while this is no luxury cruise, the moment you stand out on the deck and gaze at the majestic landscapes, cloaked in dense native forest, seemingly spilling into the ocean, you'll know you're at the very start of one hell of a trip.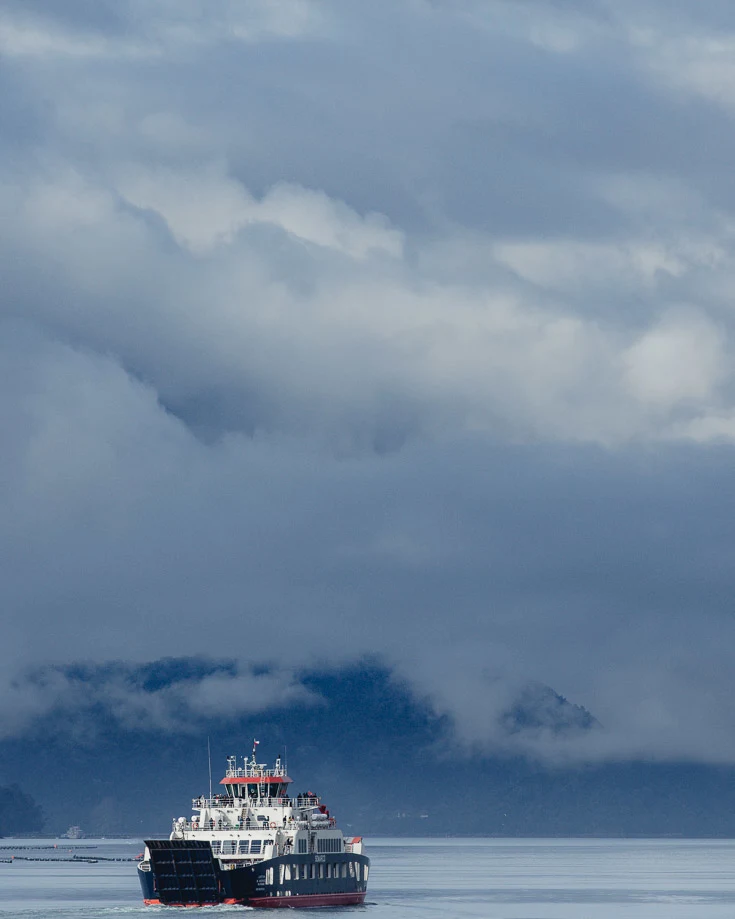 Look up to the skies to spot pelicans, albatross, and petrels and to the waves for glimpses of seals, dolphins, and even whales.
The highlight of the passage through the fjords, though, is the lush landscapes; it's really like something you might expect to see in a Jurassic Park sequel, and you probably wouldn't be surprised if a prehistoric creature emerges from the forest.
The crossing provides a unique perspective on the surroundings, and we encourage you to spend as much time on deck as the weather and your clothes allow.
Catching the earliest ferry of the day means you'll disembark in Caleta Gonzalo by early afternoon. There's only one road away from the port, so how far you need to drive is determined by where you'll spend the night.
That said, this drive is another glorious trip. The gravel track is lined by giant rhubarb, and viewpoints are plentiful.
Keep an eye out for the wooden Conaf signs, marking trailheads and campgrounds.
Choose Sendero de Alerces for an easy hike through the forest. You'll see more massive Alerce trees and take a swing bridge over a glacial river. The trail doesn't take long, and it's a great way to stretch your legs after the ferry crossing.
The Cascadas Escondidas trail is a little more challenging, involving a bit of scramble over often wet wooden steps. But if you have a couple of hours spare and love the natural wonderland only a forest provides, this trail is for you. And the reward? A couple of sublime waterfalls – keep going after the first one – the best is yet to come.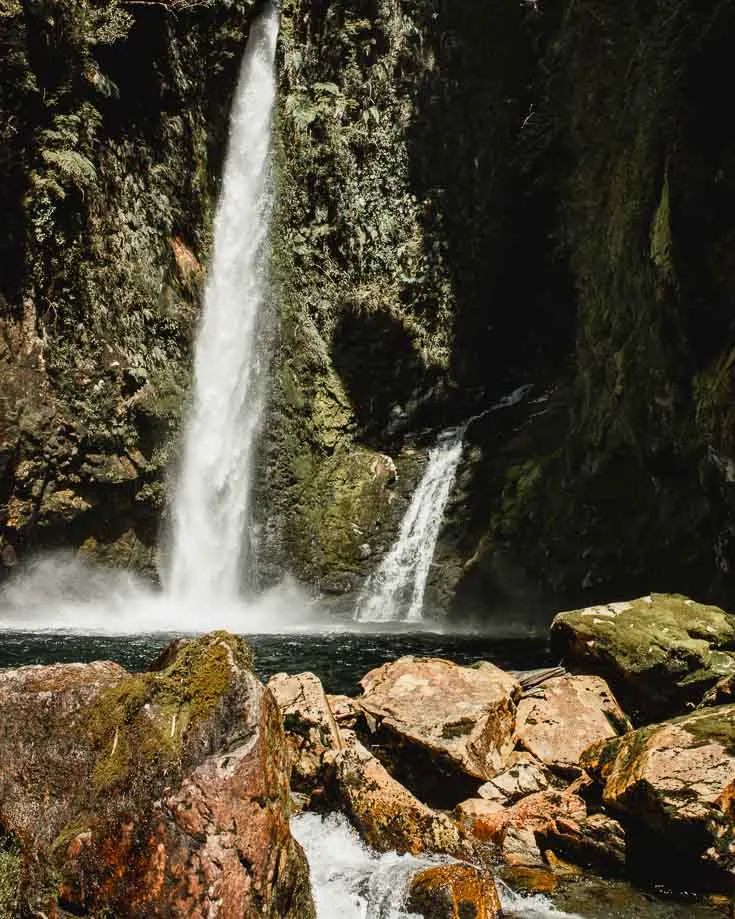 Things To Do In Pumalin Park
Short hikes in Pumalin Park
Wildlife spotting
Fjord photography
Where To Stay In Pumalin Park
Boondocking is always an option, of course, and there are several campgrounds on the road between Caleta Gonzalo and Chaiten Volcano. Most of them have fantastic views or are located at hiking trailheads, like Sendero Cascada Escondido. CONAF runs them, so they are relatively inexpensive, basic, and free before mid-December and after mid-February.
If you'd prefer accommodation in a hostel, cabin or hotel, you'll need to drive into Chaiten village. Take a look at this map of all Chaiten's accommodation options to see if there's anything special and available in the area on your dates.
Tips
Bring binoculars on board to help spot wildlife.
As with most ferry crossings, onboard refreshments are overpriced. Save money by preparing a packed lunch. You can't access your vehicle once the ferry has set sail so bring it with you.
Remember, it can, and often does, rain in Patagonia. So bring a raincoat and wrap up in layers so you can still get out on deck to enjoy the scenery. Even surrounded by dense, low-lying fog, it's glorious.
Alternative Route from Puerto Montt to Chaiten
The first time we drove the Carretera Austral, we took an alternative route between Puerto Montt and Chaiten.
Rather than following the coast along the east shore of Reloncavi Sound, we opted for a few days on Chiloe Island.
Made up of many smaller islets, the Chiloe archipelago is like nowhere else in Chile. It is brimming with dozens of wooden churches with UNESCO status, colorful palafitos (brightly painted, wooden houses built on stilts), a couple of penguin species, and some of the most delicate king crab we've ever eaten. Chiloe Island is worthy of a mini road trip in its own right.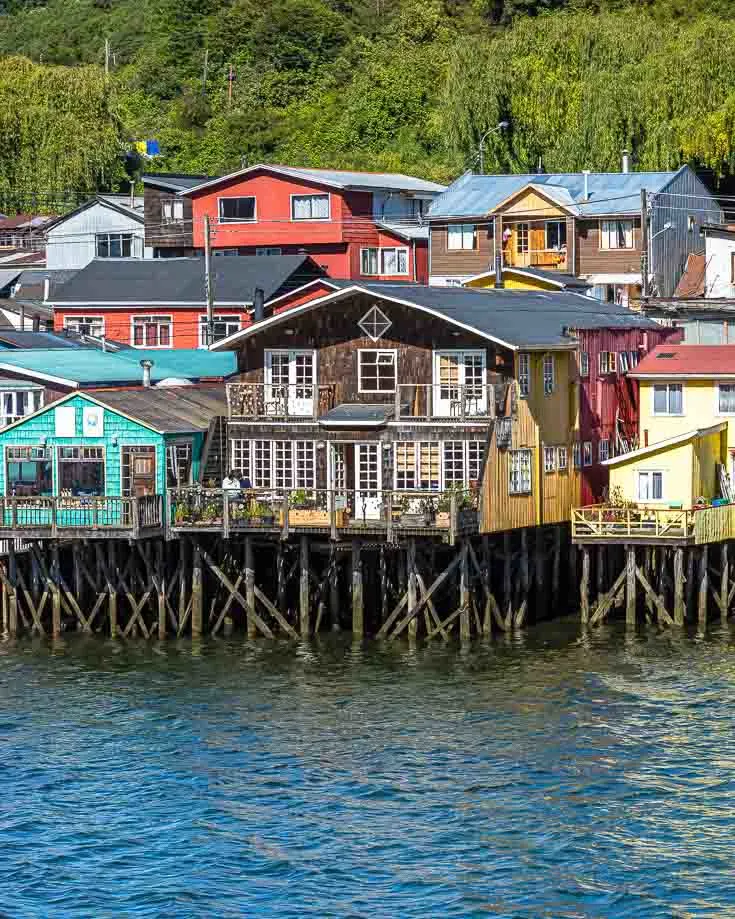 This alternative route skips Alerce Andino National Park and Hornopirén. You can reach the Island by a short 20-minute ferry crossing from Pargua, a small town south of Puerto Montt.
Ferries cross from the harbor in Quellón directly to Chaiten a couple of times each week. The mainland's skyline is punctuated with volcanoes and mountain peaks, making the views from the deck quite unique.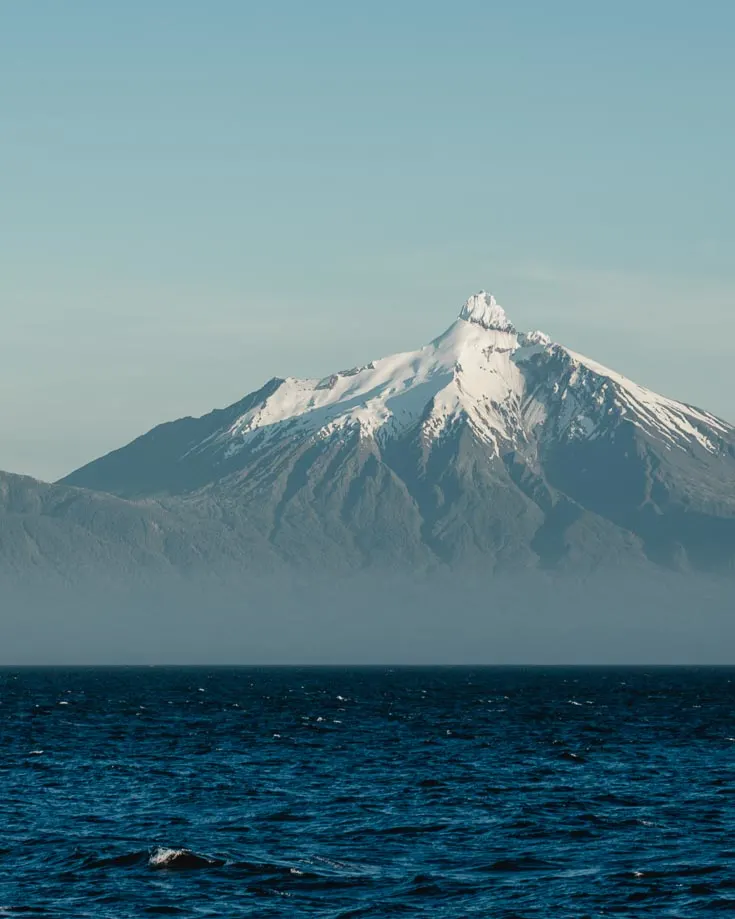 Read More // Chiloe Island, Chile | The Definitive Travel Guide & Itinerary
Another alternative route between Puerto Montt and Chaiten is to take the direct ferry. It's a 9-hour passage, and although the ferry doesn't navigate through the fabulous fjords, it still offers excellent views. So it's a good option for anyone on a tighter timescale.
You can get tickets and schedule information on the Naviera Austral website.
Day 4 // Hiking up Chaiten Volcano
Distance // 0 kilometers/miles Driving Time // 0 hours* Depending on where you're staying
Thought to have been dormant for over 9000 years, Chaiten Volcano erupted violently in 2008, and the residents of nearby Chaiten village evacuated.
While the eruption has ended, the caldera still smolders, the landscape in the immediate eruption zone is yet to recover, and the trail to the summit is hard work.
But oh boy, this trail is worth every uneven step. The surrounding views from the summit are incredible; the turquoise lake formed in the contorted crater floor is beautiful against a backdrop of such visible destruction. Smoke still rises from the hot sides of the newly formed cone, and with every nearby rockfall, your senses are heightened!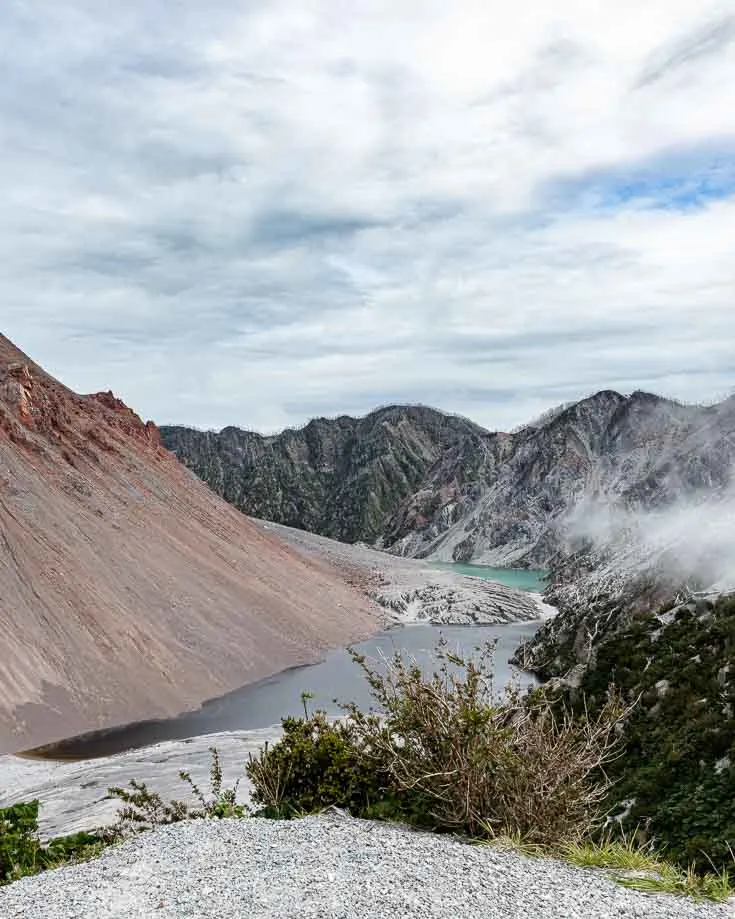 Climbing Chaiten Volcano is the highlight of Pumalin Park. Unless you're an avid hiker, it's a fairly strenuous hike but take your time, bring plenty of water and trekking poles, and keep going for an unforgettable experience.
After climbing the volcano, reward yourself with some beach time at Santa Barbara. Its black sand, usually completely deserted apart from the regular visits from the dolphins and nosey seals, is one of the only coastal beaches on the Carretera Austral.
Things To Do Near Chaiten Volcano
Climb Chaiten Volcano
Visit Santa Barbara's black beach
Where To Stay Near Chaiten Volcano
Same as the place you stayed last night
Tips
Trekking poles make a big difference when hiking in Patagonia and don't take up much packing space.
If you go for a stroll on the northern side of Santa Barbara beach, keep a watchful eye on the incoming tide and avoid getting trapped.
There are no water sources on the volcano so bring a reusable water bottle and enough fluids for the whole hike.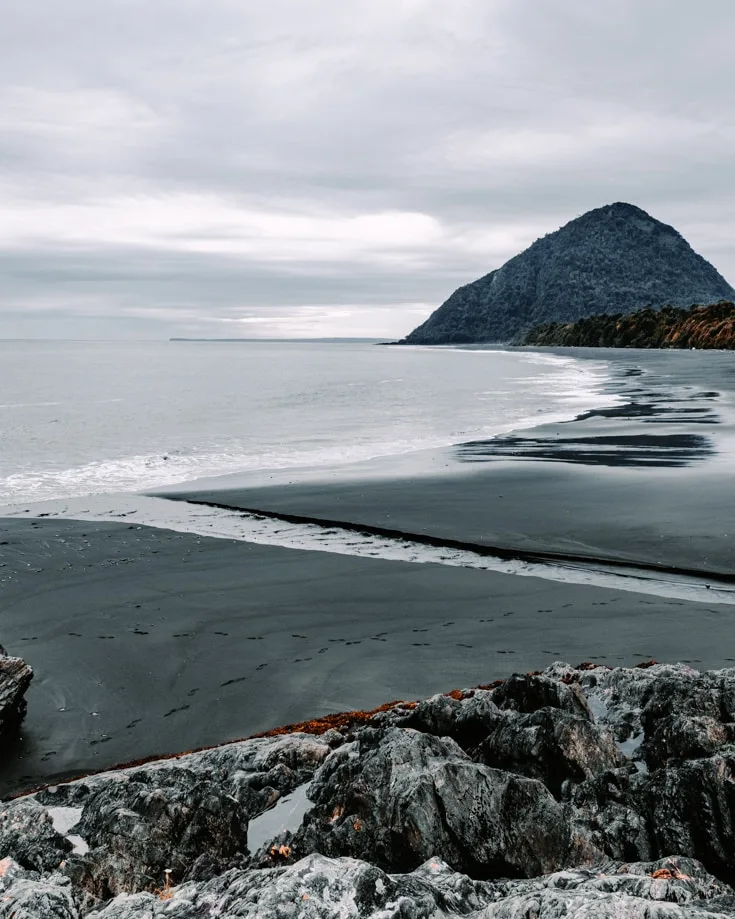 Day 5 // Hike to Michinmahuida Glacier in Pumalin Park
Distance // 48 kilometers / 30 miles Driving Time // 45 minutes
Pumalin Park sprawls across almost ½ million acres of the pristine Patagonian landscape, so it's little wonder our itinerary includes a few days here. A short drive from Chaiten, a vast meadow below snow-capped mountain peaks, creates an enticing entrance to the park near El Amarillo village.
Michinmahuida glacier-covered volcano is the main attraction here. For travelers still with miles in their legs after the Chaiten Volcano hike, the 20-kilometer circular trail to the glacier's mouth is an easy enough day hike.
Stretching through the lush Patagonian jungle, the trail has at least 2 river crossings each way, and you will get your feet wet. Finally, leading to the mouth of the glacier, the trail peters out, and you're free to explore the glacier.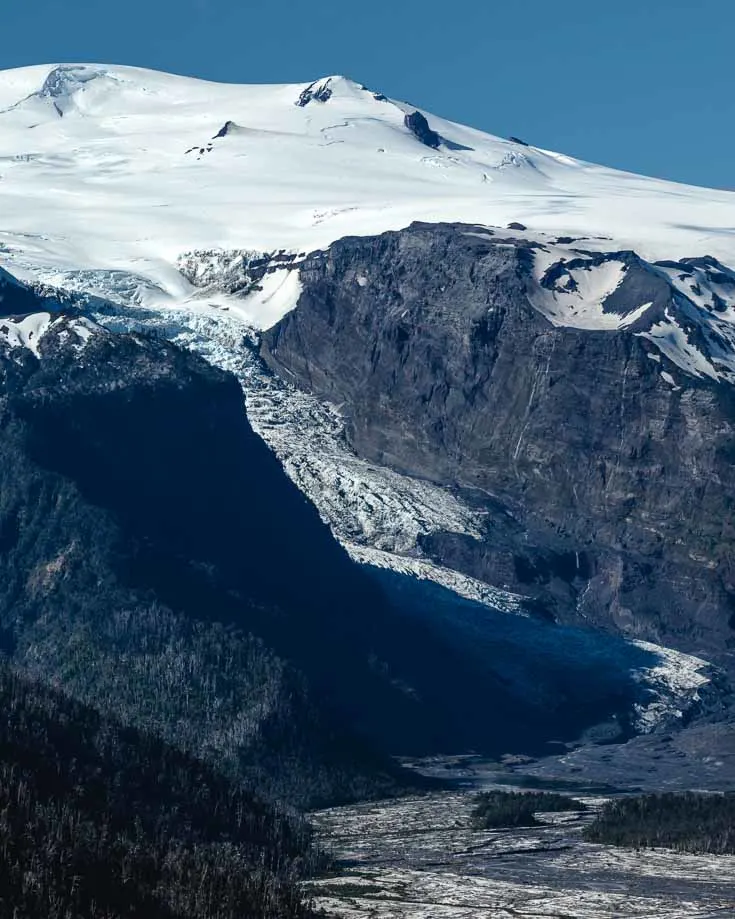 Don't fancy a 20-kilometer hike? No problem. The CONAF managed campground is one of the best we've stayed at and has a direct line of sight with the glacier in the distance. Spending a day relaxing on camp is a delight, and there are a few shorter, well-marked trails should you become energized later in the day.
Because of the volcanic activity in the Patagonian region, thermal spas are pretty common. In the tiny village of El Amarillo, a basic thermal spa provides an opportunity to ease away any muscle aches.
Note that in May 2020, the region suffered a catastrophic landslide affecting some infrastructure. Repair works are underway, but check their status in the village.
Read More // The Best Day Hikes in Pumalin Park
Things to Do Near Michinmahuida Glacier
Hike to Michinmahuida Glacier
Take the easier trails to the viewpoints
Termas Amarillo hot springs
Where To Stay Near Michinmahuida Glacier
Camping Ventisquero El Amarillo // Spaces are allocated on a first-come-first-serve basis. The facilities are excellent, although the showers are desperately cold. If you visit here before the season starts, camping is free.
Tips
Fill up with fuel in Chaiten – even if you filled up in Hornopiren. The village also has small stores for restocking supplies.
Hiking sandals are an excellent option for this hike because of the river crossings. However, river crossing can be dangerous. Check the water's depth and current before crossing and turn back if necessary.
When we visited, the infamous horse flies were out in force. Wearing neutral colors tends to lessen the annoyance.
Glaciers pose a very real risk, calving ice and resulting in frequent rockfalls, so be cautious and aware of your surroundings at all times near the face of the glacier.
Day 6 // Pumalin Park > Yelcho en la Patagonia
Distance // 28 kilometers / 18 miles Driving Time // 25 minutes
Ok with a few days of hardly any driving, you might wonder what kind of road trip this is. But honestly, if you want to get the miles under your wheels, feel free to drive past these stops. They're not compulsory unless you want to experience Patagonia at its best.
Yelcho en la Patagonia is a lodge and campground with an enviable position right on the lake's beach. And it's that lakeside location that makes it a must-visit on a Carretera Austral road trip.
Best of all, we think the campground has an even better location than the actual lodge.
Each pitch includes a covered area with a BBQ grill complete with wood for burning, a dining area, and direct access to the lakeshore. So if you've packed your inflatable kayak, get the foot pump out – it's time for an unforgettable paddle.
Camp guests can use the facilities in the lodge too, so if you want to treat yourself, the restaurant and bar are always well stocked and get great reviews.
Aside from its picture-perfect setting, the Yelcho en la Patagonia team can arrange all the activities you could want and give great advice on many free walking routes and things to do nearby. First, ask if the trail for Yelcho Glacier is open. When we last visited, the hiking route was closed for maintenance, but it's an easy hike, best done in dry conditions, and leads to a terrific view of the glacier and river.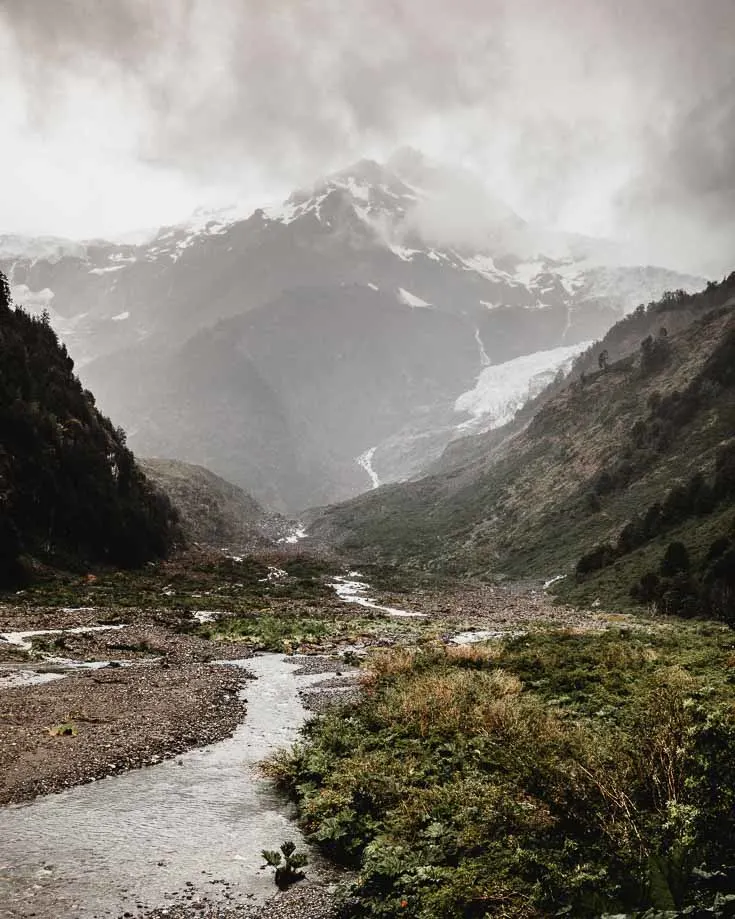 As with all accommodation in the area, this one tends to get busy in the summer months. However, you can avoid the rush by visiting in November, and as a bonus, you'll be treated to wonderful wild lupins and broom displays.
If you're hoping to leave the real world behind and enjoy the Patagonian countryside at its finest, Yelcho en la Patagonia is an excellent place to do it. We spent our time horse riding and fishing (badly), but it's also a fantastic location for fly-fishing for trout.
After days of hiking or river activities, you can spend your evenings stargazing on the shore of Yelcho Lake with a glass or two of a fabulous Chilean wine — you'll want to come back here again and again.
Things To Do
The team at Yelcho en la Patagonia can arrange all sorts of activities, including:
Cycling
Horse-riding
Fly-fishing
Guided (and un-guided) hikes
Tips
To take full advantage of the campground's facilities, bring enough supplies to last for the entire length of your stay.
If visiting Futaleufu (see the optional diversion below), book your white water rafting excursions from there instead of the lodge to substantially reduce transfer times.
2 Day Optional Diversion // Futaleufu
Distance // 80 kilometers / 50 miles Driving Time // 1 ¼ hours
One of the most epic highlights of the Carretera Austral isn't even on Ruta 7. Instead, the 80-kilometer diversion rewards adventurous travelers with the best watersports and fishing Patagonia has to offer.
The gravel track takes at least a couple of hours to drive, more if you account for the impossibly beautiful photo stops en route. The dusty track follows the course of the Futaleufu River, hugs the shores of Lakes Yelcho and Lonconao, and offers stunning views of the Andes mountain range.
And because there are so many things to do in Futaleufú, we recommend a minimum of a 2-day stay; 4 is better.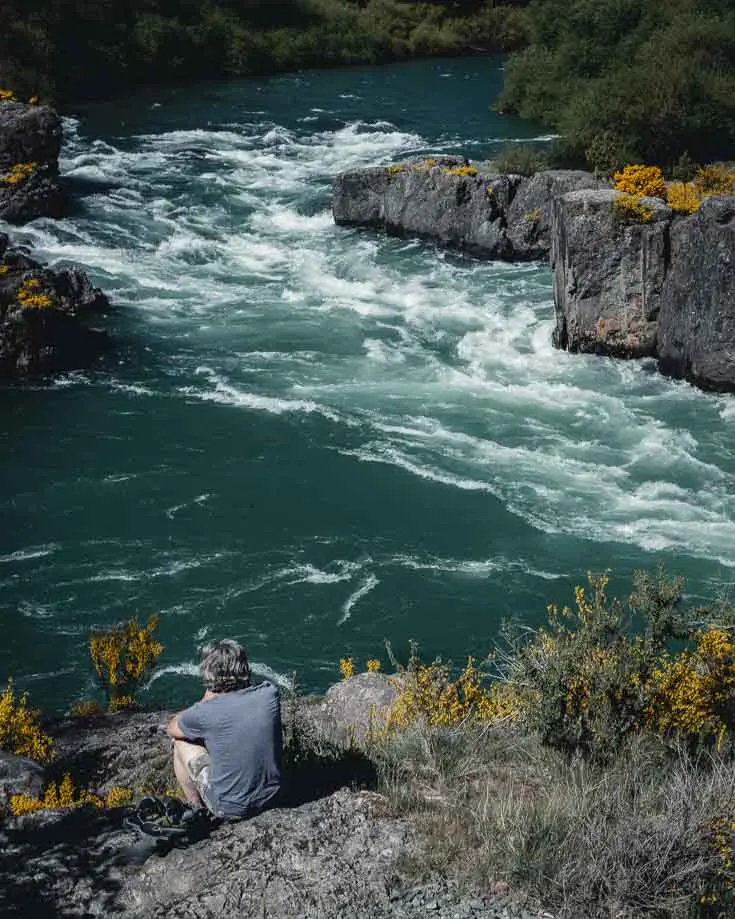 White water rafting is THE big attraction here. Futaleufu River, often just called the Fu, is world-famous for adrenaline-pumping rapids. Class IV and V rapids satisfy the most adventurous travelers.
For those unfamiliar with the technicalities of the sport, names like The Terminator, Wild Mile, and Inferno Canyon provide a flavor of what awaits the brave. We had no rafting experience when we arrived in Futaleufu and can assure you, these day trips are phenomenal.
We were terrified, got drenched, jumped off cliffs into the deep river, took a few rapids feet first, and didn't stop laughing all day!
Horse-riding and world-class fly-fishing excursions offer more tranquil river experiences, and if your legs are still up to it, more hiking opportunities.
One of the fabulous things about hiking in Futaleufu is the trails are often deserted. Unlike the big-ticket trails in Torres del Paine, Fitz Roy, and even Cerro Castillo, you get the views all to yourself and almost feel you're the only one to have ever seen them.
Read More // The Best Things To Do In Futaleufu: Chile's Rafting Capital of Patagonia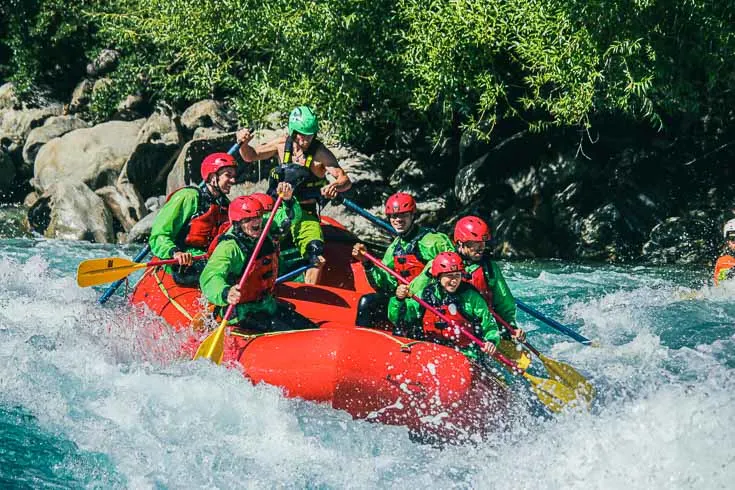 Things To Do In Futaleufu
Whitewater rafting,
Fly-fishing,
Horse-riding,
(More) hiking (of course),
Where To Stay In Futaleufu
Tips
We swam in the freezing cold river in Futaleufú on a blistering hot day. But be warned, strong currents and large boulders below the surface make these rivers dangerous. Take care!
Stock up on supplies and fuel in Futaleufú for at least the next 3 days.
Day 7 // Yelcho en la Patagonia > Puyuhuapi
Distance // 140 kilometers / 88 miles Driving Time // 2 hours
After a slow start and lakeside breakfast, today's excitement is all about the road trip and making it your own. Heading further south, the Carretera Austral begins to feel more remote from here on.
The entire route is lined by native jungle, crisscrossed by rivers, and flanked by lush-sided mountains. Here are a few ideas of places to stop along the way.
Villa Santa Lucia
Take a short break at the tiny village of Villa Santa Lucia and notice the landscape on the right for about 8 kilometers before the village. A catastrophic landslide hit the village head-on in 2017, wiping out families, homes, and even the school.
There's a small museum dedicated to telling the story, the mangled remains of homes, electricity pylons, and trucks serving passers-by a stark reminder of events. It may sound depressing, but nevertheless, it provides a moving insight into nature's power while helping to support the local community.
La Junta
La Junta is the largest village you'll encounter on this part of the route. It's positioned in a valley right where 2 rivers, Rio Palena and Rio Rosselot, meet.
Although the stores in La Junta are expensive, the village is one of the few places for many more miles to resupply. The village is pretty nondescript as Patagonian villages go but don't let that fool you. The surroundings offer some idyllic and unique places to visit.
To take advantage of empty hiking trails, lakes frequented only by local fishing boats, or even a trip to the coast, base yourself in La Junta for the night.
To stay close to the main route, spend time in Lago Rosselot National Reserve. There's a glorious lake and fabulous hiking trails with terrific views over the village and the surrounding mountains.
Raúl Marin Balmaceda
Distance // 150 kilometers round trip / 94 miles Driving Time // 4 hours + excursion time
Raúl Marin Balmaceda is a 75 kilometer diversion from Ruta 7 at La Junta. The trackside waterfalls, river, and mountain views make the rough gravel track well worthwhile. At the end of the road, a free car ferry runs on-demand to take travelers and residents on the 5-minute passage across the mouth of Rio Palena.
The beaches here are deserted by humans, a major draw for the local wildlife. Keep your eyes peeled for penguins, seals, and dolphins, all of which can be seen from the beach. If you're lucky, you may even spot humpback whales surfacing. For a closer look, you can take an excursion on a fishing boat from the harbor.
Puyuhuapi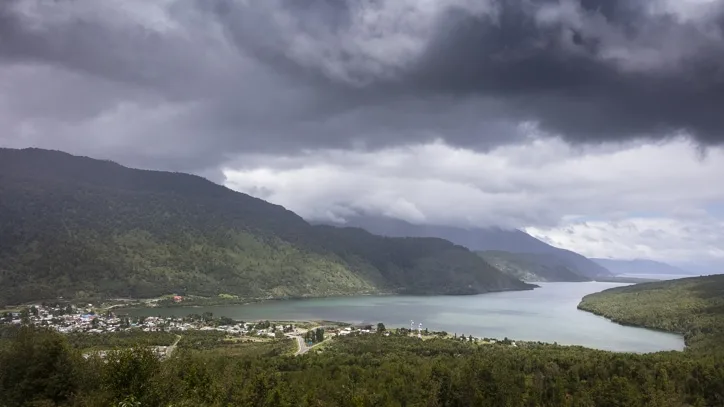 The stretch of the Carretera Austral from La Junta to Puyuhuapi was one of the highlights of our entire road trip. It's only a little over 40 kilometers, but it is so spectacular. The road is sealed, festooned by giant rhubarb leaves and when Lago Risopatrón comes into view, prepare to have your breath taken.
Despite being settled by Germans in the 1930s and a perfect location at the head of a fjord, Puyuhuapi village isn't a major attraction in its own right. However, it has a couple of stores for essential supplies, a wifi network if you need to make contact with the outside world, and if you're lucky, the hand-weaving carpet hut might open.
If you need to stretch your legs after today's drive, we recommend the short Mirador Sendero El Canelo trail. It climbs through private land (so there's a small admission fee), and you'll be rewarded with terrific views of the mountains and down the length of the fjord.
There are some basic accommodation options in Puyuhuapi village (see below), but if you feel it's time for a bit of holiday pampering, consider booking a couple of nights at Puyuhaupi Lodge & Spa.
Accessed from the water, you'll park your jalopy at the dock before taking the complimentary boat to the lodge and be welcomed with a glass of bubbly. A luxurious and tranquil space, with 360° views of nature, the fjord, and even an occasional passing dolphin or seal, the real highlight of any stay here is the thermal spa.
Open round the clock, this is your chance to lounge back in volcanically heated water, a glass of wine in hand, and gaze up at a million stars.
Only a 10-minute drive away, the lodge is halfway between Puyuhuapi village and the entrance to the hanging glacier in Queulat National Park. So it makes a perfect base to end today's epic adventures and begin the exhilarating day tomorrow promises.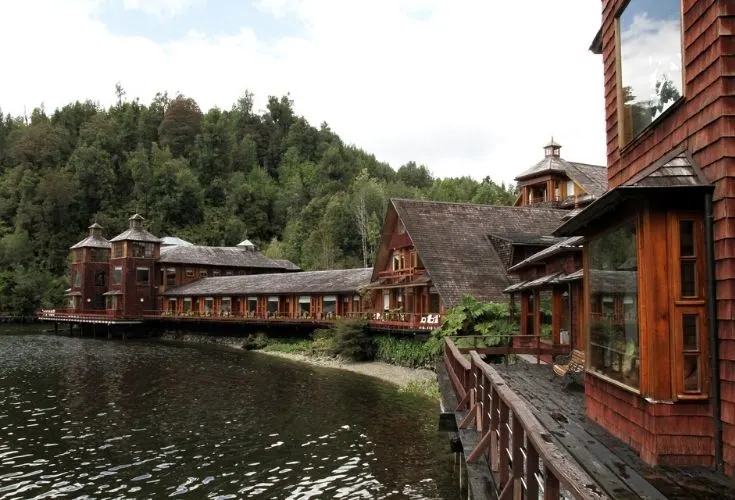 Where To Stay
In La Junta //
In Puyuhuapi //
Tips
You could easily spend two or three days driving this one stretch; there are definitely enough things to see and do along here. So if you have ample time, use it. If you don't, avoid trying to squeeze everything into 1 day. Instead, choose one or two things and take time to enjoy them.
La Junta has a fuel station, but it's not always open.
The sandy trails to the beach at Raúl Marin Balmaceda are very soft. If you're not used to sand driving, avoid them. There are plenty of places to park on firm ground.
If boondocking at Raúl Marin Balmaceda, make sure to camp above the high tide line.
If you're tight on time, you could remove any side trips off the Carretera Austral and combine Day 7 with Day 8 below.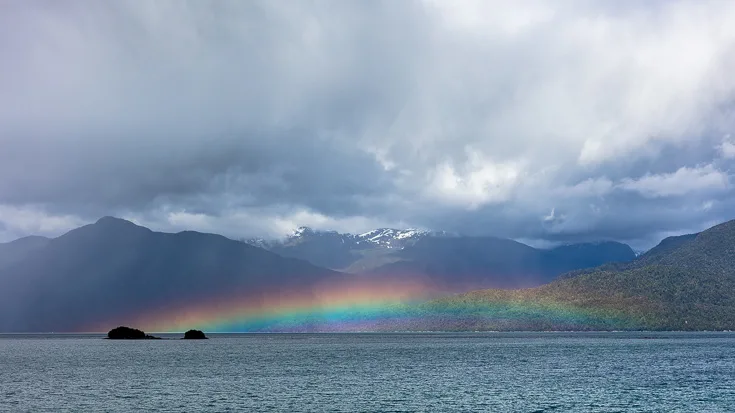 Day 8 // Puyuhuapi > Hanging Glacier, Queulat National Park
Distance // 25 kilometers / 16 miles Driving Time // 25 minutes
The Hanging Glacier, also referred to as Ventisquero Colgante, is another well-known highlight of Chilean Patagonia, and it's even visible right from the Carretera Austral.
Since the Hanging Glacier was discovered 150 years ago, it's receded over 5 miles. The retreat is visible looking back at photos from the past decade. However, judging from how close the glacier's foot is to the cliff edge and the continuous meltwater pouring from beneath it, it's unlikely to remain visible for another 150 years.
The Hanging Glacier is located within Queulat National Park, and CONAF maintains hiking trails to various lookout points. However, CONAF isn't renowned for its maintenance skills and combined with the popularity of the glacier and the amount of rain the park gets, expect the trails to be muddy.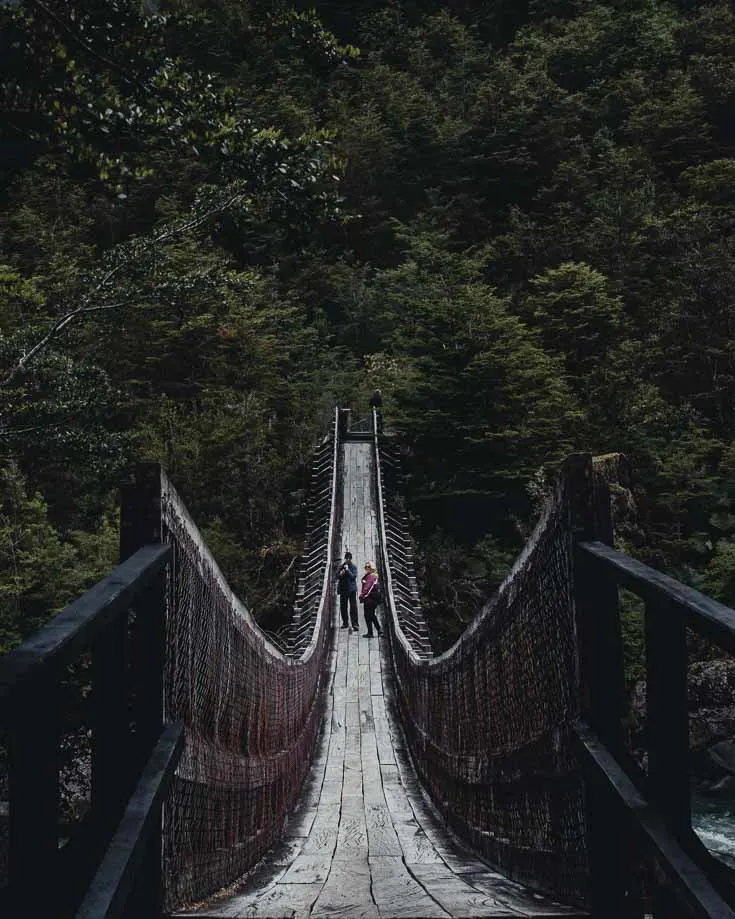 If you have the good fortune to be fussy about the timing of your visit, aim to go after a couple of dry days and arrive early in the morning before the crowds have had a chance to trample the damp ground.
Sendero Ventisquero Colgante is the most popular trail, a 4 ½ mile round trip, relatively steep and slippery and muddy for much of the route. However, your trudge through is rewarded tenfold with views of the blue glacier clinging to the cliff edge, a permanent waterfall, and the thundering of crashing ice boulders into the lake below.
If you'd prefer a less active way to see the Hanging Glacier, consider taking the boat trip on Laguna Témpanos. Boat trips last around ½ hour and only leave once enough people are on board, so you won't have this tour to yourself.
Kayak tours operate from the lakeside too. Although relatively pricey, a couple of hours on the kayaks is probably the most enjoyable way to see the glacier, especially when the park is busy.
Read More // Discover Chile's Hanging Glacier in Queulat National Park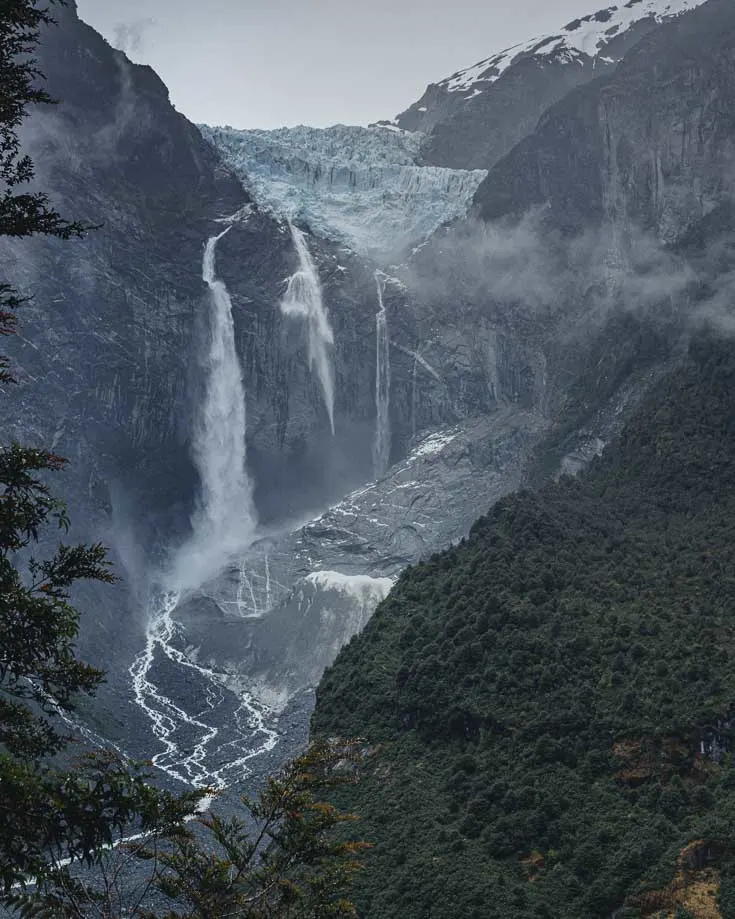 Things To Do In Queulat National Park
Boat ride across Lagoon Témpano
Hiking trails to various viewpoints of the Hanging Glacier
Where To Stay In Queulat National Park
Same as the place you stayed last night, or the campground inside Queulat National Park
Boondocking // There are a few boondocking opportunities nearby, some with fantastic views over the fjord where whales, dolphins, and seals are frequent passers-by. Take your pick but please, always camp responsibly.
Tips
The trails in Queulat National Park are often wet, even if you don't think the park has seen recent rain (which is unlikely). So wear waterproof boots, and come prepared for changeable weather conditions.
Cloud cover often obscures the view of the glacier. Ask about visibility at the Ranger's station before you pay your entrance fee.
Avoid visiting in January and February for a less busy visit.
There are no ATMs in Queulat National Park or nearby Puyuhuapi, so make sure you have enough cash to see you to Coyhaique.
Day 9 // Queulat National Park > Coyhaique
Distance // 210 kilometers / 131 miles Driving Time // 3 ¼ hours
It may sound a bit repetitive by now, but today you'll explore another picturesque leg on your Carretera Austral road trip.
From Puyuhupau, Ruta 7 plunges deeper south, winding up tight bends (one stretch alone has over 30 hairpins in rapid succession), crossing rivers, skirting lakes, and dodging roadside waterfalls.
And there's a lot of it. The route to the largest city on the Carretera Austral, Coyhaique, may be relatively short but don't rush it. The highlight of Coyhaique isn't in the city – unless you're desperate to resupply – but in the journey to get there and the nature surrounding it.
19 miles south of the Hanging Glacier is one of the highlights of Queulat National Park, the Enchanted Forest, locally known as El Bosque Encantado.
El Bosque Encantado is often closed, thanks to frequent landslides, but if you're lucky to visit when it is open, don't drive past it. It will easily be the highlight of your day. An easy 1-mile trail leads through a magical forest with twisted tree trunks engulfed in thick mosses, trickling brooks flanked by flowering fuchsias, and sunbathing frogs. And at the end of the trail? Laguna El Duende is littered with enormous icebergs!
Back on the Carretera Austral, look out for the signposts for incredible waterfalls, including Salto Padre García, Salto El Condor, and Cascada de la Virgen. They're all free to visit, are pretty much right beside the road, and are definitely worthy of checking out.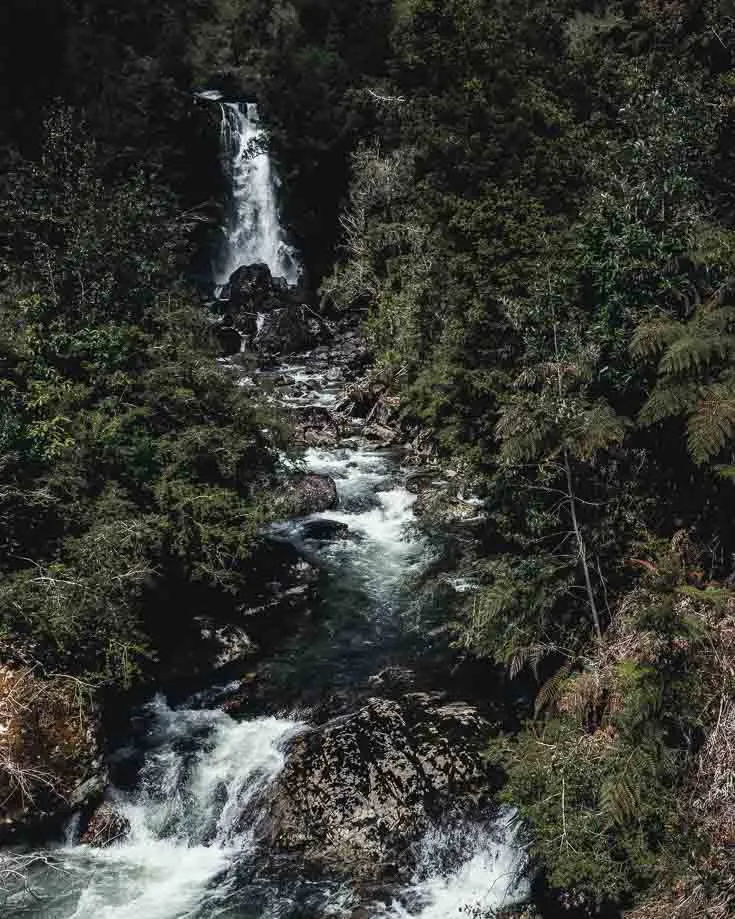 Ruta 7 skims the shore of Lago de Las Torres, hemmed in by snow-capped mountains and lush native rainforest. Stop at Mirador Marchant for a spectacular view of the city nestled below the mountains enclosing Simpson Valley.
If you fancy a decent but easy hike, spend the afternoon enjoying some of the trails in Coyhaique National Reserve, a few kilometers north of the city limits. We took the leisurely 11-kilometer trail rather than the 17-kilometer route to the summit of Cerro Cinchao.
Although plagued by Patagonia's infamous horse flies on the first half of the trail, we somehow carried on. It's nothing incredibly challenging but pleasant enough with cracking views back into Coyhaique and 3 lovely lakes. The reserve is close enough to the city to get a taxi if you don't have your own transport.
If rock formations are your thing, stroll down to the bridge of Rio Simpson for views of Piedra del Indio (Indian Rock). It's a large natural rock formation overlooking Rio Simpson, where you can hunt out a quiet riverside location for an afternoon snooze.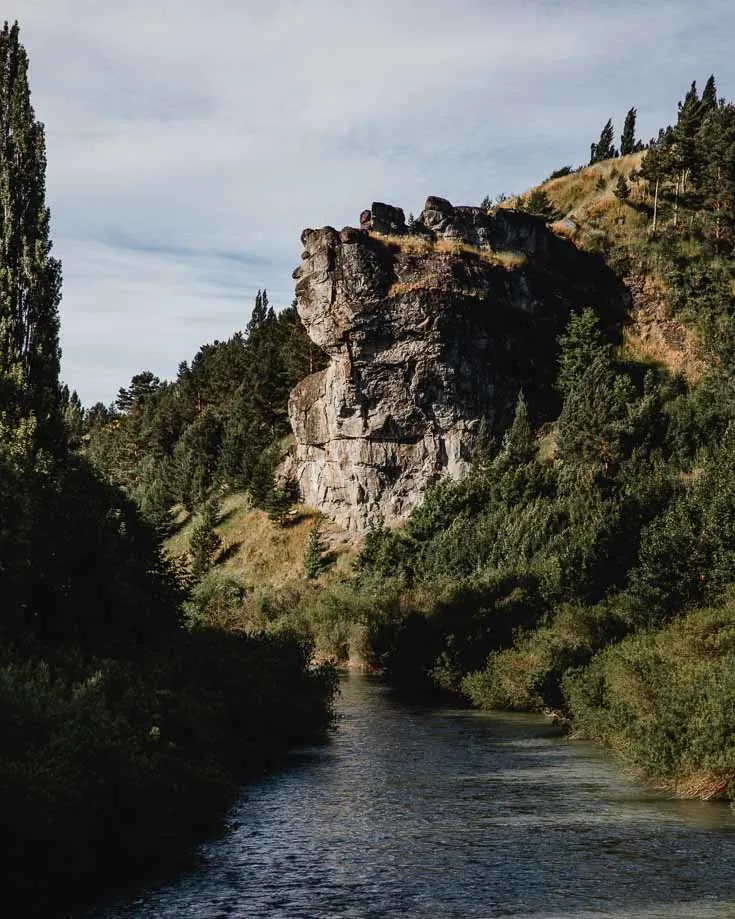 Coyhaique offers the best chance of resupplying on the entire Carretera Austral, so it makes a perfect pitstop. Well-stocked supermarkets (not tiny grocery stores), banks, laundries, a multitude of restaurants, bars, and places to stay, make this a great place to prepare for the next leg of your road trip.
Things To Do In Coyhaique
Visit the Enchanted Forest
Walking in Coyhaique National Reserve
Explore waterfalls, lakes, and rivers
Resupply
Where To Stay In Coyhaique
Unique Stays // Carpe Diem Patagonia
Hostel // Huella Patagónica Hostel
Camping // There's a basic campground beside the bridge over the Rio Simpson creatively called El Camping.
Take a look at this map of all Coyhaique's accommodation options to see if there's anything special and available in the area on your dates.
There are many boondocking opportunities on the route. We camped on a riverbank about 30 kilometers north of Villa Manihuales, surrounded by wild lupins and the heady scent of blooming broom.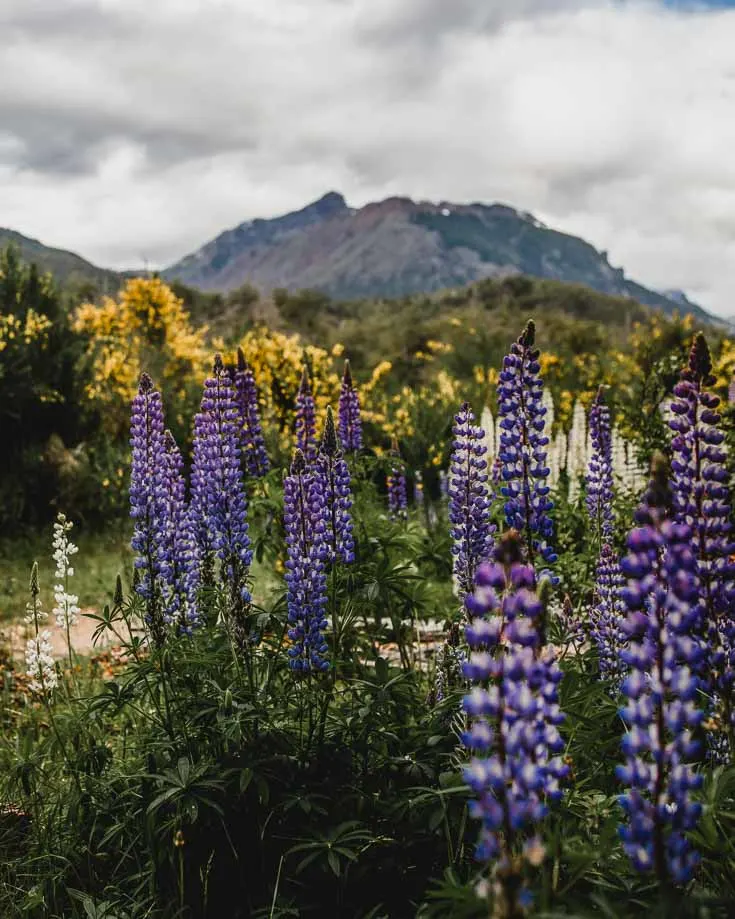 Optional Diversion 2 day Laguna San Rafael and Glacier Cruise
Distance // 66 kilometers / 41 miles Driving Time // 1 hour
San Rafael Glacier is one of the largest glaciers in the Northern Patagonian Icefield and one of only two that fall directly into the Pacific Ocean.
A 2 kilometer wide, 70-meter high wall of jagged azure ice stands above the water's surface and stretches into the icefield for over 4 kilometers. But, with rapid climate change, scientists think its days are numbered, and maybe as soon as 2030, the glacier will be no more.
The only way to see San Rafael Glacier is from the water. Tour operators run excursions from Puerto Rio Tranquilo (you'll get there on Day 11 below) or from Chacabuco, a little further north from Coyhaique.
We took the cruise from Chacabuco because a catastrophic landslide a couple of weeks before we arrived would have prevented us from making the trip from Puerto Rio Tranquilo.
The cruise through the fjords is spectacular, the zodiac ride to the foot of the glacier is great fun, and the party atmosphere on the return passage is helped along with glacial ice added to our drinks.
If you want to visit the glacier, divert off the Carretera Austral before reaching Coyhaique towards Chacabuco. The diversion is marked on the map at the top of this post, and the diversion distance reflects the out and back driving route.
Read More // Laguna San Rafael Glacier: Fjords, Icebergs & Seals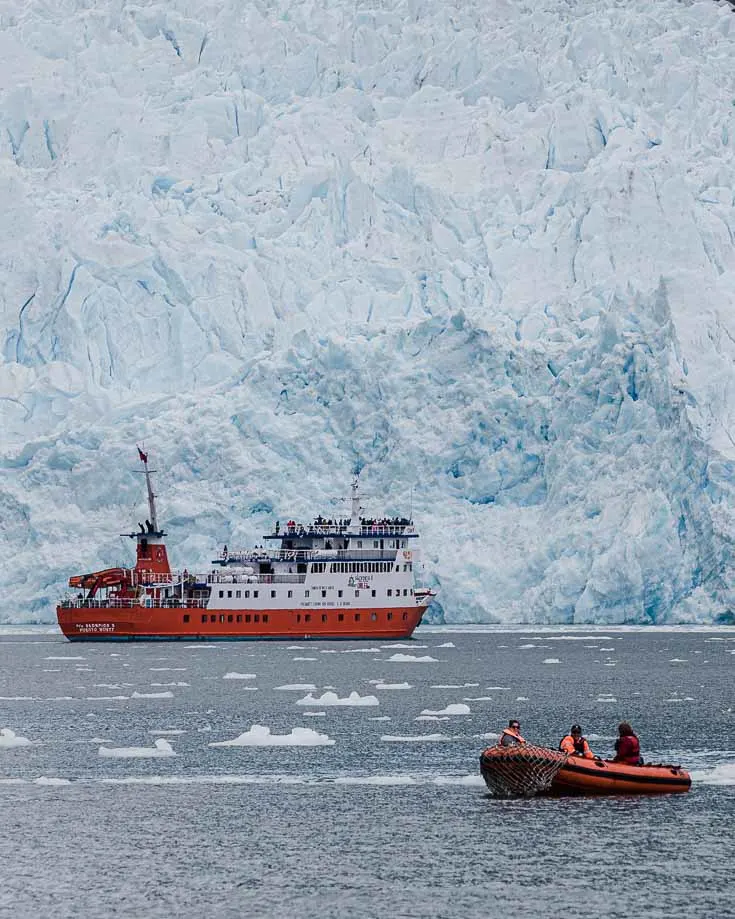 Where To Stay In Puerto Chacabuco
Luxury // Loberias del Sur hotel // The finest hotel in town and the pickup point for the glacier cruises.
Cabanas and Hospedaje // There are plenty of smaller guesthouses to choose from, all within a short walk of the pickup point for the cruise. Take a look at this map of all Puerto Chacabuco's accommodation options.
Camping // There are one or two campgrounds on the road into Puerto Chacabuco but none in town. However, the helpful reception staff at Loberias del Sur hotel allowed us to park our camper in their secure parking for free for 2 nights. It gave us peace of mind the van was in good hands while we visited the glacier and meant we could indulge in an extra whisky on the return leg of the cruise.
Day 10 // Coyhaique > Villa Cerro Castillo
Distance // 95 kilometers / 59 miles Driving Time // 1 ½ hours
Cerro Castillo National Park covers over 340,000 acres of Chile's Aysén region. Taking a proud seat on Ruta de Los Parques, the newly designated national park also takes the award for our favorite hike on the Carretera Austral.
The main attraction here is the 2000+ meter mountain, Cerro Castillo, so named as its jagged peaks resemble a castle. The entire region is blanketed by native Lenga forest, hanging glaciers drip into turquoise lakes, and snow peaks melt into ice-cold mountain rivers.
So many visitors to Patagonia have hiking in Torres del Paine National Park and Mount Fitz Roy on their bucket lists, but few have even heard of Cerro Castillo, let alone mention it. Their loss is most definitely your gain. While hikers in Torres del Paine and Fitz Roy will share the trails with hundreds of other tourists, trekkers in Cerro Castillo are rewarded by virtually deserted trails.
Cerro Castillo Lagoon Trail is a 1-day hiking trail starting and ending near the village, Villa Cerro Castillo. While the journey from Coyhaique is as picturesque as much of the Carretera Austral, make sure to stop at the Mirador Cerro Castillo for fine views of the winding road descending into the valley.
If you have ample time, we recommend staying in Villa Cerros Castillo the night before your hike so you can get on the trail early. Better still, for the more adventurous, consider taking the Las Horquetas Circuit – a 4 to 5-day hiking trail often referred to as the most beautiful trek in Chile.
Read More // Trekking Cerro Castillo: The Most Beautiful Hiking Trail in Chile (coming soon)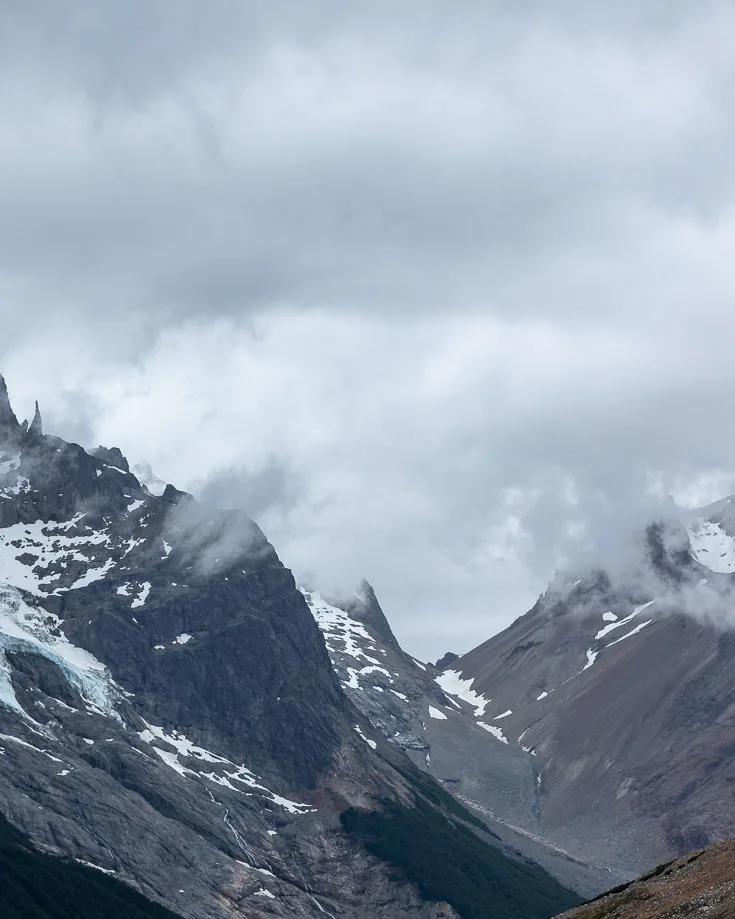 Things To Do In Villa Cerro Castillo
Day hike on Cerro Castillo Lagoon Trail
Multi-day trekking on Las Horquetas Circuit
Where To Stay In Villa Cerro Castillo
Cabins // Casa Cerro Castillo or Cabañas Cerro Castillo
Campgrounds // There are a few basic campgrounds in the village but check out Okau Patagonia just north of the village for fabulous views of the Cerro Castillo
Tips
Most of the Cerro Castillo Lagoon Trail has no shelter, so you'll be exposed to the sun. Setting off early helps to avoid the strength of the midday sun, and bring sunscreen, sunglasses, and your trekking poles. You're going to need them.
There are no ATMs in Villa Cerro Castillo so arrive with enough cash to get to your next destination. Campsites and stores accept cash only.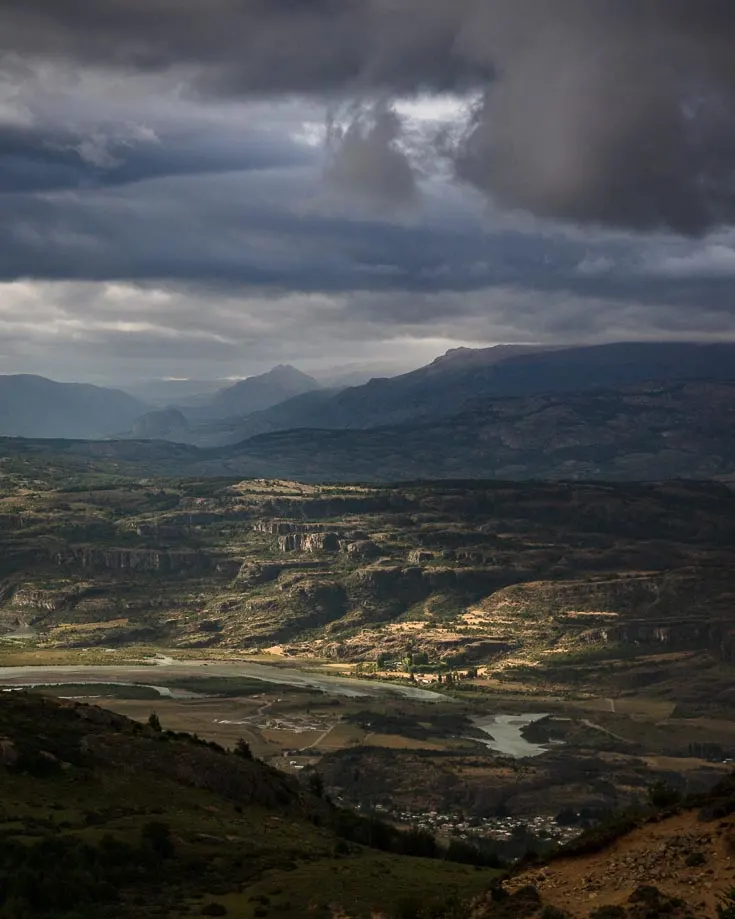 Day 11 // Villa Cerro Castillo > Puerto Rio Tranquilo
Distance // 120 kilometers / 75 miles Driving Time // 2 hours
The morning drive from Villa Cerro Castillo to Puerto Rio Tranquilo is as scenic as any on Ruta 7.
The real highlights of the drive are the fabulous roadside waterfalls along the route, foliage-covered laybys hiding glorious landscapes, and the chance to pick enough calafate berries for a satisfying Patagonian blueberry pancake brunch.
Avoid treating this drive as a simple commute because, at least for us, it turned out to be one of the most enjoyable journeys of the entire route.
Puerto Rio Tranquilo is best known to visit Chile's Marble Caves, a must-see on any Carretera Austral road trip.
The marble's color is most saturated early in the morning so if you plan on spending a night nearby, book your tour for the following morning. There are many other things to see and do near the village to fill your day, including ice trekking!
Read More // Chile's Marble Caves: Exploring Puerto Rio Tranquilo in Patagonia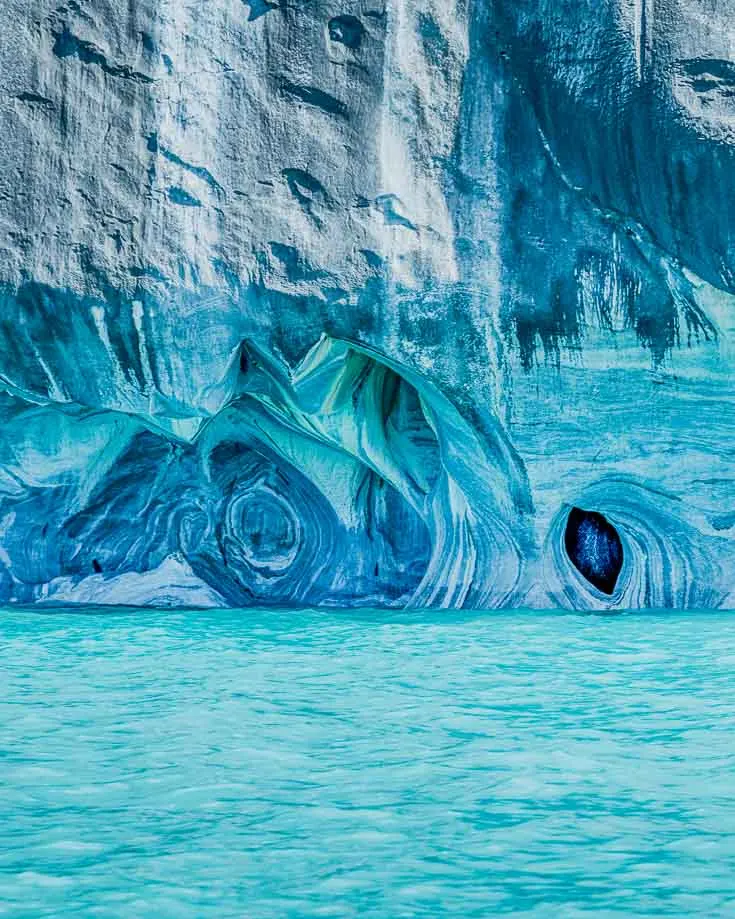 Things To Do In Puerto Rio Tranquilo
Laguna San Rafael and Glacier Cruise
Ice Trekking on Glacier Exploradores
Marble Caves at Puerto Sanchez
Hiking trails
Where To Stay In Puerto Rio Tranquilo
Unique Stay // Chelenko Lodge
Hostels // Rimaya Hostel
Campgrounds // Rincon Austral
Take a look at this map of all Puerto Rio Tranquilo accommodation options to see if there's anything special and available in the area on your dates.
Tips
If you have ample time, don't miss out on some of the other things to do nearby. We can highly recommend taking the road to Glacier Exploradores – it's perhaps our favorite road in the entire region.
Try to get an early morning boat tour to see the Marble Caves because the colors are at their most saturated as the sun rises.
You can fuel up at the Copec station on the main road. There is an ATM inside the store at the fuel station but it has been known to be out of order. Some stores and tour agencies accept card payments.
Day 12 // Puerto Rio Tranquilo > Cochrane
Distance // 115 kilometers / 72 miles Driving Time // 2 ¼ hours
Today's excitement is, once again, all about the road trip and making it your own. Unfortunately, the leg of the Carretera Austral from Puerto Rio Tranquilo to Cochrane is the most exposed part of the entire road trip, so there's little protection for the Patagonian winds.
The entire route pretty much follows the water flowing from Lago General Carrera into Lago Bertrand and ultimately into the River Baker.
There are several places of interest to explore along the route, some adding a few miles to your journey to Cochrane. Here are a few ideas of places to stop along the way:
Lago General Carrera & Chile Chico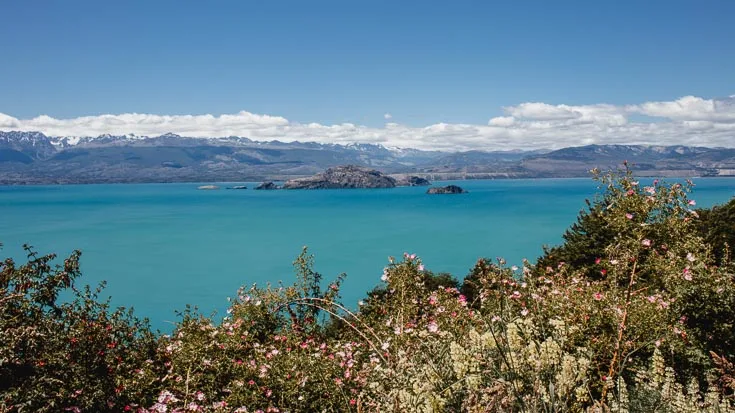 Lago General Carrera is almost 1900 square kilometers and the 2nd largest lake in South America, after Lake Titicaca. Take the road X-265 eastwards towards Chile Chico. You don't have to drive all the way to the border town, but the route is incredibly scenic.
In parts the road is precarious. Sheer cliffs and loose sandy, shale make for long dust trails. Unguarded hairpin bends could prove fatal for those daring to drive too fast. But a sensible pace and a reasonable distance from any vehicles in front make for a wonderful drive.
Stop at Puerto Guadal and hike to Cascadas Los Maquis, where you can cool off in the pool above the waterfall.
Chile Chico is best known for growing what we think are the juiciest cherries ever. If you're in the area around mid-January, don't miss the International Cherry Festival in the Argentinian border town of Los Antiguos.
Otherwise, Chile Chico serves as an excellent base for exploring some of the trails in Patagonia National Park. Lake Jeinimeni is a popular excursion. From the gorgeous shores of the lake, you can take one of many hiking trails, depending on how much time you have. The 20-kilometer circular hike to Laguna Verde is pretty flat and well worth the jaunt if you spare a day.
If you don't have transport and find yourself in Chile Chico, consider booking an organized excursion to Lake Jeinimeni.
Rio Baker & Rio Nef Confluence
Less than 40 kilometers before Cochrane, the Rio Nef and Rio Baker join in spectacular fashion. The Rio Baker is Chile's largest river and, rich in glacial nutrients and sediment, has a stunning turquoise hue, characteristic of the lakes in the region. At the point it meets the Nef River, it falls over a considerable drop-off, making exhilarating rapids for kayakers to enjoy. From the bank, you can see the marked difference in color between the 2 rivers.
Patagonia National Park
There's another entrance to Patagonia National Park about 20 kilometers north of Cochrane. Patagonia National Park is quite extraordinary and one of the only places on the Carretera Austral where you're virtually guaranteed to see vast herds of wild guanaco and, at the right time of year, flamingo.
Choose to drive the scenic, unpaved route all the way to the border at Paso Roballos, or take your pick of hikes. You're literally spoilt for choice here.
Cochrane
The town serves as a good base, with plenty of stores to replenish supplies. In addition, the staff at the tourist information office in the plaza are mega helpful, so it's definitely worth stopping by to get the latest news on routes, road conditions, and any excursions on offer nearby.
You could easily spend 3 or 4 days or more exploring this stretch of the Carretera Austral, but if you're short on time, we highly recommend taking at least one short hike in Patagonia National Park.
Read More // Phenomenal Hiking in Patagonia National Park, Chile (coming soon)
Things To Do Near Cochrane
Explore the coast of Lago General Carrera
Visit Los Maquis waterfall
Explore beautiful Patagonia Park
Lunch at the confluence of the Rio Nef & Rio Baker
Where To Stay In Cochrane
Cochrane town center location // Kalfu Patagonia
Something special // Ribera Cochrane
Camping // Boondocking is possible all around this region, except in Patagonia National Park. The park has several basic campgrounds run by CONAF. Spaces are limited and allocated on a first-come-first-serve basis, but they're not usually full.
Tips
There is an entrance fee to Patagonia National Park, currently 8000 CLP for foreigners.
Book kayaking trips on Rio Baker at Puerto Bertrand rather than Cochrane.
There are a couple of ATMs and a fuel station in Cochrane.
If you plan to cross the border into Argentina towards El Chalten after completing the Carretera Austral, you will return to the region and cross at either Chile Chico or Paso Roballos. If so, you can explore Lago General Carrera when heading south and Patagonia National Park on the return leg (or vice versa).
Day 13 // Cochrane > Caleta Tortel
Distance // 125 kilometers / 78 miles Driving Time // 2 ½ hours
A village like no other, Caleta Tortel isn't strictly on the Carretera Austral, yet it's a place we encourage you to visit as though it were. Most villages on Ruta 7 serve as a base for travelers to visit nearby attractions. But at Caleta Tortel, the attraction is the village.
Perhaps by now, it's no surprise to you that the village is set within an impossibly beautiful landscape. Snow-capped Andean peaks of Laguna San Rafael National Park serve as a backdrop to the milky, nutrient-rich waters of Tortel Bay, while the Southern Patagonian Ice Field opposite makes the bay appear as though a lake.
But what makes Caleta Tortel unique becomes evident on arrival. The dirt road ends at the entrance; your car will go no further, and from here, you can only explore on foot, for the entire village is built on stilts, on a steep mountainside right on the water's edge.
There are no pavements here. Instead, wooden staircases connect wooden boardwalks lined with wooden houses. And be in no doubt, the stairs are steep, so if you have any mobility issues, forget it.
Read More // Caleta Tortel, Chile: An Adventure Travelers Guide (coming soon)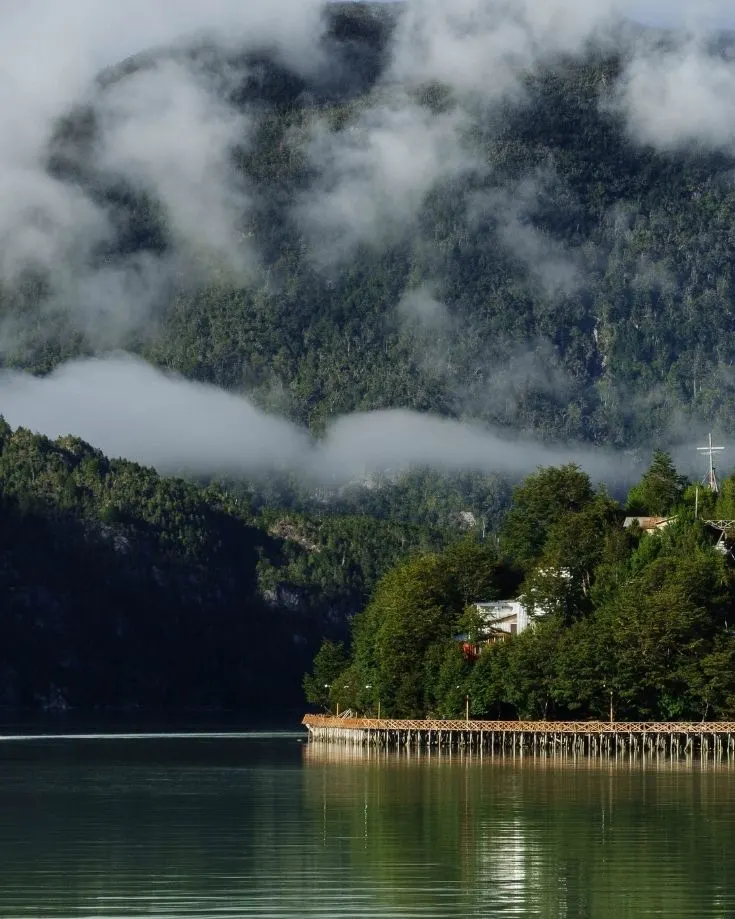 Things To Do In Caleta Tortel
Explore the warren of wooden boardwalks
Take a boat trip to Isla de los Muerta
Hike to Cerro Bandera for views of River Baker
Where To Stay In Caleta Tortel
Accommodation is Caleta Tortel has rustic charm (also read basic). Unfortunately, except for a couple of cabins near the parking area at the entrance, none have vehicle access.
If you want to stay in the village, check out the latest accommodation reviews from fellow travelers on ioverlander, as amenities and conditions are ever-changing.
There are many boondocking opportunities on the road into the village; just be careful not to camp too close to the river.
Tips
It is possible to park for free in the parking circle at the entrance to Caleta Tortel. Be warned, though, it gets pretty busy in January and February, so plan to arrive early.
There's a Copec fuel station beside the parking circle. Don't miss the chance to refuel.
Caleta Tortel has no ATM machine and you need cash for everything.
If you're on a tight schedule, you can miss Caleta Tortel and instead go straight to Villa O'Higgins from Cochrane.
If you want to travel to Puerto Natales (for Torres del Paine National Park) but cannot get a ticket online, Austral Broom Ferries has an office in Caleta Tortel where you might be able to secure a space. Ask for directions at the entrance to the town. Remember, though, only foot passengers can board at Caleta Tortel. If you have a vehicle, you'll need to board at Puerto Yungay, about 25 miles away.
Day 14 // Caleta Tortel > Villa O'Higgins
Distance // 155 kilometers / 97 miles Driving Time // 3 ½ hours
The end of the road. Villa O'Higgins is a small, remote, tranquil, and proud village marking the end of the Carretera Austral.
Getting to Villa O'Higgins involves another ferry. Follow Ruta 7 south to Puerto Yungay, where you will board a free car ferry for the 45-minute passage down the Mitchell Fjord to Rio Bravo. In the high season, the ferry sails 4 times each day.
Despite being the final stop on Ruta 7, remarkably few travelers make it this far. For those with a vehicle, it's a dead end. The road goes no further south, so for road trippers, there's only one way out of Villa O'Higgins, and that's by retracing your route.
For those hardcore visitors who have hitchhiked, used public transport, or even cycled the length of the Carretera Austral, you have the option to cross into Argentina from Villa O'Higgins.
It's not the most simple border crossing, but it certainly adds another whacky undertaking to an already adventurous road trip. To cut a long story short, the journey involves 2 bus rides, 2 more ferry crossings, plus a 20+ kilometer hike through glorious Patagonian mountains – with all your luggage! The destination? El Chalten at the foot of the epic Mount Fitz Roy, and it'll probably seem like tinsel town compared to the Carretera Austral road trip you've just successfully completed.
Read More // Villa O'Higgins: An Adventure Travelers Guide At The End of The Carretera Austral (coming soon)
Things To Do In Villa O'Higgins
Take a scenic flight over the Southern Patagonian Ice Fields
Cross into Argentina via one of the world's most adventurous border crossings (not possible with a vehicle)
Kayak on Lago Cisnes
Rent a bike and cycle the last few kilometers of the Carretera Austral
Hike Cerro Submarino
Where To Stay In Villa O'Higgins
Accommodation at Villa O'Higgins is more expensive than anywhere else we've seen on the Carretera Austral, so be prepared with enough cash.
There are a couple of highly recommended hotels in town. The hosts of Puesto Cánogas Hostal are commended for embellishing visits with stories to help visitors better understand the region's history.
Take a look at this map of all Villa O'Higgins accommodation options to see if there's anything special and available in the area on your dates.
The village has a couple of campgrounds too. Check out Mauro's self-built Eco Camping Tsonek on the way into the village if you're a tent camper, and Camping Los Pioneros for campers and overland rigs.
Tips
Despite its location at the end of the road trip and the fact that few people bother to come here, Villa O'Higgins has a surprising number of things to do. Consider spending a day or two in the village, and if your schedule is flexible, be prepared to extend that by another day or two.
There are no ATMs in Villa O'Higgins, so arrive with enough cash to get to your next destination. Campsites and ferries accept cash only, although some stores accept card payments.
Adapting Your Carretera Austral Itinerary
If you don't have time for the full Carretera Austral itinerary, avoid simply driving from top to bottom as fast as possible. To us, that's more like a box-ticking exercise than adventure travel, and you may as well just get the bus. Instead, reduce the distance by cutting short your itinerary and take your time.
The region is genuinely beautiful, and the only way to do it justice and have the trip of a lifetime is to savor every moment. Settle in one place for hours or days at a time. Don't rush. Take every diversion you can.
Here are a couple of options to reduce the distance:
Join the Carretera Austral from Futaleufu // By crossing the border from Argentina in Futaleufu you can by-pass the ferries from Puerto Montt to Chaiten. You can then pick up the itinerary above from Day 7.
End your journey at Cochrane // We enjoyed Caleta Tortel and Villa O'Higgins but to be honest, if we drive the entire route again, we will stop at Cochrane. The roads south of Cochrane are slow going, and if you've driven from north to south, you may be a little tired by this point. If you're driving into Argentina from the Carretera Austral, you'll need to cross the border at Chile Chico or Paso Roballos, so you'll have to drive back to Cochrane from Villa O'Higgins anyway.
Onward Travel
The downside of the Carretera Austral is it's not a circular route. That means you need to decide what your next destination is once you've completed it.
To help you work that out, here's a list of the most popular travel plans:
Drive from Puerto Montt to Villa O'Higgins (as described above), then take a 2-day ferry from Puerto Yungay to Puerto Natales (the nearest city to Torres del Paine National Park) // Fantastic basic cruise-like option if you can secure a place on the weekly ferry.
Drive from Puerto Montt to Villa O'Higgins (or stop at Cochrane), then retrace your route, crossing into Argentina at Chile Chico or Paso Roballos // A popular option for travelers who want to continue onto Cueva de Los Manos, the epic Fitz Roy Massif in El Chalten and Perito Moreno Glacier in El Calafate.
Drive from Puerto Montt to Villa O'Higgins (as described above), then drive all the way back again // Most people opt for an alternative return route.
Travel the entire route in reverse // Beginning in Puerto Natales, take the ferry to Puerto Yungay, and visit all the sights to Coyhaique using public transport. Then, rent a car in Coyhaique and take a self-drive tour of the northbound route (from Day 9 to 1 above).
Those traveling without a vehicle have the option to cross the Chile-Argentina border on foot or bicycle at Villa O'Higgins.
There are probably other options, too, but these give a flavor of the most popular and accessible alternatives. The mode of transport between each leg may vary, but the route options are pretty limited.
Patagonia Travel Planning
How To Get to Patagonia (coming soon)
More Patagonia Itineraries (coming soon)