So you want to build a camper van? Great idea! Whether you're preparing for van life, short road trips or have exciting overland travel plans, a camper van conversion is, in our opinion, the perfect way to go.
A camper van conversion is a mammoth project. We know! We spent 2500 hours converting our Sprinter van, Baloo.
So we've dedicated this section to helping you through your own build.
---
Building and converting overland vehicles
We've built a few overland vehicles over the years. We started our overland travels with short trips in Land Rovers and Land Cruisers with roof top tents.
Our trips became longer, climbing up ladders to bed got tedious and cooking in the rain became tiring. In truth, we grew older and wiser!
We moved onto a camper van. Our last truck was Mowgli, a Unimog camper. We bought Mowgli ready built but did lots of work to upgrade her during the time we owned her.
She was a big, old truck, perfect for an African adventure. As much as we loved her, we needed a vehicle more manageable in size for our next big overland trip.
In readiness for our South American adventure, we bought a 4×4 Sprinter van.
She was a 16 seat minibus when we bought her. With her low mileage, perfect 4×4 spec and mighty fine looks, she was prime for conversion.
We spent many months converting her into our home. We're now travelling and living in Baloo permanently as we tour South America and beyond.
---
How to convert a van into a camper van
There's probably as many answers to this question as there are people asking it. The truth is down to personal circumstances, finances and needs. Click this link to see what we did with our 4×4 Sprinter camper van conversion.
Use a camper van conversion company
If you can afford it, you can outsource the entire job to one of the many camper van conversion companies.
There's plenty of custom builders out there to choose from. Just take a look at UroCamper and SportsMobile. Not only will these camper builders convert your van to your spec, they often have converted vans for sale, expedition ready. Perfect if you want to get on the road now.
Camper van conversion kits
If you're short of time or some essential skills, you can outsource some of the conversion work to experts.
An increasing number of people are now using camper van conversion kits to install their van's interior. For some ideas of what's available, take a look at Wayfarer Vans (big on RAM Promaster fit outs) and Convert Your Van who provide both flat pack and custom built furniture.
DIY camper van build
If you have the skills and time, converting a van into a camper yourself will no doubt save you money.
Add to this, you'll know your converted camper van inside out – critical for the times on the road when things go wrong. We built Baloo ourselves.
We outsourced a few jobs like the respray and installing extra security locks but otherwise, she's a DIY camper van.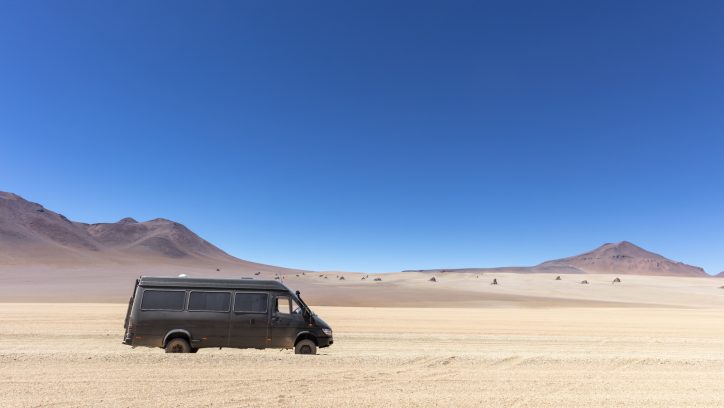 ---
---
Where to start on your camper van conversion
Having made the decision you want to convert a camper van, the next step is knowing where to start. That's where these articles will help you out.
Planning
Start out by making a plan. This step involves understanding the size of van you need, how much a camper van conversion costs and the tools and skills needed.
Buying your van
Choosing the right base vehicle for your camper van conversion is critical to a successful build. The vehicle needs to suit your living needs, travel style and your budget too. Make sure it's mechanically sound too before you start on the build.
Insure your van
Camper van insurance is a legal requirement in the UK. It isn't too expensive and it's more economical than cover for a commercial panel van. While many companies offer camper van insurance, far fewer offer cover during the conversion phase.
Modifying your camper van
Before modifying your base vehicle, there's a few things to consider. Try to avoid getting excited by all the after market shiny upgrades. Instead, really consider what modifications you need to suit your overlanding adventure.
Avoid unnecessary overland vehicle modifications and start your adventure sooner and with more cash in your pocket. It'll make for easier repairs on the road too.
Camper van conversion designs
Once you've bought your base vehicle, insured it and finished any essential modifications, you're almost ready to start on the conversion.
But hold up a moment. A well thought out design will make sure your conversion will go more smoothly.
Even if you're handing your vehicle over to a camper van conversion company, this stage is key.
Designing the van's layout, plumbing and electrical systems before you start will help avoid rework too.
Time to start your build
Now it's getting exciting and the hardwork starts. Fitting the water pipes and tanks, laying hundreds of metres of electrical cables, insulating and ventilating the van is a lot of work. Get it right and you'll have a perfect van conversion to suit your needs when the build is finished.
Once all the base utilities are installed, its finally time to fit your furniture. Your layout design will determine what needs to be built, including your kitchen, bathroom and bed.
Legal stuff
By now, you'll be the proud owner of one perfect camper van conversion and you'll probably have christened it with an equally perfect name. It's a legal requirement that all UK registered vehicles are classified correctly on the V5C log book. If you've converted a van, you must return the V5C to DVLA for body type amendment. It'll save money on insurance too.
Let the overlanding adventures begin!
That's it. Go.
We suggest you take your camper van conversion on a final shakedown trip before starting a major overseas adventure. Any last minute fixes and tweaks will be easier to do before you're living in your van full-time. If you've run out of time, don't let this stop your adventure though!
---
Take a little time to read a few of our camper van conversion posts